Dallas Motorsports:

Indianapolis 500
May, 31, 2011
5/31/11
6:57
PM CT
By
Master Tesfatsion
| ESPNDallas.com


FORT WORTH, Texas -- Two-time Indianapolis 500 winner Dan Wheldon is currently unemployed, but he may switch the racing helmet out for a headset for the time being.

Wheldon is in talks with Versus TV to work as an analyst for three IndyCar Series events. He jumped in the booth for the Firestone Freedom 100 on Friday before his thrilling victory Sunday on the 100th anniversary of the Indy 500, edging out J.R. Hildebrand as he crashed into the wall on the final lap. Wheldon's contract with Bryan Herta Autosport expired hours after the victory at midnight.

"I did it [race analysis] when I was younger for some go-karting programs, but this is my first time for real," Wheldon said Tuesday at a public appearance for a nonprofit organization. "It's harder than you think because you've got a little ear piece and they're talking over you and it's hard to continue to say what you're talking about when they're saying, 'Ok Dan, you've got to wrap it up in 10 ... 9.' I'm like, 'Ok this is way harder than racing.'"

Wheldon said the talks with Versus started in the beginning of May and would have him working stops at Texas, Iowa and Toronto. He said they'll work out a clause that will allow him to race if the opportunity arises, but he doesn't want to rush the situation.

"The team, my management and myself are working to find funding to be able to do it [race]," Wheldon said. "At that point when we find the funding, we have to understand and feel confident that we can get the car prepared to the same standards that it was in Indianapolis to be able to do the race."

Wheldon's agent declined to comment until an agreement has been reached with a racing sponsor or Versus.
May, 28, 2010
5/28/10
8:00
AM CT
By
Eddie Gossage
| ESPNDallas.com
For motorsports fans, Sunday is Christmas Day, Fourth of July and Thanksgiving Day all rolled up into one 1,100-mile long ball.
The Indy 500 and the Coca-Cola 600 allows race fans to gorge themselves on drama, intrigue, danger, bitter loss and glorious, glorious triumph. And that's not to mention gorging themselves on barbecue and cold beverages.
The Indy 500 -- the Greatest Spectacle in Sport -- goes first. Nothing is as dramatic as the buildup to the green flag. Taps, in honor of our war dead on Memorial Day Weekend. Jim Nabors touching "Back Home Again In Indiana." The Purdue Marching Band. The colorful balloon release. Mari Hulman George saying, "Ladies and Gentlemen, Start Your Engines!" The parade laps. The flying start of 11 rows of three across the yard of bricks.
I'm tearing up.
There are lots of stories in Indy:
[+] Enlarge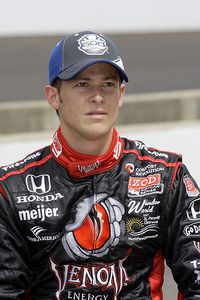 AP Photo/Dave Parker Will Marco Andretti finally break his family's drought at the Brickyard on Sunday?
Pole-sitter Helio Castroneves tries to join the gods of Indy -- A.J. Foyt, Al Unser and Rick Mears -- when he goes for a fourth Indy 500 win.


Will the Andretti curse finally end with Marco Andretti in Victory Lane? It's been 41 years since his grandfather, Mario Andretti, won the Indy 500. Mario never won again and his son, Michael, never visited Victory Lane in his storied career.


Can Danica Patrick overcome her worst Indy 500 qualifying position ever, 26th, to become the first woman to win at the Brickyard?


What about Scott Dixon, Dario Franchitti, Tony Kanaan, Will Power, Ryan Briscoe, Ryan Hunter-Reay and Dan Wheldon as pre-race favorites?


Will the racing gods anoint an underdog and reward them with racing immortality?

And then there is the Coca-Cola 600, NASCAR's longest race. It has a huge pre-race buildup, as well. Honoring the troops. Taps, again. Red, white and blue. It starts in the daylight and ends under the lights. And it, too, has plenty of stories:


Can Jimmie Johnson continue to be the man to beat at Charlotte?


What about Kasey Kahne's success at Charlotte, his best track.


Can teammates Kyle Busch and Denny Hamlin avoid wrecking each other after last week's emotional run-in at the NASCAR Sprint Cup All-Star race?


Jeff Gordon has had his share of success at Charlotte. He's been in position to win in 2010 but hasn't been able to close the deal. He's been winless in more than a season. Does this end Sunday?


Will there be a surprise winner, like last year's winner, David Reutimann?

There are lots to learn Sunday. Memories to be made. Summer officially arrives.

Let the gorging begin.
May, 24, 2010
5/24/10
6:32
PM CT
By
Eddie Gossage
| ESPNDallas.com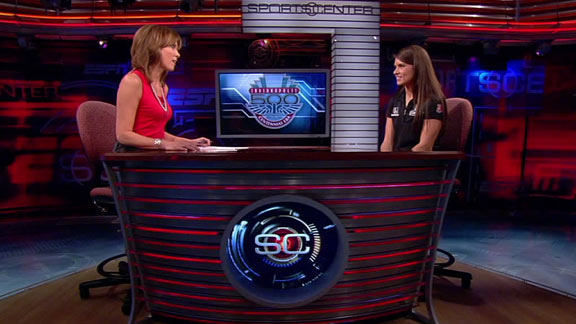 Remember typewriters? All the keys could work perfectly except one. And no matter what, that one key kept screwing up that letter you were writing. The whole keyboard had to work as a team and when that one key didn't work right, nothing worked right.
Same with auto racing.
It's a team sport. No matter how good the driver is, if the lowest mechanic on the team failed to get that bolt tightened just right that car could not win the race. Your life is in their hands, not just the race.
Danica Patrick
made a mistake following her qualifying effort for this week's Indy 500: She threw her team under the front of her car and ran over them right there in front of the gods of the Brickyard. You just know Foyt, Unser, Mears and the rest had to just shake their heads.
Patrick publicly criticized her car following a qualifying run that left her starting 23rd, her worst career start at Indy. She was visibly shocked by a chorus of boos from fans in the grandstand when she said her poor qualifying run was "not my fault" and described the car's handling as "scary." After her poor qualifying run, Patrick was shaking and holding back tears.
Can you imagine Peyton Manning blaming the Indianapolis Colts' loss in the Super Bowl on the poor blocking of his offensive line? "Sorry, Peyton," says the left tackle in the next game. "I slipped. I hope that 400-pound lineman didn't hurt you."
"The GoDaddy car deserves to be higher up than this," said Patrick. "It's better than this. It's just not set up right."
In other words, "It's them, not me!"
Teammate
Tony Kanaan
said Patrick must change her attitude.
"I think my best advice to her, which I said to her [Saturday], is you've got to learn from the tough times and the same guys that she finished fifth in the championship last year and won her first race with, they're still there," said the veteran Kanaan. "And in racing besides having the good setup and good car, I believe your attitude counts a lot.
"And she definitely needs to change her attitude," he said.
Patrick appeared upset with the response from the fans.
"I say one thing confident out there, that it's not me, and everybody boos me," she said. "I don't know, maybe they were booing me before, but some of them were probably cheering for me before. I'm not a different driver than I was five years ago."
No, but perhaps she's a different person.