Dallas Motorsports:

Indy 500
May, 30, 2012
5/30/12
11:36
AM CT
By
ESPN.com news services
FORT WORTH, Texas -- Indianapolis 500 champion
Dario Franchitti
says he's still "not very comfortable" racing on a high-banked oval.
The Indianapolis 500 was the first IndyCar race on an oval since
Dan Wheldon
's fatal accident in last season's finale at Las Vegas. But the June 9 race at Texas Motor Speedway will be the first on a high-banked track similar to Las Vegas.
Franchitti tested at TMS last month and said Tuesday that he will do his absolute best to win there. Indy Car races on a street course Sunday at Belle Isle, Mich.
Wheldon was killed when his car sailed into the fence in a 15-car accident last October, and his head hit a post in the fence. A report later determined that pack racing on a high-banked oval contributed to the accident.
June, 28, 2011
6/28/11
9:33
AM CT
By
Eddie Gossage
| ESPNDallas.com
To carry a famous name in any sport -- Griese, Montana, Jordan -- the burden of comparison for the second- or third-generation athlete is overwhelming. There are certain racing gods -- Petty, Foyt, Andretti, Earnhardt, for instance -- that have seen mixed success in carrying on the family name over the years.
Third-generation driver
Marco Andretti
hadn't won since his 2006 IndyCar Series rookie campaign, but I was probably one of the least surprised that he had that breakthrough win this past weekend at Iowa. Marco gave me a hint that he may be close to ending that winless streak when he arrived to The Speedway Club at Texas Motor Speedway for a media luncheon the day after a harrowing Bump Day at Indy in which he made the 33-car field in the final minute.
[+] Enlarge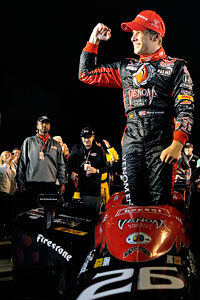 Jared C. Tilton/Getty ImvagesMarco Andretti overtook former teammate Tony Kanaan with 18 laps left to win Saturday's IndyCar race at Iowa Speedway, his first victory since 2006.
He spoke about maturing over the last few years, And while some critics may say it was about time, you have to realize that he's still only 24 years old despite six years in the series. Just a kid with an immense amount of pressure on him due to that last name of Andretti.
And you could see that new maturity by the way he handled Bump Day with his dad in his ear. He laughed how there was no way he and dad would have survived a Bump Day like that a few years ago if he had not matured. Marco didn't point fingers on why the car and team were in that position. He seemed genuinely bummed that teammates
Ryan Hunter-Reay
and
Mike Conway
didn't make the field instead of being content that he was in the show and that was all that mattered.
At that May lunch, he spoke of finally realizing that there was more responsibility and commitment to being a race-car driver than getting into the car five minutes before the track went hot. He discussed about working with his crew, becoming part of that team framework as well as becoming more engaging in sponsor and media obligations and handling them more adeptly. In fact, he visited the local Dr Pepper/Snapple plant that morning and talked about what a cool time he had and enjoyed meeting a lot of nice people.
Maturity.
He was thoughtful in his answers to media questions that day, even joking that a few years ago his answers to most of them would have been, "Yes" and "No." When a media person said maybe they should've asked better questions, Marco said, "Not really. I probably would have answered most them 'yes' and 'no' anyway." Listening to him speak and watching his demeanor, you could sense his transformation.
Maturity.
The kid always had talent, and I hope this win is a momentum builder for his season and his career. He is one of those marquee names with that great family lineage of Grandpa Mario and Dad Michael that reverberates around the IndyCar series much like Earnhardt in NASCAR. Having Marco achieve more success and contend for championships would be a boon to sport.
Welcome back to Victory Lane, Marco. I hope to see you there more often in the future, and I think you'd look pretty good wearing a cowboy hat with six shooters in hand!
May, 31, 2011
5/31/11
5:09
PM CT
By
Eddie Gossage
| ESPNDallas.com
So the big question: Will
Dan Wheldon
, the new Indy 500 champ, run in the Firestone Twin 275s on Saturday night, June 11th?
The answer: Hopefully. Well, maybe. If I can do anything about it, he will.
I spent the day with Wheldon, one of the great personalities in the sport, not to mention one of the sport's all-time performers in crunch time. Check out his amazing record at Indy -- two wins, two second-place finishes, one third-place and one fourth-place finish in only nine starts. Only three times has he finished out of the top four.
The team he won with at Indy was a one-off deal. They hadn't run an IndyCar Series race before Indy this year and aren't scheduled to run any more. Wheldon is, in fact, a free agent. He's not under contract with any team. Anybody can sign him.
The team he celebrated with in Victory Lane was
Bryan Herta
Autosport. The team is owned by the likeable, successful Herta, a former IndyCar star himself. The sponsor is William-Rast jeans, the fashion line owned by entertainer Justin Timberlake. Let's do some business, guys.
Herta is a racer -- the best compliment you can offer anybody in this sport -- and I know he wants to race (answer the phone, Bryan!). They honestly didn't think about what would happen if they became the dog that caught the car. Who thought they would win the Indy 500? Now what? Can this six-man team turn the car around for these historic twin races in Texas in less than two weeks. Heck, will their heads stop pounding before the first green flag falls on the first of two Firestone Twin 275s?
And could another team -- are you listening A.J.? -- put the Indy champ in a car here in Texas and elsewhere? Who has cars -- Ganassi? For the good of the sport.
And then there is Wheldon. He wants to race. He effused excitedly about the Twin 275 concept and the random selection of starting positions for the second race. All race horses are chomping at the bit to get in the starting gate. Wheldon, though, needs to rightfully pick his spot. He made his bed with Bryan Herta Autosport and it paid off. Do you switch horses now after this success? And do you possibly consider getting into another team's car that might not be up to snuff? He is, after all, the Indy 500 champ. He can pick his spot. They handed him a check of $2.6 million at the Indy 500 awards banquet on Monday night.
So, while time is short, time will tell. If it was all about attitude, Wheldon, Herta and William-Rast would be in the starting grid for both races of the Firestone Twin 275s.
So stand by. We're working on it.
Hopefully. Maybe.
Everybody wants it to happen.
May, 23, 2011
5/23/11
7:16
PM CT
By
Master Tesfatsion
| ESPNDallas.com
FORT WORTH, Texas -- If your last name is Andretti, the Indianapolis 500 hasn't been your best friend the past three decades.
Three generations of drivers have placed that historic name in nearly every single category of the IndyCar record book, but only patriarch Mario chugged a jar of milk produced by the American Dairy Association of Indiana after "The Greatest Spectacle in Racing" in 1969.
Since that moment, it has been a number of heartbreaking defeats. Even Marco, the youngest of the family drivers, suffered a fair share of the Andretti Curse during his first Indy 500 in 2006.
Sam Hornish
Jr. passed Marco on the final lap to win by .0635 seconds. Michael, Mario's son and Marco's father, was right behind in third place.
"We have to look at how fortunate we are," Marco said Monday during a media luncheon at Texas Motor Speedway. "Number one, to be able to go compete and do what we love to do. We're safe. We've been safe in our careers. But yeah man, I'm sick of the plane rides home just talking about how we could've won it."
Marco qualified in 28
th
place for the 100
th
anniversary of the Indy 500 on the final run during Bump Day on Sunday, knocking out fellow Andretti Autosport driver
Ryan Hunter-Reay
in the process. Despite noticeable speed struggles, Michael, now owner of Andretti Autosport, likes Marco's chances this Sunday at Indianapolis Motor Speedway.
"I really think once the race rolls around, [speed] doesn't matter and it comes down to handling," Michael said Sunday after Bump Day. "That's why I feel confident with the cars we have in the field [teammate
Danica Patrick
qualified 17
th
]. I think Marco is going to be the guy to beat, I really do."
The Indianapolis 500 is the first of four straight oval-track events on the 2011 IndyCar series schedule. On deck: The Firestone Twin 275s at Texas Motor Speedway on June 11.
June, 1, 2010
6/01/10
2:24
PM CT
Two-time Indianapolis 500 winner Dario Franchitti will stop by Wednesday to answer your questions during a live chat at 2:30 p.m. He's second in the IZOD IndyCar points race, just 12 behind leader Will Power entering Saturday's Firestone 550k at Texas Motor Speedway.
Franchitti had knowledge of TMS on a few levels. He spent five seasons in the IRL before taking a two-year break to race NASCAR before returning to the IRL in 2009.
Click to
submit your early questions
for the Indy 500 champion.