Dallas Motorsports:

Indycar series
June, 3, 2013
6/03/13
3:29
PM CT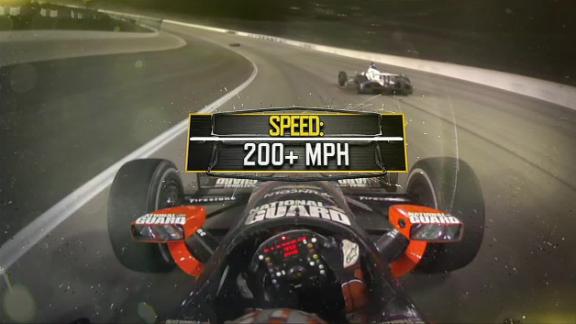 At Texas Motor Speedway, an IndyCar's average speed per lap is 215 miles per hour due to the 24 degree banking in the corners. Sport Science examines the amount of G-Force that can put on the human body.
June, 9, 2012
6/09/12
10:39
PM CT
By
Clint Foster
| ESPNDallas.com
FORT WORTH, Texas -- There was little doubt that
Scott Dixon
had the best car at Texas Motor Speedway on Saturday night.
His No. 9 Target Chip Ganassi Honda led the IZOD IndyCar Series Firestone 550 for 133 of the first 173 laps, often by a comfortable margin. He was able to make up any lost ground on pit stops with relative ease. It appeared the checkered flag at TMS was in his sights.
But with 55 laps to go, Dixon lost control without warning and slammed into the wall coming out of Turn 2.
"We just got loose," Dixon said. "For the last 10 laps of that stint I was just really fighting to hold on. I turned in and the rear just started to slide and I kind of dipped down onto the apron and shut around again. I feel bad for the guys. We had a really good car and I think we had a good chance to win here tonight."
Dixon was not injured, but it certainly hurt him to watch his chance at a second consecutive victory slip away.
The 31-year-old is second in the IndyCar championship standings, 36 points behind
Will Power
. His 18th-place finish at TMS combined with Power's eighth-place showing caused Dixon to lose 10 more points to the leader.
Dixon's only win in 2012 was last weekend at Belle Isle. His next shot to move up in the standings will be at the Milwaukee IndyFest 225 next weekend.
March, 6, 2012
3/06/12
9:52
PM CT
By
Scott Noll
| ESPNDallas.com
FORT WORTH, Texas -- Although any notion of a June boycott by IndyCar Series drivers had already been extinguished, it still was a hot topic during Texas Motor Speedway's media day Tuesday.
Track president Eddie Gossage said he hadn't heard from any drivers about safety concerns, specifically the fencing around the high-banked oval. And that's why he
reacted angrily after reading about such concerns
on a web site report last week.
Gossage remained defensive of the track's safety record Tuesday, adding that he's already talked to IndyCar Series CEO Randy Bernard.
"We're going to do what's right," Gossage said. "You never compromise safety. ... We're the only people that have had any engineers look at it. I think everybody has a better handle on it. They say they never talked about a boycott. ... I just know what I read."
Gossage also was quick to point out that last year's Firestone Twin 275 races only had one caution.
"I don't know why a speedway that had two races with one caution last year was suddenly the target," Gossage said.
Safety issues became paramount after driver
Dan Wheldon
died during a horrific crash at Las Vegas Motor Speedway in October. Wheldon's car went airborne during the accident and the driver's head hit a pole on the fencing, which is similar to that used at TMS.
"Safety is not something to joke about. Safety is not something to take lightly. And we're not about to," Gossage said. "It's coming on the heels of a really catastrophic event ... and everybody is ultrasensitive to it.
"You can have emotional feelings about it, but the solution is a fact-based solution. I'm emotional about Dan because I cared a lot about Dan. He was a good guy, a good friend, everything about him ... and it was so tragic. But when you start talking about 'now what,' that has to be based solely on facts. Solely."
IndyCar Series driver
Graham Rahal
, who was at the track Tuesday, said there are no safety concerns at TMS, which has hosted 23 IndyCar races since 1997 -- 16 of which have been decided by less than one second.
"It's never been something that crossed my mind," Rahal said. "Texas has always put on close races. Does that make a driver more nervous? Yeah, but it would make anybody more nervous. We realize that our sport is two things: Obviously to go fast in race cars, and it's also entertainment. The fans like to see close racing.
"The show we put on here is second to none," Rahal said. "We want to be here."
June, 10, 2011
6/10/11
2:44
PM CT
By
Master Tesfatsion
| ESPNDallas.com
IZOD IndyCar series points leader Will Power led a very tight 30-car field after the first practice session at Texas Motor Speedway on Friday afternoon.

Power posted a lap time of 24.3654 seconds, separating him from last place by .5612 seconds. Ryan Briscoe placed second, .016 seconds behind Power. Alex Lloyd rounded out the top three, .074 seconds behind the leader.

Danica Patrick's No. 7 car is the in the middle of the pack at 14th place. Patrick drove around the 1.455 mile track 38 times and her best time of 24.5853 seconds came at lap 27 at a speed of 213.054 miles an hour.

History suggests that the outcome may be the same on race day. Out of the 21 IndyCar Series races at TMS, fourteen have had a margin of victory of less than one second -- seven have been decided by less than one-tenths of a second.

Lloyd is positioned first in the qualifications order which is set to take place at 3:45 p.m. Other notables include Marco Andretti in eighth, Briscoe in ninth, Power in 18th and Patrick in 28th.
May, 31, 2011
5/31/11
6:57
PM CT
By
Master Tesfatsion
| ESPNDallas.com


FORT WORTH, Texas -- Two-time Indianapolis 500 winner Dan Wheldon is currently unemployed, but he may switch the racing helmet out for a headset for the time being.

Wheldon is in talks with Versus TV to work as an analyst for three IndyCar Series events. He jumped in the booth for the Firestone Freedom 100 on Friday before his thrilling victory Sunday on the 100th anniversary of the Indy 500, edging out J.R. Hildebrand as he crashed into the wall on the final lap. Wheldon's contract with Bryan Herta Autosport expired hours after the victory at midnight.

"I did it [race analysis] when I was younger for some go-karting programs, but this is my first time for real," Wheldon said Tuesday at a public appearance for a nonprofit organization. "It's harder than you think because you've got a little ear piece and they're talking over you and it's hard to continue to say what you're talking about when they're saying, 'Ok Dan, you've got to wrap it up in 10 ... 9.' I'm like, 'Ok this is way harder than racing.'"

Wheldon said the talks with Versus started in the beginning of May and would have him working stops at Texas, Iowa and Toronto. He said they'll work out a clause that will allow him to race if the opportunity arises, but he doesn't want to rush the situation.

"The team, my management and myself are working to find funding to be able to do it [race]," Wheldon said. "At that point when we find the funding, we have to understand and feel confident that we can get the car prepared to the same standards that it was in Indianapolis to be able to do the race."

Wheldon's agent declined to comment until an agreement has been reached with a racing sponsor or Versus.