Dallas Motorsports:

Joe Gibbs Racing
April, 2, 2012
4/02/12
2:10
PM CT
By
Eddie Gossage
| ESPNDallas.com
"If you build it, he will come," is what "The Voice" told Ray Kinsella in "Field of Dreams." When
Tony Stewart
asked me five years ago if I thought he should start his own NASCAR Sprint Cup team, I certainly didn't profess that kind of confidence in such a risk.
But Stewart wisely listened to his own voice and bought into Haas CNC Racing to form a two-car NASCAR Sprint Cup Series team called Stewart-Haas Racing. Fast forward to 2012 and the organization has a championship and 16 victories in its fourth season of competition. This just shows you the strength in Stewart. He's a leader. A motivator. A champion.
Ryan Newman's slide around the late-race spin Sunday at Martinsville led to Stewart-Haas Racing's third win this season. The team of Stewart and Newman have won eight of the past 16 NASCAR Sprint Cup Series races. They have won half the races!
Clearly Stewart-Haas Racing fits with the super teams of the series with Hendrick Motorsports, Joe Gibbs Racing and Roush Fenway Racing. In fact,
Rick Hendrick
has got to be scratching his head right now, because he's getting beat by a Hendrick Motorsports satellite team. Stewart-Haas Racing uses engines and technology supplied by Hendrick Motorsports.
Hmmmm.
So a pat on the back for Stewart and Newman. They're coming to Texas next and both have success here. Both drivers have won at Texas.
I've still got the boxing gloves and boxing robe that adorned Stewart in Victory Lane in November. What I haven't figured out yet is how he's supposed to shoot the six shooters with the gloves on.
Stay tuned.
March, 22, 2012
3/22/12
11:49
AM CT
By
Eddie Gossage
| ESPNDallas.com
Brad Keselowski
's win at Bristol on Sunday marked the fourth different winner in the NASCAR Sprint Cup Series' four races this season. He also gave Dodge its first victory of 2012, which means all four manufacturers represented in the series have already earned a win. And there's still 32 races to go.
[+] Enlarge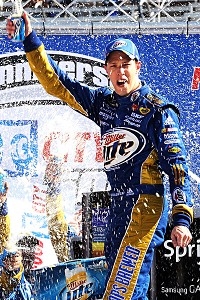 John Harrelson/Getty Images/NASCARBrad Keselowski's win in Bristol on Sunday gave the four Sprint Cup manufacturers a victory in as many races this season.
Chevrolet dominated the 2011 season, winning half of the 36-race schedule. Ford came in second with seven victories, followed by Toyota (six) and Dodge (five). I have a feeling the competition will be spread a little more evenly this season due to the shuffling of talent during the offseason and some new developments among the four manufacturers.
Clint Bowyer
, a winner from last season, recently made the transition from Chevrolet to Toyota with
Michael Waltrip
Racing.
Mark Martin
is another former Chevrolet driver racing for MWR this season. We've already seen great success with this team and with the newly formed alliance between Joe Gibbs Racing and Toyota Racing Development. I think Toyota will be stepping up its program all around.
Ford had a tough year in 2011, but it has been a strong force this season with two of its drivers in the top five in points.
Greg Biffle
is leading the point standings and has three top fives.
Matt Kenseth
, who won the Daytona 500, is third.
The recent news with Penske Racing moving to Ford in 2013 left uncertainty for Dodge, but with its new Charger debuting in the Sprint Cup Series next season the organization has received a lot of interest in its NASCAR program. One prospect is
Richard Petty
Motorsports, which is in its last contract year with Ford. Petty and Dodge have a history together, and the team is looking into renewing that relationship.
And then we have Chevy -- the powerhouse of the sport that has earned the most manufacturers' championships since NASCAR's inception and is currently on a spree of consecutive Sprint Cup championships. Chevrolet has earned a star driver with
Kasey Kahne
competing for Hendrick Motorsports this year and we've seen early success with
Dale Earnhardt
Jr., who I believe will be in Victory Lane soon.
All of this is great for the sport. The amount of competitiveness increases the level of excitement among fans and sponsors, and keeps them engaged from week to week.
Hang on NASCAR nation, because it's shaping up to be a sensational year.
August, 23, 2011
8/23/11
11:24
AM CT
By
Eddie Gossage
| ESPNDallas.com
For
Kyle Busch
, winning the Pure Michigan 400 Sunday was monumental in more ways than one.
Yes, he earned his first win at Michigan. Yes, he clinched his berth in the 2011 Chase for the NASCAR Sprint Cup. Yes, he became the first four-time Cup winner this season. But what was on his mind after that green/white-checkered finish? He put a Toyota in Victory Lane at the track closest to the city of the Big Three.
"You know, it's so awesome to finally win here at Michigan and get Toyota to Victory Lane here at Michigan," Busch said. "It feels good being so close to Detroit and everything. This was a flawless Camry and everybody at Joe Gibbs Racing -- all these guys on this team; the guys at JGR engine room -- gave me a great motor today."
Jimmie Johnson
was trying to carry the flag for Detroit, racing his No. 48 Lowe's Chevrolet hard, but Busch edged him by .568 seconds. That kept Johnson winless at Michigan International Speedway -- one of five tracks currently on the circuit where he hasn't earned a victory.
The old maxim still holds true that what wins on Sunday sells on Monday. And for Toyota, Busch is its most valuable salesperson. Now the question is, will Busch break Johnson's streak of five consecutive NASCAR Sprint Cup championships and give Toyota its first NASCAR Sprint Cup title? Busch currently leads the standings by 10 points over Johnson.
"I've worked with Kyle as a teammate in the past," Johnson said. "I understand his passion for racing. I certainly know he's not afraid to stand on the gas and can really drive the car to its full potential week in and week out.
"I said this about him a while ago: Once he figured out how to win races, he'd win a lot. He certainly had done that. His big test is for a championship. Once he understands that and figures that out, I think he'll win lots of those, too."
Everyone has their eye on Busch this season. Even
Darrell Waltrip
, who has raced with legends like
Richard Petty
,
Dale Earnhardt
,
Jeff Gordon
and Jimmie Johnson, had this to say Monday via Twitter: "I've either raced against or watched the greatest drivers that's ever been in NASCAR, Kyle Busch is the most talented driver I've ever seen."
Darrell was one of the greats, too. That comment says a lot.
Busch's dominance on the race track this season has marked him a favorite to win the 2011 Chase for the NASCAR Sprint Cup. It'll be interesting to see how it all shakes out.
September, 28, 2010
9/28/10
12:27
PM CT
By
Eddie Gossage
| ESPNDallas.com
Denny Hamlin
– was he trying to win the 2010 NASCAR Sprint Cup championship or defend the honor of his team with his outspoken rant aimed at the Richard Childress Racing team's apparent rules violation after driver
Clint Bowyer
won the opening race in NASCAR's playoff Chase at New Hampshire recently?
Hamlin, who tabbed himself the choice to end
Jimmie Johnson
's unprecedented run of four consecutive championships at the end of last season, uncharacteristically blasted Bowyer and Childress during pre-race media sessions at Dover this past weekend. Not typically the most vociferous driver in the field, Hamlin's long diatribe left little to the imagination. He was blunt and specific in calling out RCR and Bowyer. He paid a price when
Kevin Harvick
, an RCR teammate of Bowyer, made contact with his car during the first few laps of practice causing both cars to lose valuable practice time to make repairs. It was an obvious case of payback.
Why did Hamlin lash out?
Was it part of the mind games teams play with other teams as the season winds down and the point race heats up? If so, what was the point? Bowyer effectively received the death penalty in the Chase for the NASCAR Sprint Cup Championship, a loss of 150-points which is virtually insurmountable in the nine remaining races (RCR has appealed the penalty).
Was it Hamlin's way of defending his team from comments made by Bowyer earlier in the weekend? Bowyer angrily defended his team, claiming every team tries to push the envelope on all measurements, citing both Hamlin's and Johnson's cars initially failing to meet pre-race height requirements before making changes that met NASCAR specs. Bowyer's comments were relatively benign since teams frequently have to go through pre-race inspection more than once.
Did Hamlin's comments help or hurt his team's chances of winning the 2010 NASCAR title? Hamlin continues to lead the NASCAR Sprint Cup Series point standings after Dover, where he finished ninth. He holds a 35-point lead over Johnson. So while Hamlin took care of business at Dover, team president J.D. Gibbs admitted he preferred Hamlin avoid causing distractions like the one during the acrimonious weekend.
In other words, what's the point?
Hamlin is an eminently qualified championship caliber driver. He can very well win the 2010 championship as well as others down the line. He proved his toughness winning here in Texas in April just one week after having serious knee surgery. I know because as I presented him the Samsung 500 trophy in Victory Lane, Hamlin muttered about the pain and it was evident in his eyes. But he focused on the race and tuned out the pain. It was mightily impressive.
But nothing was to gain at making the comments. The media like it. The promoters like it.
But it doesn't win championships.
Expect Gibbs' words to take root. Expect a quiet and focused Hamlin for the rest of the championship Chase.
September, 14, 2010
9/14/10
4:07
PM CT
By
Eddie Gossage
| ESPNDallas.com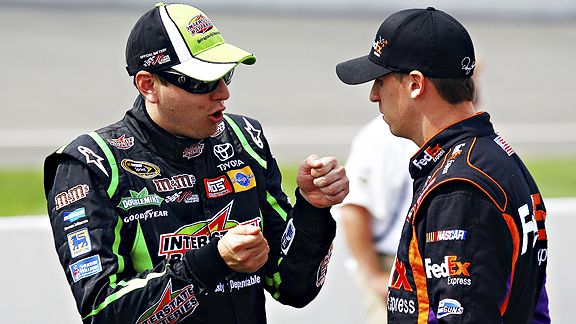 Jason Smith/Getty ImagesDenny Hamlin (right) starts the Chase in first place, but Kyle Busch might end it on top.
The Chase for the NASCAR Sprint Cup Championship starts this weekend at New Hampshire Motor Speedway.
PODCAST
Jeff Gordon joins Galloway & Company to talk about the chase for the Sprint Cup, Kyle Busch's fiancée, connecting with the fans, and more.

Listen

Here's my take on each driver and why he is "hot" and "not hot" entering the 10-race Chase:
Denny Hamlin (5060 points)
Hot: Since the end of 2009, Hamlin has been talked about as the favorite to beat Jimmie Johnson. He's also shown on the track that he can back it up. Two of his six wins this season were on Chase tracks (Texas, Martinsville).

Not hot: Over the last ten races, Hamlin has been outperformed by every single driver in the Chase. Last year, Hamlin had three DNF's in the Chase that were caused by either engine failure or a crash. In the last five races this season, he's had two DNF's caused by an engine failure or crash.
Jimmie Johnson (5050)
Hot: Four-time Champion. He knows how to win the Chase. Johnson has finished a whopping 75 percent of all Chase races inside the top ten. What's even more impressive is that in over half of the races -- 33 of the 60, Johnson has finished inside the top five. Johnson has also claimed 18 total Chase victories. That's an average of three Chase wins per year. Most drivers would be happy with three total wins per year.

Not hot: With an average finish of 17th over the last 10 races, is Johnson as invincible as he's been the past four seasons?
Kevin Harvick (5030)
Hot: Regular-season points leader. Earnhardt/Childress Racing engines have been the strongest all season. That could pay off in a big way at tracks like Texas, Charlotte, California, Kansas, Homestead and Talladega.

Not hot: Has a career average finish of 17th or worse at California, Martinsville, Charlotte, and Dover. Only once in the history of the Chase has the regular-season points leader won the championship (Tony Stewart in 2005).
Kyle Busch (5030)
Hot: Has won Cup races on five of the ten Chase tracks. Busch has also learned how to be a more consistent driver. He's been running at the finish in 25 of 26 races so far this year. His only DNF was a crash at Daytona.

Not hot: Busch has never won a NASCAR Sprint Cup race on any one of the five, 1.5-mile tracks in the Chase. Busch has also never won in the final 10 races of any season.
Kurt Busch (5020)
Not: First Chase champion (2004). As the only Penske driver in the Chase, it's "all hands on deck" for Busch. Sam Hornish Jr. unloaded at Richmond with Busch's setup, ready to assist the No. 2 in any way possible. Brad Keselowski's team is also doing everything it can to help bring a title to Penske.

Not hot: As the only Dodge team in the Cup Series, there is no one else available to share notes or develop engines with. Also, both of the teammates that are helping Busch have not had a single top ten all year.
Tony Stewart (5010)
Hot: Momentum has picked up at just the right time for Stewart. He also has the best record in the last 10 races that have been held at tracks that are one mile or longer. Nine of the ten Chase tracks fit this category.

Not hot: While Stewart's results at any track are impressive, seven of the ten tracks in the Chase are statistically some of his worst.
Greg Biffle (5010)
Hot: Biffle goes into the Chase knowing the he and his team are capable of winning races. The No. 16 team earned its first 2010 victory at Pocono in August.

Not hot: Biffle has finished on the lead lap in only six of the last ten races.
Jeff Gordon (5000)
Hot: Gordon spent most of the summer second in the Sprint Cup point standings. Gordon's average finish of 8.4 in the last 10 mile-and-a-half races is the best in the Sprint Cup Series. Gordon is also the only Cup driver that has finished on the lead lap of each of the last ten races.

Not hot: Gordon has still not been to Victory Lane since winning at Texas in April of 2009 -- the longest stretch he's ever had without a race win.
Carl Edwards (5000)
Hot: Edwards has scored more points than any other driver in the last ten races, finishing in the top 10 in eight of those races. He's also started on the pole in two of the last five races. A win (or several wins) is right around the corner for the No. 99 team

Not hot: Even though a win might be right around the corner, the fact is that Edwards has still not been to Victory Lane since the last race of 2008.
Jeff Burton (5000)
Hot: It's been said that to finish first, first you have to finish. Burton is one of only three drivers that have not had a DNF all season long. Burton has also led a respectable 390 laps this year.

Not hot: Burton has not won a race since October of 2008.
Matt Kenseth (5000)
Hot: Mr. Consistency has one very impressive stat this year. Kenseth has completed all but seven laps this entire season for a total of 23 lead lap finishes.

Not hot: Kenseth has only led 35 of the 7,699 laps that he's completed. He has also not won a race since February of 2009.
Clint Bowyer (5000)
Hot: In Bowyer's last two Chase appearances, he ended up fifth and third in the final point standings.

Not hot: In 120 career Cup races, Bowyer has only two wins. His last trip to Victory Lane was in May of 2008.
My pick to win the NASCAR Sprint Cup Championship for 2011:
Kyle Busch. Joe Gibbs Racing is peaking at the right time -- all three JGR drivers finished in the top five at Richmond Saturday night -- and Busch has been strong all year. He's matured into a championship driver. It will be the first of several NASCAR Sprint Cup championships the young Busch will win in his career.
Sunday's race at New Hampshire gets the green flag at noon CT.