Dallas Motorsports:

John Force
April, 7, 2011
4/07/11
9:16
PM CT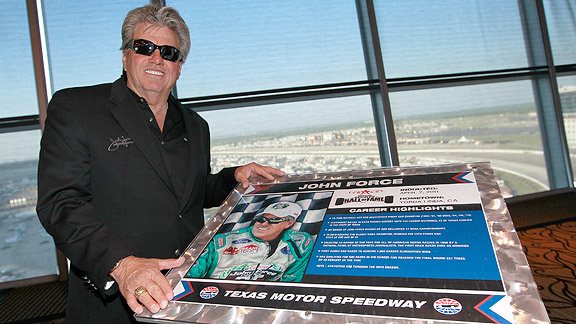 Tom Pennington/Getty ImagesNHRA legend John Force was inducted into the Texas Motorsports Hall of Fame on Thursday night. "All I do is race," Force said. "That's what I do. That's all I want to do."
FORT WORTH, Texas -- John Force, a driver who loves to talk, didn't have any problems talking about how much he loves the state of Texas.
"Can I have a few minutes?" Force said after he was inducted into the Texas Motorsports Hall of Fame. "Because when I'm done, they won't invite me back."
Force did what he does best on Thursday at the banquet: Entertain.
Force isn't a Texas native, but has raced in Houston and Dallas (Texas Motorplex in Ennis). And he had an unforgettable moment at Texas Motorplex in 2007, crashing into the wall and going through six hours of surgery and staying in the hospital for more than a month in Dallas after that dealing with rehab.
"I love Texas," Force said. "I wasn't born here, but I almost died here."
Force still talks to some of the doctors and nurses that helped him in Dallas and used the accident, along with the death of his friend, Eric Medlen, earlier that year, as motivation to make the cars safer and to get back to winning championships. He won his 15th NHRA Funny Car title in 2010, four years after his last one. He's won more major racing titles in Texas than any other driver.
"It's unbelievable to be here tonight and to see The King, Richard Petty," Force said. "I can't believe Texas Motor Speedway. I've never been out here, but this place is amazing."
Force said his time in the hospital made him a Dallas Cowboys fan and he continues to cheer on the team and his favorite player, Tony Romo.
Force joked with TMS president Eddie Gossage and track owner Bruton Smith that when he drove into the racetrack he said, "That Jerry Jones did it again!"
Force talked about his passion for racing and how proud he is of his four daughters.
"All I do is race," Force said. "That's what I do. That's all I want to do."
Force said he still has his name on his bus and when he pulled into Las Vegas, he said he was told that Richard Petty said: "He either has an ego that's way too large or he's so old he can't find his own bus."
"On a serious note, I'm really honored," Force said. "I'll accept this on behalf of all my teammates that got me here and for all of the fans."
April, 7, 2011
4/07/11
7:10
PM CT
FORT WORTH, Texas -- In what has become a tradition for the first NASCAR weekend at Texas Motor Speedway, the Texas Motorsports Hall of Fame will induct another member tonight and recognize a handful of others.

The headliner is John Force, who joins Lee Shepherd, Kenny Bernstein and Eddie Hill as the only NHRA racers inducted into the Hall. Coming into the 2011 season, Force has won 15 NHRA Funny Car championships, including 2010.

I can tell you I'll never forget one of Force's moments at the Texas Motorplex in 2007, when he clipped Kenny Bernstein, hit the wall and needed more than six hours of surgery and months of rehabilitation before returning to action the next season. That was as quiet as I've heard a racetrack. I also got to visit Force in the hospital and as rough as he looked, it was as determined as I've ever seen anyone.

We'll get to the other award winners as the night progresses.