Dallas Motorsports:

Juan Pablo Montoya
February, 28, 2012
2/28/12
12:05
PM CT
By
Eddie Gossage
| ESPNDallas.com
As Monday turned into Tuesday, you wondered if the bizarre SpeedWeeks at Daytona -- something fans have waited for during what they consider an interminably-long offseason -- would ever end. Finally, it did with a clean sprint to the finish line during a three-lap overtime period with
Matt Kenseth
claiming his second Daytona 500 win.
PODCAST
TMS president Eddie Gossage shares his thoughts on Monday's epic Daytona 500, the jet fuel truck explosion and how it could all help Texas Motor Speedway's marketing plan.

Listen

Kenseth, an often overlooked talent who has won a NASCAR Sprint Cup championship and 22 races in his career, simply buried his foot on the floor while
Greg Biffle
and
Dale Earnhardt
Jr. gave chase. Neither Biffle or Junior could even make a move to try to overtake Kenseth. That's how strong he was.
But the bizarre nature of SpeedWeeks at Daytona caused you to think back. Unknown
John King
won the NASCAR Camping World Series race on Friday night while Plano's
James Buescher
maneuvered through a last lap wreck to win Saturday's NASCAR Nationwide Series race.
And then there was Danica. You would have sworn it was the Danica 500. If she wasn't here, she was there. She was everywhere. All Danica, all the time, as America's most recognized female athlete prepared for her NASCAR Sprint Cup debut. She ran in Thursday's dual qualifying races, Saturday's NASCAR Nationwide race and then the Monday night/Tuesday morning's Daytona 500. Three race, three wrecks. None, really, of her own doing. Welcome to NASCAR.
But the word "bizarre" is perhaps the most-used word about the first race of the 2012 NASCAR season.
Bizarre in that for the first time in the 53-year history of the Daytona 500, the race was postponed due to weather.
Bizarre in that of the three major races at Daytona, 87 of the 122 cars that raced were involved in a caution, according to NASCAR. That means 71 percent of the cars were damaged in some way. Some were repaired and thus returned to the track, but few got by without any damage.
Bizarre in that the race had a red flag delay of more than two hours after
Juan Pablo Montoya
's race car hit a jet-drier truck during a caution period. The truck, loaded with 200 gallons of jet fuel, erupted in an explosion. Not since the roof of the Metrodome collapsed under snow last year or an earthquake hit San Francisco's Candlestick Park moments before a game in the 1989 World Series have we seen such a bizarre sporting moment. Fortunately neither Montoya or the driver of the jet truck were injured.
Bizarre in that driver
Brad Keselowski
tweeted photos of the burning jet truck as he sat parked on the backstretch. Tweeting. During the race. From inside his car (but not while driving). What other sport? As the TV network showed his report and gave his @keselowski handle, the driver's Twitter followers jumped from some 20,000 to more than 200,000. Amazing.
And then, bizarrely, nobody could pass Kenseth as he took the checkered flag and went directly to Daytona's Victory Lane. Winner. Again.
Sadly, Kenseth's win comes less than a month after his mother died of dementia.
In 2009, Kenseth won a rain-shortened Daytona 500 that covered only 380 miles. With this morning's overtime race, Kenseth ran 505 miles in winning the Daytona 500.
He's the 2012 Daytona 500 champ. SpeedWeeks is over. Almost too much to remember.
So if you only recall one thing other than Kenseth's triumph, remember the word:
Bizarre.
October, 11, 2011
10/11/11
5:26
PM CT
By
Eddie Gossage
| ESPNDallas.com
The intensity in the Chase for the NASCAR Sprint Cup grew even higher Sunday at Kansas as
Jimmie Johnson
earned his second win of the season and
Carl Edwards
took the series lead by one point over
Kevin Harvick
. But it seems like there's only one thing on the public's mind: "We're tired of Johnson winning championships."
While I understand Johnson and this sport seems like a broken record (excuse the pun), I'd like to remind everyone of the unique season we've seen.
First let's consider the repeat Cinderella story. Prior to this season, never before had NASCAR seen first-time winners in the Daytona 500, Southern 500 and Brickyard 400 in one year. In fact, even just the Daytona 500 and Southern 500 had never seen first-time winners in the same season. That's good stuff.
Next I want to bring up the heated competition. Yes, I'm talking about feuds and controversy. Fireworks erupting between Harvick and
Kyle Busch
at Darlington, Johnson and
Kurt Busch
at Richmond and Pocono,
Ryan Newman
and
Juan Pablo Montoya
at Darlington, and
Greg Biffle
and
Boris Said
at Watkins Glen.
"He is the most unprofessional little scaredy cat I've ever seen in my life," Said said about Biffle. "He wouldn't even fight me like a man after. So if someone texts me his address, I'll go see him Wednesday at his house and show him what he really needs."
Talk about drama. You can't make this stuff up, folks.
Then you've got drivers like
Brad Keselowski
and
Dale Earnhardt
Jr. making remarkable comebacks, clinching a spot in the Chase and actually being in contention to win the title. And let's not forget
Jeff Gordon
earning his 85th victory, passing
Bobby Allison
and
Darrell Waltrip
for third place on the all-time wins list.
It's been a very competitive year, and this could turn out to be a magical season. It reminds me of 1992 when
Alan Kulwicki
, an underdog, recorded one of the greatest championship comebacks in NASCAR history, rebounding from a 278-point deficit with six races remaining. Kulwicki edged
Bill Elliott
by 10 points to become the series champion -- the closest championship margin at the time.
Now we're down to six races and nine guys still have a legitimate shot, but somebody's feelings are about to get hurt. There's no room for mistakes now. You can't leave anything on the table. Get ready NASCAR nation, because the pressure's on.
February, 21, 2010
2/21/10
9:08
PM CT
By
Eddie Gossage
| ESPNDallas.com
It was somewhat surprising to see engines blowing during Sunday's NASCAR Sprint Cup Series race at Auto Club Speedway. It used to be a common thing to see smoke erupt from a car and have four or five cars sitting in the garage with blown engines.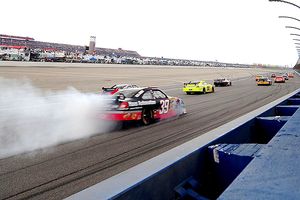 Gary A. Vasquez/US Presswire
Ryan Newman had to drop out of Sunday's Auto Club 500 with a blown engine.
But engine builders today in the NASCAR Sprint Cup Series have gotten so good that you seldom see a "smoker" on the track.

Engines from top-notch teams, including those of Juan Pablo Montoya and Ryan Newman, went up in smoke today. Both drivers retired from the race. It's just not a common thing anymore.

If your street car hits 3,500 RPMs, you are really pushing it. But a Cup car today runs more than 9,000 RPMs. Engine builders have become so adept at building the Cup engines and the parts and pieces they use have improved so much that it's just a rarity to see a blown engine.

Although the problems with the two engines appeared to be different, it makes you wonder if the teams had either run into a bad batch of parts or if the two teams were experimenting with parts under the hood. Both are running Chevys. Montoya had qualified second for Sunday's race and is a teammate of Daytona 500 winner Jamie McMurray. Newman is a teammate of Tony Stewart.
February, 8, 2010
2/08/10
1:02
PM CT
By
Eddie Gossage
| ESPNDallas.com
NASCAR told the Sprint Cup Series drivers that they were loosening the reigns on them this season and "to have it, boys." If you watched Saturday night's Budweiser Shootout at Daytona, did they ever.

There was aggressive driving beginning in practice earlier in the week and it carried right over into the Shootout. I wondered to myself if it was because of NASCAR's relaxing of the rules or because there were no points on the line?

The answer is "yes" on both counts. There was plenty of aggressive bump drafting going on from start to finish, and I thought the most impressive was when Juan Pablo Montoya was giving a push to Jimmie Johnson. You would have thought they were shot out of a cannon in the fashion they were moving up to the front.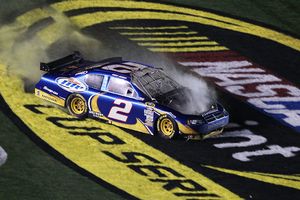 Nick Laham/Getty Images
Kurt Busch took a scary ride across the Daytona infield after his hood flapped up against his windshield. Busch, who car went back up the track and hit the wall, was uninjured.
Some of the other aggressive bump drafts resulted in accidents, and several of the drivers talked about the bigger plate caused quicker closing times and that it will take some getting used to.
Kurt Busch already has been involved in two crashes, neither his own fault. He had one in practice and then took a wild ride through the tri-oval infield grass in the Shootout after contact with Mark Martin. The car's front splitter acted like a rototiller through the infield, sending dirt and grass through the engine compartment and blowing the hood up on the windshield. Imagine driving at almost 200 miles per hour for like two-thirds of a mile with your hood on your windshield. I can't imagine going 20 miles per hour for 10 feet like that. Thankfully, Kurt was uninjured and still had his sense of humor intact when they interviewed him afterward, joking he took more laps in the track ambulance than his Dodge Charger during the week.

It was also great to see good friend Kevin Harvick back in Victory Lane. He struggled through a very frustrating season in 2009 -- as did all the Richard Childress Racing folks -- so it was encouraging to see some promise for the upcoming season for him and hopefully his RCR teammates too.

Will we see more of the same racing in Sunday's Daytona 500? Probably so. Even though this will be a points-paying race and everyone wants to get off to a good start to the season, it is still the sport's biggest race of the year and there is a ton of loot and prestige on the line. It may not be as wild as the Shootout in the early going, but you can bet the last 10 to 20 laps will be as wild if not wilder than the Shootout.

I mentioned in my opening blog that Tony Stewart was going to drive down with our friends from Sprint and me to the Super Bowl, and that I was anticipating some entertaining stories from the off-track time with "Smoke."

Tony wound up meeting us at the game and I was a bit surprised that I didn't see the talkative and joking guy I know. I met the Tony Stewart that is one hardcore Colts fan, much like me with the Green Bay Packers. He sported his Colts cap and he was intense all game, sitting on the edge of his seat from start to finish. Pretty cool to see an athlete of another sport focus so intensely on the performance and execution of other athletes. And one that personally knows the desire, drive and teamwork it takes to become a champion.

Many in the NASCAR community were up -- including me -- at 4:14 a.m. Eastern Time in Daytona Beach this morning to see the Space Shuttle launch from Cape Canaveral. Driver Mike Skinner, however, thought the launch time was 4:19 a.m. He got up five minutes late. By then, the shuttle was literally halfway across the Atlantic Ocean. It gave a new meaning to the phrase, "You snooze, you lose."

Speaking of snoozing, I'm hopping on a plane back to DFW and plan to do a little of that along the way. It's been quite a weekend.