Dallas Motorsports:

Kasey Kahne
April, 11, 2013
4/11/13
1:00
PM CT
By
Scott Noll
| ESPNDallas.com
Want to impress your friends while hanging out at Texas Motor Speedway on Friday and Saturday? Here's a little bit of TMS trivia, courtesy of ESPN Stats & Information:
FRONT RUNNERS:
If you qualify in the top 10 at Texas Motor Speedway, you have a very good chance of winning. In 24 races since the track's inaugural race in 1997, 18 winners have rolled off pit row from a top-10 starting spot, the highest win percentage of any track along with Sonoma. Richmond and Dover are next at 71.9 percent.
HOME AWAY FROM HOME:
So who has the best chance of starting in the top 10 at Texas Motor Speedway? None other than
Jimmie Johnson
, who has started from inside the top 10 on 12 occasions in 19 races (63.2 percent), including both of his Texas wins.
Greg Biffle
(61.1),
Kasey Kahne
(58.8) and
Mark Martin
(54.2) are next.
CLIMBING THE LADDER:
Enough about those at the front. That's easy, right? Now ... coming up through the field to win? That's an achievement.
Matt Kenseth
currently holds that honor, winning in 2002 after starting 31st.
Denny Hamlin
, however, proved he was no fluke, having swept both 2010 races from the 30th and 29th starting spots in the field.
Carl Edwards
(2005) also won from the 30th spot.
PHOTO FINISHES:
Nothing beats the drama of a last-lap sprint to the checkered flag. Just ask
Elliott Sadler
, who edged Kasey Kahne by .028 seconds in 2004 for the closest Cup finish in TMS history. And if you want the opposing viewpoint, you can try to ask Jimmie Johnson, who was the runner-up in close finishes to Denny Hamlin (.152 seconds in 2010),
Tony Stewart
(.272 seconds in 2006),
Jeff Gordon
(.378 seconds in 2009) and Carl Edwards (.399 seconds in 2008). Venturing a guess, however: You need not feel overly sorry for "Five-Time."
WHICH WAY IS VICTORY LANE:
Will there be a first-time Cup winner in Texas? It's happened twice before.
Jeff Burton
earned his first Cup victory at TMS in 1997. Burton, who started fifth, beat
Dale Jarrett
by 4.1 seconds to win in his 96th career race.
Dale Earnhardt
Jr. reached Victory Lane much quicker, winning at TMS in 2000 in just his 12th career race. Who'd Dale Jr. beat to the finish line? Why Jeff Burton, of course.
April, 4, 2012
4/04/12
2:48
PM CT
ESPN asked its panel of NASCAR experts in its
weekly Turn 4 feature
who would be the driver to get elusive win No. 200 for owner
Rick Hendrick
, and where it would happen.
Two of the five panelists -- Ryan McGee of ESPN The Magazine and Marty Smith of ESPN Insider -- think it won't take too long. In fact, they think it'll happen next week at the Samsung Mobile 500 at Texas Motor Speedway.
Their takes:
McGee:
I was standing in the 88 pits watching Hendrick as he watched the final 20 laps [at Martinsville]. It was heartbreaking because he had the wives of his late brother John and DuPont executive Joe Jackson with him, the first time they'd been back to Martinsville since the 2004 plane crash. But I've said for a while that I think Dale Jr. will win at Texas, and I'm sticking with that.
Smith:
Kasey Kahne
at Texas next weekend. Rarely do you see someone with expectations so astronomical start so poorly. I've said this until I'm blue in the face: He's fast everywhere. He has speed. That is critical. If Kahne were riding around in 30th every weekend, slow as molasses in January, my opinion would be different. His luck is just pathetic. It's wearing on him, and you can easily sense the frustration he's feeling. But Texas is among his best tracks. This is the weekend Kahne turns it around, and HMS can stop lugging those hats around all over creation.
For more picks, and other topical NASCAR debate,
click here.
March, 22, 2012
3/22/12
11:49
AM CT
By
Eddie Gossage
| ESPNDallas.com
Brad Keselowski
's win at Bristol on Sunday marked the fourth different winner in the NASCAR Sprint Cup Series' four races this season. He also gave Dodge its first victory of 2012, which means all four manufacturers represented in the series have already earned a win. And there's still 32 races to go.
[+] Enlarge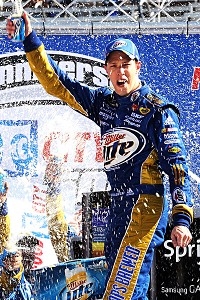 John Harrelson/Getty Images/NASCARBrad Keselowski's win in Bristol on Sunday gave the four Sprint Cup manufacturers a victory in as many races this season.
Chevrolet dominated the 2011 season, winning half of the 36-race schedule. Ford came in second with seven victories, followed by Toyota (six) and Dodge (five). I have a feeling the competition will be spread a little more evenly this season due to the shuffling of talent during the offseason and some new developments among the four manufacturers.
Clint Bowyer
, a winner from last season, recently made the transition from Chevrolet to Toyota with
Michael Waltrip
Racing.
Mark Martin
is another former Chevrolet driver racing for MWR this season. We've already seen great success with this team and with the newly formed alliance between Joe Gibbs Racing and Toyota Racing Development. I think Toyota will be stepping up its program all around.
Ford had a tough year in 2011, but it has been a strong force this season with two of its drivers in the top five in points.
Greg Biffle
is leading the point standings and has three top fives.
Matt Kenseth
, who won the Daytona 500, is third.
The recent news with Penske Racing moving to Ford in 2013 left uncertainty for Dodge, but with its new Charger debuting in the Sprint Cup Series next season the organization has received a lot of interest in its NASCAR program. One prospect is
Richard Petty
Motorsports, which is in its last contract year with Ford. Petty and Dodge have a history together, and the team is looking into renewing that relationship.
And then we have Chevy -- the powerhouse of the sport that has earned the most manufacturers' championships since NASCAR's inception and is currently on a spree of consecutive Sprint Cup championships. Chevrolet has earned a star driver with
Kasey Kahne
competing for Hendrick Motorsports this year and we've seen early success with
Dale Earnhardt
Jr., who I believe will be in Victory Lane soon.
All of this is great for the sport. The amount of competitiveness increases the level of excitement among fans and sponsors, and keeps them engaged from week to week.
Hang on NASCAR nation, because it's shaping up to be a sensational year.
November, 14, 2011
11/14/11
9:21
AM CT
There's only one race remaining in the Sprint Cup season, and only
three points separating the top two drivers
in the Chase for the Championship -- Carl Edwards and Tony Stewart.
After Stewart beat Edwards to the finish line for a 1-2 finish in Texas last week, Edwards had the better car on Sunday at Phoenix International Raceway -- barely. Edwards finished second, while Stewart was third.
Oh, by the way,
Kasey Kahne won
the race. And in case you were wondering, five-time defending series champion
Jimmie Johnson was eliminated
.
Here's David Newton's take on the Sprint Cup shenanigans on Sunday:
Carl Edwards entered the media center late Sunday afternoon at Phoenix International Raceway and took a seat a few feet from Tony Stewart with only a black chair separating them.

"If you want, we can eliminate the chair," joked Stewart as Edwards slid even closer to the two-time Sprint Cup champion.

Quipped Edwards, "We're good."

These two have been that close on the track for most of the past three weeks. They will be that close heading into the season finale at Homestead-Miami Speedway, with Stewart behind Edwards by a mere three points with all the marbles on the line.
For more of the story on this epic points battle,
click here.
November, 6, 2011
11/06/11
5:56
PM CT
By
Scott Noll
| ESPNDallas.com
FORT WORTH, Texas -- Joey Logano took his No. 20 to the garage after blowing an engine on Lap 263 of the AAA Texas 500 at Texas Motor Speedway.

With 73 laps to go, Tony Stewart was the race leader. However, after yellow flag pit stops, points leader Carl Edwards now is in front after most took just two tires. Matt Kenseth will restart third.

Kasey Kahne is the first car in line that took four tires. He's restarting eighth.

Now, we'll just see how things play out once the green flag drops.
July, 25, 2011
7/25/11
3:54
PM CT
By
Eddie Gossage
| ESPNDallas.com
The NASCAR Sprint Cup Series was off last weekend, and for a lot of drivers it was time for a little R&R. One driver went to Spain. Another to France.
Jeff Gordon
went on a charitable trip to the Congo.
But not
Kasey Kahne
Kahne loaded up his sprint car racing team for some World of Outlaws action at Williams Grove Speedway in Mechanicsburg, Pa. Action is exactly what he got. He was running in the second heat race Friday night -- the opening night of the Summer Nationals -- when another driver began sliding up the track inside of him. The two made contact and Kahne went tumbling over the guardrail.
Actually, he went over the catch fence, completely out of the speedway. (See video above)
It was quite a spectacular crash. Luckily, Kahne walked away unhurt. He tweeted later: "Got wiped out in my heat race tonight. Haven't flipped like that in a long time!"
Talk about risky business. And not just for Kahne, but also others invested in him. I wonder how
Rick Hendrick
feels about that. Here's Hendrick investing millions of dollars into Kahne's Sprint Cup career, and the driver was exposing himself to potential injuries.
My opinion? Bless him. I admire Kahne and drivers like
Carl Edwards
and those who race at Eldora with
Tony Stewart
every year. They're race car drivers who love to race. My favorite event is the Slinger Nationals in Wisconsin, which
Kyle Busch
won last year. If the mountain will not come to Mohammed, Mohammed will go to the mountain. How cool is that?
At some point, they are going to get hurt. That's racing. Is that worth being locked in a closet? I don't think so, and I hope their owners never come down on them for participating in these events outside of their Sprint Cup careers.
I worked with
Bobby Allison
for years, and he was that kind of racer. He raced 50-60 races a year and his worst crash actually happened in 1976 at a short track in Elko, Minn. He hit a concrete abutment and the front of the car was completely pushed in. The motor caved into the firewall and the steering column was shoved into his face, leaving him with multiple serious injuries. He was in intensive care for five days.
The following week, Allison still managed to qualify and run one lap to get his points at Nashville. After all, he was in a battle for the Winston Cup championship. He painfully managed to finish the season in fourth place.
There is a lot more money at stake these days, so I wouldn't doubt that investors in the sport see these drivers a risk. But what do you do? These are the guys who are growing the sport. If you take away the risk, you risk slowing the progression of the sport.
So have at it, boys! Race your heart out.
April, 8, 2011
4/08/11
4:35
PM CT
FORT WORTH, Texas -- Qualifying for Saturday's Samsung Mobile 500 at Texas Motor Speedway is at 5:40 p.m. and Kasey Kahne posted the fastest practice speed Friday afternoon at 183.899 mph, one of two Toyotas in the top 10.

Four Fords, led by Carl Edwards (183.755 mph) and three Chevrolets, led by Paul Menard (183.892 mph) fill out the top 10 with only one Dodge (Kurt Busch, 183.692 mph).

For Kahne the session was much better than the big crash suffered last week at Martinsville on Lap 221. Kahne tied for the series lead with four poles last year and he is looking for his first this season.

Speeds in the second practice were slower with teams in their race trim during the session. Twenty drivers were faster in Thursday's practice.

November, 3, 2010
11/03/10
9:15
AM CT

Amid speculation that Anheuser-Busch would not continue to sponsor the No. 9 car past last weekend's race at Talladega Superspeedway, Budweiser said Tuesday it will remain a sponsor for Richard Petty Motorsports for the final three Sprint Cup events of the season.

Aric Almirola, who replaced Kasey Kahne, will drive the No. 9 for the third straight race at Texas Motor Speedway. Kahne moved to Red Bull Racing, where he will compete full-time next season. All four RPM cars are entered in Sunday's race at TMS.
April, 14, 2010
4/14/10
12:12
PM CT
By
Eddie Gossage
| ESPNDallas.com
Officials with Richard Petty Motorsports announced Tuesday that Kasey Kahne, their No. 1 driver, has signed an agreement to race for Hendrick Motorsports in 2012.

Only seven races are complete in the 2010 season and drivers are already jumping from team to team.

Obviously Kahne and Hendrick would have preferred to have kept their agreement hush-hush, but RPM wanted to let the world know. Angry remarks by a jilted lover? Who knows. But it is big news.

Does this mean somebody is leaving Hendrick Motorsports after 2011? A team is only allowed to have four entries and Hendrick already fields cars for Jimmie Johnson, Jeff Gordon, Mark Martin and Dale Earnhardt Jr.

Some would think Kahne will replace Martin, who cut back to a shortened schedule a few years ago but returned full-time and almost won the NASCAR Sprint Cup championship last year. But could it be another driver in Hendick's stable moving on or out -- after 2011? That leaves Johnson, Gordon or Earnhardt open to the speculation. Not likely.

It could also mean that a satellite operation of Hendrick Motorsports, perhaps Stewart-Haas Racing, will field a car for Kahne. They already have entries for Tony Stewart and last week's winner, Ryan Newman. Sponsorship will be key, but apparently the Budweiser sponsorship at RPM expires this season. Perhaps they will want to move with Kahne?

NASCAR's "Silly Season," the time of year where rumors run rampant about drivers hopping from team to team, used to start in September and October. Now apparently it starts in April. Two years early.

We're going to need a souvenir program to keep up.