Dallas Motorsports:

Kurt Busch
March, 28, 2013
3/28/13
8:24
AM CT
NASCAR team owner Jack Roush will become the 15th member to be inducted into the Texas Motorsports Hall of Fame on April 11, Texas Motor Speedway announced Wednesday.
Roush's cars have won a record nine NASCAR Sprint Cup races at TMS and 18 overall checkered flags across NASCAR's three national series. He also swept both Sprint Cup events during TMS' inaugural season (1997).
Five-time Sprint Cup champion
Jimmie Johnson
(Racer of the Year), Sprint Cup driver
Kurt Busch
(Maj. General Thomas Sadler Award), IndyCar Series driver
Graham Rahal
(TMS Sportsmanship Award) and iconic motorsports writer Chris Economaki (Bruton Smith Legend Award) will also be honored during the Texas Motorsports Hall of Fame gala on April 11.
From the TMS release:
Roush has helped establish one of the most successful organizations in motorsports in Roush Fenway Racing. The organization stands as the winningest team in NASCAR history and boasts the most victories in both the NASCAR Nationwide and Camping World Truck Series. With Roush at the helm, Roush Fenway Racing has captured seven championships across NASCAR's three major series, including two Sprint Cup Series championships in 2003 and '04.

Texas Motor Speedway has become the "House of Roush" with his nine Sprint Cup Series wins and 18 in Sprint Cup, Nationwide and Camping World Truck Series competition. His Sprint Cup Series victory total is more than double the next closest owner - which is Rick Hendrick with four - and his most recent win came in last April's Samsung Mobile (now NRA) 500.

Roush joins an accomplished list of individuals that have been inducted into the Texas Motorsports Hall of Fame since it was established in 2003. He joins previous inductees A.J. Foyt (2003), Johnny Rutherford ('03), Terry Labonte ('04), Lee Shepherd ('04), Kenny Bernstein ('05), Jim Hall ('05), Eddie Hill ('06), Mark Martin ('07), Jim McElreath ('07), Bobby Labonte ('08), Bruton Smith ('08), Joe Gibbs ('09), John Force ('10) and Lanny Edwards ('11).

Johnson, who turned in his most dominating season at Texas Motor Speedway in 2012 with a victory in the AAA Texas 500 and runner-up finish in the Samsung Mobile 500, will receive the Texas Motor Speedway Racer of the Year award. In the AAA Texas 500, Johnson became just the second driver to win from the pole for his second career victory at Texas Motor Speedway. His win followed his previous performance during April's Samsung Mobile 500 where he led a race-high 156 laps en route to a runner-up finish behind Greg Biffle. In all, Johnson led a total of 324 of 669 laps in the two 2012 NASCAR Sprint Cup Series races at "The Great American Speedway!"

Busch has been instrumental in helping Speedway Children's Charities-Texas Chapter raise funds to benefit children in North Texas. He will be recognized as this year's recipient of the Maj. General Thomas Sadler Award. Busch has hosted some of Speedway Children's Charities biggest fundraising events that include the Kurt Busch Celebrity Bowling Tournament and Busch-Whacked Mud Run. In all, Busch has helped Speedway Children's Charities-Texas Chapter raise more than $40,000.

Rahal will receive the Texas Motor Speedway Sportsmanship Award for displaying a demeanor both on and off the track that exemplifies the meaning of sportsmanship. In June, he appeared headed to his second career IZOD IndyCar Series victory before his car brushed the wall and the bobble handed the lead and eventual victory over to Justin Wilson. Following the race, Rahal handled defeat as a true professional. His sportsmanship has been demonstrated off the track through his work with the Graham Rahal Foundation and his efforts to help the family of the late Dan Wheldon in 2011 by generating an auction that raised more than $600,000.

Economaki, motorsport's most noted and accomplished journalist, will be honored posthumously with the Bruton Smith Legend Award. Economaki left a lasting impact on the motorsports community through his work as both an editor and publisher for National Speed Sport News and television commentator. His passion for racing helped him earn the title, "Dean of American Motorsports." His 74-year career as a journalist helped capture the early history of motorsports, covering premier events in NASCAR, INDYCAR and Formula One, among others.
January, 4, 2012
1/04/12
3:02
PM CT
By
David Newton / ESPN.com
CHARLOTTE, N.C. --
Aric Almirola
was named driver of the famed No. 43 for
Richard Petty
Motorsports Wednesday.
Almirola finished fourth in the Nationwide Series standings this past season for JR Motorsports. He will replace
AJ Allmendinger
, who two weeks ago was named
Kurt Busch
's replacement in the No. 22 at Penske Racing.
"One of the things I am most excited about is to have the chance to drive a car as iconic as the No. 43," Almirola said in a statement. "There is so much history surrounding that number and to have my name above the door will be really special for me."
Cole Whitt
is expected to replace Almirola at JRM, sources said.
For more,
click here.
December, 5, 2011
12/05/11
10:44
AM CT
By
ESPN.com wire services
Kurt Busch and Penske Racing
have agreed to a mutual split
, the team said Monday.
The 2004 Sprint Cup champion lost favor with Penske Racing and primary sponsor Shell Pennzoil during a season in which he had multiple behavioral run-ins on and off the track.
"I am grateful to Penske Racing for six very productive years," Busch said in a statement. "Together we won a lot of races --16 in all. Leaving a great organization and a lucrative contract is not easy, but it's an important step for me and allows me to take a deep breath to work on things that can make me a better driver and a better person."
So ... where do you think Kurt Busch will wind up? And who do you think will be handling the #22 in the Daytona 500?
October, 11, 2011
10/11/11
5:26
PM CT
By
Eddie Gossage
| ESPNDallas.com
The intensity in the Chase for the NASCAR Sprint Cup grew even higher Sunday at Kansas as
Jimmie Johnson
earned his second win of the season and
Carl Edwards
took the series lead by one point over
Kevin Harvick
. But it seems like there's only one thing on the public's mind: "We're tired of Johnson winning championships."
While I understand Johnson and this sport seems like a broken record (excuse the pun), I'd like to remind everyone of the unique season we've seen.
First let's consider the repeat Cinderella story. Prior to this season, never before had NASCAR seen first-time winners in the Daytona 500, Southern 500 and Brickyard 400 in one year. In fact, even just the Daytona 500 and Southern 500 had never seen first-time winners in the same season. That's good stuff.
Next I want to bring up the heated competition. Yes, I'm talking about feuds and controversy. Fireworks erupting between Harvick and
Kyle Busch
at Darlington, Johnson and
Kurt Busch
at Richmond and Pocono,
Ryan Newman
and
Juan Pablo Montoya
at Darlington, and
Greg Biffle
and
Boris Said
at Watkins Glen.
"He is the most unprofessional little scaredy cat I've ever seen in my life," Said said about Biffle. "He wouldn't even fight me like a man after. So if someone texts me his address, I'll go see him Wednesday at his house and show him what he really needs."
Talk about drama. You can't make this stuff up, folks.
Then you've got drivers like
Brad Keselowski
and
Dale Earnhardt
Jr. making remarkable comebacks, clinching a spot in the Chase and actually being in contention to win the title. And let's not forget
Jeff Gordon
earning his 85th victory, passing
Bobby Allison
and
Darrell Waltrip
for third place on the all-time wins list.
It's been a very competitive year, and this could turn out to be a magical season. It reminds me of 1992 when
Alan Kulwicki
, an underdog, recorded one of the greatest championship comebacks in NASCAR history, rebounding from a 278-point deficit with six races remaining. Kulwicki edged
Bill Elliott
by 10 points to become the series champion -- the closest championship margin at the time.
Now we're down to six races and nine guys still have a legitimate shot, but somebody's feelings are about to get hurt. There's no room for mistakes now. You can't leave anything on the table. Get ready NASCAR nation, because the pressure's on.
May, 3, 2011
5/03/11
10:48
AM CT
By
Eddie Gossage
| ESPNDallas.com
We're three months into the NASCAR Sprint Cup season and certain things remain the same and certain things are, well, shocking. Unprecedented. And interesting.
Which is exactly what NASCAR wanted when they jacked around with the point system back in the offseason.
Carl Edwards
is on top of the point standings. No surprise considering how strong he finished the 2010 season.
Quietly,
Jimmie Johnson
is second. The only surprise here is how a guy that has won an unprecedented five straight championships races under the radar? But he has, winning only once this year.
Kyle Busch
finally seems to be reaching the level everyone expected of him, as he sits third. Many believe the young Busch is the most talented driver in the sport. He's won lots of races in his brief career, but immature outbursts have marred the consistent performances needed to win titles. Perhaps he has matured to a championship level.
Perhaps most stunning:
Dale Earnhardt
Jr., is solid in fourth. This turnaround could be the story of the year.
Unless, of course, you discount the poor performance of
Jeff Gordon
, who has contended for the championship every season of his long career. He currently stands 19th but has one win. It's hard to imagine a championship race at the end of the year without Gordon, but it appears highly unlikely that he can make up the difference.
Denny Hamlin
entered into the 2011 season with high hopes. Those hopes have dimmed to his current 13th in the point standings.
A.J. Allmendinger is a shocking 10th in the current points. Almendinger is a very talented driver, and
Richard Petty
Motorsports continues to show quantum leaps of improvement. But this is a position drivers in position 11-20 are eyeing as an opportunity.
Kevin Harvick
,
Clint Bowyer
,
Kurt Busch
,
Tony Stewart
and
Ryan Newman
also reside in the top 10. All of them could win the title once The Chase begins.
Lots of racing to go until we settle in for the final 10-race slugfest to determine the champ, but this thing is interesting.
April, 8, 2011
4/08/11
7:30
AM CT
By
Bryan Broaddus
| ESPNDallas.com
As much as I enjoy the National Football League and covering the Dallas Cowboys for 103.3 FM ESPN and ESPNDallas.com, my true passion is auto racing, and especially Nascar. This weekend the Sprint Cup Series makes its first of two visits to the Great American Speedway and the running of the Samsung Mobile 500.
For the first time, the race will be competed under the lights at Texas Motor Speedway. Since speedway president Eddie Gossage was able to secure a second race date for Texas, the November race has started in the daylight but finished at night. Never has an entire race been run under the lights, and it will be interesting to see the different setups these crews use to dial their cars in.
Texas Motor Speedway is already one of the fastest tracks in the Sprint Cup Series and when the racing is done during the day, the track becomes hot and slick, making it even tougher to navigate. Under the lights, the grip and speeds will increase to serious levels. Crews do not have any real notes to go off of but might look to other mile-and-a-half tracks that run races at night -- such as Charlotte and Chicago -- for setups.
Something to also watch in Texas is the long green flag runs. If we see this type of action with fewer cautions, how will crews be able to make time for adjustments under green flag conditions?
Top 5 Drivers to Watch: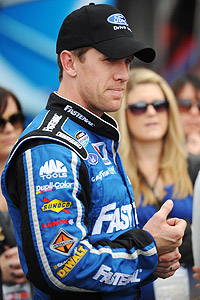 Kelvin Kuo/US PresswireCarl Edwards
1. Denny Hamlin, No. 11 Fed Ex Office/March of Dimes
Hamlin swept the two Sprint Cup races at TMS in 2010. In 11 career starts at TMS, he has two wins and eight top-10 finishes. Hamlin started 29th and 30th in the field in his victories, a tribute to the strength of his team. Something to note: Joe Gibbs Racing has struggled with some engine issues. Word in the garage is they feel they've solved the problem, but it's something to watch.
2. Carl Edwards, No. 99 Scotts Turf Builder
Edwards comes into the race second in the Sprint Cup Series points standings. In six starts this year, he has a win and four top-10 finishes. Edwards is a three-time winner at TMS, and like Hamlin did in 2010, he swept the season races in 2008. Edwards is in the top 5 of total laps led at the speedway and is a master when it comes to stretching fuel mileage to finish a race. Something to note: In two of last three races at TMS, Edwards has suffered a DNF.
3. Matt Kenseth, No. 17 Crown Royal Black
Kenseth is the teammate of Carl Edwards at Roush Fenway Racing. He is ninth in the Sprint Cup Series but has not had the consistency of his teammate early this season. But when he passes through the tunnel at TMS, no matter how up and down his season has been, he will be a factor in that upcoming race. In 17 career races at TMS, Kenseth has a win and 11 top-10s. Not known as one of the better drivers when it comes to qualifying, Kenseth won the 2001 event when he was able to pilot his Ford from the 31st starting position -- the deepest a winner at TMS has ever started from. Something to note: Kenseth has finished in the top 10 every time he has started in the top 10 here.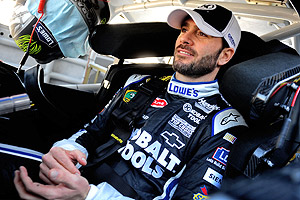 Mark J. Rebilas/US PresswireJimmie Johnson
4. Jimmie Johnson. No. 48 Lowe's
Jimmie Johnson
is the model of consistency. The five-time defending Sprint Cup champion has made 15 starts at TMS, winning once with 11 top-10 finishes. Johnson has never started outside the 18th spot and had a string of six races in a row where he never started outside the top 8. Johnson has suffered only one DNF at TMS, and that was in the Spring race of 2007. It was in the fall race at TMS in 2010 where Johnson's crew chief Chad Knaus sent a message to his team after several poor pit stops by switching his crew out for members of Jeff Gordon's team during the middle of the race after Gordon had crashed out. Johnson went on to finish ninth in that day. Something to note: In eight of Johnson's 15 starts at TMS, he has failed to lead a single lap. When he won the fall race in 2007, he only led nine laps.
5. Mark Martin, No. 5 Go Daddy.com
Mark Martin knows how to get around Texas Motor Speedway.
Jeff Burton
,
Jeff Gordon
and
Bobby Labonte
are the only other drivers to compete in all Sprint Cup Series races run at this facility. In 20 career starts, Martin has one victory and 12 top-10s. In his last four races at TMS, he has finished no worse than sixth. Martin is at his absolute best at the finish of races. In 2011, of a possible 1,987 laps, he has yet to miss a lap. Martin is first in the Sprint Cup Series in that stat, one lap ahead of
Kyle Busch
. Something to note: Martin has finished 18 straight races at TMS. The only race that he received a DNF was his first one in 1997. He found himself in teh winner's circle the following spring.
Others to watch:
Greg Biffle
,
Kurt Busch
, Jeff Burton, Dale Earnhardt Jr., Jeff Gordon,
Tony Stewart
April, 6, 2011
4/06/11
12:52
PM CT
As exciting as
last year's fight on the backstretch
between Jeff Gordon and Jeff Burton was, it didn't even register when ESPN.com's David Newton went back through the history books to research NASCAR's biggest battles.
His No. 1? Well, it also happened at Texas Motor Speedway:
Nicole Lunders versus Eva Bryan -- 2006, Texas
We often accuse drivers of acting like girls, so for the sake of humor and because the incident happened at the scene of this weekend's race at Texas, we're going to rank this catfight No. 1.

Let's start by properly identifying the contestants. Lunders was Greg Biffle's girlfriend and later-to-be wife. Bryan was Kurt Busch's fiancée. Apparently, Lunders was worried about her man's well-being more than her man was after Busch hit the back of the No. 16 to cause a wreck that ended Biffle's day.

TV cameras caught Lunders slamming a water bottle on Biffle's pit box, then marching down pit road and climbing onto Busch's pit box, where she got into a fiery exchange with Bryan.

It was so heated that NASCAR officials had talks with the women and issued a friendly reminder that entering another team's pit box is frowned upon.

C'mon. Everybody loves a good catfight.
The rest of his top five can be found here.
Good stuff.
March, 21, 2011
3/21/11
10:07
AM CT
Kyle Busch
pulled away from
Carl Edwards
and
Jimmie Johnson
down the stretch Sunday to complete a sweep of the weekend at Bristol Motor Speedway. After winning the second-tier Nationwide Series race Saturday, it was Busch's fifth consecutive victory at Bristol dating back to a three-race sweep last August.
He's now won five Cup races at Bristol, which ties him with older brother Kurt in NASCAR's top series, and has 11 victories spanning the three national series.
Busch, who drives a Toyota for Joe Gibbs Racing, dedicated the win to the manufacturer and its employees in Japan still trying to recover from the March 11 earthquake and tsunami.
December, 23, 2010
12/23/10
11:39
AM CT
By
Eddie Gossage
| ESPNDallas.com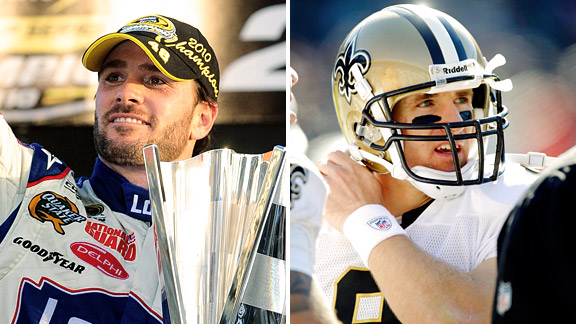 US PresswireJimmie Johnson was a runner-up to Drew Brees in the AP Male Athlete of the Year voting. May local fans and media take notice.
All I want for Christmas is ...
More "Have at it, boys!" Good call, NASCAR!

A better economy so fans can attend more races and companies can sponsor more cars, races, etc.

[+] Enlarge

AP Photo/Ross D. FranklinKevin Harvick was atop the points standings for most of the season. May a title come his way.

Peace on earth at Richard Petty Motorsports. The team with A.J. Allmendinger showed real progress and was on the verge of a breakthrough when money problems for principal owner George Gillette forced the team to operate on a week-to-week basis. Give them their resources and let them go -- this team can win.

A tape recording of the comments during Jeff Gordon's and Jeff Burton's ambulance ride from Turn 2 to the HCA Infield Hospital here at Texas. Wonder what was said and by whom?

A solid IndyCar ride at de Ferran/Dragon Racing for Tony Kanaan. He is clearly the best driver at Andretti Motorsport, but it's obvious how he became odd man out to the other two drivers, Marco Andretti and Danica Patrick.

For the local media to realize how big a deal the racers are. The Associated Press named Jimmie Johnson the runner-up to Drew Brees for their 2010 Athlete of the Year. The names Dirk Nowitzki, Tony Romo, Ian Kinsler or any of the local athletes did not come up on the list. Pay attention, locals. This thought process is one of the reasons why circulation/viewership/listenership is down. Obviously, the media in the rest of the country gets it.

A championship for Kevin Harvick. He led the points standings virtually the entire season and he is a throwback type of driver who appeals to fans.

Speaking of throwback drivers, Clint Bowyer may be the guy to hang on to all the fans of the late Dale Earnhardt Sr. His ability, mannerisms and working-man persona is going to be very popular with the fans.

That Kyle Busch keeps on being Kyle Busch. Somebody has to wear the black hat, and it fits perfectly on Busch's head. He is likely the most talented driver in American motorsports. But the fact that all he cares about is winning makes him very appealing to me. And the subject of boos from many fans.

[+] Enlarge

Vince Bucci/Getty ImagesMay the Boss conveniently find his way to TMS sometime during race weekend.

An IndyCar win for Danica Patrick. Time is running out for Danica. She has to put some points on the board or be considered a novelty. She has all the talent in the world.

Same for Dale Jr. Time may have just about run out for "Little E." He really needs to win and contend in 2011. And at least act like he wants to be here.

Photo finishes at all races. And races so close that it takes a couple of days to determine the winner of all the races in Texas! No Limits, baby!

For a NASCAR Sprint Cup car to look like, well, a stock car. I want to see Chevys and Fords and Dodges and Toyotas. I don't want to see cars that all look alike except for the decals on the nose. Come on, NASCAR!

Bruce Springsteen to play the pre-race show at one of the races here at Texas Motor Speedway.

More success, and perhaps another championship, for Tony Stewart. He may be the guy with the most real race fans in the sport.

Lots more wins for Jeff Gordon. He's not through but we all want to see Jeff win. I bet this time there won't be a single "boo!" High time!

More Americans driving Indy Cars. Come on team owners ... this is the fastest way back to relevance.

Fewer penalties and fines from NASCAR and IndyCar. Let the racers settle it themselves. Fans don't want you involved in the outcome of races.

More backflips for Carl Edwards.

Another opportunity in the Cup series for Elliott Sadler. This guy has "star" written all over him.

More seat time for Brad Keselowski. Just like a young Dale Earnhardt Sr., a young Ernie Irvan, a young Kyle Busch and others before him, he's bouncing off of cars and walls everywhere as he learns. He will make it. And he will be exciting!

The end to start-and-park teams in NASCAR.

Respect for Jimmie Johnson. Five straight championships may be the definition of motor racing perfection. It will never be accomplished again.

[+] Enlarge

Christian Petersen/NASCAR/Getty ImagesMay Carl Edwards ... wait for it ...

That you get to know Brittany, Stephanie and Becky -- The Great American Sweethearts -- in 2010. They aren't just beautiful, they personify the "No Limits" attitude, love racing and love meeting race fans. We could not have found three better people to serve in that role.

More appreciation from the local fans for what the IndyCar drivers do here at Texas Motor Speedway. They run almost 220 mph, wheel-to-wheel and in packs. The precision is amazing. One little bobble and there is trouble. And if the IndyCar officials will leave them alone, they put on the best races in the world.

No more trial balloons from NASCAR in which they say fans are interested in shorter races, fewer races, fewer days in the race weekend, etc. These are just trendy little rumors NASCAR leaks to the media because they are tired of being on the road. Hello! NASCAR ... this is about the fans! Not your personal wishes. If you don't want to travel, there are other jobs in this world.

Greater appreciation for Kurt Busch. The former Cup series champion is the epitome of a professional. And he's got loads of talent!

Success for Kasey Kahne. He's popular with the young ladies and the cougars, too!

Appreciation for the accomplishments of Michael Waltrip Racing. David Reutimann is a solid contender week after week.

A "No Limits" Christmas and New Year for you and all your loved ones!
September, 14, 2010
9/14/10
4:07
PM CT
By
Eddie Gossage
| ESPNDallas.com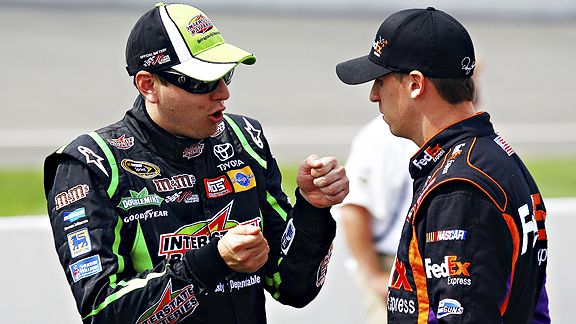 Jason Smith/Getty ImagesDenny Hamlin (right) starts the Chase in first place, but Kyle Busch might end it on top.
The Chase for the NASCAR Sprint Cup Championship starts this weekend at New Hampshire Motor Speedway.
PODCAST
Jeff Gordon joins Galloway & Company to talk about the chase for the Sprint Cup, Kyle Busch's fiancée, connecting with the fans, and more.

Listen

Here's my take on each driver and why he is "hot" and "not hot" entering the 10-race Chase:
Denny Hamlin (5060 points)
Hot: Since the end of 2009, Hamlin has been talked about as the favorite to beat Jimmie Johnson. He's also shown on the track that he can back it up. Two of his six wins this season were on Chase tracks (Texas, Martinsville).

Not hot: Over the last ten races, Hamlin has been outperformed by every single driver in the Chase. Last year, Hamlin had three DNF's in the Chase that were caused by either engine failure or a crash. In the last five races this season, he's had two DNF's caused by an engine failure or crash.
Jimmie Johnson (5050)
Hot: Four-time Champion. He knows how to win the Chase. Johnson has finished a whopping 75 percent of all Chase races inside the top ten. What's even more impressive is that in over half of the races -- 33 of the 60, Johnson has finished inside the top five. Johnson has also claimed 18 total Chase victories. That's an average of three Chase wins per year. Most drivers would be happy with three total wins per year.

Not hot: With an average finish of 17th over the last 10 races, is Johnson as invincible as he's been the past four seasons?
Kevin Harvick (5030)
Hot: Regular-season points leader. Earnhardt/Childress Racing engines have been the strongest all season. That could pay off in a big way at tracks like Texas, Charlotte, California, Kansas, Homestead and Talladega.

Not hot: Has a career average finish of 17th or worse at California, Martinsville, Charlotte, and Dover. Only once in the history of the Chase has the regular-season points leader won the championship (Tony Stewart in 2005).
Kyle Busch (5030)
Hot: Has won Cup races on five of the ten Chase tracks. Busch has also learned how to be a more consistent driver. He's been running at the finish in 25 of 26 races so far this year. His only DNF was a crash at Daytona.

Not hot: Busch has never won a NASCAR Sprint Cup race on any one of the five, 1.5-mile tracks in the Chase. Busch has also never won in the final 10 races of any season.
Kurt Busch (5020)
Not: First Chase champion (2004). As the only Penske driver in the Chase, it's "all hands on deck" for Busch. Sam Hornish Jr. unloaded at Richmond with Busch's setup, ready to assist the No. 2 in any way possible. Brad Keselowski's team is also doing everything it can to help bring a title to Penske.

Not hot: As the only Dodge team in the Cup Series, there is no one else available to share notes or develop engines with. Also, both of the teammates that are helping Busch have not had a single top ten all year.
Tony Stewart (5010)
Hot: Momentum has picked up at just the right time for Stewart. He also has the best record in the last 10 races that have been held at tracks that are one mile or longer. Nine of the ten Chase tracks fit this category.

Not hot: While Stewart's results at any track are impressive, seven of the ten tracks in the Chase are statistically some of his worst.
Greg Biffle (5010)
Hot: Biffle goes into the Chase knowing the he and his team are capable of winning races. The No. 16 team earned its first 2010 victory at Pocono in August.

Not hot: Biffle has finished on the lead lap in only six of the last ten races.
Jeff Gordon (5000)
Hot: Gordon spent most of the summer second in the Sprint Cup point standings. Gordon's average finish of 8.4 in the last 10 mile-and-a-half races is the best in the Sprint Cup Series. Gordon is also the only Cup driver that has finished on the lead lap of each of the last ten races.

Not hot: Gordon has still not been to Victory Lane since winning at Texas in April of 2009 -- the longest stretch he's ever had without a race win.
Carl Edwards (5000)
Hot: Edwards has scored more points than any other driver in the last ten races, finishing in the top 10 in eight of those races. He's also started on the pole in two of the last five races. A win (or several wins) is right around the corner for the No. 99 team

Not hot: Even though a win might be right around the corner, the fact is that Edwards has still not been to Victory Lane since the last race of 2008.
Jeff Burton (5000)
Hot: It's been said that to finish first, first you have to finish. Burton is one of only three drivers that have not had a DNF all season long. Burton has also led a respectable 390 laps this year.

Not hot: Burton has not won a race since October of 2008.
Matt Kenseth (5000)
Hot: Mr. Consistency has one very impressive stat this year. Kenseth has completed all but seven laps this entire season for a total of 23 lead lap finishes.

Not hot: Kenseth has only led 35 of the 7,699 laps that he's completed. He has also not won a race since February of 2009.
Clint Bowyer (5000)
Hot: In Bowyer's last two Chase appearances, he ended up fifth and third in the final point standings.

Not hot: In 120 career Cup races, Bowyer has only two wins. His last trip to Victory Lane was in May of 2008.
My pick to win the NASCAR Sprint Cup Championship for 2011:
Kyle Busch. Joe Gibbs Racing is peaking at the right time -- all three JGR drivers finished in the top five at Richmond Saturday night -- and Busch has been strong all year. He's matured into a championship driver. It will be the first of several NASCAR Sprint Cup championships the young Busch will win in his career.
Sunday's race at New Hampshire gets the green flag at noon CT.
March, 24, 2010
3/24/10
2:51
PM CT
By
Eddie Gossage
| ESPNDallas.com
Kurt Busch, the 2004 NASCAR Sprint Cup Champion, has emerged as not only the top challenger to Jimmie Johnson's reign as series champion but also is the series' most dominant driver this year.

Say what?

Jimmie Johnson has won three of the first five races this season, and Busch has won one. And I know Kevin Harvick sits atop the point standings while Busch is sixth.

But Busch is winning fans over with his hard-charging style. Through the first five races, Busch has led 28 percent of laps run (441 laps led of the 1,555 run thus far). But in a year in which NASCAR has encouraged drivers to speak their mind, Busch's comment after he led more than half the laps at Bristol before finishing second to Johnson has caught the ear of many fans.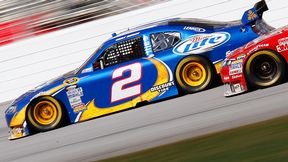 Geoff Burke/NASCAR/Getty Images
In his last three races, Kurt Busch earned the pole at Las Vegas, won at Atlanta and finished third at Bristol.
"I would rather lose to any one of the 41 cars out these than this 48 (Johnson) car," Busch spat immediately after the bitter loss.

That's what NASCAR is talking about. Wrecking each other is one thing, and some might like it. But what NASCAR encouraged is for drivers to run hard, lead laps and say what they really think. No more, "Well, it was a good points day."

Screw the points! Leading races. Winning races. That's what fans want to see. And they don't want a guy who is not ticked off when he doesn't win. Who would?

For the record, Johnson has led 203 laps -- or 13 percent of the laps run this year. Busch has won a pole (Las Vegas), while Johnson has none this year. Busch has one win, two top-five finishes and three top-10s. Johnson has three wins, three top-five finishes and three top-10 finishes.

But it is the hard-charging style and willingness to show his dissatisfaction with losing that has helped Busch stand out this season. A new crew chief, Steve Addington, who last worked with Busch's brother, Kyle, at Joe Gibbs Racing, has made an immediate impact.
Early in the season, it looks like Busch's "Blue Deuce" is the top challenger to stop Johnson's quest for five straight championships.
February, 8, 2010
2/08/10
1:02
PM CT
By
Eddie Gossage
| ESPNDallas.com
NASCAR told the Sprint Cup Series drivers that they were loosening the reigns on them this season and "to have it, boys." If you watched Saturday night's Budweiser Shootout at Daytona, did they ever.

There was aggressive driving beginning in practice earlier in the week and it carried right over into the Shootout. I wondered to myself if it was because of NASCAR's relaxing of the rules or because there were no points on the line?

The answer is "yes" on both counts. There was plenty of aggressive bump drafting going on from start to finish, and I thought the most impressive was when Juan Pablo Montoya was giving a push to Jimmie Johnson. You would have thought they were shot out of a cannon in the fashion they were moving up to the front.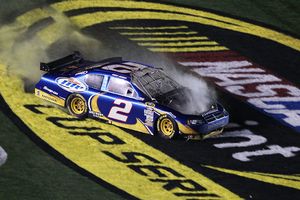 Nick Laham/Getty Images
Kurt Busch took a scary ride across the Daytona infield after his hood flapped up against his windshield. Busch, who car went back up the track and hit the wall, was uninjured.
Some of the other aggressive bump drafts resulted in accidents, and several of the drivers talked about the bigger plate caused quicker closing times and that it will take some getting used to.
Kurt Busch already has been involved in two crashes, neither his own fault. He had one in practice and then took a wild ride through the tri-oval infield grass in the Shootout after contact with Mark Martin. The car's front splitter acted like a rototiller through the infield, sending dirt and grass through the engine compartment and blowing the hood up on the windshield. Imagine driving at almost 200 miles per hour for like two-thirds of a mile with your hood on your windshield. I can't imagine going 20 miles per hour for 10 feet like that. Thankfully, Kurt was uninjured and still had his sense of humor intact when they interviewed him afterward, joking he took more laps in the track ambulance than his Dodge Charger during the week.

It was also great to see good friend Kevin Harvick back in Victory Lane. He struggled through a very frustrating season in 2009 -- as did all the Richard Childress Racing folks -- so it was encouraging to see some promise for the upcoming season for him and hopefully his RCR teammates too.

Will we see more of the same racing in Sunday's Daytona 500? Probably so. Even though this will be a points-paying race and everyone wants to get off to a good start to the season, it is still the sport's biggest race of the year and there is a ton of loot and prestige on the line. It may not be as wild as the Shootout in the early going, but you can bet the last 10 to 20 laps will be as wild if not wilder than the Shootout.

I mentioned in my opening blog that Tony Stewart was going to drive down with our friends from Sprint and me to the Super Bowl, and that I was anticipating some entertaining stories from the off-track time with "Smoke."

Tony wound up meeting us at the game and I was a bit surprised that I didn't see the talkative and joking guy I know. I met the Tony Stewart that is one hardcore Colts fan, much like me with the Green Bay Packers. He sported his Colts cap and he was intense all game, sitting on the edge of his seat from start to finish. Pretty cool to see an athlete of another sport focus so intensely on the performance and execution of other athletes. And one that personally knows the desire, drive and teamwork it takes to become a champion.

Many in the NASCAR community were up -- including me -- at 4:14 a.m. Eastern Time in Daytona Beach this morning to see the Space Shuttle launch from Cape Canaveral. Driver Mike Skinner, however, thought the launch time was 4:19 a.m. He got up five minutes late. By then, the shuttle was literally halfway across the Atlantic Ocean. It gave a new meaning to the phrase, "You snooze, you lose."

Speaking of snoozing, I'm hopping on a plane back to DFW and plan to do a little of that along the way. It's been quite a weekend.