Dallas Motorsports:

Kyle Petty
May, 17, 2010
5/17/10
3:38
PM CT
By
Eddie Gossage
| ESPNDallas.com
All-Star games suck.
That's the general consensus of fans and media, and rightfully so.
Approximately 30 NFL players who were voted to the Pro Bowl did not bother to show up for the big "honor" this year. In 2002, Major League Baseball's "Midsummer Classic" became a "Midsummer Kiss With Your Sister," when the game was declared a tie since the teams ran out of pitchers in extra innings. I attended the 2007 NHL All-Star game and actually saw a defenseman help up a player from the opposing team when he accidentally checked him during the "savage" game. And the NBA All-Star game is more infamous for criminal acts all over Las Vegas a few years ago than displays of magical roundball skills.
But the NASCAR Sprint All-Star Challenge this weekend in Charlotte often offers some of the most electrifying and memorable moments of the year in racing because first place pays a cool million dollars and it's the one race where points aren't counted. It checkers or wreckers time. No guts, no glory! Remember, chicks dig scars.
Of the hundreds of NASCAR races I've attended, the most memorable clearly has to be the 1992 running of the event. It was electric -- literally -- as the first night-time race on a superspeedway as Charlotte Motor Speedway raised the bar on the sport by creating and installing an innovative light system for the 1.5-mile track. Billed as, "One Hot Night," the event was one of the few that was even greater than the hype.
On the final lap of the event,
Dale Earnhardt
held the lead but was forced to run deep into the third turn to hold off a faster
Kyle Petty
. As a result, "The Intimidator" lost control and crashed into the wall. Petty and
Davey Allison
tried to take advantage of the opportunity and drag raced off the fourth turn. The cars bounced off each other, sparks flying. Allison's car spun sideways, crossing the finish line first, before pounding the outside wall in a cloud of smoke, dust, flames and sparks. Petty ducked under the skittering Allison car, finishing second.
Allison, the winner, was unconscious in the car. Not only was he unable to go to Victory Lane, he was airlifted to a local hospital where he was later cleared of any serious injuries. Allison's car was carried to Victory Lane by a wrecker.
A good 45 minutes after the race, the huge crowd stood in stunned silence at the high-speed drama they had just seen. No one had left. And no one made any noise. It was a strange, eerie silence.
Drama. Thrills. The unexpected. Real action ... more than a typical NASCAR points race.
The NASCAR Sprint All-Star Challenge Saturday night at Charlotte Motor Speedway is the ONLY real all star event worth watching in professional sports.
"One Hot Night" may be underselling it.
May, 7, 2010
5/07/10
8:44
PM CT
By
Eddie Gossage
| ESPNDallas.com
Day 7 of
Kyle Petty
's "Charity Ride Across America" included a stop at Barber Motorsports Park, the newest road course on the IndyCar Series schedule. It was the first time I'd seen it, and it is a beautiful facility with well landscaped turns. The course is one of the best with up-and-down turns and beautiful scenery.
As a native Tennessean, it was difficult to make the stop in Tuscaloosa, Ala., Friday afternoon. The town is home to the Alabama Crimson Tide, and while we were there a local radio station handed out koozies with the classic houndstooth pattern made famous by Alabama coach Paul "Bear" Bryant. I respectfully declined.
I had some ribs for lunch, and I must say I will put Texas ribs up against Alabama ribs any day of the week. If you want leathery, chewy, hard ribs, you eat Alabama ribs. There's no comparison to Texas ribs, and that's a fact.
Our trip is winding down as we reach Randleman, N.C. It's always fun to get to Victory Junction Gang Camp and see the kids having a good time. It's always a neat moment with the kids clapping and singing songs when we get there. It's just a moving experience to get to see the role you've played in helping.
But just like every year, the ride has to end. I told Pattie Petty recently that this has been the best ride ever. All I know is let's do it again. I'm ready for next year.
May, 5, 2010
5/05/10
8:17
AM CT
By
Eddie Gossage
| ESPNDallas.com
Day 5 of
Kyle Petty
's "Charity Ride Across America" included a 502-mile ride through the Lone Star State between Amarillo and Texarkana.
It is certainly great to be back home. You can tell that Texas is home to the best fans in motorsports. The outpouring of support we've seen since we crossed the state line has been remarkable.
When we drove through other states, we'd see people here and there, but as soon as we made our way into Texas we saw fans taking photos on overpasses and supporters lining the streets and holding signs. A group of fans who call themselves "TMS Nation" made the trip to Nocona to show their support and make a donation to Victory Junction. Like I remind everyone, Texas isn't just a football state; Texas is also a racing state.
Along on this year's ride is 2003 Sprint Cup Series champion
Matt Kenseth
. People don't realize that Matt has a wicked sense of humor, and that was on full display Wednesday as he was giving Kyle Petty's son Austin a hard time.
Kenseth, a longtime
Green Bay Packers
fan, and Austin, a
Philadelphia Eagles
fan, decided to place a bet on the season-opening game between the two. Matt was egging him on and told him, "If your team is so good, then they should back it up."
That's Matt for you.
May, 3, 2010
5/03/10
6:47
PM CT
By
Eddie Gossage
| ESPNDallas.com
I've had the privilege in taking part in
Kyle Petty
's "Charity Ride Across America" for 15 of the 16 years since it was established in 1995. The event gathers motorcycle riders from all across the country as we make the journey from coast to coast, all in an effort to raise awareness and funds for Victory Junction and other children's charities.
[+] Enlarge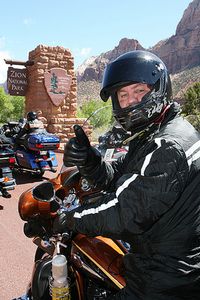 Courtesy Texas Motor SpeedwayZion National Park in Utah gets a thumbs up during the 3,300-mile "Charity Ride Across America."
This year we started our 3,300-mile trek in Indian Wells, Calif., on Saturday and will make our way to our final stop at the Victory Junction Gang Camp in Randleman, N.C., on Sunday, May 9. We're on Day 3 of our nine-day journey, and so far it has been one of the prettier rides that I have been on as we've gone through California, Nevada and Utah.
This year's list of participants include 2003 Sprint Cup Series champion
Matt Kenseth
, legendary NASCAR driver
Harry Gant
and former Dallas Cowboys running back
Herschel Walker
.
It's always great to see Herschel as he's been a part of the charity ride for years. I couldn't resist giving him some mixed martial arts tips so he can perform a little bit better in the ring next time. Every time I see him he looks like he could put the pads on and line up in the backfield again, and be just as great. He told me he would like to fight one more time. He said he loves the competition but can't train as hard as he used to. I feel sorry for the guy he fights next.
Herschel is riding a custom bike made by Strokers Dallas that he named "Victory" but calls "Victoria." During the first couple days of the ride, he has been petting and talking to "Victoria" because he has almost run out of gas. With a smaller fuel tank than everyone else, making it to the next stop is always a challenge. I saw him talking to his bike saying, "Victoria, you can do it."
Visiting with Herschel is just one of the many things I love about the ride. Getting to reunite with 400 of your closest friends for a wonderful cause is pretty amazing. Kyle Petty always says to the riders, "We are just like one big family." It is just like one big family as we carry on conversations like we've known each other for years. I'm just glad I get to be a small part of this big event.
April, 9, 2010
4/09/10
10:57
AM CT
By
Eddie Gossage
| ESPNDallas.com
Would you trade places with Dale Earnhardt Jr.?

You get to drive some really potent race cars. Make millions of dollars a year. As a single guy you date some really hot chicks. And you hang out with your posse, as Junior likes to refer to them.

You would?

Not me. Not even for all the millions he makes. Even after seeing some of the hot chicks.

I don't envy the pressure Dale Jr. faces every week. The weight of the sport is a heavy load to carry.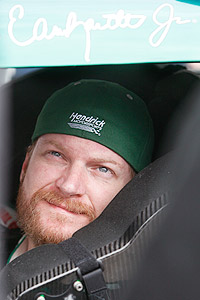 AP Photo/John Bazemore
Dale Earnhardt Jr. has just three wins since 2004, but he remains NASCAR's most popular driver.
When the 2010 NASCAR Sprint Cup season started, a USA Today story essentially said that the easiest way the sport could improve its TV ratings and attendance would be for Earnhardt to win races. That on the heels of the worst Cup season in Earnhardt's career. He hasn't won a race in nearly two years, was 25th in the point standings, posting only two top-5 and three top-10 finishes.

Junior only has the success of the sport riding squarely on his shoulders while he tries to work his way out of a slump.

Fair or not, success early in Junior's career and being the namesake of arguably the greatest driver of all time -- seven-time champion Dale Earnhardt -- have placed the driver of the #88 Chevrolet in a tough spot.

"It's like the Lakers or Celtics," said Brian France, NASCAR chairman. "He is the major franchise, and if he returns to that high level, it'll help."

The only person I can think of that could possibly relate is Kyle Petty, the son of the sport's only other seven-time champ, Richard Petty. When the younger Petty came on the scene, he won the very first race -- the 1979 ARCA race at Daytona. While ARCA is not NASCAR, Petty found himself on the front page of newspapers across the country, suddenly the sport's phenom and its biggest overnight name.

How did that work out? Not bad. He scored eight wins in a 30-year career that saw him run 846 Cup races. But it didn't come close to his father's record 200 NASCAR wins.

However he knows, if only to some degree, the level of pressure Dale Jr. has to deal with.

"The sport has changed so much since I came along in 1979," Kyle Petty said. "I didn't really know pressure or expectations and our sport was growing rapidly. But in the last couple of years the economy has been upside down and ratings are down a little, so everybody thinks the quickest relief is for Junior to win. He's a smart guy. He knows everybody points toward him as the quick, easy solution. That only increases the pressure, more pressure than anyone in our sport has ever had to deal with. Trust me, its got to be tough being Dale Earnhardt Jr."

What about being The Intimidator's son?

"My advice to him is to be himself, not to try to be his dad," Kyle Petty said. "I never tried to be Richard Petty. Of course, people will say I succeeded at that because I never had The King's success. But I did my best and it's not reasonable to demand anything more from Junior. There was only one Richard Petty and only one Dale Earnhardt Jr. Trust me, he's done great and he'll win again."

So give Dale Jr. some slack. It's not easy carrying the full weight of NASCAR on his shoulders. It's not easy being Dale Earnhardt's son.

NASCAR is not easy. Period.