Dallas Motorsports:

Marco Andretti
June, 9, 2012
6/09/12
10:00
PM CT
By
Richard Durrett
| ESPNDallas.com
FORT WORTH, Texas --
Justin Wilson
took the lead with two laps to go and held on for his first victory since 2009, winning Saturday's Firestone 550.
Graham Rahal
appeared in control, taking the lead with 29 laps left, but he grazed the wall with three laps remaining and Wilson was able to take the lead at that point.
It was a tough break for Rahal, who was close to getting his first win since 2008 as his father,
Bobby Rahal
, watched from Chip Ganassi Racing's pit box.
"I just messed up, honestly," Rahal said on the TV broadcast just after the race. "It just washed out a little bit and it's my fault. There's not much else I can say. I'm certainly disappointed because we had that one. This one will haunt me forever, that's for sure."
What it means:
Wilson wins his seventh career race, his first since 2009. Before Saturday, his best finish was seventh in the Indy 500.
Notes on the leader:
Wilson's previous best finish at TMS was 15th in 2009. ... It's the second IndyCar victory for Dale Coyne with Wilson's victory at Watkins Glen in 2009 as the only other one.
Late lead changes:
The race, which for portions was a follow-the-leader event, got pretty exciting with 50 laps to go as several drivers couldn't hold the lead for too long.
Scott Dixon
was the first to go (hit the wall), followed by
Will Power
(penalty) and
Ryan Briscoe
(who gave up lead to hard-charging Graham Rahal) and finally Wilson.
Penalty for Power:
With the lead in hand, Power was given a drive-through penalty for blocking
Tony Kanaan
with about 40 laps. Power gave up the lead because of the penalty, which ended up damaging the front wing of Kanaan's car. It was clear that Power was reacting to Kanaan trying to get around him, leaving IndyCar officials little choice but to penalize him.
Dixon loses lead, then car:
Dixon, who led the most laps and for much of the race had the dominant car, started to fall off on lap times a bit with less than 60 to go and gave up the lead to Power. Shortly after dropping to second, Dixon wiggled into Turn 4, spun out and hit the wall. Dixon came into the race 26 points behind leader Power in the standings and leaves losing more ground. "We just got loose," Dixon said on the race broadcast after exiting the race. "I feel bad for the guys. We had a really good car and had a good chance to win tonight."
Delayed start because of injury:
A worker at TMS, Richard Huggins, was taken out on a stretcher after part of the stage used for driver introductions fell on him. Huggins was treated and released from the Infield Care Cente, but it took extra time to get him there, making the race a few minutes late.
Not working:
Rubens Barrichello
's Chevrolet and Simona de Silvestro's Lotus engines didn't fire on pit road when the command was given and they did not start the race when the green flag dropped. Neither driver ended up starting the race.
Cautions:
Charlie Kimball
brought out the first caution flag on Lap 29 as he spun in Turn 4 and into the wall, ending up in the grass near the entrance of pit road. ...
Takuma Sato
spun on the backstretch and went into the wall on Lap 64. ...
Ryan Hunter-Reay
lost power, ending his race before 70 laps were complete. ...
Josef Newgarden
was given a drive-through penalty in the pits for entering the wrong pit box. Newgarden missed his box, causing issues for others, including
Helio Castroneves
, who was delayed because he couldn't get in his box.
Up and down day:
Kanaan came into the pits and had trouble because a rear air jack failed during the first set of stops (Lap 36). The team tried to use a different jack and damaged the front wing and had to put a new one on. He came back to the pits to have additional work done, falling close to the rear of the field. ... Kanaan did manage to keep tracking toward the front and got himself back in the race and was running third with about 40 laps left until he touched the back of Power's car when Power moved down to block him. That damaged his front wing and forced him to the pits and back to the middle of the pack. ... Kanaan ended up 11th.
Franchitti handling issues:
Indy 500 winner
Dario Franchitti
wasn't happy with his handling and he spent extra time in the pits so the crew could make some substantial changes to the car. He went to the rear of the field during the first caution and tried to work his way back up. He finished 14th.
Tidbits:
A.J. Foyt
gave the command to start the engines before the race, saying: "Boys and girls, start your engines." ... This is third straight race at TMS that
Alex Tagliani
led. He led 33 laps in 2010, one lap in the first race in 2011 and the first 20 laps of Saturday's race. ... Dixon led on Saturday, meaning he's led in six of seven races this season. The only race he hasn't led was Long Beach. ... Dixon clinched the two bonus points for most laps led on Lap 130.
Up next:
The IndyCar Series heads to Milwaukee next weekend for the Milwaukee IndyFest 225. Franchitti is the defending champion.
June, 9, 2012
6/09/12
8:28
PM CT
By
David Collier
| ESPNDallas.com
FORT WORTH, Texas --
Scott Dixon
, driver of the No. 9 Target Chip Ganassi Racing Honda, is leading after 50 laps in the IZOD IndyCar Series Firestone 550 at Texas Motor Speedway.
Dixon, who has led in six of seven races this season, took over the lead from
Alex Tagliani
, who opened the race in the first position, in Lap 22.
The first caution of the night came in the 31st lap of the race, but Dixon held on to the lead coming out of pit road. Restart came in Lap 40.
No. 38
Graham Rahal
, who started the night in third spot, is currently in second.
Rounding out the top five is No. 27
James Hinchcliffe
, No. 26
Marco Andretti
and No. 2
Ryan Briscoe
.
Tagliani has fallen to eighth-place, while
Dario Franchitti
, winner of the Indy 500, sits in 22nd place.
June, 28, 2011
6/28/11
9:33
AM CT
By
Eddie Gossage
| ESPNDallas.com
To carry a famous name in any sport -- Griese, Montana, Jordan -- the burden of comparison for the second- or third-generation athlete is overwhelming. There are certain racing gods -- Petty, Foyt, Andretti, Earnhardt, for instance -- that have seen mixed success in carrying on the family name over the years.
Third-generation driver
Marco Andretti
hadn't won since his 2006 IndyCar Series rookie campaign, but I was probably one of the least surprised that he had that breakthrough win this past weekend at Iowa. Marco gave me a hint that he may be close to ending that winless streak when he arrived to The Speedway Club at Texas Motor Speedway for a media luncheon the day after a harrowing Bump Day at Indy in which he made the 33-car field in the final minute.
[+] Enlarge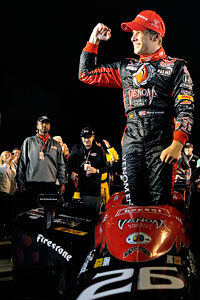 Jared C. Tilton/Getty ImvagesMarco Andretti overtook former teammate Tony Kanaan with 18 laps left to win Saturday's IndyCar race at Iowa Speedway, his first victory since 2006.
He spoke about maturing over the last few years, And while some critics may say it was about time, you have to realize that he's still only 24 years old despite six years in the series. Just a kid with an immense amount of pressure on him due to that last name of Andretti.
And you could see that new maturity by the way he handled Bump Day with his dad in his ear. He laughed how there was no way he and dad would have survived a Bump Day like that a few years ago if he had not matured. Marco didn't point fingers on why the car and team were in that position. He seemed genuinely bummed that teammates
Ryan Hunter-Reay
and
Mike Conway
didn't make the field instead of being content that he was in the show and that was all that mattered.
At that May lunch, he spoke of finally realizing that there was more responsibility and commitment to being a race-car driver than getting into the car five minutes before the track went hot. He discussed about working with his crew, becoming part of that team framework as well as becoming more engaging in sponsor and media obligations and handling them more adeptly. In fact, he visited the local Dr Pepper/Snapple plant that morning and talked about what a cool time he had and enjoyed meeting a lot of nice people.
Maturity.
He was thoughtful in his answers to media questions that day, even joking that a few years ago his answers to most of them would have been, "Yes" and "No." When a media person said maybe they should've asked better questions, Marco said, "Not really. I probably would have answered most them 'yes' and 'no' anyway." Listening to him speak and watching his demeanor, you could sense his transformation.
Maturity.
The kid always had talent, and I hope this win is a momentum builder for his season and his career. He is one of those marquee names with that great family lineage of Grandpa Mario and Dad Michael that reverberates around the IndyCar series much like Earnhardt in NASCAR. Having Marco achieve more success and contend for championships would be a boon to sport.
Welcome back to Victory Lane, Marco. I hope to see you there more often in the future, and I think you'd look pretty good wearing a cowboy hat with six shooters in hand!
June, 13, 2011
6/13/11
7:33
PM CT
By
Eddie Gossage
| ESPNDallas.com
Two big thoughts -- one requiring more discussion than the other -- stand out after the historic Firestone Twin 275s run this past Saturday night at Texas Motor Speedway.
First, both races were about as pure as they come, with only one caution occurring in a combined 204 laps of racing. The second race was run entirely caution-free. Most racing fans absolutely loved it, particularly with the high-intensity level seen in the second race considering that the starting positions were set by a random draw placing some of the championship contenders in the front of the pack while others were way in the back. The skill of the Indy Car drivers never ceases to amaze me.
Which brings us to the big discussion ...
Second, the controversy over the random drawing to select the starting positions for race number two.
Dario Franchitti
, the winner of the first Firestone Twin 275 and a championship contender again this year for the Indy Car title, voiced his displeasure with the concept.
Franchitti makes a great argument (and, despite some reports, did so to me personally after the races in a friendly, calm, professional, unemotional conversation in which both of us discussed the merits of a number of concepts).
Will Power
, the current Indy Car points leader, drew the third starting position Saturday night while Franchitti wound up starting 28th. Franchitti's point is if both he and Power started closer together near the back of the pack in a complete inversion of the starting lineup, it would be much fairer since they would effectively have the same chance. Both drivers agreed the move of the race was Power's fortunate blind draw of such a great starting position.
Franchitti's suggestion has one potential flaw, however: sand bagging. Inverting the starting lineup is a standard fare in all kinds of racing, from the weekly short tracks to some of NASCAR's most popular races. The big winner in the season-long Indy Car points race Saturday night was
Scott Dixon
. By finishing second in both Firestone Twin 275s, Dixon scored more points than anyone. By sand-bagging, a driver can find a way to score the most combined points.
Both Franchitti and
Marco Andretti
passed a stunning 21 cars in the second race Saturday night. it was sizzling to watch the two slice through the field with precision and abandon.
So I understand Franchitti's thoughts. Completely. As a competitor working hard to win another series championship, every point counts. I don't blame him for recommending the complete inversion for the second race.
So we'll kick around what, if anything, should be done. Despite reports crediting me with the random selection concept, I don't make the rules for Indy Car races. Maybe I missed something since it's being reported in so many newspapers, blogs, columns and fan forums that I created the concept. I
do
like it. But I also like inverting the entire field. I'm open-minded on discussions for 2012.
But I am only one voice. Franchitti is also one voice. At the end of the day, the Indy Car folks will make the decision, just as they did this year. That's their job and I defer to them. Rightfully so. They do a great job.
I thought Saturday night's racing was incredible. And terribly interesting.
And people around the country are talking about Indy car racing this week.
I think it worked pretty well.
June, 10, 2011
6/10/11
2:44
PM CT
By
Master Tesfatsion
| ESPNDallas.com
IZOD IndyCar series points leader Will Power led a very tight 30-car field after the first practice session at Texas Motor Speedway on Friday afternoon.

Power posted a lap time of 24.3654 seconds, separating him from last place by .5612 seconds. Ryan Briscoe placed second, .016 seconds behind Power. Alex Lloyd rounded out the top three, .074 seconds behind the leader.

Danica Patrick's No. 7 car is the in the middle of the pack at 14th place. Patrick drove around the 1.455 mile track 38 times and her best time of 24.5853 seconds came at lap 27 at a speed of 213.054 miles an hour.

History suggests that the outcome may be the same on race day. Out of the 21 IndyCar Series races at TMS, fourteen have had a margin of victory of less than one second -- seven have been decided by less than one-tenths of a second.

Lloyd is positioned first in the qualifications order which is set to take place at 3:45 p.m. Other notables include Marco Andretti in eighth, Briscoe in ninth, Power in 18th and Patrick in 28th.
June, 8, 2011
6/08/11
8:00
AM CT
By
Master Tesfatsion
| ESPNDallas.com
FORT WORTH --
Marco Andretti
hopes his previous success at Texas Motor Speedway will finally translate into a visit to Victory Lane during the Firestone Twin 275s at Texas Motor Speedway on Saturday night.
Since he took the checkered flag for the first time at the Indy Grand Prix of Sonoma in 2006, the 24-year-old driver is still seeking career win No. 2.
[+] Enlarge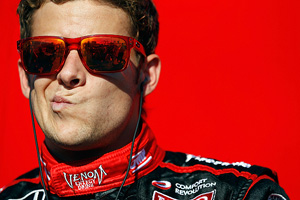 Donald Miralle/Getty ImagesMarco Andretti, who hasn't won since 2006, gets two chances to end that streak during the Firestone Twin 275s at Texas Motor Speedway on Saturday night.
"It's just made me respect it even more," said Andretti, who has had consecutive top-five finishes at Texas Motor Speedway. "It's IndyCar racing. To me, it's as stacked of a field as it's ever been driver- and team-wise. Even the guys, my dad and grandfather [Michael and
Mario Andretti
], they'll admit that.
"Here's an example, like the road courses: If you were two-tenths [of a second] off in '06, you're still sixth. Now you're 16th. It's just gotten that much tougher. But I think it's going to make it that much sweeter when we're able to. And we will."
Andretti will have two shots at winning on Saturday night at TMS. After finishing fourth and third in back-to-back years here, the 550k race has now been split into two separate 275 races.
It's something Andretti has yet to see in his career. In fact, not many drivers have been put into this situation. It'll be the first time since 1981 -- and only the 19th overall, including CART and USAC -- that the IndyCar Series will have a doubleheader.
The points and prize money will be halved for each race, with the winner getting 25 points. There will also be a bonus point for the pole leader in the first race and two bonus points for the driver leading the most laps in each race.
Despite the adjustments, Andretti thinks it won't throw a monkey wrench into his strategy.
"It's like a bowl. ... It's really fast," Andretti said of Texas Motor Speedway. "The thing about this place is how banked it is. It allows everybody to be flat out. Even if your car is not working great, you're still flat out. So that's why it's so close together and such good races.
"I try to run the thing high because not a lot of people can get it to work up there. If you can, then you normally have clean air because nobody's ahead of you. So you can maybe carry more throttle up there than others. So far it's been working, so we'll probably have a similar approach."
[+] Enlarge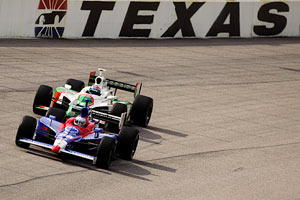 Donald Miralle/Getty ImagesMarco Andretti has fared well on TMS' high banks, finishing fourth and third the past two years. "It's really fast. It allows everybody to be flat out," Andretti said. "I try to run the thing high because not a lot of people can get it to work up there."
If speed continues to be a problem for Andretti, as it's been all season, he will have an hour between races to make the necessary changes to his No. 26 car before he hits the track again. During that time, drivers will find out their starting position via blind draw -- a new addition to the traditional doubleheader.
Andretti could find himself racing next to a driver who's not used to being up front, or he could find himself starting from the back.
"I like it," Andretti said. "It shakes it up. A little bit of lady luck on your side would help, but at a place like this, if your car is good, you're coming to the front. The only thing that can matter is you can get caught up in a wreck or something, not having the track position. Other than that, a good car should come to the front here because you're actually able to pass."
Not only will Andretti have a shot at his second career win, but he could parlay that into win No. 3 as well. Having two races means two Texas-style celebrations. The Foyt-Rutherford Trophy will be presented after each race to the winner. Firing the commemorative pistols also have become a staple at TMS.
"So hopefully we can get two sets of guns," Andretti said.
May, 23, 2011
5/23/11
7:16
PM CT
By
Master Tesfatsion
| ESPNDallas.com
FORT WORTH, Texas -- If your last name is Andretti, the Indianapolis 500 hasn't been your best friend the past three decades.
Three generations of drivers have placed that historic name in nearly every single category of the IndyCar record book, but only patriarch Mario chugged a jar of milk produced by the American Dairy Association of Indiana after "The Greatest Spectacle in Racing" in 1969.
Since that moment, it has been a number of heartbreaking defeats. Even Marco, the youngest of the family drivers, suffered a fair share of the Andretti Curse during his first Indy 500 in 2006.
Sam Hornish
Jr. passed Marco on the final lap to win by .0635 seconds. Michael, Mario's son and Marco's father, was right behind in third place.
"We have to look at how fortunate we are," Marco said Monday during a media luncheon at Texas Motor Speedway. "Number one, to be able to go compete and do what we love to do. We're safe. We've been safe in our careers. But yeah man, I'm sick of the plane rides home just talking about how we could've won it."
Marco qualified in 28
th
place for the 100
th
anniversary of the Indy 500 on the final run during Bump Day on Sunday, knocking out fellow Andretti Autosport driver
Ryan Hunter-Reay
in the process. Despite noticeable speed struggles, Michael, now owner of Andretti Autosport, likes Marco's chances this Sunday at Indianapolis Motor Speedway.
"I really think once the race rolls around, [speed] doesn't matter and it comes down to handling," Michael said Sunday after Bump Day. "That's why I feel confident with the cars we have in the field [teammate
Danica Patrick
qualified 17
th
]. I think Marco is going to be the guy to beat, I really do."
The Indianapolis 500 is the first of four straight oval-track events on the 2011 IndyCar series schedule. On deck: The Firestone Twin 275s at Texas Motor Speedway on June 11.
March, 30, 2011
3/30/11
11:28
AM CT
By
Eddie Gossage
| ESPNDallas.com
Entering last weekend's IndyCar season-opener in St. Petersburg, Fla., much of the discussion was about the series' decision during the offseason to utilize double-file restarts in all races this year. IndyCar series officials wanted to tighten up the field on restarts, give drivers an opportunity to pass and, honestly, add another touch of excitement to the sport.
So on the start of Sunday's race, the cars went dashing into the first turn on the first lap and -- Blam! -- a big pileup of stars and cars, most notably
Marco Andretti
sliding upside-down on the asphalt. Drivers like
Helio Castroneves
,
Scott Dixon
,
Ryan Briscoe
and
Mike Conway
were involved in the incident. All were contenders to win the race.
Drivers, media and the internet forum "experts" quickly jumped and pointed a finger at the series' double-file restart as the culprit.
Except it wasn't a double-file restart. It was a double-file start. Like IndyCar and every other form of racing has been using for literally 100 years.
The real culprit, apparently, was Castroneves, the three-time Indy 500 champion. As the field barreled down the front straight toward Turn One, Castroneves ducked inside from his ninth starting position. When the cars -- four and five wide -- reached the hard right-hand turn at the end of the front straight, the cars inevitably funneled down. The next thing you knew, cars were sliding everywhere with Andretti on his lid.
"I guess I caused a mess," Castroneves fessed up.
"As drivers, we take some of the blame," race winner
Dario Franchitti
said. "We control the cars."
Franchitti has accomplished so much in his career, including winning at Indy and winning the 2010 Indy Car championship. He is one of the smartest, most thoughtful drivers in the paddock. But I have to question his point: Some of the blame? Personally I think all of the blame is more accurate. Watching at home on television about 1,500 miles away, I could tell you what was about to happen as the cars took the green flag. And I can tell you similar things are going to happen at Long Beach and Toronto unless the drivers use their heads.
Even the drivers admit to the need to be smart. Dixon, Briscoe and
Graham Rahal
all used the word "idiots" to describe some of their competitors.
"They can see what's going on, but they're not paying attention," Rahal said.
"There's zero room for error and we can't bump like NASCAR," said
Will Power
, who finished second.
"I think we are maybe trying to copy something that the other guys do," said
Tony Kanaan
, who finished an inspring third in St. Pete. "But we don't have bumpers and can't bump each other."
But Simone de Silvestro may have the biggest set of coconuts: "I thought the double-file restarts were fun because it actually gave us a chance to make positions," she said, confirming IndyCar's premise. "Last year we would start single-file every time and it would be hard. You would just follow the leader. I think the restarts made it exciting."
By the way, who got the biggest ovation from the St. Pete crowd after the race? It was de Silvestro for her stirring St. Pete performance with an under-funded team. Her brave moves reminded more of Dale Earnhardt in NASCAR than it did of a driver fearing the double-file restarts. Fans can see this. And they like it. The fan surveys here overwhelmingly demand double-file restarts. IndyCar racing is wise to listen to the fans after ignoring their wishes for the last two decades.
Use your head, guys. And watch de Silvestro. She can show you how to be brave and smart at the same time.
December, 23, 2010
12/23/10
11:39
AM CT
By
Eddie Gossage
| ESPNDallas.com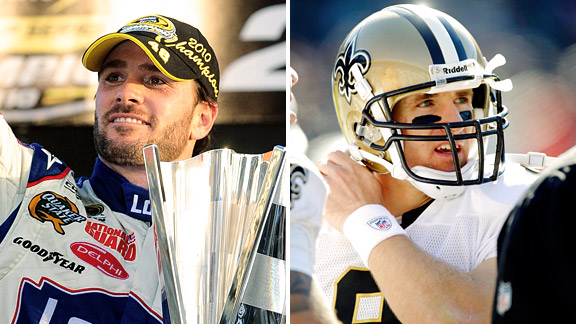 US PresswireJimmie Johnson was a runner-up to Drew Brees in the AP Male Athlete of the Year voting. May local fans and media take notice.
All I want for Christmas is ...
More "Have at it, boys!" Good call, NASCAR!

A better economy so fans can attend more races and companies can sponsor more cars, races, etc.

[+] Enlarge

AP Photo/Ross D. FranklinKevin Harvick was atop the points standings for most of the season. May a title come his way.

Peace on earth at Richard Petty Motorsports. The team with A.J. Allmendinger showed real progress and was on the verge of a breakthrough when money problems for principal owner George Gillette forced the team to operate on a week-to-week basis. Give them their resources and let them go -- this team can win.

A tape recording of the comments during Jeff Gordon's and Jeff Burton's ambulance ride from Turn 2 to the HCA Infield Hospital here at Texas. Wonder what was said and by whom?

A solid IndyCar ride at de Ferran/Dragon Racing for Tony Kanaan. He is clearly the best driver at Andretti Motorsport, but it's obvious how he became odd man out to the other two drivers, Marco Andretti and Danica Patrick.

For the local media to realize how big a deal the racers are. The Associated Press named Jimmie Johnson the runner-up to Drew Brees for their 2010 Athlete of the Year. The names Dirk Nowitzki, Tony Romo, Ian Kinsler or any of the local athletes did not come up on the list. Pay attention, locals. This thought process is one of the reasons why circulation/viewership/listenership is down. Obviously, the media in the rest of the country gets it.

A championship for Kevin Harvick. He led the points standings virtually the entire season and he is a throwback type of driver who appeals to fans.

Speaking of throwback drivers, Clint Bowyer may be the guy to hang on to all the fans of the late Dale Earnhardt Sr. His ability, mannerisms and working-man persona is going to be very popular with the fans.

That Kyle Busch keeps on being Kyle Busch. Somebody has to wear the black hat, and it fits perfectly on Busch's head. He is likely the most talented driver in American motorsports. But the fact that all he cares about is winning makes him very appealing to me. And the subject of boos from many fans.

[+] Enlarge

Vince Bucci/Getty ImagesMay the Boss conveniently find his way to TMS sometime during race weekend.

An IndyCar win for Danica Patrick. Time is running out for Danica. She has to put some points on the board or be considered a novelty. She has all the talent in the world.

Same for Dale Jr. Time may have just about run out for "Little E." He really needs to win and contend in 2011. And at least act like he wants to be here.

Photo finishes at all races. And races so close that it takes a couple of days to determine the winner of all the races in Texas! No Limits, baby!

For a NASCAR Sprint Cup car to look like, well, a stock car. I want to see Chevys and Fords and Dodges and Toyotas. I don't want to see cars that all look alike except for the decals on the nose. Come on, NASCAR!

Bruce Springsteen to play the pre-race show at one of the races here at Texas Motor Speedway.

More success, and perhaps another championship, for Tony Stewart. He may be the guy with the most real race fans in the sport.

Lots more wins for Jeff Gordon. He's not through but we all want to see Jeff win. I bet this time there won't be a single "boo!" High time!

More Americans driving Indy Cars. Come on team owners ... this is the fastest way back to relevance.

Fewer penalties and fines from NASCAR and IndyCar. Let the racers settle it themselves. Fans don't want you involved in the outcome of races.

More backflips for Carl Edwards.

Another opportunity in the Cup series for Elliott Sadler. This guy has "star" written all over him.

More seat time for Brad Keselowski. Just like a young Dale Earnhardt Sr., a young Ernie Irvan, a young Kyle Busch and others before him, he's bouncing off of cars and walls everywhere as he learns. He will make it. And he will be exciting!

The end to start-and-park teams in NASCAR.

Respect for Jimmie Johnson. Five straight championships may be the definition of motor racing perfection. It will never be accomplished again.

[+] Enlarge

Christian Petersen/NASCAR/Getty ImagesMay Carl Edwards ... wait for it ...

That you get to know Brittany, Stephanie and Becky -- The Great American Sweethearts -- in 2010. They aren't just beautiful, they personify the "No Limits" attitude, love racing and love meeting race fans. We could not have found three better people to serve in that role.

More appreciation from the local fans for what the IndyCar drivers do here at Texas Motor Speedway. They run almost 220 mph, wheel-to-wheel and in packs. The precision is amazing. One little bobble and there is trouble. And if the IndyCar officials will leave them alone, they put on the best races in the world.

No more trial balloons from NASCAR in which they say fans are interested in shorter races, fewer races, fewer days in the race weekend, etc. These are just trendy little rumors NASCAR leaks to the media because they are tired of being on the road. Hello! NASCAR ... this is about the fans! Not your personal wishes. If you don't want to travel, there are other jobs in this world.

Greater appreciation for Kurt Busch. The former Cup series champion is the epitome of a professional. And he's got loads of talent!

Success for Kasey Kahne. He's popular with the young ladies and the cougars, too!

Appreciation for the accomplishments of Michael Waltrip Racing. David Reutimann is a solid contender week after week.

A "No Limits" Christmas and New Year for you and all your loved ones!