Dallas Motorsports:

Mark Martin
April, 11, 2013
4/11/13
1:00
PM CT
By
Scott Noll
| ESPNDallas.com
Want to impress your friends while hanging out at Texas Motor Speedway on Friday and Saturday? Here's a little bit of TMS trivia, courtesy of ESPN Stats & Information:
FRONT RUNNERS:
If you qualify in the top 10 at Texas Motor Speedway, you have a very good chance of winning. In 24 races since the track's inaugural race in 1997, 18 winners have rolled off pit row from a top-10 starting spot, the highest win percentage of any track along with Sonoma. Richmond and Dover are next at 71.9 percent.
HOME AWAY FROM HOME:
So who has the best chance of starting in the top 10 at Texas Motor Speedway? None other than
Jimmie Johnson
, who has started from inside the top 10 on 12 occasions in 19 races (63.2 percent), including both of his Texas wins.
Greg Biffle
(61.1),
Kasey Kahne
(58.8) and
Mark Martin
(54.2) are next.
CLIMBING THE LADDER:
Enough about those at the front. That's easy, right? Now ... coming up through the field to win? That's an achievement.
Matt Kenseth
currently holds that honor, winning in 2002 after starting 31st.
Denny Hamlin
, however, proved he was no fluke, having swept both 2010 races from the 30th and 29th starting spots in the field.
Carl Edwards
(2005) also won from the 30th spot.
PHOTO FINISHES:
Nothing beats the drama of a last-lap sprint to the checkered flag. Just ask
Elliott Sadler
, who edged Kasey Kahne by .028 seconds in 2004 for the closest Cup finish in TMS history. And if you want the opposing viewpoint, you can try to ask Jimmie Johnson, who was the runner-up in close finishes to Denny Hamlin (.152 seconds in 2010),
Tony Stewart
(.272 seconds in 2006),
Jeff Gordon
(.378 seconds in 2009) and Carl Edwards (.399 seconds in 2008). Venturing a guess, however: You need not feel overly sorry for "Five-Time."
WHICH WAY IS VICTORY LANE:
Will there be a first-time Cup winner in Texas? It's happened twice before.
Jeff Burton
earned his first Cup victory at TMS in 1997. Burton, who started fifth, beat
Dale Jarrett
by 4.1 seconds to win in his 96th career race.
Dale Earnhardt
Jr. reached Victory Lane much quicker, winning at TMS in 2000 in just his 12th career race. Who'd Dale Jr. beat to the finish line? Why Jeff Burton, of course.
April, 10, 2013
4/10/13
12:31
PM CT
By
ESPN Stats & Information
Playing the numbers game for the NRA 500, to be held at Texas Motor Speedway on Saturday night:
Jimmie Johnson is back in the points lead after a dominant Martinsville victory. It's his 12th straight multi-win season -- the fourth-longest streak in Sprint Cup Series history. It's also the fourth time he's won at least twice in the first six races of the season. The other three times he did it, he went on to win the title. Johnson could add a third win at Texas, a track at which he led 324 laps last season -- nearly half the laps of the two races held there (669).


Johnson took the points lead away from his Hendrick Motorsports teammate, Dale Earnhardt Jr., who finished outside the top 10 for the first time this season. Earnhardt will look to bounce back at Texas, site of his first career win in 2000 and a track where he's had five top 10s in the last six races, coming back from a slump.

From 2000-06, Dale Jr. had top 10s in seven of his nine races for an average finish of 10.2. Over the next three seasons, through 2009, he failed to crack the top 10 in six races for an average finish of 21.2. Since then, however, he's averaged an 11th place finish in his last six races.


No team has a better record at TMS than Roush Fenway Racing, which has won nine of the 24 races -- more than twice as many as any other team. In the last five races at TMS, Roush Fenway drivers have led 646 laps (38.7 percnet) and have gone on to 11 top 5s and 15 top 10s in 18 starts, and they've won the last two spring races with Matt Kenseth (no longer with the team) and Greg Biffle.


Kenseth is no longer with Roush Fenway Racing, but he'll look to bring his Texas expertise to Joe Gibbs Racing. Kenseth is the all-time TMS leader in top 5s (12), top 10s (15), laps led (772) and average finish (8.3). He's just one win behind former teammate Carl Edwards, who has three.


Danica Patrick was a pleasant surprise at Martinsville, finishing 12th in her first visit there. She's struggled this season on larger tracks, but TMS could be a place where she maintains momentum. Last year in the spring Nationwide Series race, she finished a NNS season-best eighth. And in her only Sprint Cup start at the track, she passed a career-high 107 cars under the green flag.


Who stars in the Lone Star State?
Greg Biffle: Nine straight top-10 finishes at Texas; longest streak in track history (defending spring race winner).

Jimmie Johnson: Finished second and first at Texas last season (five top 10s in last six races).

Matt Kenseth: Five straight top-5 finishes at Texas (won spring 2011 race).

Carl Edwards: Three Sprint Cup Series wins at Texas (leads all drivers).

Dale Earnhardt Jr.: Four straight top 10s at Texas (1st career NSCS win came at Texas in 2000).


Who's just feeling alone?
Brad Keselowski: Has finished 14th or worse in eight of nine career Texas races (2nd last fall; 36th last spring).

Mark Martin: Has wrecked out of two of last four TMS races.

Ryan Newman: Has finished outside top 10 in last nine TMS races.

Brian Vickers: Has never finished better than 12th at Texas (14 starts).

Kyle Busch: Has finished outside top 10 in three of last four races at TMS.
March, 22, 2012
3/22/12
11:49
AM CT
By
Eddie Gossage
| ESPNDallas.com
Brad Keselowski
's win at Bristol on Sunday marked the fourth different winner in the NASCAR Sprint Cup Series' four races this season. He also gave Dodge its first victory of 2012, which means all four manufacturers represented in the series have already earned a win. And there's still 32 races to go.
[+] Enlarge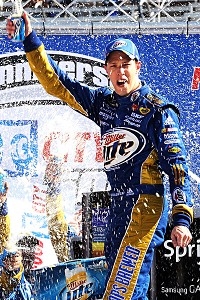 John Harrelson/Getty Images/NASCARBrad Keselowski's win in Bristol on Sunday gave the four Sprint Cup manufacturers a victory in as many races this season.
Chevrolet dominated the 2011 season, winning half of the 36-race schedule. Ford came in second with seven victories, followed by Toyota (six) and Dodge (five). I have a feeling the competition will be spread a little more evenly this season due to the shuffling of talent during the offseason and some new developments among the four manufacturers.
Clint Bowyer
, a winner from last season, recently made the transition from Chevrolet to Toyota with
Michael Waltrip
Racing.
Mark Martin
is another former Chevrolet driver racing for MWR this season. We've already seen great success with this team and with the newly formed alliance between Joe Gibbs Racing and Toyota Racing Development. I think Toyota will be stepping up its program all around.
Ford had a tough year in 2011, but it has been a strong force this season with two of its drivers in the top five in points.
Greg Biffle
is leading the point standings and has three top fives.
Matt Kenseth
, who won the Daytona 500, is third.
The recent news with Penske Racing moving to Ford in 2013 left uncertainty for Dodge, but with its new Charger debuting in the Sprint Cup Series next season the organization has received a lot of interest in its NASCAR program. One prospect is
Richard Petty
Motorsports, which is in its last contract year with Ford. Petty and Dodge have a history together, and the team is looking into renewing that relationship.
And then we have Chevy -- the powerhouse of the sport that has earned the most manufacturers' championships since NASCAR's inception and is currently on a spree of consecutive Sprint Cup championships. Chevrolet has earned a star driver with
Kasey Kahne
competing for Hendrick Motorsports this year and we've seen early success with
Dale Earnhardt
Jr., who I believe will be in Victory Lane soon.
All of this is great for the sport. The amount of competitiveness increases the level of excitement among fans and sponsors, and keeps them engaged from week to week.
Hang on NASCAR nation, because it's shaping up to be a sensational year.
November, 4, 2011
11/04/11
6:00
PM CT
Ladies and gentlemen, start your ...
Uh, hold on for one second for this important announcement. And another. And yet another.
That's what it was like at Texas Motor Speedway on Friday before the engines ever got going. One story after another. Driver after driver heading to the podium.
The highlights:
*
Mark Martin
, at a spry 52,
signed a two-year deal with
Michael Waltrip
Racing through 2013. Martin will drive the No. 00 Toyota -- sponsored by Aaron's -- for 25 races each year.
"At a time when other NASCAR teams are cutting back and staying the same, Michael's team is adding people and sponsors," Martin said Friday. "It is the perfect schedule for me. It enables me to catch my breath and spend more time with the fans."
* A very familiar number will be returning full-time to the Nationwide Series in 2012, as
Richard Childress
announced that
the No. 3 car
-- made famous by
Dale Earnhardt
before his death in 2001 -- will be raced by
Austin Dillon
, who also is Childress' grandson.
*
Danica Patrick
-- with not one, but two news conferences -- was the focus of attention for most of the afternoon. Racing for the first time since the death of IndyCar driver
Dan Wheldon
in Las Vegas two weeks ago,
Patrick will drive a Wheldon tribute car
-- complete with the lionheart symbol -- during Saturday's Nationwide Series race and will donate her winnings to a trust fund established for Wheldon's family.
Patrick admitted that she is glad to have a "roof over her head" after the tragic events in the IndyCar event on Oct. 16.
"It does feel safer," she said. "It felt safer two years ago when I first got in a Nationwide car. Accidents still happen, but not a lot of serious head injuries. Having my head covered definitely adds a level of comfort."
* Finally, Patrick announced plans for
her Sprint Cup debut in 2012
. She'll run a 10-race schedule -- eight races, including the fall race at Texas Motor Speedway, have already been announced -- for car owner
Tony Stewart
. She'll drive the green No. 10 Chevy for Stewart-Haas Racing with her familiar sponsor, GoDaddy.com.
"Ten is my favorite number," said Patrick, who will continue to run a full Nationwide Series schedule for JR Motorsports. "It's the number I used when I was racing go karts as a kid, but this is the first time I've gotten to pick my number as a professional. There's a lot of emotion in it for me."
Said Stewart: "It was about the best opportunity to get her the most experience at some places where she hasn't raced. A few races into this, she may hate me. But next year is all about learning these places where she will need to run well in the future."
April, 8, 2011
4/08/11
7:30
AM CT
By
Bryan Broaddus
| ESPNDallas.com
As much as I enjoy the National Football League and covering the Dallas Cowboys for 103.3 FM ESPN and ESPNDallas.com, my true passion is auto racing, and especially Nascar. This weekend the Sprint Cup Series makes its first of two visits to the Great American Speedway and the running of the Samsung Mobile 500.
For the first time, the race will be competed under the lights at Texas Motor Speedway. Since speedway president Eddie Gossage was able to secure a second race date for Texas, the November race has started in the daylight but finished at night. Never has an entire race been run under the lights, and it will be interesting to see the different setups these crews use to dial their cars in.
Texas Motor Speedway is already one of the fastest tracks in the Sprint Cup Series and when the racing is done during the day, the track becomes hot and slick, making it even tougher to navigate. Under the lights, the grip and speeds will increase to serious levels. Crews do not have any real notes to go off of but might look to other mile-and-a-half tracks that run races at night -- such as Charlotte and Chicago -- for setups.
Something to also watch in Texas is the long green flag runs. If we see this type of action with fewer cautions, how will crews be able to make time for adjustments under green flag conditions?
Top 5 Drivers to Watch: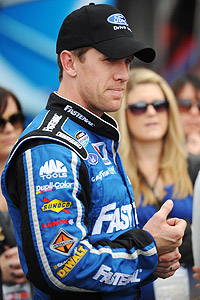 Kelvin Kuo/US PresswireCarl Edwards
1. Denny Hamlin, No. 11 Fed Ex Office/March of Dimes
Hamlin swept the two Sprint Cup races at TMS in 2010. In 11 career starts at TMS, he has two wins and eight top-10 finishes. Hamlin started 29th and 30th in the field in his victories, a tribute to the strength of his team. Something to note: Joe Gibbs Racing has struggled with some engine issues. Word in the garage is they feel they've solved the problem, but it's something to watch.
2. Carl Edwards, No. 99 Scotts Turf Builder
Edwards comes into the race second in the Sprint Cup Series points standings. In six starts this year, he has a win and four top-10 finishes. Edwards is a three-time winner at TMS, and like Hamlin did in 2010, he swept the season races in 2008. Edwards is in the top 5 of total laps led at the speedway and is a master when it comes to stretching fuel mileage to finish a race. Something to note: In two of last three races at TMS, Edwards has suffered a DNF.
3. Matt Kenseth, No. 17 Crown Royal Black
Kenseth is the teammate of Carl Edwards at Roush Fenway Racing. He is ninth in the Sprint Cup Series but has not had the consistency of his teammate early this season. But when he passes through the tunnel at TMS, no matter how up and down his season has been, he will be a factor in that upcoming race. In 17 career races at TMS, Kenseth has a win and 11 top-10s. Not known as one of the better drivers when it comes to qualifying, Kenseth won the 2001 event when he was able to pilot his Ford from the 31st starting position -- the deepest a winner at TMS has ever started from. Something to note: Kenseth has finished in the top 10 every time he has started in the top 10 here.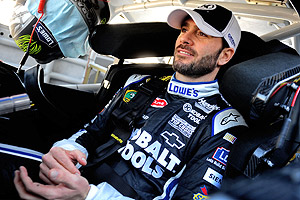 Mark J. Rebilas/US PresswireJimmie Johnson
4. Jimmie Johnson. No. 48 Lowe's
Jimmie Johnson
is the model of consistency. The five-time defending Sprint Cup champion has made 15 starts at TMS, winning once with 11 top-10 finishes. Johnson has never started outside the 18th spot and had a string of six races in a row where he never started outside the top 8. Johnson has suffered only one DNF at TMS, and that was in the Spring race of 2007. It was in the fall race at TMS in 2010 where Johnson's crew chief Chad Knaus sent a message to his team after several poor pit stops by switching his crew out for members of Jeff Gordon's team during the middle of the race after Gordon had crashed out. Johnson went on to finish ninth in that day. Something to note: In eight of Johnson's 15 starts at TMS, he has failed to lead a single lap. When he won the fall race in 2007, he only led nine laps.
5. Mark Martin, No. 5 Go Daddy.com
Mark Martin knows how to get around Texas Motor Speedway.
Jeff Burton
,
Jeff Gordon
and
Bobby Labonte
are the only other drivers to compete in all Sprint Cup Series races run at this facility. In 20 career starts, Martin has one victory and 12 top-10s. In his last four races at TMS, he has finished no worse than sixth. Martin is at his absolute best at the finish of races. In 2011, of a possible 1,987 laps, he has yet to miss a lap. Martin is first in the Sprint Cup Series in that stat, one lap ahead of
Kyle Busch
. Something to note: Martin has finished 18 straight races at TMS. The only race that he received a DNF was his first one in 1997. He found himself in teh winner's circle the following spring.
Others to watch:
Greg Biffle
,
Kurt Busch
, Jeff Burton, Dale Earnhardt Jr., Jeff Gordon,
Tony Stewart
April, 14, 2010
4/14/10
12:12
PM CT
By
Eddie Gossage
| ESPNDallas.com
Officials with Richard Petty Motorsports announced Tuesday that Kasey Kahne, their No. 1 driver, has signed an agreement to race for Hendrick Motorsports in 2012.

Only seven races are complete in the 2010 season and drivers are already jumping from team to team.

Obviously Kahne and Hendrick would have preferred to have kept their agreement hush-hush, but RPM wanted to let the world know. Angry remarks by a jilted lover? Who knows. But it is big news.

Does this mean somebody is leaving Hendrick Motorsports after 2011? A team is only allowed to have four entries and Hendrick already fields cars for Jimmie Johnson, Jeff Gordon, Mark Martin and Dale Earnhardt Jr.

Some would think Kahne will replace Martin, who cut back to a shortened schedule a few years ago but returned full-time and almost won the NASCAR Sprint Cup championship last year. But could it be another driver in Hendick's stable moving on or out -- after 2011? That leaves Johnson, Gordon or Earnhardt open to the speculation. Not likely.

It could also mean that a satellite operation of Hendrick Motorsports, perhaps Stewart-Haas Racing, will field a car for Kahne. They already have entries for Tony Stewart and last week's winner, Ryan Newman. Sponsorship will be key, but apparently the Budweiser sponsorship at RPM expires this season. Perhaps they will want to move with Kahne?

NASCAR's "Silly Season," the time of year where rumors run rampant about drivers hopping from team to team, used to start in September and October. Now apparently it starts in April. Two years early.

We're going to need a souvenir program to keep up.
February, 8, 2010
2/08/10
1:02
PM CT
By
Eddie Gossage
| ESPNDallas.com
NASCAR told the Sprint Cup Series drivers that they were loosening the reigns on them this season and "to have it, boys." If you watched Saturday night's Budweiser Shootout at Daytona, did they ever.

There was aggressive driving beginning in practice earlier in the week and it carried right over into the Shootout. I wondered to myself if it was because of NASCAR's relaxing of the rules or because there were no points on the line?

The answer is "yes" on both counts. There was plenty of aggressive bump drafting going on from start to finish, and I thought the most impressive was when Juan Pablo Montoya was giving a push to Jimmie Johnson. You would have thought they were shot out of a cannon in the fashion they were moving up to the front.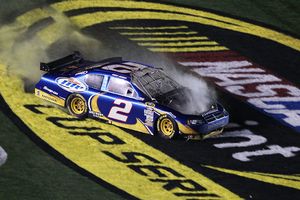 Nick Laham/Getty Images
Kurt Busch took a scary ride across the Daytona infield after his hood flapped up against his windshield. Busch, who car went back up the track and hit the wall, was uninjured.
Some of the other aggressive bump drafts resulted in accidents, and several of the drivers talked about the bigger plate caused quicker closing times and that it will take some getting used to.
Kurt Busch already has been involved in two crashes, neither his own fault. He had one in practice and then took a wild ride through the tri-oval infield grass in the Shootout after contact with Mark Martin. The car's front splitter acted like a rototiller through the infield, sending dirt and grass through the engine compartment and blowing the hood up on the windshield. Imagine driving at almost 200 miles per hour for like two-thirds of a mile with your hood on your windshield. I can't imagine going 20 miles per hour for 10 feet like that. Thankfully, Kurt was uninjured and still had his sense of humor intact when they interviewed him afterward, joking he took more laps in the track ambulance than his Dodge Charger during the week.

It was also great to see good friend Kevin Harvick back in Victory Lane. He struggled through a very frustrating season in 2009 -- as did all the Richard Childress Racing folks -- so it was encouraging to see some promise for the upcoming season for him and hopefully his RCR teammates too.

Will we see more of the same racing in Sunday's Daytona 500? Probably so. Even though this will be a points-paying race and everyone wants to get off to a good start to the season, it is still the sport's biggest race of the year and there is a ton of loot and prestige on the line. It may not be as wild as the Shootout in the early going, but you can bet the last 10 to 20 laps will be as wild if not wilder than the Shootout.

I mentioned in my opening blog that Tony Stewart was going to drive down with our friends from Sprint and me to the Super Bowl, and that I was anticipating some entertaining stories from the off-track time with "Smoke."

Tony wound up meeting us at the game and I was a bit surprised that I didn't see the talkative and joking guy I know. I met the Tony Stewart that is one hardcore Colts fan, much like me with the Green Bay Packers. He sported his Colts cap and he was intense all game, sitting on the edge of his seat from start to finish. Pretty cool to see an athlete of another sport focus so intensely on the performance and execution of other athletes. And one that personally knows the desire, drive and teamwork it takes to become a champion.

Many in the NASCAR community were up -- including me -- at 4:14 a.m. Eastern Time in Daytona Beach this morning to see the Space Shuttle launch from Cape Canaveral. Driver Mike Skinner, however, thought the launch time was 4:19 a.m. He got up five minutes late. By then, the shuttle was literally halfway across the Atlantic Ocean. It gave a new meaning to the phrase, "You snooze, you lose."

Speaking of snoozing, I'm hopping on a plane back to DFW and plan to do a little of that along the way. It's been quite a weekend.
February, 4, 2010
2/04/10
7:03
PM CT
By
Eddie Gossage
| ESPNDallas.com
"Introduce yourself," said the big cheese at ESPNDallas.com. "That's probably the best way to start your first blog with us."

So, hello. My name is Eddie. Starting today I'll pretty much be working full-time here at ESPNDallas.com, blogging three to four times a week. My "part-time gig" remains the same as it has for about the past 15 years -- I'm the president of Texas Motor Speedway.

Of course, the timing is good. Racing season started this past weekend at Daytona with the Budweiser Shootout, qualifying for the Daytona 500 (how about that 51-year-old Mark Martin!) and the stock car debut of Danica (her name is Danica Patrick but like Cher, Madonna and Rhianna, everybody seems to know her by one name). I was in Daytona on Saturday for the green flag for the 2010 season, and throughout the next few days I'll blog about some of the things I learned in Daytona and -- throughout the year -- my take on issues, incidents, controversies and personalities in the sport.

As race fans -- and race car drivers know -- I have some opinions. I've been doing this for 31 seasons now and have seen it all. To put that in perspective, I had 12 seasons under my belt before last year's Sprint Cup rookie-of-the-year Joey Logano was born. In that time, I've seen first-hand as NASCAR grew from a regional sport in the Southeast to an international sport. Did you know the April 18th Samsung Mobile 500 here in Texas will be broadcast in approximately 150 countries? I've also seen Indy car racing enjoy an incredible ascent in the '80s and into the '90s, only to see it fall back down the ladder. As a guy who likes all forms of racing -- and one that has particularly loved Indy cars through the years -- it's been heartbreaking to see that happen. Hopefully better things are around the corner.

I have a deep respect for race car drivers. People have no idea of the hard work, commitment and personal sacrifice race car drivers endure to make it to the big show. Some day I'll tell you the amazing story Greg Biffle told me about his career over fried chicken one night at Babe's Chicken House. I don't think you will find a story like his in the highly competitive world of the NFL, NBA, MLB, etc. But just because they have worked so hard doesn't mean they are always right (although you can pretty much take it to the bank if Mark Martin or Jeff Burton say it's so). As a result, the drivers know I'm one of the guys that will call their hand and wave the "BS" flag on them, no matter how popular they are. Ask Dale Earnhardt Jr. and Danica. Both are great talents but, again, that doesn't make them right all the time.

So stop in here frequently. I'll pull back the curtain and let you see backstage. I'll tell you the news of the day. I'll offer a couple of opinions. And I'll bet you will occasionally debate with me. That's okay, we can agree to disagree.

BTW, after the festivities in Daytona I went to the Super Bowl in Miami with Tony Stewart and about 10 other people with our friends from Sprint. The eight-hour, round-trip ride and spending the game with Tony is bound to be worth a couple of blogs. "Smoke" always does or says something interesting. I'll tell you about it here.

So drop the rag!