Dallas Motorsports:

Martin Truex Jr.
April, 14, 2012
4/14/12
8:22
PM CT
By
David Stein
| ESPNDallas.com
FORT WORTH, Texas -- Martin Truex, Jr. stole his lead back from Jimmie Johnson after a pit stop, and the pole winner remains ahead of the pack.

Johnson continues to be in the thick of things, and has been the fastest car of the night.

Dale Earnhardt, Jr. continues to move up, and currently sits in sixth.

Greg Biffle's car was great early, but he has moved back into fifth.
April, 13, 2012
4/13/12
7:47
PM CT
By
David Stein
| ESPNDallas.com
FORT WORTH, Texas --
Martin Truex
Jr. won the Coors Light Pole Award at the Samsung Mobile 500 qualifying Friday.
He won with a lap of 28.366 seconds.
After the qualifier, he continued to talk about how he can feel a win coming.
"I can't even explain it. I'm just blessed to have the team I have and be in the position I'm in," Truex Jr. said. "It makes you think back to those days when things weren't going so well."
This could be a huge step in winning his first Samsung Mobile 500. He's had problems winning the pole in the past, and he's willing to admit that.
"I'm not the greatest qualifier," Truex Jr. said. "At times I tend to overdrive the car. There are some days, like today, that the car will take that."
Asked if he did anything different to win the pole, he smiled and said he "just drove harder" this time.
Matt Kenseth
finished second with a lap of 28.399 seconds.
Greg Biffle
continued to be impressive at Texas Motor Speedway. He finished third at qualifying with his 10th top-10 start in Fort Worth.
It's Truex Jr.'s second pole at Texas Motor Speedway and first in the Samsung Mobile 500. His first came in the 2007 Dickies 500 where he finished third.
His best finish in the Samsung Mobile 500 came in 2007 when he started 24th and moved his way up to finish seventh.
June, 25, 2010
6/25/10
1:59
PM CT
By
Eddie Gossage
| ESPNDallas.com
A long held theory of mine was substantiated this week by
Jeff Gordon
.
He said, in essence, that the lot at each track where the drivers park their weekend motorhome away from home could have an impact on the race track. And he avoids that so as to avoid a warm feeling that might cause him to reconsider -- just for a split-second -- slamming the door or squeezing by a guy on the track just because they are friends.
"I see other drivers grilling out together, and their kids playing together," Gordon told USA Today. "I don't see many 'A' list drivers doing that. When I get to the track, I'm business. I know in order to do my job, I'm going to have to [tick] somebody off. And it could be someone I'm friends with, and I don't want to take it personally. It's hard not to take it that way."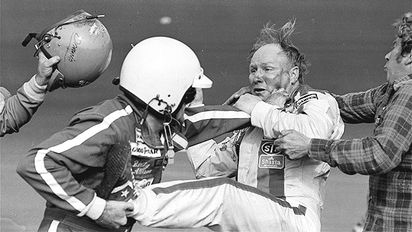 AP Photo/Ric FeldYou think Bobby Allison and Cale Yarborough grilled out together in the motor coach lot after this Daytona dustup in 1979? I think not.
I agree. Having started in this sport when Richard Petty, Cale Yarborough, David Pearson, Bobby Allison, Darrell Waltrip and a young Dale Earnhardt were making their marks, I assure you standing around the open flame discussing the finer points of prime versus choice meat was never a consideration. To this day, almost 25 years after their last race against each other, Allison and Waltrip "spit" each others names when telling their racing stories. The heat in the room goes up when two or more of these guys meet up still today.
But it's hard to have the killer instinct on the track when you know you are going to have steaks with the guy in the infield a couple hours later.
While we see bitterness and rivalry returning to the sport this year -- think
Carl Edwards
and
Brad Keselowski
,
Kyle Busch
and
Denny Hamlin
, Gordon and both
Martin Truex
Jr. and
Elliott Sadler
-- it still seems to not be as sharp-edged as the rivalries from years gone by.
An answer would be to do away with the motor coach lot at the speedways and cause the drivers to stay in area hotels. That's where, as a fan, I sought out Petty and met him as a teenager. Of course, that's partly why they don't stay at hotels any longer -- because of the loss of privacy.
But that's not going to happen. The infield motor coach lot is here to stay.
But you can take it to the bank that Yarborough and Allison only ran across each other in the infield of a race track just once. At Daytona in 1979. Just inside Turn 3, where the two started swinging fists after Yarborough and Donnie Allison crashed on the final lap of the Daytona 500. As Bobby said, "Cale just kept hitting my knuckles with his nose."
Maybe that's the way it ought to be today.
February, 14, 2010
2/14/10
10:49
PM CT
By
Eddie Gossage
| ESPNDallas.com
Jamie McMurray's win in Sunday's Daytona 500 will sadly be overshadowed by a pothole. What a shame because the dramatic end of the "Super Bowl of NASCAR" makes last Sunday's Super Bowl look, well, boring.
First, the dramatic finish.
McMurray was probably not listed as anyone's pre-race favorite going into Daytona. In retrospect, he should have been on the radar screen. Certainly it's not an upset.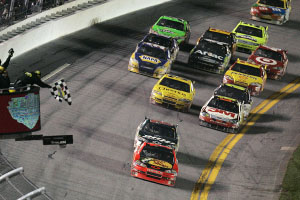 AP Photo/David Graham
Dale Earnhardt Jr., second from front, filled Jamie McMurray's rearview as the checkered flag dropped Sunday at Daytona.
He has won Daytona's July race before. He's a master at the draft but he appeared out of nowhere at the end of the race, only leading two laps. Like the old saying goes, "The only lap that counts is the last one."

Also in the mix at the end were Dale Earnhardt Jr., Greg Biffle, Clint Bowyer and Martin Truex Jr. Dale Jr. ought to split his second-place paycheck with David Reutimann for the powerful bump draft he received down the middle of the backstretch on the final lap. Earnhardt qualified second but never really appeared to be a contender in the race. The powerful lick Reutimann laid on Earnhardt's bumper propelled Junior's car past about five cars that magically parted for Earnhardt's Chevy. You could hear the Junior Nation in the Daytona crowd all the way to D-FW.

McMurray was almost considered a wash-out after four unmemorable years with Roush Racing. He joined the Roush program as a dead-solid-lock young driver commanding a big salary. When he left, he had to beg team owners Chip Ganassi and Felix Sabates for an opportunity. Now, Ganassi and Sabates look pretty smart.

There may be no crying in baseball, but there's nothing wrong with a little emotion in Victory Lane. I saw Darrell Waltrip in tears after winning the 1989 Daytona 500. I remember Jeff Gordon crying in Victory Lane after winning his first Cup race in Charlotte. Now, McMurray sheds a few over the Daytona trophy. I'll take that over other athletes in other sports pounding their chest over a simple 5-yard gain.

The win in the Daytona 500 may put McMurray's team at a disadvantage in the three remaining 2010 restrictor-plate races (two at Talladega and one more in Daytona) as well as the 2011 Daytona 500. The reason: the winning car at the Daytona 500 is rolled out of Victory Lane and into the Daytona 500 Museum for display for the next 12 months. The car, complete with grease marks, tire rubber, sandblasted nose and confetti from Victory Lane, will be seen by fans for the next year. That means that a car good enough to win Daytona is not available to the team for the next four restrictor-plate races. It's a high price to pay, but nobody seems to mind after winning the race.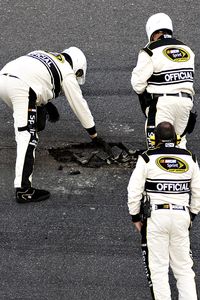 AP Photo/Bill Friel
NASCAR officials examine broken asphalt between Turns 1 and 2 that caused two lengthy red-flag delays Sunday.
Now, the pothole.

How do you foresee a pothole developing in Turn 2? Daytona International Speedway will be criticized for the problem and the two red flags that forced the fans on hand and millions more at home to sit two-and-a-half hours while repairs were made. Trust me, nobody at Daytona wanted to see that happen.

The frustrating thing is that the TV ratings will be clearly impacted by the delay. While track officials tried to make repairs, you could just hear viewers hitting their remotes and changing to, say, the Winter Olympics. The opportunity for huge ratings exists because much of the country is still dealing with snow and cold weather, stacking things up for great TV ratings. A similar situation -- coupled with a fight after the race between Cale Yarborough and the Allison brothers -- catapulted the sport on the national sports scene in 1979.

And then the pothole happened.

Thousands upon thousands of miles of practice, qualifying and racing have been run at Daytona in the last month without any problems with the asphalt until the biggest race of the season unfolded. Why it didn't rear its head until then is unknown. And horribly unfortunate.

NASCAR appropriately explained that speedway officials were doing everything possible to fix the pothole. And I'll vouch for them 100 percent. Everybody was excited for this season to start and the 200 mph bare-knuckle brawl that was going on at the 2.5-mile Daytona oval was living up to expectations. Until. Kind of like being told there's no Santa.

But more than one friend and media member called, e-mailed or sent me a text to remind me that NASCAR didn't seem to understand when something similar happened at Texas Motor Speedway in 1998. NASCAR officials condemned the speedway, Bruton Smith and, mostly, me. I've been there. I was sad for my friends at Daytona Speedway. Sad for the sport. Sad for the fans.

But I can also tell you I'm still waiting for an apology from NASCAR for the things they said to the media back then. Hey, a guy can hope, can't he? After all, the New Orleans Saints won the Super Bowl! Stranger things have happened.