Dallas Motorsports:

Michael Waltrip
November, 4, 2011
11/04/11
6:00
PM CT
Ladies and gentlemen, start your ...
Uh, hold on for one second for this important announcement. And another. And yet another.
That's what it was like at Texas Motor Speedway on Friday before the engines ever got going. One story after another. Driver after driver heading to the podium.
The highlights:
*
Mark Martin
, at a spry 52,
signed a two-year deal with
Michael Waltrip
Racing through 2013. Martin will drive the No. 00 Toyota -- sponsored by Aaron's -- for 25 races each year.
"At a time when other NASCAR teams are cutting back and staying the same, Michael's team is adding people and sponsors," Martin said Friday. "It is the perfect schedule for me. It enables me to catch my breath and spend more time with the fans."
* A very familiar number will be returning full-time to the Nationwide Series in 2012, as
Richard Childress
announced that
the No. 3 car
-- made famous by
Dale Earnhardt
before his death in 2001 -- will be raced by
Austin Dillon
, who also is Childress' grandson.
*
Danica Patrick
-- with not one, but two news conferences -- was the focus of attention for most of the afternoon. Racing for the first time since the death of IndyCar driver
Dan Wheldon
in Las Vegas two weeks ago,
Patrick will drive a Wheldon tribute car
-- complete with the lionheart symbol -- during Saturday's Nationwide Series race and will donate her winnings to a trust fund established for Wheldon's family.
Patrick admitted that she is glad to have a "roof over her head" after the tragic events in the IndyCar event on Oct. 16.
"It does feel safer," she said. "It felt safer two years ago when I first got in a Nationwide car. Accidents still happen, but not a lot of serious head injuries. Having my head covered definitely adds a level of comfort."
* Finally, Patrick announced plans for
her Sprint Cup debut in 2012
. She'll run a 10-race schedule -- eight races, including the fall race at Texas Motor Speedway, have already been announced -- for car owner
Tony Stewart
. She'll drive the green No. 10 Chevy for Stewart-Haas Racing with her familiar sponsor, GoDaddy.com.
"Ten is my favorite number," said Patrick, who will continue to run a full Nationwide Series schedule for JR Motorsports. "It's the number I used when I was racing go karts as a kid, but this is the first time I've gotten to pick my number as a professional. There's a lot of emotion in it for me."
Said Stewart: "It was about the best opportunity to get her the most experience at some places where she hasn't raced. A few races into this, she may hate me. But next year is all about learning these places where she will need to run well in the future."
September, 16, 2011
9/16/11
11:38
AM CT
Clint Bowyer is in serious negotiations
to drive next season for Michael Waltrip Racing, multiple sources told ESPN.com's David Newton.
Sources said the Toyota team is looking to expand to a third Sprint Cup team with Bowyer, whose contract with Richard Childress Racing expires after this season.
For more on the story,
click here.
December, 23, 2010
12/23/10
11:39
AM CT
By
Eddie Gossage
| ESPNDallas.com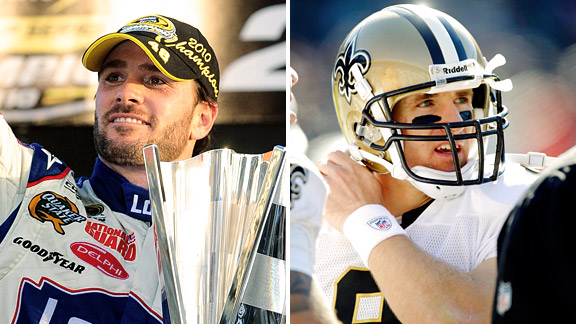 US PresswireJimmie Johnson was a runner-up to Drew Brees in the AP Male Athlete of the Year voting. May local fans and media take notice.
All I want for Christmas is ...
More "Have at it, boys!" Good call, NASCAR!

A better economy so fans can attend more races and companies can sponsor more cars, races, etc.

[+] Enlarge

AP Photo/Ross D. FranklinKevin Harvick was atop the points standings for most of the season. May a title come his way.

Peace on earth at Richard Petty Motorsports. The team with A.J. Allmendinger showed real progress and was on the verge of a breakthrough when money problems for principal owner George Gillette forced the team to operate on a week-to-week basis. Give them their resources and let them go -- this team can win.

A tape recording of the comments during Jeff Gordon's and Jeff Burton's ambulance ride from Turn 2 to the HCA Infield Hospital here at Texas. Wonder what was said and by whom?

A solid IndyCar ride at de Ferran/Dragon Racing for Tony Kanaan. He is clearly the best driver at Andretti Motorsport, but it's obvious how he became odd man out to the other two drivers, Marco Andretti and Danica Patrick.

For the local media to realize how big a deal the racers are. The Associated Press named Jimmie Johnson the runner-up to Drew Brees for their 2010 Athlete of the Year. The names Dirk Nowitzki, Tony Romo, Ian Kinsler or any of the local athletes did not come up on the list. Pay attention, locals. This thought process is one of the reasons why circulation/viewership/listenership is down. Obviously, the media in the rest of the country gets it.

A championship for Kevin Harvick. He led the points standings virtually the entire season and he is a throwback type of driver who appeals to fans.

Speaking of throwback drivers, Clint Bowyer may be the guy to hang on to all the fans of the late Dale Earnhardt Sr. His ability, mannerisms and working-man persona is going to be very popular with the fans.

That Kyle Busch keeps on being Kyle Busch. Somebody has to wear the black hat, and it fits perfectly on Busch's head. He is likely the most talented driver in American motorsports. But the fact that all he cares about is winning makes him very appealing to me. And the subject of boos from many fans.

[+] Enlarge

Vince Bucci/Getty ImagesMay the Boss conveniently find his way to TMS sometime during race weekend.

An IndyCar win for Danica Patrick. Time is running out for Danica. She has to put some points on the board or be considered a novelty. She has all the talent in the world.

Same for Dale Jr. Time may have just about run out for "Little E." He really needs to win and contend in 2011. And at least act like he wants to be here.

Photo finishes at all races. And races so close that it takes a couple of days to determine the winner of all the races in Texas! No Limits, baby!

For a NASCAR Sprint Cup car to look like, well, a stock car. I want to see Chevys and Fords and Dodges and Toyotas. I don't want to see cars that all look alike except for the decals on the nose. Come on, NASCAR!

Bruce Springsteen to play the pre-race show at one of the races here at Texas Motor Speedway.

More success, and perhaps another championship, for Tony Stewart. He may be the guy with the most real race fans in the sport.

Lots more wins for Jeff Gordon. He's not through but we all want to see Jeff win. I bet this time there won't be a single "boo!" High time!

More Americans driving Indy Cars. Come on team owners ... this is the fastest way back to relevance.

Fewer penalties and fines from NASCAR and IndyCar. Let the racers settle it themselves. Fans don't want you involved in the outcome of races.

More backflips for Carl Edwards.

Another opportunity in the Cup series for Elliott Sadler. This guy has "star" written all over him.

More seat time for Brad Keselowski. Just like a young Dale Earnhardt Sr., a young Ernie Irvan, a young Kyle Busch and others before him, he's bouncing off of cars and walls everywhere as he learns. He will make it. And he will be exciting!

The end to start-and-park teams in NASCAR.

Respect for Jimmie Johnson. Five straight championships may be the definition of motor racing perfection. It will never be accomplished again.

[+] Enlarge

Christian Petersen/NASCAR/Getty ImagesMay Carl Edwards ... wait for it ...

That you get to know Brittany, Stephanie and Becky -- The Great American Sweethearts -- in 2010. They aren't just beautiful, they personify the "No Limits" attitude, love racing and love meeting race fans. We could not have found three better people to serve in that role.

More appreciation from the local fans for what the IndyCar drivers do here at Texas Motor Speedway. They run almost 220 mph, wheel-to-wheel and in packs. The precision is amazing. One little bobble and there is trouble. And if the IndyCar officials will leave them alone, they put on the best races in the world.

No more trial balloons from NASCAR in which they say fans are interested in shorter races, fewer races, fewer days in the race weekend, etc. These are just trendy little rumors NASCAR leaks to the media because they are tired of being on the road. Hello! NASCAR ... this is about the fans! Not your personal wishes. If you don't want to travel, there are other jobs in this world.

Greater appreciation for Kurt Busch. The former Cup series champion is the epitome of a professional. And he's got loads of talent!

Success for Kasey Kahne. He's popular with the young ladies and the cougars, too!

Appreciation for the accomplishments of Michael Waltrip Racing. David Reutimann is a solid contender week after week.

A "No Limits" Christmas and New Year for you and all your loved ones!