Dallas Motorsports:

Michael Waltrip Racing
June, 25, 2012
6/25/12
9:44
AM CT
SONOMA, Calif. -- There is a new big-boy team in NASCAR. If you've being paying attention this season, it's not a surprise.
Michael Waltrip Racing has been coming on all year. The only thing MWR lacked in 2012 was a victory. Mission accomplished.
Clint Bowyer, the hired gun who came to MWR this season after six years at Richard Childress Racing, finally got the organization into the win column this year with a dominating victory Sunday on the Sonoma road course.
"To have this dirt [track] boy from Kansas in Victory Lane here is big, trust me," Bowyer said. "It's just a dream come true. To switch teams like I did was a huge new chance for me and a chance to showcase my talent."
Read more of
Terry Blount's column on the race here
.
March, 23, 2012
3/23/12
9:00
AM CT
By
Eddie Gossage
| ESPNDallas.com
As the common saying goes: You never know how much you miss something until it's gone.
After an absence of nearly five months,
Brian Vickers
returned to NASCAR Sprint Cup Series competition Sunday at Bristol as a sub for
Michael Waltrip
Racing. Vickers, who was left in the dark after his long-time sponsor Red Bull left the sport last season, pulled off a top-five finish and showed his skills were deserving of another ride.
Vickers led a total of 125 laps, which is almost as much as his career total with Red Bull Racing (135 laps). His fifth-place finish rounded out a top-five trio for MWR, as
Martin Truex
Jr. and
Clint Bowyer
finished third and fourth, respectively.
His appearance at Bristol was the first of a six-race deal with MWR's No. 55 car that is piloted part time by
Mark Martin
. Vickers' next race will be April 1 at Martinsville.
He may only have two Sprint Cup wins, but he's got years of racing experience under his belt. After overcoming his health problems in 2010 and now without a full-time ride, he's more passionate about his future in racing than ever. Perhaps he will be the one to give MWR its third series win.
March, 22, 2012
3/22/12
11:49
AM CT
By
Eddie Gossage
| ESPNDallas.com
Brad Keselowski
's win at Bristol on Sunday marked the fourth different winner in the NASCAR Sprint Cup Series' four races this season. He also gave Dodge its first victory of 2012, which means all four manufacturers represented in the series have already earned a win. And there's still 32 races to go.
[+] Enlarge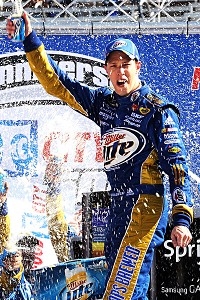 John Harrelson/Getty Images/NASCARBrad Keselowski's win in Bristol on Sunday gave the four Sprint Cup manufacturers a victory in as many races this season.
Chevrolet dominated the 2011 season, winning half of the 36-race schedule. Ford came in second with seven victories, followed by Toyota (six) and Dodge (five). I have a feeling the competition will be spread a little more evenly this season due to the shuffling of talent during the offseason and some new developments among the four manufacturers.
Clint Bowyer
, a winner from last season, recently made the transition from Chevrolet to Toyota with
Michael Waltrip
Racing.
Mark Martin
is another former Chevrolet driver racing for MWR this season. We've already seen great success with this team and with the newly formed alliance between Joe Gibbs Racing and Toyota Racing Development. I think Toyota will be stepping up its program all around.
Ford had a tough year in 2011, but it has been a strong force this season with two of its drivers in the top five in points.
Greg Biffle
is leading the point standings and has three top fives.
Matt Kenseth
, who won the Daytona 500, is third.
The recent news with Penske Racing moving to Ford in 2013 left uncertainty for Dodge, but with its new Charger debuting in the Sprint Cup Series next season the organization has received a lot of interest in its NASCAR program. One prospect is
Richard Petty
Motorsports, which is in its last contract year with Ford. Petty and Dodge have a history together, and the team is looking into renewing that relationship.
And then we have Chevy -- the powerhouse of the sport that has earned the most manufacturers' championships since NASCAR's inception and is currently on a spree of consecutive Sprint Cup championships. Chevrolet has earned a star driver with
Kasey Kahne
competing for Hendrick Motorsports this year and we've seen early success with
Dale Earnhardt
Jr., who I believe will be in Victory Lane soon.
All of this is great for the sport. The amount of competitiveness increases the level of excitement among fans and sponsors, and keeps them engaged from week to week.
Hang on NASCAR nation, because it's shaping up to be a sensational year.
March, 19, 2012
3/19/12
4:40
PM CT
By
Eddie Gossage
| ESPNDallas.com
Some people say it's impossible to break into the fraternity of successful teams in NASCAR Sprint Cup racing.
Nobody can compete with the Richard Childress Racing/Hendrick Motorsports/Roush-Fenway Racing/Joe Gibbs Racing teams, they say. Impossible.
Of course before that they said nobody could compete with the Petty Enterprises/Wood Brothers/Junior Johnson & Associates/Bud Moore Engineering teams. And before that, still others.
It is difficult but not impossible. Then or now.
Michael Waltrip Racing is proving that. They showed they are reaching into top- tier of teams this past weekend at Bristol.
Sunday marked the first time in Michael Waltrip Racing's five-year existence that all three of its cars finished in the top-five in a single race. The organization only scored four top-five finishes during the entire 2011 season.
Martin Truex
Jr. – the only driver left from MWR's 2011 lineup – was the highest finisher in third followed by former Childress driver
Clint Bowyer
and
Brian Vickers
, a part-timer who is slated to run five more races with MWR this season. Future Hall of Famer
Mark Martin
will run the rest of the schedule.
Team co-owners Waltrip and Rob Kauffman made a plethora of staff changes during the off season and brought in some new talent behind the wheel and in the shop. With all three teams situated in the top-10 in owner points, it looks like they're on track for a successful season.
And proving to other that through hard work and the right investment you can compete at the front of the field with the top teams.
February, 7, 2012
2/07/12
11:16
PM CT
By
David Stein
| ESPNDallas.com
FORT WORTH, Texas -- After a disappointing 2011 NASCAR Sprint Cup Series, Clint Bowyer is looking to start over.

Heading into the Feb. 26 Daytona 500, "New" is a word Bowyer and the No. 15 5-hour ENERGY team will hear a lot this season.

Bowyer said he doesn't necessarily like changes, but after seven seasons with Richard Childress Racing, he's not afraid of his change to Michael Waltrip Racing.

"I know these cars are a lot the same," Bowyer said Tuesday night at the Gear Up for the Green Flag event at Texas Motor Speedway. "For the most part, it all comes down to the people working together and getting the most out of each other. That's what makes up the difference."

Bowyer said this offseason was the busiest of his career, and most of it was spent getting used to veteran crew chief Brian Pattie.

"The communication is better, way farther ahead than I thought it would be at this time," Bowyer said. "For a new team like that, getting that 'gelling' of everybody is so crucial."

Bowyer won't be the only one making a big switch to Michael Waltrip Racing. Veteran Mark Martin will drive at least 25 races this season in the No. 55 car.

"Mark is a great asset that I'm going to learn a lot from, even at this stage in my career," Bowyer said.

For the second consecutive year, Bowyer and the Sprint Cup drivers will race under the lights of Texas Motor Speedway. The Samsung Mobile 500 was traditionally a Sunday afternoon race but switched to Saturday night last season.

"Night races are always better," Bowyer said. "I don't know why. We all grew up racing under the lights. It just adds that extra element of excitement."

This year's Samsung Mobile 500 is Saturday, April 14 at 7 p.m.