Dallas Motorsports:

Randy Bernard
March, 6, 2012
3/06/12
9:52
PM CT
By
Scott Noll
| ESPNDallas.com
FORT WORTH, Texas -- Although any notion of a June boycott by IndyCar Series drivers had already been extinguished, it still was a hot topic during Texas Motor Speedway's media day Tuesday.
Track president Eddie Gossage said he hadn't heard from any drivers about safety concerns, specifically the fencing around the high-banked oval. And that's why he
reacted angrily after reading about such concerns
on a web site report last week.
Gossage remained defensive of the track's safety record Tuesday, adding that he's already talked to IndyCar Series CEO Randy Bernard.
"We're going to do what's right," Gossage said. "You never compromise safety. ... We're the only people that have had any engineers look at it. I think everybody has a better handle on it. They say they never talked about a boycott. ... I just know what I read."
Gossage also was quick to point out that last year's Firestone Twin 275 races only had one caution.
"I don't know why a speedway that had two races with one caution last year was suddenly the target," Gossage said.
Safety issues became paramount after driver
Dan Wheldon
died during a horrific crash at Las Vegas Motor Speedway in October. Wheldon's car went airborne during the accident and the driver's head hit a pole on the fencing, which is similar to that used at TMS.
"Safety is not something to joke about. Safety is not something to take lightly. And we're not about to," Gossage said. "It's coming on the heels of a really catastrophic event ... and everybody is ultrasensitive to it.
"You can have emotional feelings about it, but the solution is a fact-based solution. I'm emotional about Dan because I cared a lot about Dan. He was a good guy, a good friend, everything about him ... and it was so tragic. But when you start talking about 'now what,' that has to be based solely on facts. Solely."
IndyCar Series driver
Graham Rahal
, who was at the track Tuesday, said there are no safety concerns at TMS, which has hosted 23 IndyCar races since 1997 -- 16 of which have been decided by less than one second.
"It's never been something that crossed my mind," Rahal said. "Texas has always put on close races. Does that make a driver more nervous? Yeah, but it would make anybody more nervous. We realize that our sport is two things: Obviously to go fast in race cars, and it's also entertainment. The fans like to see close racing.
"The show we put on here is second to none," Rahal said. "We want to be here."
July, 14, 2010
7/14/10
8:51
PM CT
By
Eddie Gossage
| ESPNDallas.com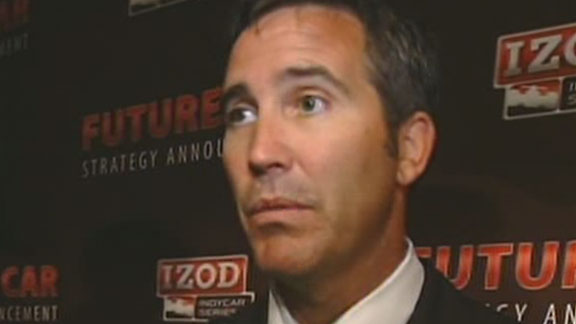 When's the last time you were told the new 2012 car you love was going to cost LESS than the 2011 car you are currently driving?
Never. Until today.
In fact, the new car will cost a full 40 percent less. And instead of being an import, the car manufacturer is going to build a brand-new plant and the cars will be American-made. It will also be lighter, which means it's more efficient (read green), will run quicker, it's safe and you can pretty much make it look any way you want it to look.
That's just too good to be true.
Well that's what the Indy Racing League announced today, a new rolling chassis produced by Dallara that will cost approximately $350,000 brand new when it is rolled out for the start of the 2012 Indy Car season. And, for the first time in decades, the car will be built at a plant in the shadows of Indianapolis Motor Speedway. I think I can hear Ray Harroun, Louis Meyer, Mauri Rose and the other guys applauding that move.
For full disclosure, IRL CEO Randy Bernard appointed a seven-person committee to review proposals from five chassis manufacturers and to make a recommendation on one or more chassis for the sport to approve for use starting in 2012. I was one of those seven members of the committee. Because of that inside knowledge, I can only speak in generalities so as to not violate the confidentiality of the group's discussions.
[+] Enlarge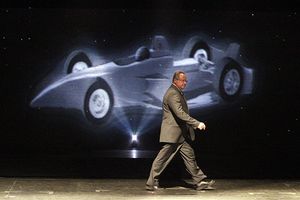 AP Photo/Michael ConroyBrian Barnhart, IRL president of competition, took the stage Wednesday in front of a hologram of what the Indy car of the future could look like.
First, I can tell you that the amount of time committed to the thorough review of the issue was substantial, if not overwhelming. I already had a more-than-full-time job, as did all the other members of the committee. But all of us love Indy Car racing, and everyone probed, poked, discussed, listened and debated points large and small. You might be surprised who offered creative, off-the-wall, out-of-box ideas and who teared up while making impassioned speeches about the heritage and traditions of Indy. Indy does, you know, make grown men cry.
Five highly qualified chassis manufacturers made presentations to the group. All of them passionately love the sport and offered their best proposals. Each were unique.
I can tell you that I talked to hundreds of fans in fan forums and presented transcripts of those sessions to the IRL and members of the committee. We all wanted the fans' voice to be front and center in the discussion. One of the things they made clear is they wanted to see variety. I totally agree -- I wanted cars that didn't all look the same, that offered some variety and some individuality.
But there are only a limited number of cars that are needed to run Indy Car races. If there were 50 cars needed, for instance, and there were two chassis manufacturers approved, each manufacturer might only produce only 25 chassis each. However, both chassis manufacturers would have to spend millions of dollars in research and development, and that would raise the price per car by a substantial amount. And certain chassis manufacturers made it clear they could not participate unless they were the sole supplier.
I was disappointed -- and assume others on the committee were too -- to come to the conclusion that only one chassis manufacturer could be chosen. In a perfect world, several different chassis manufacturers would have been chosen to participate. That is certainly what I wanted, but it was crystal clear that was not a realistic option.
And then someone hatched the idea to allow individualized aerodynamic kits -- clothes, someone called it -- that could be produced and offer a variety of unique looks.
So in the end we were able to pick one reliable, proven, safe chassis from Dallara. We were able to negotiate a 40 percent reduction in cost. And we were able to find a way to allow unique, customized appearance of cars in response to the fans' desires.
As the cost of motorsports has continued to rise year after year, the IRL has found a way to roll back the price. That's good news for fans because it ensures current teams can afford to continue to race and it makes it desirable for new team owners to join the sport. That's critical to the vitality of Indy Car racing's future.
Between the chassis benefits -- cost, variety, American-made, green, fast, safe, etc. -- and a plan with Honda that opens the door for a variety of engine manufacturers to compete while significantly reducing the cost of Indy Car engines that was announced a couple of months ago, team owners can focus on growing the sport and shining the spotlight on the fastest race cars in the world.
Bernard and the IRL technical staff deserve all the credit. By bringing in a cross section of people in the sport to serve on this committee, they have wisely ensured buy-in within the industry. The most critical buy-in still is to come from the fans. Time will tell on that one. But they need to know that an extremely complicated issue has been examined and their desires were at the top of the list.
The 2012 season can't come fast enough. All-American Indy Cars.
I hope Peter DePaolo just elbowed Wilbur Shaw in the ribs as they nodded in approval.