Dallas Motorsports:

Richard Childress
November, 4, 2011
11/04/11
6:00
PM CT
Ladies and gentlemen, start your ...
Uh, hold on for one second for this important announcement. And another. And yet another.
That's what it was like at Texas Motor Speedway on Friday before the engines ever got going. One story after another. Driver after driver heading to the podium.
The highlights:
*
Mark Martin
, at a spry 52,
signed a two-year deal with
Michael Waltrip
Racing through 2013. Martin will drive the No. 00 Toyota -- sponsored by Aaron's -- for 25 races each year.
"At a time when other NASCAR teams are cutting back and staying the same, Michael's team is adding people and sponsors," Martin said Friday. "It is the perfect schedule for me. It enables me to catch my breath and spend more time with the fans."
* A very familiar number will be returning full-time to the Nationwide Series in 2012, as
Richard Childress
announced that
the No. 3 car
-- made famous by
Dale Earnhardt
before his death in 2001 -- will be raced by
Austin Dillon
, who also is Childress' grandson.
*
Danica Patrick
-- with not one, but two news conferences -- was the focus of attention for most of the afternoon. Racing for the first time since the death of IndyCar driver
Dan Wheldon
in Las Vegas two weeks ago,
Patrick will drive a Wheldon tribute car
-- complete with the lionheart symbol -- during Saturday's Nationwide Series race and will donate her winnings to a trust fund established for Wheldon's family.
Patrick admitted that she is glad to have a "roof over her head" after the tragic events in the IndyCar event on Oct. 16.
"It does feel safer," she said. "It felt safer two years ago when I first got in a Nationwide car. Accidents still happen, but not a lot of serious head injuries. Having my head covered definitely adds a level of comfort."
* Finally, Patrick announced plans for
her Sprint Cup debut in 2012
. She'll run a 10-race schedule -- eight races, including the fall race at Texas Motor Speedway, have already been announced -- for car owner
Tony Stewart
. She'll drive the green No. 10 Chevy for Stewart-Haas Racing with her familiar sponsor, GoDaddy.com.
"Ten is my favorite number," said Patrick, who will continue to run a full Nationwide Series schedule for JR Motorsports. "It's the number I used when I was racing go karts as a kid, but this is the first time I've gotten to pick my number as a professional. There's a lot of emotion in it for me."
Said Stewart: "It was about the best opportunity to get her the most experience at some places where she hasn't raced. A few races into this, she may hate me. But next year is all about learning these places where she will need to run well in the future."
September, 28, 2010
9/28/10
12:27
PM CT
By
Eddie Gossage
| ESPNDallas.com
Denny Hamlin
– was he trying to win the 2010 NASCAR Sprint Cup championship or defend the honor of his team with his outspoken rant aimed at the Richard Childress Racing team's apparent rules violation after driver
Clint Bowyer
won the opening race in NASCAR's playoff Chase at New Hampshire recently?
Hamlin, who tabbed himself the choice to end
Jimmie Johnson
's unprecedented run of four consecutive championships at the end of last season, uncharacteristically blasted Bowyer and Childress during pre-race media sessions at Dover this past weekend. Not typically the most vociferous driver in the field, Hamlin's long diatribe left little to the imagination. He was blunt and specific in calling out RCR and Bowyer. He paid a price when
Kevin Harvick
, an RCR teammate of Bowyer, made contact with his car during the first few laps of practice causing both cars to lose valuable practice time to make repairs. It was an obvious case of payback.
Why did Hamlin lash out?
Was it part of the mind games teams play with other teams as the season winds down and the point race heats up? If so, what was the point? Bowyer effectively received the death penalty in the Chase for the NASCAR Sprint Cup Championship, a loss of 150-points which is virtually insurmountable in the nine remaining races (RCR has appealed the penalty).
Was it Hamlin's way of defending his team from comments made by Bowyer earlier in the weekend? Bowyer angrily defended his team, claiming every team tries to push the envelope on all measurements, citing both Hamlin's and Johnson's cars initially failing to meet pre-race height requirements before making changes that met NASCAR specs. Bowyer's comments were relatively benign since teams frequently have to go through pre-race inspection more than once.
Did Hamlin's comments help or hurt his team's chances of winning the 2010 NASCAR title? Hamlin continues to lead the NASCAR Sprint Cup Series point standings after Dover, where he finished ninth. He holds a 35-point lead over Johnson. So while Hamlin took care of business at Dover, team president J.D. Gibbs admitted he preferred Hamlin avoid causing distractions like the one during the acrimonious weekend.
In other words, what's the point?
Hamlin is an eminently qualified championship caliber driver. He can very well win the 2010 championship as well as others down the line. He proved his toughness winning here in Texas in April just one week after having serious knee surgery. I know because as I presented him the Samsung 500 trophy in Victory Lane, Hamlin muttered about the pain and it was evident in his eyes. But he focused on the race and tuned out the pain. It was mightily impressive.
But nothing was to gain at making the comments. The media like it. The promoters like it.
But it doesn't win championships.
Expect Gibbs' words to take root. Expect a quiet and focused Hamlin for the rest of the championship Chase.
August, 15, 2010
8/15/10
4:40
PM CT
By
Eddie Gossage
| ESPNDallas.com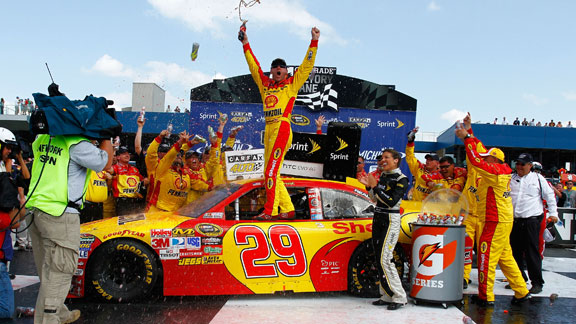 Pick the cliche. What a difference a year makes. From the outhouse to the penthouse. From chump to champ.
Any of those will do for
Kevin Harvick
. A year ago, Harvick and team owner
Richard Childress
were not speaking. Even though Harvick had a year remaining on his contract (2010), he openly talked about his desire to leave Childress' team. In the previous three seasons, Harvick had only one win to his credit. He had grown dissatisfied.
Childress, whose championship mettle was minted by six titles with the late Dale Earnhardt, made it clear that Harvick was under contract for 2010 and he wasn't going to allow Harvick out of his contract. Childress recognized Harvick's talent.
Privately, though, Childress perhaps recognized the truth in Harvick's frustration. A former driver himself, Childress made changes late in the 2009 season, making personnel changes and building new cars.
As the Chase for the NASCAR Sprint Cup Championship nears, the Harvick/Childress combination is the team with momentum and the points lead. As NASCAR's playoffs approach, it's important to peak at the right time. That's often tough for a team to lead the point standings most of the year, as Harvick has done, yet peak going into the Chase.
Give credit to Harvick for voicing his concern, although some would argue such things should be done behind the scenes. And certainly give credit to Childress. He could have publicly asked just who Harvick thought he was to question the team owner whose championship qualifications are held in such high esteem by racing fans.
But both put their differences behind them. Harvick drove his tail off. Childress stepped up with the changes.
And the difference is that instead of slugging it out through the news media (and probably behind the scenes), the duo has momentum, leading the point standings with momentum heading into the Chase.
What a difference a year makes. From the outhouse to the penthouse. From chump to champ.