Dallas Motorsports:

Ron Hornaday Jr.
June, 11, 2011
6/11/11
12:41
AM CT
By
Master Tesfatsion
| ESPNDallas.com
FORT WORTH --
Ron Hornaday
Jr. picked up his 48
th
career win Friday night on a controversial finish at the caution-filled NCWTS WinStar World Casino 400 at Texas Motor Speedway.
NASCAR ruled
Johnny Sauter
came down in front of Hornaday's lane as the caution flag was about to be removed on the frontstrech with three laps left. Sauter finished first but received a black flag for his action, giving Hornaday the victory.
"As soon as the green dropped, he turned into my lane," Hornaday said. "I was yelling, 'He's in my lane! Better stick by the rules, he's in my lane!'
"I knew it from right there. If they hadn't black-flagged him and gave it to him, I would've been fine with it either way. At that time, we had a second-place truck that put me in position to be there."
*Sauter, who led for 19 laps, was furious coming off the track. While talking to the television's sideline reporters about his thoughts on the decision, Sauter stood there silently for a moment and uttered, "God bless America."
*It's Hornaday's third career win at Texas Motor Speedway. He swept the two NCWTS stops at TMS in 2008 -- the Silverado 350k and Sam's Town 400. It's his first victory and seventh top-10 finish this season. His last win came in October 2010 at Martinsville Speedway.
*Plenty of records were broken Friday. There were at TMS-record 10 caution flags totaling 46 laps, which tied for the most caution laps. Other records set include most leaders (11) and most lead changes (19).
*There were five cautions in the first 75 laps. Rookie
Chase Mattioli
spun out in the frontstretch on the 23
rd
lap.
Brian Ickler
and
Todd Bodine
went for a spin on Lap 52 as they came around Turn 2. Bodine's car went in the garage and did not return, while Ickler finished fourth.
*
Austin Dillon
led a race-high 46 laps but finished 26
th
thanks to his involvement in two wrecks. The first came at Lap 90, when he crashed with
Matt Crafton
on the frontstretch. As he attempted to make up the ground he lost, he was involved in another accident with
Steve Arpin
on Lap 138 and never recovered. Dillon would not finish in the top 20.
*Pole Winner and Plano resident
James Buescher
finished in ninth place. Flower Mound native David Start was involved in an accident on Lap 68 and did not finish the race.
April, 1, 2010
4/01/10
4:03
PM CT
By
Eddie Gossage
| ESPNDallas.com
So let me give you a peek behind the curtain that is NASCAR Sprint Cup racing: Some drivers don't like other drivers.

That's the way it is, and that's the way it has always been. Even in recent years as NASCAR cracked down on the slightest indiscretion, some drivers still didn't like each other. But they couldn't tell you what they really thought less they be hauled into the big yellow truck and would come out about $10,000 lighter for their time.

But in this day of, "Have at it boys," you now are hearing what these guys have been saying under their breath the last few years.

In the first six races of the season, we've seen a major blow-up between Carl Edwards and Brad Keselowski, along with some very strong words. We saw a confrontation between drivers in the NASCAR Camping World Truck Series when Ron Hornaday and Johnny Sauter had a "discussion" on pit road after a race. We also saw the resumption of a feud between two former Cup series champions between Jeff Gordon and Matt Kenseth last weekend.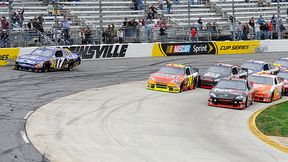 John Harrelson/Getty Images
Jeff Gordon and Matt Kenseth renewed their rivalry, which has been downright unfriendly in the past, with a last-lap bump last week at Martinsville.
The two drivers, both smack dab in the thick of the battle for this year's championship, have gone at it before. What is surprising is that the public image of the two is that they are relatively mild-mannered guys even though they had a series of run-ins in 2006.

Kenseth spun out Gordon at Bristol that year, costing Gordon a top-five finish. In a first for Gordon's storied career, the four-time champion furiously confronted Kenseth and angrily shoved him right in front of the network TV cameras. Gordon, nobody's fool, still wore his helmet.

Just a few months later, Gordon got even. As Kenseth appeared en route to victory at Chicagoland, Gordon spun him out to win the race.

The NASCAR suits made it clear to both drivers that they needed to steer clear of each other. And they did. As far as the public was concerned the 2006 feud was history.

But what we didn't know in the "Open-Your-Mouth-and-Get-Fined" era of NASCAR is that -- perhaps -- the feud still simmered. Quietly. Not in the media. But perhaps it still simmered.

Then last week it was, "Have at it boys." And they did.

Kenseth leaned on Gordon. Gordon pushed back. Neither won the race but nerves between the two were frayed, as illustrated by the out-of-character quotes from the two.

"Jeff is sneaky," Kenseth said. "He's good at that stuff. He comes away squeaky-clean all the time. That's about the third time he took me out of a top-three finish. I'm about tired of that. I pretty much forgot about it for the last couple of years, but he never gives me an inch.
"He wants me out of his way every time he's faster, and I get out of his way every times he's faster. But when it comes the other way around, he never wants to give anybody any room back."

Gordon obviously didn't see it that way.

"I made sure he didn't win the race," Gordon said. "The way he raced today I didn't think is the way I would have raced him. If somebody hits me, I'm going to him them. If a guy gives you a cheap shot like that, he doesn't deserve to win the race."

Wow. Those kinds of comments would have been non-existent -- or at least private -- in recent years. Now everybody gets to hear the dirty linen aired in public. It's as if NASCAR took the muzzle off.

Fascinating. Isn't it?