Dallas Motorsports:

Ryan Hunter-Reay
June, 9, 2012
6/09/12
10:00
PM CT
By
Richard Durrett
| ESPNDallas.com
FORT WORTH, Texas --
Justin Wilson
took the lead with two laps to go and held on for his first victory since 2009, winning Saturday's Firestone 550.
Graham Rahal
appeared in control, taking the lead with 29 laps left, but he grazed the wall with three laps remaining and Wilson was able to take the lead at that point.
It was a tough break for Rahal, who was close to getting his first win since 2008 as his father,
Bobby Rahal
, watched from Chip Ganassi Racing's pit box.
"I just messed up, honestly," Rahal said on the TV broadcast just after the race. "It just washed out a little bit and it's my fault. There's not much else I can say. I'm certainly disappointed because we had that one. This one will haunt me forever, that's for sure."
What it means:
Wilson wins his seventh career race, his first since 2009. Before Saturday, his best finish was seventh in the Indy 500.
Notes on the leader:
Wilson's previous best finish at TMS was 15th in 2009. ... It's the second IndyCar victory for Dale Coyne with Wilson's victory at Watkins Glen in 2009 as the only other one.
Late lead changes:
The race, which for portions was a follow-the-leader event, got pretty exciting with 50 laps to go as several drivers couldn't hold the lead for too long.
Scott Dixon
was the first to go (hit the wall), followed by
Will Power
(penalty) and
Ryan Briscoe
(who gave up lead to hard-charging Graham Rahal) and finally Wilson.
Penalty for Power:
With the lead in hand, Power was given a drive-through penalty for blocking
Tony Kanaan
with about 40 laps. Power gave up the lead because of the penalty, which ended up damaging the front wing of Kanaan's car. It was clear that Power was reacting to Kanaan trying to get around him, leaving IndyCar officials little choice but to penalize him.
Dixon loses lead, then car:
Dixon, who led the most laps and for much of the race had the dominant car, started to fall off on lap times a bit with less than 60 to go and gave up the lead to Power. Shortly after dropping to second, Dixon wiggled into Turn 4, spun out and hit the wall. Dixon came into the race 26 points behind leader Power in the standings and leaves losing more ground. "We just got loose," Dixon said on the race broadcast after exiting the race. "I feel bad for the guys. We had a really good car and had a good chance to win tonight."
Delayed start because of injury:
A worker at TMS, Richard Huggins, was taken out on a stretcher after part of the stage used for driver introductions fell on him. Huggins was treated and released from the Infield Care Cente, but it took extra time to get him there, making the race a few minutes late.
Not working:
Rubens Barrichello
's Chevrolet and Simona de Silvestro's Lotus engines didn't fire on pit road when the command was given and they did not start the race when the green flag dropped. Neither driver ended up starting the race.
Cautions:
Charlie Kimball
brought out the first caution flag on Lap 29 as he spun in Turn 4 and into the wall, ending up in the grass near the entrance of pit road. ...
Takuma Sato
spun on the backstretch and went into the wall on Lap 64. ...
Ryan Hunter-Reay
lost power, ending his race before 70 laps were complete. ...
Josef Newgarden
was given a drive-through penalty in the pits for entering the wrong pit box. Newgarden missed his box, causing issues for others, including
Helio Castroneves
, who was delayed because he couldn't get in his box.
Up and down day:
Kanaan came into the pits and had trouble because a rear air jack failed during the first set of stops (Lap 36). The team tried to use a different jack and damaged the front wing and had to put a new one on. He came back to the pits to have additional work done, falling close to the rear of the field. ... Kanaan did manage to keep tracking toward the front and got himself back in the race and was running third with about 40 laps left until he touched the back of Power's car when Power moved down to block him. That damaged his front wing and forced him to the pits and back to the middle of the pack. ... Kanaan ended up 11th.
Franchitti handling issues:
Indy 500 winner
Dario Franchitti
wasn't happy with his handling and he spent extra time in the pits so the crew could make some substantial changes to the car. He went to the rear of the field during the first caution and tried to work his way back up. He finished 14th.
Tidbits:
A.J. Foyt
gave the command to start the engines before the race, saying: "Boys and girls, start your engines." ... This is third straight race at TMS that
Alex Tagliani
led. He led 33 laps in 2010, one lap in the first race in 2011 and the first 20 laps of Saturday's race. ... Dixon led on Saturday, meaning he's led in six of seven races this season. The only race he hasn't led was Long Beach. ... Dixon clinched the two bonus points for most laps led on Lap 130.
Up next:
The IndyCar Series heads to Milwaukee next weekend for the Milwaukee IndyFest 225. Franchitti is the defending champion.
June, 28, 2011
6/28/11
9:33
AM CT
By
Eddie Gossage
| ESPNDallas.com
To carry a famous name in any sport -- Griese, Montana, Jordan -- the burden of comparison for the second- or third-generation athlete is overwhelming. There are certain racing gods -- Petty, Foyt, Andretti, Earnhardt, for instance -- that have seen mixed success in carrying on the family name over the years.
Third-generation driver
Marco Andretti
hadn't won since his 2006 IndyCar Series rookie campaign, but I was probably one of the least surprised that he had that breakthrough win this past weekend at Iowa. Marco gave me a hint that he may be close to ending that winless streak when he arrived to The Speedway Club at Texas Motor Speedway for a media luncheon the day after a harrowing Bump Day at Indy in which he made the 33-car field in the final minute.
[+] Enlarge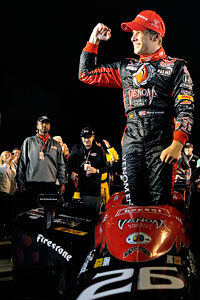 Jared C. Tilton/Getty ImvagesMarco Andretti overtook former teammate Tony Kanaan with 18 laps left to win Saturday's IndyCar race at Iowa Speedway, his first victory since 2006.
He spoke about maturing over the last few years, And while some critics may say it was about time, you have to realize that he's still only 24 years old despite six years in the series. Just a kid with an immense amount of pressure on him due to that last name of Andretti.
And you could see that new maturity by the way he handled Bump Day with his dad in his ear. He laughed how there was no way he and dad would have survived a Bump Day like that a few years ago if he had not matured. Marco didn't point fingers on why the car and team were in that position. He seemed genuinely bummed that teammates
Ryan Hunter-Reay
and
Mike Conway
didn't make the field instead of being content that he was in the show and that was all that mattered.
At that May lunch, he spoke of finally realizing that there was more responsibility and commitment to being a race-car driver than getting into the car five minutes before the track went hot. He discussed about working with his crew, becoming part of that team framework as well as becoming more engaging in sponsor and media obligations and handling them more adeptly. In fact, he visited the local Dr Pepper/Snapple plant that morning and talked about what a cool time he had and enjoyed meeting a lot of nice people.
Maturity.
He was thoughtful in his answers to media questions that day, even joking that a few years ago his answers to most of them would have been, "Yes" and "No." When a media person said maybe they should've asked better questions, Marco said, "Not really. I probably would have answered most them 'yes' and 'no' anyway." Listening to him speak and watching his demeanor, you could sense his transformation.
Maturity.
The kid always had talent, and I hope this win is a momentum builder for his season and his career. He is one of those marquee names with that great family lineage of Grandpa Mario and Dad Michael that reverberates around the IndyCar series much like Earnhardt in NASCAR. Having Marco achieve more success and contend for championships would be a boon to sport.
Welcome back to Victory Lane, Marco. I hope to see you there more often in the future, and I think you'd look pretty good wearing a cowboy hat with six shooters in hand!