Dallas Motorsports:

Ryan Newman
April, 10, 2013
4/10/13
12:31
PM CT
By
ESPN Stats & Information
Playing the numbers game for the NRA 500, to be held at Texas Motor Speedway on Saturday night:
Jimmie Johnson is back in the points lead after a dominant Martinsville victory. It's his 12th straight multi-win season -- the fourth-longest streak in Sprint Cup Series history. It's also the fourth time he's won at least twice in the first six races of the season. The other three times he did it, he went on to win the title. Johnson could add a third win at Texas, a track at which he led 324 laps last season -- nearly half the laps of the two races held there (669).


Johnson took the points lead away from his Hendrick Motorsports teammate, Dale Earnhardt Jr., who finished outside the top 10 for the first time this season. Earnhardt will look to bounce back at Texas, site of his first career win in 2000 and a track where he's had five top 10s in the last six races, coming back from a slump.

From 2000-06, Dale Jr. had top 10s in seven of his nine races for an average finish of 10.2. Over the next three seasons, through 2009, he failed to crack the top 10 in six races for an average finish of 21.2. Since then, however, he's averaged an 11th place finish in his last six races.


No team has a better record at TMS than Roush Fenway Racing, which has won nine of the 24 races -- more than twice as many as any other team. In the last five races at TMS, Roush Fenway drivers have led 646 laps (38.7 percnet) and have gone on to 11 top 5s and 15 top 10s in 18 starts, and they've won the last two spring races with Matt Kenseth (no longer with the team) and Greg Biffle.


Kenseth is no longer with Roush Fenway Racing, but he'll look to bring his Texas expertise to Joe Gibbs Racing. Kenseth is the all-time TMS leader in top 5s (12), top 10s (15), laps led (772) and average finish (8.3). He's just one win behind former teammate Carl Edwards, who has three.


Danica Patrick was a pleasant surprise at Martinsville, finishing 12th in her first visit there. She's struggled this season on larger tracks, but TMS could be a place where she maintains momentum. Last year in the spring Nationwide Series race, she finished a NNS season-best eighth. And in her only Sprint Cup start at the track, she passed a career-high 107 cars under the green flag.


Who stars in the Lone Star State?
Greg Biffle: Nine straight top-10 finishes at Texas; longest streak in track history (defending spring race winner).

Jimmie Johnson: Finished second and first at Texas last season (five top 10s in last six races).

Matt Kenseth: Five straight top-5 finishes at Texas (won spring 2011 race).

Carl Edwards: Three Sprint Cup Series wins at Texas (leads all drivers).

Dale Earnhardt Jr.: Four straight top 10s at Texas (1st career NSCS win came at Texas in 2000).


Who's just feeling alone?
Brad Keselowski: Has finished 14th or worse in eight of nine career Texas races (2nd last fall; 36th last spring).

Mark Martin: Has wrecked out of two of last four TMS races.

Ryan Newman: Has finished outside top 10 in last nine TMS races.

Brian Vickers: Has never finished better than 12th at Texas (14 starts).

Kyle Busch: Has finished outside top 10 in three of last four races at TMS.
October, 11, 2011
10/11/11
5:26
PM CT
By
Eddie Gossage
| ESPNDallas.com
The intensity in the Chase for the NASCAR Sprint Cup grew even higher Sunday at Kansas as
Jimmie Johnson
earned his second win of the season and
Carl Edwards
took the series lead by one point over
Kevin Harvick
. But it seems like there's only one thing on the public's mind: "We're tired of Johnson winning championships."
While I understand Johnson and this sport seems like a broken record (excuse the pun), I'd like to remind everyone of the unique season we've seen.
First let's consider the repeat Cinderella story. Prior to this season, never before had NASCAR seen first-time winners in the Daytona 500, Southern 500 and Brickyard 400 in one year. In fact, even just the Daytona 500 and Southern 500 had never seen first-time winners in the same season. That's good stuff.
Next I want to bring up the heated competition. Yes, I'm talking about feuds and controversy. Fireworks erupting between Harvick and
Kyle Busch
at Darlington, Johnson and
Kurt Busch
at Richmond and Pocono,
Ryan Newman
and
Juan Pablo Montoya
at Darlington, and
Greg Biffle
and
Boris Said
at Watkins Glen.
"He is the most unprofessional little scaredy cat I've ever seen in my life," Said said about Biffle. "He wouldn't even fight me like a man after. So if someone texts me his address, I'll go see him Wednesday at his house and show him what he really needs."
Talk about drama. You can't make this stuff up, folks.
Then you've got drivers like
Brad Keselowski
and
Dale Earnhardt
Jr. making remarkable comebacks, clinching a spot in the Chase and actually being in contention to win the title. And let's not forget
Jeff Gordon
earning his 85th victory, passing
Bobby Allison
and
Darrell Waltrip
for third place on the all-time wins list.
It's been a very competitive year, and this could turn out to be a magical season. It reminds me of 1992 when
Alan Kulwicki
, an underdog, recorded one of the greatest championship comebacks in NASCAR history, rebounding from a 278-point deficit with six races remaining. Kulwicki edged
Bill Elliott
by 10 points to become the series champion -- the closest championship margin at the time.
Now we're down to six races and nine guys still have a legitimate shot, but somebody's feelings are about to get hurt. There's no room for mistakes now. You can't leave anything on the table. Get ready NASCAR nation, because the pressure's on.
July, 19, 2011
7/19/11
10:57
AM CT
By
Eddie Gossage
| ESPNDallas.com
Tony Stewart
can drive the wheels off anything. A two-time NASCAR Sprint Cup champion, Indy Car champion, multiple USAC championships ... He can flat drive.
But his biggest and longest-lasting accomplishment in racing may be his ability to lead a team to championship standing in short order. He did that again Sunday in the Lennox 301 at New Hampshire Motor Speedway. Teammate
Ryan Newman
won the pole and the race while Stewart started second and finished second.
That doesn't happen often. In fact, it hadn't happened since April 7, 1957, when
Fireball Roberts
and
Paul Goldsmith
qualified and finished 1-2 at North Wilkesboro Speedway driving for DePaolo Engineering. During the 1989 Daytona 500, Hendrick teammates
Darrell Waltrip
and
Ken Schrader
came close to pulling it off, finishing first and second respectively -- swapping positions in which they started. You probably remember that win, because it was accompanied by Waltrip's version of the "Ickey Shuffle" in Victory Lane. (Shaking my head.)
[+] Enlarge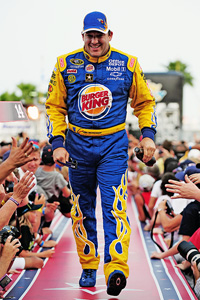 Kevin Liles/US PresswireTony Stewart has raised and donated a total of $850,000 for children in North Texas over the past three years.
Stewart took a step of faith in 2009, forming his own NASCAR Sprint Cup Series organization with Gene Haas. He left a 10-year ride with a championship-winning organization to pursue a dream. Talk about guts! Especially in a down economy. It takes a very confident, positive-thinking person to pull that off, and he succeeded. But that's just the beginning to what defines him.
On Saturday night, Tony was competing in a World of Outlaws race at Eldora Speedway -- a dirt track he owns in Ohio. By the time Tony made it back to New Hampshire early Sunday morning, he only had a few hours to sleep before he had to prepare for the NASCAR Sprint Cup race. That's the racer in Tony. He craves speed and will go the extra mile to satisfy it even if it means testing his endurance. We're talking about a guy who has run a 500-mile race and 600-mile race in the same day. Twice.
Stewart will be at Texas Motor Speedway for the "Smoke Show" on Aug. 16
-- a once-in-a-lifetime fantasy driving camp he hosts annually to raise money for Speedway Children's Charities-Texas Chapter. From driver intros and a pre-race ceremony to a Victory Lane celebration complete with cowboy hats and the actual Turnbull 45 Colt-style single-action revolvers, participants experience everything a NASCAR driver goes through on race day. It's as close to the real deal as you can get.
Tony spends an entire day with some very dedicated race fans, giving them personalized instructions from inside the cockpit. Nothing to it, you say? Have you been to Texas in August? It's downright hot, but Stewart puts on his fire suit and jumps in those stock cars, cracking jokes and showing his usual witty demeanor. I don't know many people who could keep a good attitude in that kind of situation, let alone volunteer an entire day out of their schedule for an event like that.
Between funds raised by the "Smoke Show" the past three years and him donating his winnings from the Prelude to the Dream race at Eldora Speedway, Stewart has raised $850,000 for children in North Texas. That's almost $1 million!
The hard-scrabble reputation -- temperamental, photographer-shoving, sarcastic quotes in the media ... they all make up the image and reputation many have of Stewart. And it's well-earned. And Sunday we saw the results of his leadership.
On Aug. 16, Stewart will demonstrate that leadership in another manner as he helps the kids of North Texas.
Pretty broad shoulders.
May, 3, 2011
5/03/11
10:48
AM CT
By
Eddie Gossage
| ESPNDallas.com
We're three months into the NASCAR Sprint Cup season and certain things remain the same and certain things are, well, shocking. Unprecedented. And interesting.
Which is exactly what NASCAR wanted when they jacked around with the point system back in the offseason.
Carl Edwards
is on top of the point standings. No surprise considering how strong he finished the 2010 season.
Quietly,
Jimmie Johnson
is second. The only surprise here is how a guy that has won an unprecedented five straight championships races under the radar? But he has, winning only once this year.
Kyle Busch
finally seems to be reaching the level everyone expected of him, as he sits third. Many believe the young Busch is the most talented driver in the sport. He's won lots of races in his brief career, but immature outbursts have marred the consistent performances needed to win titles. Perhaps he has matured to a championship level.
Perhaps most stunning:
Dale Earnhardt
Jr., is solid in fourth. This turnaround could be the story of the year.
Unless, of course, you discount the poor performance of
Jeff Gordon
, who has contended for the championship every season of his long career. He currently stands 19th but has one win. It's hard to imagine a championship race at the end of the year without Gordon, but it appears highly unlikely that he can make up the difference.
Denny Hamlin
entered into the 2011 season with high hopes. Those hopes have dimmed to his current 13th in the point standings.
A.J. Allmendinger is a shocking 10th in the current points. Almendinger is a very talented driver, and
Richard Petty
Motorsports continues to show quantum leaps of improvement. But this is a position drivers in position 11-20 are eyeing as an opportunity.
Kevin Harvick
,
Clint Bowyer
,
Kurt Busch
,
Tony Stewart
and
Ryan Newman
also reside in the top 10. All of them could win the title once The Chase begins.
Lots of racing to go until we settle in for the final 10-race slugfest to determine the champ, but this thing is interesting.
April, 8, 2011
4/08/11
2:12
PM CT
FORT WORTH, Texas -- Byron Nelson lived in Roanoke, Texas, not far from Texas Motor Speedway. What does the golf legend known as Lord Byron have in common with Richard Petty? Not much really, except when you look at The King's records.

On Thursday Petty was honored by the Texas Motorsports Hall of Fame and among his records is a 10-race winning streak. Nelson owns the PGA Tour record with 11 straight wins in 1945.

"Ten in a row, that's pretty stout," Ryan Newman said. "That's getting the job done week in, week out. Without a doubt that to me is the biggest. You look at the number of wins and he's got the starts to go with that. I don't mean to knock him and I'm not, but the 10 in a row, that's tough. And he did it when it was pretty tough racing back in the day."

Golfers feel the same way about Nelson's streak even if professional golf then is not what it is now.

Jimmie Johnson has won a record five series championships in a row, so he can relate to Petty and Nelson.

"Winning consecutive championships is such a hard thing to do so at the end of the day that's what I'm most proud of," Johnson said. "I couldn't do it alone … and I think Richard would say the same thing."

April, 14, 2010
4/14/10
12:12
PM CT
By
Eddie Gossage
| ESPNDallas.com
Officials with Richard Petty Motorsports announced Tuesday that Kasey Kahne, their No. 1 driver, has signed an agreement to race for Hendrick Motorsports in 2012.

Only seven races are complete in the 2010 season and drivers are already jumping from team to team.

Obviously Kahne and Hendrick would have preferred to have kept their agreement hush-hush, but RPM wanted to let the world know. Angry remarks by a jilted lover? Who knows. But it is big news.

Does this mean somebody is leaving Hendrick Motorsports after 2011? A team is only allowed to have four entries and Hendrick already fields cars for Jimmie Johnson, Jeff Gordon, Mark Martin and Dale Earnhardt Jr.

Some would think Kahne will replace Martin, who cut back to a shortened schedule a few years ago but returned full-time and almost won the NASCAR Sprint Cup championship last year. But could it be another driver in Hendick's stable moving on or out -- after 2011? That leaves Johnson, Gordon or Earnhardt open to the speculation. Not likely.

It could also mean that a satellite operation of Hendrick Motorsports, perhaps Stewart-Haas Racing, will field a car for Kahne. They already have entries for Tony Stewart and last week's winner, Ryan Newman. Sponsorship will be key, but apparently the Budweiser sponsorship at RPM expires this season. Perhaps they will want to move with Kahne?

NASCAR's "Silly Season," the time of year where rumors run rampant about drivers hopping from team to team, used to start in September and October. Now apparently it starts in April. Two years early.

We're going to need a souvenir program to keep up.
February, 21, 2010
2/21/10
9:08
PM CT
By
Eddie Gossage
| ESPNDallas.com
It was somewhat surprising to see engines blowing during Sunday's NASCAR Sprint Cup Series race at Auto Club Speedway. It used to be a common thing to see smoke erupt from a car and have four or five cars sitting in the garage with blown engines.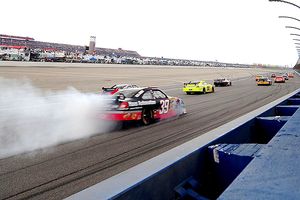 Gary A. Vasquez/US Presswire
Ryan Newman had to drop out of Sunday's Auto Club 500 with a blown engine.
But engine builders today in the NASCAR Sprint Cup Series have gotten so good that you seldom see a "smoker" on the track.

Engines from top-notch teams, including those of Juan Pablo Montoya and Ryan Newman, went up in smoke today. Both drivers retired from the race. It's just not a common thing anymore.

If your street car hits 3,500 RPMs, you are really pushing it. But a Cup car today runs more than 9,000 RPMs. Engine builders have become so adept at building the Cup engines and the parts and pieces they use have improved so much that it's just a rarity to see a blown engine.

Although the problems with the two engines appeared to be different, it makes you wonder if the teams had either run into a bad batch of parts or if the two teams were experimenting with parts under the hood. Both are running Chevys. Montoya had qualified second for Sunday's race and is a teammate of Daytona 500 winner Jamie McMurray. Newman is a teammate of Tony Stewart.
February, 18, 2010
2/18/10
1:02
PM CT
By
Eddie Gossage
| ESPNDallas.com
Commercials in the Daytona 500 are as much fun to race fans as commercials in the Super Bowl. This is the time all the big sponsors roll out their new TV spots and try to out-do each other.

It seems the fan favorite was the Toyota commercial giving fans the chance to design a paint scheme that will actually be used in a race this year. Seeing wild man Kyle Busch in a pink uniform driving a car with kittens painted on it was clever. I especially liked Kyle's helmet with the big kitty painted on top.

And then there was the Coca-Cola commercial with drivers Greg Biffle, Clint Bowyer, Denny Hamlin, Kevin Harvick, Bobby Labonte, Joey Logano, Ryan Newman, David Ragan, Elliott Sadler and Tony Stewart all singing, "I'd Like to Teach the World to Sing in Perfect Harmony," while racing hard. The old Coke jingle has a warm, fuzzy, kum-bay-yah feel to it ... a real juxtaposition to the battle-hardened racers trading paint at 200 mph.

Good stuff.