Dallas Motorsports:

Stewart-Haas Racing
April, 2, 2012
4/02/12
2:10
PM CT
By
Eddie Gossage
| ESPNDallas.com
"If you build it, he will come," is what "The Voice" told Ray Kinsella in "Field of Dreams." When
Tony Stewart
asked me five years ago if I thought he should start his own NASCAR Sprint Cup team, I certainly didn't profess that kind of confidence in such a risk.
But Stewart wisely listened to his own voice and bought into Haas CNC Racing to form a two-car NASCAR Sprint Cup Series team called Stewart-Haas Racing. Fast forward to 2012 and the organization has a championship and 16 victories in its fourth season of competition. This just shows you the strength in Stewart. He's a leader. A motivator. A champion.
Ryan Newman's slide around the late-race spin Sunday at Martinsville led to Stewart-Haas Racing's third win this season. The team of Stewart and Newman have won eight of the past 16 NASCAR Sprint Cup Series races. They have won half the races!
Clearly Stewart-Haas Racing fits with the super teams of the series with Hendrick Motorsports, Joe Gibbs Racing and Roush Fenway Racing. In fact,
Rick Hendrick
has got to be scratching his head right now, because he's getting beat by a Hendrick Motorsports satellite team. Stewart-Haas Racing uses engines and technology supplied by Hendrick Motorsports.
Hmmmm.
So a pat on the back for Stewart and Newman. They're coming to Texas next and both have success here. Both drivers have won at Texas.
I've still got the boxing gloves and boxing robe that adorned Stewart in Victory Lane in November. What I haven't figured out yet is how he's supposed to shoot the six shooters with the gloves on.
Stay tuned.
November, 4, 2011
11/04/11
6:00
PM CT
Ladies and gentlemen, start your ...
Uh, hold on for one second for this important announcement. And another. And yet another.
That's what it was like at Texas Motor Speedway on Friday before the engines ever got going. One story after another. Driver after driver heading to the podium.
The highlights:
*
Mark Martin
, at a spry 52,
signed a two-year deal with
Michael Waltrip
Racing through 2013. Martin will drive the No. 00 Toyota -- sponsored by Aaron's -- for 25 races each year.
"At a time when other NASCAR teams are cutting back and staying the same, Michael's team is adding people and sponsors," Martin said Friday. "It is the perfect schedule for me. It enables me to catch my breath and spend more time with the fans."
* A very familiar number will be returning full-time to the Nationwide Series in 2012, as
Richard Childress
announced that
the No. 3 car
-- made famous by
Dale Earnhardt
before his death in 2001 -- will be raced by
Austin Dillon
, who also is Childress' grandson.
*
Danica Patrick
-- with not one, but two news conferences -- was the focus of attention for most of the afternoon. Racing for the first time since the death of IndyCar driver
Dan Wheldon
in Las Vegas two weeks ago,
Patrick will drive a Wheldon tribute car
-- complete with the lionheart symbol -- during Saturday's Nationwide Series race and will donate her winnings to a trust fund established for Wheldon's family.
Patrick admitted that she is glad to have a "roof over her head" after the tragic events in the IndyCar event on Oct. 16.
"It does feel safer," she said. "It felt safer two years ago when I first got in a Nationwide car. Accidents still happen, but not a lot of serious head injuries. Having my head covered definitely adds a level of comfort."
* Finally, Patrick announced plans for
her Sprint Cup debut in 2012
. She'll run a 10-race schedule -- eight races, including the fall race at Texas Motor Speedway, have already been announced -- for car owner
Tony Stewart
. She'll drive the green No. 10 Chevy for Stewart-Haas Racing with her familiar sponsor, GoDaddy.com.
"Ten is my favorite number," said Patrick, who will continue to run a full Nationwide Series schedule for JR Motorsports. "It's the number I used when I was racing go karts as a kid, but this is the first time I've gotten to pick my number as a professional. There's a lot of emotion in it for me."
Said Stewart: "It was about the best opportunity to get her the most experience at some places where she hasn't raced. A few races into this, she may hate me. But next year is all about learning these places where she will need to run well in the future."
July, 19, 2011
7/19/11
10:57
AM CT
By
Eddie Gossage
| ESPNDallas.com
Tony Stewart
can drive the wheels off anything. A two-time NASCAR Sprint Cup champion, Indy Car champion, multiple USAC championships ... He can flat drive.
But his biggest and longest-lasting accomplishment in racing may be his ability to lead a team to championship standing in short order. He did that again Sunday in the Lennox 301 at New Hampshire Motor Speedway. Teammate
Ryan Newman
won the pole and the race while Stewart started second and finished second.
That doesn't happen often. In fact, it hadn't happened since April 7, 1957, when
Fireball Roberts
and
Paul Goldsmith
qualified and finished 1-2 at North Wilkesboro Speedway driving for DePaolo Engineering. During the 1989 Daytona 500, Hendrick teammates
Darrell Waltrip
and
Ken Schrader
came close to pulling it off, finishing first and second respectively -- swapping positions in which they started. You probably remember that win, because it was accompanied by Waltrip's version of the "Ickey Shuffle" in Victory Lane. (Shaking my head.)
[+] Enlarge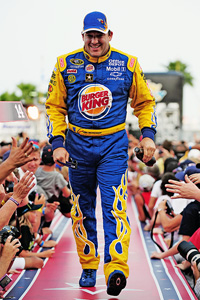 Kevin Liles/US PresswireTony Stewart has raised and donated a total of $850,000 for children in North Texas over the past three years.
Stewart took a step of faith in 2009, forming his own NASCAR Sprint Cup Series organization with Gene Haas. He left a 10-year ride with a championship-winning organization to pursue a dream. Talk about guts! Especially in a down economy. It takes a very confident, positive-thinking person to pull that off, and he succeeded. But that's just the beginning to what defines him.
On Saturday night, Tony was competing in a World of Outlaws race at Eldora Speedway -- a dirt track he owns in Ohio. By the time Tony made it back to New Hampshire early Sunday morning, he only had a few hours to sleep before he had to prepare for the NASCAR Sprint Cup race. That's the racer in Tony. He craves speed and will go the extra mile to satisfy it even if it means testing his endurance. We're talking about a guy who has run a 500-mile race and 600-mile race in the same day. Twice.
Stewart will be at Texas Motor Speedway for the "Smoke Show" on Aug. 16
-- a once-in-a-lifetime fantasy driving camp he hosts annually to raise money for Speedway Children's Charities-Texas Chapter. From driver intros and a pre-race ceremony to a Victory Lane celebration complete with cowboy hats and the actual Turnbull 45 Colt-style single-action revolvers, participants experience everything a NASCAR driver goes through on race day. It's as close to the real deal as you can get.
Tony spends an entire day with some very dedicated race fans, giving them personalized instructions from inside the cockpit. Nothing to it, you say? Have you been to Texas in August? It's downright hot, but Stewart puts on his fire suit and jumps in those stock cars, cracking jokes and showing his usual witty demeanor. I don't know many people who could keep a good attitude in that kind of situation, let alone volunteer an entire day out of their schedule for an event like that.
Between funds raised by the "Smoke Show" the past three years and him donating his winnings from the Prelude to the Dream race at Eldora Speedway, Stewart has raised $850,000 for children in North Texas. That's almost $1 million!
The hard-scrabble reputation -- temperamental, photographer-shoving, sarcastic quotes in the media ... they all make up the image and reputation many have of Stewart. And it's well-earned. And Sunday we saw the results of his leadership.
On Aug. 16, Stewart will demonstrate that leadership in another manner as he helps the kids of North Texas.
Pretty broad shoulders.