March, 21, 2012
3/21/12
3:14
PM CT

Sprint Cup driver Carl Edwards talks about training with the Fort Worth SWAT team, including a drill where hostage Eddie Gossage was rescued.
ABOUT THIS BLOG
Eddie Gossage

Legendary racing promoter Eddie Gossage is the current president of Texas Motor Speedway.
Richard Durrett

Richard Durrett joined ESPNDallas.com in September 2009. Richard writes about the Rangers, Cowboys, Mavericks, colleges, golf and motorsports and used to co-host Fitzsimmons and Durrett on ESPN Dallas 103.3 FM. Richard spent nine years at The Dallas Morning News covering the Rangers, Stars, colleges, motorsports and high schools.
ESPNMotorsports ESPN_Motorsports
Lewis Hamilton takes pole at Chinese Grand Prix http://t.co/IqV1Vf8w02
about an hour ago

IndyOreo John Oreovicz
RT @jdouglas4: South scoring carousel came down today. It was beyond repair. Will be new sight lines now. http://t.co/Q8vqx1lzvw
about 6 hours ago

MartySmithESPN Marty Smith
#Badge179#BostonStrong http://t.co/7CGgCcxPHx
about 6 hours ago

JamieLittleESPN Jamie Little
This is another part of the SEALs 'O' course. http://t.co/9kFa2QWfdP
about 9 hours ago

JamieLittleESPN Jamie Little
Mad respect for our NAVY SEALs. Today was graduation day. http://t.co/QvOqb6f90l
about 9 hours ago

JamieLittleESPN Jamie Little
I got to visit the one and only Budds, NAVY SEAL training facility today. Doing the 'O' course.
about 9 hours ago

MartySmithESPN Marty Smith
As I told you earlier. Time is your only ally, & any emotion you feel is the right emotion. You made her proud brother. @odsteve
about 9 hours ago

IndyOreo John Oreovicz
What a beautiful spring evening!
about 10 hours ago

ESPNMcGee Ryan McGee
The better-late-than-never edition of @MartyandMcGee. http://t.co/TCszvNo2Hr
about 11 hours ago

MartySmithESPN Marty Smith
#406 on @bostonmarathon, Dodd McFly & is NCAA treatment of athletes fair? Shabazz Napier/Stefanie Dolson answer -> http://t.co/JYxvfCc5BH
about 13 hours ago

ESPNMcGee Ryan McGee
The return of Dr. Racy Ryan, the Internet's only #NASCAR advice columnist. http://t.co/jyqHSfpwud
about 14 hours ago

ESPNMcGee Ryan McGee
Podcast up soon! Topics: Darlington, Chase Elliott, Boston Marathon & Shabazz Napier stops by to talk starving. http://t.co/ZfYdRAKIXV
about 14 hours ago

ESPNMotorsports ESPN_Motorsports
Dr. Racy Ryan, the Internet's only NASCAR advice columnist, is at your service http://t.co/gPaIg6GFvs
about 15 hours ago

ESPNMotorsports ESPN_Motorsports
Lewis Hamilton sets pace in Chinese Grand Prix practice http://t.co/fcPXjC07cW
about 16 hours ago

ESPNMotorsports ESPN_Motorsports
Ferrari introduces new team principal Marco Mattiacci http://t.co/mgplnnpp67
about 16 hours ago

ESPNMotorsports ESPN_Motorsports
Rivera will keep Panthers on fast track http://t.co/8utx37Mh49
about 16 hours ago

ESPNNASCAR NASCAR on ESPN
VIDEO: @Elliott_Sadler on Darlington, Richmond w/ @MikeMassaroESPN http://t.co/hTfHOpjshb #NASCAR
about 18 hours ago

ESPNNASCAR NASCAR on ESPN
Now you know. RT: "@MartySmithESPN: The Story Behind The Song: @EricChurch, TALLADEGA -> http://t.co/f1nHfSd3E2" #NASCAR
about 18 hours ago

ESPNMcGee Ryan McGee
Filed to @ESPNInsider CFB: How does @FSU_Football handle being the champs? We ask coaches who've been there before. http://t.co/vlS1zzhDJq
about 19 hours ago

MartySmithESPN Marty Smith
ICYMI: @EricChurch explains why he & @LukeLaird wrote "Talladega." -> http://t.co/quLyuK9MrX http://t.co/uT6qxWYsLr
about 21 hours ago
TRACK GUIDE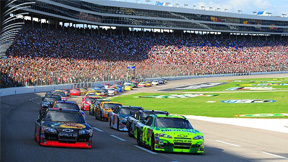 Texas Motor Speedway, in North Fort Worth, opened in April of 1997. The track hosts two NASCAR Sprint Cup races and one IndyCar race in 2013. It seats 138,122. Guide »
BLOG ARCHIVE:
CATEGORIES: