Dallas Soccer:

2011 MLS playoffs
October, 27, 2011
10/27/11
3:39
PM CT
By
Blake Owen
| ESPNDallas.com
In what has been an all-too-familiar sight at Pizza Hut Park, Schellas Hyndman put his charges in a position to bag a win but his players let him down with shoddy finishing and a few errors at the back.
Last night Hyndman rolled out a 4-2-3-1 to combat New York's 4-4-1-1. New York was clearly concerned about the speed on Dallas' flanks: Hans Backe elected to play four central midfielders (from left to right Joel Lindpere, Teemu Tainio, Rafa Marquez, and Dax McCarty). Going forward, the tactic worked well for the visitors. The outside midfielders pinched-in (particularly McCarty) and helped link Thierry Henry with Dane Richards, who caused havoc with his darting runs behind center backs Ugo Ihemelu and George John.

Defensively, though, McCarty and Lindpere struggled to defend against the pace of Marvin Chavez and Brek Shea. The Dallas wingers, and fullbacks Zach Loyd and Jair Benitiez, needed only a split-second to find space before sending in their service. Early on, New York was very vulnerable along the flanks.

Hyndman took advantage of the situation by instructing his outside players to send in early crosses. Dallas' gaffer must have seen a vulnerability on film, as New York's backline struggled with the constant early service. This strategy led to numerous scoring opportunities for the Red Stripes.

But, in what has been a theme, Dallas' attackers didn't finish their chances. A 14th minute miss by Chavez and a 40th minute shank by Jackson were the most glaring failures. Jackson's miss was galling; his unmarked header from seven yards wasn't even close to being on target.


The sheer volume of opportunities - Dallas had 14 total shots and 7 shots on goal to New York's 6 and 6 - spoke wonders of Hyndman's tactical acumen, especially since Dallas had a slightly lower percentage of possession (51% to 49%). However, one personnel choice should be called into question. Hyndman's inclusion of Jackson over the more traditional Number 9 Maicon Santos didn't make sense in light of the amount of crosses sent into the box.

Jackson normally interchanges very well with Shea and Chavez, but against New York he stayed in the middle in anticipation of the waves of crosses. The Brazilian demonstrated his lack of a striker's instinct on more than one occasion, notably the 40th minute miss. Santos, a second half sub, had just one opportunity to head the ball toward goal and his effort from outside the box forced Frank Rost to make a save.

Granted, Santos was otherwise anonymous. But that was merely symptomatic of Dallas' problems in the latter half of the season. The front three, particularly the striker, failed to take advantage of excellent build-up and then a series of blunders at the back (John, Loyd, and Ihemelu all made mistakes on New York's opening goal) doomed the squad to a loss. Hyndman may look back on this match as the epitome of his squad's 2011 campaign, promise unfulfilled.

Blake Owen is the editor and publisher of futbolforgringos.com.
October, 27, 2011
10/27/11
3:34
AM CT
FC Dallas' 2011 season came to an end much the way the entire last third of the season had, with bunch of blown chances early and a moment of hesitation costing them on their own end.

Dallas had lots chances early, enjoying lots of offensive possession and outshouting New York 23 to 12 on the night. But yet again FCD played without a true striker and was unable to convert their chances. Yet once again a lone lapse in the back led to the New York goal. Even up a man after a red card to Jan Gunnar Solli, FCD couldn't take advantage before things were even at 10 men each due to a Zach Loyd injury.

NYRB eared their first goal in the 61st minute when Dane Richards grabbed a rebound from a long range shot Hartman had saved. Richards fed Mehdi Ballouchy who found the crashing Joel Lindpere in the box. The second goal came quit late in injury time after something like 6 minutes were added for the Loyd injury. Thierry Henry scored on a long counter attack breakaway when the FCD defense had crashed forward chasing the tie goal.

Attendance: 10,017

Scoring Summary:
NY – Joel Lindpere (Mehdi Ballouchy) 61
NY – Thierry Henry 98+

Misconduct Summary:
NY – Tim Ream (caution; tactical foul) 27
DAL – Ugo Ihemelu (caution; reckless foul) 31
DAL – Daniel Hernandez (caution; reckless tackle) 51
NY – Jan Gunnar Solli (ejection; serious foul play) 79

FC Dallas – Kevin Hartman, Jair Benitez, Ugo Ihemelu, George John, Zach Loyd, Brek Shea, Andrew Jacobson (Daniel Cruz 67), Daniel Hernandez, Ricardo Villar (Fabian Castillo 82), Marvin Chavez (Maicon Santos 73), Jackson.

Substitutes Not Used: Chris Seitz, Jack Stewart, Jeremy Hall, Bobby Warshaw.

TOTAL SHOTS: 23 (Jackson 7); SHOTS ON GOAL: 9 (Jackson 4); FOULS: 13 (Daniel Hernandez 4); OFFSIDES: 0; CORNER KICKS: 5 (Jair Benitez 5); SAVES: 4 (Kevin Hartman 4).

Red Bull New York – Frank Rost, Jan Gunnar Solli, Tim Ream, Stephen Keel, Roy Miller, Dax McCarty (Mehdi Ballouchy 59), Teemu Tainio, Rafa Marquez, Joel Lindpere, Dane Richards (Carlos Mendes 82), Thierry Henry.

Substitutes Not Used: Bouna Coundoul, Stephane Auvray, Juan Agudelo.

TOTAL SHOTS: 12 (Thierry Henry 6); SHOTS ON GOAL: 6 (Thierry Henry 3); FOULS: 12 (Teemu Tainio 3); OFFSIDES: 4 (Dane Richards 2); CORNER KICKS: 4 (Joel Lindpere 3); SAVES: 8 (Frank Rost 8).

Referee: Ricardo Salazar
Referee's Assistants: Craig Lowry, Peter Manikowski
4th Official: Edvin Jurisevic

Time of Match: 1:57
Weather: Clear, 67 degrees
October, 26, 2011
10/26/11
7:35
PM CT
By
Buzz Carrick
| ESPNDallas.com
New York Reb Bulls Lineup: Rost, Solli, Keel, Ream, Miller, McCarty, Tainio, Marquez, Lindpere, Richards, Henry.

NYRB bench: Coundoul, Mendes, Auvray, Ballouchy, Agudelo.

FC Dallas Lineup: Hartman, Benitez, Ihemelu, John, Loyd, Shea, Jacobson, Hernandez, Chavez, Villar, Jackson

FCD bench: Seitz, Hall, Stewart, Castillo, Santos, Warshaw, Cruz.
October, 26, 2011
10/26/11
4:35
PM CT
NEW YORK RED BULLS
at
FC DALLAS
Wild Card Match, 2011 MLS Cup Playoffs
Wed., Oct. 26, Pizza Hut Park, 8 p.m. CT
(FOX Soccer, TSN2)
With the World Series postponed
, fans can show a ticket stub from any 2011 Rangers game to receive $6 ticket price to the FC Dallas playoff match tonight. Without a Rangers ticket stub, tickets to tonight's game start as low as $10.
Gates open at 6:30 p.m. with $2 beer, $4 wine and Hornitos margaritas at the Budweiser Beer Garden through halftime. There will also be $1 hot dogs at all concession stands.
REFEREE: Ricardo Salazar.
SAR (bench): Craig Lowry;
JAR (opposite): Peter Manikowski;
4th: Edvin Jurisevic
INJURY REPORT:
FC DALLAS -- OUT: DF Edson Edward (R knee ACL tear); MF David Ferreira (R ankle); GK Josh Lambo (jaw); MF Ricardo Villar (foot); PROBABLE: MF Andrew Wiedeman (groin) ...
NEW YORK RED BULLS -- OUT: DF Chris Albright (R calf strain); MF Sacir Hot (R knee surgery); MF Carl Robinson (R knee contusion); QUESTIONABLE: FW Luke Rodgers (L knee inflammation)
SUSPENDED: none
WARNINGS: none
LEAGUE HEAD-TO-HEAD:
DAL 16 wins (0 SO), 59 GF ...
NY 18 wins (1 SO), 54 GF...
Ties 4
2011 HEAD-TO-HEAD:
DAL 0 wins, 2 GF ...
NY 1 win, 3 GF ...
1 tie ...
AT PIZZA HUT PARK: 9/17: DAL 0, NY 1 (Rodgers 36)
MLS CUP PLAYOFFS:
DAL 0 wins, 2 GF;
NY 2 wins, 4 GF;
0 ties
FC Dallas Match Preview
FC DALLAS NOTES

- FC Dallas come into the Wild Card after conceding seven goals in two games, a 3-0 loss to Toronto FC in the CONCACAF Champions League group finale that eliminated them from that competition, and a 4-2 loss at San Jose that kept them in the Wild Card after Real Salt Lake left the door open.
- Midfielder Ricardo Villar was forced off at halftime in the Toronto CCL match with a foot injury, an ailment that kept him unable to go in San Jose -- and has kept him out of full training in the days leading up to the Wild Card game.
- In the regular season finale, three players made their first league starts of the season, while three others made a return after a long absence. Winger Brek Shea missed just his third game of the season.
-Hyndman said midfielder David Ferreira, the 2010 MLS MVP injured in April, would not be available.
- When FC Dallas reached MLS Cup a year ago, they did it after a two-year absence from the postseason. They have won their last two playoff games at Pizza Hut Park, including a 2-1 win against Real Salt Lake in the first leg of the Western Conference semifinals last year.

NEW YORK RED BULLS NOTES

- The Red Bulls went 4-2-1 down the stretch to clinch the final playoff spot -- a stretch that started with a 1-0 win at FC Dallas on Sept. 17, when Luke Rodgers scored the game's lone goal.
- Red Bulls head coach Hans Backe said on Tuesday that striker Luke Rodgers would not be available. New York are 1-3-7 this season without Rodgers in the lineup.
- With Rodgers out, Dane Richards appears to be the odds-on choice to partner Thierry Henry in attack.
- Juan Agudelo has not started since that match in Dallas, when he started in place of an injured Henry. Backe indicated the teenager could fill Richards' place wide on the right of midfield.
- The Red Bulls have won their last three road games in the MLS Cup Playoffs. They won in Houston and Salt Lake on their way to MLS Cup 2009, and won the first leg of last year's Eastern Conference semifinals at San Jose before falling in the second leg.
October, 26, 2011
10/26/11
12:26
AM CT
By
Todd Date
| ESPNDallas.com
There might not be an FC Dallas player with a bigger spotlight on him right now than right midfielder Brek Shea. The 21-year-old College Station native has seen his star rise with the US national team this year and also leads FCD with 11 goals, a total that has earned him consideration for 2011 MLS MVP honors.
But all those accolades and hype will mean little at around 8 p.m. Wednesday as Shea and his Dallas teammates will look to beat the New York Red Bulls in an MLS Wild Card playoff match at Pizza Hut Park.
In the 2010 playoffs, the talented young midfielder had two assists in four games, three of which were starts. And just talking to him, it's clear he's ready to add to his playoff point total.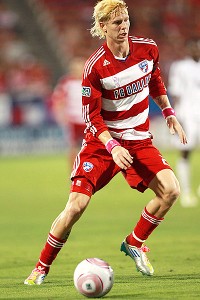 Rick Yeatts/Getty Images2011 has proven to be a breakout year on both the club and international level for FC Dallas' Brek Shea.
"I'm ready to go," Shea said after a short training session on the stadium field on Tuesday morning. "I can't wait to play tomorrow. I think it's going to be a good game. They're a good team. They haven't always shown it but they definitely have probably the most talented team in the league and it's going to be hard game. But our team is definitely excited for it."

Shea was among seven starters who didn't travel to San Jose for FCD's regular-season finale on Saturday night, a game Dallas lost, 4-2. That break allowed him to return home to spend some quality time with his family.

"I got to go home and hang out with my family. It definitely was a good time and good for me mentally too," he said.

The break also gave him the opportunity to put last Tuesday's 3-0 loss to Toronto FC, a defeat which ended FCD's promising run in the CONCACAF Champions League, completely in his rearview mirror.

"Yeah, that one's not easy to put behind us but it helps. You've got to move on," Shea said. "You can't always look back. You have to look forward at what we can change. We can't change that result. What we have in our hands is this game. Hopefully we can do what we want to do."

He did have a goal in an FCD win over Vancouver on Oct. 15, ending a six-game scoring draught in league play. And Dallas head coach Schellas Hyndman hopes that tally signifies that his top offensive player is back in the top form he displayed earlier in the season, before the weight of so many extra games caught up with him and his teammates.

"I hope so. We've talked a couple of times. He's very well prepared to get back into form and be a difference maker," Hyndman said.

However, it's not like this is the first time in the postseason for he and his teammates. Except for two or three new starters, the core of last year's team that lost in MLS Cup 2010 is back for more this time around.

And such continuity means this native Texan knows exactly what to expect in MLS' "second season".

"I and the team want to take each game at a time. We're not focused on the next one," Shea said. "We're focused on tomorrow night, getting a win and then we'll take the next game. We're going to do it exactly the same as last year except for the final. The team's fine with that."

One big reason why the 2010 FCD team finished the year in the league final was because of how strong that group's chemistry was. Not only did they enjoy the ride but they also had fun along the way, something this up-and-coming midfielder wants to see repeat itself in 2011.

"It was awesome," Shea said. "Winning and getting to the final, it was fun as a team. We saw some clips from last year and it definitely got the guys excited. It brought that feeling back that we had last year. Hopefully we can bring that feeling back."


October, 25, 2011
10/25/11
11:08
PM CT
MONTCLAIR, N.J. -- If the New York Red Bulls are going to make a run at winning their first MLS Cup, leading scorer
Thierry Henry
says they better start playing better.
The Red Bulls are the lowest-seeded team heading into their playoff opener Wednesday night at FC Dallas, barely making the playoffs with a 1-0 win over Philadelphia in their final regular-season game.
This was supposed to be a season most expected them to be fighting for the league's best record.
"I've been saying the whole time, it's not about me raising my game," the 34-year-old team captain said. "We win when the whole team plays well. You saw in the last game that the team is playing way better. It's not one or two, or three or four guys playing well. It's not about thinking one guy is going to save you now."
But advancing past a slumping seventh-seeded Dallas squad in the one-game play-in might be easier with Henry and his 14 goals in the lineup. The French international missed the clincher against the Union after serving a one-game suspension for a red card for violent play in the Red Bulls' penultimate game against Sporting KC.
Dallas (15-12-7) comes into the game after posting a 2-5-0 record in its final seven games to fall short of an automatic trip to the quarterfinals. However, it will have leading scorer
Brek Shea
and his 11 goals back in the lineup after he sat out the final loss to San Jose on Saturday.
"Brek Shea has played so many games and traveled so far with the national team," Dallas coach Schellas Hyndman told the team's official website. "If we're going to find any success in the playoffs, we want Brek to be lively."
Dallas, in fact, rested numerous starters over the last month.
"We just need to regroup as a team," defender
George John
said. "We'll be more than prepared for Wednesday."
The Red Bulls may do some shuffling on their front line. Midfielder Dane Richard, who scored the goal in the game against Philadelphia, may remain up front with Henry if some swelling in forward
Luke Rodgers
' knee does not subside by game time.
Rodgers, who claimed the injury happened when he was kicked in the knee early against the Union, stayed in the trainers' room Monday receiving ice and compression treatment, and was not expected to practice Tuesday. Coach Hans Backe said his second-leading goal-scorer (9) is only "50-50" for the game.
Still, the Red Bulls have done well while missing some of their stars. In addition to beating the Union, they also won at Dallas, 1-0, on Sept. 17 as Henry nursed an inflamed Achilles' tendon.
Having Henry back on the front line will provide a mental boost for a team that is 9-15-5 in its playoff history.
"Yeah, there's a little bit of a boost," defender
Tim Ream
said. "But at the same time, we've shown we can win without him and key guys who may be missing. Whether it's Thierry, or Rafa Marquez is out, we have guys who can step in and win. But having him back is definitely a good boost for us, and we're looking to go in firing on all cylinders."
The Red Bulls (10-8-16) head in with a 4-2-1 mark in their last seven, and may be getting hot at the right time. A win in Dallas means a trip to the home-and-home quarterfinal, where they would host the top-seeded LA Galaxy on Sunday at Red Bull Arena.
If Dallas wins, it would host Eastern Conference champion Sporting Kansas City on Saturday.
Backe said he expects Henry to raise his game.
"We know that a player like Thierry, when he sniffs playoffs," he said, "he gets more and more mentally into the game."
After playing just six minutes in his first playoff appearance last year due to a knee injury, Henry could make an impact in this win-and-advance game.
But he said it's up to everybody to make that happen.
Not just him.
"We have nothing to lose," Henry said. "We have to go there and it's a rough place to win. Even though they had a poor run at the end, I still think they're one of the best teams.
"We're going to have to do something amazing. But it is doable."