October, 24, 2011
10/24/11
12:43
PM CT
By
Buzz Carrick
| ESPNDallas.com
The end of the regular season has been a painful one for FCD fans and it leaves a bad taste in the mouth. There's not a ton of confidence about this team as it heads into the playoffs. But if we look back at the entire season we have to conclude this is one of the better teams FCD has ever fielded.
With 52 points on the season Dallas has tied for the second highest point total in their franchise history with the 2006 team under Colin Clarke. (It still boggles the mind Clarke was fired after that season.) Now grated FCD played two more games this year than in 2006, but it was still an excellent season.
By the way, the FCD record for points in a season is 57 back in 1999 under Dave Dir. 1999 is still the best team and season in FCD history for my money, despite last year's MLS Cup run.
Since the amount of games changes per season, we at 3rd Degree always look at points per game as more relevant than total points. This years 52 points in 34 games is a 1.53 PPG average, that ranks 4th all time for FCD, a very good point average. Last years 50 points in 30 games is a 1.67 average, ranking 2nd only behind 1999's 1.78 PPG.
The worst season in FCD history? Why 2003 of course, the season of the Southlake debacle. The one in which Mike Jeffries was canned mid-season. (Moving to Southlake is possibly the worst decision in FCD history, although the Denilson signing might be worse. Thank goodness Steve Morrow insisted on a 1 year deal only for him.)
| | | | |
| --- | --- | --- | --- |
| Year | GMS | PTS | PPG |
| 2011 | 34 | 52 | 1.53 |
| 2010 | 30 | 50 | 1.67 |
| 2009 | 30 | 39 | 1.30 |
| 2008 | 30 | 36 | 1.20 |
| 2007 | 30 | 44 | 1.47 |
| 2006 | 32 | 52 | 1.63 |
| 2005 | 32 | 48 | 1.50 |
| 2004 | 30 | 36 | 1.20 |
| 2003 | 30 | 23 | 0.77 |
| 2002 | 28 | 43 | 1.54 |
| 2001 | 26 | 35 | 1.35 |
| 2000 | 32 | 46 | 1.44 |
| 1999 | 32 | 57 | 1.78 |
| 1998 | 32 | 39 | 1.22 |
| 1997 | 32 | 44 | 1.38 |
| 1996 | 32 | 44 | 1.38 |
March, 15, 2011
3/15/11
1:43
PM CT
By
Buzz Carrick
| ESPNDallas.com
I got in touch with Former FC Dallas Head Coach Dave Dir this week, to ask if he would grace us with some more of his opinions on FCD, and it turns out he has a new gig. Coach Dir has hired on as the Director of Scouting for the Vancouver Whitecaps.

Dir joined the Whitecaps just before the college season. According to Coach Dir since joining the Whitecaps he has seen 68 college games and was involved in their combine evaluations and draft. He also helps with international player identification and is involved in youth recruiting for their residency program.
January, 7, 2011
1/07/11
9:14
AM CT
By
Buzz Carrick
| ESPNDallas.com
North Texas soccer has lost a great asset to the game in the
passing of former Kansas City Wizard defender Uche Okafor
. Okafor has been coaching for Dave Dir's ASG club and playing in the Plano Premier Select Soccer league.
Okafor was a part of the Nigerian team that won the 1994 Nations Cup team and played in the 1994 World Cup here in the US. OKafor played for ACB Football club, Lagos, KSV Mechelen, and Hannover 96 among others before coming to MLS and the Wizards.
OKafor was 43 when he passed.
Update: According to the AP,
Okafor's death has been classified a suicide
.
November, 11, 2010
11/11/10
10:06
AM CT
By
Dave Dir
| ESPNDallas.com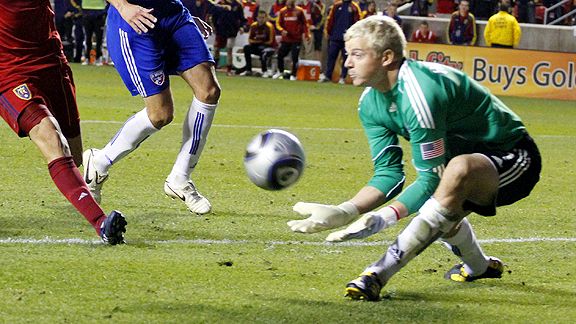 AP Photo/Jim UrquhartKevin Hartman is the reason FC Dallas is among the last four teams remaining in the MLS Cup.


Four teams are still alive in the quest for the MLS Cup.

I was fairly accurate with what I thought would happen in the East. In the West, the Los Angeles-Seattle series wasn't as close as I expected and FC Dallas just keeps finding the will to win, reminding me of the old Dallas Burn team of 1999. We came in and upset the best team in the league in Chicago, who had won the title the year before.

Nobody was picking us to get by Sigi Schmid and Los Angeles that year in what at that time was a three-game playoff series. We felt there was no stopping us, but we knew LA would be tough. They had the marquee names and we had a group that played together as a team in every way.

Don't get me wrong. We had studs in players such as Jason Kreis. In fact, that 1999 team is eerily similar to the 2010 FCD side. A foreign forward who was new to the league named Ariel Graziani quickly made an impact, like Milton Rodriguez. Oscar Pareja was our David Ferreira. We had outstanding goalkeeping which often saved an improving defense. Eric Dade compared to Ugo Ihemelu.

The biggest difference now, however, is this is a one-game knockout round. I would have much preferred that back then. So many things can happen in a three-game series. I always felt our series with Chicago was one of the great ones in the history of the league. You had the drama of us tying and then whipping the Fire in the opener, only to have them return the favor at home, forcing a third game.

If this year's Salt Lake-Dallas series would have been three games, it would have changed the whole complexion of how the teams approached the second game. There is also the wear and tear of a tight contest and the increased effect of the referees. In a three-game series, more cards are likely, which means you have a greater likelihood of losing players for games in that series or the next one -- which is what happened to us in the final game in LA.

You don't see the accumulation of yellow-card points in a one game playoff or aggregate series near as often now, so your best players stay on the field.

But enough about my thoughts of the past. I'll look at Dallas and LA first because to me the winner of MLS cup comes from there.

Dallas to me is playing like the Dallas of '99. They are the hottest team in the league, but in a unique way. They are really playing as a team, and contributions are coming from a lot of different places. They are doing it by committee.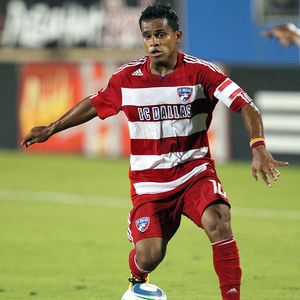 Ronald Martinez/Getty ImagesFC Dallas' David Ferreira has been outstanding, but LA matched up with him well this season.
The two key players are clearly Kevin Hartman and David Ferreira, who has been outstanding. The only team that has matched up with him all season is LA, and I would argue they did it much better before David Beckham returned. There are not many teams that have someone in the middle with the engine to handle Ferreira's slicing runs. His ability to find the spaces in between the back line and the midfield is fun to watch.

Hartman is the single most important reason Dallas has advanced this far. He has revitalized an improving back line, which to me still has hidden issues. He has also sparked what appeared to be a career winding down. He has been outstanding, even after the injury, and without him Dallas doesn't get past RSL. The Hartman factor will be the biggest in this game.

LA has seemed to have Dallas' number so far this year. The Galaxy is one of the few teams that usually doesn't give up the counter, an area in which Dallas has been so good at this season. LA forces you to play defense in numbers, yet it doesn't commit large numbers in the attack, which means they don't get stretched as much.

Additionally, Bruce Arena's teams have always been great at taking the early foul. If you watch an Arena-coached team and pay close attention to the first player on the ball, you will notice he will often commit the harmless foul far away from his goal just when they lose possession, breaking your rhythm and frustrating you just enough to keep from exposing the areas they've left open. They are masters at the cheap foul and no matter what anyone thinks of that tactic it reeks of attention to detail and can be vital against a team like Dallas. LA can be suspect in the back, but this tactic has them dealing with a slow-buildup Dallas, which is mediocre, rather than the off-to-the-races Dallas, which has given many teams fits.

In attack, LA has some weapons in bunches with Landon Donavan and the service of David Beckham. I think another reason that they have found a way to get the better of Dallas is because they do little things well but in sporadic fashion. Dallas often gets surprised when it is in control of the ball, losing the little discipline it takes when you have a lot of the play. Landon and company can hide for long periods of time but strike at any moment with one ball, one run, or one service.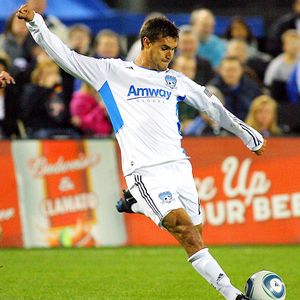 Tim Umphrey/Getty ImagesSan Jose must take advantage Chris Wondolowski's finishing skills to move past Colorado.
It is not just the individual weapons but they are also precise on set pieces, which is the Achilles' heel of Dallas, and can be the difference in a tight game. It is also the place the red-hot Hartman is most vulnerable, in traffic, bodies flying in front of him and obstructing his ability to get to the ball.

Any way you shake it, in a one-off game anything can happen and I like Dallas' ability to overcome adversity. It has lost twice to LA, and it's tough to beat a team three times in a season. Dallas is due to get to its first final since the U.S. Open Cup of '99 and their first MLS cap. I have a good feeling about Bruce this year, and LA has the lost-on-penalties motivation to get back to the final. LA is at home, but this is so tight I am going with my heart in this one, picking Hartman standing on his head with Dallas in PKs going to MLS cup.

The East went pretty much how I expected, with Columbus struggling to score and New York struggling to play, but both upsets are still impressive. The style of both Colorado and San Jose lends to a tight, grind-it-out playoff, which while not fun to watch is often effective.

No jumping on the soap box here, but there was a strong attacking directive early in the league's existence in which, in no uncertain terms, the powers that be made it clear you were to play with a certain attacking conviction which they believed would help sell the product.

The league had matured to the point where, like every other league, winning takes precedence. Yet I miss that "attack" mandate in series like this. There is a fine line between taking a stand and, like an Arsenal for example, play a certain style no matter what to get results.

More so for Colorado than San Jose, but both have a grind-it-out mentality and a couple of players that in the right situations have enough talent to get you a result. I love this game so much that I can enjoy the collective effort and nuances in the performances of these teams, but I am not sure everyone, especially the casual fans, can. Of course, fans are often influenced by results, but if the results are not always good they often don't come back. And there are still a few examples in the league where it is much harder to get the fans back than to lose them.

On to the matchup. San Jose is getting timely goalkeeping from Jon Busch and the defense is hit-ord-miss, but Bobby Convey has reemerged as a force. Like many similar-styled teams, it has people who can serve a quality ball or break down an opponent and a player who can get on the end of things.

You have to love the Chris Wondolowski story even if you don't like San Jose. He has been fun to watch and has really emerged as a finisher, which is just what san Jose needs if it is going to get by the taxing battle mentality of Colorado. Make no mistake, the Colorado defense can be exposed, but more often than not their success is a grinding game where it keeps things tight and finds a way to get Conor Casey or Omar Cummings on the end of things.

I am afraid this will be that kind of game because in many ways San Jose has been similar to Colorado but it doesn't do it as well. The Quakes don't have the size or the pace in their back line to deal with the Rapids' size. So for that reason, I have to go with Colorado.

In the end, all of these teams outside of LA are in new territory. While San Jose and Colorado have been there, it was the San Jose that is now in Houston and for Colorado, the last visit came close to 13 years ago. Those two along with Dallas could consider what they have accomplished and just be happy to be there. They have to play their best and mimic what they did to get here, or LA will hold the trophy.

Dave Dir managed the Dallas Burn from its inaugural season in 1996 until 2000.
October, 5, 2010
10/05/10
11:17
AM CT
By
Buzz Carrick
| ESPNDallas.com
2010 has been a terrific season by almost any measure for FC Dallas. One of the most fascinating aspects has been all the records that are falling. So here's a quick list, and I hope I didn't miss any, of all the records FCD has broken or has a shot at this year.

Longest MLS unbeaten road streak: FCD knocked this one off a little while ago in Columbus. Their current road unbeaten streak is 12 and counting. Dallas has a chance to extend the record when they travel to Salt Lake City on Oct. 16.

Longest MLS unbeaten streak in a single season: FCD is currently tied with the 2004 Columbus Crew at 18 games.

Longest unbeaten streak in MLS history: 19 games by Columbus over 2004-2005. As motioned, Dallas is at 18 games and ties the mark with one more game unbeaten.

Ties in a season: FCD is currently tied with four other teams with 13 ties. Chivas USA (2006), Columbus Crew (2004), DC United (2009), and Houston Dynamo (2006).

Club record for ties in a season: FCD has already broken this one with 13. Old record was 12 set in 2008 under Steve Morrow, Marco Ferruzzi, and Schellas Hyndman.

Fewest losses in MLS season: FCD currently has 2 losses, the previous best in any given season was 4 losses set by San Jose back in 2005.

Club fewest losses in a season: Previous record was 7 losses in 1999 under Dave Dir. With 3 games left, 2010 FCD will break this one even if they lose out.

(Before you ask, club record for wins is tied at 16 wins, 1999 under Dir and 2006 under Colin Clarke. [For which Clarke was fired. Shocking, I know.] FCD at 12 wins can't break this mark even if they win out. )

Club record points in a season: the record 52, held by the 2006 FCD, squad is in reach. Dallas sits on 49 points, just 3 from tying the record, with three games to play.

Club record fastest to 40 points (the magic playoff number): already broken... 2010 FCD reached 40 points in 22 games. Previous record held by the 2006 club which reached 40 points in their 24th match.

Club record goals against: 35 goals against in 1999. Currently sitting at 22 goals agaisnt FCD should smash this one.

(goals for record is 54 in 99 and 00; FCD is at 39 this year, not even close.)

Club record points per game: Not really an official stat, but one I keep because of the changes in the length of the MLS seasons. The previous best mark is 1.78 in 1999. FCD is sitting 1.81 so this is a record that could fall.

Club goal differential: Current record is +19 in 1999. FCD is at +17. So it's possible.

All-time MLS career goals: Jeff Cunningham is currently tied with Jamie Moreno at 132. Incidentally, Cunningham dominates goals from run of play 113 to 89 as Moreno has 43 PKs to Cunningham's 19.

Single season FC Dallas assist record: David Ferreira at 13 assists is two assists from tying Jason Kreis' club record 15 assists in 1999. The year, by the way, Kreis was MVP with 18 goals and 15 assists (the first 15-15 season in MLS history).

Individual single season MLS goals against: Pat Onstad currently holds the mark at 0.82 GAA in 2007. Kevin Hartman is sitting at 0.62, which leads MLS this season. Real Salt Lake's Nick Rimando (0.65) is second and LA goalkeeper Donovan Ricketts is third (0.84).

Career saves: Not really a record Kevin Hartman is going to break cause he already holds the mark at 1291, it just keeps counting. Joe Cannon is second at 1161.

So what did I miss?
August, 29, 2010
8/29/10
11:49
AM CT
By
Buzz Carrick
| ESPNDallas.com
If you follow FC Dallas at all, then I'm sure by now you know that FCD set the MLS record for road game unbeaten with ten. Ironically, the record was previously held by Columbus, who FCD tied 0-0 on Saturday, with nine games on the road unbeaten in 2004.

While it's not a record, FCD is also unbeaten overall in twelve games, as the Red Stripes last lost on May 20, a 1-0 decision to LA Galaxy at Pizza Hut Park. That match was FCD's only loss this season with Kevin Hartman in net.

So what's it mean, what's this record worth?

It means, obviously, that FCD is darn hard to beat. It means that Hyndman's team plays some darn stingy defense and gets some timely goals. It means this club has some serious grit and determination not to lose. Winning on the road in MLS is very difficult to do, not losing goes along with that. Getting this record takes determination, a little luck, and really good team. This record says FCD is a force to be reckoned with in 2010 and will be a factor for the Supporters Shield and MLS Cup.

Unfortunately it's not worth a whole lot more than that. That Columbus side in 2004 didn't win MLS Cup. They didn't even get there as DC United knocked off KC 3-2 that year in the final. The Crew finished the season with the most points in the league, 49, tied with KC although Columbus was awarded the Supporters Shield. But the 4th seed New England Revolution upset the Crew in the opening round of the MLS Cup Playoffs. So this mark is no divine indication of a title heading to Dallas.

So let's take this record for what it is, a sign that FC Dallas fans have a very good team to watch this season. The kind of team we haven't seen here in a long time, if ever. There have been good teams in Dallas before. 1999 under Dave Dir was a real shot at a title, 2006 under Colin Clarke was first place virtually wire to wire. But neither of those teams had the grit, steal, and defense this team seems to have. So Enjoy it while it lasts.

Now if FCD could just find some scoring from a striker.
August, 12, 2010
8/12/10
11:24
AM CT
By
Dave Dir
| ESPNDallas.com
Since FC Dallas is incorporating a new player, Milton Rodriguez, into the into a line up that has been performing well as of late, I thought it would be worth looking at the trials and tribulations of incorporating high profile players. While adding talent is generally a good thing long term, a teams midseason form and chemistry issues dictates how this process goes and its really depends on your team.

There is no steadfast method or rule which makes bringing in a high profile player a sure thing, or even easier, in my opinion. In my time with the Dallas Burn I had to integrate quite a few special players who all brought their own set of challenges. Players such as Oscar Pareja, Hugo Sanchez, and Ariel Graziani. There were many obstacles to those additions when it came to the player's psyche or team chemistry. A successful team can have small jealousies which creep in, it can change the dynamic of how a team balances abilities on the field, or personalities sometimes just don't mesh. There are also teams where the opposite is true and an added player at the right time can boost confidence, change the way a team can adjust to playing styles, or incorporating a player who can create favorable circumstances on their own. That sort of player can be a big boost, which is what we hope for Dallas this year.

One example is the Dallas '96 team which featured Washington Rodriguez, Leonel Alvarez, and Hugo Sanchez as assigned players. We started the season 6-2 and were really on a role. The team chemistry was excellent even with assigned player Washington Rodriguez struggling to adjust to the league. The much heralded Hugo Sanchez had not even arrived so things were looking very good and the team was ripe with confidence. I had originally drafted Ted Eck as a worker for Hugo, given Hugo's age, as we feared he would struggle physically. My assumption during the draft was we needed to find someone to do some of the work for Hugo so that he would be that much more effective. John Kerr was also drafted late with similar abilities to Eck in work rate and experience and he carried an even stronger playing pedigree so we were hedging our bets in case either did not perform well by adding some depth. While Eck and Kerr struggled to adjust to the new league and form a productive partnership in the scoring column, their work ethic allowed us to find a way to win anyway.

Hugo Sanchez was scheduled to join the team from Austria eight games into the season, depending on the finish of the Austrian season. I remember the conversation when he came in like it was yesterday. Hugo's addition is an article in itself but in the interest of time I will give you the abbreviated version. Hugo finished his Austrian season and decided he needed some down time before he would arrive. We played a game the next Saturday and he ended up arriving on Friday after finishing his season up a week earlier. Everyone expected him to start right away, including Hugo.

In Dallas we had a group of players who deserved and had earned our respect, and were playing well. To start Sanchez right away without even training with them would have sent the wrong impression to the team in my opinion. Cacho Cacho Cordoba and I went over to Hugo's hotel to tell him he wasn't starting. He arrived with a large entourage and we met downstairs. We were fairly sure this wouldn't be well received by Hugo or the Spanish media and that there was a good chance that if Hugo wanted to bury us in the Spanish press he could. It didn't matter to me as it was the right thing to do, but we pretty much had our bags packed just in case we got fired. Hugo was not happy when we told him, but after a very long conversation he was respectful and professional and to his credit treated us very well in the media the next day and professionally the whole season. I like to think we earned and solidified the respect between us, the team, and Hugo that day.

The next big mid season addition was Oscar Pareja and the circumstances were much different. The Burn had struggled to find an attacking midfielder since it's inception. Oscar was a tremendous player and a much heralded addition in New England. The Revs struggled out of the gate and the pressure grew for Oscar to perform as he struggled to get used to the league and its style of play. New England were struggling and desperate as a team, and Billy Hicks and I new they were a bit desperate. We knew they were losing patience with Pareja and I really felt he would fit in with our team and could be the maestro we never had.

Our players almost felt a sense of relief when Pareja joined the team, so the transition was more about Oscar and showing patience and confidence in him. Damian had become inconsistent in his performance in many ways and Oscar seemed the perfect fit for our weaknesses. The team was good but his addition was welcomed because the players recognized the need and it was at the expense of someone that was struggling to make an impact in games.

The following midseason trade was the one that brought Ariel Graziani and might have been the most challenging but also the most immediately effective. We gave up a lot for Ariel. Once again new England was in dire straits. They had hired spider man, Walter Zenga, and while an exciting personality, he was proving to be a roller coaster as a coach.

We were approaching the all star break and the trade deadline and Billy and I were getting concerned. We felt we were one or two pieces of the puzzle away from a title and you just don't know when you might have another opportunity to win it. In MLS the initial pieces of building a team when a team is bad or starting from scratch always seemed to come a little easier. If you were bad enough for long enough you would eventually get enough support through the system because it was designed for parity. Problem is we weren't bad enough and kept making the playoffs and getting close enough to have to keep status quo with our difference makers. When you are at the edge of a title, those last few pieces are the most difficult because of less leeway on the players abilities and chemistry fitting in, plus the players were harder to come by in the league's design.

We felt our team was so close and we needed a difference maker, not just a player, but someone who would take the pressure off Jason Kreis and keep teams from keying solely on him in big games. As we moved toward the playoffs we had lost a few critical games, like the US Open Cup to Rochester, that showed signs that we were not going to be quite good enough to make a real run. The players were starting to let doubt creep in just a little bit. We had a very good team with a legitimate chance, but needed a boost. We could have tried to find the final piece by other means but that could take a long time in the MLS environment.

Always working the phone, Billy Hicks informed me an opportunity came up in discussions with New England as he discovered they were losing patience in Graziani. As talks begun the big hurdle was the Revs wanting equal value. We didn't have a lot of players of that value. It wasn't till we were almost to the deadline that we learned they wanted my favorite player Leonel Alvarez. This really made for a tough decision. I really felt Graziani was the perfect compliment for Kreis as teams were starting to key on shutting him down and nothing else. You have to understand that not only was Leonel my favorite player and the anchor of the team, but he was my favorite personality and leader on the team. Alvarez set the example for all others. I had never considered trading him.

A call came in from Billy Hicks at the trading deadline while we were playing on the road: Leonel for Graziani. A long discussion took place, could we lose the core of the team? At the time we were getting good performances from people playing Leonel's position. Nowhere close to Leo, but good enough to make due in the holding spot. Graziani could score, and do so by making his own opportunities without service, and take a lot of pressure off Jason.We expected the team to miss Alvarez but saw this as a unique opportunity to get one of those last pieces. So we finally agreed and pulled the trigger on the trade. As expected the team chemistry changed instantly.

One dynamic we didn't count on was how the team would handle the loss of Leonel and how it would effect their perception of Graziani's style. At first Graziani was a huge success because he got on the scoring column right away and that was easily recognized, yet there were instances that surfaced where players didn't seem to welcome him. Because Leo was the most popular player on the team his departure affected the mentality of the players toward their new teammate. You would think winning would cure that, but a lot of jealousies and resentment started to surface and of course any setback on the field found players looking at someone other than themselves. Ariel became a good example of being a perfect fit for what the teem needed, having great success to prove it, and yet other players had a little different agenda so it wasn't always smooth sailing.

In the end Ariel made a huge difference for that '99 team and he freed Jason to score while adding a second threat to occupy defenders when things shut down. We were a better team so it got smoothed over, but you just knew that Ariel brought a different style and work ethic than Leo and when the team had some more adversity or went through a real rough patch some of the finger pointing would resurface.

The trade got us over the hump and I felt we were the best team in the league. We played well in the playoffs and gave ourselves a legitimate chance to win it. In the end that trade brought us very close to a title, if not for some significant player losses in the last game in LA.

Unfortunately the Kreis/Grazani pairing was only productive for the short term. We spent a lot of time with our players behind closed doors and an equal amount of time taking the pressure off them publicly. We were always asking them to deal with things face to face in the locker room and not in the media. We believed that it was a coach's responsibility to take the blame in public since you were the ultimate decision maker and shoulder the responsibility for the final result. That is not always easy but in my mind it's the right thing to do. Not everyone operates that way or believes that is the way to handle players and often now you see the blame is passed publicly by calling players out which some feel makes players accountable.

I feel accountability is gotten by dealing with people face to face with respect. When Ariel was called out publicly two games into the first season after I left, I remember reading it and feeling that he was done in Dallas. What could have been the greatest partnership for years to come couldn't survive someone needing to call him out. It didn't help the players couldn't realize what was best for the team overriding what they thought was best for them individually and Grazani became quite the scapegoat when they couldn't seem to score.

I still believe to this day that if that team had stayed together it would have won MLS Cup in Dallas. Instead it brought to light that sometimes integrating a player midseason can be a short fix, but long term egos can get in the way even when success is achieved. It's a fine line, but managing players is always a fine line and open to interpretation, and that is still the key to any team in MLS.

There is no predicting how Dallas's latest addition will affect the team, which is half the fun of following a team anyway. Until we see how this team adjusts, let's just say the jury is still out.