April, 3, 2012
4/03/12
8:59
PM CT
By
Buzz Carrick
| ESPNDallas.com
MLS announced today that FC Dallas' Jair Benitez has been suspended one game and fined for violent conduct that endangered the safety of his opponent. Benitez threw an elbow that contacted with Danny Cruz the 71st minute of the match between FC Dallas and D.C. United last week.

One might perhaps complain that Cruz embellished the incident... and in this case MLS appears to agree with you as Cruz as been fined for his act of embellishment which "brought the game into disrepute" in the very same incident.

Here's a replay of the incident.


April, 2, 2012
4/02/12
9:37
AM CT
FC Dallas' Head Coach Schellas Hyndman
On his team's defensive performance:
I thought our defense gave some silly balls away and I think [D.C. United] capitalized on it. It was something that we talked about before the game, "don't give the balls away in the defending third and don't give the balls away in the middle third," and I thought we did that fairly well. It just seemed that before they scored the second goal there was a period of time when we had a hard time getting the ball and keeping it. Our defense was just under a lot of pressure and it showed.

FC Dallas Defender Ugo Ihemelu
On his team's performance:
It was a disappointing game. We knew coming here that they didn't have a win, were at home, and wanted to get a result and they were going to fight to the end. First half, we had opportunities which we capitalized, but we just let down. That was it.

On what went wrong:
We just let down, there wasn't enough energy. We knew they were going to come out hard and fight for a win; they weren't going to settle for a tie. So, we have to match that energy and go after them – we are on the road. We knew what to expect.

FC Dallas forward Blas Perez
On his team's performance:
Despite not winning, I have to say [D.C. United] is a great team, with players that stand out. We have to keep working. It was a hard hit that won't let us sleep, that's the truth. We must try to get a win on Thursday and forget about tonight."

On his scoring:
I have a lot of faith that I will score more goals, and that's what I'm working for. I wanted to score more here but I needed to get better balls. Luckily, I was given one by D.C.'s central defense and I was able to score. It's good for my self-confidence but it's useless because the team didn't get a win, tie or add points. So, I leave with a bitter taste.

D.C. United Head Coach Ben Olsen

On the win:
First off, it's nice to win for the fans here. We haven't given them much but I thought we put on a pretty good show. It was probably a pretty entertaining game to watch back and forth early.

On making changes at half:
In the second half I thought we were pretty good. We executed some of the things we talked about all week very well and we scored two goals.

On Danny Cruz and Nick DeLeon:
They had a big impact on the offensive end but they also had a big impact on the defensive end. I certainly appreciated the way they worked on both sides of the ball. I would hate to play against him [Cruz]. He's a really competitive guy and just doesn't quit. Nick [DeLeon] has very good soccer instincts for a young kid and I thought both of them played very well.

D.C. United forward Maicon Santos
On his first goal:
I've been trying every game I've been playing for D.C. United. You guys know that. I've been trying to shoot from long distance. That's what I do. Work and shoot from long distance.

On playing with Dwayne De Rosario:
We know each other, so we understand. He knows where I'm going to be, so we work together.

On the result:
That's a big win for us. It makes us relax.

D.C. United goalkeeper Joe Willis
On United's performance:
We came out well. We had a lot of fight in us and I think it showed. I guess they caught us ball watching a bit at the beginning but I was able to make the saves and we got rejuvenated after that. I think the team played really well. I just did what I was supposed to do.


March, 30, 2012
3/30/12
10:55
AM CT
FC Dallas at D.C. UNITED
RFK MEMORIAL STADIUM, Washington, D.C.
March 30, 2012
6:30 p.m. CT (NBC Sports Network)
FC Dallas kicks off its 2012 Party at the Pubs tour presented by Budweiser at 6 p.m. this Friday, March 30 at The Allen Wickers in Plano, Texas, as FC Dallas faces D.C. United live on NBC Sports Network. FC Dallas forward Scott Sealy will be in attendance from 6 to 7:30 p.m.
This Friday, the first 100 people through the door at The Allen Wickers will receive a free MLS Pub Partner pint glass. Fans can also enter a drawing to win a team autographed ball. Drink specials will feature $2 domestic bottles, wells and margatitas and $1 off all drafts. For more information
FCDallas.com/pubs
.
REFEREE
: Hilario Grajeda.
MLS Career: 60 games; FC/gm: 24.3; Y/gm: 3.5; R: 12; pens: 9
SAR (bench): Bill Dittmar;
JAR (opposite): Matthew Kreitzer;
4th: Andrew Chapin
INJURY REPORT
:
D.C. UNITED — OUT: DF Ethan White (R knee surgery); MF Kurt Morsink (L foot neurectomy); MF Lance Rozeboom (L ACL tear); QUESTIONABLE: DF Dejan Jakovic (L groin strain) …
FC DALLAS — OUT: FW Scott Sealy (R knee); MF David Ferreira (R ankle); QUESTIONABLE: MF Fabian Castillo (L knee); MF Ricardo Villar (bruised ribs)
Injury Notes: Fabian Castillo did not travel and is out. George John is questionable (unofficially) after being pulled from training on Friday.
INTERNATIONAL ABSENCES
: DC: Andy Najar (Honduras U-23)
SUSPENDED
: none
HEAD-TO-HEAD
ALL-TIME (38 meetings):
United 13 wins (0 shootout), 65 goals …
FC Dallas 17 wins (4 shootout), 64 goals …
Ties 8
AT RFK (17 meetings):
United 7 wins (0 shootout), 39 goals …
FC Dallas 5 wins (2 shootout), 27 goals …
Ties 5
LAST YEAR (MLS):
5/7: DC 0, DAL 0
7/16: DAL 0, DC 0
- This is the only league meeting between the teams this season.
- FC Dallas has come away with points from their last two league visits to RFK Stadium, gaining a 3-1 win in the 2010 meeting in the nation's capital.
Coaches record:
Ben Olsen vs. DAL: P3 W0 L1 D2 …
Schellas Hyndman vs. DC: P8 W3 L1 D4
D.C. UNITED NEWS
- After two losses to start the season, United came away with a first point of the year. Dating back to last season, United still have a nine-game winless streak alive - their last victory came Sept. 24 vs. Real Salt Lake.
- United have been held without a goal in two of their three games, and haven't scored more than a goal in a game since last Sept. 29, in a 3-2 loss at Philadelphia.
- United will have two of their U-23 internationals in goalkeeper Bill Hamid and defender Perry Kitchen. But in the USA's group finale draw with El Salvador that eliminated it from a berth in the London Olympics, Hamid turned an ankle, which forced him out of the game in the first half.
FC DALLAS
NEWS
- FC Dallas goalkeeper Kevin Hartman made the first save on a penalty kick this season, denying Sporting KC's Kei Kamara on Sunday. For his career, Hartman has seen 14 of 53 penalties not converted against him; it's one shy of the league record held by Nick Rimando (15 of 53).
- FC Dallas has U.S. U-23 international Brek Shea available for the match, along with Carlos Rodriguez, after both saw their countries eliminated from contention for the 2012 London Olympic Games.
March, 30, 2012
3/30/12
9:28
AM CT
By
Todd Date
| ESPNDallas.com
FC Dallas head coach Schellas Hyndman has always been one to say what's on his mind. That's why when he was asked about his club's next opponent, DC United, whom FCD will face on Friday night at RFK Stadium, he offered an honest assessment of what he expects from the Black-and-Red.

"They're a team that hasn't won yet and that's always a dangerous team to play because their focus is so much on their first win," Hyndman said. "What they bring is I think is a lot of emotion right now, trying to get that first win. They bring a very good strike force with two good forwards - Maicon Santos and Hamdi Salihi. He's a very good player, Albania type of player. We don't know too much about him but obviously a box striker. The key player to them is [Dwayne] De Rosario. He really is a difference maker, Golden Boot winner last year. He can play up front. He can play attacking midfield but he's a player if you let him do what he wants to do, he'll hurt you."
March, 27, 2012
3/27/12
10:47
AM CT
By
Todd Date
| ESPNDallas.com
I asked FC Dallas head coach Schellas Hyndman for his thoughts on his club's next opponent, DC United, whom FCD will face on Friday night at RFK Stadium. Here's what he had to say about the Red-and-Black.

What are your general thoughts on DC?

Hyndman: They're a lot better than their record and they continue to improve. They continue to add things to their team. KC beat them in extended time at home in I think first game of the year. Vancouver's a great team, so that's probably a great point for them. We're expecting quite a bit from them.

Are you surprised that reigning MLS MVP and Golden Boot winner Dwayne De Rosario has no goals and no assists through DC's first three games?

Hyndman: No, not really. I think they've had quite a bit of changes, so it's just people coordinating and getting together. He's definitely a good player. You look at the three games we played. Our goal scoring leader is Villar. What a great free kick the other day, what a fantastic free kick and of course, the goal against New York. I think De Rosario has all those capabilities as well.
February, 7, 2012
2/07/12
8:14
PM CT
By
Todd Date
| ESPNDallas.com
It appears that former FC Dallas midfielder Marcelo Saragosa has returned stateside as the 30-year-old Brazilian recently caught on with DC United. If you're wondering where he's been the last few years, you're not alone.

That's because Saragosa has been playing professionally in Azerbaijan for the last two seasons, yes they actually have professional soccer in that country neighboring the former Soviet Union.

Saragosa was with FCD between 2006 and 2009 and appeared in 54 games. He then saw action in 22 more games with Chivas USA but hasn't been in the league since 2010, when he went into the MLS Re-Entry Draft but found no takers.

He was always a likeable guy off the field during his time with FCD but had his share of injury issues. Current Dallas manager Schellas Hyndman traded him to the Red-and-White in July 2009 and while his time here was definitely up and down, it's nice to see him back in MLS if not for the mere fact that he's really close friends with some guy named Kaka.
July, 18, 2011
7/18/11
10:19
AM CT
By
Peter Welpton
| ESPNDallas.com
Dallas' scoreless tie against a growing D.C. United was one of those frustrating nights. Dallas did not play poorly. D.C. was never pushing to win the match and Hyndman's troops needed only a single moment to grab the three points.
While playing the superior match the accumulative effects of minutes and heat took its toll on Dallas as D.C. was content to soak pressure and also force Dallas to work harder than normal to advance the ball upfield.
While FCD created many attacking opportunities, again, it was one of those matches that the vast majority of them ended weakly. Dallas only managed to put two shots on frame -- a sad number considering their advantage in possession and the time they spent in the D.C. end of the field.
Working with yet another re-jiggered midfield, this time with Villar in the attacking spot, Dallas struggled to figure out the final third. Spending the first two thirds of the match in the 4-2-3-1 formation and the final portion in a 4-4-2 Hyndman's side just couldn't break down DC's backline and the work of its goalkeeper, Hamid.
The best moment of the match unfortunately fell to Chavez, who, ironically, might be the last player for FCD you want in this scenario. After winning the ball from the last defender at midfield, the speedy Honduran raced straight into the box only to butcher the shot and push the ball almost five feet wide to the left of goal. Jackson was also an option for Chavez, but the replay suggested he had drifted offside anyway.
Losing points to fall further behind LA and Seattle, Dallas now has the unenviable task of traveling back to the haunted confines of last November's MLS Cup defeat. This time Toronto is attempting a mid-season rebuilding and is due to debut its two new impressive European signings. You'd think the lack of their chemistry and time with their new club would come as an advantage to Dallas, but we all know how mid-week road matches tend to go.
GRADES:
Hartman - 7: Only had a single shot to snuff
Loyd - 7: His defensive work has improved tremendously. He's also looks to be about as banged up as one can be and still start
John - 9: I cannot go on about how much I enjoy watching John. His growth alone in the area of simple, unlocking passes to get the ball out of the back is outstanding. It wasn't that long ago he'd just boot everything away.
Ugo - 7: Still feel like he has moments where he switches off, but overall an steady force
Benitez - 6: One of those "double edged sword" guys. One minute he's passing the ball straight to an opponent, the next he's dropping precision 50 yard bombs into the box.
Shea - 6: The kid looked tired Saturday night.
Jackson - 7: Just didn't have the finishing touch he's had the last few matches
Alexander - 5: Not a bad night, but he still seems to be that one step away from really making an impact on the match. His craftiness is outstanding, but its not turning into dangerous opportunities. I have high hopes for Eric.
Hernandez: - 6: Big tip of the hat for playing on what I suspect is a much worse knee than Daniel is letting on. Hyndman is likely to have to make some really hard playing time decisions here with CCL, USOC and MLS matches lining up in mass.
Villar - 5: Struggled in that attacking mid spot, but like Alexander you get the sense he's just a few steps away from being a positive on the pitch.
Chavez - 4: A tough grade, but that chance is on a player at this level has to finish, or at least get on frame.
Subs:
Guarda - 4: Side had converted to a 4-4-2 and Bruno had little chance to impact the game
Avila - 4: No spark this time
Milton - 4: Dallas needs a forward about as badly as rain.
Related articles
July, 18, 2011
7/18/11
12:49
AM CT
By
Blake Owen
| ESPNDallas.com
[+] Enlarge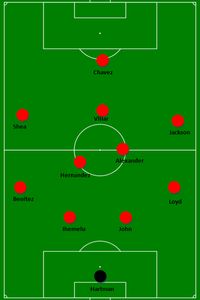 Buzz CarrickThe starting XI.
When these two teams last met, Schellas Hyndman and FC Dallas were still seeking a way to replace David Ferreira. While Dallas has clearly found a way to succeed without Ferreira, they still haven't figured out how to break down the United defense, once more drawing 0-0 with Ben Olsen's squad.
As has been Hyndman's custom since Fabian Castillo left for international duty, the Dallas manager employed a 4-2-3-1. An injury to Andrew Jacobson gave extended playing time to Ricardo Villar, with Eric Alexander dropping alongside Daniel Hernandez. Villar produced a few moments of inspiration but his performance was for the most part unremarkable. He completed
just 50% of his passes
.
Villar's middling day exemplified the Dallas attack, with the United front four doing their part to disrupt Dallas' offense. They rarely managed to intercept passes, but they didn't allow the center backs to make easy outlet passes. George John and Ugo Ihemelu were forced to
attempt 110 passes
, 22% of Dallas' total. In contrast, during the most recent Dallas league victory, John and Ihemelu
attempted 71 passes
(17%).
[+] Enlarge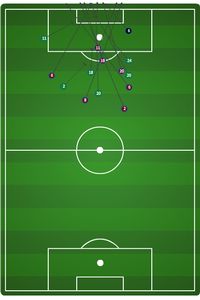 Buzz CarrickDallas took far too many shots from outside the box, neglecting to attempt to penetrate the backline with cutting through-balls.
Besides being unable to generate an offensive flow from the back, Dallas also settled for too many shots from distance. As the chalkboard to the right shows, the home side only managed to create
two shots inside the box
. By pulling the trigger from distance, the Red Stripes were doing exactly what United manager Olsen wanted.
Olsen's 4-4-2 uses a diamond midfield instead of a flat line. When Dallas pushed forward on counters, there was often just one midfielder (Clyde Simms) in the middle of the pitch. There was plenty of space to unleash long shots, but more patient build-up play could have led to better opportunities.
Perhaps the hurried shots were why Hyndman changed to a 4-4-2 in the 61st. Center midfielder Bruno Guarda entered for Villar and Alexander moved wide (Jackson joined Castillo up top). However, the switch produced few results. Dallas created 1 shot inside the box using a 4-2-3-1 and 1 shot inside the box using a 4-4-2. While the United defense deserves full credit for not making any glaring mistakes, Hyndman will surely view this match as a failure to grab 3 points.
Blake Owen is the editor and publisher of futbolforgringos.com.
July, 16, 2011
7/16/11
11:41
PM CT
By
Master Tesfatsion
| ESPNDallas.com
FRISCO, Texas -- FC Dallas captain Daniel Hernandez returned to action and played the entirety of the scoreless draw against DC Untied on Saturday after missing two weeks with swelling in his right knee.

Battling through 100-degree weather, Hernandez was more worried about his conditioning than his knee.

"I was little tired, especially at the end, but it's one of those things you have to fight through," Hernandez said. "You don't practice for two weeks, it's something you just have to do deal with, but health-wise, I felt OK right now."

Hernandez was exhausted at the end of the match but managed to take two shots in the game. Hernandez didn't have any issues with his knee on the field but wonders how it will react after the game.

If his knee continues to give him problems, Hernandez said surgery to scope the knee would be an option. He said surgery would keep him off the field for 3-4 weeks, but his mindset right now is to play the entire season. Hernandez does not want to miss practice to drain his knee, which he did during FC Dallas' playoff run last year.

"That's going to be the big question the next couple of days is how does the knee react, and we'll make some decisions in the next couple of days," Hernandez said.

Despite Hernandez's lack of activity over the last two weeks, FC Dallas head coach Schellas Hyndman said the midfielder had a solid outing.

"He helped the defense," Hyndman said. "I think they kept our defense really cautious. Because of that, the game really got stretched out."

Attendance: 10,802

Scoring Summary:
None

Misconduct Summary:
DCU – Ethan White (caution; tactical foul) 26
DAL – Daniel Hernandez (caution; tactical foul) 58

FC Dallas – Kevin Hartman, Zach Loyd, Ugo Ihemelu, George John, Jair Benitez, Brek Shea, Daniel Hernandez, Ricardo Villar (Bruno Guarda 61), Eric Alexander (Eric Avila 72), Jackson, Marvin Chavez (Milton Rodriguez 81).
Substitutes Not Used: Chris Seitz, Ruben Luna, Bobby Warshaw, Andrew Wiedeman.

TOTAL SHOTS: 14 (Jackson, Brek Shea 3); SHOTS ON GOAL: 3 (Brek Shea 2); FOULS: 15 (Daniel Hernandez 5); OFFSIDES: 3 (Marvin Chavez 2); CORNER KICKS: 4 (Ricardo Villar 4); SAVES: 1 (Kevin Hartman 1).
D.C. United – Bill Hamid, Brandon McDonald, Ethan White, Daniel Woolard, Perry Kitchen, Dwayne De Rosario, Chris Pontius, Andy Najar (Stephen King 72), Clyde Simms, Charlie Davies (Fred 54), Joe Ngwenya.

Substitutes Not Used: Steve Cronin, Dejan Jakovic, Kurt Morsink, Conor Shanosky, Chris Korb.

TOTAL SHOTS: 4 (Brandon McDonald 2); SHOTS ON GOAL: 1 (Andy Najar 1); FOULS: 11 (Daniel Woolard, Charlie Davies 2); OFFSIDES: 3 (Ethan White, Charlie Davies, Joseph Ngwenya 1); CORNER KICKS: 3 (Andy Najar 3); SAVES: 3 (Bill Hamid 3).

Referee: Niko Bratsis
Referee's Assistants: Peter Manikowski, Craig Lowery
4th Official: Ricardo Salazar
Time of match: 1:50
Weather: Partly Cloudy, 100 degrees

July, 16, 2011
7/16/11
10:12
PM CT
By
Master Tesfatsion
| ESPNDallas.com

FRISCO, Texas -- In their second meeting of the season, the result was the same between FC Dallas and DC United on Saturday. FC Dallas managed to pick up a point in a scoreless tie against DC United, the second scoreless draw between the teams this season.

* FC Dallas attacked early but failed to find the back of the net. FC Dallas outshot DC United 7-2 in the first half, with two on goal, controlling the ball for 58.5 percent. FC Dallas couldn't execute on their three corner kicks in the fourth, tenth and 27th minutes.

* FC Dallas tacked on another seven shots in the second half, but only one was on target. DC United goalkeeper Bill Hamid finished with a three-save shutout.

* FC Dallas midfielder Marvin Chavez had the best shot at a goal in the game in the 67th minute. Chavez broke past DC United's line with midfielder Jackson but misfired the ball. Chavez collapsed on the field with his hands on his head out of disappointment. Chavez finished the game with two shots. A minute later, midfielder Brek Shea also missed a chance to score in the penalty box. Shea finished the game with three shots, two on goal.

* The last chance FC Dallas had for a goal occurred in the 86th minute. Jackson received a cross but grazed the top right of the cross bar off his foot, and the ball deflected out of play. It was Jackson's third shot of the game.

* FC Dallas goalkeeper Kevin Hartman picked up his 10th shutout of the season, leading the MLS in that category. DC United didn't test Hartman much in the game with its four shot attempts. Hartman blocked the only shot on goal from Andy Najar in the first half.

* DC United managed to get three corner kick opportunities in the second half but couldn't capitalize. DC United possessed the ball for 42.3 percent of the game.

* FC Dallas team captain Daniel Hernandez returned to the starting lineup at midfield. Hernandez missed the two weeks with a knee injury. He had two shots on the night and committed three fouls. Hernandez also received a yellow card in the 58th minute
May, 8, 2011
5/08/11
9:13
AM CT
By
DJ Walker
| ESPNDallas.com
The encyclopedia says Stream of Consciousness is "a narrative mode that seeks to portray an individual's point of view by giving the written equivalent of the character's thought processes." In other words, DJ watches games, and writes down whatever comes to mind. Sometimes prescient, sometimes odd, almost always entertaining.


---
I'm really hoping Khal Drogo's Blood Riders will continue to protect the Khaleesi from her evil brother . . .

Wait a sec. Wrong blog. Sorry.

Start again.

Whoa, is this Dave Johnson calling an FC Dallas game? Strange days indeed.

Brek is back to the left side of defense, after being on fire while playing on the left side of midfield. Very odd in my opinion, but in Sensei we trust, right?

Eric Avila gets the start, hopefully bringing all the spark he brings off the bench.

DC United is probably my favorite Eastern Conference team, mostly because I think the Barra Brava and Screaming Eagles are so cool. If Dax had to go somewhere else in MLS (which I still wish he hadn't, with all my heart), I'm glad he went to DC.

With Fabian Castillo and Andy Najar on the field together, you're seeing the cream of the teenager crop in MLS. The odds either of them will still be in the league when they hit their 20's? Not good, if history is any guide.

How many teams has Joseph Ngwenya played for in this league? I was trying to think of a baseball journeyman analog to Ngwenya, but I can't come up with one. Plus, I'm pretty sure there's never been a Major League baseball player from Zimbabwe. He's been a good addition wherever he's gone, to be sure.

Wow, Kevin Hartman just robbed Charlie Davies, and Ugo Ihemelu was smartly waiting on the line to clear the rebound shot.

I have complained about Match Day Live (which, for you Luddites, is the MLS live online soccer product) on more than one occasion this season. But as I sit here and reflect (because the game is kind of boring right now, halfway through the first half), the fact is that when I was kid, not only was there little to no soccer on television, there was certainly no such thing as a computer that would fit on your lap that and show you live sporting events.

I mean, at the risk of sounding like one of those old guys at the barber shop who begins every sentence with "when I was a boy . . .", well, when I was a boy I watched the 1982 World Cup final on a tiny black and white television with poor reception, at the gas station where I was working for the summer (yes, kids, at one time they paid people to pump your gas for you at a gas station), at risk to my very life because every time I tried to adjust the picture the damn thing shocked me.

Now there's so much soccer on TV I can afford to be a snob and look down on Serie A games because they just don't interest me as much as English or MLS games. In those days, I would have traded one of my siblings for a chance to watch Italian soccer on a weekly basis. Two siblings, if it was in color.

It's been a pretty evenly matched first half. Neither team dominating, but DC with the more dangerous chances. The way this season has gone, I'm pretty happy with a 0-0 halftime score, especially on the road. Andrew Jacobson is having a quietly productive first half, if you know what I mean.

I think this is a good chance to steal three points on the road, going in to the second half.

I predict serious damage being inflicted by Castillo in the second half, as older legs start to get heavy and he just, well, he just runs around being 18 years old.

Early in the second half, Ngwenya takes a flop after receiving just slight contact in the box, then has the nerve to complain about not getting the call. Give me a break. Mr. Toledo is not interested in it, to his credit.

I am of the opinion that a player who flops, dives, or otherwise (as the rules call it) 'simulates', shouldn't get the call even if he's been fouled. It's like when a child doesn't get what he wants and throws a fit – if you give in, you just reinforce the bad behavior and guarantee it will happen again and again and again and again, ad nauseum.

And nausea is indeed what I feel when I see a penalty given on a dive. Dallas has never been a diving kind of team, the Ruiz era notwithstanding. And even Ruiz kind of toned it down while he was here. Somebody, Oscar Pareja is my guess, must have had a talk with him early on and told him that's not the way of our tribe.

For that matter, DC have never been much a flopping kind of team either, which is one of the reasons I like them. They always play hard and fair, which is not always the case in MLS.

(coughcoughRAPIDScoughcough)

Fifteen minutes to go. This game has 'dramatic late winner' written all over it.

I love that Yellow Tail wine is again sponsoring the team this year, so that every caution is now a "Yellow Tail Wine Yellow Card". I also enjoyed listening to Dave Johnson trying to say "Yellow Tail Wine Yellow Card".

Who could we get to sponsor all the red cards? Red Baron Pizza? Killian's Red Lager? The Red Cross? The estate of the late Red Foxx? The possibilities are mind boggling.

Ohhhh, Kevin Freaking Hartman. He stones Fred in the 89th minute to save the day. Fred had a point blank header at an open goal and Hartman all but took flight to dive in at the last second an snuff the chance. Unbelievable this guy.

Three minutes time added on.

Okay, so maybe I was wrong about the dramatic late winner thing. What we have hear is your basic nil-nil draw on the road. I'll take it.

See you Wednesday for Toronto.
July, 19, 2010
7/19/10
8:53
AM CT
By
DJ Walker
| ESPNDallas.com
MEMO

TO: Curt Onalfo, DC United
FROM: DJ Walker, 3rd Degree
RE: Andy Najar

Dear Curt:

Congratulations on finding and developing Andy Najar. He is clearly the real deal, and at 17, will no doubt be a major force in MLS for years to come (provided you can afford to keep him around once the European leagues get wind of him).

Now, I notice, looking at the lad's biographical information, that he is from the Honduras. I also notice, from reading the Wikipedia (and the Wikipedia wouldn't lie), that he has been in the United States since he was 13. Also, to the best of my knowledge (and by that I mean, I couldn't find anything on the Google) he hasn't been capped for the Honduras.

Curt, do you see what I'm getting at here? Do I have to spell it out?

Fine. I'll spell it out.

Curt, I think your duty, as an American, is clear. Get this kid on track for citizenship. 2014 will be here before you know it, and we can use all the help we can get. The kid's got game. We need game. I know we did fairly well in South Africa, but that does not change the simple fact - America needs game.

Get it done, Curt. If you have to marry him off to a member of your family, get it done.

Do it now.

For your country, Curt . . . for your country.

Your pal,

DJ
July, 16, 2010
7/16/10
11:09
PM CT
By
DJ Walker
| ESPNDallas.com
So, I'm watching the Seattle/DC match on Thursday Night Football (because 'Burn Notice' wasn't on yet) when I see something I never thought I'd see: American fans booing Kasey Keller.
It seems KK twisted his ankle pretty violently. He stayed on the ground for a few minutes, then had the gall to remain in the game and, like a man, continue shutting out United. Every time he touched the ball after that, the DC fans had the temerity to boo him, as if he had been dpretending to be hurt.
Where to begin?
Well, first of all, ankle injuries hurt. A lot. And if you saw the replay, and you have ever really hurt your ankle, you probably got a little dizzy. It hurts like . . . it hurts like a really bad word used as a substitute for coming up with a simile for something that hurts really bad. Just because it stops hurting, slightly, after a few minutes doesn't mean anything, apart from the fact that Kasey Keller is to soccer what Chuck Norris is to . . . well, everything. Only an idiot could entertain the notion Kasey Keller was faking the funk.
But that's really beside the point.
The point is that Keller has done enough in his career to get a free pass, or at least the benefit of the doubt, from any fan in this great land of ours.
What is wrong with you people there in DC? Booing Kasey? It's like booing George Washington. It's like booing Major Dick Winters, or Audie Murphy. It's like booing you mom while throwing an apple pie in the dirt while blowing your nose with the American flag.
Look, I know that being a hero for the national team doesn't automatically give you a free pass. As much as I love Landon Donovan, I'm still going to rag him unmercifully next time he plays Dallas. He'll understand. Same with Edson Buddle. Everybody really likes the kid, and rightly so, but when he shows up in Frisco wearing a Galaxy jersey, people are going to question his masculinity and genealogy, and there's no two ways about that. We're compelled to do it. It's our duty, nay, our calling. That's the way it goes. And next time he puts on the USA colors, he'll be our guy again. This is the way of our tribe.
But not Kasey.
Have you guys forgotten
?
Kasey gets a free pass. End of story.