March, 2, 2012
3/02/12
11:05
AM CT
By
Todd Date
| ESPNDallas.com
I caught up with FC Dallas head coach Schellas Hyndman a couple days ago from Florida and discussed a wide array of subjects. Here are his thoughts on several trialists.

Ivory Coast Forward Dogba

Hyndman: We did not keep him. We sent him back.

Mexican Forward Juan Carlos Enriquez

Hyndman: He comes out of Santos Laguna where he played last year. I think he's 20 or 21. He's got some very good technical ability. He reads the game very well. I think again, the speed of play, the intensity, those types of things he has to adjust to and being on trial, there's not a lot of time to adjust to these things.

Houston native and defender Christian Ibeagha

Hyndman: Christian is a solid player. He's athletic. He reads the game pretty well, strong. We're just a little concerned and continue to work on his distribution. As a center back, you can't be under hitting a pass in the midfield or missing a target player. Those are some of the things the more we're working with him, the more we gear towards possession exercises and put him into game-like situations the better he'll be at that.

Supplemental pick Alex Lee

Hyndman: We like him. He played for a very good university, so he's got strong fundamentals, two-way player. He reminds me a lot of Zach Loyd. There's some similarities there. We just need to see more and more of him.

French Midfielder Geoffrey Tulasne

Hyndman: I'm not real sure how you pronounce it. I just call him Geoffrey, by his first name. But nice resume, played at a high level in France. Probably a little bit of a detour in his career, which kind of makes him available for us so we're looking at him. Left midfielder, right midfielder, second striker, much more of a strike force. We looked at him yesterday and we'll look at him again for 45 minutes tomorrow [Thursday].
February, 18, 2012
2/18/12
3:59
PM CT
FC Dallas defeated the University of Tulsa men's soccer team 5-1 today on the adidas Field at FC Dallas Stadium. Dallas got two goals each out of forwards Blas Perez and Scott Sealy in the victory.
The game got off to a slow start for FC Dallas. The team surrendered a 1-0 lead in just the fifth minute when Tulsa's Bryce Follensbee got a jump on the FC Dallas defense. The speedy forward arrived first to a through ball played into the top right corner of the area and was taken to the ground by FC Dallas center back Ugo Ihemelu. Without hesitation, the referee awarded a penalty kick, which was converted by teammate Omar Mata.
[+] Enlarge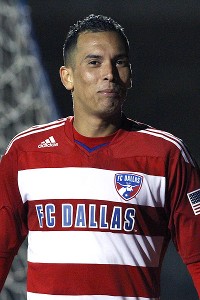 Courtesy of Matthew Visinsky/3rd Degree Blas Perez
FC Dallas settled down and found an equalizer in the 25
th
minute when Perez benefited from good combination play between Zach Loyd and Andrew Jacobson. After controlling the ball on the right flank, Loyd played Jacobson a through ball near the top of the area. Jacobson turned with the ball and knocked a lateral centering pass in on the floor to Perez, who controlled the ball well under pressure and finished low to the right side of Tulsa goalkeeper Mark Pace.
Brek Shea started the sequence that gave Dallas a 2-1 lead just before halftime. The midfielder controlled the ball at the top of the box with his back to goal before being knocked to the ground by a Tulsa defender. The foul earned Dallas a penalty kick, which was converted by Perez with a sharp pass into the lower right corner of the goal.
Dallas brought on 10 new players to begin the second half and got a goal from Sealy just 12 minutes later. The play began when right back Scott Gordon intercepted a pass near midfield and pushed the ball up the middle of the field to Bryan Leyva. Leyva turned and slotted a pass through Tulsa's defense to Sealy, who spun and fired a low shot past the right arm of goalkeeper Mike Murray to make it 3-1.
University of Maryland product Alex Lee had a strong half. He set up both of FC Dallas' final goals to help the team to a 5-1 victory. The first came in the 64
th
minute when Lee got the ball on the right flank and slid a pass inside to Dogba. The Ivory Coast forward finished cleanly, hitting a sliding shot to the back post with his first touch.
Lee beat a trio of Tulsa defenders on the dribble to setup the final goal. His pass inside to Sealy put the forward in position to give Dallas a 5-1 lead, but a Tulsa defender drug the Trinidadian native to the ground, forcing the referee to once again point to the spot. Sealy converted the penalty with a hard blast down the middle of the goal.
FC Dallas will play its final preseason tune-up in Frisco on Wednesday morning before departing to Orlando, Fla. to take part in the Walt Disney Pro Soccer Classic. FC Dallas will face the U.S. U-23 National Team in that match, which will be played on the adidas Field at FC Dallas Stadium at 10 a.m.
Scoring Summary:
TUL – Omar Mata (PK) 5
DAL – Blas Perez (Andrew Jacobson, Zach Loyd) 25
DAL – Perez (PK) 44
DAL – Scott Sealy (Bryan Leyva, Scott Gordon) 57
DAL – Dogba (Alex Lee) 64
DAL – Sealy (PK) 79
Misconduct Summary:
NONE
Lineups:
FC Dallas – Kevin Hartman, Jair Benitez, Ugo Ihemelu, Hernan Pertuz, Zach Loyd, Brek Shea, Bobby Warshaw, Andrew Jacobson, Andrew Wiedeman, Blas Perez, Fabian Castillo.
FC Dallas (2
nd
half) – Chris Seitz, Moises Hernandez, Matt Hedges (Jack Stewart 73) Christian Ibeagha, Scott Gordon, Jonathan Top, Bryan Leyva, Bobby Warshaw, Alex Lee, Scott Sealy, Dogba.
Tulsa – Mark Pace (Mike Murray 45), Jake Dobkins (Ian Mussman 77), Quinn Starker, Wayne Farmer (SeoHyun Kim 64), Leo Smith (Jon Wright 39, Matt Boullt 45), Kyle Cummings (Tom Gaus 39, Kyle Cummings 64), Omar Mata, Tony Rocha, Bryce Follensbee (Jon Wright 45), Abe Matamoros (Dillon Alexander 64), Steve Roberson (Tom Gaus 84).
February, 16, 2012
2/16/12
12:38
AM CT
FC Dallas defeated SMU, 4-0, in a preseason scrimmage at the Mustangs' Westcott Field Wednesday night. Visit to his alma mater marked Daniel Hernandez's return to the FCD lineup.

The Dallas side got on the board in just the sixth minute when Blas Perez sent a through ball in behind the SMU defense for right midfielder Andrew Wiedeman. The third-year man controlled the ball and ran towards the top right corner of the six-yard box before firing a shot high over the left shoulder of goalkeeper Jamie Ibarra. The goal was the fourth in the last two games for Wiedeman.

After a pair of near-misses, Perez found the back of the net with a header in the 22nd minute. Zach Loyd collected a pass near the corner flag on the right flank and struck a line-drive cross into the center of the area. Perez rose above the pack to redirect his shot just inside the far post from 12 yards out.

FC Dallas rolled out a whole new lineup in the second half, needing 14 minutes of action to score its third goal of the night. The goal was set up by Ivory Coast native Dogba, who raced to the end line to keep the ball in bounds before delivering a centering pass in on the ground to Jeison Quinonez. Unmarked at the back post, Quinonez finished easily to give Dallas a 3-0 lead.

Six minutes later, FC Dallas Homegrown player Bryan Leyva forced a turnover deep in SMU territory. After gaining possession, the 20-year-old midfielder carried the ball into the area and beat SMU goalkeeper Devin Cook with a shot high to the back post.

Scoring Summary:
FCD – Andrew Wiedeman (Blas Perez) 6
FCD – Blas Perez (Zach Loyd) 22
FCD - Jeison Quinonez (Dogba) 59
FCD – Bryan Leyva 65

Misconduct Summary:
None

Lineups:
FC Dallas – Kevin Hartman (Chris Seitz 65), Jair Benitez, Ugo Ihemelu, Hernan Pertuz, Zach Loyd, Brek Shea, Daniel Hernandez, Andrew Jacobson, Andrew Wiedeman, Blas Perez, Fabian Castillo.
FC Dallas (2nd half) – Kevin Hartman, Moises Hernandez, Matt Hedges (Jack Stewart 74), Christian Ibeagha, Scott Gordon, Jonathan Top, Bobby Warshaw, Bryan Leyva, Dogba, Scott Sealy, Jeison Quinonez (Kleyner Bejarano 74).

SMU – Jamie Ibarra (Devin Cook 45), Dylan Schauder (Chris Sendejas 36), Aaron Sim, Max Rockwell, Ryan Rosenbaurn, Damian Rosales (Will Smith 36), Zach Barnes, TJ Nelson, Tyler Engel, Juan Castillo (Max Rockwell 61), Ben Hill.