Dallas Soccer:

Edson Edward
November, 16, 2011
11/16/11
6:30
PM CT
By
Todd Date
| ESPNDallas.com
With the 2011 off-season now just over two weeks old for FC Dallas, it's time to look at which players might remain in the fold for 2012 or which might be sent packing? This is just one individual's opinion but here's a take on four players who fall on both sides of the ledger:

Four to Drop

Edson Edward D---Seeing this guy make the opening-day roster in preseason 2010 was one heck of a great story, especially with him being from an NAIA school in Canada. He even got to make his MLS debut late last season. However, a knee injury sidelined him for all of 2011 and it would have been unlikely to see him make the roster anyway. Still, he's a great kid with some solid skills who could get another shot in this league or maybe in the NASL.

Maykel Galindo F---Galindo came to FCD with a great attitude and a great mentality. However, there was one small issue with the Cuban-born striker, he wasn't exactly fit when he arrived here early in the year. That lack of fitness ended up costing him dearly as it seemed like every time he got close to regaining his health, he suffered a setback in the form of some nagging ailment. He did get healthy toward the end of the year and did log some minutes with the first team but the results just weren't there. It was worth a shot but this is one experiment that just didn't work.

Jeremy Hall D---Hindsight is always 20/20 but there are few who follow this club that liked this deal from the start. After all, the trading of Eric Alexander out of the midfield was unpopular on several fronts. One, it sent to Portland a kid who had become a fan favorite and two, it ended up being a bad move because midfield depth wasn't exactly the strength the FCD brass thought it was and this team definitely could have used Alexander down the stretch. Hall still has a great upside but hasn't really cut it with New York, Portland or now with Dallas. Maybe it's time we all realize he's nowhere near the player in MLS that he was during his college days at Maryland.

Josh Lambo GK---Nothing against Lambo but he hasn't really shown a great deal since he's been here. Sure, there have been several injuries for him to contend with and he has been a Generation Adidas player but for a guy who was drafted so highly not all that long ago, where are the returns on this pick? Some thought him getting married during last off-season would result in a more mature and focused 'keeper and for some of the time, it did. But with the emergence of Richard Sanchez from the FCD Academy, there really isn't room for Lambo, so if indeed he graduates from GA status, he's likely gone before 2012.

Four to Keep

Daniel Cruz M---Sure, Cruz didn't exactly set the world on fire in his 10 games with FCD, six of which were starts. However, he did have one goal and one assist and did show flashes of some solid skill while on the ball. For a team whose midfield depth has now become somewhat of an issue, especially down the stretch of the recently-concluded 2011 season, keeping Cruz at least to start the season makes absolute sense. Now if he doesn't show something else early on, it wouldn't be a huge shock to see him go because if Dallas fans know anything, it's that gaffer Schellas Hyndman is never afraid to make a move if he feels it will better his club.

Bruno Guarda M---Guarda saw time in 11 games, five of them starts and contributed two assists in 2011. And it is a fair point that he hasn't even come close to being the star he was during his college years at SMU. But when healthy last season, he gave FCD a viable option in the middle of the park and at times, he was a more than able fill-in at linking mid with starter Andrew Jacobson battling knee issues for much of the year. If not just from a depth standpoint, Bruno has value on this team. The big question is whether or not Hyndman can find an upgrade over the former Mustang this off-season. If that's the case, then Guarda's time playing under Hyndman will effectively be over.

Maicon Santos F---To put it bluntly, Santos was the soccer equivalent of ex-big leaguer Kurt Bevacqua. If you don't get the reference, former Dodger manager Tommy LaSorda once put it oh so eloquently in a rant that is forever immortalized on YouTube saying that Bevacqua couldn't hit water if he fell out of a [expletive] boat. It was about that bad for Santos in his 11 games, nine of which were starts this year in league play. Maicon took a total of 40 shots, 11 of which were on frame and only two of those went in. That's a success rate of a paltry five percent for those of you scoring at home. While this cold streak was going on, it turns out that he had been bothered by a tooth issue and had taken drugs for that ailment, which was affecting his play. But what about after his tooth healed? There was little if any difference. Santos likely starts 2011 with FCD but he will be on the shortest of leashes and if there is any hint of his finishing problems in 2012, then he could join the long list of former Dallas strikers who have been cut.

Ricardo Villar M---Villar's first few months with FCD were pretty uneventful to say the least. He did start early in the year against San Jose and the results were underwhelming at best. The Brazilian-born midfielder was a bit miffed that he wasn't getting more playing time, to which Hyndman replied he needed to show more during training. But to Villar's credit, he did the work in training to eventually earn a spot on the field and made some fairly notable contributions during the US Open Cup, an event where Dallas advanced all the way to the semifinals. Still, the big question with him is he a starting-caliber player, especially on this team? That remains to be seen but even if he isn't, he could still be a valuable piece if not just for his set piece prowess heading into the 2012 season.
November, 15, 2011
11/15/11
11:22
AM CT
By
Buzz Carrick
| ESPNDallas.com
The 2011 MLS Expansion Draft is right around the corner (November 23rd). FCD is in the process of finalizing their protected list. But rather than wait for them to announce it, we're going to take a guess.

Each MLS team will submit a list of 11 protected names that coach Jesse Marsch and the expansion Montreal Impact can't draft.

In addition automatically protected are all the Home Grown and Generation adidas players. CD currently has eight of them: Josh Lambo, Andrew Wiedeman, Bryan Leyva, Ruben Luna, Victor Ulloa, Moises Hernandez, Jonathan Top, and Richard Sanchez. Any player graduating from Generation adidas (Josh Lambo?) will do so before the expansion draft and won't get automatic protection.

So here's our educated guess at the 11 FCD protected players.

1. David Ferreira - the 2010 MLS MVP. Injured all of 2011. Still a dead solid lock to be protected.

2. Brek Shea - the 2011 FCD MVP and a finalist for MLS MVP. Also a dead solid lock to be protected.

3. Kevin Hartman - The best keeper in MLS the last two years in many minds.

4. Marvin Chavez - FCD's second leading scorer in 2011 as he became the player FCD thought they were getting.

5. Ugo Ihemelu - The defensive leader for FCD. Hyndman raves about Ugo every chance he gets.

6. George John - Hyndman says the transfer thing is all water under the bridge. All it good.

7. Jair Benitez - FCD just gave him an extension. Oh, and speed kills.

8. Zach Loyd - By the end of 2011 the for sure starter at right back and he's even in the US National team pool.

9. Andrew Jacobson - When not injured he was one of FCD's best mids, led FCD is assists.

10. Fabian Castillo - You don't pay what FCD paid for this kid and then let him get taken in an expansion draft.

11. Jackson - Some days he's the best player on the field, some days he's a liability. Just to much talent to let go.

Which leaves a list of 10 names unprotected for Montreal to pick from. FCD could lose one, but only one, of these players. Let's look at each and talk about why I think FCD will expose them.

Daniel Hernandez - The captain and my 2nd place FCD MVP. Yes, he's a vital part of FCD... but he's 34. Montreal would never pick him.

Chris Seitz - A danger to get taken, has been an MLS starter and an expansion team could get a solid keeper here. When you have Kevin Hartman, a 2nd keeper is a luxury you can't afford to protect.

Ricardo Villar - Turned out to be a nice player down the stretch although more production would be nice. Would he start in Dallas if everyone was healthy? No. so he'll be exposed. Another player in risk of being taken.

Maicon Santos - Didn't produce the goals FCD needs up top, but has been a decent player for a couple clubs. A player an expansion team might take a shot on.

Daniel Cruz - Have we even seen what this guy is really like, he's only been in Dallas a short time. Does anyone else even know what he is about? There's just no room for him to be protected.

Bobby Warshaw - A talented young holding mid or defender with a bunch of upside, versatility and soccer smarts. A Hyndman kind of player. But not yet good enough to be protected. It would be a shame to lose him too.

Bruno Guarda - One of Hyndman's boys, but little risk he gets nabbed at his contract number.

Jeremy Hall - Played with an injured groin from the TFC CCL game (and a half) on. For a player who relies so much on pace, a groin injury is debilitating. His contract number means he won't get picked even if someone thinks he might fill out their back line.

Mykel Galindo - Injuries have killed his career. Low risk since FCD is almost certainly gonna waive him anyway. So if you want him just wait for the waiver.

Edson Edward - Out for a year injured, it will be very tough for him to make the FCD roster in 2012. I doubt he would have made it in 2011 if not for the injury.
June, 21, 2011
6/21/11
7:13
PM CT
By
Buzz Carrick
| ESPNDallas.com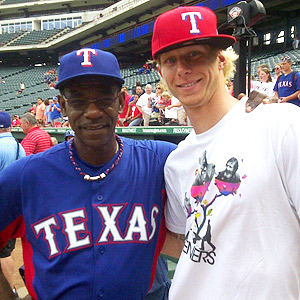 Courtesy of FC DallasFC Dallas' Brek Shea (right) took some time to greet Rangers manager Ron Washington on Monday.
Several FC Dallas players took in the Texas Rangers game Monday night. Brek Shea even joined the home broadcast to talk FCD soccer.
FC Dallas is hosting the Venezuelan national team this week and the Rangers game event had been set up to take some of their players to the game. But the Venezuelans were stuck in team meetings and were unable to make the game.
That apparently didn't stop Shea and the rest of the FCD boys from having a good time.
I don't have a complete list, but based on the pics I've seen it looks like Ugo Ihemelu, George John, Edson Edward, Bobby Warshaw and Milton Rodriguez were among the Rangers watchers.
May, 8, 2011
5/08/11
10:01
AM CT
By
Buzz Carrick
| ESPNDallas.com
As they do everyone year,
the MLS Players Union has released the salaries for their players for the 2011 season
. I have pulled out the FC Dallas salaries from there data.
Senior Roster
These players all count against the salary cap, but as I mention every year, these are NOT the salary cap numbers. As a prime example of this I mention Fabian Castillo and his $42,000 salary.
Castillo, as we know, is a designat Player this year and this year only because of the transfer fee MLS/FCD paid for him. Transfer fees are included in the salary cap number. So Castillo's Salary cap number is the DP number of $335,000 and not the $42,000 he gets paid.
The two numbers listed for each player are his base salary and the guaranteed compensation he will get with bonuses.
| | | | |
| --- | --- | --- | --- |
| Eric | Alexander | 46,750.00 | 46,750.00 |
| Eric | Avila | 100,000.00 | 133,000.00 |
| Jair | Benitez | 150,000.00 | 171,250.00 |
| Fabian | Castillo | 42,000.00 | 42,000.00 |
| Marvin | Chavez | 50,000.00 | 50,000.00 |
| Kyle | Davies | 62,500.00 | 62,500.00 |
| Edson | Edward | 42,000.00 | 42,000.00 |
| David | Ferreira | 600,000.00 | 705,000.00 |
| Maykel | Galindo | 55,404.00 | 55,404.00 |
| Jackson | Goncalves | 84,000.00 | 105,375.00 |
| Bruno | Guarda | 48,000.00 | 63,000.00 |
| Kevin | Hartman | 155,000.00 | 175,000.00 |
| Daniel | Hernandez | 160,000.00 | 172,500.00 |
| Ugo | Ihemelu | 170,000.00 | 170,000.00 |
| Andrew | Jacobson | 45,000.00 | 45,000.00 |
| George | John | 42,000.00 | 42,000.00 |
| Zach | Loyd | 52,250.00 | 96,875.00 |
| Milton | Rodriguez | 198,000.00 | 228,000.00 |
| Chris | Seitz | 100,000.00 | 100,000.00 |
| Brek | Shea | 100,000.00 | 133,000.00 |
| Ricardo | Villar | 150,000.00 | 150,000.00 |
Developmental Roster
These 10 players do not count against the salary cap.
| | | | |
| --- | --- | --- | --- |
| Moises | Hernandez | 42,000.00 | 44,500.00 |
| Josh | Lambo | 100,000.00 | 133,000.00 |
| Bryan | Leyva | 55,000.00 | 70,833.33 |
| Ruben | Luna | 55,000.00 | 74,500.00 |
| Peri | Marosevic | 80,000.00 | 129,000.00 |
| Richard | Sanchez | 32,600.00 | 33,600.00 |
| Jonathan | Top | 32,600.00 | 32,600.00 |
| Victor | Ulloa | 42,000.00 | 44,500.00 |
| Bobby | Warshaw | 42,000.00 | 53,250.00 |
| Andrew | Wiedeman | 75,000.00 | 118,000.00 |
Some thoughts and observations…
Castillo could be a developmental player based on his salary if not for the DP transfer status.
Kevin Hartman got a nice raise this year as last year he was on $75 K - $80 K. He's more where he should be this season.
Underpaid based on PT/value? Marvin Chavez and George John. Maybe Andrew Jacobson at this rate.
Overpaid? Milton Rodriguez and Ricardo Villar. One might be tempted to add the GA players, but they are paid on a league standard.
Ricardo Villar makes the same base as Dax McCarty, which is surprising given salary as one of the reasons FCD let McCarty go… although I believe McCarty's deal escalates the next few seasons.
I like seeing Leyva and Luna with the potential to make big jump with bonuses.
February, 23, 2011
2/23/11
2:55
PM CT
FC Dallas defender Edson Edward underwent surgery on his right knee yesterday. Dr. Tarek Souryal from Texas Sports Medicine and Orthopaedic Group successfully reconstructed Edward's ACL and repaired his lateral collateral ligament.

Edward injured the knee during an indoor training session at Fieldhouse USA on Feb. 3. The team had moved indoors after snow and ice blanketed the DFW Metroplex. Recovery is expected to take six to nine months.

February, 16, 2011
2/16/11
7:37
AM CT
By
Todd Date
| ESPNDallas.com
Here's the latest form after Tuesday's scrimmage.

Kyle Davies D - Should miss next two months; currently in walking boot, which he said he should get off next week.

Edson Edward D - Having ACL surgery this week; timetable for return unknown.

Ugo Ihemelu D - Had sports hernia surgery last week; Hyndman would like to have him ready in time for regular season opener on 3/19.

George John D - Is back in training but is still limping a bit; FCD is still taking a cautious approach with him.

Daniel Hernandez M - Returned to training on Monday but club is being cautious; don't want to risk anything.

Charlie Campbell M - Has hamstring pull; that has to hurt chances of making team.

Zach Loyd D - Back in training for Monday evening session after missing Saturday game with eye injury
February, 12, 2011
2/12/11
11:19
AM CT
By
Buzz Carrick
| ESPNDallas.com
According to FC Dallas here is the list of player missing from today's scrimmage down in Corpus against Houston.

Heath Pearce - back/hip problem
Zack Loyd - got poked in the eye in training
Daniel Hernandez - recovering from off season surgery
George John - recovering from bone spur removal
Kyle Davies - ankle surgery
Ugo Ihemelu - surgery this week
Charlie Campbell - hamstring injury this week ("tweaked")
Peri Marosevic - foot problem
Edson Edward - ACL tear

As a reminder today's scrimmage at 2 PM CT will be streamed live on FCDallas.com.

February, 7, 2011
2/07/11
5:06
PM CT
By
Buzz Carrick
| ESPNDallas.com
FC Dallas reserve defender Edson Edward tore the ACL in his right knee during training on February 3rd. The second-year player suffered the injury during an indoor training session at Fieldhouse USA.

Team doctors determined the defender tore his ACL during a MRI examination over the weekend. FCD says Edward will not undergo surgery until the swelling in the knee subsides.
July, 29, 2010
7/29/10
9:45
PM CT
By
Barry Wallace
| ESPNDallas.com
FC Dallas has a press conference set for 10:30 AM tomorrow to add three players. Here's a look at who these new faces could be:

Jackson - Brazilian right back was on trial during World Cup break back in June and played in friendly at West Texas United Sockers. Consensus on him is that he's OK but wasn't all that impressive in practice. FCD head coach Schellas Hyndman does have a serious affinity for South American players. With Zach Loyd recently playing in middle, does Jackson automatically become Heath Pearce's backup on the right? It looks that way. FCD officials have been saying for the last few weeks that this signing was in the works and that things were progressing.

Ruben Luna - Many FCD fans probably say about time concerning this addition. Luna has been a standout from the Juniors program and will occupy the team's second Homegrown Player spot, which means the club doesn't have to clear a spot for him. Luna is a great kid and a talented forward. Like Bryan Levya, who was signed in 2009, he has an incredible upside, potential that Hyndman would like to see develop through more first-team action.

Another Forward - It's unclear where FCD might go with the third player added but that individual could very well be another striker. Jeff Cunningham is clearly not cutting it and he could be at the end of his rope with the club even though he's set to make over $200,000 this year. The early returns on Milton Rodriguez are good and for now, he remains the club's lone striker. However, Hyndman has made no bones about wanting to go into a 4-4-2 in the future and since it looks like Cunningham won't be up top alongside Rodriguez, there aren't any other realistic possibilities on the roster. Generation adidas player Peri Marosevic is nowhere near ready and while Atiba Harris has played some up top, Hyndman likes him where he's at, on the right flank.

IMPLICATIONS

As noted, no roster move will be necessary to add Luna but adding Jackson and another player means roster moves could be made. Here's a look at who could be headed out of town:

Eric Avila, M - At one time, Avila had found a niche with Hyndman as his preferred "energy guy" off the bench and there has never been any question about the immense potential the easy going kid from San Diego had. However, while he has made strides toward being the type of two-way player Hyndman wants in his first 11, Avila has recently fallen out of favor with the FCD gaffer, around the time that Marvin Chavez was getting minutes in the starting lineup and also off the bench. By all accounts, he hasn't responded in a positive way and has been left off the 18-man game roster for the last few games, meaning he could be headed elsewhere.

Marvin Chavez, M - The sample size for Chavez's body of work isn't that big but after a run of several games where he got considerable minutes, the Honduran has seen his playing time dry up entirely. When he was on the field in starts at Chivas USA, at home against Kansas City and at Seattle, the Son of the Wind displayed his considerable pace but as fast as he was, he was just as bad at finishing his chances. Sounds like a forward FCD had a few years back who is now playing in Houston. Maybe Hyndman now realizes what Chavez truly is and decides to go in a different direction.

Jeff Cunningham, F - It's no big secret that with just four goals this year, including just one from the run of play, Cunningham has struggled mightily. This is a contract year for the veteran striker and while he has gotten over a spell where he was sulking and wasn't one of the last players to leave the field, now that newcomer Milton Rodriguez is scoring goals, it looks like his time with FCD is nearing an end. His big salary might be a deal breaker for most teams but if FCD can find a taker, wouldn't be shocked to see Cunningham head to another team.

Kyle Davies, D - Davies played well for the first hour of the season opener on March 27 against Houston. That was before he suffered a broken right arm that put him on the shelf for several months. He has returned but has found playing time non-existent since Ugo Ihemelu and George John are both durable and consistent in the middle. Davies is still just 23 and could be swapped for some allocation money or a late-round pick. It was interesting in Saturday's game against Toronto FC that when John left the field with an injury in the second half, Hyndman went to Loyd instead of Davies for a full-in at center back. That move might speak volumes about where Davies ranks on the depth chart these days.

Edson Edward, D - The big Canadian impressed many by making FCD's roster out of preseason but like Davies, he hasn't had any opportunities with the first team. Hyndman regarded Edward as a project with a big upside when he signed him. Now the question is whether or not he still sees that same upside or feels like it's time to go in a different direction.

Anthony Wallace, D - A first-round pick in 2007 under then head coach Steve Morrow, Wallace or "Wally" as he's called, has never really blossomed into the player many thought he would become. He has had his fair share of opportunities but he's just never been able to exhibit the strong mental game to accompany what is an impressive set of physical skills. Wallace could also be dealt for allocation money or a pick because he did just turn 21 and could still thrive in another setting.

COULD THE THIRD SIGNING BE A DP?

There is some speculation that the third signing could indeed be a Designated Player. Given what a catastrophic FCD's first venture into the DP world was, Denilson, who was clearly past his prime and contributed very little, have to say this scenario is pretty unlikely. Hyndman has stated that bringing in a DP would be a huge move the club wouldn't be willing to make. However, since the only glaring need for the team currently exists up top, if they could find a striker to play alongside Rodriguez up top, which would allow Hyndman to shift into a 4-4-2. If they do sign a DP, conventional wisdom has to be that player would be a forward.