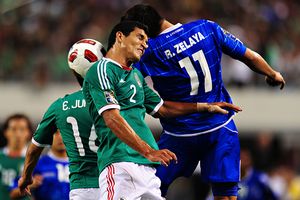 ARLINGTON, Texas -- It's hard to believe it was scoreless match at halftime. Mexico fired in three goals in four minutes en route to a 5-0 victory over El Salvador in CONCACAF Gold Cup action.
ARLINGTON, Texas -- Mexico and El Salvador have been evenly matched in a scoreless first half of a CONCACAF Gold Cup contest at Cowboys Stadium.Mexico had four shots in the first half, one on goal.
ARLINGTON,Texas -- The crowd inside Cowboys Stadium during the start of the first match of the 2011 CONCACAF Gold Cup doesn't match what was seen in the parking lots earlier in the day.
Country: El SalvadorGold Cup appearances: 7 (1996, 1998, 2002, 2003, 2007, 2009, 2011)How they qualified: El Salvador finished fourth in the 2011 Copa Centroamericana, losing to Panama in the third-place match on penalty kicks.
According to CONCACAF, more than 40,000 tickets have alraady been sold for the June 5 opener at Cowboys Stadium in Arlington, TX. The Group A doubleheader includes Costa Rica vs.
CONCACAF has announced the groups and filled in the schedule for the 2011 Gold Cup. Group A will be playing at Cowboys Stadium led off by Mexico. Costa Rica, El Salvador, and Cuba make up the rest of the group.