Dallas Soccer:

El Salvador
June, 5, 2011
6/05/11
11:13
PM CT
By
Master Tesfatsion
| ESPNDallas.com
ARLINGTON, Texas -- It's hard to believe it was scoreless match at halftime. Mexico fired in three goals in four minutes en route to a 5-0 victory over El Salvador in CONCACAF Gold Cup action. Man of the Match Javier "Chicharito" Hernandez gave the sellout crowd at Cowboys Stadium a hat trick in his first Gold Cup game.
* Efrain Juarez scored in the 55
th
minute to break the tie in an unconventional way. Juarez's off-balance shot was deflected off El Salvador keeper Miguel Montes. The ball bounced in front of Juarez as he fell down in the goalie box and headed it in the net.
* Jesús De Nigris entered the game for Israel Castro in the 57
th
minute and scored a minute later from Andres Guardodo's assist to make it 2-0.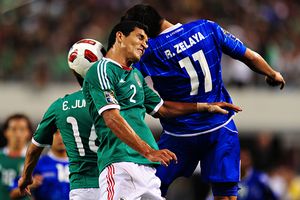 Robyn Beck/Getty ImagesMexico's Francisco Javier Last Rodríguez Pinedo (2) and Efraín Juárez Váldez go for a header against El Salvador's Rodolfo Antonio Zelaya García.
* Hernandez took over thereafter to seal the deal for the defending Gold Cup champions with Guardodo's help. He scored in the 59th and 67th minutes from Guardodo's assists. Marvin's Gonzalez's red card in the penalty box allowed Chicharito to end the game on a penalty kick in the 95th minute, giving him the hat trick.

"The most important thing for me is the three points," Hernandez said. "I don't care if I score. Sometimes I won't. The main thing is we won."

* Mexico head coach Jose Manuel De La Torre carried the same "team" tone about Hernandez's performance.

"[Hernandez] had the good fortune to score, but as a result of the team play," De La Torre said. "That's what the forwards are in there to do."

* Mexico's support was greater than that for El Salvador, Costa Rica and Cuba combined. It was evident while watching the majority of the 80,108 fans scream at the top of their lungs when Mexico scored. You couldn't find a section that wasn't flooded with red, white and green color combinations.

"Its unbelievable the support that we have from Mexicans who live here," Hernandez said. "You can see it with your own eyes: 80,000 people and most of them in green shirts, and it means a lot to us."

* Mexico hasn't lost a Gold Cup game since the 2007 final against the United States, 2-1. El Tri's next match is against Cuba, a team that lost 5-0 to Costa Rica on Sunday and is 0-1-7 in its last eight Gold Cup matches.

* El Salvador is now 4-1-11 in Gold Cup play since 2000. Los Cuscatlecos have only played together for 30 days but battled in the first half against El Tri. El Salvador displayed its lack of chemistry in the second half, as it was unable to rebound from Juarez's score. It managed only one shot on goal in the second half, two in the game on 11 tries. El Salvador looks to bounce back against Costa Rica on June 9.

"I think we change the page and look ahead," El Salvador head coach Ruben Jorge Israel said. "It doesn't end or start with one game. Our motivation is an area of importance for us now, but also we need to focus on the field. We just have to get better in certain areas.

"Costa Rica is a very good team and a team that we know. It's a very important tournament for us and we have the same chance as both Cuba and Costa Rica."
June, 5, 2011
6/05/11
8:28
PM CT
By
Master Tesfatsion
| ESPNDallas.com
ARLINGTON, Texas -- Mexico and El Salvador have been evenly matched in a scoreless first half of a CONCACAF Gold Cup contest at Cowboys Stadium.

Mexico had four shots in the first half, one on goal. Andres Guardado's missed header from inside the goalie box was El Tri's best shot at a goal. Rising international sensation Jaiver "Chicarito" Hernandez's only highlight was a yellow card issued in the 27th minute. He's been pretty quiet offensively for Mexico. Francisco Rodriguez was also booked a yellow card in the 28th minute.

El Salvador also had its chances to score with one on goal in five attempts. Despite the discrepancy in fan support compared to Mexico, El Salvador doesn't have any bookings and committed five fewer fouls, 11-6, than El Tri.

The atmosphere has been nonetheless electric throughout the tie game. Even with a NBA Finals game being played 20 minutes away, 80,108 fans have made it pretty difficult to find an empty seat in the house.
June, 5, 2011
6/05/11
5:28
PM CT
By
Master Tesfatsion
| ESPNDallas.com
ARLINGTON,Texas -- The crowd inside Cowboys Stadium during the start of the first match of the 2011 CONCACAF Gold Cup doesn't match what was seen in the parking lots earlier in the day. Perhaps fans are making an inconvenient trip back to their cars after they attempted to enter the event with prohibited items.

The ever-so-popular vuvuzelas were blaring in the parking lots hours before the match between Costa Rica and Cuba, but they are prohibited inside the stadium.

Other items seen in the festive tailgating crowds that aren't allowed inside include stadium horns, outside food and beverage, drums larger than 17 inches, flag poles, sticks and flags that cannot be held by one person.

A sold-out crowd, where one ticket will get you into both matches, is expected, but the majority of the fans outside the stadium are representing Mexico and El Salvador, who play in the second game of the doubleheader.
June, 3, 2011
6/03/11
7:30
AM CT
By
Master Tesfatsion
| ESPNDallas.com
Country: El Salvador

Gold Cup appearances: 7 (1996, 1998, 2002, 2003, 2007, 2009, 2011)

How they qualified: El Salvador finished fourth in the 2011 Copa Centroamericana, losing to Panama in the third-place match on penalty kicks. The top five teams qualified for the Gold Cup.

Manager: Ruben Israel

El Salvador hopes to fare better in this Gold Cup outing than its previous appearance, when it failed to reach the second round with a 1-0-2 record. The country's best finish came in 2002 and 2003, when El Salvador reached the quarterfinals.

Los Custcatelcos hired Israel after this year's Copa Centroamericana. He hopes to lead El Salvador to its third World Cup berth. Its last appearance was in 1982.

The path starts against defending Gold Cup champion Mexico at Cowboys Stadium on Sunday. In its only Gold Cup meeting prior to Sunday's match, El Salvador lost 1-0 in the first round of Group A play in 2002.
May, 5, 2011
5/05/11
11:06
AM CT
By
Buzz Carrick
| ESPNDallas.com
According to CONCACAF, more than 40,000 tickets have alraady been sold for the June 5 opener at Cowboys Stadium in Arlington, TX. The Group A doubleheader includes Costa Rica vs. Cuba and Mexico vs. El Salvador, starting at 5 p.m. CT.

The presence of Mexico surely has something to do with the high demand it would seem.

GROUP A FIRST ROUND SCHEDULE
Sunday, June 5 – Cowboys Stadium (Arlington, TX)
Costa Rica vs. Cuba, 5 p.m. (6 p.m. EDT)
Mexico vs. El Salvador, 7 p.m. (8 p.m. EDT)

Thursday, June 9 – Bank of America Stadium (Charlotte, NC)
Costa Rica vs. El Salvador, 7 p.m. (7 p.m. EDT)
Cuba vs. Mexico, 9 p.m. (9 p.m. EDT)

Sunday, June 12 – Soldier Field (Chicago, IL)
El Salvador vs. Cuba, 5 p.m. (6 p.m. EDT)
Mexico vs. Costa Rica, 7 p.m. (8 p.m. EDT)

March, 8, 2011
3/08/11
10:36
PM CT
By
Buzz Carrick
| ESPNDallas.com
CONCACAF has announced the groups and filled in the schedule for the 2011 Gold Cup. Group A will be playing at Cowboys Stadium led off by Mexico. Costa Rica, El Salvador, and Cuba make up the rest of the group.
Mexico against El Salvador will be the second game at Cowboys on June 5th at 7 PM CT. Costa Rica and Cuba will play first at 5 PM CT. The complete Gold Cup Schedule can be found
here
.
2011 CONCACAF GOLD CUP"
GROUP A: Mexico, Costa Rica, El Salvador, Cuba
GROUP B: Honduras, Guatemala, Jamaica, Grenada
GROUP C: USA, Canada, Panamá, Guadeloupe
SCHEDULE
First Round
Sunday, June 5 – Cowboys Stadium (Arlington, TX)
Costa Rica vs. Cuba, 5 PM CT
Mexico vs. El Salvador, 7 PM CT
The three opening games for the United States are...
Tuesday, June 7 – Ford Field (Detroit, MI) USA vs. Canada, 7 PM CT
Saturday, June 11 – Raymond James Stadium (Tampa, FL) USA vs. Panama, 7 PM CT
Tuesday, June 14 – Sporting Park (Kansas City, KS) Guadeloupe vs. USA, 8 PM CT