March, 11, 2012
3/11/12
6:59
PM CT
By
Josh Turnbuckle
| ESPNDallas.com
First Touch: The 2012 version of FC Dallas looks and plays an awful lot like the FC Dallas of 2011 (i.e.: what's going on in the attacking third?)

Second Touch: The pairing of Ugo and Pertuz was rock solid and they were the team's best two players

The Finish: Winning in front of a sellout crowd is fantastic. But. If Ferreira doesn't return quickly, and like his former self, Hyndman's true coaching ability at the MLS level will get it's best test since his current roster simply doesn't have much creativity.

Hartman: 7 - Only asked to make a single save, but is anyone worried about Kev?

Benitez: 3 - Simply put, horrid. Bad passing, bad crossing, bad defending, ball watching on Cooper's goal

Pertuz: 8 - A wonderful debut and the team's best player on the day. More please

Ugo: 8 - Probably just as good as Hernan, but the other guy was unexpected

Loyd: 8 - Nice finish and hard work all around

Castillo: 6 - Just didn't see enough of the speedster with the ball, and then the injury

Shea: 6 - Brek looks like he has a governor on his throttle. Certainly learning to manage his playing time but it will come at the expense of what he brings to FCD.

Hernandez: 6 - Good Ol' Daniel. Solid as always but at this point in his career he's limited to cleanup in front of back line

Jacobson: 5 - A couple wicked flashes of skill, but too many turnovers

Villar: 6 - Just not an impact player in an impact position, but big +1 for the chipped finish

Perez: 7 - Big, shiny new target man. Should have scored. Appreciate the effort even late in the match

Subs:
Warshaw: 5 - Team lost some composure on his entrance, but was that his fault?
Rodriguez: 6 - Good fill in for Fabian and nice debut
John: 7 - Great to see him back, but Pertuz is going to make him work for a starting spot




August, 5, 2011
8/05/11
9:58
AM CT
By
Peter Welpton
| ESPNDallas.com
Good times continue in Frisco as FC Dallas completed their mission in their opening round of CONCACAF Champions League. The 2-0 aggregate over Alizana doesn't really tell the truth of just how superior Dallas was over the El Salvadorian side.

Not much to blather on about here, but a highlighter should be swiped across the performances of Hernandez, Villar and Guarda, who simply dominated the midfield for Dallas. Villar and Guarda in particular should be given extra credit for coming through will continuously improved performances at such a critical time in Dallas' season.

Seeing FCD play in a league different from MLS is such an odd and wonderful sight, and we can only hope the front office is successful in finding ways to attract fans to the upcoming group matches.

Dallas should take great pride in the flowing praise Alianza coach, Roberto Gamarra, heaped on the club, its coaches and players after the match. "They are very good. They have a great infrastructure here. They have good players, big players, physically, technically strong. They have everything to form a good roster that any coach would want to be in charge of this team. They are very balanced all over the field. They are difficult to beat because they are a solid team."

Grades:

Hartman: 8 - Didn't have to make the stunning save as in the first match, got lucky w/ the post on the chip - but remains a wall for Dallas

Loyd: 6 - Twice got murdered on a simple step over to the inside

George: 7 - Much better than the first match

Ugo: 9 - A really great performance all around

Benitez: 6 - His crosses were lacking all night and you wish he'd consider occasionally driving deep into the attacking 3rd just to change it up.

Shea: 4 - The target of a lot of attention, and he let it get to him. Hyndman needs to rest him as wear and tear is understandably showing

Chavez: 6 - So prefer him attacking from out wide than up top

Jackson: 5 - Oh how, Dallas cannot afford to lose him for a period of time

Hernandez: 7 - Free kicks aside, he's this team's driving force

Villar: 8 - Extra point because he's come so far and he's putting in 90 minutes

Guarda: 7 - Reduction of turnovers and lots of movement off the ball… Good boy.
July, 18, 2011
7/18/11
10:19
AM CT
By
Peter Welpton
| ESPNDallas.com
Dallas' scoreless tie against a growing D.C. United was one of those frustrating nights. Dallas did not play poorly. D.C. was never pushing to win the match and Hyndman's troops needed only a single moment to grab the three points.
While playing the superior match the accumulative effects of minutes and heat took its toll on Dallas as D.C. was content to soak pressure and also force Dallas to work harder than normal to advance the ball upfield.
While FCD created many attacking opportunities, again, it was one of those matches that the vast majority of them ended weakly. Dallas only managed to put two shots on frame -- a sad number considering their advantage in possession and the time they spent in the D.C. end of the field.
Working with yet another re-jiggered midfield, this time with Villar in the attacking spot, Dallas struggled to figure out the final third. Spending the first two thirds of the match in the 4-2-3-1 formation and the final portion in a 4-4-2 Hyndman's side just couldn't break down DC's backline and the work of its goalkeeper, Hamid.
The best moment of the match unfortunately fell to Chavez, who, ironically, might be the last player for FCD you want in this scenario. After winning the ball from the last defender at midfield, the speedy Honduran raced straight into the box only to butcher the shot and push the ball almost five feet wide to the left of goal. Jackson was also an option for Chavez, but the replay suggested he had drifted offside anyway.
Losing points to fall further behind LA and Seattle, Dallas now has the unenviable task of traveling back to the haunted confines of last November's MLS Cup defeat. This time Toronto is attempting a mid-season rebuilding and is due to debut its two new impressive European signings. You'd think the lack of their chemistry and time with their new club would come as an advantage to Dallas, but we all know how mid-week road matches tend to go.
GRADES:
Hartman - 7: Only had a single shot to snuff
Loyd - 7: His defensive work has improved tremendously. He's also looks to be about as banged up as one can be and still start
John - 9: I cannot go on about how much I enjoy watching John. His growth alone in the area of simple, unlocking passes to get the ball out of the back is outstanding. It wasn't that long ago he'd just boot everything away.
Ugo - 7: Still feel like he has moments where he switches off, but overall an steady force
Benitez - 6: One of those "double edged sword" guys. One minute he's passing the ball straight to an opponent, the next he's dropping precision 50 yard bombs into the box.
Shea - 6: The kid looked tired Saturday night.
Jackson - 7: Just didn't have the finishing touch he's had the last few matches
Alexander - 5: Not a bad night, but he still seems to be that one step away from really making an impact on the match. His craftiness is outstanding, but its not turning into dangerous opportunities. I have high hopes for Eric.
Hernandez: - 6: Big tip of the hat for playing on what I suspect is a much worse knee than Daniel is letting on. Hyndman is likely to have to make some really hard playing time decisions here with CCL, USOC and MLS matches lining up in mass.
Villar - 5: Struggled in that attacking mid spot, but like Alexander you get the sense he's just a few steps away from being a positive on the pitch.
Chavez - 4: A tough grade, but that chance is on a player at this level has to finish, or at least get on frame.
Subs:
Guarda - 4: Side had converted to a 4-4-2 and Bruno had little chance to impact the game
Avila - 4: No spark this time
Milton - 4: Dallas needs a forward about as badly as rain.
Related articles
July, 13, 2011
7/13/11
10:29
AM CT
By
Peter Welpton
| ESPNDallas.com
When the lineups for Tuesday night's USOC matchup against Real Salt Lake, it appeared that injury and scheduling was simply, finally going to win out over Schellas Hyndman.
Jason Kreis, who has to be the coolest, smoothest MLS coach in attitude and appearance, was rolling out what was really a "A" team. Pretty much every player was either a current starter, or had significant starting time - minus their keeper Kevin Raynish.
Schellas on the other hand was forced (or was he?) to start with a midfield with a combined number of MLS starts of 48. Kyle Beckerman alone has 231. Just let that soak in for a minute.
Villar, Warshaw, Guara, Avila and Alexander were Dallas' starting five in the midfield, and with all due respect to each of them, none are considered MLS All-Stars or even players that would immediately start for one of the league's better sides.
But Tuesday night the five played an outstanding match the belied whatever initial impression one might have had upon looking at the FCD starting lineup.
Dallas did have their full back line and defense, and that was far more than enough as Salt Lake failed to register a single shot on goal. The heat was an obvious factor on Real as they looked low on energy all match.
Watching Hyndman manage his roster through this month of July will be fascinating. It helps that players like Villar, Warshaw and even Guarda (is there a guy that needed a decent showing any more than him?) stepped up to show their coach and fans that they can be counted on to give the starters a breather.
Grades:
Hartman: 7 - I think I saw him napping at one point
Loyd: 8 - Hopefully Grabovoy's unpunished assault on Zack doesn't have long term significance.
John: 9 - Absolutely owned RSL all. night. long.
Ugo: 8 - Great night, but a couple of lazy passes here and there
Benitez: 8 - Has Jair ever taken a free kick for Dallas before?
Alexander: 8 - Might be team's most unheralded player
Avila: 7 - Not as involved in attack, but did a lot of great defensive work
Warshaw: 8 - A tremendous rebound from a poor Saturday night showing
Villar: 7 - Might be single most important bench player to get through this stretch of matches
Guarda: 7 - A mixed bag for first 20 minutes, but ended up with a solid performance and he needed that
Chavez: 7 - Defenders must hate Martin
SUBS:
Jackson: 9 - Could we nickname him, "The Phoenix"?
Shea: 7 - The crowd buzzed when he cued up to come on
Wiedeman: 6 - Good to see the kid get time, but looked to quickly lose energy
Related articles
July, 4, 2011
7/04/11
5:26
PM CT
By
Peter Welpton
| ESPNDallas.com
Another sold-out match for the front office and another win for the coaching staff and squad, 2-0. The win over a growing Columbus Crew side showed that many of the positives FC Dallas had exhibited in the last few matches could appear against a side in form.

Again, the loss of Castillo is ironic because the subsequent formation change to a 4-2-3-1 has allowed the team to return to its superior passing/possession game. Dallas isn't quite the team it is when Ferreira is out there at peak form but is better when it is patient, keeps the ball on the ground and finds creative paths to goal -- instead of trying to only dump behind the defense and hope that pure speed will win out.

Jackson's mental reboot has given Schellas Hyndman a completely different player. The Brazilian has almost become Shea's equal on the opposite side, and the chipped goal was of the highest quality.

Ricardo Villar's 30 minutes were a welcome site as he finally put in a quality performance that comes at a perfect time. Dallas now faces a brutal month of July with USOC, CCL and league matches coming fast and furious. Two games a week for the forseeable future means that a confident, in-form Villar will be key to Dallas' July story.

Grades:

Hartman -- 8: Five saves, one of which was the block on that late laser blast

Loyd -- 8: Really starting to play much better and his pairing with Jackson is particularly good

John -- 8: If this guy could improve his passing even more (and he's getting better weekly) he gets a fat check

Ugo -- 7: Struggled with Mendoza on occasion

Benitez -- 6: Just how healthy is that knee?

Shea -- 8: As he grows in confidence, so does the team

Jackson -- 9: FCD will be a playoff terror if he can keep this up

Jacobson -- 8: Nice recovery from last week's off performance

Hernandez -- 8: A marvel of determination and leadership

Alexander -- 7: Will Villar's performance effect Alex's place in the starting 11?

Chavez -- 7: Still no goals but overall positive impact with effort that went above and beyond

Subs:

Villar: 8 -- Skillful, creative, positive -- can he do it consistently and over 90?

Milton: 7 -- Hat's off to a guy who's not stirring the room because he's not starting

Wiedeman: n/a

Match Grade: A -- PHP is a wonderful place to be when its full and the home team is playing as well as this.
June, 20, 2011
6/20/11
12:03
PM CT
By
Peter Welpton
| ESPNDallas.com
Schellas Hyndman has whisked up the soccer equivalent of "Making Lemonade out of Lemons" to good effect for his FC Dallas troops. It's not tasty-sweet lemonade, mind you, but its getting the job done.
Who needs possession and patient passing play when you can stretch your opponent's back line with your speedy forwards, while other end plays swarming, lock-down defense? Dallas conceded ownership of the ball almost 75% of the time, but had three times the shots on goal (7:2).
The great news is that the 4-1 drubbing from Sporting KC appears to have been a one-off affair. While Dallas wasn't necessarily the better team in its 2-1 win over Chivas USA, the team did return to its highly likable high-effort work rate. Movement and pressure from FCD helped create Chivas' numerous turnovers and Dallas' counterattacks.
The Home Depot Center also contains one of the league's biggest pitches (if not the biggest) and that certainly played into Dallas' strategy. Having Castillo and Chavez make wide runs continues to clear space for Shea to move inside. This is a wonderful maneuver and has created multiple chances (if not goals), but should we see someone else other than Brek making those runs into the box? Does Hyndman's plan allow for Jacobson, Hernandez or Alexander to move into that space? If so, it's not happening enough and the only criticism of the plan.
No matter, Brek is the team's most dangerous player and for two weeks in a row has scored goals a few notches higher in skill level than generally seen in MLS. Last week's run-dribble-calmly slot the ball past the keeper was a fantastic display of speed and skill. This weekend's goal showed off a different set of abilities which will continue to grow the kid's stature.
Dallas realizes its shortcomings and has glued together a strategy that makes the most of the remaining parts.
Couple of other notes:
Can Hyndman revisit the strategy of Ugo taking throw-ins deep down the touchline? I think I counted six attempts at this Saturday night and three of them somehow found their way straight back out, and the others failed to result in possession. I'm not sure what this strategy is, but its not working.
How different would this team be if they had a forward that could check back and hold the ball? Milton should be this person, but he's lack of speed hurts the team. Should fans expect an addition in July here?
Is Brek growing out a blonde version of some sort of creepy, tiny 1930's mustache, or was that a band-aide on his lip?
How great would it be if FCD had white shorts and socks to wear in away matches when the opponent also wears dark shorts/socks? (Chivas, RSL)
Grades:
Hartman: 8 - Faultless on the goal, another great outing
Loyd: 7 - A strong improvement from last outing, still tends to chase the ball
Ugo: 8: - Throw-ins aside, a good night
John: 7 - Really solid, again. At some point does "unlucky" need to become maybe you don't take that chance and kick out at a shot?
Benitez: 5 - Has to be struggling with knee injury. Looks slower, is getting beat in 50/50's and passing has dropped way off
Alexander: 7 - Really nice match. Such poise on the ball in cramped space, and had one really nice sequence to relieve pressure out of the back. Also thought he was particularly good once team moved to 4-5-1. Needs to cut back on turnovers and have a larger impact on offense
Shea: 8 - See above.
Hernandez: 7 - Led the team in a redeeming performance
Jacobson: 8 - Extra points for two assists; one beautifully placed on purpose, the other beautifully placed even if unintended
Castillo: 6 - So much more effective when attacking from deep
Chavez: 6 - Effort and speed can make up for a lot of crummy decisions
Subs:
Warshaw: 5
Jackson: 9 - Hey, the decision to be in place was great, but the finish was of a high quality
Galindo: 5
Match Grade: B Watching Dallas sit, absorb and counter is not the entertaining, beautiful, passing style we came to love in 2010. But the team is winning and finding success with an equally likable level of effort and flashes of skill.
June, 13, 2011
6/13/11
2:12
PM CT
By
Peter Welpton
| ESPNDallas.com
Nobody was under the impression that the 2011 edition of FC Dallas was going to repeat the 19 game unbeaten streak of the previous season. Dallas was going to drop points eventually, probably sooner than later.

But its unlikely that anyone suspected that Dallas would drop those three points in the horrific manner that took place in Sunday's 4-1 drubbing at the feet of a sad sack Kansas City side.

There is little debate that the attitude and apathy that was on display in red and white hoops had previously been unseen since Hyndman fully stamped his thumbprint on the squad in 2010.

Dallas didn't lose to a "better" team, but they lost to a team that wanted the points more, and worked a lot harder. That is something very unfamiliar to a FC Dallas fan. The number of horrid passes, lay out on tackles, halted runs, or no run at all became uncountable long before halftime. If a fan was of a conspiracy-loving orientation, they'd certainly think that someone had gassed the FCD locker room prior to kickoff.

Yes, it was hot - but that is supposed to be an advantage for the home team. Sure, KC was having to run out a long list of reserves and FCD was at full strength - but how'd that end up being advantageous for Sporting? Yeah, KC went down a man with about 30 minutes remaining - so after how'd SKC end up being the only team to score?

There is either a simple, single answer - Hyndman made a mistake in letting off the throttle with the week-long break, or something larger is afoot.

It was a second consecutive match Dallas was allowed to hold the vast majority of possession, except in the last match against New England, Dallas used it to create multiple opportunities that went unfinished. Against KC, all that possession went unspent. Dallas' only shot on goal came after Shea's one-man Messi impersonation.

One. Shot. On. Goal. Let that sink in, then remember KC sits on the bottom of the ladder and spent the last quarter of the match down a man.

Dallas now gets to travel to LA face down Chivas USA. On paper, that's an away match that FCD should at least grab a point. If Dallas throws out a consecutive poor performance questions will begin wondering if the adrenaline of the Ferreira injury and the switch in formation have worn off.

Hyndman has been a master at the mental aspect of this game and the solid bet is that Sunday's dump was a one-off. An exception to the rule from a team given some latitude with a full week off for the first time since April. FC Dallas has simply been too mentally tough for too long. Dallas might not win in LA, but its unlikely that it will happen in the manner that unfurled Sunday night.

Grades:

Hartman - 3: If Kevin can get caught napping like that…

Loyd - 2: Bad passing, poor defending

John - 4: Just part of the bad night

Ugo - 3: Didn't look interested & multiple bad touches

Benitez - 3: Left work ethic at home

Alexander - 4: Sacrificed (saved?) from 2nd half

Shea - 5: Hard to give anyone an average grade, but Shea's one moment will become a FCD highlight reel filler for all time.

Hernandez - 3: Daniel needs to get team back on track

Jacobson - 3: If anyone struggled it was this kid

Chavez - 2: For someone so fast, why so slow in making decisions on the ball?

Castillo - 2: Another ghosting of a performance

Subs:

Milton - 3: Failed to have any effect on the match

Jackson - 3: Only a slight upgrade from Zack's performance

Luna - 3: The hopes for a breakout season seem so long ago.







May, 30, 2011
5/30/11
5:45
PM CT
By
Peter Welpton
| ESPNDallas.com
FC Dallas fans must be filled with mixed emotions exiting an exhausting three-games-in-seven days stretch. How anyone could be unhappy with the string of point gathering (2nd only to LA) the team has achieved in the wake of Ferreira's injury is hard to understand. But, losing those two points in the waining minutes down in Houston, a team struggling to do much and a man down, is a bitter pill for even the most grateful of fans.
Hyndman has made lemonade from lemons now that his team is limited largely to the old bunker and counter. The attractive, patient, flowing passing game is gone - wrapped up in a cast along with David's ankle. Dallas is now a blue-collar, grinding, boot the ball long and chase beast. It's not pretty, but it is working, and in MLS a team's gotta do, what a team's gotta do.
It would be nice to see the team just try and possess the ball for a while. Dallas has pretty much given up trying to do that and now sports an average possession percentage of less than 40 to show for it. The question simply becomes, can Dallas sustain the defensive might that has sustained this streak until (if) David returns? With June, comes heat. With July comes, more heat. With August comes, soul crushing solar punishment. FCD would do itself a heap of good to figure out how to retain possession and allow the ball to do more of the work. Again, its hard to criticize the recent results...
As I type this a second MLS coach has been canned (Vancouver and now Chicago) and gives pause to consider how thankful FC Dallas fans should be that Hyndman is leading this squad. After Wednesday's win in Seattle when asked what was causing this undefeated streak,
the coach was quoted by Terry Wood
(Dallas Morning News) as responding straight-faced, "Coaching". Sure, Schellas was kidding, kinda, he's right. Hyndman's coaching of the mental aspects of the game are in full display. His tactical adjustments have come from need and parts, but the heart the team is demonstrating is pretty much all fall at the feet of the guy who loves a little, 'mind over body'.
Grades:
(5 is an average performance, 10 is a world-class mindbender. Please note in my system, each player is held to a different standard based on their experience, position and expectation. ie: a Luna grade of "5" is likely different that a Milton grade of "5".)
Hartman: 8 - His near perfection on Wednesday was soiled with two outright defensive miscues. The 500+ minutes streak was largely his credit.
Jackson: 4 - Ribs, pending marriage, who cares… Just struggling and Hyndman's one player that teeters on a major mental f-up each week.
Warshaw: 5 - Other than the crushing mistake of losing his mark in the box, the rookie had a decent outing for his first start. But that one error…
Ugo: 9 - An outstanding week of three matches for the Dallas native. This grade is more a collective of the week. Just fantastic.
Loyd: 7 - There isn't a better athlete on the team, and that's driving his performances
Alexander: 5 - If Shea had converted that one sharp, slicing pass more people would notice how well he's been playing
Shea: 6 - Dangerous? Yes, but he also showed some wear from a long week with hard touches and poor shots. Overall, a super week.
Jacobson: 7 - Scored a header that wasn't as easy as appears and is really starting to cover a dramatic amount of ground in 90 minutes.
Hernandez: 6 - Dr Solid
Castillo: 5 - Speed is his friend, but tactical decisions really reduce his (and Marvin's) opportunities to use it to full effect
Chavez: 5 - Hard to grade because his effort and ground covered deserves a medal, but the one time FCD needed one last marking run he wasn't there and Houston scored.
Subs:
Benitez: 4 - 1st game back, but forced his play w/ poor decision making
Milton: 5 - If healthy, you wonder if team can regularly get him the ball to hold up to build and vary the attack (put chavez back out on right)
Villar: n/a
Match Grade: B+ - Not a pretty game, and Houston's crappy small field makes for a lot of restarts. Last minute goals, even for the enemy always make for entertainment.
Ed note: Grades are for entertainment purposes only. Do not take them to heart, personally or otherwise. If you don't like the grades may we suggest instead of only calling the author names and bein' an anonymous meanie, how about you put your grades and explanation in the comment section below. After doing that, then you can then call the author names and remain anonymous, you just won't be a meanie. Discourse is good for the soul.
May, 23, 2011
5/23/11
4:19
PM CT
By
Peter Welpton
| ESPNDallas.com
Soccer leagues all over the world have "those matches" where neither team has something to show and the game is a bore. Sunday night's match between FC Dallas and Salt Lake was one of "those matches".
What would have been a snoozer of 90 minutes ended up as 200 minutes of a snoozer with Mother Nature providing the only real excitement in the form of a lighting show. Sadly, there was nothing close to that level of excitement of the field.
Both Dallas and Real gave the rest of the league a reason to feel better about itself. Once both feared league leaders, now each without its playmaker, the teams are now shells of their former selves. Salt Lake actually looks worse for the wear as they have nothing up top in the form of speed to stretch a defense and the playmaker's role is not one that suits Kyle Beckerman. Dallas, on the other hand, has speed to burn but it comes in the form of two players who don't excel at the forward position. Just like last week, chances created with speed go left unspent with poor decision making or crappy passing.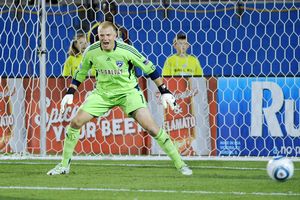 Jerome Miron/US PresswireKevin Hartman has come through when asked during Dallas' 399-minute shutout streak.
If there's anything that causes Hyndman nightmares it's the stream of quality crosses that fly unattended across the opponent's goal. Dallas just can't seem to get anyone in the box, or specifically, at the far post -- ever.

Dallas' form since Ferreira's injury in Vancouver is a two-sided coin. One side shows a six-game unbeaten streak, 11 out of 15 possible points and nary a goal allowed in about 400 minutes of play. Those are results typically seen from teams in fine, confident form.

On the other side FCD have created a shockingly low number of shots on goal, and surrendered possession. In the matches since Ferreira's injury (including that match in Vancouver) Dallas has averaged a meek 3.7 shots-on-goal, and 39.6 percentage of possession. Neither of those number should strike fear across Major League Soccer. Almost in defiance of the stats, Dallas continuously survives and points are points in MLS no matter how you collect them.

Dallas' defense, and now its strength, is going to undergo more testing with two more matches before week's end; Seattle on Wednesday and the dreaded Dynamo on Saturday, two road matches that will reveal which side of the coin is weighted.

Grades: (5 is an average performance, 10 is a world-class mindbender. Please note in my system, each player is held to a different standard based on his experience, position and expectation. ie: a Luna grade of "5" is probably different that a Milton grade of "5".)

Hartman: 8 -- Strong in the few times when asked to perform.

Jackson: 4 -- Sure, let's go with the "he's getting married" defense of his play of late. And again, got 1,000 percent lucky on a brain-dead tackle.

Ugo: 8 -- Best performance of the season? Strength and commitment has returned.

John: 8 -- Consistent and reliable.

Loyd: 7 -- Getting the message about positioning. Not as influential in attack, but for now, he needs to focus on D.

Alexander: 6 -- Quietly throwing out solid, quality performances. Also displaying some of the team's highest ball skills. Might consider rushing the far post.

Shea: 7 -- The team's only dangerous player, but not dangerous enough.

Hernandez: 6 -- Some poor set pieces.

Jacobson: 6 -- Little moments of attacking starting to show itself.

Chavez: 4 -- Hard to grade because effort is so high, but reality is there are few to no results from all that work.

Castillo: 3 - Not a lot of opportunities.

SUBS:

Luna: 5 -- His one clear chance turned into a wreck of humanity. PK? Meh.

Avila: 6 -- Watching him fight through that one moment gets him a +1.

Warshaw -- N/A.

Match grade: "F" - Slow, disinteresting match with a horrifying low number of real chances topped off with the almost two hour rain delay.

Ed note: Grades are for entertainment purposes only. Do not take them to heart, personally or otherwise. If you don't like the grades may we suggest instead of only calling the author names and bein' an anonymous meanie, how about you put your grades and explanation in the comment section below. After doing that, then you can then call the author names and remain anonymous, you just won't be a meanie. Discourse is good for the soul.
May, 16, 2011
5/16/11
4:24
PM CT
By
Peter Welpton
| ESPNDallas.com
FC Dallas' impressive 2-0 home victory Saturday night continued the unexpected gathering of points from a side missing its best player and league MVP. Points from the previous four matches came from a collection of luck, opponent's poor form and hard work. The win versus Philly was different because Dallas was largely the better team, worked exponentially harder and played well. On the flip side, there's frustration from the many chances that were left on the table.

Fabian Castillo had his best match in a Dallas shirt. He also had his fair share of misses. Right after utilizing his skill and speed to slice past two Union defenders and picking out Shea for the tap in, he then led the team on a breakaway counter with a personnel advantage. Instead of making the right pass to either flanking, advancing teammate he went solo, lost the ball and ruined the game's easiest goal opportunity. There ended up being one or two more of these situations with Fabian over the course of the match, and he still insists on exclusively going forward when presented with options of patience (to be fair that may be a tactical instruction). That sounds like a lot of concern on what really was Fabian's best performance from Dallas, but they are things to keep an eye on as the season progresses.

When matched with Chavez up top the mound of lost opportunities grows even higher. Chavez far exceeds anyone else on the pitch for FCD in lost chances and he was stacking them up high on Saturday night. As with much of his season, Chavez's shocking speed puts him in advantageous positions in dangerous spots, but the percentage of those that result in real goal opportunities is woefully low.

Alternately, the combination of Castillo and Chavez becomes a wonderful positive because their speed and work rate is an opposing defense's nemesis. Hyndman's instruction to lay the soccer version of the forecheck on thick gave Philly fits all night and this strategy goes a long way in creating different attacking opportunities that are needed without Ferreira.

While the young Columbian deservedly grabbed the MVP, special bonus needs to go to the effective and admirable work of Hernandez and Jacobson. The latter understandably had something different to play for, but the two of them were found all over the field. The former seemingly has found a injection of youth with the amount of pitch he has been covering in David's absence.

The 4-4-2 was effective for most of the night but the team's newness with the formation showed itself in the middle stages of the 1st half as The Union were unlucky not to have scored their own goals from strong counter attacks. Dallas was caught on several early occasions way too narrow and were fortunate that the Union's lack of goal scoring was consistent.

Overall the match should provide the team and fans much to feel good about. Philly has been a solid, consistent side all season long. While not the most dangerous on the attack, defense has been their strongpoint and Dallas is the only side to have breached them with effect all season. Certainly, a notch on the belt.

Grades: (5 is an average performance, 10 is a world-class mindbender. Please note in my system, each player is held to a different standard based on their experience, position and expectation. ie: a Luna grade of "5" is likely different that a Milton grade of "5".)

Hartman: 7 - A quiet night.

Jackson: 7 - Effects the match every game, this time it was positively. He again was lucky and got away with a terrible attempted a tackle in the 2nd half. - His pro/con equation is a tough problem

John: 8 - The good feeling about him continues to grow

Ugo: 8 - Starting to regain the form of 2010 and partnership with John is one of the team's greatest strength.

Loyd: 6 - Still working on the positional part of his game, but overcomes mistakes with his athleticism.

Shea: 8 - So much of what he tried and missed on in 2010 is working for him this season. There is an obvious confidence flowing with that hair.

Alexander: 6 - He's not making magic, but his steady, consistent game maybe more important than step overs and nutmegs.

Hernandez: 7 - A "Captain's Captain".

Jacobson: 7 - Wonderful performance on a personally important night. If only he'd converted that chance.

Chavez: 5 - Speed is like good looks, it will get you far, but you gotta show that you can do something with it.

Castillo: 8 - Continued output like this and Dallas' wait for Ferreira's return won't seem so long.

Subs:

Luna: 6

Guarda: n/a

Warshaw: n/a

Match Grade: B+

Ed note: Grades are for entertainment purposes only. Do not take them to heart, personally or otherwise. If you don't like the grades may we suggest instead of only calling the author names and bein' an anonymous meanie, how about you put your grades and explanation in the comment section below. After doing that, then you can then call the author names and remain anonymous, you just won't be a meanie. Discourse is good for the soul.
May, 12, 2011
5/12/11
1:00
PM CT
By
Peter Welpton
| ESPNDallas.com
Believe it or not, even in the aftermath of the David Ferreira leg snappage, FC Dallas has collected a fine 10 out 12 possible points. Folk's, that's pretty good. You can be a negative nelly and point out there was a lot of luck and MLS bottom dwellers in that mix, but I won't.

Wednesday night's 1-0 win against the slowly gelling Toronto FC proves that Dallas' growth defensively might sustain the team while Hyndman figures out how to get the attack going. The looming problem is that the attacking part of the team, one that was already struggling with Ferreira on the field, is now really sputtering without him. The "D in Dallas" for now is the proverbial "finger in the dam".

Toronto added to Dallas' challenges in fielding the rare 4-3-3 formation. Add to that Hyndman's last minute decision to revert back to the 4-1-4-1 after Castillo's loose lips revealed the league's worst kept secret, it was never going to be an easy Spring evening in Frisco.

And it wasn't. It was only referee Yader Reyes' brave penalty kick call in the waining minutes of the first half that put Dallas in a proper place to score. The team wasn't about to really mount a real challenge by itself. The issues in attack that have lingered all season continued here. Brek Shea's reinsertion at left mid has helped matters tremendously and its fun to watch the kid grow and improve. But, too many times the hard work being done out wide (Shea or otherwise) finds no one in the box to finish it off.

Hyndman's choice of Castillo in the lone strikers role solves one problem (speed), but creates others (runs, decision making) and invariably when the ball gets into the box, there's never enough guys in hoops and too many guys in other colors.

The team's nature is to get wide and either cross the ball in, or attack deep and laterally into the box and Castillo just isn't good at being the person at the end of these moves. Milton should be, but his lack of pace snuffs out his effectiveness. Wednesday night the quick adjustment to the expected 4-2-2 never really panned out and actually at times looked more like a 4-4-1-1 as Chavez dropped deep leaving Castillo alone. The 4-2-2 is probably the formation FCD is going to forced to play, but making it actually work is going to be a painful process.

The defense continues to look, mostly, collected and ready for anything. The combo of Hernandez and Jacobson and their drive go a long way in making the back four look good. If there's a complaint from back there, its the passing. Still not a strength and way too slow.

Grades: (5 is an average performance, 10 is a world-class mindbender. Please note in my system, each player is held to a different standard based on their experience, position and expectation. ie: a Luna grade of "5" is likely different that a Milton grade of "5".)

Hartman - 8 Should get an extra point simply for not wearing that horrid lime green kit.

Jackson - 8 That's the guy we expect him to be, although was lucky, so lucky, to escape with that stupid late tackle

John - 7 Another solid night

Ugo - 7 Another solid night

Loyd - 7 A better defensive minded performance

Chavez - 6 Heavily involved and asked to perform different roles but couldn't create that game changing moment as needed

Shea - 8 Shining match, but wasn't finding much help on the receiving end. Congrats on the new deal

Jacobson - 5 Solidifying his spot on the starting roster but not a creator

Hernandez - 6 He and Jacobson spend so much time disrupting and too little attacking

Alexander - 5 His calm nature on the ball is great, but like others not affecting the match as team needs

Castillo - 4 The excitement and shine of the youngster is quickly fading as a square peg in a round hole

Match Grade: D A largely boring affair, no crowd, no atmosphere and chances at goal were forgettable.

Ed note: Grades are for entertainment purposes only. Do not take them to heart, personally or otherwise. If you don't like the grades may we suggest instead of only calling the author names and bein' an anonymous meanie, how about you put your grades and explanation in the comment section below. After doing that, then you can then call the author names and remain anonymous, you just won't be a meanie. Discourse is good for the soul.

April, 25, 2011
4/25/11
2:15
PM CT
By
Peter Welpton
| ESPNDallas.com
Like
the plot twist in a M. Night Shyamalan movie
you know is coming, so was the moment Saturday night in Vancouver when David Ferreira writhed on the ground with two broken leg bones.
Injury to Ferreira was for all intent and purposes a done deal - you just weren't sure when it was going to take place.
Its long been established that David held the distinction of the league's most fouled player. FC Dallas fans and staff held their breath through the 2010 season as somehow Ferreira was able to tough out, remain uninjured and play all but a single minute of the season.
As 2011 began there was a clear difference with David, his play, his effectiveness and his obvious frustration with the tackles he was suffering. Many of the early matches missed his influence or David simply was unable to stamp his usual mark. It was wondered how much that was due to the loss of Dax McCarty and Atiba Harris, or the move of Brek Shea to defense. While any of that didn't help the larger looming factor was the new level of attention he was getting.
in 2011 David was already averaging more "fouls suffered" per match as he did in 2010. It didn't take an expert to notice that opponents had picked up on the Rapid's style of game planning Ferreira - ya know, "have anyone close to David stop him by any means necessary before he can create magic" - because it's effective. Hell, it was the main component in Colorado's MLS Cup victory. It was no longer a single mark clacking at his heels, it was two or three tasked with making sure Ferreira did not get far.
Many of these fouls aren't "bad" or "dangerous". In fact, most are of the simple, harmless variety - just stick a foot in there and give a little trip - and are effective in their intention, stopping the flow of attack.
This goes back to an
earlier entry where I ranted
that MLS and USSF simply seem unable or uninterested in cracking down on the very thing that most hurts this league - persistent infringement. Though, in David's case he had been able to fight through the lighter fouls and many times play was allowed to continue and opponent began to turn to the heavier and clumsier stuff. It just happened to be Leather's bad luck that it was his clumsy lunging tackle that snapped David's two lower leg bones.
MLS must get the USSF (the group actually responsible for referees in this country) to instill the idea that the "professional foul" - dirty, injurious, or otherwise - has to be banished from the sport. They discolor the game in the most subtle, but damaging of ways. Creative teams and players are squelched to the advantage of those sides that aren't. That isn't good for MLS or the sport in this country.
Prior to Saturday, there had already been two or three moments that David lay on the pitch looking frustrated and pained. When he got up it was a relief. Many assumed that David was going to get up from that tackle Saturday night, frankly, because that was pretty bland in comparison to some of the crap he'd been dealt so far this season. It was not until the replay finally aired that we all saw the toe stuck in the turf one way and the rest of his body turning the other and realized that Schellas Hyndman now had a whole new coaching challenge on his hands.
April, 24, 2011
4/24/11
1:51
PM CT
By
Peter Welpton
| ESPNDallas.com
"How many licks to the center of a Toosie Pop"?
"How many kicks to David's leg before it snaps?"
Not sure about the former, but the latter proved to be a whole bunch over the course of about a season and a half worth of matches. David is one durable cat, but it was going to happen sooner or later.
Before the discussion of Ferreira's situation, the harsh reality was that FC Dallas was putting forth its worst performance of the 2011 campaign right up to that sad moment.
From the kickoff Dallas was largely on its back foot as another Northwest Soccer Crowd filled up the stadium with atmosphere and support for an energetic Vancouver side. Hyndman's troops struggled at all aspects of the game and could not retain possession for any serious stretch of time. With Castillo horribly miscast as the lone striker, Dallas had no one holding the ball up high allowing for a build up for attack.
Shea and Chavez both, whether due to travel fatigue or the poorly installed Field Turf pitch, struggled to penetrate and complete passes. Hernandez and Jacobson worked hard to plug holes as the Whitecaps decided that a direct, long ball style was their best approach. Overall the midfield simply could not create much of anything and a large part of that was due to Castillo being all but invisible for the first 45 minutes.
After Ferreira's departure, Dallas seemed to regain some emotion and seriously began to push back and find that the Whitecaps as a team looked to be on different tactical pages. Dallas was essentially a three wheeled car for the final 35 minutes or so, they did find a way to win the match, but it was never pretty or anything Hyndman is going to want to latch onto (other than the "guts" part, but FCD has always had that under Schellas).
As for the Ferreira tackle: Leathers is only guilty of committing the same tackle you see in leagues all over the world every match. Guy gets beat, guy works to cover, guy lunges from behind to poke a ball away and in the process takes out the opponent's legs. Just in this instance, the toe of David's shoe gets stuck in the turn and his foot stays vertical while the rest of him turns. You know the rest.
The reality is that is by FIFA's "Interpretation of the Laws of the Game and Guidelines for Referees" what Leather's was guilty of is, or should have been, was, "Serious Foul Play".
A tackle that endangers the safety of an opponent must be sanctioned as
serious foul play. Any player who lunges at an opponent in challenging for the
ball from the front, from the side or from behind using one or both legs, with
excessive force and endangering the safety of an opponent is guilty of serious foul play.
Referees in leagues all over the globe rarely call this exact tackle anything more than a foul. Leather's did touch the ball, but that isn't supposed to matter. The Law of the Game are explict in that direction. The problem is that the punishment of ejection is such a game changer, referees won't red card tackles from behind because of the fallout. Ferreira receives this foul at least twice a match, and maybe the guilty party gets a yellow 25% of the time.
Unfortunately the law of averages finally turned against David this time and for it, he will be out for a considerable stretch of time with a double fracture (tibia and fibula).
Much like a lot that is wrong with officiating in soccer, there are plenty of proper laws in place, FIFA and their officials just need to enforce them by the letter of the law. Eventually the players will make the changes needed to fall in line and the sport will be far better for it.
Grades:
(5 is an average performance, 10 is a world-class mindbender. Please note in my system, each player is held to a different standard based on their experience, position and expectation. ie: a Luna grade of "5" is likely different that a Milton grade of "5".)
Hartman: 6
- Dallas is really going to need his vocal leadership
Jackson: 5
- Was woefully poor in the 1st half, but his attacking style was important in the 2nd half
John: 8
- Continues to do little things that make average defenders turn into great defenders
Ugo: 4
- Another match he loses out for a header that becomes a goal, and looked shaky in other key moments. Is he struggling with his recovery?
Benitez: 6
- Like Jackson, he was key to comeback, actually impressive as a midfielder
Chavez: 5
- Simply not effecting matches as much as that position needs to and if team switches to 4-4-2, will that help/hurt him?
Hernandez: 5
- The middle of the park continues to struggle
Jacobson: 5
- See above
Ferreira: 4
- Harsh, yes, but the PK miss was shameful and before that it was another match David really struggled to find his space
Shea: 5
- Looked very rusty at midfield, but oddly comfortable at right back later in the match
Castillo: 3
- Not sure why Hyndman tried to force this fit.
Subs:
Avila: 8 - Another heroic late match winner. But the kid is going to have to put in an effective 90 minutes to be more than a super sub. Unfortunately, he may get a shot to prove he can
Milton: 7 - A very large part of why team settled as he worked hard to help with possession, but his lack of speed is really hurting him and the side in the final third
Alexander: 6 - Still think this kid can help his team. So calm and poised on the ball.
Match: "B+"
- The Ferreira drama alone was compelling, but FC Dallas' fight back was a bloody, ugly three points for the good guys.
Ed note: Grades are for entertainment purposes only. Do not take them to heart, personally or otherwise. If you don't like the grades may we suggest instead of only calling the author names and bein' an anonymous meanie, how about you put your grades and explanation in the comment section below. After doing that, then you can then call the author names and remain anonymous, you just won't be a meanie. Discourse is good for the soul.