Dallas Soccer:

Kenny Cooper
March, 13, 2012
3/13/12
1:05
PM CT
By
Blake Owen
| ESPNDallas.com
Just over four months ago, a counter-attacking Dallas squad was
eliminated from the 2011 playoffs by the New York Red Bulls
. The two sides kicked off the 2012 season on the same pitch using the same tactics and formations, but the 2-1 Dallas victory was quite a different result.
Manager Schellas Hyndman employed a comparable formation to the 4-2-3-1 he used last season, though naturally some of the personnel changed. Gone were Jackson and Marvin Chavez, replaced by Blas Perez and Fabian Castillo. Also, a recently-returned George John was benched in favor of newcomer Hernan Pertuz.

Perez, Castillo, and Pertuz all made vital contributions to the victory. Perez garnered assists on both goals (more on Perez in the diagram below); Castillo's speed was instrumental in earning the free kick that led to the first tally; and the young Pertuz made a veteran's canny tackle to prevent Thierry Henry from getting a shot in the 13th minute.

As noted, Hyndman's main strategy was to counter at pace, which is how the goal was partially created. Castillo powered into New York's half following a Red Bulls corner, and though he was dispossessed, Ricardo Villar was able to earn a free kick on the ensuing scrum for possession. New York made a mess of a pair of clearances following the free kick. Zach Loyd then latched onto the loose ball and beat keeper Andrew Meara.

But, like the playoff encounter, New York controlled much of the match. Despite New York's high percentage of possession (63% to 37%), the Red Bulls' earliest scoring opportunities were courtesy of misplaced Dallas passes. In the third minute, Jair Benitez even sent a free kick straight to an unmarked Juan Agudelo. Ihemelu, though, was able to clean up the mistake


The second half played out much life the first. Dallas picked up a goal off a counter and had to do some desperate defending to garner the full three points. Oddly, New York left back Roy Miller started the second Dallas scoring sequence with a pass remarkably similar to Benitez's third minute gaffe. Under no pressure whatsoever, the Red Bulls' fullback casually sent a pass to Perez. The striker made an intelligent pass to find Ricardo Villar in space, and the Brazilian chipped Meara to put Dallas up 2-0.

New York manager Hans Backe responded by bringing on former Dallas striker Kenny Cooper and switching from a 4-4-1-1 to a lopsided 4-4-2 (forward Juan Agudelo was stationed at right midfield but was essentially a third striker). An exhausted Dallas began to retreat deeper and deeper into their own half, a problem compounded by the removal of Villar.

As the attacking midfielder in the 4-2-3-1, Villar's intelligent passes had ensured Dallas retained possession long enough to relieve pressure on the back four. When holding midfielder Bobby Warshaw came on for the Brazilian in the 74th, Andrew Jacobson moved up to Villar's position but failed to replicate his intelligent outlet passes. As a result, over the final 16 minutes New York completed 84 more passes than Dallas.

Under that much pressure, it was likely that a single mistake would lead to a goal. When Benitez and Pertuz failed to mark Cooper, the striker was easily able to chip Kevin Hartman, but New York was otherwise unable to ripple Hartman's net.

While the end result couldn't be better, Hyndman needs to find a way to relieve pressure late in games without the use of Villar.

Blake Owen is the editor and publisher of futbolforgringos.com.
March, 11, 2012
3/11/12
4:18
PM CT
By
David Stein
| ESPNDallas.com
FRISCO, Texas -- FC Dallas got revenge from last season's postseason loss with a season-opening 2-1 win over the New York Red Bulls in front of a sellout crowd of 20,906 at FC Dallas Stadium on Sunday.
FC Dallas was aggressive early, and it paid off. Zach Lloyd's left-footer off a failed clear put FC Dallas up in the 11th minute.
Coach Schellas Hyndman said he was happy with the way his team started after six weeks of preparation leading up to the season opener.
"We created more scoring chances," Hyndman said, "and were able to strike early."
The FC Dallas defense didn't allow a shot on goal the entire first half, shutting down
Thierry Henry
and the Red Bulls' attack. New York's best opportunity in the first half came in the 44th minute when Henry's free kick hit off the right post.
"In the last 8 to 10 minutes, they created a lot of problems for us," Hyndman said. "They rightfully should have scored."
Ricardo Villar
added another goal in the 61st minute to put FC Dallas up 2-0.
Blas Perez
's pass connected with Villar on the right side, and Villar chipped it in just out of the reach of keeper
Ryan Meara
.
"I thought about taking him out of the game," Hyndman said of Villar. "He got hit pretty well. Thank goodness we kept him on, because he scored a great goal."
Villar threw his wrist up in the air after the goal. The São Paulo native said it was a tribute to his hero, Sócrates, the Brazilian soccer legend known for getting his doctorate of medicine while playing professional soccer.
"For me, that was important," Villar said. "Knowing how hard it is in Brazil to continue to study and also play, he was my idol growing up."
New York turned it on late. In the 78th minute,
Kenny Cooper
's strike from the right of the box hit the top left corner of the net to bring the Red Bulls back into the game.
FC Dallas' defense clamped down after the goal to take the win.
Perez assisted on both FC Dallas scores, and Meara made great saves on both of his shots on goal.
"He may be that striker we've been looking for," Hyndman said. "I think he's going to score a lot of goals for us this year."
FC Dallas' win builds momentum heading into next week's match against Portland.
"Everybody's excited about winning the first game at home," Hyndman said. "It was a great crowd. A lot of people are proud of us. It turned out to be a beautiful day, and I think they saw a good FC Dallas team."
FC Dallas takes on Portland on Saturday, Mar. 17 at 7:30 p.m.
David Ferreira expected to be out 2-4 weeks
David Ferreira is expected to miss more time with a bruised Achilles', Hyndman said after Sunday's win.
"I know he is extremely frustrated," Hyndman said. "I know his goal was, after 11 months, to start the season opener."
Ferreira is expected to train this week, but Hyndman said the injury could keep him out 2-4 weeks.
NOTES
Shots (shots on goal):
FC Dallas 11 (6) / New York 13 (2)
Possession:
FC Dallas 37% / New York 63%
Corners:
FC Dallas 2 / New York 9
Fouls:
FC Dallas 13 / New York 11
Yellow cards
: FC Dallas 1 (
Jair Benitez
38'), New York 3 (
Dax McCarty
5';
Teemu Tainio
68';
Victor Palsson
88')
March, 9, 2012
3/09/12
8:42
PM CT
By
Todd Date
| ESPNDallas.com
Asked FC Dallas head coach Schellas Hyndman for his thoughts on Sunday's opponent -- Red Bull New York -- after practice Saturday, and here's what he had to offer:
Kenny [Cooper] loves Dallas. This is where his family is. He'll have a great game. First game of the year, everybody's excited. [Thierry] Henry obviously is a world-class player. Dane Richards can bring a lot of speed. [Joel] Lindpere is going to be the guy that probably causes us the most problems. We don't know about [Luke] Rodgers whether he's going to be there or not be there.

They've got a solid team. I saw some of the media had them picked to win MLS Cup. They've got the financial support. They've got very good players. [Rafael] Marquez won't be playing because he was red carded last game that he played last year but I think it's going to be a real good game. We're really looking forward to the game, not only the season opener but we're looking forward to the game. I think the last time we played them, we weren't at our best. We just hit the wall and were going the wrong way but I think they're a well-coached team and they've got definite talent.
March, 8, 2012
3/08/12
12:50
PM CT
By
Todd Date
| ESPNDallas.com
Kenny Cooper
is returning to FC Dallas Stadium again, something FCD fans experienced last summer when he returned as a member of the Portland Timbers. For whatever reason, things didn't work out for him with John Spencer's club, so he the former Dallas forward and Jesuit High School product now finds himself with the New York Red Bulls.
Not only is Cooper now playing for one of the more high-profile sides in Major League Soccer, but he's also reunited with former Dallas teammate
Dax McCarty
, who joined the Red Bulls last summer and was on the pitch for their road win at FCD in the regular season and again in the first round of the playoffs.
One thing that's abundantly clear is that he's elated to be teammates with McCarty once again.
"It's great to be back up with him. We were friends back in the Dallas days. It was nice coming to a new team to have not just a former teammate, but also someone that I consider a friend on the team," Cooper said. "He was really helping me the first couple of days, first couple of weeks and I'm really appreciative of him for that. Along with being a great player, he's really a great guy. It's great to be teammates with him again."
And after things didn't go so well during his short time with the Timbers, Cooper's also glad to be in a much better situation with the Red Bulls.
"I'm really excited to be here. I feel really fortunate that this is where I've landed," Cooper said. "This is a great organization and a very talented team. I feel very privileged to be a part of this group."
The big striker was pretty much a non-factor in the Timbers' 4-0 loss in Frisco last summer, so much so that his now former head coach in Spencer pretty much called him out in his postgame remarks to the media.
How will Cooper fare this time around in his return to the stadium he called home from 2006 through 2009? There shouldn't be any shortage in terms of motivation for Cooper, especially with around 100 friends and family in the stands.
February, 7, 2012
2/07/12
6:20
PM CT
FC Dallas fell 2-0 to Red Bull New York today in preseason action in Cancun, Mexico. New York's goals were scored by former FC Dallas forward Kenny Cooper and Red Bull's 2011 first round SuperDraft selection, Corey Hertzog.

FC Dallas nearly took the lead in the ninth minute when Fabian Castillo sped by a defender on the right flank and delivered a pass inside to Blas Perez, who was making his run 12-yards from goal. Perez hit a shot with his first touch, striking the outside of the right post. It would not be the last time Dallas would be denied by the post.

Castillo looked creative on the ball once again in the 14th minute. The young Colombian weaved his way through three defenders before New York goalkeeper Ryan Meara charged off his line to take away a goal.

Despite holding an advantage in possession, FC Dallas surrendered the first goal of the match in the 33rd minute. The play began when Red Bulls defender Jan Gunnar Solli fed the ball up the right flank to Dane Richards, who split a pair of defenders and found Cooper making a diagonal run to the front post. Cooper waited on the pass before striking a turn-around shot into the far side netting with his first touch.

FC Dallas battled back and earned a throw-in deep in Red Bull territory in the 40th minute. U.S. National Team defender Zach Loyd took a quick throw, picking out a streaking Perez at the top of the area. Meara charged off his line to intercept the pass, but Perez arrived first and nodded a ball past the goalkeeper only to have his second attempt of the day ricochet of the near post and dribble out of bounds.

Both teams opted for a fresh 11 to start the second half and Red Bulls guest player Jose Angulo could have made it 2-0 when he was through on goal off a Hertzog through ball. Angulo, however, was unable to keep his left-footed shot down. With 20 minutes to play, FC Dallas hit the woodwork for the third time, as Bruno Guarda's first-touch volley slammed off the left post and shot back into play. The play was setup by FC Dallas Homegrown player Bryan Leyva, who looked dangerous the entire second half.

A questionable call went against FC Dallas in the 85th minute. Defender Christian Ibeagha looked to have a clear path to goal just before being hammered to the ground by a Red Bull defender well inside the area. Unfortunately for Dallas, the referee allowed play to continue, only to have a penalty kick go against them in the 90th minute.

On the play, Red Bulls defender Jonathan Borrajo was adjudged to have been fouled in the box by Ibeagha. Hertzog stepped to the penalty kick and delivered a shot to the left side of goalkeeper Chris Seitz to hand FC Dallas a 2-0 loss.

The next time the two teams will face off will be on Sunday, March 11 at FC Dallas Stadium at 2 p.m. CT in a match to be televised live by NBC Sports Network – the first MLS game broadcasted by the League's new national partner, NBC.

FC Dallas returns to Frisco to train at FC Dallas Stadium on Friday, Feb. 10.

Scoring Summary:
NY: Kenny Cooper (Dane Richards, Jan Gunnar Solli) 33
NY: Corey Hertzog (penalty kick) 90

Disciplinary Summary:
FCD: Brek Shea (caution) 41
FCD: Bruce Guarda (caution) 48
NY: Brandon Barklage (caution) 82

Lineups:

New York Red Bulls (First Half) – Ryan Meara, Jan Gunnar Solli, Markus Holgersson, Stephen Keel, Roy Miller, Dax McCarty, Victor Palsson*, Rafa Marquez, Joel Lindpere, Dane Richards, Kenny Cooper

New York Red Bulls (Second Half) – Jeremy Vuolo (GK), Jonathan Borrajo, Matt Kassel, Leobardo Alvarez*, Connor Lade, Jhonny Arteaga*, Ryan Maduro*, Brandon Barklage*, Giorgi Chirgadze* (Sacir Hot 61'), Jose Angulo*, Corey Hertzog

FC Dallas (First Half) – Kevin Hartman (GK), Zach Loyd, Ugo Ihemelu, Hernan Pertuz, Jair Benitez, Andrew Jacobson, Ricardo Villar, Fabian Castillo, Scott Sealy*, Brek Shea, Blas Perez

FC Dallas (Second Half) – Chris Seitz (GK), Kleyner Bejarano*, Matt Hedges, Christian Ibeagha*, Scott Gordon, Bruno Guarda, Bobby Warshaw, Rodolfo Espinoza* (Andrew Wiedeman 81'), Bryan Leyva, Nicolas Gianni* (Moises Hernandez 81'), Ulises Mendivic*

* - Trialist

FC Dallas head coach Schellas Hyndman

General thoughts on the game

This is preseason and we've been working awfully hard, doing a lot of fitness running on the beach. I noticed a few players had heavy legs today. We still managed to hit the post three times. Bruno Guarda hitting that cross from Bryan Leyva, Blas on a header and again after taking that pass from Fabian Castillo.

We had some nice combinations and we created some really nice scoring chances. We're not were we want to be but we're also in preseason. We're working hard. These types of games are always important because they send a message to the opposition. They also send a message within our own team. If you work hard, you get the results you want. We had a lot of players do their best today. The breakdowns came. It was a very difficult day for both teams but the game was a lot closer than the score indicates.

On what he expects on opening day from New York after seeing them today

Most of the players you saw on the field today will be on the field on opening day. They're going to get Thierry Henry back. They'll have Luke Rogers back. They may have some other players that step in there for one reason or another, but for the most part that is the team we're going to face. For us, we're very pleased with the work we're getting done. We've got to get guys working together. We really haven't had much of a chance to work on team shape. Next week is an important week for us in Dallas. We've got to get some things done. Today set the stage for what I think will be a really good game when New York comes to FC Dallas Stadium.
August, 26, 2011
8/26/11
12:27
PM CT
By
Todd Date
| ESPNDallas.com
While it isn't yet 100% official, FC Dallas fans have finally accepted the harsh reality that center back George John has indeed played his final game for the reigning Western Conference champions. John's transfer to Blackburn of the English Premier League has yet to be finalized but it looks like that could happen any day now, pending the results of his medical exam. This isn't uncharted territory for FCD as in recent history, there have been several other players go directly from playing in Frisco to across the pond. Here's a look at those players and how they fared abroad.

Kenny Cooper

With FCD: 2006-2009 40 goals in 90 games
Since then: 2009-2011 1860 Munich (German Second Division) 2 goals in 12 games
2010 Plymouth Argyle (England Second Div.)* 0 goals in 7 games
Now: Portland 4 goals in 25 games

What Happened: Cooper went from being a fan favorite and an MLS All-Star with FCD to head to Germany's second division in summer 2009. He did score in his debut for 1860 but it was all downhill from there. Besides being injured, he had only one more goal in his next 11 appearances for that club. In 2010, he was loaned to English second-division side Plymouth Argyle but failed to score in his seven appearances with them.

He signed with the expansion Portland Timbers of MLS during the off-season but looks like a shell of the player he was during his first stint in the league. Timbers head coach John Spencer has made it no secret that he's shopping Cooper but so far, there haven't been any takers. Hindsight is always 20/20 but he would have been better served putting off heading to Europe for a year or two or maybe never going at all because he's not the same player he was when he was scoring with regularity in his hometown of Dallas.

Chris Gbandi

With FCD: 2002-2007 3 goals in 111 games, 2006 FCD Defender of the year
Since then: 2008-2009 FK Haugesund (Norway) 5 goals in 37 games
2010 Miami FC (USL) 0 goals in 19 games
Now: Working at UConn as Asst. Director of Soccer Adminstration

What Happened: Several infamous red cards aside, Gbandi was a solid defender during his stay in Dallas. He then went over to Norway for two seasons and performed pretty well over there. The Houston native returned stateside in 2010 and played for Miami FC. He has since hung up his spikes and returned to his alma mater, UConn, as their Assistant Director of Soccer Adminstration. Gbandi's move to Norway looks like it was well-timed and all things considered, it went pretty well for him over there.

Clarence Goodson

With FCD: 2004-2007 3 goals in 74 games
Since then: 2008-2010 IK Start (Norway) 10 goals in 69 games
2011 Brondby (Denmark) 2 goals in 13 games

What Happened: Goodson showed flashes of being a decent defender with FCD but the book on him with the opposition was that if you could get under his skin a little bit, he would fold. Still, for the most part, he was a fairly consistent center back during his time in Frisco but when he headed to Norway in 2008 after San Jose took him in the MLS Expansion Draft, there were still some who doubted if he could handle playing abroad.

"Snacks" has done well since venturing across the pond. Not only has he played well for his club, but he has also seen his star rise on the US national team front. Goodson was a member of the US team at the 2010 FIFA World Cup. He's now in Denmark and having a solid season but remains on the radar for a number of clubs looking to bolster their back line. His move abroad came at a perfect time and it's a decision that has definitely paid huge dividends on a number of fronts.

Juan Toja

With FCD: 2007-2008 8 goals in 45 games 2008 MLS All-Star
Since then: 2008-2010 Steua Bucuresti (Romania) 3 goals in 51 games
2011 Aris FC (Greece) 0 goals in 36 games

What Happened: Toja took FCD by storm when he joined the team in 2007 under Steve Morrow but he really caught fire in 2008, when he was an MLS All-Star. Some look back on his time with nothing but happy thoughts but he clearly mailed it in after the 2008 MLS All-Star Game, which led current Dallas gaffer Schellas Hyndman to effectively want him out of town as quickly as possible.

It's hard to blame him for wanting to head to Europe but the way it went down left a bad taste in the mouths of some who follow FCD. And to be honest, the results during his time in Romania and now in Greece have been mixed at best. For a guy who has a reputation as an offensive player, he sure hasn't scored many goals since heading abroad. Maybe another year or so in MLS would have served him well but then again, maybe not.
July, 17, 2011
7/17/11
11:24
AM CT
By
Todd Date
| ESPNDallas.com
Almost from the moment the news surfaced that Portland had put Dallas native Kenny Cooper on the trading block, the speculation began... Would FC Dallas be among the suitors for the Jesuit Prep product? Well, FCD head coach Schellas Hyndman does know the big forward well, dating all the way back to his prep days when the gaffer recruited him to play for him at SMU.

Cooper went a different direction, instead signing with Manchester United of the Premiership before coming to FCD in 2006. He played well in his first stint in MLS, so well that foreign clubs took notice and by summer 2009, he was off to Germany. The results never came for him across the pond, so this year, he returned to the States to play for the expansion Timbers. He has played well at times but it appears that he and Portland head coach John Spencer never really meshed, which is why he's on the block. Would FCD acquire him and more importantly, what are the accompanying pros and cons. Here's a look.

PROS

At Least on Paper, He Would Fill FCD's Most Pressing Need

No doubt about it, as good as the Dallas side has been, they still have one pretty glaring weakness, a lack of quality up top. Bringing Cooper in would quickly put that personnel deficiency to bed. He is a big, lanky target striker who is adept at poaching but who also has a pretty potent touch, even from distance. Few FCD supporters will ever forget that bomb he launched from midfield during his stint in Frisco, a goal that was astounding to say the least. Cooper's work ethic was simply amazing during his previous stint here and there's nothing Hyndman likes more than a guy who's simply willing to put the work in

He's Still a Young Pup

This might be hard for many to believe but Cooper is still only 26. Sure, it was some two years ago that he last played for FCD but he was a youngster when he started here back in 2006 at the ripe, old age of 20. Hyndman likes the fact that he has one of the youngest rosters in MLS but he also likes experience. Kenny brings that intriguing mix of a guy who is still in the prime years of his playing career but also is someone who has already gained a good deal of experience, whether it has come from his time at Man U, his first stint in MLS and also his tenure abroad.

Change Might Do Him Good

For whatever reason, it looks like things just haven't worked out for Kenny up in Portland. Maybe he and Spencer were never on the same page. Maybe the Timbers thought they were getting a different kind of player than what they actually saw on the field. Then again, maybe his goals and assists weren't substantial enough, one can never tell. But like every player, Cooper is a prideful guy who will want to prove his time in Portland was nothing more than a mere aberration. If that sounds like enough motivation for the Dallas native, think about how much more hyped he'd be if he were playing again in his hometown. Kenny knows the area well and being close to family and friends would clearly put him back in a comfort zone, something that could translate into big numbers on the field.

CONS

He Doesn't Look Like the Same Player He Was Before Heading to Europe

Now it's pretty unfair to judge Cooper's performance in 2011 on just a few games but plain and simple, he doesn't look like the same player who did so many good things for FCD from 2006 through 2009. Instead of doing quality work off the ball to get open, he seems to be content to merely wait for a teammate to serve him the ball, usually courtesy of a long ball. And when the Timbers were at Pizza Hut Park, FCD limited him to just one shot in his big homecoming. It wasn't just one Dallas player that marked him. It was a host of them. That performance didn't sit well with Spencer, who called out Cooper and the entire team afterwards. But his coach's quote also illustrated how little confidence he has in his forward. Maybe Spencer is onto something in putting Cooper on the block because he looks like a different and less effective player than before.

It Would Disturb What is a Strong FCD Room

Chemistry is a funny thing in sports. Schellas himself might have summed it up best earlier in the year when he said it's something you don't notice until it's not there. Well, for pretty much the last year-and-a-half, strong FCD team chemistry has been there but it's not something that has been widely talked about. Were Dallas to acquire Cooper, the big question is what would they have to give up? Even if this club were to lose several players lower on the depth chart, it would have a definite effect on the room. This team has already had to deal with reigning MLS MVP David Ferreira being out for much of the year and also with young phenom Fabian Castillo missing time to play for Colombia in the Under-20 World Cup. That adversity has galvanized this roster even further, so why mess with such strong chemistry?

His Lack of Familiarity with Current Dallas Personnel

Looking at the roster from when Cooper left Frisco in 2009 compared to the current FCD roster, there aren't too many players on there from when he left. Ferreira was in his first year in MLS and he and Kenny did play several months together but David had some considerable growing pains as he got acclimated in MLS but other than left back Jair Benitez, who arrived in July 2009, right before Cooper left for Germany, that's about it. Maybe it's not a big deal but he would be coming into a team and into a system that's completely foreign to him. Schellas was running a 4-4-2 when Kenny left and now it's the 4-1-4-1 which is built on speed. Cooper is a lot of things but I along with countless others would not call him fast. It's hard to say what kind of acclimation period Cooper would need before he felt comfortable here but from what FCD would have to give him to get him, they would bring him in to contribute to the attack in short order. Anything less than that would be unacceptable.

THE QUESTION

So how about it? Would you bring Cooper back? FCD has some cap room and they need a striker. What would it cost to get him? That may perhaps be the biggest question. The talent is there, or it was, and Cooper loves Dallas. Plus Hyndman know both the player and his family quite well.

So would you bring him back?
June, 26, 2011
6/26/11
3:41
AM CT
FC Dallas head coach Schellas Hyndman
Opening thoughts...
Excellent performance tonight by FC Dallas against a very good team that has two good strikers and a team that plays a lot off free kicks and corner kicks. They had scored 18 goals total on restarts so it was something we were careful with.
Our players all stepped up tonight. You can't put your finger on any one who was exceptional. They all had a good game. We need those types of performances to continue to get those three points [each game].
We went with one striker, Chavez who worked hard and made those runs. I thought Jackson and Brek had good performances on the flanks. In the second half, Eric Alexander came to light with some nice runs and penetrating passes. Our defense had a shutout. [It was] just a very, very good team performance.
On the two goals off set pieces…
We made a change with Daniel Hernandez on services. Those two goals were great. I didn't think we were getting the best out of services and we wanted to put someone there who could knock a dangerous ball in.
On George John's goal …
We seem to do really well when our defenders score a goal. I think there is a lot of determination. The guys rally around it. Our defense showed great determination. When you look at the night Kenny (Cooper) had tonight was really not effective. Everywhere he went there was someone determined to stop him from getting a shot off.
Coach Hyndman post game...
FC Dallas goalkeeper Kevin Hartman

On the Dallas Inferno "Hartman. Legend." Poster…

It kind of makes me embarrassed because I don't think of myself that way, but I love the picture and I love the fact that I have that kind of support. It really means a lot to me.

On another shutout…

It's one of those things where we're back to a goal a game. We've had some barn burners -- we gave up four against [Sporting] Kansas City and we gave up three last time we played against Portland. I think overall it puts us in good shape to be giving up about a goal a game.

On others helping out in the scoring department…

When we found out Fabian wasn't going to be here on Monday afternoon, it was something we had to figure out how we were going to go about the lineup for the weekend. The guys had a reserve game away in West Texas on Tuesday and they didn't get back for Wednesday training, so we really only had Thursday and Friday to work as a group. I thought the guys performed pretty admirably and dealt with the situation.

FC Dallas defender George John

On team's determination…

The last game we played [at home] we got smoked by [Sporting] Kansas City, so we wanted to make a point today and treat our fans to a win. We wanted to prove that this is our home field and it's tough to beat us out here.

On his goal…

We were getting quite a few corners at that point of the game and I knew Daniel [Hernandez] was trying to find me. I was fighting for position and was able to get my head on the ball. At first, I thought it went in, but no one confirmed it then I saw Ugo [Ihemelu] laughing, so I was pretty sure it was a goal after that. It was good to get a goal.

FC Dallas midfielder Daniel Hernandez

On the scoring outburst…

I think there were several guys who really had excellent games. I think they stepped up and as a whole we all played a great game. We kept putting the pressure on Portland. It's a tough place to play with the heat and I thought everyone who participated tonight did a great job.

Hernandez post game...

FC Dallas defender Zach Loyd

On his first MLS goal…

I was just really excited and happy. Daniel [Hernandez] played a great ball to the back post and I basically just had to jump and put my head on it. I was very happy with the goal and happy with the result tonight.

Portland Timbers head coach John Spencer

Thoughts on the game

I thought we were very poor. From the first moment to the last, we never matched them at all, never got close to them, never tackled them, never ran with them, just a poor, poor performance.

After tonight, you return home to face Sporting Kansas City, what do you all have to do to get back on the right track?

It's awesome. We return home and we are so good at home. You have to be a man to play on the road. You've got to man up and be strong. Most of these teams are going to be ready for you and Dallas was tonight.

What was the difference in tonight's game?

They score four and we never (scored). They had more shots on goals than us. Their players were running and moving off the ball better than we did from the start to the finish and played with a lot more confidence and desire than we did.

What are your thoughts about this Dallas team?

I think they have some tremendous forward players on their team. They have four to five players that can change the pace of the game. They can cover 50 to 60 yards in a blink of an eye and when you've got pace like that along with a natural talent like Brek Shea and (Marvin) Chavez, they are going to cause you problems. If you don't run with this Dallas team, track them and be physical with them and match their energy levels, they are going to do what that did to us tonight.

Kenny Cooper- Portland Timbers Forward

Thoughts on tonight's game

It was disappointing honestly. It was definitely not the result we were looking for, so it was definitely disappointing.

What do you all need to do to ride the ship on the road?

I believe in this group that we have. I have a lot of confidence in our coaches and my teammates and I believe we are going to get back on track and hopefully we can do that next week.

Mamadou Danso- Portland Timbers Defender

General thoughts on the game

I feel like they were a better team today. I feel like in the first half both of the teams didn't play to their best of ability but they finished their chances. They were definitely the better team in the 90 minutes.

How do you regroup going back home next week vs. Sporting KC?

We have to quickly turnaround and get it out of our heads and try to move on to the Kansas City game. They came here [Dallas] and won here so they are going to have that courage coming in to our place to play well. We should not lose back to back games. We haven't won a game in five games so we have to get off to a good start to the second half of the season.
June, 25, 2011
6/25/11
1:09
AM CT
By
ESPN.com news services
Kenny Cooper
already helped the expansion Portland Timbers beat his former team once. Now he's returning to where he grew up to face FC Dallas.
The former FC Dallas star returns to Pizza Hut Park for the first time to face his hometown club when the Timbers look for their first road victory Saturday night.
Cooper played high school soccer in Dallas and scored 40 goals in 90 games with FC Dallas from 2006-09 before he was sold to German club 1860 Munich. He returned to MLS this season with the Timbers and scored in a 3-2 home victory over Dallas on April 17.
"When we played them there, we got punished on the corner," Dallas defender Ugo Ihemulu said. "That was my guy, Kenny Cooper. So just gotta be aware and try and improve from those mistakes that we made in the last game."
Dallas (8-4-4) has made it clear that the 6-foot-3 Cooper will be a marked man in the rematch.
"We know that Kenny Cooper, he likes to drift into the midfield," defender
Zach Loyd
said. "So I think the big thing for the defense is to let the midfield be aware when he comes into those gaps."
Portland is 0-4-2 on the road and ended a three-game losing streak with a 3-3 home draw with New York on Sunday.
Jack Jewsbury
scored his team-leading fourth goal, but Portland (5-6-3) blew a two-goal lead in the final 17 minutes. The Timbers allowed a goal in second-half stoppage time for the second straight game, also doing so in a 1-0 loss to Colorado on June 11.
"Guys are gutted right now," Jewsbury told the Timbers' official website. "That's two games in a row where we've given up some points late in games and we thought we deserved more. We've got to take the positives of the way we approached the second half and take that into Dallas."
Portland coach John Spencer will return to the sideline after he watched the New York match from the press box due to a one-game suspension. He says he's happy with the expansion team's progress.
"We've got a lot of guys who haven't played at this level, and some guys that were in and out of this level," Spencer said. "It's a big ask."
Dallas is hoping to put together a better performance than it did in its last home game, a 4-1 loss to Sporting Kansas City on June 12. The club bounced back last Saturday with a 2-1 win over Chivas USA on Jackson Goncalves' goal in the 85th minute.
"This was a game for us to kind of get back on track," coach Schellas Hyndman told FC Dallas' official website.
Hyndman has warned his club about Portland's ability to score on set pieces.
"I think we're going to have to limit the fouls we give them in dangerous areas because a guy like Jewsbury, he delivers a great ball into the box," Ihemulu said. "They have some big guys that really can get on the end of the crosses."
June, 14, 2011
6/14/11
1:20
PM CT
By
Buzz Carrick
| ESPNDallas.com
I came across this on facebook today and thought I would pass it along. It's a limited allotment (150) of on the field seats for the FC Dallas game on the 14th when Kenny Cooper and the Portland Timbers come to Frisco.
This is a half off coupon for these seats
, so if you've ever wanted to sit down on the field for a game this might be the best time.
And in case any of you have forgotten what the man meant around here...
April, 16, 2011
4/16/11
2:42
PM CT
By
ESPN.com news services
The Portland Timbers' visit from FC Dallas may not be the most-anticipated sporting event in either city this weekend, but it could be tough to tell by the noise level at raucous Jeld-Wen Field.
Their cities' NBA teams will be a game into a first-round playoff series in Texas when Dallas and Portland square off Sunday in the Pacific Northwest, where the Timbers may have a significant advantage if the raucous crowd from their impressive home-opening win is any indication.
The Trail Blazers and Mavericks found out Wednesday night they'd be matching up in the Western Conference playoffs, but there was a much longer-building anticipation in Portland for the Timbers' MLS home debut one night later.
It had been two years since the league announced Portland would become the MLS' 18th team, giving a Timbers franchise that's existed since 1975 a chance to play on the sport's biggest American stage.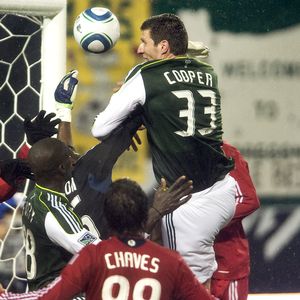 Steve Dykes/Getty ImagesJesuit product Kenny Cooper, who scored 40 goals in 90 matches for FC Dallas, hosts his old team as a member of the Portland Timbers.
Portland (1-2-1) came away with just one point in its first three road games, but its first match at the refurbished Jeld-Wen Field on Thursday couldn't have gone much better. In front of a frenzied, rain-soaked crowd that included Trail Blazers Nicolas Batum, Rudy Fernandez, Patty Mills and Wesley Matthews, Jorge Perlaza scored twice as the Timbers cruised to a 4-2 win over Chicago.

"I don't think you'll see an atmosphere like that in American soccer history," coach John Spencer told the team's official website. "I think it was tremendous. I thought it was electrifying when the first goal went in."

Portland scored just twice in its first three matches but had little trouble breaking through the Fire defense.

"To get that first league win is so big and so important," forward and Dallas Jesuit product Kenny Cooper said. "Hopefully we can push off from here."

For Cooper, who thought he scored Portland's first goal in the 12th minute Thursday only to have it disallowed, Sunday's match might have a little added meaning. The 26-year-old forward scored 40 goals in 90 appearances for Dallas between 2006 and 2009, when he was transferred to second-division German club 1860 Munich.

His old team scored just once in its first three matches this season, but Dallas (1-2-1) finally got on track April 8 against Colorado. Reigning MVP David Ferreira scored twice in a 3-0 victory over the Rapids, who beat Dallas 2-1 for last year's MLS Cup.

Ferreira, who had eight goals and 13 assists last season, was nowhere to be found on the scoreboard in Dallas' first three matches.

"I really think that he is such a good player and he figures things out very quickly," coach Schellas Hyndman said. "We talked about him getting up higher so that the defenders have to worry about him, and I think you started to see a David that we have seen in the past."

Dallas lost 2-0 at Columbus on April 1 in its first road game, but picked up points in 12 of 15 matches away from home last season. With eight full days off since the win against Colorado, it could have a leg up to come away with more points Sunday.

"With Portland coming off a game (Thursday), they may be a little tired on Sunday," midfielder Eric Avila said. "We need to come out fast and establish our game."
March, 17, 2011
3/17/11
2:27
PM CT
By
Buzz Carrick
| ESPNDallas.com
Soccer America, continuing their positional rankings,
has FCD's back four at #4 in the league
.
4. FC DALLAS. Ugo Ihemelu and George John are primed to emerge as one of the league's best central tandems, though the Brek Shea Experiment is an interesting study. Jackson has big shoes to fill, those of Heath Pearce, at right back. Jair Benitez on the left is money.
Soccer America has the FCD midfield at #4 also.
4. FC DALLAS. The loss of Dax McCarty is a huge hole to fill, but Coach Schellas Hyndman has Eric Alexander and other options. David Ferreira is the top No. 10 in MLS, Marvin Chavez is an emerging star on the right flank, and if Brek Shea lines up on the left he'll contribute his height and hunger to score. Daniel Hernandez is still spry at 35 (in July).
A couple of ex-FCD strikers are floating around MLS.
Here's a Q&A with Jeff Cunningham in Columbus
.
Carlos Ruiz is now in Philly
. Last, but not least,
Kenny Cooper is in Portland and looking to get back to his FCD form
.
Following up the Jair Benitez suspension,
Jeff Cameron has a comment in the Houston Chronicle
.
I don't really have much to say. Glad the MLS decided to take action on him. Nothing happened to me. Just happy they took responsibility, and now we can all move on.
Brian Ching declined to comment.
The Dallas Business Journal is still tracking the FCD jersey thing
. Not much new in their blurb, but it's nice to see a publication like the DBJ paying attention to MLS.
"Main stream" media getting ready for the start of the season.
WFAA has a feature on FCD you can watch here
.
MLS is climbing onto the Ruben Luna bandwagon
. It's starting to get crowded, thankfully I got my seat early.
F Ruben Luna, FC Dallas (pictured above)

FC Dallas currently top MLS with six Home Grown signings. And while three or four of them might be able to sneak some minutes this year, one of the strongest candidates to put together a solid campaign is Luna, a 19-year-old forward from Mexico. His six goals in preseason give him a chance at seeing some playing time when the season begins against Chicago on Saturday.
Dax McCarty has been named captain for DC United
.
Francisco "Panchito" Mendoza apparently saw executions while playing in Juarez, Mexico
. As you can imagine, he's happy to be back in MLS.
I really saw bad things. I saw executions. But I never got scared. I think when I got there, I knew what I was getting into. I tried to think about the positive side of things: how nice people treated me there, and it's one of the cities that has treated me the best. But to tell you the truth, I saw a lot of stuff. But that's something you don't want to mess with, because the last thing you want is trouble.
What's going in Toronto with Dwayne De Rosario
reminds me of what some FCD players were saying during the Micheal Hitchock era.
Ever wonder what happened to Denilson
?
DENILSON (FC Dallas). The Brazilian broke a world record when he commanded a transfer fee of $32 million in 1998, but by the time he debuted with Dallas in September 2007 his career was on a downward slide. He lasted only 11 games before Dallas decided not to pick up his option. He spent the 2008 season on the bench at Palmeiras in Brazil before moving on to Vietnam, where he lasted three weeks, and Greece, where was released by Kavala after having failed to make an appearance in three months.