April, 29, 2012
4/29/12
11:05
AM CT
FC DALLAS HEAD COACH SCHELLAS HYNDMAN

On the performance:

"We withstood a lot of pressure. I'm really proud of the guys. They played as hard as they have, this is our third game in seven days and you couldn't tell that we had just played on Wednesday night."

On building consistency:

"This is our ninth game and we've had nine different lineups. We've yet to get any consistency, because people are getting call-ups or injuries or suspensions from the disciplinary committee, so for us to come out tonight and fight as long as we did against a very good team … I'm not worried about us."

On how even the game was:

"We played a very good team tonight. I think if you look at everything from the stats we're very similar all the way across. Both teams had great scoring chances. I think what we take away from this is, if you're a fan watching it on TV you've got to love this type of soccer from both teams."

On the Galaxy offense and the tying goal:

"I can't think of a team in the league that you would want to be one goal up on at their home (less) than the Galaxy. Because they have so many weapons, they serve the ball so well, they're very physical in the box, they've got a lot of firepower. That goal they got at the end was probably one of their weaker chances."

On getting the first road point:

"Your whole mentality is to get points. For us we were talking about, we have yet to win on the road and we have yet to get a point on the road. We were two minutes away from getting that first win, but I'm proud that we come away with not only a point but, I think, one of our better performances to date."

FC DALLAS GOALKEEPER CHRIS SEITZ

On FC Dallas' first road point:

"Obviously we've had a nasty bit of luck as of late on the road so to get out of LA with a draw is not a bad thing. At the same time, we put ourselves in a great situation to win and I think the team defense for the majority of that game was outstanding. The guys put a lot of heart into what we were doing and the game plan."

On the Galaxy's late pressure and the tying goal:

"I don't know how many guys they had forward at the end, but they definitely didn't make it easy. They had great services coming into the box and they had big guys in there trying to win first and second balls. For a good 10-15 minutes we won the majority of the second balls, one squirted out and a guy was in the right place at the right time. It's unlucky; we put in a heck of an effort."

On Robbie Keane's penalty kick:

"It's one of those things where you just try to stay big. I thought he was going one way and he ended up going the other. I don't know what he saw, but when you go to a side you just try to stay as big as possible and those things happen, so we were a bit fortunate with that."

FC DALLAS MIDFIELDER BREK SHEA

Overall thoughts on the Galaxy:

"They spread us out well, they kept the ball well. They were hitting long balls into their forwards and they have big forwards that like to fight. I think our center backs and defenders did well, just unlucky."

On getting the road point:

"Obviously we're excited for the point, but it also sucks because I think we should've had three. I guess we've got to start somewhere. As much as it sucks, we have to look at it as a positive because it is our first point on the road."

FC DALLAS MIDFIELDER ANDREW JACOBSON

On the team's performance:

"It's a long season, a lot of games, if you can play like that for a whole season you're going to gain a lot of points. Maybe this time you gain one point, but if you can do that consistently, you'll be getting three points a lot."

On playing with the lead:

"We have a lot of great attacking players and we can't try to be something we're not. We need to come out and attack. We want the ball, we've got guys that can beat guys and if we come and sit back we're not using them."

On playing three games in seven days:

"Three tough games, going into Vancouver, flying home two days later playing Salt Lake, then flying out the next morning to play LA. We got two points out of the week, but it was good performances, those were very good teams. Everyone's going to be up there at the end of the season, so it's something we're going to have to draw on later on in the season when we have that third game in a week again."

LA GALAXY HEAD COACH BRUCE ARENA

On Landon Donovan not taking the PK:

"I don't know the detailed discussion Robbie (Keane) and Landon (Donovan) had. Robbie wanted to take the kick and Landon said 'fine'. Now I'll be honest with you, if any team has the choice between Robbie Keane and Landon Donovan or (David) Beckham taking penalty kicks, you're real happy. The easiest thing to do in the aftermath is be critical and say 'missed a kick.' There aren't any better players in the world to take penalties than Robbie Keane and Landon Donovan. We missed it tonight."

Overall thoughts on the game:

"Both teams played real hard and getting a goal in extra time (we) can't be complaining about the point (gained). It's that simple. We missed the penalty. We had some good chances during the game. There weren't a whole lot of chances in the game by the teams. But we had enough to get ourselves two or three goals and didn't, so we put ourselves in that position. It was a great finish opposite by Pat to get us the point."

On David Junior Lopes:

"I thought he made a couple of mistakes, that's obvious. He's aware of that. We have to try to grow with the player. Give him more experience with our team and hopefully eliminate those mistakes. He's a good defender, you just have to cut down a few mental errors and he can be a very capable center back. I don't know if you can call it concentration—mistakes. It is very easy for all of us. We're the experts when we're sitting on the bench or the press box or whatever. It is not as easy as it looks out there. I don't think it is concentration, but there were certainly some mental lapses."

LA GALAXY MIDFIELDER LANDON DONOVAN

On Robbie Keane's penalty:

"He did everything right he just miss hit it a little bit. The guy has taken many penalties and has made many penalties. I am sure the next time he takes one it will go in. It's been a while since those guys have hit the net and we are trying to get them more chances we are not doing a good enough job getting them chances in front of the goal so I thought I would help a little bit."

On his missed opportunities:

"The first one got a way from me a little bit. I was a little bit in between steps but I should have done better. The second one I just kind of reacted and (Chris) Seitz made a good save. It was sort of one of those nights that we need one of those to fall our way if we were going to win this game but still a great effort to get something out of it."

On Bill Gaudette's performance:

"It was great. It was seamless. We are all thinking about Josh (Saunders) and making sure that everything is going okay with him. For coming in on short notice I thought he was great. We probably should've had a shutout tonight."

LA GALAXY FORWARD PAT NOONAN

On the game-tying goal:

The ball was up in the air and landed at Chad's feet and he did a nice job of pulling the ball up and he laid it off perfectly for me. I just tried to put it on net. I'm looking at him, I don't think he was looking at me, but he heard me— that's what he said. He laid it off perfectly.

On the Galaxy creating scoring chances:

"We are creating chances that is the positive if we weren't then we would be worried about that but we are creating chances and sooner or later they are going to go in and when they go the flood gates are going to open."

LA GALAXY GOALKEEPER BILL GAUDETTE

On getting the start tonight:

"Every player in this locker room wants to be on the field, that is what we are all here for and that is what we work hard for everyday. My number was called and I was excited obviously I would have been more excited if we would have gotten the three points."

On tonight's game:

"I felt like we created the better chances, but things didn't fall (our) way. That's part of the game. Some days they are going to fall your way some days they won't. But luckily Pat (Noonan) was able to come in and provide a huge boost for us in that tie. Sometimes a tie is a good thing. We are not happy. We are not satisfied. Obviously we are home and we want three points but at the end of the day it is a hard fought tie. Dallas came in did their job sat back counter attacked us hard and that is what teams are going to do here at home. They are not going to come out and push numbers forward they are going to wait for us to kind of get stretched out and create chances like that. At the end of the day we are happy that we came out with a point but we are not satisfied with the result."

LA GALAXY MIDFIELDER DAVID BECKHAM

On tonight's game:

"I think it's a good point at the end of the day because we both had luck at times but we also had a lot of chances throughout the game. I think we had more chance in the first half than the second half. Our overall play wasn't as sharp as it has been in the last few weeks but we definitely deserved the point, so we'll take it. Dallas came here and have had a couple of hard games recently and they came here, worked hard and made it hard for us and good pace on the break. It's up to us to come back but we are happy with the point."

On the missed penalty kick:

"Landon (Donovan) is obviously a penalty taker. Robbie [Keane] is a penalty taker. So between them two they decided. It is just one of those things; you're brave enough to step up for a penalty kick. Sometimes you score, sometimes you miss, but I have always thought anyone who steps up is a brave person."

On LA's goal in stoppage time:

"I think it shows the character of the team, getting it back late. Sometimes you have to fight all the way to the end of the game, the final whistle. If you do that, there is always a chance you will get a goal. We felt we should have had a couple goals in the first half. We had some really good chances in the six yard box. We might have been fortunate to get the draw but we also could have won the game. I think you're always proud as a player of a team that comes back from a goal down or comes back to win a game or draw a game. We've done well to come back from this tonight."

On Bill Gaudette's performance:

"It is great for Bill (Gaudette) to come in. He's done a great job and to fill Josh's [Saunders] boots after last week is difficult but he came in and had a strong performance. He kept a few good shots out and also he's very commanding in coming for the ball. It was a good night for him."
April, 28, 2012
4/28/12
3:32
PM CT
FC DALLAS vs LA GALAXY
THE HOME DEPOT CENTER, Carson, Calif.
April 28, 2012, 9:30 p.m. CT (FS-SW+)
FC Dallas hosts Party at the Pubs at Trinity Hall Saturday, April 28 Pre-game Rock, Paper Scissors Tournament offers chance at great prizes. Think your Rock, Paper, Scissors skills are sick? Bring your A game to Trinity Hall Pub, 5321 East Mockingbird Lane, this Saturday, April 28 at 8 p.m. for the FC Dallas Party at the Pubs.
REFEREE:
Ricardo Salazar.
MLS Career: 149 games; FC/gm: 27.0; Y/gm: 3.5; R: 42; pens: 55
SAR (bench): Peter Manikowski;
JAR (opposite): Mike Kampmeinert;
4th: Alejandro Mariscal
INJURY REPORT:
LA GALAXY - OUT: DF
Omar Gonzalez
(L knee surgery); DF Leonardo (R knee surgery); GK
Brian Perk
(sports hernia surgery); QUESTIONABLE: MF
David Beckham
(back spasms); MF
Mike Magee
(L quad contusion)
FC DALLAS - OUT: MF David Ferreira (R foot surgery); MF
Ricardo Villar
(R foot strain); MF
Andrew Wiedeman
(sports hernia repair); QUESTIONABLE: MF
Andrew Jacobson
(R hamstring strain); GK
Kevin Hartman
(lower back spasms);
Bryan Leyva
(L ankle sprain)
INTERNATIONAL ABSENCES:
none
SUSPENDED:
none
WARNINGS:
SUSPENDED NEXT YELLOW CARD: none
SUSPENDED AFTER TWO YELLOW CARDS: none
HEAD-TO-HEAD
ALL-TIME (54 meetings):
Galaxy 26 wins (1 shootout), 98 goals ...
FC Dallas 19 wins (1 shootout), 75 goals ...
Ties 9
AT FC DALLAS (27 meetings):
Galaxy 19 wins (1 shootout), 57 goals ...
FC Dallas 5 wins (1 shootout), 28 goals ...
Ties 3
RETURN MATCHES:
7/28: FC Dallas vs. LA Galaxy, 7 p.m. CT (NBC SN);
8/26: LA Galaxy vs. FC Dallas, 4 p.m. PT (NBC SN)
LAST YEAR (MLS):
5/1: DAL 2, LA 1 (Castillo 47; Shea 88 - Donovan 51)
8/6: LA 3, DAL 1 (Gonzalez 32; Juninho 62; Magee 81 - Chavez 9)
Coaches record:
Bruce Arena vs. DAL: P18 W9 L7 D2 ...
Schellas Hyndman vs. LA: P8 W3 L3 D2
LA GALAXY NEWS
- The Galaxy won for a second consecutive game after back-to-back losses, and won on the road in their second trip in league play away from The Home Depot Center.
- LA Galaxy goalkeeper
Josh Saunders
saved a penalty kick from
Omar Cummings
in stoppage time to preserve the 2-1 win in Colorado. It was his first penalty save in MLS.
- For the second time in as many games, a
Robbie Keane
pass set up a
Landon Donovan
goal, providing the ultimate deciding goal in the victory against Colorado.
- A year after tying the all-time MLS record with 17 shutouts and conceding just 28 goals in 34 games (tied for fourth-fewest in league history), the Galaxy still have yet to keep a clean sheet this season.
- Donovan has 17 goals and 12 assists in 29 career regular-season games vs. Dallas - his highest output against a single opponent.
FC DALLAS
NEWS
- Heading into the game, Hyndman had a real injury crisis on his hands with midfielders Ricardo Villar, Andrew Jacobson and David Ferreira all ruled out through injury. Then in the days leading up to the match, striker
Blas Perez
was suspended for the contest in a ruling by the MLS Disciplinary Committee.
- Things got even worse when
Carlos Rodriguez
suffered what Hyndman said was a dislocation of his elbow early in the second half that forced him off the field. Jackson made his first appearance after his return from his loan to Cruzeiro EC in Brazil.
- Striker
Scott Sealy
was able to make his first start of the season, after coming on as a substitute the weekend before.
Jair Benitez
also made his return to the lineup following a three-match absence.
- Goalkeeper Kevin Hartman was again unable to figure, after being scratched from the Vancouver match with back spasms after warmups.
Chris Seitz
was credited with four saves.
-
Brek Shea
has scored the last two goals for FC Dallas, converting the penalty kick just before the interval for his second goal this season.
- Home Grown Player Jonathan Top made his full professional debut, coming on for the final quarter of the match.
April, 28, 2012
4/28/12
12:59
AM CT
By
Todd Date
| ESPNDallas.com
On Saturday night at the Home Depot Center, FC Dallas gets their first look at the reigning MLS Cup champion Los Angeles Galaxy this season to finish up a stretch of three games in a week's time. Dallas coach Schellas Hyndman was asked for his thoughts on the Galaxy and here's what he had to say.

General thoughts on L.A.

Hyndman: They're a team that just kind of progresses each week. I think Bruce [Arena] recognizes it's more of a marathon season. You've just got to get better and better.

His take on facing a team with so many attacking options

Hyndman: Everybody's looking for forwards and all of a sudden, they get Edson Buddle back. Are you joking? So you've got [Robbie] Keane, Buddle, you've got [David] Beckham, you've got [Landon] Donovan and now [Chad] Barrett's getting on the field. They've got a very good, hard-working strike force and of course it's going to cause some problems for us but at least our defense is prepared.
April, 27, 2012
4/27/12
1:25
PM CT
By
Buzz Carrick
| ESPNDallas.com
FC Dallas is hosting a Party at the Pubs at Trinity Hall Saturday, April 28, involving a pre-game Rock, Paper, Scissors tournament... I have to admit that's not smoething I've heard of in MLS before. Here's the FCD release on it.

-----------------------------------------------------------------------------------------

FC Dallas hosts Party at the Pubs at Trinity Hall Saturday, April 28 Pre-game Rock, Paper Scissors Tournament offers chance at great prizes

Think your Rock, Paper, Scissors skills are sick? Bring your A game to Trinity Hall Pub, 5321 East Mockingbird Lane, this Saturday, April 28 at 8 p.m. for the FC Dallas Party at the Pubs.

The tournament's first place winner will earn a suite deck for up to 20 people for an upcoming FC Dallas home game, while second place receives 10 club seats and third prize offers a field table for four. Contestants can register online at fcdallas.com/pubs with a $5 donation to the FC Dallas Foundation serving as the tournament entry fee.

FC Dallas midfielders Andrew Wiedeman and Ricardo Villar, FC Dallas Promo Girls and Tex Hooper will join the crowd to watch FC Dallas take on the L.A. Galaxy at the Home Depot Center in Carson, Calif. The game kicks off at 9:30 p.m. CT.

If a Rock crushes your Scissors, no worries: there will be door prizes at halftime, including autographed, framed FC Dallas posters, a Lamar Hunt jumbo scarf autographed by former U.S. National Team defender Brian Dunseth and tickets to the May 6 match versus the Colorado Rapids.

Trinity Hall Pub will offer a special $8 watch party menu.
August, 9, 2011
8/09/11
5:47
PM CT
By
Buzz Carrick
| ESPNDallas.com
Marvin Chavez has been nominated for MLS Goal of the Week for his stunning strike at LA Galaxy this last weekend.
You can go vote here
.
Here is Chavez's cracker of a goal.
August, 8, 2011
8/08/11
1:32
PM CT
By
Blake Owen
| ESPNDallas.com
Until Marvin Chavez's 9th minute goal, FC Dallas had completed 11 more passes (
46 to 31
) than the Los Angeles Galaxy. Over the remaining 81+ minutes, Dallas ended up on the losing end of a
276 to 219 passes completed deficit
. LA's possession advantage created plenty of opportunities for David Beckham to work his magic.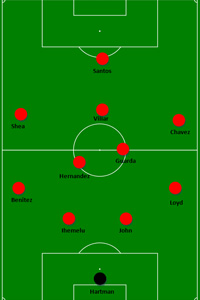 The starting XI.
But those opening 9 minutes were full of promise. Schellas Hyndman stuck with his 4-2-3-1 and gave striker Maicon Santos his debut. Santos showed that he should be able to bridge the gap between a traditional target forward (Ruben Luna) and a speedster (Marvin Chavez). Santos looked equally comfortable holding up the ball or racing beyond defenders. On Saturday, it was his pace that created Dallas' goal. The Brazilian chased down a Zach Loyd chip and then set up Marvin Chavez at the top of the box.

On paper, Hyndman's 4-2-3-1 gave Dallas a man advantage in midfield against LA's 4-4-2. The positioning of Landon Donovan, ostensibly lined up at left midfield, evened the numbers. Donovan, whose successful passes can be seen at right, spent most of his time in front of center midfielders Juninho and David Beckham. Without Donovan's presence in the middle, it's unlikely Los Angeles could have held possession so easily.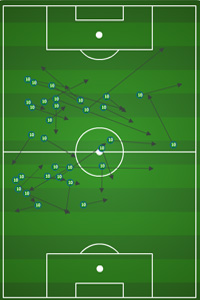 Left midfielder Landon Donovan came inside with regularity, helping his teammates maintain possession.
LA's strategy was not without risk. Donovan's positioning meant left back Todd Dunivant was the only defender responsible for Chavez. Dallas, though, didn't exploit the isolated left back. Central midfielders Bruno Guarda and Daniel Hernandez rarely sent the ball Chavez's way. The winger only attempted 17 passes on the day. Donovan did an admirable job tracking back, but Hyndman may second-guess himself for not force-feeding Chavez. On the other flank, Brek Shea was held in check by two fullbacks, AJ DeLaGarza and Sean Franklin.

With Dallas not taking advantage of Donovan's roaming, LA was free to saunter deep into the Dallas half. The Red Stripes didn't allow the home side to create many opportunities from open play, but they did concede a number of unnecessary free kicks and corners. David Beckham took advantage to set up all three LA goals from set pieces. Tired legs surely played a role in some of the defensive clumsiness, but if these two teams meet again in the playoffs, Hyndman will need to find a way to make Donovan think twice about coming inside, lest Dallas find themselves subjected to more Beckham free kicks.

Blake Owen is the editor and publisher of futbolforgringos.com.
August, 6, 2011
8/06/11
10:41
AM CT
FC Dallas (12-5-6, 42 PTS)
at
LA Galaxy (12-3-9, 45 PTS)
FOX Sports Southwest Plus and kickoff is set for 9:30 p.m.
The battle for first place in the West. The clubs are separated by just three points and FC Dallas has two games in hand. The Galaxy are coming off a two-game Pacific road trip, concluded with a crash in a 3-0 loss at Portland at midweek. FC Dallas are back in league action following a home win against Chivas USA last weekend and advancement in the CONCACAF Champions League at midweek.
REFEREE: Michael Kennedy.
MLS Career: 135 games; FC/gm: 28.9; Y/gm: 3.8; R: 24; pens: 47
SAR (bench): Adam Wienckowski;
JAR (opposite): Jason Cullum;
4th: Mark Declouet
INJURY REPORT:
LA GALAXY –
OUT: DF Sean Alvarado (R knee surgery); DF Leonardo (R knee surgery); GK Donovan Ricketts (L ulna fracture);
QUESTIONABLE: FW Chad Barrett (R knee sprain); MF David Beckham (back spasms); MF Jovan Kirovski (L ankle sprain);
PROBABLE: DF Omar Gonzalez (nose fracture)
FC DALLAS –
OUT: DF Edson Edward (R knee ACL tear); MF David Ferreira (R ankle); FW Maykel Galindo (R hamstring strain);
QUESTIONABLE: MF Andrew Jacobson (L knee - Did not travel)
PROBABLE: MF Brek Shea (illness)
INTERNATIONAL ABSENCES:
DAL: Fabian Castillo (Colombia U-20)
SUSPENDED:
none
WARNINGS:
SUSPENDED NEXT YELLOW CARD:
LA: Juninho
DAL: Daniel Hernandez, Andrew Jacobson
SUSPENDED AFTER TWO YELLOW CARDS:
LA: Landon Donovan
DAL: Ugo Ihemelu, George John, Zach Loyd, Brek Shea
HEAD-TO-HEAD
ALL-TIME (53 meetings):
Galaxy 25 wins (1 shootout), 95 goals …
FC Dallas 19 wins (1 shootout), 74 goals …
Ties 9
AT LA (27 meetings):
Galaxy 18 wins (1 shootout), 54 goals …
FC Dallas 5 wins (1 shootout), 27 goals …
Ties 3

- Brek Shea scored a dramatic winner two minutes from full time on May 1 in the first meeting between the clubs on a wild night at Pizza Hut Park.
- The Galaxy won both league meetings between the clubs last year, winning 1-0 in Frisco and 2-1 in Carson, but FC Dallas defeated the Galaxy 3-0 in the Western Conference Championship at The Home Depot Center.
- The Galaxy's win at The Home Depot Center in the regular season finale was their first home win against FC Dallas since 2007.
- The two teams exploded for goals at the home of the other in consecutive seasons. In 2009, FC Dallas won 6-3 at The Home Depot Center – the most goals allowed in a single game in Galaxy history. But in 2008, the Galaxy won 5-1 at Pizza Hut Park (and that followed a 6-3 Galaxy win in SuperLiga in 2007).

Coaches' records:
Bruce Arena v DAL: P17 W8 L7 D2 …
Schellas Hyndman vs. LA: P7 W3 L2 D2

LAST MEETING (MLS)
5/1: DAL 2, LA 1 (Castillo 47, Shea 88 – Donovan 52)
- FCD took the lead two minutes after the second-half restart. Andrew Jacobson flicked a Jackson throw-in to Fabian Castillo on the second attempt and the Colombian forward scooped his effort over LA 'keeper Donovan Ricketts and inside the far post for his first MLS goal.
- Landon Donovan replied five minutes later to draw the Galaxy level. Juninho played a cutting ball toward the back post, and both Donovan and Zach Loyd crashed toward the goalframe, but Donovan looked to get in the final touch as he slid behind Loyd before banging into the woodwork.
- The match was delayed for an hour with just a few minutes of regulation time remaining after lightning rolled in.
FCD struck quickly after the game restarted. Brek Shea sent a curling cross from the left that floated over Ricketts and into the far side of the net for the 88th-minute winner.

April, 30, 2011
4/30/11
6:29
PM CT
By
ESPN.com news services
There's a possibility the Los Angeles Galaxy could have all of their star players available for their next game. Their opponent won't be as fortunate.
After attending the royal wedding in his native England,
David Beckham
might play in Sunday night's Western Conference finals rematch with host FC Dallas, which has lost reigning MVP David Ferreira to injury.
Ferreira had a goal and an assist to lift his team into its first MLS championship game with a 3-0 victory over Los Angeles on Nov. 14. The midfielder, though, won't play in this meeting after suffering a double fracture of his right ankle against Vancouver last Saturday.
His replacement,
Eric Avila
, scored the tiebreaking goal in a 2-1 comeback victory.
"Players are going to have to step up," coach Schellas Hyndman told the team's official website. "This is a great opportunity for other players to play, for them to show their value, and for us to show our depth. If we want to find the success that we all want, we are going to have to raise our level."
Ferreira had eight goals and 13 assists in 2010 and a team-best three goals this season.
The Galaxy (4-1-3) showed what they could do with all of their players on the field last week, winning 3-0 over Portland to extend their unbeaten streak to five.
Beckham returned after serving a one-game suspension for yellow card accumulation and recorded his team-best fourth assist on the opening goal. Another Galaxy star, though, had an even better return to action.
After missing three straight games with an ailing knee,
Landon Donovan
scored his first two goals of the season and added an assist.
"It's good to get him on the board here," coach Bruce Arena said. "Hopefully there is more to come."
Beckham might not play Sunday after traveling to Westminster Abbey for Friday's ceremony. He planned to arrive in Dallas before his teammates and see how he felt.
"(Arena) said to me if I wanted to not go to the game (that's fine), but it's important that I'm there," Beckham told the team's official website. "I'll speak to the manager, just to see how I feel on the day of the game. I'll do everything right and do what's best for the team."
The Galaxy won both regular-season matchups in 2010, snapping Dallas' 12-game home unbeaten streak with a 1-0 victory May 20. That win was part of Los Angeles' 12-game unbeaten run to start the season, which tied an MLS record.
Beckham and Juninho, who is tied for the team lead with two goals in 2011, both scored in a 2-1 home win over Dallas on Oct. 24.
Los Angeles is 2-5-1 in MLS play at Pizza Hut Park.
November, 15, 2010
11/15/10
9:22
AM CT
By
Jay Brownlee
| ESPNDallas.com
FC Dallas advanced to their first MLS Cup appearance Sunday night with a splendid 3-0 thrashing of Los Angeles Galaxy before 27,000 partisan fans in Carson, California.

David Ferreira led the way offensively for FC Dallas with a goal and an assist. The pint-sized midfielder opened the scoring in the 26th minute against the run of play with a stunning goal from the top of the penalty box. Ferreira received the ball from Marvin Chavez, turned on the ball and fired it into the net.

It was the turning point of the match as the Galaxy suddenly and visibly lost their swagger. Goalkeeper Kevin Hartman added to the Galaxy misery by notching four outstanding saves further frustrating the darlings of MLS.

The Galaxy's demise became more imminent shortly after the second-half restart when sloppy defense led to another Dallas tally. Brek Shea's low-cross through the box was met by an unmarked George John at the back post to push Dallas to the 2-0 lead 54 minutes into the match.

Ferreira and Chavez combined again to spell doom for the Galaxy in the 73rd minute, this time with Chavez acting as beneficiary. Ferreira's pass in behind the flat-footed Galaxy defense found Chavez on a diagonal run through the penalty area and into a one-on-one with the Galaxy keeper, Donovan Rickets. Rickets had little chance for the stop as Chavez calmly slotted the ball into the far post.

This match was all about opportunities. The Galaxy failed time and again to take advantage of theirs; FC Dallas made the league's premier franchise pay dearly with theirs. Hartman displayed the form that led FC Dallas to a league record setting 19 match unbeaten streak through the regular season. "El Gato" kept his team in the match early with spectacular saves. David Ferreira did his part on the offensive side of the ball. Dallas was simply efficient - and devastating. The league's best counter-attack exposed L.A. and left the league's Supporter's Shield winners searching for answers they never found.

Despite being urged on by the Galaxy faithful and even the commentators, L.A. simply wilted under pressure applied by the better side. It was schadenfruede of the sweetest kind for FC Dallas supporters – and most likely fans of the rest of the league at large. There is little doubt that MLS might have preferred a title for David Beckham and his mates. Winter tours and shirt-sales notwithstanding, the league has seemed desperate at times to prove the Beckham Experiment a success. Perhaps Beckham will eventually lift a trophy, but the league will have to wait at least a year longer.

FC Dallas helped fans to leave behind the spite they feel for the Galaxy. Now they have a chance to erase past playoffs misery against a Colorado Rapids club that should provide a worthy battle. FC Dallas has at last reached the MLS ultimate match, but in a year of firsts for this club is nothing new to this side now. Why not a championship too?
November, 11, 2010
11/11/10
10:06
AM CT
By
Dave Dir
| ESPNDallas.com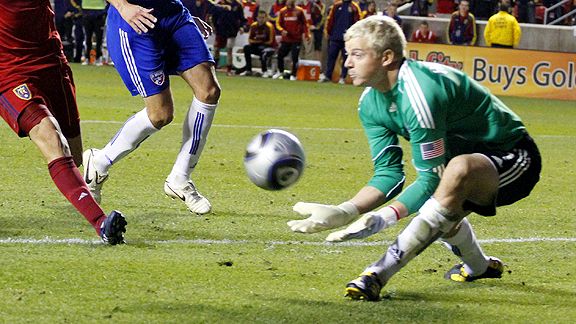 AP Photo/Jim UrquhartKevin Hartman is the reason FC Dallas is among the last four teams remaining in the MLS Cup.


Four teams are still alive in the quest for the MLS Cup.

I was fairly accurate with what I thought would happen in the East. In the West, the Los Angeles-Seattle series wasn't as close as I expected and FC Dallas just keeps finding the will to win, reminding me of the old Dallas Burn team of 1999. We came in and upset the best team in the league in Chicago, who had won the title the year before.

Nobody was picking us to get by Sigi Schmid and Los Angeles that year in what at that time was a three-game playoff series. We felt there was no stopping us, but we knew LA would be tough. They had the marquee names and we had a group that played together as a team in every way.

Don't get me wrong. We had studs in players such as Jason Kreis. In fact, that 1999 team is eerily similar to the 2010 FCD side. A foreign forward who was new to the league named Ariel Graziani quickly made an impact, like Milton Rodriguez. Oscar Pareja was our David Ferreira. We had outstanding goalkeeping which often saved an improving defense. Eric Dade compared to Ugo Ihemelu.

The biggest difference now, however, is this is a one-game knockout round. I would have much preferred that back then. So many things can happen in a three-game series. I always felt our series with Chicago was one of the great ones in the history of the league. You had the drama of us tying and then whipping the Fire in the opener, only to have them return the favor at home, forcing a third game.

If this year's Salt Lake-Dallas series would have been three games, it would have changed the whole complexion of how the teams approached the second game. There is also the wear and tear of a tight contest and the increased effect of the referees. In a three-game series, more cards are likely, which means you have a greater likelihood of losing players for games in that series or the next one -- which is what happened to us in the final game in LA.

You don't see the accumulation of yellow-card points in a one game playoff or aggregate series near as often now, so your best players stay on the field.

But enough about my thoughts of the past. I'll look at Dallas and LA first because to me the winner of MLS cup comes from there.

Dallas to me is playing like the Dallas of '99. They are the hottest team in the league, but in a unique way. They are really playing as a team, and contributions are coming from a lot of different places. They are doing it by committee.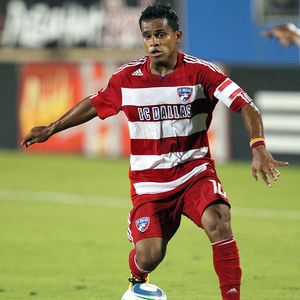 Ronald Martinez/Getty ImagesFC Dallas' David Ferreira has been outstanding, but LA matched up with him well this season.
The two key players are clearly Kevin Hartman and David Ferreira, who has been outstanding. The only team that has matched up with him all season is LA, and I would argue they did it much better before David Beckham returned. There are not many teams that have someone in the middle with the engine to handle Ferreira's slicing runs. His ability to find the spaces in between the back line and the midfield is fun to watch.

Hartman is the single most important reason Dallas has advanced this far. He has revitalized an improving back line, which to me still has hidden issues. He has also sparked what appeared to be a career winding down. He has been outstanding, even after the injury, and without him Dallas doesn't get past RSL. The Hartman factor will be the biggest in this game.

LA has seemed to have Dallas' number so far this year. The Galaxy is one of the few teams that usually doesn't give up the counter, an area in which Dallas has been so good at this season. LA forces you to play defense in numbers, yet it doesn't commit large numbers in the attack, which means they don't get stretched as much.

Additionally, Bruce Arena's teams have always been great at taking the early foul. If you watch an Arena-coached team and pay close attention to the first player on the ball, you will notice he will often commit the harmless foul far away from his goal just when they lose possession, breaking your rhythm and frustrating you just enough to keep from exposing the areas they've left open. They are masters at the cheap foul and no matter what anyone thinks of that tactic it reeks of attention to detail and can be vital against a team like Dallas. LA can be suspect in the back, but this tactic has them dealing with a slow-buildup Dallas, which is mediocre, rather than the off-to-the-races Dallas, which has given many teams fits.

In attack, LA has some weapons in bunches with Landon Donavan and the service of David Beckham. I think another reason that they have found a way to get the better of Dallas is because they do little things well but in sporadic fashion. Dallas often gets surprised when it is in control of the ball, losing the little discipline it takes when you have a lot of the play. Landon and company can hide for long periods of time but strike at any moment with one ball, one run, or one service.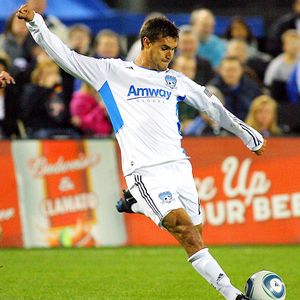 Tim Umphrey/Getty ImagesSan Jose must take advantage Chris Wondolowski's finishing skills to move past Colorado.
It is not just the individual weapons but they are also precise on set pieces, which is the Achilles' heel of Dallas, and can be the difference in a tight game. It is also the place the red-hot Hartman is most vulnerable, in traffic, bodies flying in front of him and obstructing his ability to get to the ball.

Any way you shake it, in a one-off game anything can happen and I like Dallas' ability to overcome adversity. It has lost twice to LA, and it's tough to beat a team three times in a season. Dallas is due to get to its first final since the U.S. Open Cup of '99 and their first MLS cap. I have a good feeling about Bruce this year, and LA has the lost-on-penalties motivation to get back to the final. LA is at home, but this is so tight I am going with my heart in this one, picking Hartman standing on his head with Dallas in PKs going to MLS cup.

The East went pretty much how I expected, with Columbus struggling to score and New York struggling to play, but both upsets are still impressive. The style of both Colorado and San Jose lends to a tight, grind-it-out playoff, which while not fun to watch is often effective.

No jumping on the soap box here, but there was a strong attacking directive early in the league's existence in which, in no uncertain terms, the powers that be made it clear you were to play with a certain attacking conviction which they believed would help sell the product.

The league had matured to the point where, like every other league, winning takes precedence. Yet I miss that "attack" mandate in series like this. There is a fine line between taking a stand and, like an Arsenal for example, play a certain style no matter what to get results.

More so for Colorado than San Jose, but both have a grind-it-out mentality and a couple of players that in the right situations have enough talent to get you a result. I love this game so much that I can enjoy the collective effort and nuances in the performances of these teams, but I am not sure everyone, especially the casual fans, can. Of course, fans are often influenced by results, but if the results are not always good they often don't come back. And there are still a few examples in the league where it is much harder to get the fans back than to lose them.

On to the matchup. San Jose is getting timely goalkeeping from Jon Busch and the defense is hit-ord-miss, but Bobby Convey has reemerged as a force. Like many similar-styled teams, it has people who can serve a quality ball or break down an opponent and a player who can get on the end of things.

You have to love the Chris Wondolowski story even if you don't like San Jose. He has been fun to watch and has really emerged as a finisher, which is just what san Jose needs if it is going to get by the taxing battle mentality of Colorado. Make no mistake, the Colorado defense can be exposed, but more often than not their success is a grinding game where it keeps things tight and finds a way to get Conor Casey or Omar Cummings on the end of things.

I am afraid this will be that kind of game because in many ways San Jose has been similar to Colorado but it doesn't do it as well. The Quakes don't have the size or the pace in their back line to deal with the Rapids' size. So for that reason, I have to go with Colorado.

In the end, all of these teams outside of LA are in new territory. While San Jose and Colorado have been there, it was the San Jose that is now in Houston and for Colorado, the last visit came close to 13 years ago. Those two along with Dallas could consider what they have accomplished and just be happy to be there. They have to play their best and mimic what they did to get here, or LA will hold the trophy.

Dave Dir managed the Dallas Burn from its inaugural season in 1996 until 2000.
October, 28, 2010
10/28/10
4:06
PM CT
Eastern Conference
San Jose Earthquakes v New York Red Bulls
Peter Welpton
: Both of the Eastern teams will struggle against their Western opponents, but NY is the one team that will survive. NY beats SJ in the "mini" game at RB Arena (2-2, 3-2)
Buzz Carrick
: I like what Wondo has done down the stretch, but NY finds a way and wins it in the mini-game.
Jay Brownlee
: Congratulations to Chris Wondolowski for earning October MLS Player of the Month. Do the Earthquakes have enough to overcome New York? No way, Jose.
Colorado Rapids v Columbus Crew
Peter Welpton
: Colorado is playing well now, MLS playoffs is all about form at the moment and the Crew don't have that. Rapids by two goals (1-0, 2-1)
Buzz Carrick
: I also like Colorado in this one, the rapids are built for tough games and are as hot as anyone. I take the sweep even with Rapids winning both games.
Jay Brownlee
: Colorado's flash and bang combination of Omar Cummings and Conor Casey will overcome Columbus' slow back line. Colorado is this year's playoffs dark horse. Watch out for the Rapids.
Western Conference
FC Dallas v Real Salt Lake
Peter Welpton
: Kreis' team is playing the best, but Hyndman's is the most mentally resilient. This is going to be a battle, but Dallas just is a step or two behind Real. Real Salt Lake (1-1, 2-0)
Buzz Carrick
: Before the injuries I'd have taken Dallas, but now I just don't see FCD being in good enough form. RSL ties in Dallas and wins at home.
Jay Brownlee
: This is the marquee match up of the first round. These two teams are evenly matched. You heard it here first: this one comes down to penalty kicks and Dallas wins.
Seattle Sounders v LA Galaxy
Peter Welpton
: Seattle has been warming up, but LA has the parts that should be able to "turn it on", plus the set piece bonus of Beckham, give LA the edge. LA in a mini game (2-2, 2-1)
Buzz Carrick
: Seattle is getting hot at the right time with all their piece back in place, this is the team I picked to win it all in the spring. Seattle wins the series by goal aggregate.
Jay Brownlee
: It's hard to pick against the Seattle Sounders because they are arguably the hottest team in MLS at the moment. Throw in a game on the fake stuff at Qwest Field and L.A.'s chances to bring the 2
nd
leg back home close looks like a tall order. But Beckham and Donovan and the best defense in MLS will be too much for Seattle to overcome.
Semi-Finals
Peter Welpton:
Colorado over NY
RSL over LA on PK's (Beckham misses his)
Buzz Carrick:
Colorado is to hot for anyone, even on the road Conor Casey scores in overtime.
Seattle upsets RSL at home on PKs.
Jay Brownlee:
I hate to admit it, but if Real Salt Lake doesn't end Dallas' magical season, then the Galaxy does. Boring soccer wins playoff matches and Bruce "Offense Sleeps With The Fishes" Arena will bore… err lead the Galaxy into the MLS Cup.
New York has the better players; Colorado the better team. Colorado wins on the road to cap an improbable run to the MLS Cup.
Final
Peter Welpton
: Real Salt Lake
Buzz Carrick
: Seattle, I'm sticking with them. Colorado will make it tough though.
Jay Brownlee
: L.A. Galaxy v Colorado Rapids. MLS finally gets the champs it's wanted and the rest of us felt sick about. I would more easily predict a match-fixing scandal than MLS miss out allowing their Golden Child franchise go away empty-handed for a second straight year. Los Angeles 2:1 Colorado Rapids.