Enjoy...Direct link if you can't work the above.
1067d
ESPN.com wire services
ARLINGTON, Texas -- Giovani Dos Santos and Javier "Chicharito" Hernandez each scored a first-half goal as Mexico beat Brazil 2-0 at Cowboys Stadium in the Mexicans' final tune-up before the beginning of World Cup qualifying.
Organizers of Mexico's 2012 U.S. tour announced that Cowboys Stadium has been sold out for the June 3 international soccer match between El Tri and Brazil.
Mexican national team coach Jose Manuel de la Torre announced the list of domestic league players who will form part of El Tri's roster for exhibitions in New York, Chicago and Arlington as part of the team's U.
FC Dallas and Mexico U17 World Cup Champion goalkeeper, Richard Sanchez will lead FC Dallas' pre-game parade from The Londoner Pub in Frisco to the Lamar Hunt statue on the north concourse at Pizza Hut Park prior to Sunday's match against Chivas USA.
FC Dallas goalkeeper Richard Sanchez is taking some time off in California to relax with his family before returning to the club following his championship run with Mexico's Under-17 squad.
FC Dallas' home-grown goal keeper Richard Sanchez and his Mexico teammates have won the 2011 FIFA U17 World Championship. It marks the first time in FCD history a player has won a world championship while under contract with FC Dallas.
Just a quick thought on Mexico's complete 4-2 victory:The reality is that in the long-running stretch of victories over Mexico, the U.S. won mostly via effort, teamwork and heart.
FC Dallas, as we've mentioned before, has two players at the U17 World Championships taking place right now in Mexico. Richard Sanchez, FCD's home grown goalkeeper, is the #1 net-minder for Mexico.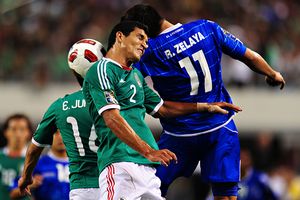 ARLINGTON, Texas -- It's hard to believe it was scoreless match at halftime. Mexico fired in three goals in four minutes en route to a 5-0 victory over El Salvador in CONCACAF Gold Cup action.
ARLINGTON, Texas -- Mexico and El Salvador have been evenly matched in a scoreless first half of a CONCACAF Gold Cup contest at Cowboys Stadium.Mexico had four shots in the first half, one on goal.
ARLINGTON,Texas -- The crowd inside Cowboys Stadium during the start of the first match of the 2011 CONCACAF Gold Cup doesn't match what was seen in the parking lots earlier in the day.
Country: MexicoGold Cup appearances: 11 (1991, 1993, 1996, 1998, 2000, 2002, 2003, 2005, 2007, 2009, 2011)How they qualified: All three teams from the North American Football Union (Canada, Mexico and the United States) automatically qualify for the Gold Cup.