Dallas Soccer:

Robert Warzycha
May, 13, 2012
5/13/12
3:58
PM CT
FC Dallas head coach Schellas Hyndman:
On the match changing with Zach Loyd's second yellow card:

"I think it was a couple things. I thought it was a very aggressive game and there was a lot of physical play going on. I'm only speaking from my side. I didn't think the right calls were being made. What I said to the boys at halftime: 'This will be a difference maker in the second half.' They will find a way to give you a red card, so be smart. That didn't take very long at all. "
On whether Zach Loyd's second yellow was deserved:

"I thought the second yellow was probably deserved, but there was two or three hits that went on that could've stopped the whole play. Those are the things that don't occur. Those are the things that aren't called that eventually come into something else. The first yellow I really questioned. Looking at the replay, I think that was a questionable call. "
On the change in mentality being up 1-0 and having a man sent off:

"It changes on the other team more than yours. The other team is going to be throwing more people forward and will be more aggressive and try to get something on the break.
On your team, you're trying to figure out your shape and if you remember, I had just made a sub before they scored. I had put in another forward and all of a sudden we had too many attacking people and we just lost someone. We had to lose somebody in the midfield. We had to make some adjustments and I had to make another sub, take the guy off that I put on. "
FC Dallas defender Daniel Hernandez:
On the match changing with Zach Loyd's second yellow card:

"I just thought the second half, we dropped back a little too deep like we had done a lot in the past. We weren't really keeping the ball. We knew Columbus was going to come out in the second half and put pressure on us anyway. We lost the ball in the midfield and it went kind of on a counter attack and they shot. We already were kind of struggling a bit to get possession. Obviously that hurt us after the red card. Unfortunately, we've had to deal with that for the last couple of weeks. I think after the red card, we were tied and trying to figure out a way to still pick up our game and get a goal, but at the very least, hold the 1-1 tie. I thought we did a decent job defending. It was just the same old story for us: one simple lazy mistake of not marking up at the top of the box. It was a great header, but the guy never should've been free. "

On Sebastian Miranda's game-winning goal:

"It was an unbelievable header for him, a great goal. But again, it's the little things that have been costing us games all season. Whether it's making a mistake and getting a red card, or ending the game slipping up and making a mistake and letting the opponent back in the game. This was a game I think we could've held on with a tie. It was just one simple assignment that somebody wasn't marking up at the top of the box where they should've been and it cost us the game."
Crew head coach Robert Warzycha
General thoughts on the game
"We played against a very good team to be honest with you. They came out strong in the first half. I don't think we had much rhythm in the beginning. They were connecting more passes and they came out stronger. In the second half it was a different story. We came out strong, creating chances and moving the ball well. The red card, obviously, changed the game. After they got the red card they bunkered in, we created more chances and scored two goals."
On what led to Dallas' goal
"You have to play until the whistle and that was a mistake by [Tony Tchani] that led to a goal. I think he [Tchani] played very well in the second half; he was winning 50/50 balls and running forward making crosses. It seemed like he wanted to be the best player on the field."
On Justin Meram making the difference when subbed in
"I felt that Meram's speed could hurt them [Dallas] on the left side. I think he did very well today, he was very quick, didn't hold the ball too much and that's how we wanted him to play. If he keeps playing that way he can be very effective."
On Josh Williams play
"I think [Williams] was a beast today in the back. He was winning every header, his passing was good and he was vocal on the field. I think he was very good."
Crew defender Sebastian Miranda
On his goal
"We practiced some plays and corners and the idea was maybe to find Milo [Mirosevic]. I was outside the box unmarked and I headed the ball and scored. It was my first time scoring with a header in my career. I headed it as hard as I could and it went in. The important for me was not the goal but that we won. This was good for our confidence."
Crew midfielder/forward Justin Meram
On the goal
"I was trying to read the play and the ball went by me. I saw Eric [Gehrig] step up and win the ball back. I had a good position looked up and saw an opening. I took the shot and luckily it went in."
On needing the spark
"We needed it. It has been over 200 minutes without a goal and we finally got the monkey off our shoulders and we were able to get the first goal. Once you get the first one the others will come"
July, 3, 2011
7/03/11
1:30
PM CT
By
Blake Owen
| ESPNDallas.com
Fabian Castillo was still absent. Schellas Hyndman still used a 4-2-3-1. And FC Dallas still recorded a victory.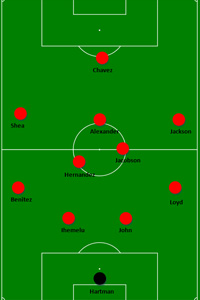 The starting XI.
On Saturday, in contrast to the two squads' encounter in April - when Columbus had a 55%-44% possession advantage - Dallas held the ball for 59% of the match. This advantage was, in large part, due to the formations. Hyndman, as noted, trotted out a 4-2-3-1 while Robert Warzycha deployed a 4-4-2. The Crew were outgunned in the middle of the pitch.

Dallas' three central midfielders, as observed in the following chalkboard (interactable version here), completed more than twice as many passes as Columbus' pair of center mids. Daniel Hernandez, Andrew Jacobson, and Eric Alexander also covered a lot more ground. Emmanuel Ekpo and Rich Balchan were restricted to the middle of the pitch. In order for Columbus to combat Dallas' advantage in this area, one of the strikers needed to drop into midfield. Andres Mendoza and Tommy Heinemann weren't up for the challenge. The pair completed only 11 passes and were often 20 or more yards from their nearest teammate.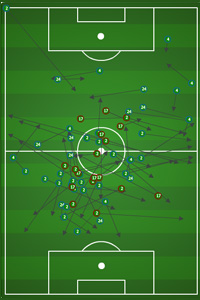 The 3 Dallas center mids overran Columbus' central midfield duo.
The formation advantage helped the Hoops defensively as well. Even though they completed 60 more passes than Columbus, Dallas intercepted 7 times as many passes (7 to 1). The home side often used those interceptions as a springboard for creating shots. The unexpected possession changes allowed them to push forward before Columbus' defense could get organized. The visitors, though, did an outstanding job throwing themselves in front of Dallas shots, blocking 7.

The Red Stripes continued their tendency of attacking from the wings and eventually the Columbus defense made a mistake. In the 58th, Jackson and Zach Loyd combined on the right flank to create an opening for Marvin Chavez, whose shot was bobbled by Hesmer and subsequently knocked-in by Shea.

Later, an off-target William Hesmer goal kick fell to Jacobson. With the Columbus defense not prepared for the quick possession change, Jacobson was able to send Jackson behind the backline. The Brazilian continued his fine run of form with an excellent chip over the outstretched Hesmer. The quality play from Jackson and Shea, as well as the interplay between the midfield trio, was enough to ensure the full 3 points.

Blake Owen is the editor and publisher of futbolforgringos.com.
July, 3, 2011
7/03/11
11:54
AM CT
FC Dallas head coach Schellas Hyndman
Opening comments
I thought it was a good performance by FC Dallas, from the beginning of the game to the end of the game. One of the harder things to do is keep focus for the entire 90 minutes. I thought we created some good chances in the first half. I thought their goalkeeper made a big save for them and I thought we missed a few chances. But we talked about a couple of things at halftime. One of the things we talked about was to knock balls on the ground instead of putting them in the air. In fact we talked about it at pregame, but we reinforced it. We have a lot of speed out there and it is really affecting the opposition.
On Brek Shea's and Jackson's performances tonight…
I thought [Shea and Jackson] both played well. Obviously they are difference makers. If my memory is right, Brek has eight goals. Think about him being the team's leading scorer despite how many games he played at left back and center back before we got ourselves healthy. It is not just the goals he scores, he gets some good balls and he keeps the defense under a lot of pressure.
Jackson has come to life since his trip to Brazil, since his marriage. I've got a few guys telling me now they are thinking about getting married. I think [Shea and Jackson] have really made a difference, and of course, Marvin [Chavez] up front. Defenders are having so much trouble handling those three and our center midfield has really done a good job. Andrew Jacobson, Eric Alexander and Daniel Hernandez are really causing teams a lot of problems now.
[Brek] has continued to develop confidence. When a player starts to develop confidence, you'll find his teammates will pass him the ball more because they have confidence in him. Every time he scores a goal or assists on a goal or is a threat, then that confidence continues to grow. I think our team, through necessity, through injuries, has found a way of playing that brings the best out of most of them.
FC Dallas midfielder Brek Shea

On scoring four goals in his last four MLS matches…

The better you play, the more confidence you get. You just get on a roll. I am just on a good roll right now. I'm having a lot of fun out there. I try to create. Sometimes it works, sometimes it doesn't. I don't really think about being tied for the league lead in goals. I'm just trying to help the team score goals. I'd much rather play with a lead. Our team plays with a lot more confidence when we're up a goal.

FC Dallas goalkeeper Kevin Hartman

As we were able to move the ball a little bit, the heat became a factor. I thought Marvin really caused them fits. There were times were it looked like [Columbus] was playing three back and on their corner kicks they would leave one guy with Marvin, and I thought there was no way that guy is going to be able to stay with Marvin. It was a game we were really excited about winning.

On the team hitting its stride…

We just try to be consistent. I think we've been able to overcome adversity and play quality soccer. We're all each others' biggest fans. We have a good thing going.

FC Dallas defender Ugo Ihemelu

I think some guys came up big. It was a great team effort. I think we had most of the chances throughout the game. Guys just keep coming up big for us to score goals.

On Jackson…

Jackson is playing well for us, ever since he came back from Brazil he's been exceptional. He's been a spark for us.

Robert Warzycha- Columbus Crew Head Coach

Thoughts on the game…

We played against a better team today. In the heat like this and these conditions, especially in the second half, they were much better. They scored two nice goals and they came out on top today.

On what his team needs to do to bounce back against Vancouver…

We have to play better. We have to keep the ball for longer periods of time instead of giving it up so easily. We need someone to step up and score a goal to give us a chance to win in Vancouver.

Danny O'Rourke- Columbus Crew Midfielder

Thoughts on the game…

On a personal level, it is good to be out there with the guys, but more importantly it is frustrating to lose 2-0. Dallas absorbed a lot of pressure in the first half and came out and got a goal in the second half to change the momentum. The unfortunate red card was tough in a place like this, but personally I'm glad to be back out there with the team.

On what the team needs to do to bounce back against Vancouver…

We need to forget about this, come in tomorrow start focusing on Vancouver. [We need to] take this one game at a time. If we can get back to Columbus with three points out of six, I don't think it will be the worst road trip, but we need to reflect on what happened tonight and get back to work tomorrow.

Chad Marshall - Columbus Crew Captain

Thoughts on tonight's game…

It was a bad game on our part. We played well the last two games, an away win at Houston and a good home performance against Colorado. We just didn't put it together tonight. We couldn't keep the ball, couldn't create anything offensively. We turned the ball over in bad situations, which put them in good situations because they are a team with great speed. We made it a long night for ourselves.

On what the team needs to do to bounce back against Vancouver…

We need to get back to the things we do well, keeping the ball and moving it from side to side. We took too many touches today which killed our attack. We know how we can play when we play up to our potential so we will have to just regroup, watch some video, and figure it out before our next game on Wednesday.

On the heat…

It is hot for both teams, but it makes for a long game when you keep turning the ball over.