July, 13, 2011
7/13/11
10:29
AM CT
By
Peter Welpton
| ESPNDallas.com
When the lineups for Tuesday night's USOC matchup against Real Salt Lake, it appeared that injury and scheduling was simply, finally going to win out over Schellas Hyndman.
Jason Kreis, who has to be the coolest, smoothest MLS coach in attitude and appearance, was rolling out what was really a "A" team. Pretty much every player was either a current starter, or had significant starting time - minus their keeper Kevin Raynish.
Schellas on the other hand was forced (or was he?) to start with a midfield with a combined number of MLS starts of 48. Kyle Beckerman alone has 231. Just let that soak in for a minute.
Villar, Warshaw, Guara, Avila and Alexander were Dallas' starting five in the midfield, and with all due respect to each of them, none are considered MLS All-Stars or even players that would immediately start for one of the league's better sides.
But Tuesday night the five played an outstanding match the belied whatever initial impression one might have had upon looking at the FCD starting lineup.
Dallas did have their full back line and defense, and that was far more than enough as Salt Lake failed to register a single shot on goal. The heat was an obvious factor on Real as they looked low on energy all match.
Watching Hyndman manage his roster through this month of July will be fascinating. It helps that players like Villar, Warshaw and even Guarda (is there a guy that needed a decent showing any more than him?) stepped up to show their coach and fans that they can be counted on to give the starters a breather.
Grades:
Hartman: 7 - I think I saw him napping at one point
Loyd: 8 - Hopefully Grabovoy's unpunished assault on Zack doesn't have long term significance.
John: 9 - Absolutely owned RSL all. night. long.
Ugo: 8 - Great night, but a couple of lazy passes here and there
Benitez: 8 - Has Jair ever taken a free kick for Dallas before?
Alexander: 8 - Might be team's most unheralded player
Avila: 7 - Not as involved in attack, but did a lot of great defensive work
Warshaw: 8 - A tremendous rebound from a poor Saturday night showing
Villar: 7 - Might be single most important bench player to get through this stretch of matches
Guarda: 7 - A mixed bag for first 20 minutes, but ended up with a solid performance and he needed that
Chavez: 7 - Defenders must hate Martin
SUBS:
Jackson: 9 - Could we nickname him, "The Phoenix"?
Shea: 7 - The crowd buzzed when he cued up to come on
Wiedeman: 6 - Good to see the kid get time, but looked to quickly lose energy
Related articles
May, 23, 2011
5/23/11
4:19
PM CT
By
Peter Welpton
| ESPNDallas.com
Soccer leagues all over the world have "those matches" where neither team has something to show and the game is a bore. Sunday night's match between FC Dallas and Salt Lake was one of "those matches".
What would have been a snoozer of 90 minutes ended up as 200 minutes of a snoozer with Mother Nature providing the only real excitement in the form of a lighting show. Sadly, there was nothing close to that level of excitement of the field.
Both Dallas and Real gave the rest of the league a reason to feel better about itself. Once both feared league leaders, now each without its playmaker, the teams are now shells of their former selves. Salt Lake actually looks worse for the wear as they have nothing up top in the form of speed to stretch a defense and the playmaker's role is not one that suits Kyle Beckerman. Dallas, on the other hand, has speed to burn but it comes in the form of two players who don't excel at the forward position. Just like last week, chances created with speed go left unspent with poor decision making or crappy passing.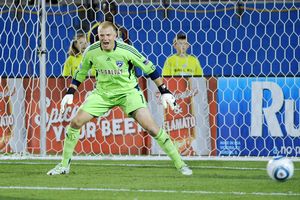 Jerome Miron/US PresswireKevin Hartman has come through when asked during Dallas' 399-minute shutout streak.
If there's anything that causes Hyndman nightmares it's the stream of quality crosses that fly unattended across the opponent's goal. Dallas just can't seem to get anyone in the box, or specifically, at the far post -- ever.

Dallas' form since Ferreira's injury in Vancouver is a two-sided coin. One side shows a six-game unbeaten streak, 11 out of 15 possible points and nary a goal allowed in about 400 minutes of play. Those are results typically seen from teams in fine, confident form.

On the other side FCD have created a shockingly low number of shots on goal, and surrendered possession. In the matches since Ferreira's injury (including that match in Vancouver) Dallas has averaged a meek 3.7 shots-on-goal, and 39.6 percentage of possession. Neither of those number should strike fear across Major League Soccer. Almost in defiance of the stats, Dallas continuously survives and points are points in MLS no matter how you collect them.

Dallas' defense, and now its strength, is going to undergo more testing with two more matches before week's end; Seattle on Wednesday and the dreaded Dynamo on Saturday, two road matches that will reveal which side of the coin is weighted.

Grades: (5 is an average performance, 10 is a world-class mindbender. Please note in my system, each player is held to a different standard based on his experience, position and expectation. ie: a Luna grade of "5" is probably different that a Milton grade of "5".)

Hartman: 8 -- Strong in the few times when asked to perform.

Jackson: 4 -- Sure, let's go with the "he's getting married" defense of his play of late. And again, got 1,000 percent lucky on a brain-dead tackle.

Ugo: 8 -- Best performance of the season? Strength and commitment has returned.

John: 8 -- Consistent and reliable.

Loyd: 7 -- Getting the message about positioning. Not as influential in attack, but for now, he needs to focus on D.

Alexander: 6 -- Quietly throwing out solid, quality performances. Also displaying some of the team's highest ball skills. Might consider rushing the far post.

Shea: 7 -- The team's only dangerous player, but not dangerous enough.

Hernandez: 6 -- Some poor set pieces.

Jacobson: 6 -- Little moments of attacking starting to show itself.

Chavez: 4 -- Hard to grade because effort is so high, but reality is there are few to no results from all that work.

Castillo: 3 - Not a lot of opportunities.

SUBS:

Luna: 5 -- His one clear chance turned into a wreck of humanity. PK? Meh.

Avila: 6 -- Watching him fight through that one moment gets him a +1.

Warshaw -- N/A.

Match grade: "F" - Slow, disinteresting match with a horrifying low number of real chances topped off with the almost two hour rain delay.

Ed note: Grades are for entertainment purposes only. Do not take them to heart, personally or otherwise. If you don't like the grades may we suggest instead of only calling the author names and bein' an anonymous meanie, how about you put your grades and explanation in the comment section below. After doing that, then you can then call the author names and remain anonymous, you just won't be a meanie. Discourse is good for the soul.