Dallas Soccer:

Scott Gordon
February, 18, 2012
2/18/12
3:59
PM CT
FC Dallas defeated the University of Tulsa men's soccer team 5-1 today on the adidas Field at FC Dallas Stadium. Dallas got two goals each out of forwards Blas Perez and Scott Sealy in the victory.
The game got off to a slow start for FC Dallas. The team surrendered a 1-0 lead in just the fifth minute when Tulsa's Bryce Follensbee got a jump on the FC Dallas defense. The speedy forward arrived first to a through ball played into the top right corner of the area and was taken to the ground by FC Dallas center back Ugo Ihemelu. Without hesitation, the referee awarded a penalty kick, which was converted by teammate Omar Mata.
[+] Enlarge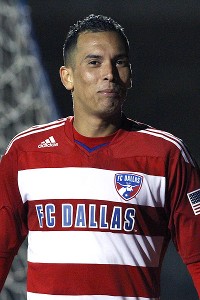 Courtesy of Matthew Visinsky/3rd Degree Blas Perez
FC Dallas settled down and found an equalizer in the 25
th
minute when Perez benefited from good combination play between Zach Loyd and Andrew Jacobson. After controlling the ball on the right flank, Loyd played Jacobson a through ball near the top of the area. Jacobson turned with the ball and knocked a lateral centering pass in on the floor to Perez, who controlled the ball well under pressure and finished low to the right side of Tulsa goalkeeper Mark Pace.
Brek Shea started the sequence that gave Dallas a 2-1 lead just before halftime. The midfielder controlled the ball at the top of the box with his back to goal before being knocked to the ground by a Tulsa defender. The foul earned Dallas a penalty kick, which was converted by Perez with a sharp pass into the lower right corner of the goal.
Dallas brought on 10 new players to begin the second half and got a goal from Sealy just 12 minutes later. The play began when right back Scott Gordon intercepted a pass near midfield and pushed the ball up the middle of the field to Bryan Leyva. Leyva turned and slotted a pass through Tulsa's defense to Sealy, who spun and fired a low shot past the right arm of goalkeeper Mike Murray to make it 3-1.
University of Maryland product Alex Lee had a strong half. He set up both of FC Dallas' final goals to help the team to a 5-1 victory. The first came in the 64
th
minute when Lee got the ball on the right flank and slid a pass inside to Dogba. The Ivory Coast forward finished cleanly, hitting a sliding shot to the back post with his first touch.
Lee beat a trio of Tulsa defenders on the dribble to setup the final goal. His pass inside to Sealy put the forward in position to give Dallas a 5-1 lead, but a Tulsa defender drug the Trinidadian native to the ground, forcing the referee to once again point to the spot. Sealy converted the penalty with a hard blast down the middle of the goal.
FC Dallas will play its final preseason tune-up in Frisco on Wednesday morning before departing to Orlando, Fla. to take part in the Walt Disney Pro Soccer Classic. FC Dallas will face the U.S. U-23 National Team in that match, which will be played on the adidas Field at FC Dallas Stadium at 10 a.m.
Scoring Summary:
TUL – Omar Mata (PK) 5
DAL – Blas Perez (Andrew Jacobson, Zach Loyd) 25
DAL – Perez (PK) 44
DAL – Scott Sealy (Bryan Leyva, Scott Gordon) 57
DAL – Dogba (Alex Lee) 64
DAL – Sealy (PK) 79
Misconduct Summary:
NONE
Lineups:
FC Dallas – Kevin Hartman, Jair Benitez, Ugo Ihemelu, Hernan Pertuz, Zach Loyd, Brek Shea, Bobby Warshaw, Andrew Jacobson, Andrew Wiedeman, Blas Perez, Fabian Castillo.
FC Dallas (2
nd
half) – Chris Seitz, Moises Hernandez, Matt Hedges (Jack Stewart 73) Christian Ibeagha, Scott Gordon, Jonathan Top, Bryan Leyva, Bobby Warshaw, Alex Lee, Scott Sealy, Dogba.
Tulsa – Mark Pace (Mike Murray 45), Jake Dobkins (Ian Mussman 77), Quinn Starker, Wayne Farmer (SeoHyun Kim 64), Leo Smith (Jon Wright 39, Matt Boullt 45), Kyle Cummings (Tom Gaus 39, Kyle Cummings 64), Omar Mata, Tony Rocha, Bryce Follensbee (Jon Wright 45), Abe Matamoros (Dillon Alexander 64), Steve Roberson (Tom Gaus 84).
February, 17, 2012
2/17/12
6:56
PM CT
By
Todd Date
| ESPNDallas.com
I caught up with FC Dallas head coach Schellas Hyndman after Friday's morning training session and here's what he had to say on a wide variety of subjects.

Big Honor for Sanchez, Shea

Homegrown goalkeeper Richard Sanchez was recently called into the Under-20 National Team by Mexico, something Hyndman was definitely glad to hear. "For Richard, it's a logical step up. They just won the Under-17 World Cup and now they need to continue to monitor his growth and see how he's doing," he said. "It's very logical and we're very supportive of that."

And College Station native Brek Shea will be training with the United States Under-23 team later this week in Frisco, another big step for him. "Yeah, it is no big surprise. It's something very important to Brek and it should be important to any player to get called into the Olympic team and have an opportunity for lifetime memories," Hyndman said. "It's quite an honor and I think he'll do fine.'

Luna, Villar on the Mend

Two players who weren't on the pitch in Wednesday's preseason game at SMU and who also don't figure to play on Saturday against Tulsa were both on the sidelines again on Friday morning-forward Ruben Luna and midfielder Ricardo Villar.

Hyndman offered the following explanation about Luna: "I think it's the IT band that goes down his leg. I think what Ruben has to do is just get some time in the recovery but he's probably got to do a little bit better job with pre-training warm-ups, post-training warm-ups, cool downs so that he doesn't get stiffness."

Villar's ailment however isn't quite as serious. "It's just a hit in the calf and then it stretched to the hamstring, so he's kind of frozen up on one side," Hyndman said.

Latest News on Four Trialists

F Ange Pacome Dogba Gnagbo (Dogba): "[John] Ellinger calls him Dogman but his name's Dogba. He's very athletic, very quick, very hard, just constant energy, works extremely hard on both sides of the ball and continues to look better and better in each training session," Hyndman said. "He came from South Africa [Ivory Coast]."

D Scott Gordon: "I think he's done some good things but at the end of the day, we've only got so many spots," Hyndman said. "We have our Academy players, the homegrown players they call them and they're already in place. It is what it is with them."

D Kleynar Mena: "I thought he did very well. I thought he did real well," Hyndman said. "I thought he continued to improve and we just sent him back yesterday but we may be bringing him back down the road."

M/F Scott Sealy: "Yeah, we'll know very shortly [whether or not he makes the team]," Hyndman said.
February, 12, 2012
2/12/12
6:13
PM CT
As they should do, FC Dallas ran roughshod over Memphis by a 6-0 scoreline today on the adidas Field at FC Dallas Stadium. Three of Dallas' goals were scored by midfielder Andrew Wiedeman, who netted the hat trick in just 45 minutes of action.

FC Dallas took a 1-0 lead in the 25th minute on a broken play that began with a clearance from goalkeeper Chris Seitz. A Memphis defender misjudged the ball near midfield, allowing Castillo to win the ball and dribble in alone on Memphis goalkeeper Conor Hurley. Castillo feinted right before going to his left and finishing into an empty net.

In the 32nd minute, right back Scott Gordon played a perfect ball over the top to Castillo, who was in alone for a second time. Castillo beat Hurley, but his lob shot over the goalkeeper didn't have enough momentum to find the back of the net before a Memphis defender caught up to the ball on the goal line and knocked it over the crossbar.

Gordon finally earned an assist on his third perfectly-weighted pass of the half in the 37th minute. After receiving the ball on the right flank, Gordon lobbed a pass into the area for Panamanian striker Blas Perez. Perez barely beat Hurley to the ball at the top of the area, chipping a one-touch shot into the back of the net for a 2-0 lead.

FC Dallas extended its lead to three goals in the 53rd minute when Bobby Warshaw sent a ball outside to right back Alex Lee. Lee went inside on his defender and delivered a ball into the feet of Andrew Wiedeman at the top of the area. Wiedeman sent Scott Sealy in on goal with his first touch, allowing the forward to go around second-half goalkeeper Cody Uzcatequi and finish into an empty net.

Just four minutes later, Homegrown player Jonathan Top gained control of the ball on the left side, dribbled to the top of the area and delivered a cross on the floor to Wiedeman at the far post. Wiedeman finished his first of the day low to the near post to hand Dallas a 4-0 lead.

FC Dallas extended its lead to 5-0 in the 61st minute when left back Jair Benitez sent a cross into the box for Wiedeman, who volleyed a right-footed shot into the back of the net.

Wiedeman netted his third goal of the day in the 80th minute, thanks to a nice through ball played down the center of the field by Bruno Guarda. Wiedeman made a nice turn with the outside of his left foot to go by his marker before slipping a shot under the arms of Uzcatequi.

One small roster note, as made clear by his assist, Alex Lee is now in camp. Lee is a defender from Maryland FCD took in the first round of the 2012 MLS Supplemental Draft.

Scoring Summary:

FCD – Fabian Castillo 25
FCD – Blas Perez (Scott Gordon) 37
FCD – Scott Sealy (Andrew Wiedeman, Alex Lee) 53
FCD – Wiedeman (Jonathan Top) 57
FCD – Wiedeman (Jair Benitez) 61
FCD – Wiedeman (Bruno Guarda) 80

Misconduct Summary:

NONE

Lineups:

FC Dallas – Chris Seitz, Carlos Rodriguez, Matt Hedges, Christian Ibeagha (Hernan Pertuz 58), Scott Gordon, Brek Shea, Bobby Warshaw, Andrew Jacobson, Ricardo Villar, Fabian Castillo, Blas Perez.

FC Dallas (2nd half) – Chris Seitz, Jair Benitez (Moises Hernandez 75), Christian Ibeagha, Scott Gordon (Jonathan Top 77), Alex Lee, Bryan Leyva, Bobby Warshaw (Kleyner Bejarano 66), Bruno Guarda, Andrew Wiedeman, Jonathan Top (Jeison Quinonez 67), Scott Sealy.

Memphis – Conor Hurley (Cody Uzcatequi 45), Chandler Gagnon, JJ Greer, Andreas Guentner, Jordan Johnson, Tiago Reichert (Patrick Toh 21), Cody McCoy (Thomas Shannon 36), Wil Linder, Paul Banks (BJ Williams 21), Liam Collins, Mark Sherrod (Austin Gross 44).
February, 9, 2012
2/09/12
1:20
PM CT
By
Buzz Carrick
| ESPNDallas.com
The Roster Dance is a long running feature of 3
rd
Degree. It is an effort to break down the FC Dallas roster into its various components with all the trialists and draft picks competing for spots. The Roster Dance includes things like nationality, age, status, green cards, and anything else that might impact space on the roster and the players that might fit into it.
Last updated: 2/9/12
Senior Roster (18 to 20)
For now MLS rosters hold at up to 30 players. Players 1 to 20 are on the senior roster and have to fit in the salary cap. (MLS teams may carry only 18 players on this senior roster if they wish)
FCD has 8 international slots in 2010 with 8 currently filled.
1
David Ferreira
32, Colombian F/M. (8/9/79) Got his green card.
2
Daniel Hernandez
New 5 year coach/player deal. 35, US M/D (7/23/76)
3
Jair Benitez
33, Colombian LB, (1/11/79). Green card.
4
Blas Pérez
(I1) Panamanian striker, turns 31 this year. (3-13-81)
5
Brek Shea
20, US Nats MF. (2/28/90).
6
Ugo Ihemelu
28, US D. (4/3/83)
7
Kevin Hartman
37, US GK. (5-25-1974)
8
Zach Loyd
24, US Nats M/D. (7-18-87)
9
Fabian Castillo
(I2) 19, Colombian striker. (6-01-92)
10
Ricardo Villar
(I3) 32, Brazilian, AM. (8-11-79) working on green card
11
Andrew Jacobson
26, US DM. (9-25-85)
12
Hernan Pertúz
(I4) 22, Columbian U23, D. (3-31-89)
13
Chris Seitz
24, US GK. (3-12-87)
14
Bobby Warshaw
23, US M/D. (11-21-88)
15
Carlos Rodriguez
(I5) 21 year old Panamian M/D from Tauro FC. (4-12-90)
16
Nicolás Gianni
(I6) a.k.a. Nicolas Cridani. 29, F/M. (3/9/82) starting for Ferreira.
17
Scott Sealy
T&T F. 30, Previously with KC and SJ. (6/4/81) green card.
18
Bruno Guarda
26, Brazil MF. (2/6/86). Green card

---

19
Daniel Cruz
(I7) 30, Colombian, M. Injured. (5-3-81) May be in roster trouble…
20
Jack Stewart
28 year old US D. (5-29-1983) He gets John's spot for now.

---

--
George John
US CB. (3/20/87) Not currently on FCD roster, loan ends in March?
--
Rodolofo Espinoza
(I9) 30 year old Mexican M, Chivas USA 10-11. (6-14-81)
--
Kleyner Bejarano
(I10) a.k.a. Kleyner Bejarano Mena 22, Colombian D. (9/16/89)
Players occupying roster spots 1-24 will earn at least $42,000 in 2011.
Off-Budget Roster (10)
Roster Spots 21 to 30. Generation adidas, developmental players, and home grown. Players 24 and under that don't count on the salary cap. MLS teams can have a maximum of 10 off-budget players.
21
Matt Hedges
UD D, '12 1st pick. (4-1-90) Senior roster?
22
Andrew Wiedeman
(Ga1) 22, US versatile. F/M/D. (8-22-89)
23
Bryan Leyva
(HG1) 20, Mexican U20 MF (2/9/92) green card.
24
Ruben Luna
(HG2, I8) 19, Mexican U20 striker. (2-10-92)
25
Victor Ulloa
(HG3) 19, US Midfielder. (3-4-92)
26
Moises Hernandez
(HG4) US D, former U20 (3-5-92)
27
Jonathan Top
(HG5) 19, US striker. (1-26-93)
28
Richard Sanchez
(HG6) 17, Mexican keeper US Citizen. (2-28-94)
29
Scott Gordon
23 year old US D, 3rd round pick in 2011. (4-6-88)
30
Christian Ibeagha
22, US U17 from OK (born Nigeria). (1-10-90)

---

--
Alex Lee
2012 pick, D from Maryland. Just arrived in camp.
--
Ian Kalis
2012 Supplemental Draft pick from SMU. Injured?
Players occupying roster spots 25-30 will earn at least $32,600 in 2011.
Other Players
Anyone connected, rumored, tried out, waived, training invited, or signed as a short term player.
| | |
| --- | --- |
| Marvin Chavez | Traded to San Jose. |
| Walter Hines | M, preseason trialist |
| Martin John | LB, preseason trialist |
| Joe Madigan | M, preseason trialist |
| Jackson | Brazilian M, on loan to Cruzeiro |
| Mykel Galindo | Waived in off season. |
| Edson Edward | Waived in off season. |
| Josh Lambo | Former Ga GK, waived in off season. |
January, 20, 2012
1/20/12
2:35
PM CT
By
Todd Date
| ESPNDallas.com
FC Dallas currently has three trialists in camp - Scott Gordon, Martin John, Scott Sealy - plus another player, Houston native Christian Ibeagha, a defender with good size who played in some reserve games last year.

Ibeagha is technically signed for the preseason, so he's not officially a trialist. Still, like Gordon, John and Sealy, he's battling for a roster spot. Here's what FCD head coach Schellas Hyndman had to say about all four players:

Scott Gordon, defender

Hyndman: We always saw some real positive things in him. He's a heck of an athlete. He's strong, quick, durable, explosive speed, great engine, great vertical leap. I think he was all-state in Florida in track and an all-state football player. He's just a heck of an athlete. Him being with Fort Lauderdale for a year playing there, they put him off to a right back position because it's a little bit simpler than the center. So we wanted to bring him in and take a look at him. He's doing fine.

Christian Ibeagha, defender

Hyndman: Yeah, he's a solid defender. He's athletic. He's strong. I've seen him run with Castillo and you know Castillo's pretty damn quick. The thing where a lot of players have trouble is handling Fabian is his stop and go speed. If he's just pure sprinting, I think Christian can sprint with him. But if he stops and goes, now you've got to stop, decelerate then accelerate. That's very difficult but I think Christian is working hard trying to get himself a spot.

Martin John, defender

Hyndman: Martin's a player that was playing in Champions League in England last year and we brought him in as a left back so we're looking at him a little bit. Got a real extensive background, very comfortable on the ball, good one-v-one defender, he's doing well.

Scott Sealy, forward/midfielder

Hyndman: I think he's a solid striker. He's probably a mixture of Santos and Cunningham type of player. He can hold the ball up like Santos could and then I think he's got explosive speed like Jeff did. The thing is every day we watch him, there's things we like and some areas that we want to continue to look at because if Scott continues to go the way he's been going and when we get our first team back, he's going against some of our starters, then we'll have a much better view and getting him in games and seeing what he does. We're looking at Scott to add some strength in the attack, some speed in the attack. He's been unlucky because he's had sports hernia, quadriceps, hamstring, so last year was really a bad year for him with all the injuries. But we're not sure if he's a No. 2 striker or a No. 1 striker. So we've got to keep looking at him.
March, 8, 2011
3/08/11
10:16
PM CT
By
Buzz Carrick
| ESPNDallas.com
FC Dallas ended their Arizona camp with back to back shutouts
at Grande Sports World in Casa Grande, Arizona on Monday evening. The FCD first team knocked off New York Red Bulls Reserves 4-0, then the FC Dallas reserves put a 3-0 win up on FC Edmonton of the North American Soccer League.
FC Dallas has two more games this spring, the most important one at Pizza Hut Park against Chivas USA on the 12th. That game should feature the starters in what is the final dress rehearsal for opening day. On the 13th FCD will take on Central Arkansas in what should be the final reserve tune up for 2011. This second game will probably be the last chance for anyone not on the roster to make an impression.
Here's the scoring line and linup from each game on Monday in Arizona, after you take a look at them we'll talk a little about what it all means.
Game 1

Scoring Summary:
FCD - Marvin Chavez (David Ferreira) 17
FCD - Chavez 53
FCD - Maykel Galindo (Ricardo Villar) 57
FCD - Eric Avila (Galindo, Ferreira) 72

Lineups:
FC Dallas - Kevin Hartman, Jackson, George John (Zach Loyd 80), Brek Shea, Jair Benitez, Marvin Chavez, Daniel Hernandez (Andrew Jacobson 75), David Ferreira, Eric Alexander (Ricardo Villar 46), Eric Avila, Kevin Gall (Maykel Galindo 46).

Game 2

Scoring Summary:
FCD - Ruben Luna (Ricardo Villar) 3
FCD - Andrew Wiedeman 24
FCD - Milton Rodriguez (Bryan Leyva) 60

Misconduct Summary:
None

FC Dallas - Chris Seitz (Josh Lambo 46), Charlie Campbell, Scott Gordon, Zach Loyd (Victor Ulloa 24), Moises Hernandez, Andrew Wiedeman, Bobby Warshaw, Andrew Jacobson (Bryan Leyva 46), Peri Marosevic (Jonthan Top 60), Ricardo Villar (Bruno Guarda 46), Ruben Luna (Milton Rodriguez 46).
Now for the more important questions...
- Kevin Gall clearly getting a last shot to make an impression in the first game... and didn't score. I have to think at this point Gall has little shot at making it. Maykel Galindo got the run in the second half and did score... but is it to little to late? I would think it probably is. Hyndman said Galindo couldn't play high striker by himself in a 4-1-4-1 and FCD plays a 4-1-4-1. The new addition in Fabian Castillo makes it very tight on the roster.
- Eric Alexander is, as of right now, the first choice linking mid. We finally saw Ricardo Villar on the field, but a this point he hasn't played enough to make a serious challenge for the spot. Third at this spot is Bruno Guarda, who has fallen far form the days he was a lock starter as a rookie.
- It was nice to finally see George John's name on the team sheet, but is he healthy enough to start opening day? Zach Loyd is also back, but off the bench... Which means at this point it's almost a certainty that Brek Shea will be starting opening day at center back.
- And as a consequence Eric Avila seems to have a firm hold on the next wide mid spot, filling in for Shea at left.
As for the reserve game...
- Charlie Campbell appears to have a shot at outside back, but is there enough room? I just don't see enough space.
- Andrew Wiedeman and Peri Marosevic are so far out of the picture at striker that both are playing wide mid or wide back every time we see them in a scrimmage.
- With the current injuries, Scott Gordon may have played himself onto the team. Or at least Hyndman may have his hand forced to keep him. Gordon at CB vs Campbell at outside back? Could be.
- Game 2 starting 11 means we may see Ricardo Villar spelling David Ferreira some this season too.
March, 6, 2011
3/06/11
12:13
PM CT
By
Buzz Carrick
| ESPNDallas.com
FC Dallas ran roughshod over AZ Sahuaros 7-0 at the Reach 11 Sports Complex in Phoenix, Arizona Saturday night. Milton Rodriguez had two goals for the Red Stripes with David Ferreira adding a goal and two assists.

Aside form the injury debacle at center back, which Brek Shea pairing with Scott Gordon, most of the starting eleven took the field to start the match. It's perhaps not shocking that FCD was up 6-0 at halftime then. Eric Avila got the nod at left mid with Shea in the back line. Eric Alexander continues to hold down the linking midfield role.

It can't be good for Maykel Galindo or Kevin Gal that they failed to score in the 2nd half against this level of competition before being pulled for home grown players. Ruben Luna netted in the 90th plus minute for the 7th FCD goal.

Scoring Summary:
Milton Rodriguez (Jair Benitez) 26
Eric Avila (Eric Alexander) 30
Rodriguez (Jackson) 35
Jackson (David Ferreira) 36
Ferreira (Alexander) 38
Marvin Chavez (Ferreira) 41
Ruben Luna 90+

Misconduct Summary:
None

Lineups:
FC Dallas - Kevin Hartman (Chris Seitz 46), Jair Benitez (Moises Hernandez 46), Brek Shea (George John 46), Scott Gordon (Victor Ulloa 74), Jackson (Charlie Campbell 46), Eric Avila (Andrew Wiedeman 46), Deniel Hernandez (Bruno Guarda 46, Bryan Leyva 74), Eric Alexander (Bobby Warshaw 46), Marvin Chavez (Christian Arrieta 46, Peri Marosevic 61), David Ferreira (Kevin Gall 46, Ruben Luna 77), Milton Rodriguez (Maykel Galindo 46, Jonathan Top 77).

Arizona Sahuros - Franco Carotounto, Jesse Baker, Mike Duhaney, Nick Sykes, Brian Green, Erving Garcia, Mitch Garcia, Chris Green, Skelly Keller, Billy Forbes, Kyle Cilento.
March, 3, 2011
3/03/11
9:20
AM CT
By
Buzz Carrick
| ESPNDallas.com
A team of reserves, trialists, and draft picks lost to the Montreal Impact 3-0 at the Reach 11 Sports Complex in Phoenix, Arizona yesterday after arriving from Florida earlier that day. Ali Gerba, Luke Kreamalmeyer and Idriss Ech Chergui scored for Montreal.

This game featured one of the first sightings of one of the newest FC Dallas home grown players, Jonathan Top, who came on the 66th minute. Josh Lambo got a rare bit of playing time, as did Peri Marosevic, Victor Ulloa, Andrew Wiedeman, and Bryan Leyva. Draftpick and potential striker/winger Charlie Campbell played 90 minutes at outside back.

Trialist Christian Arrieta got a 90 minute run, while Maykel Galindo and Kevin Gall each got a half.

Dallas remains in Phoenix through Tuesday, March 8. The defending Western Conference Champions' next match is scheduled for Saturday, March 5 against the Arizona Sahuaros.

Scoring Summary:
MON - Ali Gerba (Luke Kreamalmeyer) 21
MON - Kreamalmeyer 53
MON - Idriss Ech Chergui 76

Misconduct Summary:
Antonio Ribeiro (caution) 4
Hassoun Camara (caution) 44
Bruno Guarda (caution) 44
Richard Pelletier (caution) 79

Lineups:
FC Dallas - Chris Seitz (Josh Lambo 46), Moises Hernandez, Christian Arrieta, Scott Gordon, Charlie Campbell, Bobby Warshaw (Jonathan Top 66), Eric Avila (Victor Ulloa 46), Andrew Jacobson (Peri Marosevic 46), Bruno Guarda, Maykel Galindo (Kevin Gall 46), Andrew Wiedeman (Bryan Leyva 46).

Montreal Impact - Bill Gaudette (Evan Bush 62), Philippe Billy (Bonheur Aubey 81), Hassoun Camara (Kevin Cossette 87), Leonardo Di Lorenzo, Ali Gerba (Idriss Ech Chergui 64), Kevin Hatchi (Felix Cardin 88), Luke Kreamalmeyer, Pierre-Roudolph Mayard, Nevio Pizzolitto, Antonio Ribeiro (Simon Gatti 68), Zurab Tsiskaridze (Nevio Pelletier 66).
February, 13, 2011
2/13/11
9:37
AM CT
By
Buzz Carrick
| ESPNDallas.com
Although they had some positive play, FC Dallas got blown out by the Houston Dynamo in Corpus Christi yesterday by a 4-0 scoreline. Dallas was let down by an inexperienced back line and showed some real deficiencies in set plays.
"It's not the plan to come in here and lose 4-0, but we're so far behind right now compared to where they are with training time," said FC Dallas coach Schellas Hyndman. "But, it gives us a chance to look at players. All four goals had the same characteristics (set pieces). What we need to do is just continue to work."
The first goal came in the 9th minute on an own goal by rookie draft pick Alexis Pradie, meaning FCD starts 2011 how they ended 2010.
Goal number two came off a corner when Jeff Cameron headed in the Brad Davis corner in minute 29.
In minute 39 Brad Davis notched goal three for Houston on a free kick.
After wholesale changes for the second half, the final Houston goal came in injury time when Dallas rookie Scott Gordon took down Jamaican Steven Morrissey in the box. Danny Cruz took the PK which Chris Seitz couldn't save.
One alarming incident of note occurred in the first half, according to this report
in the Houston Chronicle
, Jair Benitez got into some kind of altercation with Cameron and Davis in which Benitez spit in Jeff Cameron's face.
Seconds after the third goal, the players had to be separated before they lined up for the kickoff. The game was marred when Benitez and Cameron exchanged more than words.

"I think he's an unprofessional player," Cameron said of Benitez. "It's just one of those things that he came up to me and it took me every ounce of my energy not to punch him in the face, hit him or retaliate. But I'm a better professional than he is. I just kind of turned my shoulder a little bit and shrugged it off.

"The scoreboard speaks for itself. It was 3-0 and it was on his field when he played. It's one of those things that you have to let it rub off and not focus on it."

Benitez appeared stunned when asked about the incident.

"No, he also spit (at) me," Benitez said in Spanish. "That's why I spit (at) him, but it's because he spit. He's a player that was telling me about everything. That's why he spit (at) me and I also spit (at) him."

Soccer America also had a few quotes form some Houston players
, some of whom accused Benitez of being a dirty player.

Ching's view: "I think he's a dirty player. We don't need that type of player in this league. He's a good player. But you definitely don't need that extra antic on the field. There's no room for it."
As of this morning, FC Dallas says there have been fines, suspensions, or repercussions from the incident.
Coach Hyndman wasn't particularly pleased with the result. "We've got to get our guys healthy," said Hyndman. "I think it's a different game with George (John) and Heath (Pearce) and Ugo (Ihemelu) out there. I'm more concerned about our performance in the first half than in the second half. In the first half, we went against, basically, their first team and we had what we consider some of our better players on the field, but the thought right now is let's get back to work."
You can find some pictures of the action
here at the bottom of the page
. Strangely Alexis Pradie (#33) is in almost every pic.
FC Dallas vs. Houston Dynamo
February 12, 2011 -- Whataburger Field, Corpus Christi TX
Preseason friendly
Scoring Summary:
HOU -- Own goal (Alexis Pradié) 8
HOU -- Geoff Cameron (Brad Davis) 29
HOU -- Brad Davis (unassisted) 40
HOU -- Danny Cruz (penalty kick) 93+
FC Dallas
-- Kevin Hartman (Chris Seitz 46), Jackson (Andrew Wiedeman 46), Bobby Warshaw (Bruno Guarda 71), Alexis Pradié, Jair Benitez (Moises Hernandez 46), Marvin Chavez (Sheldon Palmer 46, Jason Yeisley 71), Eric Alexander (Bruno Martins 46), Eric Avila (Ricardo Villar 42, Brayan Martinez 72), Brek Shea (Bim Ogunyemi 46, Bryan Leyva 71), David Ferreira (Scott Gordon 46), Milton Rodriguez (Ruben Lunan 29, Maykel Galindo 71).
Houston Dynamo
-- Tally Hall (Tyler Deric 46), Kofi Sarkodie (Lovel Palmer 46), Eddie Robinson (Bobby Boswell 46), Andrew Hainault (Jermaine Taylor 46), Mike Chabala (Hunter Freeman 46), Corey Ashe (Danny Cruz 46), JeVaughn Watson (Richard Edwards 46), Geoff Cameron (Lester Peltier 46), Brad Davis (Josue Soto 46, Francisco Navas Cobo 76), Brian Ching (Cam Weaver 46), François Swaby (Steven Morrissey 46).
Misconduct Summary:
FCD -- Eric Alexander (caution) 10
Referee: Jasen Anno
Referee's Assistants: Sean Hurd; Adam Garner
4th official: Ismail Elfath
Attendance: 5,432
Weather: Clear-and-60-degrees