June, 5, 2011
6/05/11
11:13
PM CT
By
Master Tesfatsion
| ESPNDallas.com
ARLINGTON, Texas -- It's hard to believe it was scoreless match at halftime. Mexico fired in three goals in four minutes en route to a 5-0 victory over El Salvador in CONCACAF Gold Cup action. Man of the Match Javier "Chicharito" Hernandez gave the sellout crowd at Cowboys Stadium a hat trick in his first Gold Cup game.
* Efrain Juarez scored in the 55
th
minute to break the tie in an unconventional way. Juarez's off-balance shot was deflected off El Salvador keeper Miguel Montes. The ball bounced in front of Juarez as he fell down in the goalie box and headed it in the net.
* Jesús De Nigris entered the game for Israel Castro in the 57
th
minute and scored a minute later from Andres Guardodo's assist to make it 2-0.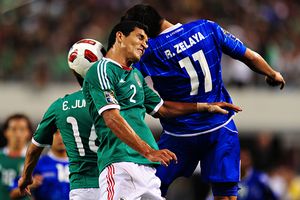 Robyn Beck/Getty ImagesMexico's Francisco Javier Last Rodríguez Pinedo (2) and Efraín Juárez Váldez go for a header against El Salvador's Rodolfo Antonio Zelaya García.
* Hernandez took over thereafter to seal the deal for the defending Gold Cup champions with Guardodo's help. He scored in the 59th and 67th minutes from Guardodo's assists. Marvin's Gonzalez's red card in the penalty box allowed Chicharito to end the game on a penalty kick in the 95th minute, giving him the hat trick.

"The most important thing for me is the three points," Hernandez said. "I don't care if I score. Sometimes I won't. The main thing is we won."

* Mexico head coach Jose Manuel De La Torre carried the same "team" tone about Hernandez's performance.

"[Hernandez] had the good fortune to score, but as a result of the team play," De La Torre said. "That's what the forwards are in there to do."

* Mexico's support was greater than that for El Salvador, Costa Rica and Cuba combined. It was evident while watching the majority of the 80,108 fans scream at the top of their lungs when Mexico scored. You couldn't find a section that wasn't flooded with red, white and green color combinations.

"Its unbelievable the support that we have from Mexicans who live here," Hernandez said. "You can see it with your own eyes: 80,000 people and most of them in green shirts, and it means a lot to us."

* Mexico hasn't lost a Gold Cup game since the 2007 final against the United States, 2-1. El Tri's next match is against Cuba, a team that lost 5-0 to Costa Rica on Sunday and is 0-1-7 in its last eight Gold Cup matches.

* El Salvador is now 4-1-11 in Gold Cup play since 2000. Los Cuscatlecos have only played together for 30 days but battled in the first half against El Tri. El Salvador displayed its lack of chemistry in the second half, as it was unable to rebound from Juarez's score. It managed only one shot on goal in the second half, two in the game on 11 tries. El Salvador looks to bounce back against Costa Rica on June 9.

"I think we change the page and look ahead," El Salvador head coach Ruben Jorge Israel said. "It doesn't end or start with one game. Our motivation is an area of importance for us now, but also we need to focus on the field. We just have to get better in certain areas.

"Costa Rica is a very good team and a team that we know. It's a very important tournament for us and we have the same chance as both Cuba and Costa Rica."
June, 5, 2011
6/05/11
8:28
PM CT
By
Master Tesfatsion
| ESPNDallas.com
ARLINGTON, Texas -- Mexico and El Salvador have been evenly matched in a scoreless first half of a CONCACAF Gold Cup contest at Cowboys Stadium.

Mexico had four shots in the first half, one on goal. Andres Guardado's missed header from inside the goalie box was El Tri's best shot at a goal. Rising international sensation Jaiver "Chicarito" Hernandez's only highlight was a yellow card issued in the 27th minute. He's been pretty quiet offensively for Mexico. Francisco Rodriguez was also booked a yellow card in the 28th minute.

El Salvador also had its chances to score with one on goal in five attempts. Despite the discrepancy in fan support compared to Mexico, El Salvador doesn't have any bookings and committed five fewer fouls, 11-6, than El Tri.

The atmosphere has been nonetheless electric throughout the tie game. Even with a NBA Finals game being played 20 minutes away, 80,108 fans have made it pretty difficult to find an empty seat in the house.
June, 5, 2011
6/05/11
7:31
PM CT
By
Master Tesfatsion
| ESPNDallas.com
ARLINGTON, Texas -- Costa Rica cruised, 5-0, over Cuba in the opening match of the 2011 CONCACAF Gold Cup. Los Ticos dominated throughout the game, led by Man of the Match Marco Urena's two goals. Cuba is still seeking its first Gold Cup win since 2003.

* Costa Rica quickly jumped out to a 1-0 lead in the seventh minute on Urena's first goal. Christian Bolanas fed Urena with a beautiful cross in the penalty box from the left wing.

* Alvaro Saborio outran Cuba's back line off a lead pass from Cleso Borges, scoring in the 41st minute to give Costa Rica a 2-0 lead at halftime.

* Los Ticos fired off consecutive goals in the first two minutes of the second half. Urena netted his second goal in the 45th minute and Heinera Mora followed in the 46th minute with a goal.

* Joel Campbell capped the onslaught with the best strike of the night from the left side of the penalty box to make it 5-0.

* Cuba failed to get a shot on goal in three tries. Costa Rica attempted 14 shots, seven on goal.

* Costa Rica is now 4-0 against Cuba in the Gold Cup and has outscored the Carribean Lions 18-3. Costa Rica's next match is against El Salvador June 9.

* Cuba is 0-1-7 in its last eight Gold Cup matches. The last Cuban victory came on July 13, 2003, against Canada, 3-0. Cuba's next match is against Mexico on June 9.
June, 5, 2011
6/05/11
5:28
PM CT
By
Master Tesfatsion
| ESPNDallas.com
ARLINGTON,Texas -- The crowd inside Cowboys Stadium during the start of the first match of the 2011 CONCACAF Gold Cup doesn't match what was seen in the parking lots earlier in the day. Perhaps fans are making an inconvenient trip back to their cars after they attempted to enter the event with prohibited items.

The ever-so-popular vuvuzelas were blaring in the parking lots hours before the match between Costa Rica and Cuba, but they are prohibited inside the stadium.

Other items seen in the festive tailgating crowds that aren't allowed inside include stadium horns, outside food and beverage, drums larger than 17 inches, flag poles, sticks and flags that cannot be held by one person.

A sold-out crowd, where one ticket will get you into both matches, is expected, but the majority of the fans outside the stadium are representing Mexico and El Salvador, who play in the second game of the doubleheader.
April, 24, 2011
4/24/11
1:51
PM CT
By
Peter Welpton
| ESPNDallas.com
"How many licks to the center of a Toosie Pop"?
"How many kicks to David's leg before it snaps?"
Not sure about the former, but the latter proved to be a whole bunch over the course of about a season and a half worth of matches. David is one durable cat, but it was going to happen sooner or later.
Before the discussion of Ferreira's situation, the harsh reality was that FC Dallas was putting forth its worst performance of the 2011 campaign right up to that sad moment.
From the kickoff Dallas was largely on its back foot as another Northwest Soccer Crowd filled up the stadium with atmosphere and support for an energetic Vancouver side. Hyndman's troops struggled at all aspects of the game and could not retain possession for any serious stretch of time. With Castillo horribly miscast as the lone striker, Dallas had no one holding the ball up high allowing for a build up for attack.
Shea and Chavez both, whether due to travel fatigue or the poorly installed Field Turf pitch, struggled to penetrate and complete passes. Hernandez and Jacobson worked hard to plug holes as the Whitecaps decided that a direct, long ball style was their best approach. Overall the midfield simply could not create much of anything and a large part of that was due to Castillo being all but invisible for the first 45 minutes.
After Ferreira's departure, Dallas seemed to regain some emotion and seriously began to push back and find that the Whitecaps as a team looked to be on different tactical pages. Dallas was essentially a three wheeled car for the final 35 minutes or so, they did find a way to win the match, but it was never pretty or anything Hyndman is going to want to latch onto (other than the "guts" part, but FCD has always had that under Schellas).
As for the Ferreira tackle: Leathers is only guilty of committing the same tackle you see in leagues all over the world every match. Guy gets beat, guy works to cover, guy lunges from behind to poke a ball away and in the process takes out the opponent's legs. Just in this instance, the toe of David's shoe gets stuck in the turn and his foot stays vertical while the rest of him turns. You know the rest.
The reality is that is by FIFA's "Interpretation of the Laws of the Game and Guidelines for Referees" what Leather's was guilty of is, or should have been, was, "Serious Foul Play".
A tackle that endangers the safety of an opponent must be sanctioned as
serious foul play. Any player who lunges at an opponent in challenging for the
ball from the front, from the side or from behind using one or both legs, with
excessive force and endangering the safety of an opponent is guilty of serious foul play.
Referees in leagues all over the globe rarely call this exact tackle anything more than a foul. Leather's did touch the ball, but that isn't supposed to matter. The Law of the Game are explict in that direction. The problem is that the punishment of ejection is such a game changer, referees won't red card tackles from behind because of the fallout. Ferreira receives this foul at least twice a match, and maybe the guilty party gets a yellow 25% of the time.
Unfortunately the law of averages finally turned against David this time and for it, he will be out for a considerable stretch of time with a double fracture (tibia and fibula).
Much like a lot that is wrong with officiating in soccer, there are plenty of proper laws in place, FIFA and their officials just need to enforce them by the letter of the law. Eventually the players will make the changes needed to fall in line and the sport will be far better for it.
Grades:
(5 is an average performance, 10 is a world-class mindbender. Please note in my system, each player is held to a different standard based on their experience, position and expectation. ie: a Luna grade of "5" is likely different that a Milton grade of "5".)
Hartman: 6
- Dallas is really going to need his vocal leadership
Jackson: 5
- Was woefully poor in the 1st half, but his attacking style was important in the 2nd half
John: 8
- Continues to do little things that make average defenders turn into great defenders
Ugo: 4
- Another match he loses out for a header that becomes a goal, and looked shaky in other key moments. Is he struggling with his recovery?
Benitez: 6
- Like Jackson, he was key to comeback, actually impressive as a midfielder
Chavez: 5
- Simply not effecting matches as much as that position needs to and if team switches to 4-4-2, will that help/hurt him?
Hernandez: 5
- The middle of the park continues to struggle
Jacobson: 5
- See above
Ferreira: 4
- Harsh, yes, but the PK miss was shameful and before that it was another match David really struggled to find his space
Shea: 5
- Looked very rusty at midfield, but oddly comfortable at right back later in the match
Castillo: 3
- Not sure why Hyndman tried to force this fit.
Subs:
Avila: 8 - Another heroic late match winner. But the kid is going to have to put in an effective 90 minutes to be more than a super sub. Unfortunately, he may get a shot to prove he can
Milton: 7 - A very large part of why team settled as he worked hard to help with possession, but his lack of speed is really hurting him and the side in the final third
Alexander: 6 - Still think this kid can help his team. So calm and poised on the ball.
Match: "B+"
- The Ferreira drama alone was compelling, but FC Dallas' fight back was a bloody, ugly three points for the good guys.
Ed note: Grades are for entertainment purposes only. Do not take them to heart, personally or otherwise. If you don't like the grades may we suggest instead of only calling the author names and bein' an anonymous meanie, how about you put your grades and explanation in the comment section below. After doing that, then you can then call the author names and remain anonymous, you just won't be a meanie. Discourse is good for the soul.