April, 8, 2012
4/08/12
6:40
PM CT
By
David Stein
| ESPNDallas.com
FRISCO, Texas -- With the swagger of a professional, Solar Chelsea keeper Oshik Shames said his team's 3-1 win over Arsenal FC USSF U17/18 Academy was the one of the easiest of the Dallas Cup.

Good thing for his team, it came in the U19 championship game.

"In some games I had pretty much nothing to do," Shames said of his team's defense. "The defense really stepped up their game and helped me a lot."

Ryan Condotta put Solar Chelsea on the board in the 21st minute when his right-footed strike landed in the bottom-left corner just past the reach of the keeper.

William Webb padded the lead in the 31st minute when his strike from a few yards off a rebound hit a defender just behind the goal line.

Misael Osorio brought Arsenal right back into the match after the half when his 25-yard strike flew past the keeper in the 42nd minute.

Things got heated after the goal when Shames got into a shoving match with a few Arsenal players, but referees broke things up quickly.

"In a game like this, of course tempers are going to be a little high," Shames said. "When I picked [the ball] up after they scored, I was getting charged by the whole team. The referee stepped in and did his job. I appreciate that."

Solar Chelsea responded in the 50th minute when Cole Missimo found himself one-on-one with the keeper and buried the ball in the bottom-right corner to go up 3-1.

The Solar Chelsea attack was working all-tournament long. They outscored opponents 22-4 in six Dallas Cup games.

Solar Chelsea was the only Dallas team to win a championship this year.

"We were just glad we could come in and represent for our city," Shames said.

The game was shortened to 80 minutes due to a rain delay early in the day.

U17: Rot Weiss Essen holds on to edge Tigres

After an hour-long rain delay, Rot Weiss Essen held off the speedy Tigres attack and captain Nakowitsch Kai scored to win the U17 championship.

"Mexico has very good youth teams," Kai said of Tigres through a translator, "but speed isn't everything in soccer."

Tigres was aggressive in the first half but couldn't capitalize against the physical German side.

In the 46th minute, Rot Weiss Essen keeper Azmir Alisic prevented Tigres' best opportunity for a goal with a string of back-to-back saves.

Rot Weiss Essen got another break when Eder Ruiz's 54th-minute strike hit off the left post for Tigres.

The biggest break came in the 57th minute when Kai's left-footed strike flew past the reach of the keeper to open scoring.

"The ball just came in. It was a weird feeling, but I just shot it and was happy to score," Kai said.

Two minutes later, Alisic had another great save to keep the Mexican side from equalizing.

Tigres continued to be aggressive, but the Rot Weiss Essen defense held on just enough to keep Tigres from scoring.

The game was shortened to 80 minutes due to a rain delay early in the day.

U16: Early goal lifts OBGC over FC Golden State

A stoppage time goal put the nail in the coffin for OBGC as the Rangers beat FC Golden State 3-1 in the U16 Dallas Cup championship.

OBGC head coach Matt Pilkington said it was a huge sigh of relief.

"That's the winning goal right there," Pilkington said. "Stoppage time's always a little bit nervous. We had to change our style and we struggled to do that."

They kicked off the morning early by scoring in the 2nd minute. Jony Karahbetyan shook his defender and chipped the ball into near-post with the keeper diving away.

FC Golden State didn't let the early goal get to them. Juan Estrada took a wide open strike off a rebound from inside the box and put it just past the keeper in the 16th minute.

OBGC went back on top in the 59th minute when Karl Brown scored off a rebound that left him one-on-one with the keeper. Brown faked near-post then put the ball to the top-right corner to go up 2-1.

FC Golden State was aggressive late and nearly equalized in the 79th minute when Daniel Hernandez's header went just wide right from 10 yards.

Sean Cowdry put the game away in stoppage time when a deflected ball landed in front of the striker with a wide-open goal.
February, 15, 2012
2/15/12
10:31
AM CT
Dr Pepper Dallas Cup XXXIII will kick off at FC Dallas Stadium on April 1 with a showcase tripleheader featuring six teams from five countries. FC Dallas will take on Manchester United on Opening Day.

The action gets started at 1:30 p.m. as 2011 English Premier Academy League champions Everton FC faces 2012 Copa Sao Paulo semifinalists from Brazil, Coritiba FC.

The second game features French Academy League champions Paris Saint-Germain against Mexico's U-20 national squad at 3:30 p.m. The 33rd Annual Welcome World Opening Ceremonies featuring all teams from all age groups will start at 6 p.m. setting the stage for a blockbuster final game.

2011 FA Youth Cup Champions and English powerhouse Manchester United will battle FC Dallas, the 2011 US Soccer Development Academy runners up and No. 1 rated club in the country, according to the recent U.S. Soccer evaluations.

The traditional Wednesday night matchups on April 4 will feature last year's co-champions, Eintracht Frankfurt of Germany, against Mexico's U-20 at 6:30 p.m.. FC Dallas sister club UANL Tigres of Mexico goes up against Manchester United at 8:30 p.m.

Championship weekend will kick off on Friday, April 6 with the Gordon Jago Super Group semifinals taking place at 6 and 8 p.m. while Saturday and Sunday will see the championship games of all age groups taking place on the stadium field.

Tickets for all stadium games are on sale now! Adult Value Pack $55.00 ($75.00 Value), Youth Value Pack $20.00 ($25.00 Value). Opening Day - Adult Tickets are $15 each and Opening Day –Youth Tickets are $5 each. Games will be played all week, free of charge, at FC Dallas Stadium complex and Richland College complex, but entry into all stadium games requires a ticket. Get the latest information about Dr Pepper Dallas Cup XXXIII, teams, schedules and more at www.dallascup.com.

The Dr Pepper Dallas Cup XXXIII April 1-8th, FC Dallas Stadium Super Group games are as follows:
Five Days at the Stadium-14 Great Games

Sunday - April 1st
1:30PM Everton vs. Cortiba FC
3:30PM Paris St. German vs. Mexico U20s
7:30PM Manchester United FC vs. FC Dallas Academy

Wednesday – April 4th
6:30PM Mexico U20s VS. Eintracht Frankfurt
8:30PM Manchester United FC vs. Tigres

Feature Games at FC Dallas Stadium-Friday, 6 April
6:00pm Super Group Semi Final
8:00pm Super Group Semi Final

Feature Games at FC Dallas Stadium-Saturday, 7 April
12:00pm Under 13 Championship Match
2:00pm Under 14 Championship Match
4:00pm Under 15 Championship Match

Feature Games at FC Dallas Stadium-Sunday, 8 April
10:00am Under 16 Championship Match
12:30pm Under 17 Championship Match
3:00pm Under 19 Championship Match
6:00pm Super Group Championship Match

Dr Pepper Dallas Cup is the oldest international youth soccer tournament in the United States, celebrating its 33rd year in 2012. Dallas Cup contains seven age groups from U13 to U19 level and entertains on average more than 160,000 spectators during the week. Since its inception in 1980, Dallas Cup has played host to teams and referees from over 45 states, 100 countries and 6 continents. Dr Pepper Dallas Cup XXXIII kicks off at FC Dallas Stadium in Frisco, April 1st, 2012 with the championship games taking place April 7 and 8.
September, 4, 2011
9/04/11
4:22
PM CT
FC Dallas won the 2011 Rio Grande Plate on Saturday by defeating their sister club Tigres UNAL 2-1 in regulation and 6-5 in penalty kicks. Fielding a predominantly reserve lineup, FC Dallas overcame a 2-1 first leg deficit by winning 2-1 at Pizza Hut Park in front of almost 10,000 fans.

FCD allowed an opening goal to Tigres in the 37th minute to Lucas Lobos, but goals from Ruben Luna and Jackson erased the 2-1 opening leg deficit to force penalties. Recently acquired defender Jeremy Hall netted the game-winning penalty kick in the sixth round after Tigres' Francisco Acuna slammed his shot off the crossbar.

Two home grown players combined for the first FCD goal, Bryan Leyva assisting Ruben Luna who sent a chip shot to the far post for the goal. Second half sub Jackson scored a great individual goal when he stole a ball and beat the Tigres defense on the run before scoring at the far post.

Attendance: 9,219

Scoring Summary:
TIG – Lucas Lobos 37
DAL – Ruben Luna (Bryan Leyva) 44
DAL – Jackson 46

Misconduct Summary:
TIG –Lampros Kontogiannis (caution; reckless tackle) 83

FC Dallas – Chris Seitz, Victor Ulloa (Jack Stewart 77), Moises Hernandez (Jeremy Hall 64), George John, Andrew Jacobson, Bryan Leyva (Maykel Galindo 69), Bobby Warshaw, Andrew Wiedeman (Jon Top 73), Daniel Cruz (Jackson Goncalves 46), Bruno Guarda (Zach Loyd 21), Ruben Luna.

Substitutes Not Used: Josh Lambo, Richard Sanchez.

Tigres UNAL – Aaron Fernandez, Israel Jimenez (Fernando Navarro 45), Lampros Kontogiannis, Jorge Valencia (Abraham Stringel 66), Jonathan Bornstein (Jorge Espericueta 61), Jesus Duenas, Manuel Viniegra, Lucas Lobos (Alberto Acosta 45), Damian Alvarez (Eder Borelli 45), Danilo Veron (Francisco Acuna 45), Alan Pulido.

Subs Not Used: Enrique Palos

Referee: Jorge Luna
Referee's Assistants: Jonathan Johnson, KevinTerry Jr.
4th Official: Hayden Edwards
Weather: Fair, 93 degrees

Penalty Kicks:

Tigres: (Alan Pulido - goal, Alberto Acosta - goal, Jorge Valencia - goal, Fernando Navarro - goal, Manuel Viniegia – goal, Fernando Acuna – miss)
FC Dallas: (Jackson - goal, Maykel Galindo - goal, Ruben Luna - goal, Jonathan Top - goal, Zach Loyd - goal, Jeremy Hall - goal)


Statistics DAL TIG
Goal Attempts 8 12
Saves 1 1
Fouls 7 6
Corners 4 10
Offside 2 2




March, 24, 2011
3/24/11
10:38
AM CT
FC Dallas dropped the first leg of the Rio Grande Plate 2-1 in Monterrey, Mexico Wednesday night.
Andrew Wiedeman scored what FCD called a cracker of a goal to tie the game 1-1
.
You can find a few photos of the match here
.
The 2nd leg of the Rio Grande Plate is scheduled for Sept. 3 at 7:30 p.m. CT
Here's the FCD lineup...
Luna
(Marosevic 72).
Villar
Avila
(Warshaw 46)
Jacobson
Alexander
(Wiedeman 46)
Hernandez
(Guarda 46)
Benitez
Shea
(John 88)
Ihemelu
(trialist 46)
Loyd
Seitz
(Lambo 46)
Some thoughts and notes:
- I only got Hernandez wrong from my lineup prediction, which may tell us more about how far Bruno Guarda has fallen than anything else. Although maybe Hyndman wanted to see Jacobson and Villar play with Hernandez.
- Ugo Ihemelu gets 45 minutes, pushing up his fitness level. Look for him to now play 60 minute this weekend?
- Nice to see Wiedeman get on the score sheet playing wide midfield. Is he making strides?
- It's bizarre to me that FCD won't identify the mystery center back trialist. I haven't seen him yet so I'm not sure if I will recognize him or not.
- There are a couple names missing from the Tigres subs list below, but it's what FCD provided so its what you get.
Scoring Summary:
TIG – Carlos Ochoa (Alberto Acosta) 14
DAL – Andrew Wiedeman (Andrew Jacobson) 53
TIG - Francisco Acuna (Acosta) 82
Misconduct Summary:
DAL – Andrew Jacobson (caution, dissent) 69
Lineups:
FC Dallas – Chris Seitz (Josh Lambo 46), Jair Benitez, Brek Shea (George John 88), Ugo Ihemelu (trialist 46), Zach Loyd, Daniel Hernandez (Bruno Guarda 46), Eric Avila (Bobby Warshaw 46), Ricardo Villar, Andrew Jacobson, Eric Alexander (Andrew Wiedeman 46), Ruben Luna (Peri Marosevic 72).
Tigres – Cirilo Saucedo, Anselmo Junior, Hugo Ayala, Jesus Molina, Danilo Veron, Antonio Sancho, Francisco Acuna, Carlos Ochoa, Jose Rivas, Omar Trujillo (Jesus Duenas 77), Alberto Acosta.
Subs not used: David Toledo, Antonio Zacarias, Enrique Palos, Aaron Fernandez, Leo Morales, Pablo Ocegueda.
March, 11, 2011
3/11/11
8:39
AM CT
By
Buzz Carrick
| ESPNDallas.com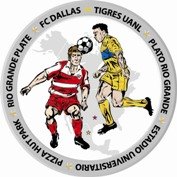 In a Q&A on MLS net, FC Dallas President Doug Quinn says that the Rio Grande Plate, the challenge series between FC Dallas and Tigres of Mexico, will return in 2011.

FC Dallas will travel to Mexico on March 23rd to open the two game set with sister club Tigres. The return leg will take place in September at Pizza Hut Park.

FCD and Tigres last played for the Rio Grande Plate in 2008, won by Tigres in PKs. Tigres holds a 2-1 series advantage in the friendly competition as they also won in 2007. FCD won the initial competition in 2006 also on PKs.