April, 16, 2014
Apr 16
11:22
AM CT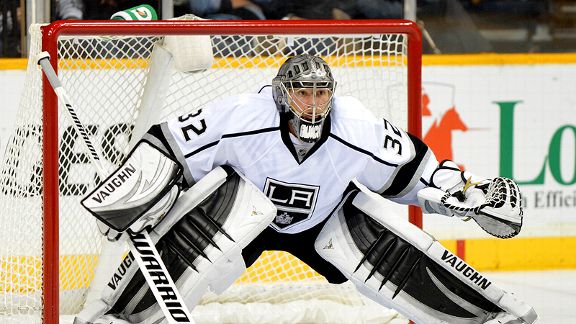 Don McPeak/USA TODAY SportsJonathan Quick has proved he can stand tall in the crease for the Kings.
With the playoff matchups set and the countdown to the postseason underway, we're ranking the top playoff teams by position. On Monday, the forward groups were ranked. On Tuesday, it was the defensemen's turn. Today, here's the ranking of the goaltending for the 16 playoff teams.
1. Los Angeles Kings
Team save percentage:
.922
Short-handed save percentage:
.879
Jonathan Quick career playoff save percentage:
.929 (50 games)
The Kings are a near-perfectly constructed team up front and on defense, but it's Quick who puts them over the top in comparisons to the Sharks and other Western Conference contenders. He's a competitor with a Stanley Cup and loads of playoff experience, and he now has Olympic experience on his résumé. There's not a better goalie to have on your side at the outset of the playoffs.
"With Quick in goal, they've probably got the most complete team in the NHL," said a veteran scout.
2. Boston Bruins
Team save percentage:
.928 (No. 1)
Short-handed save percentage:
.884
Tuukka Rask career playoff save percentage:
.930 (35 games)
If the Bruins won the Stanley Cup last spring, Rask would've been in the Conn Smythe conversation with
Patrice Bergeron
after finishing the playoffs with a league-best .940 save percentage.
To continue reading this article you must be an Insider
April, 16, 2014
Apr 16
9:05
AM CT
By
Matthew Coller
| Hockey Prospectus
It is impossible to overstate the importance of goaltending during the Stanley Cup playoffs. Deep runs into the postseason can be made on the back of a hot goalie, while a struggling netminder can cost even the best team a shot at raising the Cup.
The impact of goalies on postseason success has been as evident as ever over the past three years. In that time, two goalies won the Conn Smythe Trophy for playoff MVP -- the Boston Bruins' Tim Thomas (2011) and the Los Angeles Kings' Jonathan Quick (2012) -- while last year's champion, the Chicago Blackhawks, received incredible goaltending from Corey Crawford, who finished the playoffs with a .932 save percentage. On the other side of the coin, the poor play of the New York Islanders' Evgeni Nabokov and the Montreal Canadiens' Carey Price cost their clubs the chance to advance to the second round last postseason.
Who will stand out this year and help carry his team in Round 1?
For this, we once again turn to the Goalie Heat Index -- a statistical forecast of how goalies will perform in the postseason. Over the past dozen postseason campaigns, the best performance indicators -- in order of diminishing importance -- have been: career playoff save percentage, current regular-season save percentage and current regular-season shots on goal against (SOGA). This measure has worked to predict breakout postseason performances by unlikely playoff standouts such as Antti Niemi, Jaroslav Halak, Braden Holtby and Mike Smith.
Here is a look at which goalies figure to get hot in 2014:
To continue reading this article you must be an Insider
April, 15, 2014
Apr 15
6:05
PM CT
It's not very often that a No. 1 seed is beaten in the first round of the NHL playoffs, but it's not unprecedented, either. In fact, a No. 8 seed -- Los Angeles -- won the Stanley Cup a few years ago. So what do the
Dallas Stars
need to do to pull off the upset of the
Anaheim Ducks
? Here are five things they need to do:
1. Win the goaltending battle.
It's odd that the Ducks are the top seed and have major questions in goal.
Jonas Hiller
was disappointing in the final month of the season, forcing coach Bruce Boudreau to go with his younger netminders in
Frederik Andersen
and
John Gibson
, who won all three of his starts with a .954 save percentage. Stars coach Lindy Ruff is betting Boudreau goes with Andersen because of how much Hiller has struggled. But that gives the advantage in nets to the Dallas Stars and goalie
Kari Lehtonen
. He's played well this season and is seeking redemption for his quick and rough playoff experience with Atlanta.

2. Utilize their speed and puck possession skills.
The Stars annoy opponents because they are always on the go. If you're not ready to skate, the Stars will beat you. Dallas is the faster team and if the Stars can drive the tempo up and control the puck, something they are very good at doing, they can make things difficult on the Ducks. Ruff's style with this team is to grab the puck and create scoring chances. And with
Jamie Benn
and
Tyler Seguin
on the top line, they have the ability to do that.
3. Get scoring from more than Benn and Seguin.
Everyone in the NHL knows how good Benn and Seguin are, but the Stars also have a second line that can do some damage in
Antoine Roussel
,
Cody Eakin
and
Ryan Garbutt
. All three will be playing in the playoffs for the first time. How they respond will go a long way toward determining whether the Stars pull the upset. The trio has played well down the stretch in pressure games and they look ready.
4. Do the job on special teams.
The two squads are fairly even on the power play and penalty kill, but if you look inside the numbers you'll find that the Stars did a better job in both categories in the last few weeks. The Stars finished 23rd on the power play (Anaheim is 22nd) and 21st on the penalty kill (Anaheim is 13th, but not much higher than Dallas on percentage), but that was not indicative of how they played when the games mattered most as the season wound down. The Stars moved the puck well on the power play and found shooting lanes and they were smart, but aggressive on the penalty kill. They'll have to do both in this series.
As an added part to No. 4, the Stars' defense, inconsistent this season, must avoid too many costly turnovers. That's area that's been an issue for this team.
5. Don't squint under the playoff lights.
This is a new experience for 12 of the Stars' players. Lehtonen has just two playoff games to his name. How the club reacts to the pressure, especially early in the series, is critical. If Dallas can stay calm and competitive in the first 20 minutes on Wednesday, that could set an important tone for the rest of the series. Anaheim has been here before. The Stars haven't played a postseason game since 2008. They've got a new GM, coach, owner and a gaggle of new players since then. They can't let the newness of the experience overwhelm them.
April, 15, 2014
Apr 15
12:32
PM CT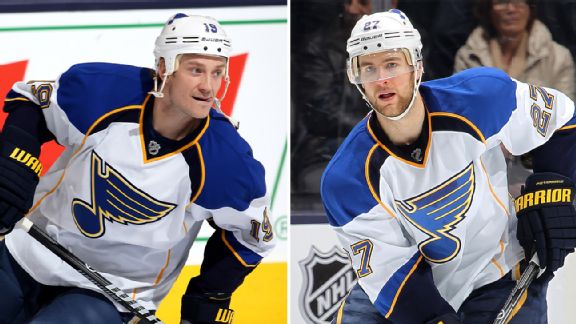 Getty ImagesJay Bouwmeester and Alex Pietrangelo anchor the top defensive group competing in the playoffs.
With the playoff matchups set and the countdown to the playoffs underway, we're ranking the top playoff teams by position. On Monday, the forward groups were ranked. Today, here's the ranking of the 16 playoff defenseman groups:
1. St. Louis Blues
Goals against per game (GA/G):
2.29 (No. 3)
Penalty kill (PK):
85.7 percent (No. 2)
Points from defensemen:
182
Shots against per game (SA/G):
26.4
A full season together for
Alex Pietrangelo
and
Jay Bouwmeester
gives the Blues a legitimate shutdown pair that was still figuring out how to play together when the playoffs arrived last spring. Pietrangelo has had a season worthy of Norris Trophy consideration. The duo is still a little light on playoff experience, which is a concern; the two have played a total of 20 postseason games, or 18 fewer than Kings defenseman
Slava Voynov
.
Having those two and trusted veterans like
Barret Jackman
and
Roman Polak
allows coach Ken Hitchcock to get favorable matchups for
Kevin Shattenkirk
, a talented offensive defenseman who consistently puts up St. Louis' best possession numbers.
2. Los Angeles Kings
GA/G:
2.05 (No. 1)
PK:
83.1 percent (No. 11)
Points from defensemen:
149
SA/G:
26.2
The defense has a mix of strong offensive puck movers such as
Drew Doughty
,
Jake Muzzin
and Voynov, along with defensive veterans
Willie Mitchell
,
Robyn Regehr
and
Matt Greene
.
Like everything Kings general manager Dean Lombardi builds, this defense was put together with a purpose, and if it remains healthy, it's as good as any in hockey. Doughty is a game-changer whose puck-retrieval skills and ability to quickly transition to offense should help negate a strong possession team like the
San Jose Sharks
.
3. Chicago Blackhawks
GA/G:
2.58 (No. 12)
PK:
81.4 percent (No. 19)
Points from defensemen:
193
SA/G:
27.2
The one-two punch of pairs
Duncan Keith
and
Brent Seabrook
along with
Niklas Hjalmarsson
and
Johnny Oduya
is a huge weapon for coach Joel Quenneville.
Chicago's second pair can play with any forward line, allowing Quenneville a chance to get Keith and Seabrook on the ice in moments where they can change the game.
To continue reading this article you must be an Insider
April, 15, 2014
Apr 15
9:45
AM CT
By
Matthew Coller
and
Ryan Wagman
| Hockey Prospectus
In the current salary-cap era of the NHL, the league has closed the gap between the top-seeded playoff teams and those at the bottom of the postseason list. With parity being the new rule, you could make a Stanley Cup argument for at least half of the postseason participants.
With the talent spread around, it is often matchups that make the difference, but those key matchups are not always easy to spot. One way to uncover them is by looking at the numbers. What numbers are the most telling in each series?
Editor's note: Click here for an explanation on any stats or terms with which you are not familiar.
---
Eastern Conference
New York Rangers vs. Philadelphia Flyers
Key stat: Philadelphia's minus-18 even-strength goal differential
The Flyers are one of only two teams to make the postseason to have been outscored at even strength this season (Montreal is the other). With referees prone to swallowing their whistles in the playoffs, even-strength play will take on even more importance than usual. With both teams expected to have their full rosters available by Game 1, expect the Rangers to make it very hard for an occasionally explosive Flyers team to get good looks at their net.
Prediction: Rangers dominate 5-on-5 play, win in six
With huge advantages for the Rangers in puck possession and goaltending, it is hard to see the Flyers keeping up when there are five skaters per side. Henrik Lundqvist started the season slowly, but finished strong with a .920 save percentage, and his past two playoff runs have included save percentages over .930. Philadelphia will be forced to rest their hopes on power-play scoring. -- Wagman
To continue reading this article you must be an Insider
April, 14, 2014
Apr 14
5:57
PM CT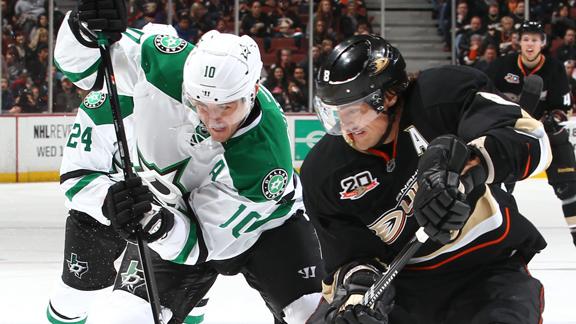 The
Dallas Stars
announced the schedule for their first-round playoff series with the
Anaheim Ducks
:
Game 1 at Anaheim: Wednesday, April 16, 9 p.m. CT on Fox Sports Southwest/NBC Sports Network, TSN
Game 2 at Anaheim: Friday, April 18, 9 p.m. CT on Fox Sports Southwest/NBC Sports Network, TSN
Game 3 at Dallas: Monday, April 21, 8:30 p.m. CT on TXA21/NBC Sports Network, TSN
Game 4 at Dallas: Wednesday, April 23, 7 p.m. CT on Fox Sports Southwest/CNBC, TSN
*Game 5 at Anaheim: Friday, April 25, 9:30 p.m. CT on Fox Sports Southwest/NBC Sports Network, TSN
*Game 6 at Dallas: Sunday, April 27, TBD on Fox Sports Southwest/TSN
*Game 7 at Anaheim: Tuesday, April 29. TBD on Fox Sports Southwest/TSN
April, 14, 2014
Apr 14
11:08
AM CT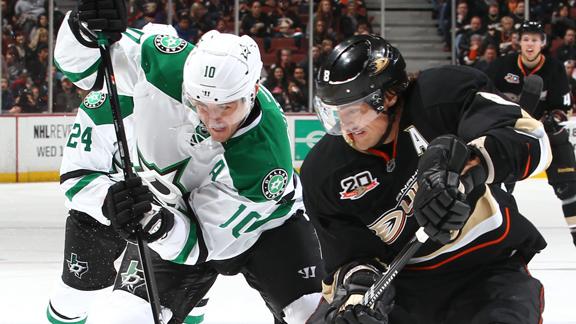 FRISCO, Texas -- Dallas Stars general manager Jim Nill believes firmly in living in reality. He doesn't try to convince anyone that his team is built to win the Stanley Cup. Don't get the wrong idea: The Stars' goal, like everyone in the playoffs, is to hoist, arguably, the most famous trophy in sports.
But by simply making it, Nill, coach Lindy Ruff and the organization has achieved one of the major goals for this season. Nill talked about it at the preseason unveiling of the team's new uniforms, appropriately named "Victory Green." He's discussed it as the season has progressed, never backing away from the notion that making the playoffs was attainable and a critical first step in skating back to contending status.
"This team needed this," Nill said, a day after the team clinched its first playoff berth in six years by beating St. Louis. Dallas will take on Anaheim in the first-round series, which begins Wednesday. "It's very important. Our players need to experience what it's like to play in that atmosphere. It's one step in the process. We still have work to do, but we needed to take this step."
A lot has happened since the Stars were last in the playoffs, a Western Conference finals appearance in 2008. Barack Obama was elected president. The Stars' American Airlines Center roommates, the Dallas Mavericks, won the NBA title. The Texas Rangers went to consecutive World Series. Heck, the Dallas Cowboys even won a playoff game since the last postseason berth for the Stars.
To get the Stars back to the postseason, Nill arrived in the summer and made some changes. One of his first decisions: hiring Ruff to replace Glen Gulutzan as coach.
April, 14, 2014
Apr 14
10:50
AM CT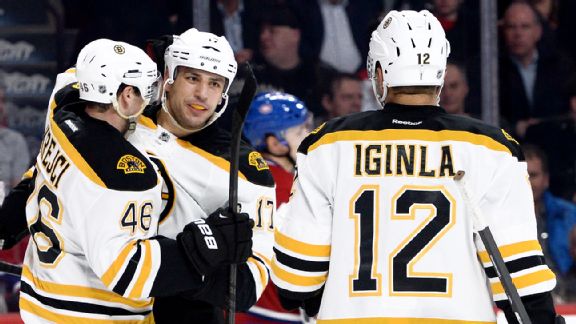 Francois Lacasse/Getty ImagesThe line of David Krejci (No. 46), Milan Lucic (17) and Jarome Iginla has been dominant this season.
With the playoff matchups set and the countdown to the playoffs officially underway, we're ranking all 16 playoff teams by position. Up first, we'll rank the forward groups. Note that the Corsi stats are courtesy of ExtraSkater.com, while the other stats are courtesy of NHL.com.
1. Boston Bruins
20-goal scorers:
5
5-on-5 goals for/against per game:
1.53
Corsi For percentage (CF%) (5-on-5, score close):
55 percent
The Bruins finished the season with two of the three most productive lines in hockey, with the
Milan Lucic
-
David Krejci
-
Jarome Iginla
line scoring more goals than any in the NHL, with a total of 55 when the players were on the ice together (per
leftwinglock.com
). And the amazing part was that it took time for Iginla to get completely comfortable.
"It did take us a while. I shouldn't say us, it took me a while," Iginla said. "Looch and Krejci have been consistent, had a good start. Mine was a little slower as far as getting results."
Not too far behind was the trio of
Reilly Smith
,
Patrice Bergeron
and
Brad Marchand
. If you can put
Loui Eriksson
on your third line, you're loaded at forward, and the Bruins definitely are. Claude Julien's ability to confidently roll all four lines is a huge postseason advantage for the Bruins.
2. Chicago Blackhawks
20-goal scorers:
5
5-on-5 goals for/against:
1.27
CF% (5-on-5, score close):
55.7 percent
This is predicated on
Jonathan Toews
and
Patrick Kane
returning to the playoffs healthy and productive. When everyone is out there, the Blackhawks are loaded. Toews and
Marian Hossa
are as good as they come in terms of two-way forward play.
Patrick Sharp
had one of the best seasons of his career. And you know guys like
Andrew Shaw
and
Bryan Bickell
will score big goals at some point in this postseason.
3. Philadelphia Flyers
20-goal scorers:
7
5-on-5 goals for/against:
0.96
CF% (5-on-5, score close):
49.2 percent
There's definitely concern with the Flyers' goaltending and defense heading into the postseason, but you have to love their forward depth.
To continue reading this article you must be an Insider
April, 14, 2014
Apr 14
9:12
AM CT
By
Tom Awad
| Hockey Prospectus
Editor's note: These rankings are based on player production in terms of Hockey Prospectus' GVT valuation metric. If you are unfamiliar with GVT and how it works, you can learn more here.
Throughout the season, Hockey Prospectus has provided Player Power Rankings for the top 10 skaters and top five goalies in the NHL based on HP's proprietary value metric GVT, a statistic that combines player contributions in all aspects of the game, including defense, goaltending and the shootout. The data presented within these files includes a value for offensive GVT, defensive GVT, shootout GVT and overall GVT.
With the regular season closing out on April 13, it is time to reveal the top 10 skaters and top five goaltenders based on their production throughout the campaign.
After leading the skaters list throughout the vast majority of the season, it's no surprise that Sidney Crosby closes out regular-season play as the No. 1 contributor in that group. Meanwhile, Tuukka Rask tops the list of goaltenders after overtaking Ben Bishop recently.
---
Top 10 skaters
1. Sidney Crosby, F, Pittsburgh Penguins
Off GVT: 21.7 | Def GVT: 4.1 | Shootout GVT: 0.4 | Total GVT: 26.2
After averaging 1.61 points per game over the past three seasons, Crosby managed "only" 1.3 in 2013-14. However, that was enough to run away with the scoring lead, and makes him the favorite for his second career Hart Trophy.
2. Joe Pavelski, F, San Jose Sharks
Off GVT: 17.6 | Def GVT: 6.1 | Shootout GVT: 0.5 | Total GVT: 24.2
To continue reading this article you must be an Insider
April, 13, 2014
Apr 13
10:40
PM CT
Associated Press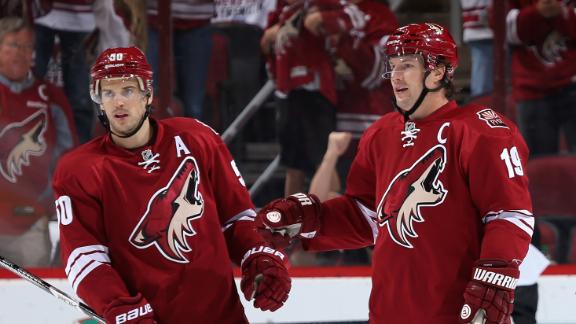 GLENDALE, Ariz. -- Dave Moss scored late in the third period, Thomas Greiss stopped 16 shots, and the Phoenix Coyotes ended a seven-game losing streak with a 2-1 win over the Dallas Stars on Sunday night in the season finale for both teams.
Knocked out of playoff contention on Friday, the Coyotes wanted desperately to end their season-worst losing streak. Greiss gave them a chance with some difficult saves, and Moss finished it with a one-timer past Tim Thomas with 2:31 left.
Shane Doan also scored for the Coyotes, who finished two points behind Dallas in the Western Conference and missed the playoffs for the second straight season.
Dallas was already locked into a first-round playoff series with Anaheim and rested many of its key players. The Stars kept it close behind Colton Sceviour's first-period goal and 29 saves by Thomas, but couldn't get anything past Greiss with an extra attacker in the closing seconds.
April, 11, 2014
Apr 11
10:18
PM CT
Associated Press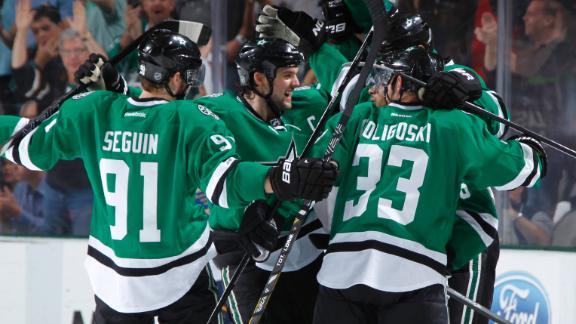 DALLAS -- Trevor Daley had a goal and an assist, Kari Lehtonen recorded his fifth shutout of the season, and the Dallas Stars clinched their first playoff berth since 2008 with a 3-0 victory against the St. Louis Blues on Friday night.
The Stars missed the postseason a franchise-record five straight seasons after never going more than one without a playoff trip since moving to Dallas in 1993. The longest previous drought was three seasons in Minnesota in the early 1970s.
St. Louis, outshot 40-22, dropped its fifth straight game for the first time since February of last year. The playoff-bound Blues also jeopardized their shot at the top seed in the Western Conference.
---
Follow Schuyler Dixon on Twitter at https://twitter.com/apschuyler
April, 10, 2014
Apr 10
10:08
AM CT
By
ESPN Stats & Information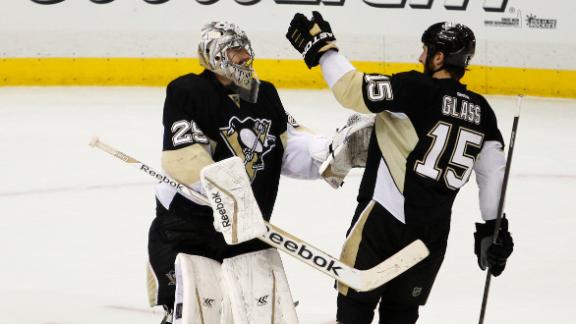 Ducks 5, Sharks 2
* Ducks: Clinched Pacific Division title with win.
* Ducks: 112 points this season (most in Western Conference, one ahead of Blues).
*
Patrick Maroon
(ANA): First career multi-goal game.
* Sharks: Will face Kings in first round of playoffs.
Blackhawks 3, Canadiens 2 F/OT
* Blackhawks: Won four straight games.
*
Marian Hossa
and
Patrick Sharp
(CHI): 1 G, 1 A each; Sharp's first OT goal since 2011-12 season.
Blue Jackets 3, Stars 1
* Game was a make-up of March 10 contest postponed after Stars center
Rich Peverley
collapsed on the Dallas bench due to a cardiac event (Blue Jackets started game with 1-0 lead, but teams played full 60-minute game).
* Blue Jackets: Clinch playoff spot; second playoff appearance in franchise history (also in 2008-09 season).
* Blue Jackets: 42nd win of season sets franchise record (previous record was 41 in 2008-09).
Penguins 4, Red Wings 3 F/SO
* Red Wings: Clinch 23rd straight playoff appearance; longest active streak in NHL and fifth-longest streak all-time.
*
Kris Letang
(PIT): 1 A and 22:30 time on ice; first game since suffering stroke.
*
James Neal
(PIT): 2 goals (both power play); 2 goals in previous 17 games combined.
Most Consecutive Playoff Appearances
4 Major Sports - Active Streaks

NHL  Red Wings           23
NBA  Spurs               17
NFL  Packers/Patriots     5
MLB  Cardinals/Tigers     3
April, 10, 2014
Apr 10
10:01
AM CT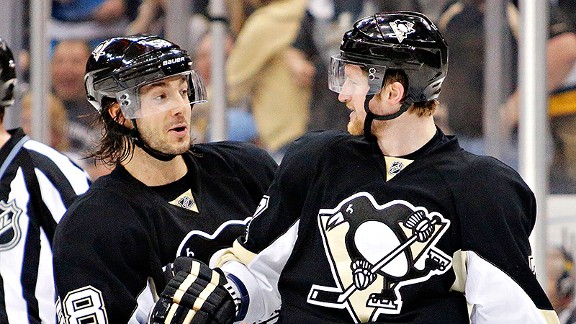 Justin K. Aller/Getty ImagesWith Kris Letang and Paul Martin back on the ice, Pittsburgh's defense group is as good as any.
Things are coming together quite nicely for the
Pittsburgh Penguins
as the playoffs close in, and not just because they beat their potential first-round opponent in the shootout on Wednesday night. With the impressive return of
Kris Letang
, the defense is shaping up to be as good as any in the East if everyone is healthy and playing well. Letang played 22:30 in his first game back and earned an assist, which is incredible considering the news of his stroke earlier this season.
Having
Paul Martin
and Letang both now both healthy and contributing will go a long way towards improving possession numbers that were average for the Penguins this season. With the score close, their
Corsi For
percentage (a metric that tracks shot attempts) is 49.7 percent this season, putting them at No. 15 in the league.
"Putting Paul Martin back in our lineup, almost immediately, you can see how it changes things for our team in terms of being able to not spend time in the defensive zone, being able to exit the zone with the puck," head coach Dan Bylsma told Pittsburgh reporters on Wednesday. "Kris is very similar in that regard to Paul."
With the defense shaping up, the next sign the Penguins are ready to make a run is when Bylsma has a third line that he can trust in the playoffs. When you think back to what made the Cup-contending Penguins so good, it was due in large part to the play of
Tyler Kennedy
,
Matt Cooke
and
Jordan Staal
.
Pittsburgh will be tough to beat if the Penguins find a trio that can come close to duplicating what those three brought to the table.
"All three of us were just committed to not getting scored on," said Cooke. "We committed to getting pucks in the offensive zone, committed to spending time there. There were games against Philly, games against Detroit that we didn't score. Out of 15 minutes we spent probably 13 in the offensive zone, forcing teams to defend."
One possibility is the line Bylsma used Wednesday night of
Brandon Sutter
,
Lee Stempniak
and
Tanner Glass
, although the health of
Marcel Goc
will factor in to that equation at some point in the postseason.
If Sutter plays well, like he did against Detroit, and anchors a line Bylsma can use as a shutdown trio, it frees up
Sidney Crosby
and the top six to focus on offense. It's also a role Sutter is eager to reclaim, although with injuries this season isn't one he's had much opportunity to seize.
"That's a role I like doing and something I challenge myself with," Sutter said when we chatted recently. "It just doesn't happen a whole lot."
On a team loaded with stars, the play of a guy like Sutter and his linemates can make the difference in a playoff series. That's how it is all over the league.
Here's a look at seven other hinge players -- no goalies allowed, that's too easy -- whose success in the postseason could tip the balance of a tight series:
Thomas Vanek, Montreal Canadiens
Vanek is one of those players who you might not notice for stretches of time, but then he breaks the game open with a pass or goal only he can make.
To continue reading this article you must be an Insider