December, 17, 2014
Dec 17
11:59
PM CT
Associated Press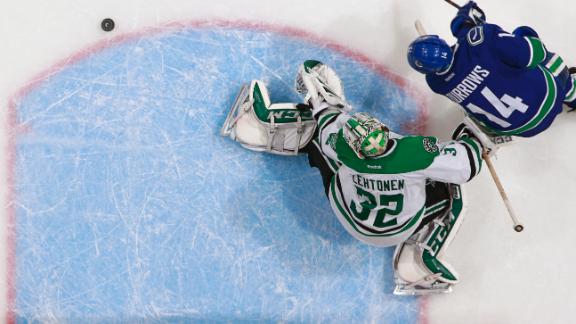 VANCOUVER, British Columbia -- Kari Lehtonen made 27 saves for his second shutout this season and the 29th of his career as the Dallas Stars defeated Vancouver 2-0 on Wednesday night to extend the Canucks' losing streak to five games.
Colton Sceviour and Antoine Roussel, into an empty net, scored for the Stars.
Eddie Lack stopped 27 shots for Vancouver. Lack started for the first time since Dec. 7 in place of No. 1 goalie Ryan Miller, who gave up five goals on 23 shots in a 5-1 loss to the New York Rangers on Saturday.
Lehtonen has four wins this month but came in with a 3.10 goals-against average on the season.
Sceviour opened the scoring at 2:53 of the second period when his backhand shot deflected off the back of Lack's glove and into the net.
December, 16, 2014
Dec 16
3:07
PM CT
Associated Press
BUFFALO, N.Y. -- Latvia is in love with Buffalo Sabres forward Zemgus Girgensons, who remains the runaway leader in the NHL All-Star Game fan vote.
The second-year player had nearly 1.1 million votes Tuesday. That's nearly double the total of each of the next two forwards: Chicago's Patrick Kane (586,310) and Jonathan Toews (573,198).
Girgensons' total is more than half the 2 million population of his native Latvia, where the NHL says he's attracted more than 80 percent of his votes.
The only limit on voting is fans can use the same device no more than 10 times a day.
The 2012 first-round draft pick leads Buffalo with nine goals and is second with 17 points.
Dallas forward Tyler Seguin leads the NHL with 23 goals and 38 points, but ranks ninth among forwards with 214,183 votes.
Voting ends Jan. 1. The game will be played at Columbus, Ohio, on Jan. 25.
December, 13, 2014
Dec 13
10:29
PM CT
Associated Press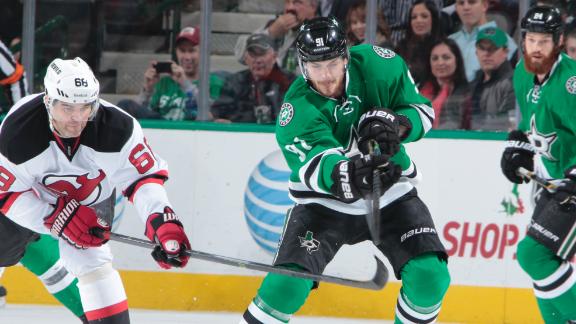 December, 12, 2014
Dec 12
4:01
PM CT
Associated Press
KAMLOOPS, British Columbia -- Dallas Stars owner Tom Gaglardi was fined $140,000 on Friday for polluting a lake during renovations on his Kamloops vacation property.
Gaglardi was found guilty on two counts of harmful alteration of a fish habitat for work done in 2010.
Gaglardi also owns the Western Hockey League's Kamloops Blazers and heads Northland Properties, which was convicted on the same charges. His father, Robert Gaglardi, was found not guilty.
Gaglardi refused to comment after sentencing Friday. Northland Properties lawyer Rob Toor said it's too early to say whether an appeal will be filed.
December, 10, 2014
Dec 10
6:27
PM CT
Associated Press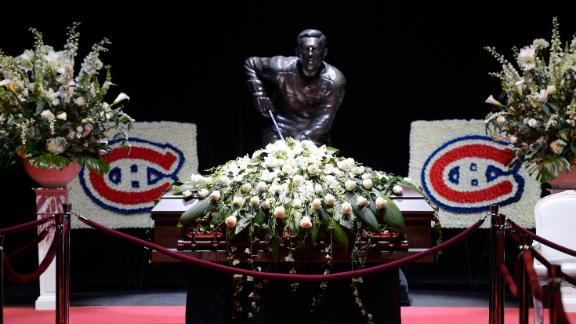 MONTREAL -- "Le Gros Bill" would have been touched.
Hundreds of fans, many clad in his famed No. 4 jersey, and a who's who of hockey stars and politicians paid an emotional farewell to Montreal Canadiens great Jean Beliveau on a snowy Wednesday.
The afternoon funeral for Beliveau, who died last week at 83, was held at Mary Queen of the World Cathedral and featured affectionate eulogies from former Canadiens teammates Dickie Moore, Yvan Cournoyer, Serge Savard and Ken Dryden, as well as Canadiens owner Geoff Molson.
"It is a tremendous honor to stand here for my teammate and friend, Jean Beliveau," Moore said. "Everyone has said so many wonderful words about him, words like strength, dedication, devotion and elegance. I was lucky to have been with Jean for many glorious years with the Canadiens, lucky to share amazing moments together, lucky to have him as a friend.
"Would you rather be good or lucky? I was lucky. He was good."
Canadian Prime Minister Stephen Harper was among those who attended the service, along with Gov. Gen. David Johnston, former prime ministers Jean Chretien and Brian Mulroney, Quebec Premier Philippe Couillard, and former Quebec premiers Jean Charest, Bernard Landry and Lucien Bouchard. Montreal mayor Denis Coderre and federal opposition leaders Justin Trudeau of the Liberals and Thomas Mulcair of the NDP also attended.
Moore was followed to the podium by Cournoyer, one of six pallbearers. Cournoyer spoke about Beliveau in revered tones as his "captain" and described what he called almost a father-son relationship with the late icon.
"Oh captain, my captain, bon voyage," Cournoyer said, his voice choking.
Dryden recalled being Beliveau's roommate toward the end of the 1970-71 season when the big goaltender was an NHL rookie.
December, 9, 2014
Dec 9
10:29
PM CT
Associated Press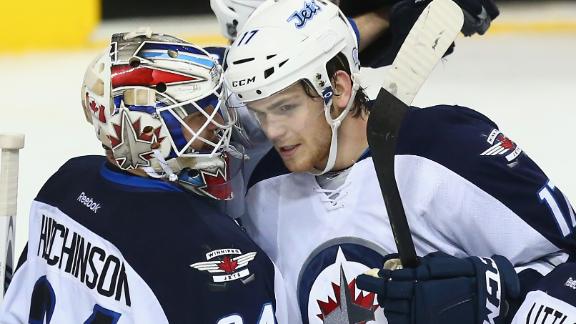 DALLAS -- Winnipeg rookie Adam Lowry scored twice in the second period to lead the Jets to a 5-2 victory over the Dallas Stars on Tuesday night.
Mathieu Perreault, Blake Wheeler and Michael Frolik also scored for Winnipeg, and Michael Hutchinson stopped 26 shots.
Tyler Seguin had his NHL-leading 22nd goal and Antoine Roussel also scored for Dallas.
Lowry's first goal broke a 2-all tie as his low shot got past Trevor Daley's sliding block attempt and between Stars goalie Kari Lehtonen's legs at 7:22 of the second.
The Stars then pulled Lehtonen, and Lowry scored on a rebound against backup Jussi Rynnas at 9:41.
Frolik's short-handed goal with 40 seconds remaining in the period capped the scoring.
Lehtonen stopped 14 of the 17 shots he faced, and Rynnas finished with 13 saves on 15 shots as the Stars dropped to 0-7-3 against Central Division opponents.
December, 6, 2014
Dec 6
9:04
PM CT
Associated Press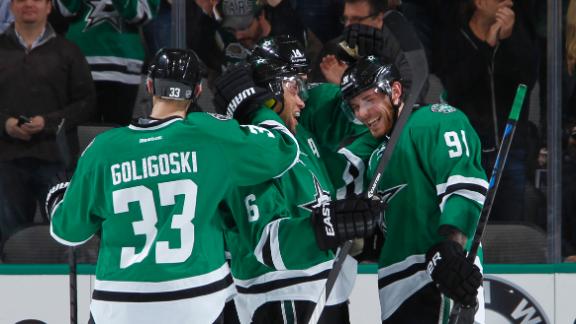 DALLAS -- Tyler Seguin had two goals and an assist to help Dallas beat the slumping Montreal Canadiens 4-1 Saturday night, ending the Stars' four-game losing streak.
Cody Eakin and Ryan Garbutt also scored for the Stars, who had goals during a 5-on-4 power play, a 5-on-3 advantage, while skating 4-on-4 and into an empty net. Kari Lehtonen finished with 16 saves to earn his first victory since Nov. 25.
Seguin leads the NHL with 21 goals.
Sven Andrighetto scored for Montreal in his NHL debut and Carey Price stopped 25 shots. The Canadiens dropped to 1-5-1 in their last seven games after a 16-5-1 start to the season.
Dallas limited Montreal to a season-low 17 shots after allowing an average of 38 over the previous six games.
December, 5, 2014
Dec 5
6:09
PM CT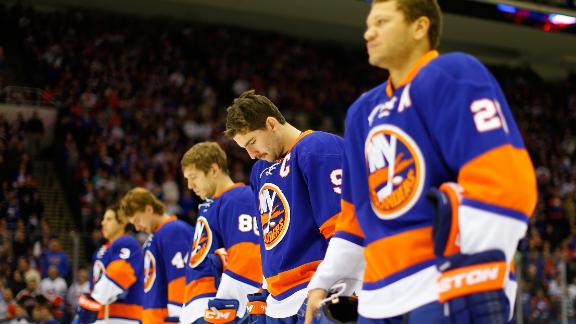 FORWARDS

Trending up: Brad Richardson, Vancouver Canucks: The 29-year-old capped a strong week with a three-point effort in the Canucks' 3-0 shutout win over the Pittsburgh Penguins Thursday night. Richardson has six points in the last four games and the Canucks have recorded three wins during that span.
Trending down: Paul Stastny, St. Louis Blues: So far, Stastny's first season with the Blues has been disappointing. Hampered by injury and inconsistent with his play, the Blues' most significant acquisition of the summer has only three goals and eight points in 18 games. As Blues coach Ken Hitchcock bluntly stated before Thursday's game: "He needs to play better."

[+] Enlarge

Bill Smith/Getty ImagesKris Versteeg has had a nice couple of weeks.

Surprise of the week: Kris Versteeg, Chicago Blackhawks: After last season's struggles, Versteeg is showing naysayers that he can still produce. The 28-year-old is on quite the tear, with six assists and seven points over the last three games.
DEFENSEMEN
Trending up: Dennis Wideman, Calgary Flames: Another key contributor for the Flames in their compelling effort this season, the veteran blue liner has chipped in offensively with five points in the last three games. Wideman tallied twice in the Flames' 4-3 overtime win against Colorado.

Trending down: Michael Del Zotto, Philadelphia Flyers: Despite the Flyers' struggles, Del Zotto appeared to be one of the bright spots (perhaps the lone one) on the blue line, but that ended abruptly this week when Flyers coach Craig Berube benched him Tuesday night against the San Jose Sharks along with veteran forward Vincent Lecavalier. At 24, Del Zotto is on his third team. Consistency is king and it's still a work in progress for the young defender.

Surprise of the week: John Klingberg, Dallas Stars: Hard to find too many positives for a Stars club that is absolutely floundering, but the young Swede has proved to be a promising talent during an otherwise dismal season for Dallas. Klingberg is earning more and more responsibility from coach Lindy Ruff and is turning heads around the league. Even after a 5-3 loss to the Toronto Maple Leafs Tuesday night, Klingberg finished with a plus-3.
GOALTENDERS
Trending up: Jaroslav Halak, New York Islanders: In perhaps the Islanders' most important move of the offseason, general manager Garth Snow addressed the team's biggest need by signing Halak to a four-year deal. The move has paid dividends for the Islanders, who are now all alone in first place in the Metropolitan Division after a 2-1 win over the Ottawa Senators Thursday night. Halak made 20 saves to record his 11th straight win to set a franchise record.

Trending down: Anders Lindback, Dallas Stars: It's been a bit of a horror show for the Stars' backup this season, so it's no surprise that he was waived Wednesday and subsequently sent to the AHL, with Jussi Rynnas called up in his place. Lindback is 0-5-0 with an .861 save percentage and a 4.64 goals-against average.

Surprise of the week: Ilya Bryzgalov, Anaheim Ducks: And a pleasant surprise at that, as the NHL is always much more interesting when the colorful Russian netminder is around. The 34-year-old goaltender joined the Ducks on a tryout and is expected to sign a deal with the team. Let's face it, we all stand to benefit from this.
December, 4, 2014
Dec 4
9:36
PM CT
Associated Press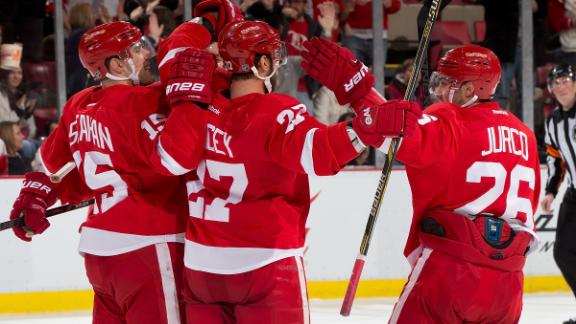 DETROIT, Mich. -- Kyle Quincey fired in a long slap shot for his first goal of the season, and the Detroit Red Wings went on to beat the Dallas Stars 5-2 on Thursday night.
The drive beat goalie Jussi Rynnas 7:39 into the third period and gave Detroit a 4-2 lead. The Red Wings got back on track after a 4-3 loss to Florida on Tuesday snapped a four-game winning streak.
The third period belonged to the Red Wings, who scored two goals in the frame and held a 9-3 edge in shots.
Darren Helm, who gave Detroit a 1-0 lead in the first, netted his second goal of the game with six minutes 6:53 left to complete the scoring.
Stephen Weiss and Pavel Datsyuk also scored for the Red Wings, and Jimmy Howard made 22 saves. Rynnas stopped 24 shots.