April, 18, 2014
Apr 18
2:38
PM CT
By
ESPN Stats & Information
Importance of Game 2? Friday night is Game 2 for the Canadiens-Lightning and Stars-Ducks. Since 1987, when all Stanley Cup playoff series went to the best-of-7 format, Game 2 winners have won 71 percent of all series (277 of 390). However, in last year's playoffs, Game 2 winners won only eight of the 15 series contested.
April, 18, 2014
Apr 18
11:28
AM CT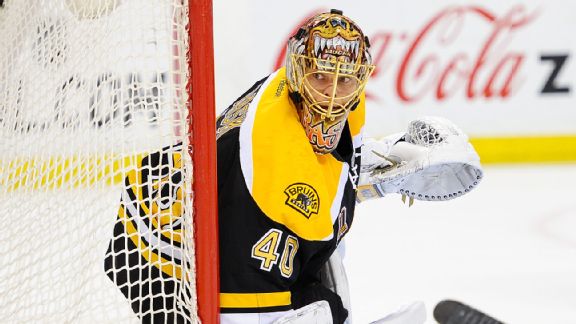 Brian Babineau/NHLI/Getty ImagesConn Smythe Trophy favorite Tuukka Rask has proven solid in past postseason play.
It must have seemed like an eternity, but the wait is almost over for
Boston Bruins
fans, who finally get to see their team make its 2014 postseason debut tonight against the
Detroit Red Wings
. It's the final first-round series to begin, and it has a couple of players who are among our favorites to win the Conn Smythe Trophy -- awarded to the most valuable player during the Stanley Cup playoffs.
The Bruins are ESPN.com's consensus pick to win the Stanley Cup, in part because of their potentially easier path through the playoffs. If it happens, it'll come with recognition for the Bruins' stars. Earlier this week, Bovada released its Conn Smythe odds -- here's a look at some of the most intriguing choices before the betting lines shift too much:
Best bets among the favorites
Tuukka Rask, Boston Bruins
(12-1)
Goalies are always a safe pick when it comes to the Conn Smythe, winning it 40 percent of the time over the last 10 postseasons. Last year,
Patrick Kane
prevented a third straight goalie from winning, although if he had a vote, he would have given it to teammate
Corey Crawford
. You don't win a Stanley Cup without a strong performance from a goalie, and Rask is a proven playoff performer on a team that has the best path to the Stanley Cup finals.
To continue reading this article you must be an Insider
April, 17, 2014
Apr 17
7:31
PM CT
ESPN.com news services
ANAHEIM, Calif. -- A day after Anaheim captain Ryan Getzlaf took a slap shot to the head, the Ducks already had found the lighter side of a potentially disastrous playoff injury.
"Luckily, he's married, has a couple of kids," Anaheim defenseman Ben Lovejoy said. "He's not trying to impress anybody with his face."
Coach Bruce Boudreau was more succinct: "I didn't want to look at him," he said.
Nobody in either dressing room was surprised Thursday to learn Getzlaf plans to play against the Dallas Stars in Game 2 on Friday night despite that huge cut on his face. Getzlaf was hit by Tyler Seguin's shot in the final minute of the Ducks' 4-3 victory over Dallas on Wednesday night in the series opener, but the puck apparently broke no bones -- which means it'll be almost impossible to keep Getzlaf off the ice.
"That's why he is who he is," Boudreau said. "That's why he's won two gold medals and a Stanley Cup, and he's not 30. He learned from the Scotty Niedermayers and the Chris Prongers that were here before him, too. He's a battler and a gamer. It won't look too pretty, but he's going to be playing."
Getzlaf isn't the only top-line Ducks forward nursing an injury. Matt Beleskey might not play in Game 2 after leaving the opener in the third period. Beleskey said he has been struggling for weeks with an undisclosed lower-body injury that has been "all over the place" in its severity. He plans to evaluate himself Friday morning before deciding whether to try.
April, 17, 2014
Apr 17
2:35
AM CT
By
Dan Arritt
| ESPNDallas.com
ANAHEIM --
Frederik Andersen
is a rookie no more.
OK, officially he still is, but the young goalie for the
Anaheim Ducks
looked and played like a seasoned veteran Wednesday night, stopping 32 shots in his first NHL playoff appearance to help the top-seeded Ducks to a 4-3 win over the
Dallas Stars
in Game 1 of their Western Conference quarterfinal.
Andersen, the first Danish goalie to appear in an NHL playoff game, earned the start over veteran
Jonas Hiller
and fellow rookie
John Gibson
with consistently stellar play while compiling a 20-5 record during the regular season.
Andersen said he never felt nervous playing in such a big game at Honda Center, even when the Stars turned a four-goal deficit midway through the second period into a one-goal disadvantage with about six minutes left in the game.
"You can't let nervousness get to you," Andersen said. "You're [in trouble] when you do that."
His teammates have been impressed by Andersen ever since he beat the Stars in his NHL debut back in October, but they saw him take his coolness to another level as he took the ice Wednesday.
"It's really good for a young goalie to get out there and play his first playoff game and be so relaxed in net," Ducks forward
Patrick Maroon
said.
When the Stars scored two goals about 90 seconds apart late in the second period to cut the four-goal lead in half, Andersen didn't seem to bat an eye as he turned away
Jamie Benn
on the doorstep with 40 seconds remaining in the period.
"He made some big saves at crucial times," Ducks winger
Corey Perry
said. "When he's standing tall and playing big, that's when he's at his best."
The Ducks missed a golden opportunity to retake a three-goal lead early in the third when
Teemu Selanne
stole the puck behind the net from Dallas goalie
Kari Lehtonen
and fed Maroon in front, but he missed the net. Not long after, the Stars pulled within one on a goal by
Tyler Seguin
, drowning out the excitement inside the arena.
But the Ducks could still count on Andersen, who came up with two big saves in the final 2½ minutes, the last with the Dallas goalie pulled from net.
"That's what happens when you go down 4-0, the coach probably told them how they were playing," Andersen said. "I think it's a good lesson [for us], playing with a lead. Good thing we won anyway."
The Ducks had two players leave the ice with injuries, including captain
Ryan Getzlaf
, who was hit in the face with a slap shot by Seguin with 16 seconds left in the game. Ducks coach Bruce Boudreau said Getzlaf would need stitches near the corner of his mouth, but expects him to return for Game 2 on Friday.
Anaheim left wing
Matt Beleskey
, who also had a goal and an assist in the opener, left in the third period with a lower-body injury and did not return.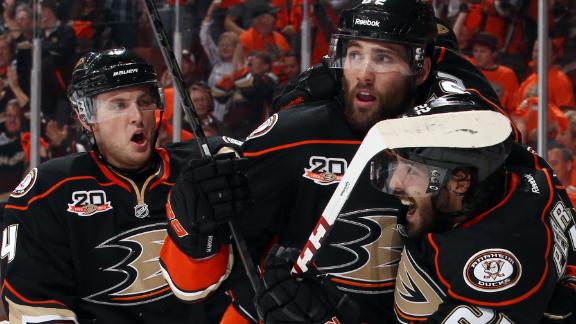 April, 17, 2014
Apr 17
12:13
AM CT
ESPN.com news services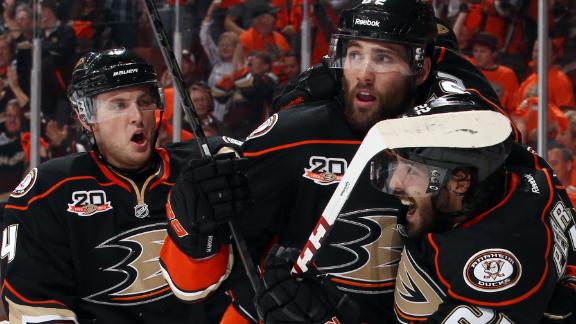 ANAHEIM, Calif. -- Ryan Getzlaf had a goal and an assist, Frederik Andersen made 32 saves to win his NHL playoff debut, and the Anaheim Ducks opened the postseason with a 4-3 victory over the Dallas Stars on Wednesday night.
Kyle Palmieri, Ryan Getzlaf and Mathieu Perreault scored in a dominant first period for the top-seeded Ducks, who began their playoff run on a dead sprint. Anaheim led 4-0 midway through the second period before Dallas got rolling in its first playoff game since 2008.
Captain Jamie Benn and Colton Sceviour had power-play goals, and Tyler Seguin scored with 6:07 left to trim the Ducks' lead to one. Anaheim hung on with a handful of big saves from Andersen, a 24-year-old Danish rookie.
Game 2 is Friday.
April, 17, 2014
Apr 17
1:10
AM CT
By
Dan Arritt
| ESPNDallas.com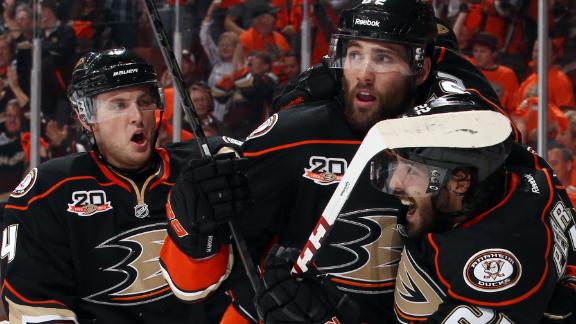 ANAHEIM -- The
Anaheim Ducks
nearly took their unfinished business too lightly Wednesday night.
After building a four-goal lead midway through the second period against the visiting
Dallas Stars
, the Ducks were forced to hang on for the final six minutes before pulling out a 4-3 victory in Game 1 of their Western Conference quarterfinal at Honda Center.
The Ducks have been dispatched in the first round of the playoffs in three of their four appearances since winning the Stanley Cup in 2007, despite having home-ice advantage, and they seemed overly intent on not going home early this spring. Even their marketing department has unleashed the battle cry, "Unfinished Business," after getting eliminated in the first round last season as the second-seeded team.
Anaheim, now representing the top seed in the West for the first time in franchise history, made a statement early on Thursday night, scoring three unanswered goals in the opening period.
Corey Perry
and
Ryan Getzlaf
, part of the Ducks' Stanley Cup championship team along with
Teemu Selanne
and
Francois Beauchemin
, were among those who brought their A-games for Anaheim, as Getzlaf had a goal and an assist and Perry assisted on Getzlaf's first-period goal. Ducks coach Bruce Boudreau rolled the dice by giving rookie goalkeeper
Frederik Andersen
his first career playoff start and he responded with 32 saves.
Dallas, making its first playoff appearances since 2008, came out blazing but the Ducks quickly threw cold water on their hopes as
Erik Cole
turned the puck over in the offensive zone, leading to a 2-on-1 by
Nick Bonino
and
Kyle Palmieri
. Bonino lifted a brilliant pass over diving defenseman
Aaron Rome
and onto the stick of Palmeiri, who guided it into the net with his backhand.
A blocked shot by Getzlaf about 11 minutes later led to another odd-man rush by Anaheim and this time left wing
Matt Beleskey
fired the puck off the chest of Dallas goalie
Kari Lehtonen
and, before Lehtonen could locate the runner, Getzlaf had swooped in and slapped it into the net for a 2-0 lead.
The Ducks then ended an 0-for-11 streak on the power play when
Patrick Maroon
made a nifty cross pass through the legs of defenseman
Jordie Benn
and onto the tape of
Mathieu Perreault
, who stuck the puck into the open side for a 3-0 lead.
Another power-play goal by the Ducks with just more than nine minutes left in the second period proved huge as the Stars scored twice in the final 3½ minutes of the period to cut the deficit in half and another by
Tyler Seguin
with just more than six minutes left to trim the deficit to 4-3.
The Ducks persevered, however, as Andersen came up with some big stops down the stretch.
The victory didn't come without its physical downfalls for the Ducks. Getzlaf took a slap shot off the face with 16 seconds left and hurried off the ice, and Beleskey, who scored the fourth goal for the Ducks, left with a lower-body injury in the third period and did not return.
April, 16, 2014
Apr 16
11:22
AM CT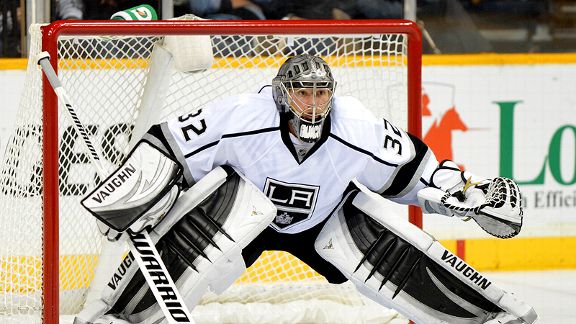 Don McPeak/USA TODAY SportsJonathan Quick has proved he can stand tall in the crease for the Kings.
With the playoff matchups set and the countdown to the postseason underway, we're ranking the top playoff teams by position. On Monday, the forward groups were ranked. On Tuesday, it was the defensemen's turn. Today, here's the ranking of the goaltending for the 16 playoff teams.
1. Los Angeles Kings
Team save percentage:
.922
Short-handed save percentage:
.879
Jonathan Quick career playoff save percentage:
.929 (50 games)
The Kings are a near-perfectly constructed team up front and on defense, but it's Quick who puts them over the top in comparisons to the Sharks and other Western Conference contenders. He's a competitor with a Stanley Cup and loads of playoff experience, and he now has Olympic experience on his résumé. There's not a better goalie to have on your side at the outset of the playoffs.
"With Quick in goal, they've probably got the most complete team in the NHL," said a veteran scout.
2. Boston Bruins
Team save percentage:
.928 (No. 1)
Short-handed save percentage:
.884
Tuukka Rask career playoff save percentage:
.930 (35 games)
If the Bruins won the Stanley Cup last spring, Rask would've been in the Conn Smythe conversation with
Patrice Bergeron
after finishing the playoffs with a league-best .940 save percentage.
To continue reading this article you must be an Insider
April, 16, 2014
Apr 16
9:08
AM CT
By
Matthew Coller
| Hockey Prospectus
It is impossible to overstate the importance of goaltending during the Stanley Cup playoffs. Deep runs into the postseason can be made on the back of a hot goalie, while a struggling netminder can cost even the best team a shot at raising the Cup.
The impact of goalies on postseason success has been as evident as ever over the past three years. In that time, two goalies won the Conn Smythe Trophy for playoff MVP -- the Boston Bruins' Tim Thomas (2011) and the Los Angeles Kings' Jonathan Quick (2012) -- while last year's champion, the Chicago Blackhawks, received incredible goaltending from Corey Crawford, who finished the playoffs with a .932 save percentage. On the other side of the coin, the poor play of the New York Islanders' Evgeni Nabokov and the Montreal Canadiens' Carey Price cost their clubs the chance to advance to the second round last postseason.
Who will stand out this year and help carry his team in Round 1?
For this, we once again turn to the Goalie Heat Index -- a statistical forecast of how goalies will perform in the postseason. Over the past dozen postseason campaigns, the best performance indicators -- in order of diminishing importance -- have been: career playoff save percentage, current regular-season save percentage and current regular-season shots on goal against (SOGA). This measure has worked to predict breakout postseason performances by unlikely playoff standouts such as Antti Niemi, Jaroslav Halak, Braden Holtby and Mike Smith.
Here is a look at which goalies figure to get hot in 2014:
To continue reading this article you must be an Insider
April, 15, 2014
Apr 15
6:05
PM CT
It's not very often that a No. 1 seed is beaten in the first round of the NHL playoffs, but it's not unprecedented, either. In fact, a No. 8 seed -- Los Angeles -- won the Stanley Cup a few years ago. So what do the
Dallas Stars
need to do to pull off the upset of the
Anaheim Ducks
? Here are five things they need to do:
1. Win the goaltending battle.
It's odd that the Ducks are the top seed and have major questions in goal.
Jonas Hiller
was disappointing in the final month of the season, forcing coach Bruce Boudreau to go with his younger netminders in
Frederik Andersen
and
John Gibson
, who won all three of his starts with a .954 save percentage. Stars coach Lindy Ruff is betting Boudreau goes with Andersen because of how much Hiller has struggled. But that gives the advantage in nets to the Dallas Stars and goalie
Kari Lehtonen
. He's played well this season and is seeking redemption for his quick and rough playoff experience with Atlanta.

2. Utilize their speed and puck possession skills.
The Stars annoy opponents because they are always on the go. If you're not ready to skate, the Stars will beat you. Dallas is the faster team and if the Stars can drive the tempo up and control the puck, something they are very good at doing, they can make things difficult on the Ducks. Ruff's style with this team is to grab the puck and create scoring chances. And with
Jamie Benn
and
Tyler Seguin
on the top line, they have the ability to do that.
3. Get scoring from more than Benn and Seguin.
Everyone in the NHL knows how good Benn and Seguin are, but the Stars also have a second line that can do some damage in
Antoine Roussel
,
Cody Eakin
and
Ryan Garbutt
. All three will be playing in the playoffs for the first time. How they respond will go a long way toward determining whether the Stars pull the upset. The trio has played well down the stretch in pressure games and they look ready.
4. Do the job on special teams.
The two squads are fairly even on the power play and penalty kill, but if you look inside the numbers you'll find that the Stars did a better job in both categories in the last few weeks. The Stars finished 23rd on the power play (Anaheim is 22nd) and 21st on the penalty kill (Anaheim is 13th, but not much higher than Dallas on percentage), but that was not indicative of how they played when the games mattered most as the season wound down. The Stars moved the puck well on the power play and found shooting lanes and they were smart, but aggressive on the penalty kill. They'll have to do both in this series.
As an added part to No. 4, the Stars' defense, inconsistent this season, must avoid too many costly turnovers. That's area that's been an issue for this team.
5. Don't squint under the playoff lights.
This is a new experience for 12 of the Stars' players. Lehtonen has just two playoff games to his name. How the club reacts to the pressure, especially early in the series, is critical. If Dallas can stay calm and competitive in the first 20 minutes on Wednesday, that could set an important tone for the rest of the series. Anaheim has been here before. The Stars haven't played a postseason game since 2008. They've got a new GM, coach, owner and a gaggle of new players since then. They can't let the newness of the experience overwhelm them.
April, 15, 2014
Apr 15
12:32
PM CT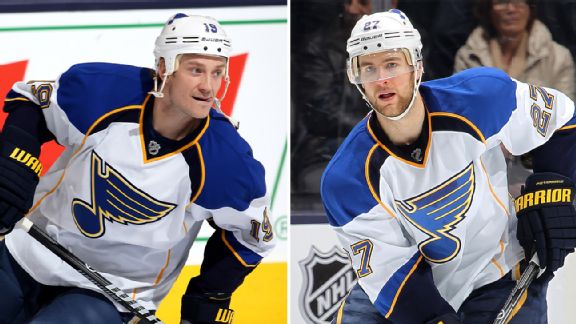 Getty ImagesJay Bouwmeester and Alex Pietrangelo anchor the top defensive group competing in the playoffs.
With the playoff matchups set and the countdown to the playoffs underway, we're ranking the top playoff teams by position. On Monday, the forward groups were ranked. Today, here's the ranking of the 16 playoff defenseman groups:
1. St. Louis Blues
Goals against per game (GA/G):
2.29 (No. 3)
Penalty kill (PK):
85.7 percent (No. 2)
Points from defensemen:
182
Shots against per game (SA/G):
26.4
A full season together for
Alex Pietrangelo
and
Jay Bouwmeester
gives the Blues a legitimate shutdown pair that was still figuring out how to play together when the playoffs arrived last spring. Pietrangelo has had a season worthy of Norris Trophy consideration. The duo is still a little light on playoff experience, which is a concern; the two have played a total of 20 postseason games, or 18 fewer than Kings defenseman
Slava Voynov
.
Having those two and trusted veterans like
Barret Jackman
and
Roman Polak
allows coach Ken Hitchcock to get favorable matchups for
Kevin Shattenkirk
, a talented offensive defenseman who consistently puts up St. Louis' best possession numbers.
2. Los Angeles Kings
GA/G:
2.05 (No. 1)
PK:
83.1 percent (No. 11)
Points from defensemen:
149
SA/G:
26.2
The defense has a mix of strong offensive puck movers such as
Drew Doughty
,
Jake Muzzin
and Voynov, along with defensive veterans
Willie Mitchell
,
Robyn Regehr
and
Matt Greene
.
Like everything Kings general manager Dean Lombardi builds, this defense was put together with a purpose, and if it remains healthy, it's as good as any in hockey. Doughty is a game-changer whose puck-retrieval skills and ability to quickly transition to offense should help negate a strong possession team like the
San Jose Sharks
.
3. Chicago Blackhawks
GA/G:
2.58 (No. 12)
PK:
81.4 percent (No. 19)
Points from defensemen:
193
SA/G:
27.2
The one-two punch of pairs
Duncan Keith
and
Brent Seabrook
along with
Niklas Hjalmarsson
and
Johnny Oduya
is a huge weapon for coach Joel Quenneville.
Chicago's second pair can play with any forward line, allowing Quenneville a chance to get Keith and Seabrook on the ice in moments where they can change the game.
To continue reading this article you must be an Insider
April, 15, 2014
Apr 15
9:45
AM CT
By
Matthew Coller
and
Ryan Wagman
| Hockey Prospectus
In the current salary-cap era of the NHL, the league has closed the gap between the top-seeded playoff teams and those at the bottom of the postseason list. With parity being the new rule, you could make a Stanley Cup argument for at least half of the postseason participants.
With the talent spread around, it is often matchups that make the difference, but those key matchups are not always easy to spot. One way to uncover them is by looking at the numbers. What numbers are the most telling in each series?
Editor's note: Click here for an explanation on any stats or terms with which you are not familiar.
---
Eastern Conference
New York Rangers vs. Philadelphia Flyers
Key stat: Philadelphia's minus-18 even-strength goal differential
The Flyers are one of only two teams to make the postseason to have been outscored at even strength this season (Montreal is the other). With referees prone to swallowing their whistles in the playoffs, even-strength play will take on even more importance than usual. With both teams expected to have their full rosters available by Game 1, expect the Rangers to make it very hard for an occasionally explosive Flyers team to get good looks at their net.
Prediction: Rangers dominate 5-on-5 play, win in six
With huge advantages for the Rangers in puck possession and goaltending, it is hard to see the Flyers keeping up when there are five skaters per side. Henrik Lundqvist started the season slowly, but finished strong with a .920 save percentage, and his past two playoff runs have included save percentages over .930. Philadelphia will be forced to rest their hopes on power-play scoring. -- Wagman
To continue reading this article you must be an Insider
April, 14, 2014
Apr 14
5:57
PM CT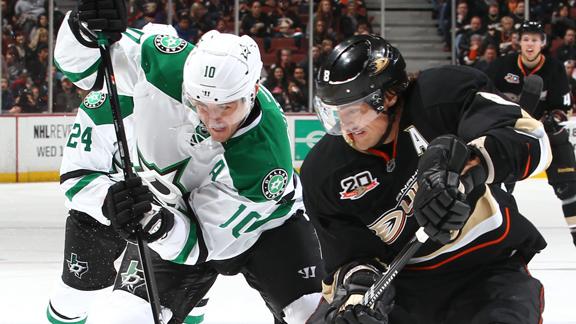 The
Dallas Stars
announced the schedule for their first-round playoff series with the
Anaheim Ducks
:
Game 1 at Anaheim: Wednesday, April 16, 9 p.m. CT on Fox Sports Southwest/NBC Sports Network, TSN
Game 2 at Anaheim: Friday, April 18, 9 p.m. CT on Fox Sports Southwest/NBC Sports Network, TSN
Game 3 at Dallas: Monday, April 21, 8:30 p.m. CT on TXA21/NBC Sports Network, TSN
Game 4 at Dallas: Wednesday, April 23, 7 p.m. CT on Fox Sports Southwest/CNBC, TSN
*Game 5 at Anaheim: Friday, April 25, 9:30 p.m. CT on Fox Sports Southwest/NBC Sports Network, TSN
*Game 6 at Dallas: Sunday, April 27, TBD on Fox Sports Southwest/TSN
*Game 7 at Anaheim: Tuesday, April 29. TBD on Fox Sports Southwest/TSN
April, 14, 2014
Apr 14
11:08
AM CT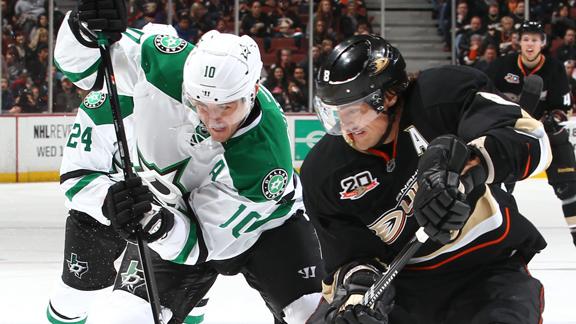 FRISCO, Texas -- Dallas Stars general manager Jim Nill believes firmly in living in reality. He doesn't try to convince anyone that his team is built to win the Stanley Cup. Don't get the wrong idea: The Stars' goal, like everyone in the playoffs, is to hoist, arguably, the most famous trophy in sports.
But by simply making it, Nill, coach Lindy Ruff and the organization has achieved one of the major goals for this season. Nill talked about it at the preseason unveiling of the team's new uniforms, appropriately named "Victory Green." He's discussed it as the season has progressed, never backing away from the notion that making the playoffs was attainable and a critical first step in skating back to contending status.
"This team needed this," Nill said, a day after the team clinched its first playoff berth in six years by beating St. Louis. Dallas will take on Anaheim in the first-round series, which begins Wednesday. "It's very important. Our players need to experience what it's like to play in that atmosphere. It's one step in the process. We still have work to do, but we needed to take this step."
A lot has happened since the Stars were last in the playoffs, a Western Conference finals appearance in 2008. Barack Obama was elected president. The Stars' American Airlines Center roommates, the Dallas Mavericks, won the NBA title. The Texas Rangers went to consecutive World Series. Heck, the Dallas Cowboys even won a playoff game since the last postseason berth for the Stars.
To get the Stars back to the postseason, Nill arrived in the summer and made some changes. One of his first decisions: hiring Ruff to replace Glen Gulutzan as coach.
April, 14, 2014
Apr 14
10:50
AM CT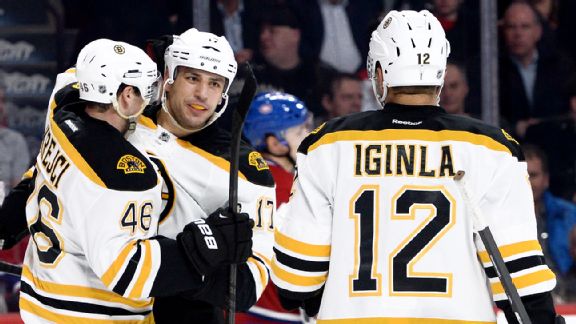 Francois Lacasse/Getty ImagesThe line of David Krejci (No. 46), Milan Lucic (17) and Jarome Iginla has been dominant this season.
With the playoff matchups set and the countdown to the playoffs officially underway, we're ranking all 16 playoff teams by position. Up first, we'll rank the forward groups. Note that the Corsi stats are courtesy of ExtraSkater.com, while the other stats are courtesy of NHL.com.
1. Boston Bruins
20-goal scorers:
5
5-on-5 goals for/against per game:
1.53
Corsi For percentage (CF%) (5-on-5, score close):
55 percent
The Bruins finished the season with two of the three most productive lines in hockey, with the
Milan Lucic
-
David Krejci
-
Jarome Iginla
line scoring more goals than any in the NHL, with a total of 55 when the players were on the ice together (per
leftwinglock.com
). And the amazing part was that it took time for Iginla to get completely comfortable.
"It did take us a while. I shouldn't say us, it took me a while," Iginla said. "Looch and Krejci have been consistent, had a good start. Mine was a little slower as far as getting results."
Not too far behind was the trio of
Reilly Smith
,
Patrice Bergeron
and
Brad Marchand
. If you can put
Loui Eriksson
on your third line, you're loaded at forward, and the Bruins definitely are. Claude Julien's ability to confidently roll all four lines is a huge postseason advantage for the Bruins.
2. Chicago Blackhawks
20-goal scorers:
5
5-on-5 goals for/against:
1.27
CF% (5-on-5, score close):
55.7 percent
This is predicated on
Jonathan Toews
and
Patrick Kane
returning to the playoffs healthy and productive. When everyone is out there, the Blackhawks are loaded. Toews and
Marian Hossa
are as good as they come in terms of two-way forward play.
Patrick Sharp
had one of the best seasons of his career. And you know guys like
Andrew Shaw
and
Bryan Bickell
will score big goals at some point in this postseason.
3. Philadelphia Flyers
20-goal scorers:
7
5-on-5 goals for/against:
0.96
CF% (5-on-5, score close):
49.2 percent
There's definitely concern with the Flyers' goaltending and defense heading into the postseason, but you have to love their forward depth.
To continue reading this article you must be an Insider