December, 18, 2013
Dec 18
12:55
AM CT
By
Todd Wills
| ESPNDallas.com
DALLAS --
Dallas Stars
goaltender
Dan Ellis
knew on the flight back from Denver he'd be called on Tuesday night at American Airlines Center.
His team was playing a home-and-home on consecutive nights against the
Colorado Avalanche
, and starting netminder
Kari Lehtonen
faced 48 shots in a 6-2 loss in Denver on Monday night.
[+] Enlarge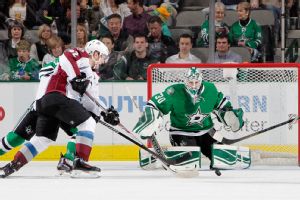 Glenn James/NHLI/Getty Images"Last night we weren't committed to defense. We were committed to winning tonight," Stars backup goalie Dan Ellis said Tuesday after the second game against the Avalanche in as many nights.
Indeed, Stars coach Lindy Ruff needed his backup, and Ellis delivered in a 3-2 victory over the Avalanche in one of the best finishes of the season at the AAC.
Ellis withstood a chaotic last 25 seconds, stopping five shots, all of them at point-blank range. He also had help from his teammates, who didn't get in front of any Colorado shots on Monday night.
The Stars made a stronger effort in front of Ellis, starting with captain
Jamie Benn
, who had a crucial block on a shot from the point seconds after he was too casual on an empty-net opportunity that would have given the Stars a 4-2 victory.
The end result was a massive two points for Dallas -- and none for the division rival Avalanche -- as the Stars try to work their way into the Western Conference playoff race. The Stars are eight points out of the second wild-card spot held down by the
Minnesota Wild
, which has played three more games than Dallas.
"Last night we weren't committed to defense," Ellis said after Tuesday's game. "We were committed to winning tonight.
"The big guy plays a lot of games," he said of Lehtonen. "When you get that much rubber, you need to get a break. He had 50 shots [Monday], and he could have given up a lot more goals."
Ellis' biggest save Tuesday came late in a Colorado power play with just less than five minutes to go in the game when he robbed Avs captain
Gabriel Landeskog
on a one-timer right in front of the net to keep the game tied at 2-2.
"I've seen a little bit of their power play," Ellis said. "He has a great one-timer. So I had an eye on him. I expected a quick shot. I was able to snag it with my glove."
Two minutes later, Dallas'
Colton Sceviour
scored on a breakaway for a 3-2 lead. And Ellis and the Stars held on tight for their 16th win of the season.
Ellis is now 4-0 at home. With more nights like Tuesday's, he might give Ruff greater cause to rest Lehtonen, who has played in 25 of the Stars' 33 games.
December, 17, 2013
Dec 17
10:24
PM CT
Associated Press
DALLAS -- Colton Sceviour scored a tiebreaking goal at 17:08 of the third period and the Dallas Stars edged the Colorado Avalanche 3-2 Tuesday.
A rebound of a Colorado shot bounced out to Rich Peverley, who put a pass on Sceviour's stick for a breakaway against Avalanche goalie Jean-Sebastien Giguere, who made 25 saves.
Ray Whitney scored two goals for Dallas.
Matt Duchene put in a rebound of Erik Johnson's shot for a power-play goal just 2:37 into the game. Dallas' Ryan Garbutt was serving a double minor for high-sticking.
Johnson's goal at 10:20 of the second period came when the teams were skating 4 on 4, with the Stars' Antoine Roussel off for roughing and unsportsmanlike conduct.
Whitney's second-period goal that tied the game 2-2 was Dallas' second power-play goal at home in 49 opportunities this season.
The two teams played on Monday night in Denver and Colorado won 6-2.
December, 17, 2013
Dec 17
6:10
PM CT
Brad Marchand
's antics in Vancouver didn't sit well with the
Boston Bruins
.
Boston's coaching staff and management were not enamored with his kissing of the ring and kiss of the fake Stanley Cup.
It's been dealt with internally, a source told ESPN.com Tuesday. And while the source would not elaborate on what that meant, I'm guessing there was a chat making it clear those antics are not to be seen again on the ice.
Sens find defensive answer
Over the past month, the
Ottawa Senators
were looking to make a trade for a puck-moving defenseman. The club couldn't get close enough on any deal, as it is so difficult to make a trade in the first half of the season. (For example, the Senators inquired on
Michael Del Zotto
with the Rangers, but it went nowhere.)
For now, it turns out they may have found their answer from within. The call-up of 19-year-old blueliner
Cody Ceci
-- the team's first-round pick (15th overall) in 2012 -- has filled that need. It's been only three games, but his overtime goal against the Blues on Tuesday night plus his overall play is exactly what the Senators were looking for back there. Not to mention the improved play of blueliner
Jared Cowen
of late.
So for now, the trade target has shifted to a top-six forward, although there was nothing imminent on that front as of Tuesday.
Team Canada scouting
As the clock continues to tick toward Jan. 7, Team Canada GM
Steve Yzerman
was in Denver on Monday night to take in the Avalanche's 6-2 dismantling of the Stars. He was also scheduled to be in Dallas Tuesday night for the return match between both clubs.
Dallas left wing
Jamie Benn
, Stars center
Tyler Seguin
and Colorado center
Matt Duchene
were likely the players being scouted by the Team Canada boss, but I'd say mostly Benn and Duchene.
Seguin remains a long shot, I think, even though as of Tuesday morning he was sixth in the NHL among Canadian-born scorers with 33 points (18-15) in 30 games. Still, he's considered more an outside shot in large part because of how deep the team is at center with the likes of
Sidney Crosby
,
Jonathan Toews
,
Ryan Getzlaf
,
John Tavares
,
Logan Couture
,
Patrice Bergeron
,
Claude Giroux
and Duchene ahead of him on the Canadian team depth chart.
I didn't mention
Steven Stamkos
because he'll play right wing on Team Canada if he recovers in time from his injury. And if Duchene does make the team, he'll likely play left wing, just as Couture most likely will do.
Seguin can play right wing, it should be noted. But again, with the likes of Stamkos,
Corey Perry
,
Patrick Sharp
(left or right),
Martin St. Louis
and Giroux (shifting to right?) in the mix for right wing, among others, where would that leave Seguin?
No doubt Team Canada has watched Seguin a bit more closely as of late, but I don't think he's making the team unless there are some key injuries in the next three weeks.
December, 16, 2013
Dec 16
10:43
PM CT
Associated Press
DENVER -- Paul Stastny scored twice and added two assists and the Colorado Avalanche beat the Dallas Stars 6-2 on Monday night.
Erik Johnson and Andre Benoit also scored in a four-goal second period, and Nathan MacKinnon and Tyson Barrie scored for Colorado.
Tyler Seguin had a goal and an assist and Kevin Connauton scored his first NHL goal for the Stars, who have dropped three of the past four.
Goalie Kari Lehtonen stopped 42 shots for Dallas in a rare poor start against Colorado. Lehtonen was 8-3-2 with a 2.52 goals-against average against the Avalanche before Monday.
December, 16, 2013
Dec 16
7:16
PM CT
By
Timo Seppa
| Hockey Prospectus
After the calendar flips to January, the NHL trade talk will begin to heat up. As a fan of a contender, it is exciting to dream about the shiny new toy your team may pick up, as we are in the holiday season. But as in free agency, "winning" the sweepstakes for a big-name player isn't a guarantee of a victory parade around the corner, and it frequently falls far short of that.
Analytics can give us clues as to which potential trade targets may be successful, and which ones will be busts; or at the very least, which ones will deplete organizational resources and cap space without the team gaining much ground.
It doesn't take much effort to develop an eye for it. You want to look for players off to uncharacteristically hot starts. Is a player greatly surpassing his career shooting percentage? Are his linemates too hot to be believed? Has the goalie stopped nearly every puck while he is on the ice? And in the same vein, is a skater putting up a big plus/minus while his team is regularly outshot with him on the ice? One must also be mindful of a player's circumstances. Is he generally matched up against top-six forwards, or the opponent's fourth line? Is he deployed for more offensive or defensive zone draws? How is he doing at even strength alone?
The metrics that are commonly used to answer these questions are just the tip of the iceberg in comprehensively analyzing potential trade targets, but they can give a solid indication of deals that may go wrong, or can confirm or question scouting opinions.
With that in mind, let's look at eight potential trade targets -- some of them already in the rumor mill -- where we suggest the potential buyer beware:
---
Erat
Martin Erat, RW, Washington Capitals
Cap hit: $4.5 million (through 2014-15)
Issues: Aging forward, potential distraction
For years, Erat was a quality top-six scorer for Nashville (with 1.80 even-strength points per 60 minutes being the commonly accepted cutoff for that designation), so a team looking to acquire the 32-year-old Czech winger would be banking on a return to that fairly recent output level. While some of his dip in production has been due to a significantly diminished role with the Capitals, with a loss of four to five minutes of ice time per game, age should be factored into the equation, as well. Another issue -- and this is certainly not lost on NHL teams -- is his recent history of trade requests. An acquiring team may get more veteran headache than veteran leadership.
---
Matthias
Shawn Matthias, C, Florida Panthers
Cap hit: $1.8 million (through 2014-15)
Issues: Underachieving, lack of consistency
To continue reading this article you must be an Insider
December, 15, 2013
Dec 15
2:19
PM CT
Associated Press
WINNIPEG, Manitoba -- Jets forward Anthony Peluso has been suspended for three games for boarding Stars defenseman Alex Goligoski in Winnipeg's 6-4 loss to Dallas on Saturday night.
Peluso was assessed a major penalty for boarding and a game misconduct on the play in the second period.
Peluso will forfeit $8,653.86 during the ban, which was announced Sunday.
December, 14, 2013
Dec 14
5:15
PM CT
Associated Press
WINNIPEG, Manitoba -- Tyler Seguin and Jamie Benn each scored two goals and Sergei Gonchar had four assists and the Dallas Stars beat the Winnipeg Jets 6-4 on Saturday afternoon.
The victory halted a two-game losing skid for the Stars, who only have four wins in their past 10 games.
Dallas rookie Valeri Nichushkin also scored a goal and center Colton Sceviour scored his first NHL goal.
Kari Lehtonen, playing his 200th game for the Stars and 404th career NHL game, stopped 34 of the 38 shots he faced.
Blake Wheeler had a pair of goals, Matt Halischuk also scored and Olli Jokinen added a goal and assist for Winnipeg, which is winless in its past six home games.
The Jets' previous victory at MTS Centre was Nov. 15 in a 3-2 shootout against Philadelphia.
December, 13, 2013
Dec 13
1:13
PM CT
December is typically a time when NHL general managers get together with their scouting staffs to evaluate where they are and, more important, where they are going as an organization. It's a time when enough of the season has been played for teams to have a real good idea of what they have on their roster.
On Tuesday, I looked at the issues facing each team in the Eastern Conference and the solutions they might consider as the NHL heads into the halfway point of the season. Today I look at the Western Conference:
---

The problem: With the second-best overall record in the NHL, the Ducks have proved that their performance in the lockout-shortened 2013 season was no fluke. As a result, there aren't too many holes to patch in this Anaheim lineup. One area where they could be better is special teams, as they find themselves distinctly mediocre on both the power play and penalty kill.
The fix: Anaheim will likely improve in this area simply by getting some of their injured defensemen (Francois Beauchemin, Sheldon Souray and Luca Sbisa) back in the lineup. Outside of that, there isn't much else that is urgent on GM Bob Murray's to-do list.
To continue reading this article you must be an Insider
December, 12, 2013
Dec 12
10:07
PM CT
Associated Press
NASHVILLE, Tenn. -- David Legwand had a goal and an assist to lead the Nashville Predators to a 3-1 victory over the Dallas Stars on Thursday night.
Patric Hornqvist and Paul Gaustad also scored for Nashville, which has won two straight. Carter Hutton made 33 saves.
Erik Cole had the goal for Dallas, which has lost three of four.
Cole scored the game's first goal at 18:07 of the opening period when he took possession of the puck behind the Nashville net and skated out front before lifting a backhand over Hutton's right shoulder.
Making his second consecutive start, Hutton improved his record to 6-3-1 this season.
Nashville closed out the first period with power-play goals from Hornqvist and Legwand just 28 seconds apart.
December, 11, 2013
Dec 11
10:42
AM CT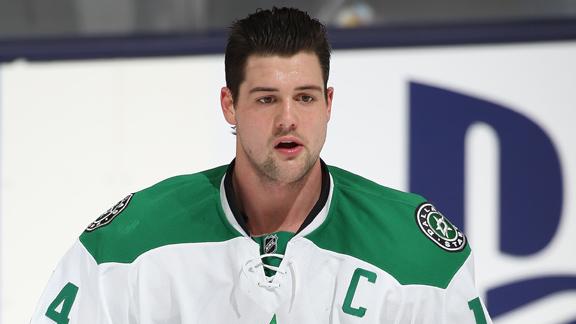 Whether it's an Olympic camp snub or having the "C" sewn on his uniform, Jamie Benn is playing the best hockey of his career.
And Team Canada is noticing.
He's not a lock by any measure, but with less than a month before Steve Yzerman and the rest of the Canadian Olympic brain trust fills out the 25-player roster bound for Sochi, the 24-year-old Benn has forced his way into the mix on left wing -- and the betting money is that he makes the team.
Talk about a statement.
"It was a good wake-up call for him," Stars GM Jim Nill told ESPN.com last week, referring to the Olympic camp snub. "He was disappointed. To be fair to the Hockey Canada people, some pretty good players to choose from and some tough decisions to make. Stevie [Yzerman] did call me to say, 'We're not going to invite him, but he's on the radar screen.' But Jamie has grabbed it since then and showed that he should be there.''
It's not in Benn's soft-spoken nature to come out swinging, but with a little media prodding last week, he acknowledged that the Olympic camp snub resonated.
"I thought I was going to get at least an invite," Benn said. "I was a little disappointed. It is what it is and it just gave me that much more motivation for this year to come in and have a solid three-quarters of the season, half the season, whatever it is, to prove them wrong.''
There's a fire burning in him every night.