March, 13, 2015
Mar 13
11:50
AM CT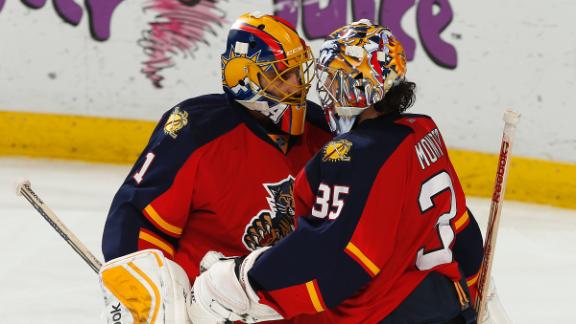 When Florida Panthers goaltenders Roberto Luongo and Al Montoya were both injured in a game against the Toronto Maple Leafs, it forced the team into panic mode.
In a bizarre but not unique set of circumstances, the Panthers scrambled to find a goalie, eventually suiting up goalie coach Robb Tallas as their emergency backup.
Ultimately, Tallas wasn't pressed into action. Luongo returned to the game after undergoing a CT scan and went back in for Montoya, who was limping through a groin injury.
The situation made us wonder whether each team has a contingency plan for such an incident, so we reached out to all 30 to find out who would play net if both goalies go down. In many instances, it would be the goaltending coach. But for a non-roster goaltender to play, the team would need to sign him to a professional-tryout agreement (PTO) and the league needs to approve it. In some cases, it would be a former Marine, video coach or equipment guy.
"Obviously, the Florida situation was unique," a Predators spokesman said via email. "It will likely lead to more discussion on a league-wide basis as to possible options should the situation present itself somewhere else, and we will await further direction." The GMs discussed the matter further at their meetings this week in Boca Raton, Fla.