January, 24, 2015
Jan 24
8:46
PM CT
Associated Press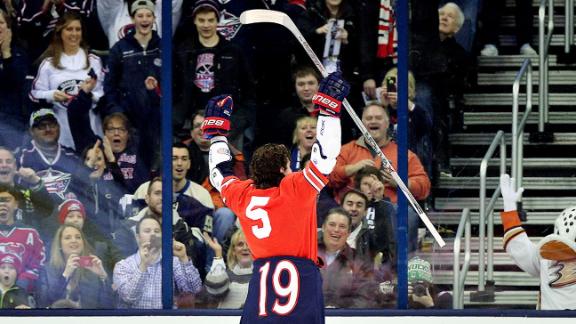 COLUMBUS, Ohio -- Not that they did before, but it's official now: No one wants to get in front of Shea Weber's shot.
The Nashville Predators defenseman fired the hardest shot, at 108.5 mph, at the NHL All-Stars skills competition Saturday night and took advantage of five-time champion Zdeno Chara's absence.
"I knew I got it," Weber said. "But it's tough. You never know how hard it is until it registers on the gun. But it felt like I got pretty much all I could into it, and [you] just kind of hope for the best."
Fighting his nerves (he doesn't practice high-velocity shots), Weber missed the entire net on a 101.8 mph drive with his first attempt. That nullified that try.
Washington Capitals star Alexander Ovechkin, who stole the show at Friday night's draft by pleading to be picked last so he would win a new car, had led the competition with a pair of 101.4 mph drives.
But then Weber stepped into his final shot to win the event.
He said it felt strange with the 6-foot-9 Chara -- who holds the record of 108.8 mph set in 2012 -- not participating.
"Obviously, he's the guy to beat all the time," Weber said. "He's got the big shot. Honestly, I was nervous because there's some guys out there that can rip it."
January, 23, 2015
Jan 23
10:44
PM CT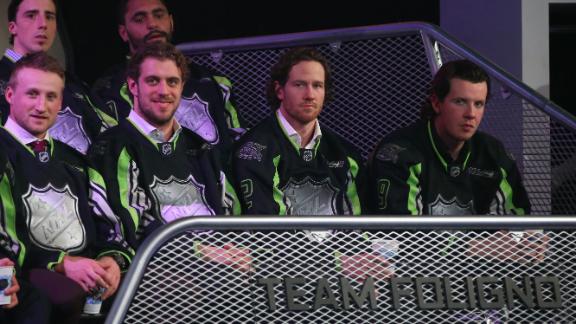 COLUMBUS, Ohio --
Phil Kessel
traded for
Tyler Seguin
, again?
Well that was certainly the capper of an entertaining All-Star draft Friday night.
"Well fellas, I've been there before," Kessel said after the draft. "I got traded for the same person and I think it worked out OK for everyone."
In 2009, the
Boston Bruins
traded Kessel to the
Toronto Maple Leafs
for three draft picks. The Bruins used one of those picks to select Seguin second overall in the 2010 draft.
[+] Enlarge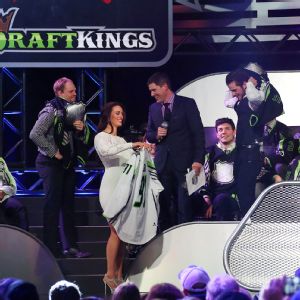 Dave Sandford/NHLI/Getty ImagesPhil Kessel and Tyler Seguin swapped sweaters after being traded for each other on Friday night.
GM
Jonathan Toews
said it was a tough but necessary trade.
"I was heartbroken about that one," said Toews. "I didn't think it was going to come to that point and it happened so quick. Just kind of had to go with it."
Toews made Kessel his team's first pick, wasting no time in making sure the Maple Leafs winger didn't go through the embarrassment of going last overall as he did in the first All-Star draft, in 2011.
"He's a heck of player, no doubt about that," Toews said of Kessel. "I think everyone out there tonight, there's a reason why they're here. For Phil, I was here [watching] his situation a couple years ago and no one wants to go last. There's one great player out there that kind of has to, and tonight there was two guys. I think that was a little bit better in that sense. I think Phil deserved to be our first pick tonight. I think for the most part, the six of us up on stage just wanted to have the most fun with it, make light of things, and we enjoy every minute."
Oh, there were lots of jokes on this night. It seems like some of the players might have had something special in those drinking cups. But the event also allowed for players to relax and show their personalities.
"I think this league's different than any other league," Kessel said. "I don't think you would see that in any league around and that's why this league's special."
January, 23, 2015
Jan 23
8:31
PM CT
Associated Press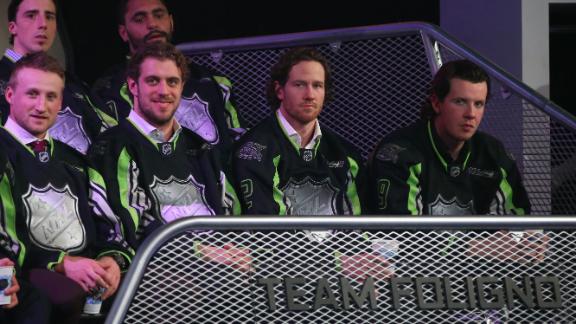 COLUMBUS, Ohio -- Phil Kessel was once again dealt for Tyler Seguin, Columbus Blue Jackets center Ryan Johansen was the No. 1 overall pick and superstar Alex Ovechkin did not get his new car.
In a wild and comic NHL All-Star draft to set the lineups for Sunday's game, almost nothing went the way anyone might have guessed.
The highlight of the evening was Ovechkin, the Washington Capitals' $10 million-a-year goal-scoring superstar, pleading to be taken last in the 17-round draft. Why? To compensate for the embarrassment of being the player no one wanted, the NHL gives the last player standing a new car.
At one point during the evening, a TV interviewer approached Ovechkin backstage and he hid behind a white piece of paper on which he had printed: "I want to be last. Need a car."
Ovechkin, the league's leading goal-scorer last year, came close to getting his wish. He lasted until there were just three players remaining, but then captain Nick Foligno selected him.
Ovechkin slumped in mock dejection in his chair, looked at the ceiling and sighed loudly. Then he looked into the camera and mouthed one word: "WHY?"
Foligno watched Ovechkin slowly walk onto the stage before despondently putting on a black Team Foligno jersey.
"Hey, Ovie, buy a car!" Foligno called out.
As it turned out, Ovechkin barely missed out on a new set of wheels. The two players who went last -- Edmonton's Ryan Nugent-Hopkins
January, 21, 2015
Jan 21
12:56
PM CT
[+] Enlarge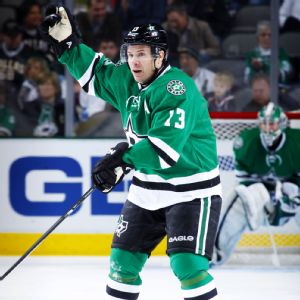 Glenn James/NHLI/Getty ImagesRay Whitney announced his retirement Wednesday, having most recently played for Dallas last season.
The Wizard is hanging them up.
Ray Whitney, 42, announced his retirement as an NHL player Wednesday, capping a career in which he produced 1,064 points (385 goals, 679 assists) in 1,330 regular-season games.
Whitney entered the league in 1991 with San Jose and also played for Edmonton, Florida, Columbus, Detroit, Carolina, Phoenix and Dallas.
He put up consistent production thanks to soft hands, great passing and playmaking ability and great heart.
January, 21, 2015
Jan 21
1:53
PM CT
The Wizard is hanging them up.
Ray Whitney
, 42, announced his retirement as an NHL player Wednesday, capping a terrific career which produced 1,064 points (385-679) in 1,330 regular-season games.
Not bad for a guy who was once waived.
[+] Enlarge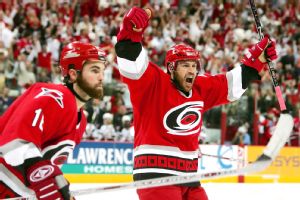 Jim McIsaac/Getty ImagesRay Whitney won the Stanley Cup with the Hurricanes in 2006.
He put up consistent production thanks to soft hands, great passing and playmaking ability, and the heart the size of a mountain.
"For the past 23 years, I have had the privilege of earning my living playing hockey in the National Hockey League," Whitney said in a statement released by his agency, CAA Sports. "Along the way, I have made countless memories and friendships, which I will always cherish. Every city I played in, the fans welcomed my family and me with open arms, and I couldn't be more thankful for that.
"I also wanted to take this opportunity to thank all of my teammates and coaches, especially the 2006 Stanley Cup team in Carolina. I was lucky to have great agents at CAA Sports, who stood by me through the good times and the tough times. I want to say a special thank you to my parents, who gave me the chance to do what I loved.
"Finally, I want to thank my wife Brijet, and our three beautiful children, who have been incredibly supportive of me throughout my career. Without them, I wouldn't have been able to live my dream."
Whitney stood out during his career also because he had something to say. He was a great interview who wasn't shy to speak his mind and provide insightful thoughts on the game.
He also found success on the ice during the dead puck era despite his 5-foot-10, 180-pound frame, fighting through the clutching and grabbing to produce several seasons of 60-plus and 70-plus points before the rules were changed to open up the game in 2005.
He continued to thrive post-2005, putting up a career-high 83 points (32-51) with the
Carolina Hurricanes
in 2006-07. He also had 77 points (24-53) in 2011-12 with the Coyotes at the age of 39.
"Terrific career," Penguins general manager Jim Rutherford told ESPN.com Wednesday. "He was a key player on our Cup team in Carolina from his leadership to keeping the guys loose to scoring big goals for us. He was just a lot of fun to be around.
"He knows the game and he worked really hard," added Rutherford. "He wasn't a big guy. To have the career he had is pretty special."
January, 20, 2015
Jan 20
10:37
PM CT
Associated Press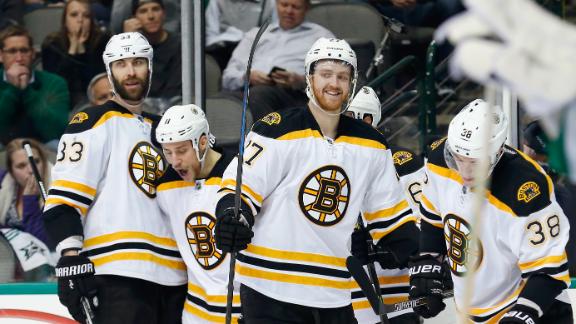 DALLAS -- Tuukka Rask made 36 saves, and Dougie Hamilton had a goal and an assist to lead the Boston Bruins past the Dallas Stars 3-1 on Tuesday night.
Hamilton assisted on Gregory Campbell's second-period goal that broke a 1-all tie, then scored on a third-period power play.
Rask allowed the game's first goal by Vernon Fiddler at 6:46 of the second. Loui Eriksson tied it at 14:17 of the second before Campbell gave the Bruins the lead at 18:27.
Kari Lehtonen made 24 saves for Dallas.
The Stars failed to score on any of their six power plays. They are 3 for 37 over the last nine games.
During the same period, Boston has killed off all but two of 35 penalties.
January, 18, 2015
Jan 18
8:00
PM CT
Associated Press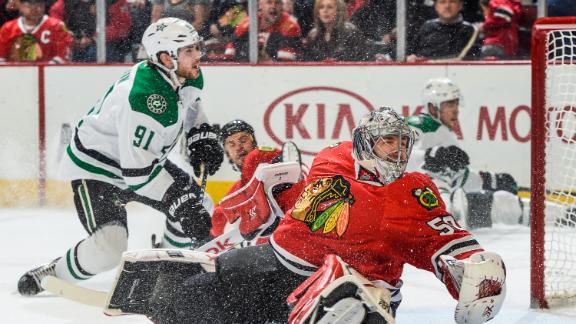 CHICAGO -- Cody Eakin, Erik Cole and Shawn Horcoff scored in the third period, leading the Dallas Stars to a 6-3 victory over the slumping Chicago Blackhawks on Sunday.
Eakin also had a short-handed goal in the first as Dallas won for the third time in four games. The Stars also earned their first victory of the season against the Blackhawks after they dropped their first three meetings.
Tyler Seguin had a goal and an assist for Dallas, which was coming off a 5-4 victory over Washington on Saturday night. Seguin is tied with Rangers star Rick Nash for the NHL lead with 28 goals.
Chicago dropped consecutive games for the first time since Nov. 1-2 against Toronto and Winnipeg. The Blackhawks are just 3-5 in January after they went 10-2-1 in December.
January, 18, 2015
Jan 18
7:56
PM CT
CHICAGO – Here's a quick look at the
Dallas Stars
' 6-3 win over the
Chicago Blackhawks
on Sunday at the United Center:

How it happened:
The Stars found a way to score every which way against the Blackhawks. The Stars scored on the penalty kill, power play and at even strength. They broke a 3-3 tie early in the third period when
Jamie Benn
,
Tyler Seguin
and
Cody Eakin
connected for a power-play goal.
Erik Cole
added a goal to go ahead 5-3 and finally an empty-netter. The teams combined for six goals through two periods. The Stars tallied the game's first two goals when Seguin scored his 28th goal of the season at 6:33 of the first period and Eakin scored a shorthanded goal at 10:49. The Blackhawks answered with goals by
Patrick Kane
and
Brandon Saad
. The Stars took a 3-2 lead when
Vernon Fiddler
scored with 48.4 seconds remaining in the first period. Saad tied the game at 3-3 in the second period. Blackhawks goaltender
Corey Crawford
had 28 saves. Stars goaltender
Kari Lehtonen
started for the second consecutive day and made 38 saves in the win.
What it means:
The Blackhawks haven't been the same team over their past 11 games. They are 5-6-0 and have allowed 38 goals in that span. The Blackhawks dropped their second consecutive game and fell to 28-15-2 on the season. The Stars improved to 21-17-7. Saad's play was one of the highlights for the Blackhawks in the loss. He scored two goals and has seven goals in the past 10 games. He has 15 goals on the season -- just four short of his career high.
Player of the game:
Eakin scored two special teams' goals. He has nine goals on the season.
Stat of the game:
Crawford hadn't allowed five goals in a regular-season game since Nov. 16, 2013.
What's next:
The Blackhawks remain home and play the
Arizona Coyotes
on Tuesday.
January, 17, 2015
Jan 17
10:16
PM CT
Associated Press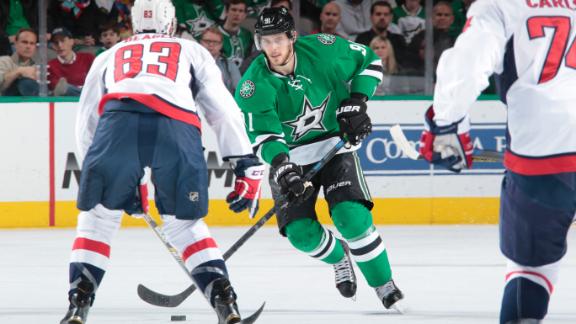 January, 16, 2015
Jan 16
11:43
AM CT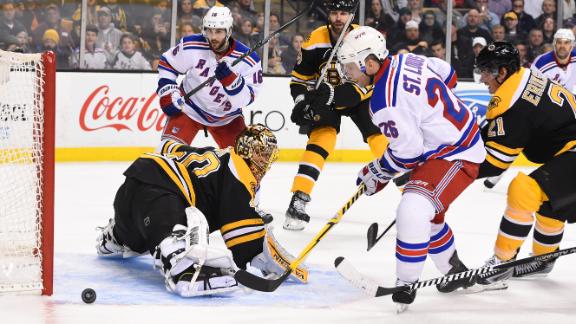 FORWARDS
Trending up: Ondrej Palat, Tampa Bay Lightning
-- The 23-year-old Czech winger has four points in his last two games, including a two-goal performance in the Lightning's 3-2 win over the
Edmonton Oilers
on Thursday night. There were many people who wondered about whether Palat would be impacted by the dreaded "sophomore slump," but he has instead been able to follow up on a terrific 23-goal 2013-14 campaign with another solid showing this season.
Trending down: Tyler Seguin, Dallas Stars
-- Granted, Seguin is still the league's leading goal scorer, and it's only fair to point out that he was battling an illness this week, but he's experiencing a bit of a dry spell at the moment, having been held off the scoresheet entirely in four of his last five games. Though the 22-year-old put together a stunning first half, 2015 has not been as kind to him. Seguin has only one goal in January and only one goal in his past 11 games. Meanwhile, the Stars are sliding yet again as losers in five of their last six games.
Surprise of the week: David Pastrnak, Boston Bruins
-- After dominating in the American Hockey League and dazzling at the World Juniors this month, the 18-year-old rookie has been so impressive in his Bruins audition that he forced general manager Peter Chiarelli's hand. With four goals in nine games, Pastrnak earned himself an extended stay, as Chiarelli announced Thursday night that the Bruins will keep the 2014 first-round draft pick up with the big club, thus triggering the first year of his entry-level contract.
DEFENSEMEN
Trending up: Dustin Byfuglien, Winnipeg Jets
-- With six points in the last four games, Big Buff has been a beast for Winnipeg's blue line, looking even more productive in his move back to defense than he was playing forward earlier this year. There's a lot to like about what is happening in the Peg right now with the Jets currently occupying one of two wild-card spots out West. A big part of that has been stellar goaltending from
Michael Hutchinson
, but Byfuglien is figuring into a key role on the back end, especially with Winnipeg's blue line decimated by injuries.
[+] Enlarge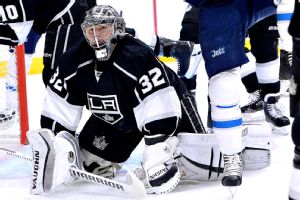 Jayne Kamin-Oncea/USA TODAY SportsKings goalie Jonathan Quick has given up 15 goals in five games in January.
Trending down: Ryan McDonagh, New York Rangers
-- The 25-year-old captain of the New York Rangers remains one of the best young defenseman in the game, but this has not been a banner week for McDonagh, who is a minus-2 in the last two games, both shutout losses for the formerly red-hot Blueshirts. McDonagh was so good last season, his name was bandied about in the Norris Trophy conversation. He's going to have to be much better in the second half to garner that sort of consideration again.
Surprise of the week: Ryan Suter, Minnesota Wild
-- Consider us very shocked to see the sort of uncharacteristic display from Suter that we did Tuesday night, when he delivered a nasty elbow to the head of the
Pittsburgh Penguins
'
Steve Downie
, a reckless play that earned him (and rightfully so) a two-game suspension. It's easy to understand the mounting frustration in Minnesota, but it was surprising to see it manifest like that in such a dumb, dangerous move.
GOALTENDERS
Trending up: Tuukka Rask, Boston Bruins
-- Rask has rattled off four straight wins for the Boston Bruins and my, how desperately those were needed. Most recently, Rask posted a 30-save shutout against the New York Rangers, blanking the Blueshirts 3-0 on Thursday night. The 27-year-old Finnish netminder has allowed only six goals over the past four games, as his Bruins have regained some footing in the Atlantic Division standings.
Trending down: Jonathan Quick, Los Angeles Kings
-- It has truly been a tough stretch for Quick as the Kings have dropped the last four games in which Quick has appeared. After giving up five goals in a shootout loss to Winnipeg in his last start, the former Conn Smythe Trophy winner gave up two goals on seven shots in relief of
Martin Jones
in the Kings' 5-3 loss to the
New Jersey Devils
on Wednesday night.
Surprise of the week: Joni Ortio, Calgary Flames
-- It's been a strong showing from 23-year-old Ortio, who pitched a 36-save shutout in his season debut last weekend and followed that up with another win Thursday night against the
Arizona Coyotes
. The Flames appear to be in good hands with Ortio as backup to
Jonas Hiller
-- at least for the time being with
Karri Ramo
on the shelf. The young Finn might get even more opportunities should Hiller continue to struggle.