December, 10, 2013
Dec 10
10:27
PM CT
Associated Press
DALLAS -- Patrick Sharp scored twice, extending his domination of the Dallas Stars, and the Chicago Blackhawks cruised to a 6-2 victory Tuesday night.
Brandon Saad also scored two goals for Chicago, which has won three of the four games between the teams. One victory was in a shootout.
Sharp has four goals and four assists against the Stars this season. In his last eight games versus Dallas, he has eight goals and seven assists.
Patrick Kane had a goal and two assists for the Blackhawks. Defenseman Michael Kostka returned after missing 24 games because of a foot injury to score Chicago's first goal.
The Central Division-leading Blackhawks (22-6-5) reached six goals for the fifth time this season, and second in a row. They defeated Florida 6-2 on Sunday.
December, 10, 2013
Dec 10
10:19
PM CT
By
Todd Wills
| Special to ESPNChicago.com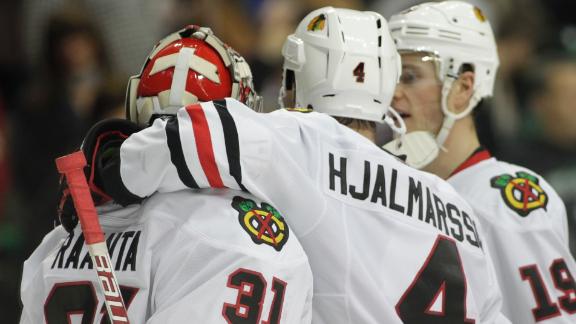 DALLAS -- Here's a quick look at the
Chicago Blackhawks
' 6-2 win over the
Dallas Stars
at the American Airlines Center on Tuesday night:

How it happened:
Michael Kostka scored just more than two minutes into the game on a goal that was reviewed, and the blowout was on in frozen Dallas.
Patrick Kane
scored on a breakaway at the 12:05 mark of the first period for a 2-0 Chicago lead, killing any energy among a sparse crowd of 12,542 at American Airlines Center with Dallas recovering from an ice storm. Chicago has had a strong following in three games in Dallas this season -- half the crowd was wearing red on Tuesday night -- and they saw
Brandon Saad
and
Patrick Sharp
score two goals apiece. Sharp, who had two goals and four assists in three games against Dallas entering Tuesday night, scored on the power play for a 4-0 lead at the 8:20 mark of the second period on an assist by Kane, who extended his points streak to six straight games. That knocked Stars starting goaltender
Kari Lehtonen
out of the game. Sharp added another goal less than three minutes later on a highlight reel pass by
Duncan Keith
to give Chicago a 5-0 lead.
Antti Raanta
, starting his first game since starting goaltender
Corey Crawford
injured his groin on Sunday, stopped 27 of 29 shots as he faced little threat in improving his record to 4-0-1.
What it means:
Chicago notched its NHL-best 22nd win and has 49 points on the season through 33 games.
Player of the game:
Saad had his second straight multipoint game and seventh overall of the season. Saad was gifted a goal by Stars backup goaltender
Dan Ellis
for a 6-1 lead with 45 seconds left in the second period.
Stat of the game:
The Blackhawks have scored five-plus goals in 13 games this season, including two straight games.
What's next:
The Blackhawks make a quick trip back home to host the
Philadelphia Flyers
on Wednesday night.
December, 9, 2013
Dec 9
1:56
PM CT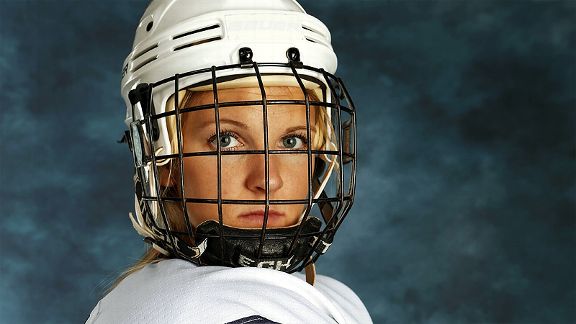 Russ Isabella/USA TODAY SportsAmanda Kessel has the upper hand over her brother in scoring, as her 68 points beats his 64.
TO UNDERSTAND THE hyper-competitiveness that fuels America's new first family of hockey, head to their parents' basement in Madison, Wis. That's where Phil, the Maple Leafs' leading scorer through Dec. 4, and Amanda, whom some consider the best women's hockey player on the planet, honed their lethal shots. It's also where the Kessel-house pingpong champion is crowned.
Amanda, 22, is the reigning champ after beating Phil, four years her senior, in a match that ended with her running for her life. "I beat him and had this little grin on my face. We try not to celebrate that much," Amanda says. "I started walking to the stairs. Next thing I know, he's coming after me. I ran as fast as I could. I don't know what he would've done if he caught me. But he didn't catch me."
Opponents know the feeling. With her unparalleled anticipation and speed, Amanda is always one step ahead of everyone on the ice. The college player of the year fought injuries to lead Minnesota to a national championship and a 41-0-0 record in 2013, then scored the game-winning goal for Team USA against Canada in the world championship. "Each year she's gotten more flawless, if that's even possible," says U.S. teammate Megan Bozek. After Amanda's golden goal, Phil's phone lit up with text messages saying he had a lot to live up to thanks to his sister.
December, 7, 2013
Dec 7
3:59
PM CT
Associated Press
DALLAS -- Tyler Seguin scored three goals and assisted on a fourth in the second period Saturday, leading the Dallas Stars to a 5-1 victory over the Philadelphia Flyers.
The game was tied 1-all until Seguin came in on a 2-on-1 rush with Jamie Benn at :39 seconds of the second period. The Stars then scored three times in a span of 1:02 to break the game open.
Seguin took a backhand pass from Alex Goligoski to score from the slot at 17:03, and completed his natural hat trick 40 seconds later. He assisted on Valeri Nichushkin's goal at 18:05.
Seguin leads the Stars with 15 goals. The hat trick was his second this season and third in his four-year career.
December, 6, 2013
Dec 6
2:30
PM CT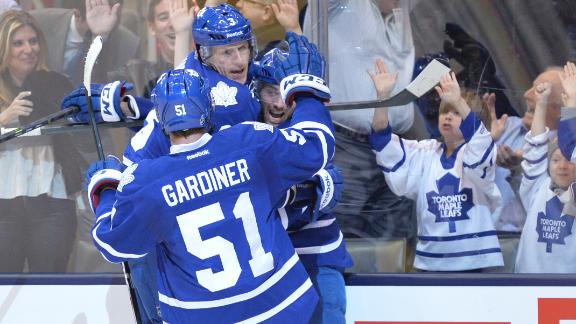 A year ago
Alex Chiasson
was a third-line forward in the AHL, learning the ropes in his first pro season.
To suggest even for a moment that 12 months later he would have racked up 14 goals in 34 NHL games, well, he never would have believed it.
Not when even his best year in college hockey was 15 goals.
"I'll be the first one to admit it, I didn't expect it to be like that," Chiasson, 23, said this week. "But you know what? It just feels right, here with this team. I've been fortunate to play with some really good players here.
"Yeah, I didn't expect a start like this, but now that you're in it, you want to keep it going."
The second-round pick (38th overall) in the 2009 draft has played most of the season with
Cody Eakin
and the Wizard, veteran winger
Ray Whitney
.
"He's given me a couple of tap-ins," Chiasson said of playing with Whitney. "It's been great. His experience has helped me a lot."
There are certainly worse ways to break into the NHL than having a creative, savvy player like Whitney on your line.
"He's a good kid, a humble kid, he works hard," Whitney, 41, said of Chiasson. "I like to have fun and make him laugh as much as I can. But he's a guy who goes up and down the wing, he's not flashy, he's not going to toe-drag anybody, but he's going to go to the hard areas, go to the front of the net, he's good in his own zone along the wall; all the little things that coaches love. He's willing to do all the tough things, just a complete all-around player."
Chiasson, a right winger, was brought up late last season as a checker/penalty killer. Then he went out and became the first player in Stars franchise history to record six goals in his first six games with the team.
"It was quite the experience," Chiasson said. "When it was happening, you don't really realize it, we were focused on trying to make the playoffs, but this summer I looked back on it and it was kind of neat to do that."
And the Stars, well, they wondered what exactly they had on their hands heading into this season.
"Coming into camp we liked him, but [thought] can he keep it going?" said Stars GM Jim Nill. "He came in from day one and showed he deserves to be here. Like anybody, he's hit the wall a few times scoring, but he's getting back there now."
At 6-foot-4 and 205 pounds, his game is about net presence.
"He's a north-south, up-and-down guy, goes in front of the net, knows his role," said Nill. "He's got a real good shot. A real honest player."
And right now, he's a young player just trying to soak it all in. A year ago, he was just trying to improve as an AHLer with the Texas Stars. Today he's a full-fledged second-line player in the NHL.
What a rush.
"They say a lot has to do with opportunity and timing, and for me it was the best I could ask for," said Chiasson. "I started on the third line in the American League last year, [Stars AHL head coach] Willie Desjardins did a great job with me pushing my game and getting me to another level. When the lockout ended, my role grew on the team. And then they called me up. I tried to jump on the opportunity as best I could."
December, 6, 2013
Dec 6
10:21
AM CT
By
Victoria Matiash
| ESPNDallas.com
After Thursday's frightening scene in Montreal, news that
Johnny Boychuk
was
cleared to fly home with his team
is most welcome. The
Boston Bruins
defenseman was unable to get up off the ice on his own after being hit into the boards by
Montreal Canadiens
forward
Max Pacioretty
. Boychuk was eventually stretchered off and taken to hospital. According to Bruins forward
Jarome Iginla
, Boychuk
suffered a back injury
when he was hit. In any case, the valued D-man will likely miss a fair amount of time. General consensus is Pacioretty won't receive supplemental discipline from the league for the hit. The forward was handed a two-minute minor penalty at the time of the infraction.
The
Detroit Red Wings
can't seem to get far ahead of the game on the injury front. Shortly after hearing that
Pavel Datsyuk
was nearing return, word emerged of the latest injury to hobble
Darren Helm
. The center is ruled out for the weekend with a
suspected shoulder strain or sprain
. While
Stephen Weiss
is favored to center the Red Wings' second line in place of Helm, a returning
Todd Bertuzzi
could sub in (for Weiss) on the top unit with
Johan Franzen
and
Gustav Nyquist
. But coach Mike Babcock hasn't promised anything.
Coach Alain Vigneault thinks all of his defensemen stink except
Ryan McDonagh
. Ok, maybe that wasn't
exactly
what the
New York Rangers
coach said recently, but he definitely
wants a greater effort
from his corps of blueliners. Vigneault wasn't shy about his preference for
John Moore
over
Michael Del Zotto
either. You get the sense Del Zotto wouldn't see any action at all these days if he wasn't being flaunted for a trade.
To continue reading this article you must be an Insider
December, 5, 2013
Dec 5
9:21
PM CT
Associated Press
TORONTO -- Trevor Smith scored at 4:18 of overtime to help the Toronto Maple Leafs end a five-game skid with a 3-2 victory over the Dallas Stars on Thursday.
The Maple Leafs won for the first time since Nov. 23 despite being outshot for the 10th consecutive game, this time 50-24.
Nazem Kadri scored twice for the Leafs in his return from a one-game absence to attend his grandfather's funeral. It looked as if his second goal would stand.
But Toronto's best penalty-killer Jay McClement took a tripping penalty late in the third and Shawn Horcoff scored when he tipped Kevin Connauton's shot past Jonathan Bernier at 17:14 to tie it a 2-2.
Bernier finished with 48 saves.
December, 5, 2013
Dec 5
11:15
AM CT
Chris Kreider has had a very unique development path. He was drafted in the first round out of high school, won a gold medal at the World Junior Championships and went to two straight World Championships competitions as an under-20 player, which is rare. He was average at times in college, but was really impressive in his NHL debut during the 2011-12 postseason with the Rangers. Kreider had a mediocre first full pro season in 2012-13 between the AHL and NHL, but now his career has taken yet another turn, this one for the better, with a great start in 2013-14.
The progression he's made has been quite evident. "[Kreider] needed to learn defense and how to play without the puck," Rangers director of player personnel Gordie Clark said. "He's a very intelligent player who worked hard in the summer to improve." Clark said that because of how Kreider was able to dominate at the lower levels, positional work wasn't as important. "I used to go up to [Boston College head coach] Jerry York and ask how is our rover doing," Clark said in reference to Kreider's positional play.
I had Kreider ranked 41st in my summer Top 100 NHL Prospects after he performed below expectations last season. I had considered putting him even lower, but when I passed around my ranking to scouts for feedback I got one vigorous defense saying, "With his elite speed, shot and power potential, I still think he's one of the game's top prospects."
With the improvements in his game, Kreider has begun to fulfill that promise this season with the Rangers. He's been one of their best players and has the second highest GVT among Ranger skaters -- hockey's version of Wins Above Replacement -- without the positional adjustment, even though he's played fewer games than most of them. Kreider, never projected as a top-end, puck-possession type player, has also been the best possession forward for the Rangers, despite playing against the opposition's best players. This has so far been a true breakout season for Kreider.
Now, that hasn't been good enough for Kreider to jump into the lead spot in my Calder Trophy power rankings. Here's the list, which is based on a combination of quantitative and qualitative evaluations:
---

1. Seth Jones, D, Nashville Predators (previous ranking: 1)
In my first set of rankings for this season, I saw Jones as the clear No. 1 rookie, but since then he's tailed off a bit in his play and had some ice time taken away by the return of Roman Josi to the lineup. His usage has subsequently ticked back up with Shea Weber's injury. It is close now between Jones and Tomas Hertl for the top spot, but Jones still remains the most impressive rookie so far. His combination of athletic skills and hockey sense are elite. That's not even taking into account where his game is relative to his age and position, which speaks very highly of his future potential.
To continue reading this article you must be an Insider
December, 4, 2013
Dec 4
2:14
PM CT
By
Victoria Matiash
| ESPNDallas.com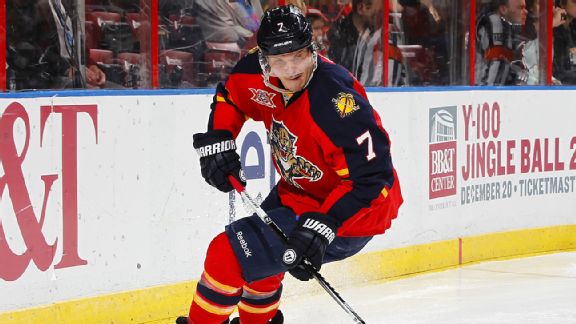 Joel Auerbach/Getty ImagesFormer first-rounder Dmitry Kulikov may be on the move soon.
A former first-round draft pick with the
Florida Panthers
joins
Michael Del Zotto
of the
New York Rangers
,
Dmitry Orlov
of the
Washington Capitals
and
Jake Gardiner
of the
Toronto Maple Leafs
on a short list of promising, young defensemen rumored to be on the NHL trade block.
A healthy scratch this week,
Dmitry Kulikov
is currently a
popular subject of trade talks
, according to TSN's Bob McKenzie:
"Kulikov has been available for most of this year but the Panthers are kicking it up, very aggressively shopping him, and trying to get an auction going for a 23-year-old defenceman who was picked 14th overall in the 2008 draft. Kulikov though has two knocks against him. One, he hasn't been developing and playing particularly well for Florida and two, he's a restricted free agent at the end of the year and there are fears that because he has the KHL option as a Russian, he might go back there instead of playing in the NHL."
That being said, the feeling is that he
is
worth the risk for many. ESPN.com's Pierre LeBrun
believes Kulikov is "certainly worth a gamble"
, and other rumblings indicate teams are talking to Florida GM Dale Tallon about the talented, puck-moving D-man.
With a look to recent history, Elliotte Friedman of the CBC proposes the
Maple Leafs might be in the mix
:
"The details are hard to pin down, but, at some point last season, the Florida Panthers came pretty close to pulling off a deal that would have sent Dmitry Kulikov to Toronto. One of the teams backed away. But it would come as no surprise to see this conversation rekindled. Kulikov certainly has talent yet is inconsistent. Could he benefit from a change?"
There is no doubt Kulikov would reap great advantage from a fresh start -- in reality
and
in fantasy play. Not only is he saddled with competing for one of the worst teams in the league, but the young Russian is also
apparently not working well
with new Panthers coach Peter Horachek. Like most developing D-men, Kulikov has hit rough patches in the past, but not to
this
extent (three points in 27 games).
Hooking up with the Maple Leafs -- or the
New York Islanders
,
Philadelphia Flyers
,
Ottawa Senators
,
Carolina Hurricanes
,
Colorado Avalanche
, etc. -- would go a long way in getting Kulikov back on the right, previously forecast, track. This lad has the tools and talent to earn a point every couple of games in the NHL. If a transaction seems imminent, you may want to take a gamble on him in your fantasy league.
To continue reading this article you must be an Insider
December, 3, 2013
Dec 3
10:08
PM CT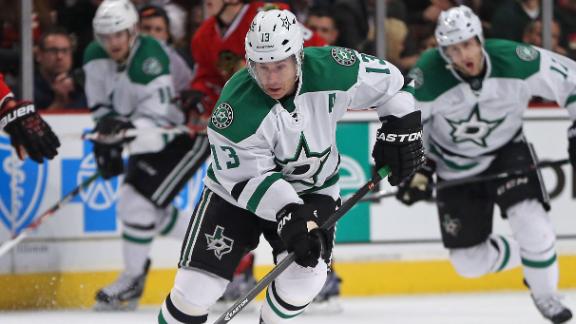 CHICAGO -- Here's a quick look at the
Dallas Stars
' 4-3 win over the
Chicago Blackhawks
at the United Center on Tuesday.

How it happened:
The Blackhawks outshot the Stars 50-18 on net, but the Stars made the most of their opportunities. The Stars'
Antoine Roussel
broke a 3-3 tie at 3:01 of the third period on a penalty shot. The Stars built a 2-0 lead after the first period, behind goals by
Valeri Nichushkin
and
Alex Chiasson
. They went ahead 3-0 when
Erik Cole
scored at 3:07 of the second period. The Blackhawks battled back with three consecutive goals.
Patrick Sharp
put the Blackhawks on the board with a power-play goal at 9:39 of the second period.
Nick Leddy
cut the Stars' lead to one with a goal at 16:08, and
Johnny Oduya
tied the game with a goal 65 seconds later.
What it means:
The Blackhawks had their six-game winning streak snapped. It was the Blackhawks' first contest at home after a seven-game road trip, during which they went 6-1-0. Blackhawks defenseman
Duncan Keith
had an assist on Sharp's goal and extended his assists streak to eight games. He has 23 assists on the season.
Patrick Kane
kept pace with the league's points leaders and pushed his total to 32 with two assists on Tuesday. Blackhawks goaltender
Corey Crawford
hadn't allowed more than one goal in his previous three starts. The Blackhawks defeated the Stars 2-1 in an 11-round shootout in their last meeting on Nov. 29. The Blackhawks are now 20-5-4 on the season.
Player of the game:
Stars goaltender
Kari Lehtonen
was on top of his game and made 47 saves.
Stat of the game:
The Stars scored their first three goals off nine shots on net.
What's next:
The Blackhawks return to the road and play the
Minnesota Wild
on Thursday. The Blackhawks will then host the
Anaheim Ducks
on Friday.
December, 3, 2013
Dec 3
9:57
PM CT
Associated Press
CHICAGO -- Kari Lehtonen had a season-high 47 saves, Antoine Roussel converted a penalty shot in the third period and the Dallas Stars snapped the Chicago Blackhawks' six-game winning streak with a 4-3 victory on Tuesday night.
Valeri Nichushkin had a goal and an assist for the Stars, who had dropped four of five, including consecutive shootout losses at home in their previous two games. Alex Chiasson and Erik Cole also scored.
Patrick Sharp scored his 200th goal with Chicago in the Blackhawks' first home game since a 5-1 victory over San Jose on Nov. 17. The defending Stanley Cup champions hit the road while the circus took over the United Center and responded with an impressive 6-1-0 trip, including an 11-round shootout win in Dallas on Friday night.