November, 21, 2014
Nov 21
2:58
PM CT
Associated Press
SAN JOSE, Calif. -- The San Jose Sharks have traded defenseman Jason Demers and a future draft pick to the Dallas Stars for defenseman Brenden Dillon.
The Stars will get a third-round pick in the 2016 draft in Friday's deal.
The 24-year-old Dillon has nine goals and 17 assists in 149 career games with Dallas. He had one assist in 20 games this season, along with 26 penalty minutes, 27 hits and 29 blocked shots.
Sharks general manager Doug Wilson calls Dillon a "late-blooming" player whose game is trending up and who will help San Jose for the present and future.
The 26-year-old Demers has 16 goals and 82 assists in 300 career games. He has three assists in 20 games this season.
November, 21, 2014
Nov 21
11:36
AM CT
Here are some thoughts and observations about the
Chicago Blackhawks
after their 4-3 win over the
Calgary Flames
on Thursday:
1.
The Blackhawks might want to think about just trading
Jeremy Morin
. Blackhawks coach Joel Quenneville obviously isn't fond of his game, and Morin deserves a chance somewhere. He's 23 and has been in professional hockey since the 2010-11 season. He's put in his time with the organization. Blackhawks general manager Stan Bowman basically gave Brandon Pirri and
Jimmy Hayes
opportunities elsewhere by trading them when it was evident they weren't going to be utilized much. He could do the same for Morin. Morin's ice time was limited again Thursday. Quenneville played him nine shifts and 6:50. He has averaged 7:48 in 14 games and has been scratched four times this season. He doesn't have any production to show for it this year, but he has shown plenty of offensive ability in the past. He also continues to be among the league's leaders in Corsi. It may not click for him in Chicago, but it may still click elsewhere. He is represented by Pat Brisson, who is also the agent for Kane,
Jonathan Toews
,
Andrew Shaw
and
Marcus Kruger
, so it's likely Bowman would listen if a trade was what was asked of him. Brisson and Morin likely thought Morin would get more of an NHL opportunity this season when he signed a two-year deal in June.
2.
Someone familiar with Patrick Kane's game described it as a mess just a few weeks ago. I was told Kane was making decisions too quickly and not forcing defenders into difficult situations. You could see him begin making some adjustments recently against the
Tampa Bay Lightning
and starting to dictate the play and controlling the puck more. He wasn't rewarded that game, but it was only a matter of time. With a goal and assist Thursday, he's scored in three consecutive games and has six points over the last three games. He has also recorded consecutive multi-point games for the first time this season. Usually when Kane gets going, he stays going for a bit.
3.
Kane's success the last two games has something to do with
Kris Versteeg
and
Brad Richards
being on his line. Quenneville was reluctant to combine Kane and Richards even though that appeared to be the plan when Richards was signed. Anyway, they're together now, and they're flourishing. That line was a plus-3 against the
Dallas Stars
on Sunday and should have been a plus-2 on Thursday. The Blackhawks' top line had a horrendous line change which created a Flames' odd-man rush and goal in the second period, and it ended up being on the second line's tab. Even with that, the line has been a plus-4 and has helped create five goals in the last two games.
November, 21, 2014
Nov 21
9:08
AM CT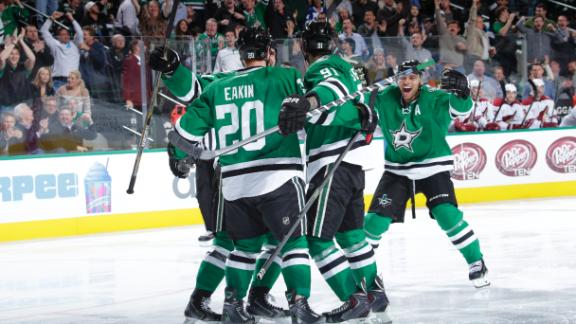 The Dallas Stars have signed center Jason Spezza to a four-year contract extension worth $30 million, the team announced Friday.
The deal also includes a no-trade clause, a source told ESPN.com on Friday.
"Jason is a world-class player and his commitment to the organization is a reflection of what we are building in Dallas," general manager Jim Nill said in a statement. "The professionalism and production he brings to our group is key for our success moving forward and we value the leadership he brings to our team."
Spezza, 31, was slated to be an unrestricted free agent July 1.
Spezza is coming off a seven-year, $49 million deal he signed in Ottawa. The Senators met his trade demand request last summer and dealt him to the Stars.
November, 20, 2014
Nov 20
10:23
PM CT
Associated Press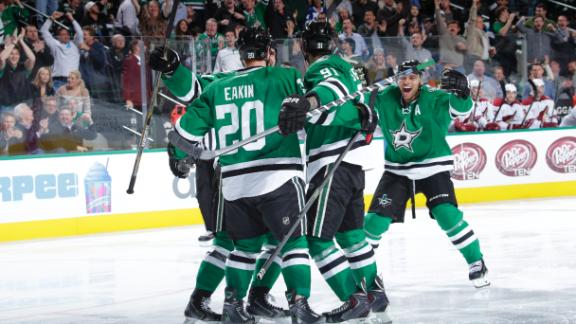 DALLAS -- John Klingberg, Cody Eakin and Jason Spezza all scored in the third period, rallying the Dallas Stars to a 3-1 victory over the Arizona Coyotes on Thursday night.
Dallas ended a seven-game home losing streak (0-5-2), winning for just the second time in 11 home games (2-5-4).
Klingberg and Eakin scored 33 seconds apart in the opening minute of the third period. Klingberg's goal from the slot was his first in the NHL, in his sixth game, and tied the score 19 seconds into the period. Eakin tipped Trevor Daley's shot from the blue line over Arizona goalie Mike Smith at 52 seconds.
Spezza made it 3-1 with 4:18 remaining as he skated behind the net, came out on the left side and shot into the net.
Lauri Korpikoski scored for the Coyotes with 5:39 left in the first period.
Smith and Dallas' Kari Lehtonen both had 24 saves.
November, 18, 2014
Nov 18
10:35
PM CT
Associated Press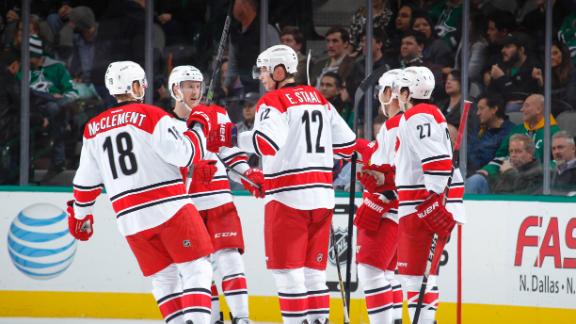 DALLAS -- Eric Staal had two third-period goals and an assist to lead the Carolina Hurricanes over the Dallas Stars 6-4 on Tuesday night.
Carolina overcame a 2-0 deficit with four second-period goals. The last of those chased Stars goalie Kari Lehtonen from the game. He stopped 12 of 16 shots in nearly 36 minutes on the ice.
The Hurricanes franchise had not won in regulation at Dallas since 1996, when the team was the Hartford Whalers.
Carolina snapped a three-game losing streak and improved to 2-6-2 on the road. The Stars lost their seventh consecutive home game (0-5-2) and fell to 1-5-4 in Dallas this season.
Jeff Skinner, Patrick Dwyer, Victor Rask and Jiri Tlusty scored in the second for the Hurricanes.
November, 17, 2014
Nov 17
9:16
AM CT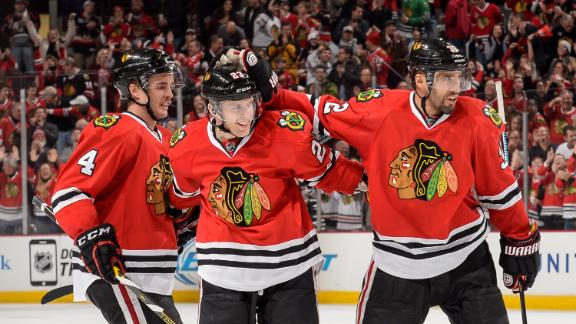 Trending up:
Minnesota Wild
: The Wild have rattled off three straight wins to make up ground in the Central Division standings. Most recently, Mike Yeo's squad edged the
Winnipeg Jets
in a 4-3 overtime win on Sunday. Look for the Wild to continue their climb with
Zach Parise
back in the lineup. The star forward returned this past weekend after missing five games with a concussion and scored twice in his first game back.
Blues' offense:
The
St. Louis Blues
also are riding a three-game win streak, but perhaps more impressive is that they have won 10 of their past 11 games. Wow. Look at their recent skein and it's easy to see why they are atop the Central Division, scoring 14 goals during that span. The Blues, who embark on a four-game road trip beginning on Tuesday against the
Boston Bruins
, lead the Western Conference with a plus-25 goal differential.
Troy Grosenick
: Pretty tough to beat Grosenick's first NHL game, as the 25-year-old goaltender was dazzling in his debut on Sunday, blanking the
Carolina Hurricanes
while making 45 saves. According to Elias Sports Bureau, Grosenick is the first Sharks goaltender to post a shutout in his debut; his 45 saves in his first game also sets a franchise record. Pretty neat to see his family share in the special moment, too.
Trending down:
Anaheim Ducks:
Hard to blame this one on the mumps. One night after losing in overtime against the Stanley Cup champion
Los Angeles Kings
, the Ducks suffered an embarrassing 6-2 loss to the lowly
Florida Panthers
-- at home, no less. Even with
Corey Perry
back in action -- he missed the past five games with the mumps -- the Ducks could not muster a competitive effort against the Cats. The Ducks still lead the Western Conference, so perhaps we're being a bit harsh, but that sort of a letdown is the sort of thing that draws out the critics when you're considered the best of the best.
[+] Enlarge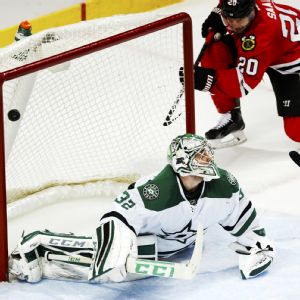 AP Photo/Andrew A. NellesKari Lehtonen didn't have the best third period Sunday night against the Blackhawks.
Dallas Stars:
One step forward, one step back. And so it goes for the Stars, who continue to toil at the bottom of the Central Division. After snapping a seven-game skid last week with wins against the
Arizona Coyotes
and Kings, the Stars dropped a back-to-back set this pat weekend that finished with four unanswered goals in a 6-2 loss to the
Chicago Blackhawks
on Sunday. The Stars are giving up 3.33 goals per game, 28th in the NHL.
Injury report:
Trevor van Riemsdyk:
According to ESPN Chicago colleague Scott Powers, the Blackhawks might be without the rookie defenseman for significant time after he took a puck to the leg in a 6-2 win over Dallas on Sunday. Van Riemsdyk has been a pleasant surprise for Chicago and was averaging 14:11 in ice time before the injury.
Valeri Nichushkin:
Limited to just four games this season because of a lingering hip injury, the 19-year-old Stars forward is expected to miss at least the next four months of his sophomore season. General manager Jim Nill announced that Nichushkin will undergo surgery this week.
What to watch for:
Home sweet home:
Over a month into the season, the Jets are still in the thick of it, just four points back on the division-leading Blues. They'll have the chance to gain even more traction against the Blues on Sunday, when they wrap up a three-game homestand that could give them another boost in the standings.
Tough test:
Another pivotal homestand is coming for one of the sleeper teams in the West, the
Calgary Flames
. The Flames, two points behind the Ducks in the Pacific, host their division foes on Tuesday, marking the third game of a five-game homestand that also features games against the Blackhawks and
New Jersey Devils
.
Tough test II:
The Kings' mettle will again be tested, as the defending champs lost defenseman
Alec Martinez
to a hand injury last week. Although veteran
Robyn Regehr
returned on Saturday against Anaheim, expect the Kings' defense, also without the suspended
Slava Voynov
, to rely on
Drew Doughty
even more heavily than usual.
November, 16, 2014
Nov 16
9:04
PM CT
Associated Press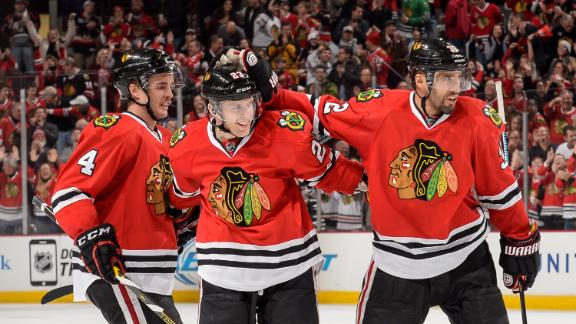 November, 16, 2014
Nov 16
8:51
PM CT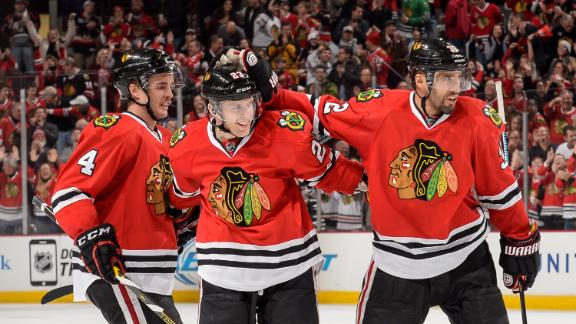 CHICAGO – Here's a quick look at the
Chicago Blackhawks
' 6-2 victory over the
Dallas Stars
at the United Center on Sunday:

How it happened:
The Blackhawks broke a 2-2 game wide open in the third period.
Patrick Kane
snapped the tie with a goal at 4 minutes, 49 seconds of the period.
Jonathan Toews
added to the lead with a goal at 12:34.
Kris Versteeg
scored again for Chicago at 14:19 before
Brandon Saad
netted the final tally at 15:29. Both teams scored two goals in the first period, with Dallas' coming just 39 seconds apart.
Curtis McKenzie
accounted for the first at 4:49 and
Shawn Horcoff
scored the second at 5:28. The Blackhawks' two first-period goals came from
Duncan Keith
and
Brent Seabrook
. Kane set up both on his way to a three-point evening. Blackhawks goaltender
Corey Crawford
made 22 saves on 24 shots. Stars goaltender
Kari Lehtonen
stopped 41 of 47 shots.
What it means:
The Blackhawks won't be returning to the United Center until early December, and Sunday's result was exactly what they were looking for before hitting the road. The Blackhawks improved to 10-7-1 overall and 7-3-1 at home on the season. The Stars have dropped nine of their past 11 games and fell to 6-8-4. Blackhawks forward
Brad Richards
played in his 1,000th career game and had two assists. Blackhawks defenseman
Trevor van Riemsdyk
suffered a lower-body injury in the first period and did not return.
Player of the game:
Kane's play has picked up recently. He has three goals and three assists in the past six games.
Stat of the game:
The Blackhawks scored four goals on 23 shots on net in the third period.
What's next:
The Blackhawks begin their annual circus trip Thursday at Calgary and will be on the road for six consecutive games before hosting St. Louis on Dec. 3.
November, 16, 2014
Nov 16
7:40
PM CT
CHICAGO -- Trevor van Riemsdyk was ruled out of the rest of the Blackhawks' 6-2 win Sunday over the Dallas Stars after being struck in the left leg with a puck during the first period, an injury coach Joel Quenneville said would sideline the defenseman "for awhile."
"He's hurt pretty bad," said Quenneville, who couldn't give a more specific timetable. "We'll know more tomorrow."
Van Riemsdyk fell to the ice after being hit by a shot from Stars defenseman Trevor Daley at 6:18 of the first period. Van Riemsdyk appeared to struggle to put weight on his left foot, skated off the ice under his own power and shortly after went to the team's dressing.
The Blackhawks announced van Riemsdyk would not return to the game after the beginning of the second period.
Van Riemsdyk, who is the younger brother of Toronto Maple Leafs forward James van Riemsdyk, has played in all 18 of the Blackhawks' games this season as a rookie. He has one assist, has a zero rating and has averaged 14:11 of ice time.
November, 15, 2014
Nov 15
3:55
PM CT
Associated Press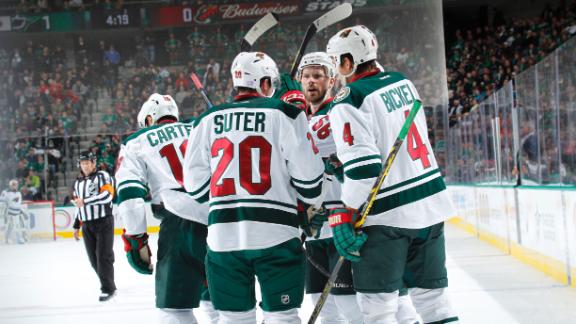 DALLAS -- Mikael Granlund scored 40 seconds into the third period and the Minnesota Wild held on to beat the Dallas Stars 2-1 on Saturday.
Dallas goalie Kari Lehtonen had stopped Charlie Coyle's shot from the top of the right circle, but Granlund beat the goalie to the puck to put in the rebound.
Minnesota's Darcy Kuemper allowed only a second-period goal by Antoine Roussel and made 27 saves.
The Wild had tied the game at 1 on Erik Haula's goal at 15:41 of the second.
Minnesota won its second straight game after a four-game losing streak. The Wild won for just the second time in the past 21 games in Dallas.
The Stars' problems at home continued. They have lost six straight (0-4-2) and are 1-4-4 on home ice this season.
Lehtonen had 20 saves for Dallas.