March, 5, 2015
Mar 5
9:41
PM CT
Associated Press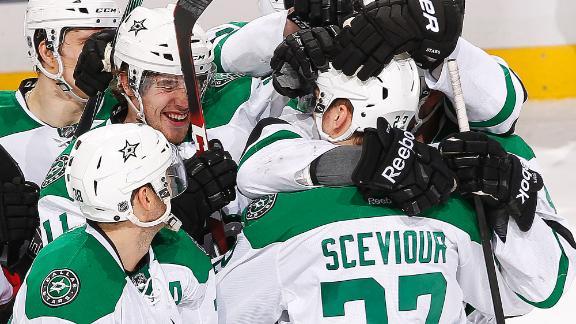 March, 5, 2015
Mar 5
5:39
PM CT
Associated Press
NASHVILLE, Tenn. -- Mike Ribeiro's former nanny in Texas is suing the Predators center, accusing him of assaulting her and his wife of threatening her in 2012.
The lawsuit contains no specific details except alleging Ribeiro caused "body injury" when he acted "intentionally, knowingly and recklessly." Her attorney Larry Friedman told The Associated Press on Thursday that his client was sexually assaulted by Ribeiro soon after she had graduated from high school, though she did not immediately go to authorities because she was "terrified."
"My client was and is a young girl, and no young girl should be subjected to that kind of behavior, the kind of conduct by an adult that she's complaining about," Friedman said.
The woman also alleges Ribeiro's wife "made inappropriate comments and/or threats." She is seeking over $1 million in damages along with other relief. The lawsuit was filed July 24 and now is in federal court in Texas.
TMZ first reported on the lawsuit Wednesday.
Ribeiro's attorney issued a statement Thursday saying he wouldn't discuss the facts around the allegations publicly.
"I can say that the Ribeiros plan to vigorously fight this lawsuit," attorney Brian Lauten wrote. "At the same time, Mike will maintain his focus of doing all he can to help Nashville win its first-ever Stanley Cup."
Friedman said Ribeiro was between his time with the Dallas Stars and the Washington Capitals at the time the nanny says the assault happened.
The Predators said in a statement they have been made aware of the complaint that dates to when Ribeiro played in Dallas.
March, 4, 2015
Mar 4
7:46
PM CT
Associated Press
NEW YORK -- New York Islanders forward Matt Martin was suspended for one game by the NHL on Wednesday for kneeing Dallas Stars defenseman Trevor Daley.
Martin, who was given a major penalty and was ejected from Tuesday night's 3-2 overtime loss at Dallas, struck Daley just 1:48 into the game.
Martin, one of the NHL's hardest hitters, will sit out when New York visits Nashville on Thursday night and will forfeit $5,376.34 in salary that will go to the Players' Emergency Assistance Fund.
He has eight goals and 14 points while playing in New York's first 65 games this season.
March, 4, 2015
Mar 4
3:41
PM CT
Associated Press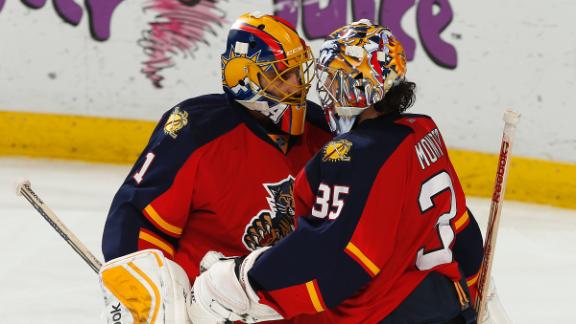 SUNRISE, Fla. -- Dan Ellis has not logged a single minute in the NHL all season. And he might now be the key to the Florida Panthers' postseason hopes.
The Panthers will be without goaltenders Roberto Luongo and Al Montoya for at least one game and possibly longer after both got hurt against Toronto on Tuesday night, setting off a chain-reaction of unplanned and downright bizarre events in the Florida dressing room.
So Wednesday, practice was delayed a few minutes so new goalies could get there. Ellis was called up from San Antonio of the AHL, and Sam Brittain was summoned from the team's ECHL affiliate in Cincinnati -- making him the third player to go from that level right to the NHL, according to STATS.
"Like you saw last night," Brittain said Wednesday, "you never know what can happen."
Ellis will start Thursday night against the Dallas Stars, with Florida going into that game two points behind Boston in the race for the No. 8 spot in the Eastern Conference playoff race.
Luongo started Tuesday's game, getting hurt late in the first period but staying in the game. Montoya took his spot when the team returned to the ice for the second period, and that's when things started getting wacky for the Panthers.
- Luongo, who appeared to take a puck off the right side of his mask and then was trying to stretch out his shoulder, got a CT scan and was seen in street clothes. Clearly, he thought his night on the ice was over.
- Montoya wound up injuring a groin, then tried to play through it after a delay.
March, 3, 2015
Mar 3
10:45
PM CT
Associated Press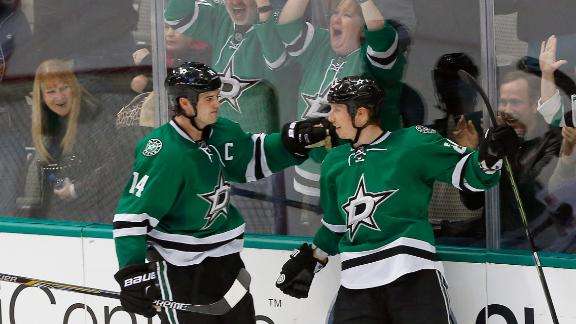 DALLAS -- Cody Eakin scored 2:18 into overtime and the Dallas Stars beat the New York Islanders 3-2 on Tuesday night to snap a six-game losing streak.
Eakin took a pass from Jamie Benn on a 2-on-1 break and beat goalie Jaroslav Halak. The goal gave the Stars their first overtime victory in eight games this season.
Anders Lee tied it for New York with 2 seconds remaining in regulation when his shot from the left-wing boards hit defender Jordie Benn's skate and eluded goalie Kari Lehtonen.
Josh Bailey scored for the Islanders in the first period.
Brett Ritchie and Vernon Fiddler scored on third-period rebounds as Dallas rallied for a 2-1 lead. Lehtonen made 35 saves for the Stars, who were 0-4-2 in their previous six games.
Halak stopped 32 shots but the Islanders lost their second consecutive game.
March, 3, 2015
Mar 3
1:23
PM CT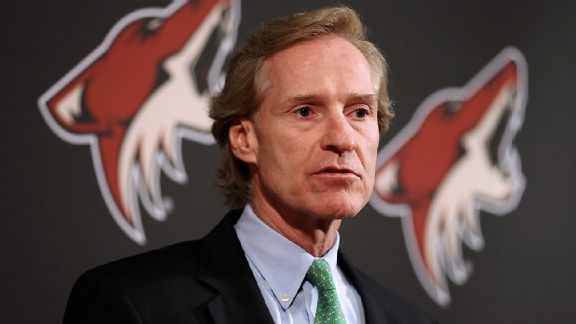 Christian Petersen/Getty ImagesCoyotes GM Don Maloney jump-started his team's rebuild process with shrewd moves at the deadline.
After the dust settled, the buzzer had finished buzzing and those final trades that trickle in after the deadline finally dried up,
Arizona Coyotes
general manager Don Maloney admitted it was good to be done with the process. The trade deadline is a stressful time for a club; it's intense.
It was a ton of work, and now the next couple of months for the Coyotes -- well, they could be miserable.
"I think you're being kind," Maloney said jokingly.
It's not going to be easy winning games without
Antoine Vermette
and
Keith Yandle
. Things weren't going particularly well when they were around, after all.
But during the course of the weekend and through Monday's deadline day, no team did more to improve its outlook than the Coyotes. It was dramatic, and the rebuild in Arizona was absolutely fast-tracked.
"You always hope so, No. 1," Maloney said Monday evening. "It may depend on how this draft goes and where we end up drafting. Obviously, if we draft very high in the top couple slots, that's when you can really jump-start this reset."
Even if they don't, the Coyotes loaded up on picks and prospects to join an organization that already has good young players coming, and a franchise defenseman in
Oliver Ekman-Larsson
.
Add Connor McDavid to Max Domi,
Anthony Duclair
, Maxim Letunov, Brendan Perlini and
Henrik Samuelsson
, and this won't be a five-year process. It may not be a two-year process. In all, the Coyotes added Letunov, Duclair,
John Moore
, a 2015 first-round pick, 2016 first-round pick, 2015 second-round pick and already had an extra third-rounder from the
Devan Dubnyk
trade with the Wild.
The deadline is usually about the contending teams loading up to win a Stanley Cup. That's usually the focus. But the Coyotes won the deadline. It might not have even been all that close.
Here's how the rest of the teams rank in their performance during the last few weeks of the trade season, and for those who missed any of my trade grades,
click here
.
2. Philadelphia Flyers
.
March, 2, 2015
Mar 2
9:39
AM CT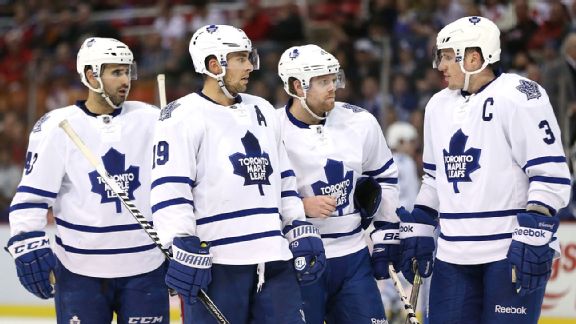 Leon Halip/Getty ImagesHow many of these players will remain Maple Leafs after Monday's deadline?
In the middle of Sunday's action, when picks were flying back and forth and everyone was still trying to figure out exactly what the price was for
Keith Yandle
, an Eastern Conference executive stopped to assess the situation.
"I think some of the prices that have been paid, for the players who have been acquired, are insane," he said.
Maybe it was frustration talking, but it wasn't exactly inaccurate.
The price of doing business is high. While you were sleeping, the Lightning sent a package that included a first- and third-round pick to the Flyers for
Braydon Coburn
. The Lightning could do it because GM
Steve Yzerman
has built up a wealth of good young players and extra draft picks with smart management.
To continue reading this article you must be an Insider
March, 1, 2015
Mar 1
10:02
PM CT
Associated Press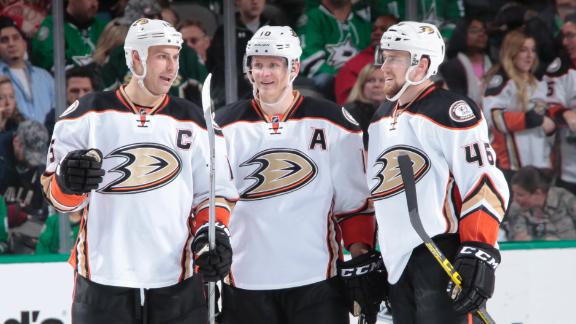 DALLAS -- Clayton Stoner scored the go-ahead goal in the third period with his first of the season, and the Anaheim Ducks beat the Dallas Stars 3-1 on Sunday night.
Stoner, who hadn't scored in his first 54 games, put a slap shot from the left point between the legs of Dallas' Jhonas Enroth. The goal was unassisted.
The game was tied at 1 before Stoner's goal at 4:19 of the third. Ryan Getzlaf increased the lead to 3-1 on a breakaway at 14:09.
Corey Perry and Ryan Getzlaf each had a goal and an assist for Anaheim. The Pacific Division leaders are 5-1 in their last six games.
John Gibson made 39 saves for the Ducks, while Enroth finished with 19.
Patrick Eaves scored on the power play for Dallas, which is on a six-game winless streak (0-4-2).
March, 1, 2015
Mar 1
9:08
PM CT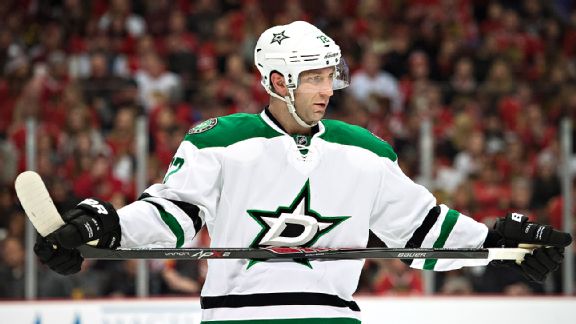 Icon Sportswire/AP ImagesForward Erik Cole, who has 15 even-strength goals, should bolster Detroit's offense.
Detroit Red Wings
get:
Erik Cole
, 2015 third-round pick
Dallas Stars
get: Mattias Backman, Mattas Janmark and a 2015 second-round pick
---
Detroit Red Wings:
B

The Red Wings are averaging 2.9 goals per game, which is No. 7 in the NHL. But they're a little reliant on a power play that is No. 1 in the league, and that's a hard way to win in the playoffs where power plays can dry up quickly. At even strength, the Red Wings average just 2.07 goals per 60 minutes, a total that is No. 23 in the league.
Cole will help.
To continue reading this article you must be an Insider
March, 1, 2015
Mar 1
6:50
PM CT
Associated Press
DALLAS -- The Stars traded forward Erik Cole to the Detroit Red Wings on Sunday night.
The Stars got center Mattias Janmark, defenseman Mattias Backman and a second-round pick this year for Cole and a conditional third-round pick.
Cole, 36, had 18 goals and 17 assists in 57 games for the Stars this season. He has 262 goals and 264 assists in 881 games with Carolina, Edmonton, Montreal and Dallas.
"This might be one of the best years he's had," Stars general manager Jim Nill said.
In 2011-12, Cole had 35 goals and 26 assists for Montreal.
"I was warming up for the game here, got pulled away and found out that a deal had been reached," Cole told Canadian sports network TSN. "I found a little after that I was going to be headed to Detroit. It should be a great experience with a great team that is in the playoffs."
Janmark and Backman, both 22, have not played in the NHL.
Detroit drafted Backman in the fifth round in 2011 and Janmark in the third round in 2013. They have played mostly in their native Sweden and logged some time with the AHL's Grand Rapids Griffins.
Nill was Detroit's assistant general manager when the Red Wings picked Backman 146th overall but was with the Stars when Janmark was drafted.
"I've seen Backman ever since we drafted him," Nill said. "He's very close to being an NHL-ready defenseman. Janmark plays the game the right way both ways. We look forward to getting him over here and seeing where his development's at."
This season, Janmark has 13 goals and 23 assists in 53 games for Frolunda in the Swedish Hockey League. Backman had four assists in 18 games at Grand Rapids, and has four goals and 12 assists in 23 games for Linkopings.
March, 1, 2015
Mar 1
12:07
PM CT
Associated Press
CALGARY, Alberta -- The Calgary Flames have claimed defenseman David Schlemko off waivers from the Dallas Stars and placed captain Mark Giordano on the injured list with an undisclosed upper-body injury.
Giordano, a front-runner for the Norris Trophy as the NHL's top defenseman, was listed as out indefinitely several days ago.
Giordano has 11 goals and 37 assists for 48 points. He is tied with P.K. Subban of the Montreal Canadiens for the league lead in points among defensemen.
Schlemko, a left-handed shooter, has nine goals and 41 assists in 212 career games with the Stars and Arizona Coyotes. He has a goal and three assists in 25 games this season.
February, 27, 2015
Feb 27
10:43
PM CT
Associated Press