December, 27, 2014
Dec 27
10:07
PM CT
Associated Press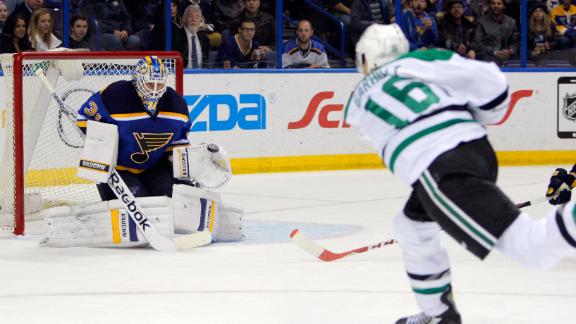 ST. LOUIS -- The Dallas Stars seized control with power-play goals from Trevor Daley and Jason Demers in the second period and held on to beat the St. Louis Blues 4-3 on Saturday night.
The Stars (15-14-5) have won five of their last six. Dallas had a four-game win streak snapped with a loss to Toronto on Tuesday.
The Blues (21-11-3) have lost four straight games. They lost in Los Angeles, San Jose and Colorado during a recent three-game road trip.
The Stars scored just 2:08 into the first period after Blues goalie Jake Allen misplayed a puck behind the net and Travis Moen shot it into an open net for his first goal of the season.
The Blues answered 27 seconds later when Alex Pietrangelo's shot went through Kari Lehtonen's pads.
The Stars took the lead with 5:14 left in the first period after Ryan Garbutt took advantage of a turnover in the Blues defensive zone and beat Allen with a slapshot to make it 2-1.
December, 24, 2014
Dec 24
7:29
PM CT
Associated Press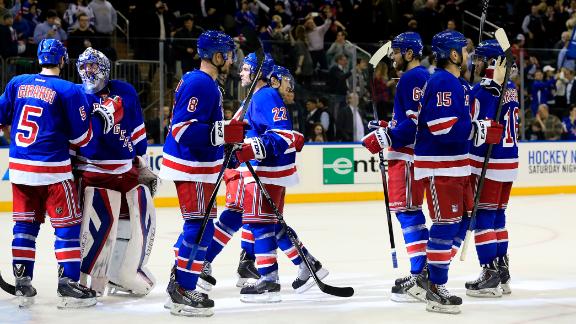 NEW YORK -- It took 141 regular-season games and one extra day for Rick Nash to get his first hat trick with the New York Rangers.
A little help from the NHL official scorer on Christmas Eve made it so.
About 12 hours after the Rangers beat the Washington Capitals on Tuesday night, Nash was credited with his third goal of the game on Wednesday morning.
Nash gave New York a 1-0 lead in the first period and a 3-0 edge 5:12 into the third. He was originally given an assist on a power-play goal awarded to Martin St. Louis that made it 4-2 with 3:48 remaining, but it was determined that St. Louis didn't touch the puck.
Nash was the last Rangers player to get his stick on it before Capitals goalie Braden Holtby knocked the puck into the net with his glove.
In 32 games this season, Nash has 23 goals -- two behind than NHL leader Tyler Seguin of Dallas. He notched only 26 in 65 games last season, his second with the Rangers.
December, 23, 2014
Dec 23
9:23
PM CT
Associated Press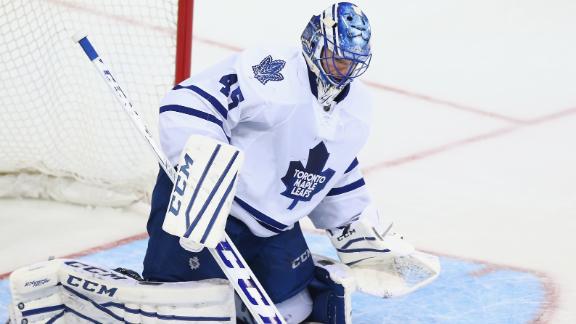 DALLAS -- Jonathan Bernier made 43 saves for his second shutout of the season, and the Toronto Maple Leafs beat the Dallas Stars 4-0 on Tuesday night.
James van Riemsdyk led a Toronto offense that ended a three-game losing streak with a goal and two assists.
The Stars' four-game winning streak ended when they were shut out for the first time since Jan. 9 at New Jersey.
Nazem Kadri opened the scoring with a goal 55 seconds into the game, and assisted when van Riemsdyk scored at 6:21 of the second period.
Phil Kessel had two assists, the second on Tyler Bozak's power-play goal at 10:30 of the second. Mike Santorelli finished the scoring with an empty-net goal at 16:09 of the third.
Bernier's save total was one short of his season high. He has nine career shutouts.
Dallas' Kari Lehtonen allowed three goals and stopped 22 shots.
December, 23, 2014
Dec 23
2:46
PM CT
Associated Press
BUFFALO, N.Y. -- Zemgus Girgensons feels a little sheepish discussing how fans back home in Latvia have clicked and quadruple-clicked his name so often that the Sabres forward is running away with the NHL All-Star Game vote.
The second-year player appreciates the overwhelming support he's received from the Baltic nation. And yet the 20-year-old Girgensons doesn't consider himself worthy of being included among the league's elite.
"It's a little bit embarrassing and funny at the same time," Girgensons said, before the Sabres hit the road for a two-game swing that concludes Tuesday at Detroit. "It came out of nowhere. I know people know me back home, but I didn't think it was going to go that far. That's like crazy far."
As of Tuesday, Girgensons has a league-leading 1,291,186 votes, with about 80 percent coming from Latvia.
The only limit on voting is fans can use the same device no more than 10 times a day.
Chicago's Patrick Kane (815,990 votes) is second among forwards, followed by teammate Jonathan Toews (803,034).
Blackhawks players hold down the three other remaining spots eligible to be selected by vote. Chicago's Duncan Keith (790,922) and Brent Seabrook (641,736) lead defensemen, and Corey Crawford (714,471) leads goalies.
With voting set to close Jan. 1, Girgensons is on the verge of clinching a spot to play in the All-Star Game at Columbus on Jan. 25.
"If I have to, it's awesome" said Girgensons, the only Latvian currently playing in the NHL. "It'll be satisfaction to the fans, really."
December, 23, 2014
Dec 23
3:10
PM CT
Tyler Seguin
is on a blistering offensive pace for the
Dallas Stars
. Through 32 games, he leads the NHL with 25 goals on 131 shots, tied for third most in the league. How is he doing it? He has a 19.1 shooting percentage, which is tops in the NHL among players with at least 100 shots.
Last season, Seguin shot 12.6 percent, which might lead some to believe that his current pace is unsustainable. However, there is evidence to show that Seguin may be able to sustain his current level of shooting.
Consider Seguin's 2013-14 Hextally shot differential chart, which is a map of where players are taking shots relative to their peers. According to war-on-ice.com, Seguin was good at getting shots in great scoring areas.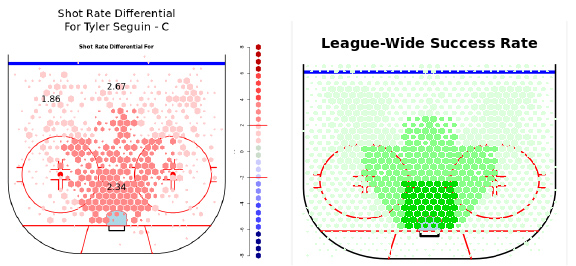 ESPN Stats & Analysis
While Seguin's Hextally chart shows that he was taking shots from scoring areas, he was still taking many shots from beyond prime scoring real estate, such as the high slot.
As the league-wide success Hextally chart shows, the best area to score is within the slot. This season, Seguin has taken his shots closer to the net with more frequency, producing a net relative shot rate of 3.56 from the slot, meaning he's shooting from high-scoring areas more frequently than the rest of the league.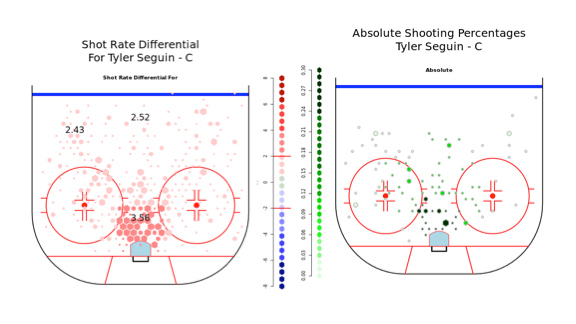 ESPN Stats & Analysis
Moving his game closer to the net has done wonders for Seguin's shooting percentage. In 2013-14, Seguin shot under 25 percent from everywhere on the ice, with his strongest success rate coming from the low slot. This season, Seguin is shooting upwards of 30 percent on shots from the slot area.
It is fair to believe that Seguin has had great fortune on his shots, as very few players that shoot as frequently as Seguin maintain such great shooting percentages. Among players with at least 200 shots last season,
San Jose Sharks
center
Joe Pavelski
led the league at 18.2 percent. Pavelski also plays Seguin's position at center and achieved it much in the same way Seguin has, with a 2.87 relative shot differential from the slot.
As Seguin improves at finding ways to get shots in the slot, he should continue to generate great opportunities to score. Seguin is currently on pace to score 64 goals, a number that hasn't been reached since
Alex Ovechkin
scored 65 for the
Washington Capitals
in 2007-08.
December, 23, 2014
Dec 23
11:27
AM CT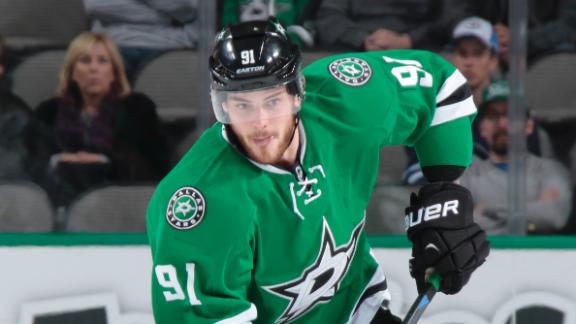 Tyler Seguin is on pace for 64 goals. Pretty disappointing season for him so far, I quip to the Dallas Stars center, which ignites a hearty laugh at the other end of the phone line.
"To be honest, it's a long year," Seguin said, the laughter turning to a serious tone, told ESPN.com Monday. "Obviously, I'm happy with my start. I've been thinking about shooting the puck more than I have in the past. Coming into this year, the biggest thing I was focused on is consistency, I didn't want last year just to be a fluke season, me coming out and finding myself in this league. I wanted to follow it up, so far I have, and I want to keep it going."
Um, I'd say.
Seguin leads the NHL with 25 goals in 32 games while also putting up 17 assists. Up next: the visiting Toronto Maple Leafs tonight, the team that as we all know could have selected the Brampton, Ontario, native in the June 2010 draft had they not traded away that pick to the Boston Bruins in the Phil Kessel deal in September 2009.
Kessel has been nothing but a scoring machine since arriving in Toronto. But seeing Seguin blossom into a veritable offensive superstar, one has to think at least some Leafs fans would take the younger sniper.
And yes, at just 22, Seguin chuckled when asked about the twists and turns already in his young career. Almost a Leaf. Just shortly a Bruin. Finally, a home in Dallas.
December, 23, 2014
Dec 23
12:03
PM CT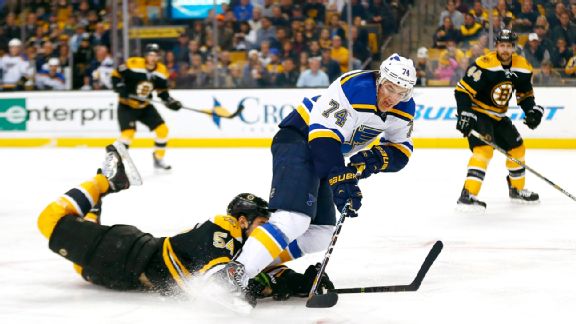 AP PhotoBlues forward T.J. Oshie is among the players who could be moved when the roster freeze is lifted.
On Dec. 27, the NHL's roster freeze is lifted, and general managers can return to trying to address their teams. Moves have been relatively quiet this season, but every day the trade deadline draws closer, the chances we'll see trades increases.
In January of last season, the pace picked up considerably with eight trades that month, twice as many as December. The Rangers did a nice job to pick up
Kevin Klein
for
Michael Del Zotto
last January, a move that's still paying dividends. The Oilers hoped to address their goaltending with a trade for
Ben Scrivens
. The Hurricanes and Maple Leafs swapped defensemen on the same day Toronto was playing in the Winter Classic.
It's quite possible that this January will be just as active.
So what are the needs of each team as GMs have a couple of days to gather their thoughts and formalize their game plans heading into trading season? Here's a look at the top need for all 30 teams:
Anaheim Ducks
We expect GM Bob Murray to aggressively pursue a top-four defenseman before the trade deadline, but what he does at forward may depend on whether or not
Matt Beleskey
stays productive. He currently has a gaudy 17.9 percent shooting percentage and has eclipsed his career high in goals (15). He's provided another scoring option on the wing and the depth up front the Ducks needed in the middle of their injury issues.
His teammate
Francois Beauchemin
thinks it can continue. "I think so," he said. "He has a great release and a great shot. He plays hard, which is what you want."
Arizona Coyotes
The Coyotes need an offer they can't refuse for
Keith Yandle
.
December, 22, 2014
Dec 22
10:53
AM CT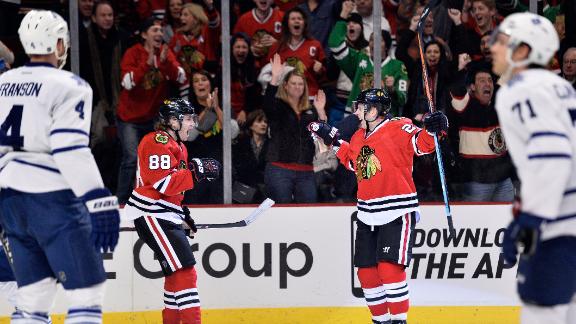 Trending up
Chicago Blackhawks: It's not just that the Hawks are winners in eight of their past 10 games, it's more the way the organization handles itself with heart and class. What a fitting tribute to the team's assistant equipment manager Clint Reif that the Hawks came out and delivered an emotional 4-0 victory against the Toronto Maple Leafs on Sunday. The team held a moment of silence for Reif, who passed away suddenly at the age of 34 this weekend, and put his initials on their helmets. After the win, they performed a stick salute at center ice as one last nod to their fallen brother, who leaves behind a wife and four children. Well done, Chicago.
Calvin Pickard, Colorado Avalanche: The rookie goaltender has proved himself more than capable of taking the reins for the Avalanche while starter Semyon Varlamov has been on the shelf. On Sunday, that meant a 34-save effort against the Detroit Red Wings that allowed Pickard to pick up his fifth win of the season. The confident young netminder has made 109 saves over his past three starts and has posted a save percentage of .966 or higher in each one. Impressive.
Tyler Seguin, Dallas Stars: It was an amazing individual effort by Seguin in the Stars' come-from-behind, 6-5 shootout win over the Edmonton Oilers on Sunday. With his team trailing by three goals, the league's leading goal scorer tallied twice and set up the equalizer before Dallas prevailed in the shootout. Seguin, who recorded his fifth game this season with three or more points, continues to prove he is one of the league's most dynamic and dangerous young talents.
Trending down
Minnesota Wild: On any given night in the NHL, five goals should be enough to get you a win, right? Wrong, if you are the Minnesota Wild. Saturday's 6-5 loss to the Nashville Predators was the team's third straight, and it left the team frustrated heading into the last few days before the holiday break. Minny sits fifth in the Central Division, but the rising Stars now trail by only two points.
Arizona Coyotes: The Yotes have only two wins in the month of December, and both have come against the floundering Oilers. The team's penalty kill has been atrocious; it ranks 29th in the league with only a 75.2 percent success rate and has exposed an already-suspect goaltending duo as a serious weakness. Expect to hear Keith Yandle's and Antoine Vermette's names a lot once the league's trade freeze is lifted.
Injury report:
Varlamov's return: Although Pickard has earned himself an extended stint with the big club and likely has done enough to avoid a return trip to Lake Erie of the American Hockey League, it appears that Avalanche starter Varlamov will return from a nagging groin injury Tuesday against the St. Louis Blues. Head coach Patrick Roy told The Denver Post this weekend that he was "95 percent sure" Varlamov would play.
Brown shelved again: An already-injury-hampered season for San Jose Sharks forward Mike Brown took a turn for the worse this weekend as it was revealed he will miss the next four to six weeks with a broken right fibula, according to CSN's Kevin Kurz. Brown, who missed time earlier this season with a broken finger, suffered the injury in a game against the Oilers on Dec. 9.
Jets on the mend: The holiday break will be nice for a banged-up Winnipeg Jets blue line. Although Jacob Trouba and Mark Stuart are nowhere near a return, the surprising Jets should get Zach Bogosian and Tobias Enstrom back at some point in January.
What to watch for
Stop the bleeding: The Calgary Flames face a daunting test heading into the holidays as they travel to Los Angeles to take on the Kings before the break. Considered one of the pleasant surprises of the first few months of the season, the Flames have come back to earth a bit. Can they hang in there to remain part of the playoff picture out West?
Ilya in Anaheim: Ilya Bryzgalov's first start since signing with the Anaheim Ducks wasn't ideal, as he gave up six goals on 31 shots faced in a 6-2 loss to the Ottawa Senators. Have to wonder whether that was just the rust showing or whether his time in SoCal will be short-lived.
December, 21, 2014
Dec 21
8:17
PM CT
Associated Press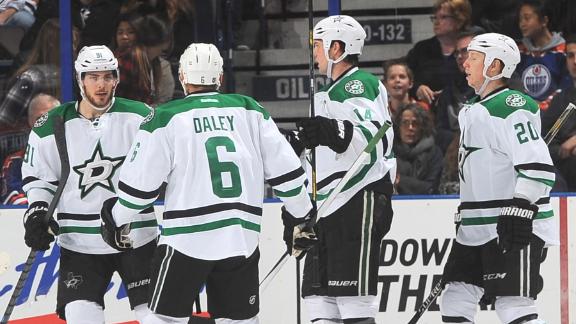 EDMONTON, Alberta -- Tyler Seguin had two goals and an assist, and then scored in the shootout to help the Dallas Stars beat the Edmonton Oilers 6-5 on Sunday night for their fourth consecutive win.
Shawn Horcoff had the winning score in the eighth round of the tiebreaker, and also collected his fifth goal in the first period. Erik Cole and Jamie Benn also scored in regulation for the Stars (14-13-5), who have won five of six.
Taylor Hall and Mark Arcobello each had two goals for the Oilers (7-20-7), who blew a 5-2 lead.
December, 19, 2014
Dec 19
11:09
PM CT
Associated Press
CALGARY, Alberta -- Jamie Benn had a goal and an assist as the Dallas Stars edged Calgary 2-1 on Friday night, the Flames' seventh straight loss.
Trevor Daley also scored for the Stars (15-10-4), while Kari Lehtonen, starting his fifth game in a row, made 21 saves.
After being held without a point Wednesday in the Stars' 2-0 win over Vancouver, Tyler Seguin had an assist to take over the NHL scoring lead with 39 points (23 goals, 16 assists). He is one point up on Evgeni Malkin and Jakub Voracek.
Mark Giordano scored for Calgary (17-15-2), which has lost seven consecutive games for the first time since its team-record 11-game skid in 1985-86. Jonas Hiller stopped 19 shots.