December, 22, 2014
Dec 22
10:53
AM CT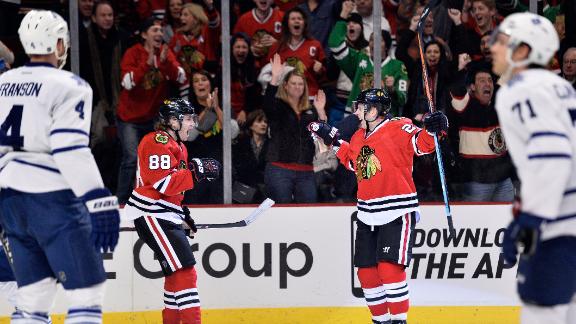 Trending up
Chicago Blackhawks: It's not just that the Hawks are winners in eight of their past 10 games, it's more the way the organization handles itself with heart and class. What a fitting tribute to the team's assistant equipment manager Clint Reif that the Hawks came out and delivered an emotional 4-0 victory against the Toronto Maple Leafs on Sunday. The team held a moment of silence for Reif, who passed away suddenly at the age of 34 this weekend, and put his initials on their helmets. After the win, they performed a stick salute at center ice as one last nod to their fallen brother, who leaves behind a wife and four children. Well done, Chicago.
Calvin Pickard, Colorado Avalanche: The rookie goaltender has proved himself more than capable of taking the reins for the Avalanche while starter Semyon Varlamov has been on the shelf. On Sunday, that meant a 34-save effort against the Detroit Red Wings that allowed Pickard to pick up his fifth win of the season. The confident young netminder has made 109 saves over his past three starts and has posted a save percentage of .966 or higher in each one. Impressive.
Tyler Seguin, Dallas Stars: It was an amazing individual effort by Seguin in the Stars' come-from-behind, 6-5 shootout win over the Edmonton Oilers on Sunday. With his team trailing by three goals, the league's leading goal scorer tallied twice and set up the equalizer before Dallas prevailed in the shootout. Seguin, who recorded his fifth game this season with three or more points, continues to prove he is one of the league's most dynamic and dangerous young talents.
Trending down
Minnesota Wild: On any given night in the NHL, five goals should be enough to get you a win, right? Wrong, if you are the Minnesota Wild. Saturday's 6-5 loss to the Nashville Predators was the team's third straight, and it left the team frustrated heading into the last few days before the holiday break. Minny sits fifth in the Central Division, but the rising Stars now trail by only two points.
Arizona Coyotes: The Yotes have only two wins in the month of December, and both have come against the floundering Oilers. The team's penalty kill has been atrocious; it ranks 29th in the league with only a 75.2 percent success rate and has exposed an already-suspect goaltending duo as a serious weakness. Expect to hear Keith Yandle's and Antoine Vermette's names a lot once the league's trade freeze is lifted.
Injury report:
Varlamov's return: Although Pickard has earned himself an extended stint with the big club and likely has done enough to avoid a return trip to Lake Erie of the American Hockey League, it appears that Avalanche starter Varlamov will return from a nagging groin injury Tuesday against the St. Louis Blues. Head coach Patrick Roy told The Denver Post this weekend that he was "95 percent sure" Varlamov would play.
Brown shelved again: An already-injury-hampered season for San Jose Sharks forward Mike Brown took a turn for the worse this weekend as it was revealed he will miss the next four to six weeks with a broken right fibula, according to CSN's Kevin Kurz. Brown, who missed time earlier this season with a broken finger, suffered the injury in a game against the Oilers on Dec. 9.
Jets on the mend: The holiday break will be nice for a banged-up Winnipeg Jets blue line. Although Jacob Trouba and Mark Stuart are nowhere near a return, the surprising Jets should get Zach Bogosian and Tobias Enstrom back at some point in January.
What to watch for
Stop the bleeding: The Calgary Flames face a daunting test heading into the holidays as they travel to Los Angeles to take on the Kings before the break. Considered one of the pleasant surprises of the first few months of the season, the Flames have come back to earth a bit. Can they hang in there to remain part of the playoff picture out West?
Ilya in Anaheim: Ilya Bryzgalov's first start since signing with the Anaheim Ducks wasn't ideal, as he gave up six goals on 31 shots faced in a 6-2 loss to the Ottawa Senators. Have to wonder whether that was just the rust showing or whether his time in SoCal will be short-lived.
December, 21, 2014
Dec 21
8:17
PM CT
Associated Press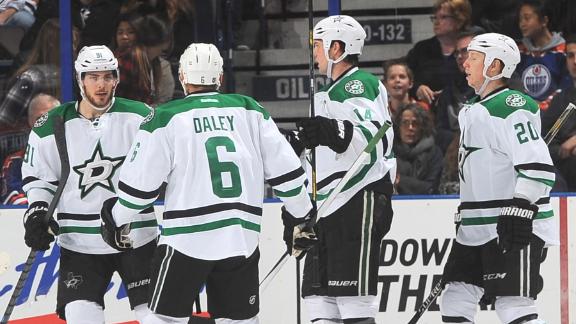 EDMONTON, Alberta -- Tyler Seguin had two goals and an assist, and then scored in the shootout to help the Dallas Stars beat the Edmonton Oilers 6-5 on Sunday night for their fourth consecutive win.
Shawn Horcoff had the winning score in the eighth round of the tiebreaker, and also collected his fifth goal in the first period. Erik Cole and Jamie Benn also scored in regulation for the Stars (14-13-5), who have won five of six.
Taylor Hall and Mark Arcobello each had two goals for the Oilers (7-20-7), who blew a 5-2 lead.
December, 19, 2014
Dec 19
11:09
PM CT
Associated Press
CALGARY, Alberta -- Jamie Benn had a goal and an assist as the Dallas Stars edged Calgary 2-1 on Friday night, the Flames' seventh straight loss.
Trevor Daley also scored for the Stars (15-10-4), while Kari Lehtonen, starting his fifth game in a row, made 21 saves.
After being held without a point Wednesday in the Stars' 2-0 win over Vancouver, Tyler Seguin had an assist to take over the NHL scoring lead with 39 points (23 goals, 16 assists). He is one point up on Evgeni Malkin and Jakub Voracek.
Mark Giordano scored for Calgary (17-15-2), which has lost seven consecutive games for the first time since its team-record 11-game skid in 1985-86. Jonas Hiller stopped 19 shots.
December, 18, 2014
Dec 18
12:00
AM CT
Associated Press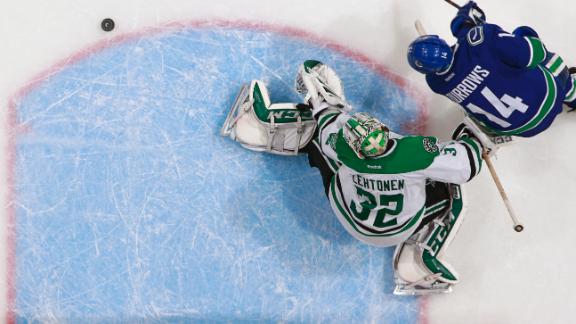 VANCOUVER, British Columbia -- Kari Lehtonen made 27 saves for his second shutout this season and the 29th of his career as the Dallas Stars defeated Vancouver 2-0 on Wednesday night to extend the Canucks' losing streak to five games.
Colton Sceviour and Antoine Roussel, into an empty net, scored for the Stars.
Eddie Lack stopped 27 shots for Vancouver. Lack started for the first time since Dec. 7 in place of No. 1 goalie Ryan Miller, who gave up five goals on 23 shots in a 5-1 loss to the New York Rangers on Saturday.
Lehtonen has four wins this month but came in with a 3.10 goals-against average on the season.
Sceviour opened the scoring at 2:53 of the second period when his backhand shot deflected off the back of Lack's glove and into the net.
December, 16, 2014
Dec 16
3:12
PM CT
Associated Press
BUFFALO, N.Y. -- Latvia is in love with Buffalo Sabres forward Zemgus Girgensons, who remains the runaway leader in the NHL All-Star Game fan vote.
The second-year player had nearly 1.1 million votes Tuesday. That's nearly double the total of each of the next two forwards: Chicago's Patrick Kane (586,310) and Jonathan Toews (573,198).
Girgensons' total is more than half the 2 million population of his native Latvia, where the NHL says he's attracted more than 80 percent of his votes.
The only limit on voting is fans can use the same device no more than 10 times a day.
The 2012 first-round draft pick leads Buffalo with nine goals and is second with 17 points.
Dallas forward Tyler Seguin leads the NHL with 23 goals and 38 points, but ranks ninth among forwards with 214,183 votes.
Voting ends Jan. 1. The game will be played at Columbus, Ohio, on Jan. 25.
December, 13, 2014
Dec 13
10:29
PM CT
Associated Press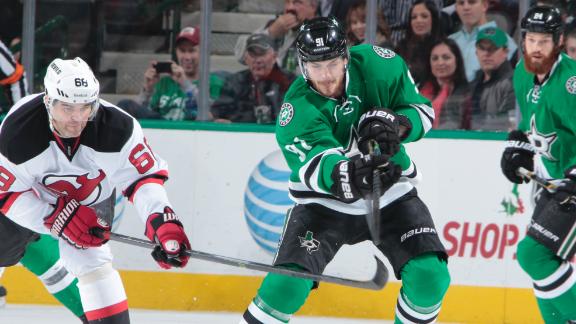 December, 12, 2014
Dec 12
4:01
PM CT
Associated Press
KAMLOOPS, British Columbia -- Dallas Stars owner Tom Gaglardi was fined $140,000 on Friday for polluting a lake during renovations on his Kamloops vacation property.
Gaglardi was found guilty on two counts of harmful alteration of a fish habitat for work done in 2010.
Gaglardi also owns the Western Hockey League's Kamloops Blazers and heads Northland Properties, which was convicted on the same charges. His father, Robert Gaglardi, was found not guilty.
Gaglardi refused to comment after sentencing Friday. Northland Properties lawyer Rob Toor said it's too early to say whether an appeal will be filed.
December, 10, 2014
Dec 10
6:27
PM CT
Associated Press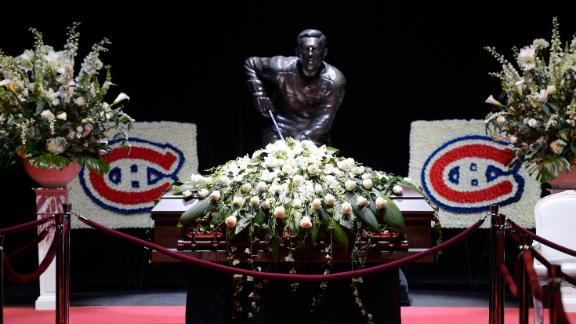 MONTREAL -- "Le Gros Bill" would have been touched.
Hundreds of fans, many clad in his famed No. 4 jersey, and a who's who of hockey stars and politicians paid an emotional farewell to Montreal Canadiens great Jean Beliveau on a snowy Wednesday.
The afternoon funeral for Beliveau, who died last week at 83, was held at Mary Queen of the World Cathedral and featured affectionate eulogies from former Canadiens teammates Dickie Moore, Yvan Cournoyer, Serge Savard and Ken Dryden, as well as Canadiens owner Geoff Molson.
"It is a tremendous honor to stand here for my teammate and friend, Jean Beliveau," Moore said. "Everyone has said so many wonderful words about him, words like strength, dedication, devotion and elegance. I was lucky to have been with Jean for many glorious years with the Canadiens, lucky to share amazing moments together, lucky to have him as a friend.
"Would you rather be good or lucky? I was lucky. He was good."
Canadian Prime Minister Stephen Harper was among those who attended the service, along with Gov. Gen. David Johnston, former prime ministers Jean Chretien and Brian Mulroney, Quebec Premier Philippe Couillard, and former Quebec premiers Jean Charest, Bernard Landry and Lucien Bouchard. Montreal mayor Denis Coderre and federal opposition leaders Justin Trudeau of the Liberals and Thomas Mulcair of the NDP also attended.
Moore was followed to the podium by Cournoyer, one of six pallbearers. Cournoyer spoke about Beliveau in revered tones as his "captain" and described what he called almost a father-son relationship with the late icon.
"Oh captain, my captain, bon voyage," Cournoyer said, his voice choking.
Dryden recalled being Beliveau's roommate toward the end of the 1970-71 season when the big goaltender was an NHL rookie.
December, 9, 2014
Dec 9
10:29
PM CT
Associated Press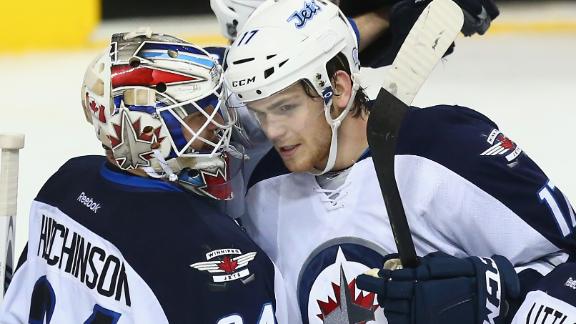 DALLAS -- Winnipeg rookie Adam Lowry scored twice in the second period to lead the Jets to a 5-2 victory over the Dallas Stars on Tuesday night.
Mathieu Perreault, Blake Wheeler and Michael Frolik also scored for Winnipeg, and Michael Hutchinson stopped 26 shots.
Tyler Seguin had his NHL-leading 22nd goal and Antoine Roussel also scored for Dallas.
Lowry's first goal broke a 2-all tie as his low shot got past Trevor Daley's sliding block attempt and between Stars goalie Kari Lehtonen's legs at 7:22 of the second.
The Stars then pulled Lehtonen, and Lowry scored on a rebound against backup Jussi Rynnas at 9:41.
Frolik's short-handed goal with 40 seconds remaining in the period capped the scoring.
Lehtonen stopped 14 of the 17 shots he faced, and Rynnas finished with 13 saves on 15 shots as the Stars dropped to 0-7-3 against Central Division opponents.