July, 22, 2014
Jul 22
11:23
AM CT
ESPN.com news services
[+] Enlarge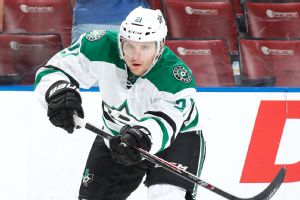 Joel Auerbach/Getty ImagesThe Stars rewarded Antoine Roussel with a four-year contract after his solid second NHL season.
The Dallas Stars agreed to a four-year contract with forward Antoine Roussel on Tuesday, the team announced.
Financial terms of the deal were not disclosed but a source told ESPN.com's Pierre LeBrun the deal is worth $8 million total.
The 24-year-old Roussel posted career highs in games played (81), goals (14), assists (15), points (29) and penalty minutes (209) in 2013-14, his second NHL season. He was the only player in the league to have 25 or more points and at least 150 penalty minutes.
In the playoffs, the 6-foot, 200-pound native of Roubaix, France, had three assists, four shots and 27 penalty minutes in six games.
"Since coming into the NHL, Antoine has been a very effective and hard player for opposing teams to compete against," Stars general manager Jim Nill said in a statement. "His skill combined with his competitive grit create energy for our club that impacts our whole lineup."
July, 18, 2014
Jul 18
3:25
PM CT
Associated Press
PITTSBURGH -- The Pittsburgh Penguins have hired seven-time All-Star Mark Recchi as the franchise's player development coach.
The 46-year-old Recchi will be in charge of working with prospects throughout the minor leagues as well as at the college and junior levels.
Recchi spent the last two years as a senior adviser with the Dallas Stars. He scored 577 goals during a 22-year career that included stints in Pittsburgh, Philadelphia, Montreal, Boston and Carolina. Recchi won a Stanley Cup with the Penguins, the Hurricanes and the Bruins. He retired after the 2011 season.
July, 10, 2014
Jul 10
4:44
PM CT
ESPN.com news services
ST. LOUIS -- The St. Louis Blues have re-signed forward Steve Ott to a two-year contract.
The deal is worth a total of $5.2 million, sources told ESPN.com's Pierre LeBrun.
The 31-year-old Ott, who was acquired in the Ryan Miller deal from Buffalo, had three assists and 37 penalty minutes in 23 regular-season games. In six playoff games, he added two assists and 14 penalty minutes.
Ott had been the Sabres captain before the trade on Feb. 28. He's an 11-year veteran and a former 2000 first-round pick of the Stars.
Information from The Associated Press was used in this report.
July, 8, 2014
Jul 8
1:49
PM CT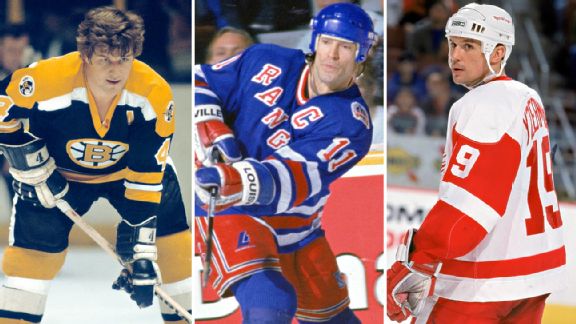 Getty ImagesWho's the best player from their respective franchises? Vote now!
Time to step up, people.
We want you to name your favorite player from your favorite team -- of all time. Not just this season, not just the past five years, not just that one time when they should have won the Stanley Cup but were robbed by a bad call. Of all time.
Columbus Blue Jackets
fans, you've got less work to do than, say, fans of the
Montreal Canadiens
. And keep in mind that the player is representing the franchise, not just the team.
New Jersey Devils
fans, don't forget about your complicated lineage.
Winnipeg Jets
fans, remember those long, hot winters in Atlanta. Etc.
So, who's it going to be? Bobby Orr,
Ray Bourque
or
Zdeno Chara
? Stan Mikita, Bobby Hull or
Jonathan Toews
? Marcel Dionne or
Jonathan Quick
?
Mike Modano
or Cesare Maniago? Yes, it's a tough gig, picking players from different positions and different eras. Who cares if Bobby Clarke had to finish his career wearing Cooperalls? The bottom line: Does he deserve to be named Mr. Flyer over Bernie Parent? Or
Eric Lindros
(wouldn't that be ironic)?
We need representation from all 30 teams, or it's just not going to work, so vote now and vote often. Vote for players on teams you love, vote for players on teams you don't.
You can cast your ballot in three ways: in the comments section below, through our
Facebook page
or, if you're hitting us up from the
Twitter
, use the hashtag #ESPNplayerNHL. We'll sift through all of the comments and isolate the most insightful and invective-free for a grand and provocative unveiling later in the summer.
The time for bellyaching is over. You can't complain if you don't vote. Now, go!
July, 4, 2014
Jul 4
3:32
PM CT
Associated Press
OTTAWA -- The Ottawa Senators signed veteran center David Legwand to a $6 million, two-year contract on Friday.
Legwand split last season between the Nashville Predators and the Detroit Red Wings. He had 51 points in 83 games.
The Detroit native played the first 15 seasons of his NHL career with Nashville before a March 5 trade sent him to the Red Wings. He has 577 points in 977 games.
"David is a good, veteran center, a guy that skates pretty well, gets up and down the ice," Senators general manager Bryan Murray said in a statement.
"We just think the way things shook out for us that having an experienced center that can be a decent faceoff man, be a good defensive player, get points, was very important at this time."
Ottawa needed a top-two center after trading Jason Spezza to the Dallas Stars on Tuesday for right wing Alex Chiasson, a draft pick and two prospects.
The Senators also re-signed defenseman Eric Gryba to a $2.5 million, two-year deal. Gryba had 11 points in 57 games last season.
Murray said the Senators "continue to talk" about a trade, adding "it's just a matter of if we can get satisfaction both ways."
July, 2, 2014
Jul 2
6:22
PM CT
Associated Press
DALLAS -- The Dallas Stars re-signed center Vernon Fiddler to a two-year, $2.5 million contract Wednesday.
The 34-year-old Fiddler will provide depth behind Tyler Seguin and Jason Spezza, who was picked up in a trade with Ottawa on Tuesday.
Fiddler had six goals and 17 assists in 76 games last season, when the Stars ended a five-year playoff drought and lost to Anaheim in six games in the first round. He has 77 goals and 129 assists in 656 games in 11 seasons with Nashville, Phoenix and Dallas.
The Stars also signed 22-year-old Brendan Ranford to a three-year entry-level contract. He spent his first pro season with the American Hockey League champion Texas Stars.
July, 1, 2014
Jul 1
9:53
PM CT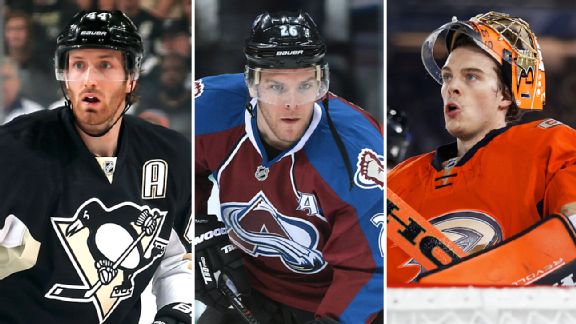 Getty ImagesThe new deals for Brooks Orpik, Paul Stastny and Jonas Hiller met with very different reactions.
The opening hours of NHL free agency were truly frenetic, with signings being announced in a flurry shortly after noon ET.
Some teams made their mark ahead of time -- the
Anaheim Ducks
and
Dallas Stars
made major upgrades down the middle by trading for
Ryan Kesler
and
Jason Spezza
, respectively -- but for the rest of the teams that made impact signings, it's time to grade just how well they did for themselves on Day 1.
Note that these grades reflect the talent and fit of the players signed, as well as the reported length and dollars in their deals.
Buffalo Sabres: C-plus

The Sabres are in the midst of a massive rebuilding project under GM Tim Murray, but it was important for him to surround the young talent with veteran leaders who can help break them in to the NHL. In former Canadiens captain
Brian Gionta
(three years, $12.75 million) and
Matt Moulson
(five years, $25 million) the Sabres have done exactly that.
Neither player is the kind of impact player who is going to put the Sabres in any danger of spoiling the Connor McDavid sweepstakes, but both are quality players and individuals who will help Ted Nolan instill a professional culture in Buffalo. The Sabres also inked
Andrej Meszaros
to a one-year deal that's a pricey $4.125 million. On the bright side, he gives them more trade ammunition at the deadline.
Calgary Flames: C

The
Deryk Engelland
contract (three years, $8.7 million) was immediately criticized, considering he's a borderline No. 6 defenseman on a good team. That's a lot of dough for that kind of player, but at the same time, the reality is that teams in Calgary's position have to pay a premium to land anyone on the first day of free agency, and there was competition for his services.
"There are lots of teams after him," said one source close to Engelland on the eve of free agency. And, he certainly fits the truculent identity Brian Burke and GM Brad Treliving are trying to build in Calgary, along with bringing strong character. The Flames may not make the playoffs, but they'll be miserable to play against. Landing a starting goalie in
Jonas Hiller
on such a short term (two years at a total of $9 million) helps make up for the questionable Engelland deal.
Chicago Blackhawks: A

Considering the high price his counterparts paid to address their needs at center, Chicago GM Stan Bowman deserves credit for bringing in
Brad Richards
on a one-year deal worth just $2 million.
July, 1, 2014
Jul 1
8:47
PM CT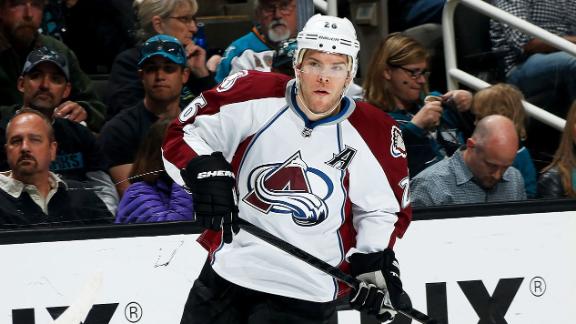 The
St. Louis Blues
made quite the splash Tuesday, signing the most coveted center on the unrestricted free-agent market,
Paul Stastny
.
Just imagine had they also traded for
Jason Spezza
on top of that?
That's exactly what the Blues would have attempted had the
Ottawa Senators
not dealt him so early in the day.
The priority in St. Louis was to make sure Stastny was going to sign there, but a source told ESPN.com the Blues would have also circled back to the Senators after that to inquire about what it would take to get Spezza as well.
Go big or go home, right?
At the end of the day, I'm not convinced the Blues would have offered as impressive a package as the Stars did, so the Senators probably made the right decision to trade with Dallas.
More on the Stars later. But let's finish up with the Blues first. Major kudos to GM Doug Armstrong for sticking to his guns on not signing any contract past four years with Stastny. That was really important to Armstrong, but it's hard to have that kind of self-control on July 1 when sometimes your emotions get the better of you with all the money flying around the NHL. He gave Stastny top dollar, averaging $7 million per year, but was able to get the term he wanted at four years, buying exactly the best four years of Stastny's career from age 28 to 32. That's mighty impressive.
At the end of the day, Stastny could have gone elsewhere for more term, but the Blues were the runaway front-runners if he was going to leave Colorado. He grew up in St. Louis and had long ago made that club a target if he couldn't say with the Avs. He didn't stay because Colorado just couldn't move enough on term or salary to ever really come close.
Now the Blues will likely feature a top line of Stastny between Alex Steen and
David Backes
.
Stastny wasn't the only free-agent center signed on this day by St. Louis. While it didn't get nearly as much fanfare, the Blues were through-the-roof delighted to get Jori Lehtera to finally sign and leave overseas, where he has been a consistent top point producer in the KHL and before that the Finnish League. The Blues drafted him in 2008 but failed in a few attempts to get him to come over. Now he's arriving as a matured, 26-year-old pivot who may turn some heads next season.
And those stars …
So in a league where team execs will always tell you it's impossible to acquire top-end centers, Stars GM Jim Nill has picked up
Tyler Seguin
and Jason Spezza within 12 months.
"Jim Nill is doing an incredible job there," a rival GM said Tuesday night.
The funniest thing about the Spezza trade is that, as late as Saturday, Nill was under the impression that Spezza didn't want to go to Dallas. There was some miscommunication or confusion with Ottawa on that. Once that got cleared up over the weekend, Nill got back hard into the Spezza situation.
There had also been some dialogue with San Jose previously regarding
Joe Thornton
, but Jumbo still isn't ready to leave the Sharks. So Spezza certainly made plenty of sense for the Stars, who tried to keep up with a Western Conference arms race at center.
With
Ales Hemsky
also signed Tuesday, you've got yourself a
Jamie Benn
-Tyler Seguin pairing on the top line perhaps and Jason Spezza – Ales Hemsky on the second unit. Um yeah, there's a few goals there.
Blackhawks get Richards
Word is
Brad Richards
had solid interest from the
Philadelphia Flyers
and
New York Islanders
, but in the end he was really sold on having a chance to win another Cup with the
Chicago Blackhawks
.
Conversations with Hawks GM Stan Bowman and head coach Joel Quenneville over the past few days were all Richards needed to take a one-year flyer with the perennial Cup contenders.
To me, that's a great fit for both sides and a smart play by Bowman to make it work at $2 million.
Brodeur still waiting
Martin Brodeur
told us before free agency he knew he'd have to be patient once the market opened, and that patience is certainly being tested.
Tampa Bay was looking for a backup and spoke to Brodeur's camp, but then chose to go with
Evgeni Nabokov
.
The
Pittsburgh Penguins
talked to Brodeur's camp but couldn't make the money work, so they signed
Thomas Greiss
instead.
You have to believe there's room somewhere for the NHL's all-time winningest goalie, even at the age of 42, but it appears it's not going to be easy.
Habs deal GorgesS
It wasn't an easy few days for
Montreal Canadiens
GM
Marc Bergevin
after word leaked out of an attempted trade of
Josh Gorges
to Toronto, only to have the veteran defenseman block the deal to the Maple Leafs via his partial no-trade clause.
Word first leaked Saturday via TSN's Bob McKenzie and, while it produced angry comments from Gorges, the Habs hung in there with Toronto for a few days, allowing the Maple Leafs to try to convince Gorges to change his mind. Bergevin waited until Tuesday morning, but when he was told the answer was still no from Gorges (the Habs it appears would have gotten
Cody Franson
in return), Montreal quickly turned its attention to Buffalo and got a deal done for a second-round pick in 2016. The Canadiens eventually got their right-handed defenseman elsewhere when they signed
Tom Gilbert
.
Many Habs fans and even some Montreal players are not happy to see the popular Gorges go. But with four more years on his deal at $3.9 million per season, Bergevin and the Habs front office made a calculated yet unpopular decision that Gorges' play in the last two years of that deal would not warrant the cap hit, not to mention the necessity to open up more playing time on the left side of defense for youngster
Nathan Beaulieu
and
Jarred Tinordi
.
Said one Western Conference GM: "I think Bergy did the right thing even if it was tough to do. Gorges is a warrior, but those miles will catch up to him."
Meanwhile, another popular player also left town Tuesday: Habs captain
Brian Gionta
joins Gorges in Buffalo via free agency, signing a three-year deal worth $4.25 million per season. A source told ESPN.com the Canadiens didn't waiver from offering Gionta only a one-year extension, so that decision to leave was fairly simple for Gionta.
Between both veteran players, that's a lot of leadership out the door and certainly two players that teammates valued. I'd say the risk here isn't so much on the ice with these two departures, but rather off of it. There's a leadership void to fill.
Rangers sign Boyle
Dan Boyle
left "a lot" of money on the table from other teams, according to one source, in order to sign for $4.5 million per season over two years with the
New York Rangers
. Fact is, the allure of playing with old bud
Martin St. Louis
plus quarterbacking the Blueshirts power play made the Rangers the front-runners for Boyle.
Toronto, Tampa, Montreal and Detroit also had interest in Boyle.
July, 1, 2014
Jul 1
1:23
PM CT
ESPN.com news services
Veteran defenseman Stephane Robidas has signed a three-year deal with the Toronto Maple Leafs.
The deal is worth $9 million, a league source told ESPN.com's Craig Custance on Tuesday.
Robidas, 37, spent 11 seasons with the Dallas Stars before being shipped to the Anaheim Ducks at the trade deadline in March.
The well-respected defenseman suffered a broken leg this past season before his trade to Anaheim and reinjured his leg during the playoffs. He played in only three games for the Ducks in the postseason but drew significant interest on the open market when free agency began Tuesday.
TSN reported that Robidas is recovering well from the multiple fractures suffered this past season. He is reportedly skating already and anticipates being ready for training camp.
Robidas provides a boost to the Maple Leafs' back end, adding 14 years of experience to Toronto's defensive corps.
Information from ESPN.com's Katie Strang was used in this report.
July, 1, 2014
Jul 1
12:41
PM CT
Stars get:
Jason Spezza
, Ludwig Karlsson
Senators get:
Alex Chiasson
, Alex Guptill, Nicholas Paul and 2015 second-round pick
---
Dallas Stars: A+
When GM Jim Nill first arrived in Dallas, his immediate priority was strengthening the team down the middle. No easy task in a league where everybody from Anaheim to Winnipeg is looking to fortify their center position. Now, in just two offseasons, he's built a team that has
Tyler Seguin
centering the top line and Jason Spezza anchoring the second line. That's impressive.

He's done it without trading a single first-round pick, an important distinction for a GM who still believes he's building this team through drafting and player development.
Spezza has his flaws. For one, he has trouble staying on the ice and a player with a history of back problems comes with risk. Second, he was ill-suited as the captain of the Senators -- although this is something that won't be an issue in Dallas, where
Jamie Benn
has grown into the leader -- and isn't necessarily the strong two-way center other top centers are in the West. He's a rental, in that he's entering the final year of his contract, but even that has its advantages. Spezza has a $7 million cap charge, which isn't an issue for a team like the Stars who haven't been a cap team. But the final year of his deal carries an actual salary of just $4 million, no small consideration for a budget team in Dallas.
According to an NHL source, a contract extension with Dallas wasn't discussed as part of this deal. If it doesn't work out for whatever reason in Dallas, Nill can always spin him at the 2015 trade deadline, when contending teams will better be able to fit his high cap number because it will be pro-rated at midseason.
To continue reading this article you must be an Insider
July, 1, 2014
Jul 1
12:25
PM CT
Maybe you wondered if Jim Nill, who spent all of those years working behind the scenes with the
Detroit Red Wings
, would have the stuff to be a big-time NHL general manager on his own with the
Dallas Stars
.
Maybe you'll stop wondering now.
In one calendar year, Nill has stocked his team with two elite centers and has the Stars in a strong position to not just build on this season's surprise berth in the playoffs, but to make some noise next spring.
Nill followed his July 2013 acquisition of
Tyler Seguin
from the
Boston Bruins
in a blockbuster deal by acquiring disgruntled Ottawa center
Jason Spezza
on Tuesday, about an hour before the start of the free-agency period.
[+] Enlarge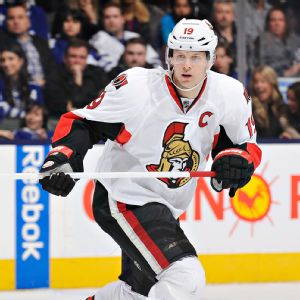 Graig Abel/Getty ImagesJason Spezza gives the Stars a potent 1-2 punch at center alongside Tyler Seguin.
The Stars sent
Alex Chiasson
, Alex Guptill, Nicholas Paul and a second-round 2015 draft pick to Ottawa, which continues to reshape its roster. The Senators have lost their past two captains in successive years, with
Daniel Alfredsson
signing as a free agent last summer with Detroit.
The Stars also got prospect Ludwig Karlsson in the deal.
Chiasson, a 6-foot-4 winger, looks to have the most upside of the group, enjoying a strong start in his rookie season with the Stars but cooling off in the second half, finishing with 13 goals and 35 points (including six power-play goals and four game-winners).
He'll presumably get a chance to play top-six minutes with a team that must redefine itself offensively. The Senators are coming off a disappointing season in which they missed the playoffs despite remaining relatively healthy. They made surprise postseason appearances in each of the previous two seasons.
The Stars, of course, get the best player in the deal in Spezza, the second overall pick in 2001 who had spent his entire career in Ottawa and had grown tired of playing there.
Still, the move doesn't come without question marks for Dallas. (Is there a deal of this magnitude that ever gets done without some questions about the players involved?)
Spezza has had injury issues, most notably back problems that limited him to just five regular-season games in the lockout-shortened 2012-13 season. He has played 80 or more games in a season just twice in his career.
Spezza remains a top talent, though, and has managed to collect 52 points in 56 postseason games. Those are numbers that will be important to the Stars, who pushed the
Anaheim Ducks
to six games in the first round of the playoffs this spring.
That series was instructive to Nill and Lindy Ruff, who was in his first year as the Stars' coach.
Teams in the Western Conference must have the goods down the middle if they're going to compete with the defending Stanley Cup champion
Los Angeles Kings
, and Anaheim struck pivot gold by acquiring
Ryan Kesler
from the
Vancouver Canucks
before the June 27 draft. Teams like the
Chicago Blackhawks
,
St. Louis Blues
and
Nashville Predators
have been scrambling to fill in down the middle as well.
The Stars began the draft period looking like it wouldn't be in the running for players such as Spezza, who identified 10 teams to which he wouldn't accept a trade.
And yet Nill and Ottawa GM Bryan Murray managed to get a deal done that gives the Stars a nice complement to Seguin, who blossomed with 37 goals (eight game-winners) last season after spending two tumultuous years in Boston, where the No. 2 overall pick in 2010 spent much of the time playing wing.
Now look around the Western Conference and contemplate these center combinations:
Anze Kopitar
and
Jeff Carter
in Los Angeles;
Ryan Getzlaf
and Kesler in Anaheim;
Logan Couture
and
Joe Thornton
(if he stays) in San Jose; and now Seguin and Spezza in Dallas.
In a matter of days, the balance of power has been dramatically altered in the West, home to a preponderance of the NHL's top teams.
Spezza has one year left on a deal that pays him just $4 million in real money but comes with a $7 million cap hit. Nill will presumably be looking to extend Spezza, but that's something to consider down the road. And if the Stars hit the skids, they could of course consider flipping Spezza at next season's trade deadline.
And let's be honest: Frankly, the Stars aren't quite there yet. But when you factor in Seguin, Spezza and
Cody Eakin
, who had 16 goals last season, the Stars' complement of centers is impressive. Throw in
Jamie Benn
(34 goals), emerging Russian talent
Valeri Nichushkin
and new signing
Ales Hemsky
(who played some with Spezza after going to Ottawa at the trade deadline last season) on the wings and the Stars will be able to go toe-to-toe offensively with most of the competition in the West.
Defensively, the team is still maturing and we must admit a certain ongoing skepticism about goalie
Kari Lehtonen
staying healthy enough to carry the Stars beyond the first round of the playoffs.
Still, as the free-agent market opens, there is little question the Stars are better than they were a few hours ago and are forcing teams to scramble for other options.
July, 1, 2014
Jul 1
10:40
AM CT
The Ottawa Senators have traded center Jason Spezza and prospect Ludwig Karlsson to the Dallas Stars for forward Alex Chiasson, prospects Nicholas Paul and Alex Guptill and a second-round draft pick in 2015.
Spezza had been on the trading block for weeks after requesting a deal from Ottawa, with both the Stars and St. Louis Blues emerging as two of the most aggressive suitors in acquiring the former Senators captain.
Stars general manager Jim Nill won that sweepstakes, adding one of the top centers available to a lineup that already boasts young pivot Tyler Seguin and star forward Jamie Benn.
The team also signed free agent forward Ales Hemsky on Tuesday to a contract reportedly worth $12 million over three years.
Hemsky and Spezza were briefly teammates in Ottawa last season.
"I'm thrilled because we had great chemistry at the end of the year," said Spezza. "So it's nice to hear. We got to know each other pretty well pretty quickly."
The 31-year-old Spezza is coming off a 23-goal, 66-point season for the Senators. He has recorded four seasons of 30 goals or more in his 11 years with Ottawa.
Spezza has one year remaining on a seven-year deal that pays him $7 million annually.
He was one of the top three centers that became available on the trading block leading up to what has already been a wild offseason.
July, 1, 2014
Jul 1
9:37
AM CT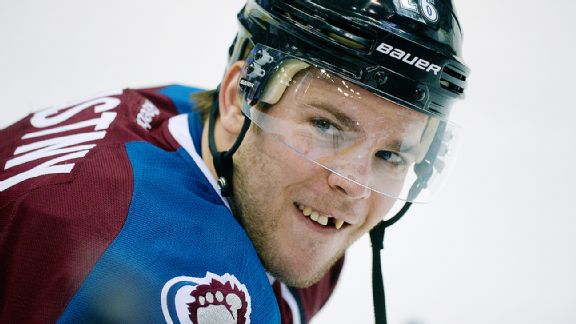 Karl Gehring/The Denver Post/Getty ImagesPaul Stastny's destination in free agency could shift the balance of power in the Western Conference.
Editor's note: This column posted prior to Paul Stastny agreeing to a four-year, $28 million deal with the Blues.
It's the one day a year teams that can close the gap on the NHL's best without giving up an asset outside of cap space. The prices today at the start of free agency are going to be inflated -- and GMs are going to be a little uneasy about it -- but that's how it goes when parity rules and there's a gap to erase between the best and those trying to catch them.
There's no better example of this than the battle to fortify the center position in the Western Conference. The
Los Angeles Kings
are set, with four high-end centers, anchored by
Anze Kopitar
. The
Anaheim Ducks
took care of their business early with the
Ryan Kesler
trade. The
Chicago Blackhawks
have an advantage simply because they have
Jonathan Toews
.
That leaves teams in the middle such as the
St. Louis Blues
,
Colorado Avalanche
,
Nashville Predators
,
Winnipeg Jets
,
Dallas Stars
and
Minnesota Wild
figuring out the best ways to counterattack these powerhouses down the middle.
Today becomes a critical day in that effort, with
Paul Stastny
in the middle of it.
Stastny is the best center available, the only one on the free agent market who can be in the same conversation as some of these other elite Olympians. Where he ends up could help shift the power of the West.
His agent, Matt Keator, has said he'll give the Avalanche the opportunity to match any offers out there, and Stastny loves playing in Colorado, so they still have that edge. If it's not them, the Blues are the other leaders. Chicago is a wild card if GM Stan Bowman decides he's willing to make the space for him.
That puts pressure on the other Western Conference teams to find a way to keep pace with the contenders at center.
"I can't control that part," said Stars GM Jim Nill, who is on the prowl for a center. "Of course, you have to keep up with them. Maybe our 'keeping up' is our kids getting better. We can't speed up our process. That's when we get in trouble. If I try to speed this up... that's where you get in trouble."
In Minnesota, GM Chuck Fletcher has a similar philosophy. He saw strides from
Mikael Granlund
and
Erik Haula
last season, and Haula played really well for the Wild in the playoffs.
[+] Enlarge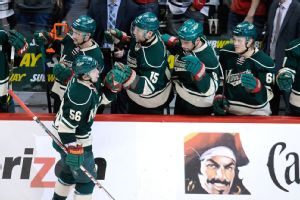 Hannah Foslien/Getty ImagesWild rookie Erik Haula had five points during the six-game series against the Blackhawks.
The Wild may close the gap, not by entering the arms race at center, but by strengthening the team around incumbents
Mikko Koivu
, Granlund and Haula. They have cap space, would like to add help on defense and for the right price (and term) will be in on
Thomas Vanek
.
The complication with the Wild is that they have restricted free agent contract negotiations coming over the course of the next couple years with
Nino Niederreiter
,
Jason Zucker
, Haula, Granlund,
Charlie Coyle
,
Jonas Brodin
and others. With
Zach Parise
and
Ryan Suter
already locked in long term, Fletcher will be trying to lure players without a big appetite to match some of the term other teams will offer.
"Our fear is going out too far with too many players, without knowing what the young guys are going to cost us," Fletcher said. "What exactly is the role? Last year by the end of the playoffs, we had Niederreiter and Coyle on the second line. We had Pominville and Parise on another line. If you're fitting someone in, how does that change our lines? There's a lot into this."
In Winnipeg, they made a bid for Stastny, but according to colleague Pierre LeBrun, didn't find themselves on the pared-down final list.
Like the others, GM Kevin Cheveldayoff is leaning on drafting and developing, but he's also open to being creative to find other ways to fill their need at center.
"You're looking at free agency, a lot of times those things aren't necessarily there for everybody. Someone might get the couple players that are there. You look at it from a trade perspective," Cheveldayoff said. "Sometimes you end up staring at it. It's something you're consciously trying to do, but there are only opportunities maybe to do it at different times. Nothing is ever final. You're always looking."
The Stastny domino is a key one, but there are a lot of other moving parts as free agency gets rolling at noon ET today:
• Vanek was offered some monster contracts from Buffalo and the Islanders, but has been insistent since day one that he's going to test the market. While the preference is always to go long-term for the player, that won't be a deal-breaker for him today. If there's a fit on a team Vanek is comfortable with, he's willing to go shorter on the term of the deal.
To continue reading this article you must be an Insider
June, 30, 2014
Jun 30
11:30
AM CT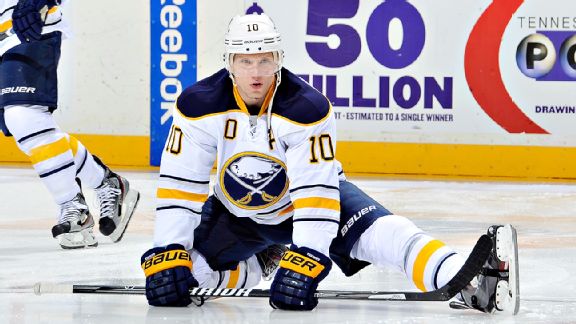 Frederick Breedon/Getty ImagesAfter being bought out, Christian Ehrhoff has risen near the top of many teams' shopping lists.
Initially unable to finalize a deal to send
Sam Gagner
to the
Arizona Coyotes
from Tampa Bay, Arizona GM Don Maloney came up with a plan with
Steve Yzerman
.
"I said, 'I'm going to have a beer. You have a glass of wine,'" Maloney said. "If you can come up with an idea, call me back."
Internally, the Coyotes concluded that if the
Tampa Bay Lightning
could retain enough salary on Gagner, he was the guy they wanted. But they couldn't do it otherwise.
A determined Yzerman made it happen. He kept one-third of Gagner's salary; that is better than buying him out, which was likely the other option.
And now, the question for Tampa Bay is this: What was all of this for?
With the trades, the Lightning have an additional $5.65 million in cap space after sending
Teddy Purcell
to Edmonton, Gagner and
B.J. Crombeen
to the Coyotes and
Nate Thompson
to the
Anaheim Ducks
. According to
CapGeek.com
, the Lightning now have $9.5 million in cap space, and that's before they put
Mattias Ohlund
on long-term injured reserve. In October, the Lightning will have even more flexibility.
It makes the Lightning one of the most fascinating teams to watch when free agency finally opens on Tuesday at noon ET.
A couple of factors may provide clues as to exactly what the Lightning are looking for. Colleague Pierre LeBrun reported that the Lightning made a push for the No. 1 overall pick before the draft in Philadelphia. It was the package that came closest to making Panthers GM Dale Tallon pull the trigger.
The prize of the draft was potential franchise defenseman Aaron Ekblad, who would give the Lightning a pretty darn good one-two punch with
Victor Hedman
and complements his style quite well.
The other factor, and it might have been absolutely coincidental, is that the Lightning cleared their cap space on the same day that defenseman
Christian Ehrhoff
became available.
The Sabres processed the buyout on the 31-year-old defenseman, and he immediately joined
Matt Niskanen
,
Anton Stralman
and
Dan Boyle
as the best defensemen available in free agency. For a weak class, those are pretty good options.
To continue reading this article you must be an Insider
Your request cannot be processed at the current time. Please check back as we will work to correct the problem as quickly as possible.
Please feel free to send us any comments or feedback.
Your request cannot be processed at the current time. Please check back as we will work to correct the problem as quickly as possible.
Please feel free to send us any comments or feedback.