Dallas Stars:

Dallas Mavericks
August, 8, 2011
8/08/11
3:00
PM CT
Here at ESPN Dallas, we are confident that our readers will
select the proper five inductees into our first Hall of Fame class
. Rounding out the ballot proved to be a more challenging proposition.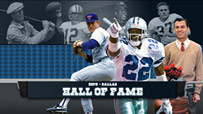 ESPN.com IllustrationLimiting the field of ESPN Dallas Hall of Fame candidates was no easy task.
A quick peek at the region's sports monuments and retired numbers got us started. We then included individuals who have been immortalized in their sport's hall of fame. Champions, MVPs, gold medalists and front-office contributors joined the list.
We searched for natives who left their mark elsewhere. Finally, we considered figures who had relatively brief but shining moments in the area -- think Jimmy Johnson and
Brett Hull
.
What began as a list of over 80 hopefuls in the spring was whittled down to an eclectic 30 in late July. Each panel member was then asked to submit his top 20, and six write-in candidates emerged.
The panel's tally gave us our 20 nominees without a need for a re-vote:
Left on the doorstep? Hall of Fame Cowboys
Michael Irvin
and Randy White, along with two-time AL MVP
Juan Gonzalez
of the Rangers, were among those who just missed the cut:
Even at 30 candidates, the list was far from complete and open to debate. As the Hall grows in coming years, you'll see an appearance of worthy candidates who flew under the radar. G.A. Moore, Texas' winningest high school football coach, won't be ignored for long. TCU legend Dutch Meyer, a two-time championship football coach, should receive consideration. So should gold-medal gymnasts Carly Patterson and Nastia Liukin.
As they say: Once a Hall of Famer, always a Hall of Famer.
June, 29, 2011
6/29/11
8:24
PM CT
By
Jeff Caplan
| ESPNDallas.com
Add a famous newcomer to the always power-packed lineup of celebrity athletes that will be on hand for the
ninth-annual Reebok Heroes Celebrity Baseball Game
at 6 p.m. on July 9 at Dr Pepper Ballpark in Frisco (7300 RoughRiders Trail).
Joining the famous faces of Mike Modano, Mark Cuban, Bradie James, DeMarcus Ware, Donnie Nelson, Everson Walls, Jason Witten and Dave Annabel, among others, will be none other than the Larry O'Brien Trophy, the NBA's championship trophy won by the 2011 Dallas Mavericks. In lieu of playing in the game, the trophy will stick around and pose with fans for pictures.
Tickets are $5, $7, $12 and $15 and are on sale at
Ticketmaster.com
(1-800-745-3000) or at the Dr Pepper Ballpark Box Office during office hours. Will call will open at 10 a.m. on July 9. Tickets also will be available at the door.
Money raised from the game will benefit the children's charities of The Heroes Foundation and The Mike Modano Foundation.
January, 5, 2011
1/05/11
10:48
PM CT
Game summary: Dallas 4, Chicago 2

The Dallas Stars scored three power play goals, and Kari Lehtonen made 35 saves in a 4-2 victory over the Chicago Blackhawks on Wednesday night. The victory was the sixth straight on the road for the Stars, who are 24-13-4 on the season.

Mike Ribeiro scored two power play goals, Brenden Morrow scored once with the man-advantage and Steve Ott scored an empty net shorthanded goal. Kari Lehtonen made 35 saves.

Notes

*The Stars are 14-5-3 in their last 22 games.

*The Stars are 9-2-1 in their last 12 road games.

*The Stars have scored four goals in each of their last four road games.

*The Stars have allowed 12 goals (2.00/game) during their six-game road winning streak.

*The Stars are 19-21 (90.5%) on the penalty kill over their last six road games.

*The Stars have scored on the power play in six of their seven road games and are 8-31 (25.8%) on the PP during that stretch.

*The Stars have 38 third period goals this season. Of those 38 goals, 17 have either tied the game or given the Stars the lead.

*Stars captain Brenden Morrow has scored 8 goals in the last 11 games.

Stars lineup

Neal-Richards-Eriksson
Morrow-Ribeiro-Benn
Wandell-Ott-Burish
Barch-Sutherby-Segal

Grossman-Robidas
Woywitka-Daley
Skrastins-Niskanen

Lehtonen
Raycroft (backup)

Scratches: Fistric
Injured: Petersen (soreness)

Power play units

Morrow-Ribeiro-Eriksson-Richards-Niskanen/Robidas/Daley

Penalty kill units

Burish-Sutherby-Skrastins-Robidas
Ott-Benn-Grossman-Robidas
Ott-Burish-Skrastins-Robidas
Ott-Benn-Grossman-Daley
Morrow-Ribeiro-Woywitka-Daley
Burish-Sutherby-Grossman-Robidas
Ott-Eriksson-Woywitka-Daley
November, 14, 2010
11/14/10
8:27
PM CT
By
Jeff Caplan
| ESPNDallas.com
Dallas Mavericks
owner Mark Cuban's name has come up again as being interested in taking the NHL's
Dallas Stars
off the hands of distressed owner Tom Hicks, that according to a report north of the border from John Shannon of Sportsnet.ca.
Cuban is interested in gaining full control of the American Airlines Center, something he could accomplish by owning both of the buildings' professional sports tennants. On Saturday night, Cuban reiterated his interest in the Stars for that reason, but he said little progress has been made toward a sale that would involve himself.
Cuban said he has been contacted and has had discussions with a half-dozen prospective ownership partners over about year's time, but he added via email, "None of whom are close to doing a deal because of the price tag."
"Nothing has changed," Cuban said. "I have always said I would talk to any interested buyer if I can get control of the arena. I continue to talk to all those that have come through, just as I have the last year."
Cuban and Houston businessman Jim Crane recently tried to purchase the
Texas Rangers
, but were outbid in an auction by the group headed by Nolan Ryan and Chuck Greenberg.