March, 13, 2011
3/13/11
12:17
AM CT
The
Dallas Stars
are on an eight-game points streak and they are on a streak within that streak. They are on an eight-game streak of scoring three goals or more, totaling 27 goals for an average of 3.4 per game.
The offensive run has coincided with the Stars getting healthy at the forward position over the past couple weeks. The Stars' depth at forward, which had been gutted by injury, has been back to full strength for the most part during this recent run and it's gotten better with the return of
Brad Richards
this past week. Now, opponents have to try to decide which of the Stars' big guns they are going to focus on with their top defensive players.
"Who do they try to shut down that night? It's tough," said Stars captain
Brenden Morrow
.
"I think one of the strengths of our club is we are a tough team to match up against," said Stars coach Marc Crawford. "Now that Brad is back, do they favor Brad, do they favor [
Mike Ribeiro
]? And
Jamie Benn
has scored at a really good level. Often times they all play on different lines."
Benn (6 goals), Ribeiro (4 goals) and
Loui Eriksson
(4 goals), who is Richards' linemate, have combined for 14 of the Stars' 27 goals over the last eight games, but the team is getting contributions from players down the lineup as well.
"Mentally it takes some of the pressure of those top two lines when you're getting depth," said Morrow. "You can't overlook those things."
Tom Wandell
has chipped in three goals over the last eight games.
Jason Williams
scored the game-winning goal in San Jose.
Tomas Vincour
scored a game-tying goal against Calgary that earned the team a crucial point. Ten different forwards have scored over the last eight games.
"It's great when that happens, especially this time of year. You need guys stepping up and getting the job done," said Stars defenseman
Trevor Daley
. "It can't be the usual suspects all the time. It's the right time for it to be happening.
And the Stars' defense has chipped in three goals and 15 assists during the last eight games, led by
Alex Goligoski
(one goal, six assists) and Daley (two goals, two assists).
Streaking Benn
Stars forward Jamie Benn enters Sunday's game riding a six-game goal scoring streak. It's the longest current streak in the league and tied for the longest streak in the league all season. Only
Michael Grabner
of the
New York Islanders
and
Daniel Cleary
of the
Detroit Red Wings
have scored goals in six straight games this season.
During Benn's run he's scored twice at even strength, twice on the power play and twice shorthanded.
Burish out Sunday
Stars forward
Adam Burish
will miss Sunday's game with a lower body injury, Stars coach Marc Crawford said after the team practiced in Euless on Saturday.
"He's out [Sunday] for sure," Crawford said. "It's from the blocked shot a few weeks ago. He's been playing with lots of pain. We're shutting him down for tomorrow and we'll see where he's at."
September, 10, 2010
9/10/10
7:35
AM CT
Stars coach Marc Crawford doesn't like to put numbers on his lines as in first, second, third and fourth, but he does know you need a total of four good lines these days if you are going to compete for a playoff spot.
"Your top guys end up playing a lot of minutes because of power play and penalty killing situations, but you need to be able to roll four lines in the Western Conference or you won't last the rigors of the season," Crawford said.
The process of putting together those four good lines will start at training camp in Prince Edward Island in a little more than a week. Nothing's definite yet and it will be a process. There are prospects that need to be evaluated and players need to be given a chance to show their stuff, but eventually those lines will start to take shape.
"When we get into games three, four and five that's when you start looking at guys in their actual roles. That's when you'll see it unfold a little bit more," Crawford said. "For the first week to ten days we want to see the other people and give them good opportunities to show us what they've got."
Crawford has some ideas on what he wants to try with his lines in camp and the preseason. One of them involves right wing
Jonathan Cheechoo
, who will attend camp on a tryout basis. The former 56-goal scorer will be given an opportunity to play on line with left wing
Brenden Morrow
and center
Mike Ribeiro
.
"We're hopeful that he finds lightning in a bottle and that he finds some instant chemistry with who we are going to play him with in training camp," Crawford said. "We can give him a pretty good center to play with and he's a scorer, so initially we are going to try him with Ribeiro and Morrow.
"You want to give a guy like that a great opportunity. Let's see if he can come in and do what he's done in the past. A good way to do that is to give him a good opportunity."
The opportunity given to Cheechoo on the Morrow-Ribeiro line will give the Stars another opportunity to line up
Jamie Benn
at center, where he played a lot last season when Ribeiro and
Tom Wandell
went down with injuries.
"Nothing is written in stone. We know that Jamie Benn with Morrow and Ribeiro works and we can quickly move to that, but we wanted to give Jonathan a good opportunity and we wanted to continue to see Jamie Benn at center. It allows us to do both those things, in training camp anyways. "
Benn is one option on the Morrow-Ribeiro line if Cheechoo doesn't work out.
Brandon Segal
is another, said Crawford.
The plan for now, however, is for Benn to play center and to be paired with
Steve Ott
on a line. And when it comes to his lines, Crawford is thinking pairs and then will try to see which of the remaining forwards will round out the trio.
"We're pretty committed to
Brad Richards
and
Loui Eriksson
.
James Neal
would certainly be there should he be there. If he's not, there's an opportunity for someone," said Crawford, referring to Neal not being signed to a contract yet. "We're committed to Ribby and Morrow. Otter and Benner is an experiment. It's training camp. We like [Adam] Burish and Wandell because we want more edge and determination.
"And the other guys –
Toby Petersen
,
Krys Barch
, Brandon Segal,
Brian Sutherby
and
Fabian Brunnstrom
– they are in the battle for those complementary positions."
And Crawford said he expects some of the team's minor league forwards, such as
Aaron Gagnon
, to push for spots as well.
July, 6, 2010
7/06/10
9:52
PM CT
By
Richard Durrett
| ESPNDallas.com
Mike Modano met with Detroit Red Wings general manager Ken Holland and coach Mike Babcock on Tuesday and must now decide if he wants to play.
"It's totally up to me," said Modano, 40, who was told by the Dallas Stars last month that they were moving forward without him. "We talked about my situation, what it would be, how I would fit in and the logistics of it all. It was good.
Modano said he still doesn't know what he wants to do and will take a few more days to sort it out. He said he wasn't sure what other teams may call, but at this point "it seems like Detroit or retirement, but we'll see."
Read details about the meeting
here
.
May, 7, 2010
5/07/10
8:00
AM CT
By
Richard Durrett
| ESPNDallas.com
As a reminder, you can see all of our player reviews on the Stars blog. These are just quick entries that talk about how each player did last year and a sneak peek on what we can expect next season.
[+] Enlarge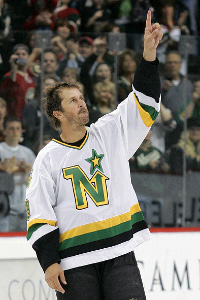 AP Photo/Andy KingMike Modano put on a North Stars jersey after the season finale in Minnesota, where his career started and may have ended.
Today's player:
Mike Modano
If Mike Modano did, in fact, end his career this season, it was a good way to go out. No, there wasn't any run at a second Stanley Cup (and a fourth Finals appearance). But
Modano had a memorable final home game
and then got a chance to skate around in
a North Stars jersey after the last game of the season in Minnesota
. It was emotional for Modano and many of his teammates.
Does Modano still have some game left as a 40-year-old next season? I think so. But the question is where he might fit in and what his job description would be. With the Stars' depth at center, it's tough to see how he fits in with Dallas. If he really wants to play, there could be a market out there for a veteran forward that can play on the power play.
It would be difficult to see Modano in anything but a Stars jersey. He's been with the same organization since he was drafted first overall in 1988. This season, Modano was moved around to a few lines and saw his ice time go down. He averaged 14:18 in ice time per game, down exactly four minutes from what it was in 2008-09.
Modano had 30 points this season and was minus-6. He had three power-play goals. Modano played with a variety of wingers and was even on the fourth line at times, too. With
Brad Richards
,
Jamie Benn
,
Tom Wandell
and
Mike Ribeiro
right now, it's tough to find a slot for Modano. If the Stars were to trade Ribeiro or other moves were made, maybe that changes things. But it's difficult to imagine where Modano fits in here.
The former Stars captain said he wants to take some time and think about things. He expects to make a decision at some point this summer on his future. The good news is that if Modano does end up retiring, he might not be leaving the organization. He's involved with Billy Quinn and Jim Lites in a group trying to purchase the Stars from Hicks Sports Group. No matter which group wins that bidding, you would think Modano will be involved in some capacity. And he wants to be.
So what do you think Modano will decide to do? What do you want to see him do?
May, 5, 2010
5/05/10
8:00
AM CT
By
Richard Durrett
| ESPNDallas.com
We are currently in the middle of our player reviews -- a brief look at the Stars' players from the past season.
[+] Enlarge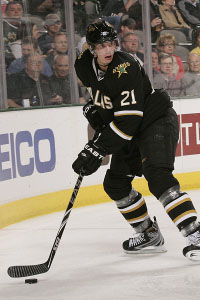 Glenn James/NHLI/Getty ImagesLoui Eriksson set career highs with 42 assists and 71 points last season.
Today's player:
Loui Eriksson
The 24-year-old left wing (he turns 25 in July) has continued to improve each season. After playing in all 82 games in 2008-09 and collecting 63 points, Eriksson was once again durable in 2009-10. He played in every game and had 71 points, including a team-high 29 goals. He had 36 goals in 2008-09.
Part of
Joe Nieuwendyk
's plan is to identify the young, core players he wants to build his team around. Eriksson is one of those. He benefitted from playing with
Brad Richards
for much of the season, but Eriksson took advantage of the opportunity. He has an ability to create space on the ice, knows how to find the shooting lanes and can make things happen.
He is also one of the best defensive forwards on the team, which makes him so well suited to play with Richards. He gives them the possibilty to construct a top line that can be better overall on the road next season. Opposing coaches would try to match their best offensive players against the Richards line, which forced coach Marc Crawford to move
James Neal
off that line at times. But Eriksson's ability to play well defensively means he and Richards are probably linked together for the forseeable future.
Eriksson also showed this season that he can play with the top players on an international scale. He was a solid contributor to Sweden's Olympic team and looks like a key player for them into the future.
Eriksson has shown he's capable of putting together big-goal seasons. Can he be a 40-goal scorer? Well, he had 36 just two seasons ago and in a Crawford system that puts an emphasis on scoring opportunities, it sure seems possible. Eriksson sure will be fun to watch in the coming seasons.
May, 4, 2010
5/04/10
8:00
AM CT
By
Richard Durrett
| ESPNDallas.com
The reviews of the forwards continue.
Today's player:
Fabian Brunnstrom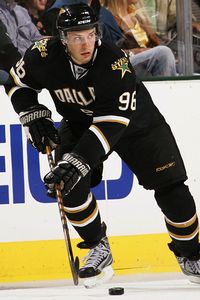 Glenn James/NHLI/Getty ImagesAfter a promising rookie season, Fabian Brunnstrom saw a decrease in playing time and production last year.
Do you remember when Brunnstrom was being courted by a gaggle of NHL teams, including Detroit? The thinking was that he was going to be a solid forward with a scoring touch. Brunnstrom chose Dallas with the promise of playing time at the NHL level. The left wing had 29 points in 55 games in 2008-09 with a minus-8. When the Stars had injuries during that season, Brunnstrom got increased power-play time and was playing as much as 15 minutes per game.
This was supposed to be a year where he showed even more. It just didn't happen. Overall, he struggled. He managed just 11 points (nine of them assists) in 44 games and found himself a healthy scratch often.
Brunnstrom was given the chance to win a spot on
Mike Ribeiro
's line in training camp and was beaten out by
Jamie Benn
. It wasn't the start to the season that the Stars expected from him.
He just didn't show the consistency to warrant increased playing time. He was beaten off pucks and his defensive presence was lacking at times. He appears to be a player who thinks too much instead of simply reacting.
It doesn't appear that Brunnstrom is a player, even at 25, who fits into the club's future plans. They have some options as to what they do with him next season. He's a restricted free agent, so the Stars could make a qualifying offer of about $900,000 and then try to trade him. Or they could keep him and see if something clicks next season. The other option is to not make an offer and let Brunnstrom become an unrestricted free agent. But if the Stars choose that last option, they'd get nothing for him. We'll see what they decide to do.
May, 3, 2010
5/03/10
8:00
AM CT
By
Richard Durrett
| ESPNDallas.com
We now turn our attention to the forward group in our player reviews. For previous reviews,
check out the Stars blog
right here on ESPNDallas.com.
Today's player:
Krys Barch
The 6-foot-1, 222-pound Barch isn't afraid to scrap it up with anyone. No, he isn't
Steve Ott
, who annoys opponents to know in with his creative language and underrated skill. But Barch is an imposing force with his body and he'll use it when necessary.
Barch was inserted into the lineup on the fourth line on those games that Stars coach Marc Crawford wanted a forceful, physical presence and ability to rough it up, if necessary.
Barch was second only to Ott in penalty minutes on the Stars in 2009-10 with 130. And he did it in 63 games. He did add six assists. Barch averaged about seven minutes of ice time per game, some of that time filled with throwing punches and getting into scraps. He did that job well, trying to pull his team into a more physical game or alter the momentum of things with a timely fight that worked the crowd.
Barch, 30, just completed his fourth season in Dallas. He played 72 games in 2008-09 and had 9 points, both career-highs in the NHL. He didn't have quite the same production this season, but he did see a little more ice time. It will be interesting to see what the Stars do with Barch. He's an unrestricted free agent and they must decide if they want his presence on the team as a depth forward next season or if they look at some other alternatives (and cheaper options of they're out there).
What did you think of Barch? Do you think he should return next season?