Dallas Stars:

Mark Fistric
March, 20, 2012
3/20/12
10:57
PM CT
DALLAS --
Dallas Stars
defenseman
Mark Fistric
left Tuesday's game with what the Stars said was an upper body injury. After the game, Stars coach Glen Gulutzan said it was a pulled muscle.
"We'll see how he responds tomorrow," Gulutzan said.
Fistric left the game early in the second period with the injury.
Stars forward
Jamie Benn
was skaken up a couple of times in the game, but Gulutzan said Benn appeared to be fine. Benn took an elbow to the head in the second period from Coyotes captain
Shane Doan
, but returned to the game.
In overtime, he went hard into the boards during a collision with Coyotes forward
Antoine Vermette
, but was back on the bench at the end of the game and took part in the shootout.
"He's a tough, tough kid. I haven checked on him. I don't know if it was his wind of whatever. They just told he would be back for the shootout," Gulutzan said. "I didn't see the hit (in overtime). I am assuming everything is fine."
February, 15, 2012
2/15/12
7:54
PM CT
FRISCO -- Defenseman
Mark Fistric
usually makes an impact every time he suits up for the
Dallas Stars
. The problem for Fistric is that doesn't guarantee he'll be sticking in the lineup.
Fistric's been back in the lineup the past three games and has played well. He was particularly strong in his first two games back – the shootout loss at Buffalo on Friday and in the 4-2 loss against Los Angeles on Sunday, playing his usual solid, physical game.
"He's real good in his D zone, he makes guys pay the price and he can clear the front of your net," said Stars coach Glen Gulutzan. "Those are his strengths."
Prior to playing these last three games, which coincided with
Sheldon Souray
going out of the lineup with a foot injury, Fistric had been a healthy scratch in five of the previous seven games. He's been scratched a total of 13 times this season. He missed three games due to a suspension as well.
When the Stars are healthy on defense these days, Fistric's status is often in question. And the numbers are tougher now with the team carrying eight defensemen and
Philip Larsen
now playing on a regular basis.
"I'd be lying if I said that it wasn't tough and a little bit frustrating at times," Fistric said. "You can understand it if you are not playing well and you are battling in and out. But I felt for the most part I've been playing my game and playing really well."
That's why it hasn't been an easy decision for the coaching staff to sit Fistric. Gulutzan admits it is a tough call, but added that it usually revolves the Stars needing a little more offensive pop.
"He's made a case for himself every time he's come in," Gulutzan said. "In early January, the only reason he came out is because we were trying to create some more offense. Fisty, by his own admission, is a real defender and we sometimes put guys in there to give ourselves a little more kick in the back as far as offensively. But defensively, he's a great penalty killer and he's a real physical guy."
Larsen is a guy who can bring a little more kick offensively and his insertion into the lineup has moved Fistric to the press box when everybody is healthy.
As for Fistric, he's just focused on playing his game when he's in the lineup and if he's not playing, he knows it has little to do with his performance.
"It's a numbers game," Fistric said. "The (coaches) let me know it's nothing against my game. It's just they feel they need a little offense or whatever they feel is going to help them win that night. … The healthy scratches are a little tough to take. In the end my main interest is the team winning. I want the Dallas Stars to have success and I'll do anything to make that happen."
Notes
*The Stars did not practice Wednesday. Some players were in Frisco to for treatment and the rest had the day off.
December, 5, 2011
12/05/11
1:51
PM CT
FARMERS BRANCH -- Stars defenseman
Mark Fistric
will have a phone hearing with NHL discipline czar
Brendan Shanahan
Tuesday at 2 p.m. Central Time. At issue will be Fistric's hit on
New York Islanders
forward
Nino Niederreiter
in Saturday's game in Dallas. Niederreiter suffered a concussion on the play, according to the Islanders.
"It's part of the game. It happens," said Fistric. "Well talk it over. I don't exactly know what is going to happen."
Fistric said he has watched the hit again on video.
"He had his head down and it's unfortunate that he was injured. You never want to see that," Fistric said. "It's the game of hockey, it's physical and it's contact. It's up to Shanahan."
Stars coach Glen Gulutzan said the issue for the league could be whether Fistric left his feet.
"I thought it was a good face up hit. I think there is going to be an issue there with the league, I'm sure, about the feet," Gulutzan said. "I can sit here and say that they didn't leave the ground, but the replay is going to show that they did. But there was no intent on Fisty's part. He's a hard hitting guy and it was face up. Sometimes with these hits, when they are bracing themselves to make the hit, your momentum is moving upward. That's how you hit whatever sport you're in - you bend your knees and you drive your legs. He got off the ground, so that will be up to the league to decide."
Injury notes: Morrow, Daley on target for Thursday return
Brenden Morrow
(back),
Trevor Daley
(back) and
Alex Goligoski
(broken thumb) all practiced with the team today at the Dr. Pepper StarCenter in Farmers Branch.
Morrow and Daley are on target to return when Stars play Thursday at San Jose.
"Dales will be a player for us come Thursday, so will [Morrow]," Gulutzan said. "That will be two guys back in our lineup for sure. Goose is very close, too, with his playing cast. We're getting there."
December, 4, 2011
12/04/11
2:37
AM CT
Stars defenseman Mark Fistric rocked Islanders forward Nino Niederreiter with a hard hit early in the game. Niederreiter didn't return due to concussion-like symptoms. There was no penalty call on the play, which didn't seem to faze Islanders coach Jack Capuano.
"No, they've got a tough job to do," Capuano said when asked if we upset if there was no call. "I don't know if he left his feet or if he didn't. It's a hit. It's part of the game and for the NHL officials to decide."
The Islanders' broadcast thought it should of been a penalty and poking around some message boards, Islanders fans feel the same way and are talking suspension, too. I'm sure Stars fans will see it another way.
The hit reminded me of the one Toronto's Luke Schenn put on Stars forward Tomas Vincour recently. People saw that one differently as well.
I didn't think Schenn's was worth a suspension and I don't think Fistric's is either. To me these were both full body hits that resulted in contact with the head. Last time I checked those were still legal in the NHL.
But the final say will go to the NHL's Brendan Shanahan.
Here are the videos of the two hits.
December, 8, 2010
12/08/10
12:26
PM CT
Defenseman Mark Fistric, who has been on IR with a groin/hip flexor injury, is heading to the Texas Stars of the AHL on a conditioning assignment. Texas plays in Rockford, Illinois on Wednesday.

Fistric, who has missed the last seven games, has one assist and a minus-1 rating in 16 games will Dallas this season.
October, 15, 2010
10/15/10
1:25
AM CT
The Detroit Red Wings are not happy with the hit by Stars defenseman Mark Fistric that took Johan Franzen out of the game in the first period of Thursday's 4-1 Dallas win at American Airlines Center.
Fistric hit Franzen in the corner in the Dallas defensive zone with just eight minutes left in the first period of the game. Franzen was down on the ice after the hit, eventually skated slowly off the ice and did not return to the game.
"He threw his elbow out there and hit me in the face," Franzen told the
Detroit Free Press
. "It was right in the face, nose, jaw."
There was no penalty called on the play, but Detroit coach Mike Babcock said he thought Fistric got an elbow up on Franzen.
"I thought the hit on Franzen was an elbow, but the beauty of my situation, unlike the referees on the ice, I have video, so I get to look at it," Babcock told the Free Press. "The league deals with that stuff, not me."
Franzen said he suffered a concussion, but Babcock said he wasn't ready to call it a concussion.
Here's video of the hit:
April, 12, 2010
4/12/10
12:05
PM CT
Before focusing on the playoffs, ESPN NHL Insider E.J. Hradek wanted to take one
parting shot at the 14 teams left behind
. He also singled out one guy who did his part in a lost season.
His comment on the Stars:
Loose defensive play and inconsistent goaltending will lead you to an early vacation. That was the case in Big D. Stars GM Joe Nieuwendyk will investigate the trade market during the summer. He'd probably be willing to deal a center like Mike Ribeiro or Brad Richards in the right scenario. The Stars could definitely use some experienced help on the blue line. Of course, the club's ownership situation -- which remains uncertain with Tom Hicks looking to move the club -- could change the dynamic for Nieuwendyk.

Don't Blame Me: Mark Fistric. Somehow, on one of the worst defensive team's in the league, the rugged 23-year-old defenseman finished with a terrific plus-27 rating. There was no one else on the roster close to that number. A first-round pick in 2004, Fistric won't thrill anyone with his puck-moving skill, but he's obviously doing something right as tough, stay-at-home type.
April, 6, 2010
4/06/10
10:49
PM CT
By
Dennis Hall
| ESPNDallas.com

The Stars looked like a team that was just going through the motions Tuesday night. Playing one of the NHL's top teams, the Stars couldn't match the effort and energy of the Blackhawks. The result was an ugly 5-2 loss.

The fallout:

*Defenseman Nicklas Grossman had one of his worst games of the season and earned a minus-4 rating. Stars coach Marc Crawford acknowledged as much in the postgame news conference, but he was not too displeased because Grossman has fought back through injuries to play some solid defense when the games actually meant something. Grossman actually played some shifts with Matt Niskanen tonight (intead of usual partner Stephane Robidas) as Crawford tinkered with the lines.

*Mark Fistric somehow ended up with a plus-1 rating for the game despite all the Chicago goals. Crawford marveled at Fistric's ability to keep piling up pluses (he's now plus-25 for the season) while his teammates are almost all minuses.

*Steve Ott scored his 20th goal of the season, setting a new career high. He had a typical Ott game: four shots and three hits. He even won 11 of 17 faceoffs.

*Goalie Matt Climie was satisfied with his performance in what could be just a one-game tryout. It's likely that he'll now head back to the Texas Stars and try to lead them to playoff success.

*Brad Richards had an assist to give him 91 points for the season, tying a career high. I'll have more on Richards tomorrow.
March, 19, 2010
3/19/10
7:00
AM CT
By
Dennis Hall
| ESPNDallas.com
OK, so we've pretty much extinguished any playoff talk with the Stars at this point. In fact, for the first time this homestand, coach Marc Crawford wasn't asked about the playoffs and didn't mention the playoffs at any point after Thursday's 3-2 loss to Philadelphia.
You can tell that the team has adjusted expectations based on the reaction in the locker room Thursday. Basically, it was perceived as a moral victory. The Stars did some good things in this game, yet came out on the losing end. If they were in the playoff hunt, that would be devastating. But since they're not, it was acceptable.
[+] Enlarge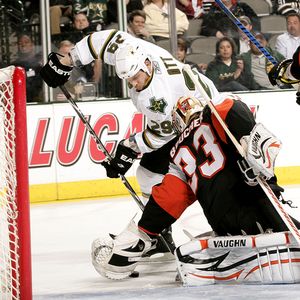 Glenn James/NHLI/Getty ImagesSteve Ott believes the Stars are playing good hockey, but the scoreboard -- and the Western Conference standings, where the Stars have slipped to 12th -- doesn't reflect it.
"I hate losing as much as anybody,"
Steve Ott
said. "But when there's pride in losing and character in losing -- that's what tonight was. Every single line I thought played well. ... The goaltender, Kari, played great. The D played good."
Ott is essentially echoing what Crawford has been saying throughout the homestand. The Stars are playing solid hockey, but the scoreboard doesn't always reflect it. They're now 2-6-1 since the Olympic break and have dropped from ninth in the Western Conference standings to 12th.
With 12 games left in the season, Crawford continues to challenge his players to perform at a high level. But now it's not about earning one or two points and trying to move up the standings. The result isn't as important as the effort.
"I thought we needed to have the same effort that we did against San Jose [an 8-2 win], and I think for the most part that we did just that," defenseman
Mark Fistric
said. "A few bounces didn't go our way, but I don't think we can be disappointed in the way we played."