Dallas Stars:

Penalty Kill
March, 12, 2012
3/12/12
12:00
AM CT
Keeping pucks out of their net has been a key factor in the Dallas Stars' current run, and a big help in that department has been the team's penalty kill. The Stars have allowed just one opposition power play goal during the team's 9-0-1 run that has pushed them to the top of the Pacific Division and the third seed in the Western Conference.
The Stars have killed 30 of 31 (96.8%) opposition power plays during those ten games, helping them climb from 18th in the league in penalty killing three weeks ago (81.6 percent) to 10th in the NHL (83.2 percent) after going 4-4 in Saturday's 2-0 victory over Anaheim.
"That's just commitment from those guys," said Stars coach Glen Gulutzan. "Vernon Fiddler,
Radek Dvorak
,
Adam Burish
,
Eric Nystrom
and Mike Ribeiro's killing a lot.
Steve Ott
and
Loui Eriksson
have been good. All our D have chipped in.
"Guys have just dug in. (Assistant coach) Paul Jerrard has kind of taken over in the second half and done a heck of a job with the PK. … The players have dug in, they block shots and the goaltending has been spectacular."
During those 31 power plays over the last 10 games, goalies
Kari Lehtonen
and
Richard Bachman
have combined to stop 50 of 51 shots for a shorthanded save percentage of .980. Lehtonen has stopped 45 of 46 shorthanded shots over his eight starts during the run.
"We're trying to keep a little more pressure early on. I think earlier in the season they were coming into our zone too easy. I think we've been able to clear the pucks much better," Lehtonen said. "Just giving more pressure I think. That just takes their time away, and they are not able to set up and make nice plays. That makes it more simple for me, too."
And that one power play goal the Stars have allowed over the last ten games was on a five-on-three situation against Minnesota.
They've gone ten straight games without allowing a five-on-four power play goal. The last five-on-four power play goal they've allowed was in the February 19 game against Nashville, which happens to be the last time they lost in regulation.
"I think we're pretty robotic now. We're all doing the same thing," Ott said of the team's work on the penalty kill. "We have a strong focus on faceoffs in our own end to know what we're doing. Our preparation I think is a lot better now. It just seems like everybody's continuing to roll. We know how long to stay out there. We know how to do the right plays. I think all those things are adding up to an easier penalty kill."
October, 18, 2011
10/18/11
12:13
AM CT
FRISCO -- It's early, but the Stars' penalty kill has been one of the bright spots so far this season. That's a different story from early last season.
Through the first five games the Stars are 25-28 on the penalty kill. They rank in the top ten in the league at 89.3 percent. Through the first five games last season they were 15-25 and ranked 30th at 60 percent. They finished at 80.1 percent, ranking 23rd in the league.
Improving the penalty kill was a priority this season and GM Joe Nieuwendyk's signings of forwards
Vernon Fiddler
and
Radek Dvorak
, two expert penalty killers were seen as key to turning things around when the Stars were shorthanded. So far, so good.
"Bringing in a guy like Vern Fiddler. He's a great faceoff guy and he starts off the penalty kill. [Radek Dvorak] as well. Both have tremendous experience," said forward
Steve Ott
, one of the team's key penalty killers. "Then you match those guys up with some of the forwards that were already killing penalties on our team and it makes for a real successful three to four rotation of penalty killers."
Loui Eriksson
,
Adam Burish
and
Jake Dowell
are among the leaders in shorthanded ice time among the forwards.
Some additions on the backend helped as well.
Sheldon Souray
has brought some size to the penalty kill unit.
"We've got some big bodies on defense like Sheldon, [
Mark Fistric
], [
Nicklas Grossman
] and [
Adam Pardy
]," said defenseman
Stephane Robidas
, who leads the Stars in shorthanded ice time. "We've got other guys like Trevor (Daley) and Alex (Goligoski), who are quick with good positioning. I think we have a good mix of guys who can do different things."
And then there is the most important penalty killer of all – the goaltender.
"Then you add
Kari Lehtonen
, our best killer," said Ott. "Let's be honest, he's making the saves."
Lehtonen has stopped 34 of 36 shots while the Stars are shorthanded for an impressive shorthanded save percentage of .944. But the players in front of him are doing a good job of limiting the quality chances.
"We're sticking to a very structured penalty kill. We've all had a lot of input on it, guys bringing it from their other teams," said Ott. "We've sat down and figured out what the best approach is and if we do our things really well what's going to make it hard on the power play group. Hopefully we can continue to outwork power plays and kill them off."
Stars coach Glen Gulutzan has credited associate coach Willie Desjardins and assistant coach Paul Jerrard for their work with the penalty kill this season.
"I think it's about being on the same page and knowing we need to do," said Robidas. "I think so far it's been good, but we've got to keep it rolling."
Lehtonen honored
Stars goaltender Kari Lehtonen was named the NHL's Third Star of the Week Monday. Lehtonen was honored for his 4-0-0 record, 1.48 goals against average and league-leading .955 save percentage.
Toronto's
Phil Kessel
was the First Star and
John Tavares
of the
New York Islanders
was the Second Star.
December, 28, 2010
12/28/10
12:30
AM CT
The penalty kill got off to a terrible start for the
Dallas Stars
this season, but over the last month it has been superb and has been a key factor in the team's recent run and climb up the Western Conference standings.
A few statistical notes on the Stars' penalty kill over the last month:
*The Stars are 55-62 (88.5%) on the penalty kill over the last 18 games.
*And it's been very good both at home and on the road during that stretch, going 27-31 (87.1%) in 10 road games and 28-31 (90.3%) in eight home games.
*The Stars have allowed power play goals in back-to-back games only once over the last 18 games and have not allowed a PP goal in 11 of the 18 games.
The keys to the PK's recent success vary, according to defenseman
Stephane Robidas
.
"There are a lot of different things," Robidas said. "Guys are willing to sacrifice their bodies. You see a lot of forwards blocking a lot of shots. They block a lot of shots from the middle, which is huge. When those shots get through from the middle that's when a lot of stuff can happen."
The Stars wanted to be more aggressive on the penalty kill this season and Robidas said they have been more in sync as units with that pressure as the season has moved along. He also said the PK has been better in some of the of the detail work.
"Just guys winning a faceoff so we can clear the puck right away," said Robidas. "Even though our clears at times aren't always great, we've been better to make sure it goes all the way down the ice. They have to go back and try to get back in and that takes the rhythm out of the power play. The power play doesn't like that when you have to go down twice, everybody has to change and everybody gets ticked off. That's when you start getting in their head a little bit."
And then there is the most important aspect of the penalty kill and that's the guy in the net and Robidas said
Kari Lehtonen
and
Andrew Raycroft
have been big parts of the turnaround on the Stars PK.
"Our goaltenders have been amazing," said Robidas. "Even if they get scoring chances, both Raycroft and Lehtonen have been amazing. Usually your best penalty killer is the goalie and that's been the case."
The penalty kill gave up 10 goals in the first five games and continued to struggle early in the season. Robidas said it was a doing a lot of good things but a break down here or there late in a kill often hurt the Stars.
Associate coach Willie Desjardins said the team stuck with the plan through the tough times and it has paid off in a turnaround.
"We have a lot of guys that buy in and it starts with your goaltender," Desjardins said. "When we were struggling we had a meeting about it and I asked Lehts if he had anything to add and he said, 'Yeah, I've got to be better.' When you have a guy like that stepping up and not pointing the fingers and not saying anything about anybody else and saying I've got to be better, he was good. It's not that there was a problem with him, he just shouldered it and he didn't need to. That's what makes it easy."
Notes
*Defenseman
Nicklas Grossman
and center
Tom Wandell
, who both missed Sunday's game due to illness, did not practice Monday. They are questionable for Tuesday.
*The Stars recalled center
Aaron Gagnon
from the Texas Stars Monday as a precaution because of some players feeling under the weather.
*Stars coach Marc Crawford said he expected to use both Kari Lehtonen and Andrew Raycroft in goal as the Stars play back-to-back games in Nashville Tuesday and at home against Detroit on Wednesday. He plans to announce which goalie will play which game on Tuesday.
Back-to-backs
This week's back-to-back games with the Predators and Red Wings will be the Stars seventh set of games on consecutive nights this season. They are 8-4-0 in those games so far with a 5-1-0 record in the first game and a 3-3-0 mark in the second game.
November, 4, 2010
11/04/10
11:31
PM CT
Statistically speaking the
Dallas Stars
penalty kill doesn't look that impressive. It's ranked 29th in the league at 71.4 percent. But the penalty kill has been showing signs of improvement and so have the numbers.
The Stars have not allowed a power play goal in four of their last six games and are 15-17 on the penalty kill during that stretch.
"If you look at the stats they are not that great, but we've done a lot of good things," said defenseman
Stephane Robidas
, one of the team's leaders in shorthanded minutes. "Overall, we've done a really good job and it's just a matter of sticking with the program and keep doing the same things."
Penalty killing was a sore spot last season and a major focus in the offseason. The Stars wanted to be more aggressive on the PK this season and they did well in the preseason, but they gave up ten in the first give games of the regular season, including three in one game and four in another. That hasn't helped the numbers for the season overall.
"I thought we were pretty solid in preseason but for whatever reason the numbers just weren't on our side the first couple games of the regular season," said forward
Toby Petersen
, who leads Dallas forwards in shorthanded ice time this season. "That lit a fire under us and we've done a good job since then of getting things straightened out, getting the right attitude and mindset mainly of being more aggressive. We're trying to not let guys set up, because guys at this level are so talented that if you give them time they are going to make plays."
The penalty kill came up big in Wednesday's 5-2 win over Pittsburgh, thwarting a five-on-three Penguins power play that last 1:37 it was a key turning point in the game. But Stars coach Marc Crawford said Thursday the five-on-four situation is where the Stars need to do most of the work.
"We're understanding more of how we have to kill and when we have to pressure," said Crawford. "We're pressuring with much more educated reasoning behind it this year and guys are building on the structure that we've got. You are going to give up chances and your goalie has to make saves. I like the process right now, the process is heading in the right direction. We want to keep building on it."
Tippett on the Stars
The Phoenix Coyotes come to town Friday for their first meeting of the season with the Stars. Coyotes coach Dave Tippett was asked about the Stars during his talk with Phoenix media on Thursday.
"I haven't watched much of them lately. I know they got off to a great start, their goaltender was playing very well and their top lines were contributing on a consistent basis. They are a good team," Tippett said. "I know a lot of those players well and they have some people that are high skilled people that if you make mistakes they are going to capitalize on them. They are a team that can be very dangerous."
TV change for Saturday
The Stars have announced a change to the TV coverage for Saturday's Dallas Stars at Colorado Avalanche game. The game, which was originally scheduled to be carried by KTXA at 8:00 p.m. CT, will now be shown on FOX Sports Plus. It will also be joined in progress on Fox Sports Southwest in the Dallas-Fort Worth market at the conclusion of the Oklahoma-Texas A&M football game.
Fox Sports Plus can be found on the following providers in the Dallas-Fort Worth area:
Time Warner – Channel 960
Charter Cable – Channel 300
DirecTV – Channel 677 (677-1 HD)
Dish Network – Channel 451
AT&T U-Verse – Channel 754 (1754 HD)
Verizon Fios – Channel TBD
If you are in an area outside the Dallas-Fort Worth market, the Stars have a list of providers and channels on the team's official site and you can find the
list by clicking here
.
October, 18, 2010
10/18/10
11:06
PM CT
The penalty kill numbers weren't pretty for the Dallas Stars coming into Monday night's game in Tampa Bay. By the time the game was over they were ugly.

The Stars were 1-5 on the penalty kill, giving up four power play goals in a 5-4 loss to the Lightning that ended the Stars' winning streak at four games.

"We couldn't kill a penalty to save our life," Stars coach Marc Crawford told reporters after the game.

The penalty kill, which was a sore spot last season, was a big focus coming into this season. So far, the focus has resulted in some murky results. The Stars are 15-25 on the penalty kill for a league-worst 60 percent. On the road they are 6-14 or 42.9 percent. That ranks 29th in the league. Nashville, which is 0-1 in road penalty killing, ranks 30th.

The Stars have allowed at least one power play goal in each of their first five games, and the four they allowed Monday night were the season-high.

"It was very discouraging because we didn't get in the lane," Crawford said. "You look at the difference between the two penalty kills, they got in the lane and blocked shots and we didn't. Their shots got through."

Both teams had five power plays in the game. The Stars, who were 0-5, generated four shots on goal. Tampa was able to generate ten shots in their five opportunities.

"The one thing that usually wins or loses the games, it is special teams. We have to figure that out. It's still early," goaltender Kari Lehtonen told reporters. "We were not sharp on the PK. I have to work harder to see the shots and not to give bad rebounds, like I did at least one today. We have to clean things up a bit and I think we are going to be fine."




October, 3, 2010
10/03/10
11:58
PM CT
Getting the goals against down is a big priority for the
Dallas Stars
this season and one way they can accomplish that is improving the the penalty kill.
"That's a huge part of [getting the goals against down]," said defenseman
Stephane Robidas
. "It's a big part of our game that we need to improve from last year. I think the two main focuses of training camp were the penalty kill and five-on-five in our zone, our defensive play."
The Stars' penalty kill was a sore spot last season, ranking 27th in the league at 77.4 percent and the 65 power play goals they allowed ranked 24th in the NHL. The PK was a contributing factor in an overall goals against average of 2.98, which ranked 23rd in the league.
"Everybody knows we were 27th in the league on the PK and that's not good enough," said Robidas. "It's something we needed to focus on and something we have been focusing on."
A good part of that focus during training camp and the preseason has come off the ice with video sessions.
"In our day and age our players are very visual learners and video is a great instrument for that and, let's face it, it's a tough thing to practice," said Stars coach Marc Crawford. "It's hard to simulate the blocking of the shots, getting in the lanes and the physicality that happens from a penalty kill. We recognize it's an area we can attack and we have."
As far as on the ice, the Stars are taking a more aggressive approach in their penalty kill this season. That can mean disrupting the opposition's breakouts, pressuring entries and being aggressive in the defensive zone.
"As the saying goes if you take away time and you take away space, they have to rush their plays or they have to chip it off the boards and maybe get a bobble," said Crawford.
"I think that's the mentality that we want to have," said Robidas. "We want to be a lot more aggressive and be aggressive every chance we've got and that's what we've been doing in the preseason. I think so far it's been pretty good."
The numbers say it's been pretty good. In six preseason games the Stars were 31-34 (91.2 percent) on the penalty kill. Of course, the real test will come in the regular season but the preseason numbers are worth noting.
"It's just preseason but I think we are heading in the right direction and I think we've got to keep building on that, building confidence in our system and confidence in ourselves that we can kill penalties," said Robidas. "That's why we play the preseason. We want to have a good feeling going into the season that, yes, we're a different team than last year and we want to prove it."
March, 2, 2010
3/02/10
9:04
PM CT
DALLAS -- Stephane Robidas is in the box for holding the stick, so the Stars must kill off Los Angeles' first power play of the game.

Dallas can't afford to allow any more goals if they want to have a chance to come back from a 3-0 deficit in the third.
February, 23, 2010
2/23/10
8:00
AM CT
Our final progress report is the penalty kill. Check out the thoughts of Mark Stepneski of
Andrew's Stars Page
and Brandon Worley of
Defending Big D
below.
Trend:
Down
[+] Enlarge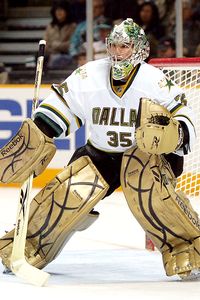 Ezra Shaw/Getty ImagesMarty Turco's improved play is a major reason why the Stars' penalty kill has improved as of late. Overall, however, the Stars rank 26th in the NHL in penalty-kill percentage.
One caveat: The penalty kill has been much better the last two weeks. It's not a coincidence that the numbers are better during the same time frame that the most important penalty killer – the goalie – has played well.
But these are ratings based on the entire season. And for most of this season, the penalty kill has not been good. The Stars are 26
th
in the NHL in penalty-kill percentage at 77.3. That number is improved thanks to what they've done the last six games. The Stars have allowed two goals in their last 22 penalty-kill chances. And against Columbus, they never took a penalty.
Maybe it's a sign that unit is getting better.
Andrew's Stars Page thoughts:
Statistically the penalty kill hasn't been good. It's been up and down and it's ranked towards the bottom of the league most of the year. The good news is that it the Stars don't take a lot of penalties, so that's limited the damage. The penalty kill has been trending up lately and a lot of that has to do with the improved goaltending. They're tied for fifth in shorthanded goals with six and that's a plus.
Trend:
Down
Defending Big D's thoughts:
It's been good lately, but mainly because the Stars haven't taken many penalties. It's been a sore spot on this team all season long.
Trend:
Down
Here are the other progress reports:
forwards
,
defensemen
and
goaltending
.