Dallas Stars:

Antoine Russel
April, 22, 2014
Apr 22
10:00
PM CT
By
Richard Durrett
| ESPNDallas.com
DALLAS -- OK, that's enough chitchat. Let's just shut up and play already.
Both of you.
That goes for you, Anaheim. Yeah, I'm talking to you, too, Dallas. (Feels like a conversation I have weekly at home with my kids.)
It's not that the verbal volleys after Game 3 weren't fun. Who doesn't love a good argument every once in a while?
But, come on. Didn't everyone know things would get more physical with Dallas desperate and the playoffs back in Texas for the first time in six years?
The Ducks felt the Stars crossed that invisible, yet real physical "line" in regard to captain
Ryan Getzlaf
, the guy with the facemask guarding his lacerated jaw. The Stars felt they were simply playing a desperate, physical game, one they saw played effectively by
Corey Perry
in Game 1.
You're both right. And you're both wrong.
Antoine Roussel
shouldn't have kept going at Getzlaf after the linesmen broke the scrum up near the end of the second period Monday. He landed a couple of punches after the bell. But it's not as if Getzlaf didn't get a good punch at the face of Roussel, either, as everything started.
Desperate teams sometimes do things that aren't particularly nice in those hard areas of the ice. The Stars were hoping to get the Ducks' captain off his game. They wanted to rattle him, and those around him, a bit. The facemask was just the tool to do so.
April, 22, 2014
Apr 22
1:00
PM CT
By
Richard Durrett
| ESPNDallas.com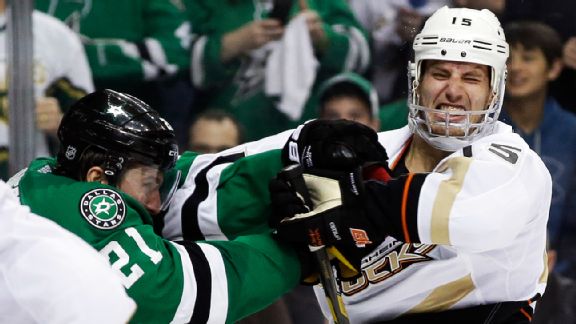 AP Photo/Tony GutierrezEmotions are running high between the Stars and Ducks in their first-round playoff series.
DALLAS -- A little more than 12 hours after the Dallas Stars' 3-0 win in Game 3, the
Anaheim Ducks
hit the ice with a renewed focus on matching the Stars' physical play.
Most of the complaints from the night before morphed into resolve Tuesday. Several Ducks players talked about playing with more of an edge.
"We've got to be smart but I think everyone's got to dig deep here," Ducks center
Andrew Cogliano
said. "Including myself, there's a lot more, a lot of room for us to play harder. The bottom line is they played hard last night. They got under guys' skin. They played playoff hockey and I don't think we did that. I think we played a regular-season game last night and talking for myself first and foremost, we need to bear down and come to the rink ready to battle, ready to fight hard and we'll go from there."
Ducks coach Bruce Boudreau thinks there's an easy way to respond to the physical play: score goals on the power play.
"If you're not going to make them pay when they're doing things, automatically they're going to keep doing things because they have no fear of you," Boudreau said. "So, that to me is the biggest thing is to score some goals."
Captain
Ryan Getzlaf
still wasn't thrilled with Stars forward
Antoine Roussel
after the two exchanged some punches in the face in Game 3. Roussel didn't quit punching even after the linesman attempted to break things up, which led to Roussel getting an extra two minutes in the penalty box.