Dallas Stars:

Hockey Hall of Fame
February, 4, 2012
2/04/12
10:58
PM CT
DALLAS -- Prior to Saturday night's game against the
Minnesota Wild
, the
Dallas Stars
honored former goaltender
Ed Belfour
for his induction into the Hockey Hall of Fame
[+] Enlarge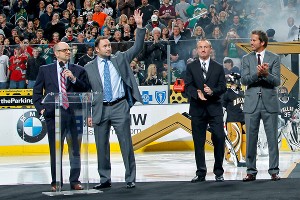 Glenn James/NHLI/Getty ImagesFormer goalie Ed Belfour, who won a Stanley Cup with the Stars in 1999, was honored in a pregame ceremony for his Hall of Fame induction.
Former Dallas teammates
Joe Nieuwendyk
,
Jere Lehtinen
,
Mike Modano
and
Brett Hull
were part of the ceremony, listing Belfour's career accomplishments which included a Stanley Cup, two Vezina Trophies and 484 career wins, which ranks third all-time in the NHL.
As Belfour walked onto the ice fans greeted him with a chant of "Eddie! Eddie!"
The Stars presented Belfour with a Breitling watch and a plaque that will be displayed in the Stars' Walk of Legends.
During the ceremony, Belfour was asked about his favorite memory of his stay in Dallas.
"Winning the Stanley Cup in 1999," Belfour said. "It was a dream come true."
Prior to the ceremony, Belfour was asked about those "Eddie! Eddie!" chants.
"Oh for sure [I could hear them]," Belfour said. "Yeah, that's definitely one of those adrenaline builders. It always makes you want to play that much better."
Belfour, who is building a house north of Dallas, said he has been taking it easy and could get back into hockey someday.
"Just pretty much taking it easy, enjoying my time -- a little bit of fishing, camping, outdoor stuff and hunting, enjoying my family and friends," he said. "Maybe someday (I'll get get back into hockey), been building a house the last year and a half has kept me real busy. Now that that's done, maybe I can look at something like that."
Belfour was inducted into the Hockey Hall of Fame in November along with Nieuwendyk,
Doug Gilmour
and
Mark Howe
.
"That was awesome. It was a great weekend, first class, treated us right from the time we got there," Belfour said. "My mom and dad and all my friends were there. It was just overall a great weekend and something I'll never forget."
November, 14, 2011
11/14/11
9:35
AM CT
Ed Belfour, Joe Nieuwendyk, Doug Gilmour and Mark Howe will be inducted into the Hockey Hall of Fame tonight in Toronto. You can watch the induction ceremony on the NHL Network. The broadcast begins at 6:30 p.m. (CST).
Voting in underway for the NHL All-Star Game. Jamie Benn, Loui Eriksson, Kari Lehtonen, Mike Ribeiro and Sheldon Souray are the Dallas Stars are on the ballot. There's a write-in option as well. Cast your vote at
vote.nhl.com
.
November, 13, 2011
11/13/11
11:00
PM CT
ESPN.com's Pierre LeBrun takes a look at the career of Stars GM Joe Nieuwendyk, who will be inducted into the Hockey Hall of Fame Monday.
Here's an excerpt from LeBrun's story:
On Dec. 19, 1995, Nieuwendyk was shipped to Dallas in a deal that sent Corey Millen and a prospect namedJarome Iginla to Calgary.

"We had some good draft picks coming down the line, like Jarome Iginla," former Stars GM Bob Gainey recently told ESPN.com about the Nieuwendyk acquisition. "There was a decision made that we would try and speed up that program, and see if we could enhance our team as we tried to establish ourselves in that new hockey community in Dallas."

The transition wasn't easy at first for Nieuwendyk.

"I really got in on the ground floor in Dallas," he said. "Hockey wasn't popular in those early years. We didn't have a very good team, and that first half-year I was there, I was thinking, 'Oh my God.' I had come from Calgary, where winning was everything. You go to Dallas where people were still learning what offsides were. It was a challenge and a very difficult transition."

But Gainey would bring in more big names, and the Stars became an NHL powerhouse in the late 1990s. They went on to beat the Buffalo Sabres in the 1999 Stanley Cup finals to capture their first and only Cup. Nieuwendyk was sensational that spring, posting 11 goals and 21 playoff points en route to the Conn Smythe Trophy as playoff MVP. He was as motivated as ever.

"To ultimately win down there was an incredible experience because we had stolen some of the Dallas Cowboys' thunder. People fell in love with a bunch of blue-collar guys who were playing hard," Nieuwendyk said. "For me, it went back to the year before in the playoffs in 1998 with [Bryan] Marchment taking me into the boards. I miss those whole playoffs [he played only one game after the hit blew out his right ACL]. So the next year, it just really drove me.

"I think all the lessons I learned over my career, seeing how much it meant to our veteran guys in Calgary and I hadn't had a sniff at it over 10 years, you realized it wasn't easy. I was really focused for that playoff run."
The
rest of the story is here
.
August, 12, 2011
8/12/11
9:07
AM CT
A couple of notes for your Friday morning:
*The
Dallas Stars
Icebreaker is scheduled for Saturday September 10 at Galleria Dallas. It will be held from 11 a.m. to 1 p.m. and will feature players signing autographs. More details will be available from the Stars as the event draws closer.
*The Stars are expected to honor
Joe Nieuwendyk
and
Ed Belfour
on separate nights this season. As you know, both Nieuwendyk and Belfour will be formally inducted into the Hockey Hall of Fame in November. The Stars are still in the planning stages of the Nieuwendyk and Belfour events, but expect them to be held in the fall.
June, 28, 2011
6/28/11
12:30
AM CT
Ed Belfour is going into the Hockey Hall of Fame. It's a not a matter of if, only when. The former Dallas Stars netminder is in first year of eligibility for the HHOF and we'll find out Tuesday if he gets in the first time around.

He should. The record speaks for itself. He was one of the best goalies of his time, along with Martin Brodeur and Patrick Roy.

He won the Vezina Trophy twice, the Jennings Trophy four times. He won the Calder Trophy. He won a Stanley Cup.

When you add up the career numbers, he stacks up impressively. He's third all-time in wins with 484, trailing only Brodeur and Roy. He's tied for fourth all-time in games played with 963. He had 76 career shutouts, which is tied for ninth in NHL history.

There are the 88 playoff victories, tied for fifth in NHL history. He's third all-time in playoff games played with 161. His 14 career playoff shutouts are tied for fifth. That 2.17 playoff goals against average and .920 save percentage aren't too shabby either.

Here's a breakdown of the accomplishments.

*Stanley Cup (Dallas, 1999)

*Vezina Trophy – Best Goaltender (1991, 1993)

*Calder Trophy – Rookie of the Year (1991)

*Jennings Trophy –Fewest goals allowed (1991, 1993, 1995, 1999)

*NHL First All-Star Team (1991, 1993)

*NHL Second All-Star Team (1995)

*Roger Crozier Saving Grace Award – Best Save Percentage (2000)

Belfour was also selected to play in the NHL All-Star Game six times. He was a member of Canada's gold-medal team at the 2002 Olympics.

The Eagle's record speaks for itself: the numbers, the accomplishments, and the length of the career. It all adds up to a tremendous career, a Hall of Fame career.
June, 27, 2011
6/27/11
11:29
AM CT
Some Monday morning notes:
*The Stars will hold a development camp for prospects starting Friday (July 1) at the Dr. Pepper StarCenter in McKinney, and will run one week. It's being held in McKinney because of a scheduling conflict with the rinks in Frisco. Stars 2011 first round draft pick Jamieson Oleksiak is scheduled to attend along with several other of the team's top prospects. A roster and schedule of the on-ice sessions should come in a day or two.
*Former Stars player Ed Belfour heads the class of first-year eligible players for the Hockey Hall of Fame. Stars GM Joe Nieuwendyk, who missed in his first year of eligibility last year, is a strong candidate again this year. The Hall of Fame Class of 2011 will be announced Tuesday afternoon. The list of
candidates, which includes some other former Stars, is here
.
*The NHL's plan for realignment in 2012-13 could entail more than just shuffling a few teams around. Some reports indicate it could involve changing from the current six divisions to four. That would be a major overhaul. Some details on
that are here
.
June, 21, 2010
6/21/10
4:12
PM CT
Former Stars forward
Brett Hull
was inducted into the Hockey Hall of Fame last year. Is
Joe Nieuwendyk
next?
He should be. As Pierre LeBrun and Scott Burnside
noted in their column
on Monday, Nieuwendyk should be a lock to get in. He won three Stanley Cups, including with Dallas in 1999 when he was the Conn Smythe winner. He won those Cups with three different teams in three different decades (Calgary in 1989, Dallas in 1999, New Jersey in 2003). Other former Stars players that are eligible for the first time this year:
Matthew Barnaby
: Played just one season in Dallas, 2006-07. He was in 39 games for Dallas and had seven points.
Pierre Turgeon
: Was a Star from 2001-05 and had 129 points (42 goals) in 207 games (three seasons). He had five points in 10 playoff games.
Arturs Irbe
: He was in Dallas for the 1996-97 season and posted a 17-12-3 mark in 35 games with a 2.69 goals-against average.
A handful of other eligible players with Stars connections:
Goalie
Don Beaupre
: He played for Minnesota from 1980-89 (9 seasons) and was 126-125-45 with a 3.74 GAA.
Goalie
Andy Moog
: He won three Stanley Cups with Edmonton and played 175 career games for the Stars from 1993-97, posting a 75-64-2 mark with a 2.74 goals-against average. He appeared in the Cup Finals six times and played in the 1988 Calgary Winter Olympics for Canada.
Guy Carbonneau
: He won the Selke Trophy (top defensive forward) three times and won three Stanley Cups, two with Montreal (1986 and 1993) and Dallas in 1999.
Dino Ciccarelli
: Played 1980-89 for Minnesota with 651 points, including 332 goals. He had over 600 goals in his career.
Pat Verbeek
: He had two stints in Dallas (1996-99 and 2001-02) and played in 42 postseason games with seven goals and nine assists.
Scott Young
: Scored 31 goals and had 27 assists in 132 games in Dallas (2002-04).
Your request cannot be processed at the current time. Please check back as we will work to correct the problem as quickly as possible.
Please feel free to send us any comments or feedback.
Your request cannot be processed at the current time. Please check back as we will work to correct the problem as quickly as possible.
Please feel free to send us any comments or feedback.