Dallas Stars:

Jason Spezza
September, 30, 2014
Sep 30
1:51
PM CT
New team, new city, new country, new school, new house, but luckily for
Jason Spezza
, at least one same linemate who ended the campaign with him in Ottawa last season.
Don't underestimate the importance of having
Ales Hemsky
on his right side as Spezza adjusts to playing for an NHL team other than the
Ottawa Senators
for the first time in his career.
"That's probably been the biggest thing so far," Spezza told ESPN.com on Tuesday from Dallas. "When you make such a big change, everything is new, except for the fact I'm playing with Hemmer still. It's really been a blessing to have a guy that I feel familiar with."
Spezza and Hemsky hit up an instant chemistry late last season after the Senators got the Czech winger in a trade from Edmonton. Ironically, it's because of that chemistry that Sens GM Bryan Murray was hoping to bring Hemsky back to play with Spezza. That was before learning that Spezza wanted out.
[+] Enlarge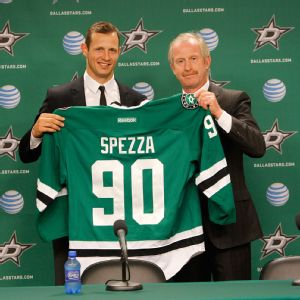 Glenn James/NHLI/Getty ImagesJason Spezza is looking forward to suiting up for the high-flying Stars.
Hemsky instead followed Spezza to Dallas, giving the Stars a tantalizing one-two punch on their top two lines with
Jamie Benn
and
Tyler Seguin
on the top unit with sophomore
Valeri Nichushkin
.
Erik Cole
will likely begin the season complementing Spezza and Hemsky.
Questions remain as far as how this team will defend. But scoring goals? That should not be a problem.
"I think we can be a dynamic offensive team," Spezza said. "The fit is really good for me that way. [Head coach] Lindy [Ruff] wants us to play up-tempo, pressuring the puck, stuff that I'm comfortable doing. I think we're a team that can give other teams headaches nightly if we can take care of the puck in our end. Once we get on the attack, there aren't many teams that might be better than us that way."
For Spezza, it all lines up beautifully. After years of always drawing the toughest matchup from the other team as far as the top defense pair or the top checking line, he'll at least share that chore with Benn-Seguin, if not benefit most nights as other teams pick their poison and likely match up their best with Benn-Seguin.
Plus, the style of play Ruff wants to use suits Spezza just nicely.
"I really like the way Lindy wants us to play," Spezza said. "I think it really suits my game. The way he coaches is something that fits my game naturally. It's a nice starting point for sure."
According to a Western Conference scout, it could turn out to be a good fit, given the strengths of the teams out west.
"He is a big-body center, which helps in the Western Conference against the Getzlafs, Kopitars, Thorntons," the scout wrote in an email to ESPN.com. "He gives them a veteran presence for a young group, allows Ruff the ability to move Seguin's line around, [to] pack more offensive punch, which takes some pressure off Seguin ... . [He] will help balance their lineup and put guys into the right fits [and] is familiar with few players in that lineup, which helps. [He] has been a strong faceoff guy in Ottawa. [The] Stars' power play was just middle of the pack, so he can help that push upward in that category. He might just flourish with less pressure and [on a] non-Canadian team where the focus has been on him since day 1."
All in all, it should mean an increase in offensive productivity from Spezza, who tallied 66 points (23-43) in 75 games last season. Take the over this season on that point total.
And it just so happens he's in a contract year.
He would easily be the headliner next July 1 on what is otherwise a rather thin UFA crop when it comes to high-end talent, but whether or not he actually gets there, well, that remains to be seen.
The Stars intend on having Spezza hang around longer than one season.
"They've expressed that they want to talk [extension]," Spezza said. "And we have all intentions of talking. But it's just I want to get comfortable first, and get started. It's really not a big concern of mine right now. I'm not naive, I know as the season goes on it'll become more of a talking point. But at this point, I'm just worried about playing and getting comfortable. If we start winning games, it's going to be a good fit for both sides. It's just a matter of getting comfortable first. There's no point in rushing into anything."
Getting comfortable means off-ice, too. He's got kids ages 4, 2 and 4 months old. They moved into their house in Dallas in late August to begin their new life away from Canada's capital.
"I say it's been a pretty smooth transition, although it's my wife that's done most of the work," Spezza, 31, said with a chuckle. "We're settled. The kids are in school. Everyone is getting comfortable."
After years in the spotlight in hockey-crazed Ottawa, it's clear that Spezza appreciates the quiet life he's entering.
"It's been nice to come to the rink and work and nobody knows me here," he said. "It's been nice that way. We've enjoyed it."
Don't get him wrong -- he would never take back his years in Ottawa. But the time was right for a move.
"Ottawa is a great place to play, I really enjoyed playing in Canada and the scrutiny that came with it," Spezza said. "But you almost don't realize how much you go through day to day until you get away from it. You realize how much more laid-back it can be in another setting. I wouldn't change it, but I'm welcoming the change right now."
And so are the Stars.
September, 24, 2014
Sep 24
11:43
AM CT
The
Dallas Stars
are unquestionably the sexy pick to make some (more?) noise in the ultra-competitive Western Conference. A breakthrough season last year saw
Tyler Seguin
light it up offensively,
Jamie Benn
reinforce his position as one of the top young leaders in the game and the Stars sneak into the eighth seed in the West and give Anaheim all it could handle before fading in Game 6 of the opening round.
General manager Jim Nill has done yeoman service in landing two top-end centers in a little over a year, acquiring disgruntled former Ottawa captain
Jason Spezza
(and a winger for Spezza in
Ales Hemsky
) to take some pressure off Seguin, suggesting the Stars are indeed built to last at least offensively in the Central.
Seguin joked in a recent interview that he thinks other NHL teams are giving Nill good players because he's such a nice guy.
"He's the ultimate hockey guy that I've met in this business," Seguin said of his boss.
Defensively? Hmm. Well that's more a work in progress, but this is a team that looks poised to shake off years of mediocrity that stunted the franchise's growth in the heart of Texas.
You can
read the rest of the preview here
to find out who is expected to play a starring role, Mike Modano's thoughts on the Stars' future, predictions and more.
September, 8, 2014
Sep 8
9:23
AM CT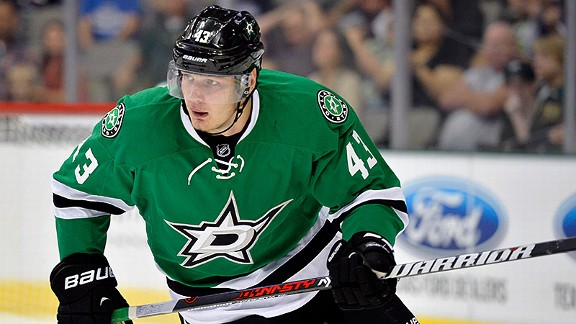 Jerome Miron/USA TODAY SportsValeri Nichuskin appears ready to take a big step in his second year in the NHL, says Stars GM Jim Nill.
In a league where one of the most common refrains is that it's next to impossible to acquire top-end centers, Jim Nill picked up
Tyler Seguin
and
Jason Spezza
just over a year on the job as general manager in Dallas.
Mercy.
No wonder the Stars are a trendy pick ahead of this season to continue their onward climb in the tough Western Conference.
"I think Dallas is ready to take a leap in with the big boys,'' one Eastern Conference GM told ESPN.com last week.
"It's no surprise to anyone in the Western Conference that watched Jim Nill and his staff quietly weave his magic in Detroit ... that the same culture of excellence is evolving quickly in Dallas through solid drafting and astute trades and FA signings,'' another rival Western Conference team executive told ESPN.com via email.
"Another contender in the West."
The forward combinations may very well change, but for now, the thought of having Seguin reconnect his magic with stud winger
Jamie Benn
and having Spezza and fellow newcomer
Ales Hemsky
continue what they began late last season in Ottawa certainly provides Dallas with an awesome top-two line attack.
Then again, the Stars weren't alone in stocking up in the West. The Blues got better, the Ducks got better, and the list goes on as the Western Conference arms race continues.
"That was the message to the players at the end of the year last season, 'We've got to get better,''' Nill told ESPN.com last week. "I went through every team in the conference, and they're all getting better. So we have to get better, too. With that comes expectations, if you want to be a winner, if you have to learn how to deal with that.''
But it's all good, Nill said. It's a good kind of pressure. And the market in Dallas has responded after the Stars made it into the playoffs last season for the first time since 2008 and followed up with the big Spezza trade.
"Our season-ticket base is up. I know our season-ticket and marketing people have had a great summer. There's a nice buzz down here,'' Nill said.
Stars spokesman Tom Holy said the team right now has gone from about 6,000 season tickets last season to more than 10,000, and the hope is that they can use this month with camp opening to push that up to 12,000.
[+] Enlarge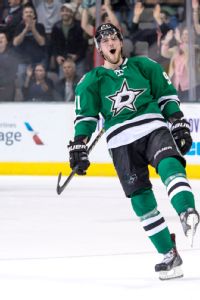 Jerome Miron/USA TODAY SportsTyler Seguin is part of what should be a dynamic offense in Dallas this season.
Those fans should see an improved
Valeri Nichushkin
, the 19-year-old Russian who electrified at times in his rookie NHL season and now has an important year under his belt.
"I think Nichushkin is going to be even better," said Nill, not one for hyperbole. "Last year was just a brand-new year for him, for a kid who's 18 to come over here and go through the NHL not knowing the language, the rinks. He stayed here all summer, trained here, his English got better, so I think you'll see a big step from him.''
Where the critics wonder about the Stars' viability as true contender is on the back end. On paper, the blue-line corps doesn't stack up with Los Angeles, Chicago, Anaheim or St. Louis.
And yet, that's exactly the area where Nill feels much improvement is coming.
"I'm excited about our young defensemen, we have a group of young defensemen who won the Calder Cup, I'm excited to see what they can do,'' said Nill.
Nill is referring to the likes of Patrick Nemeth,
Jamie Oleksiak
and Jyrki Jokipakka -- all AHL champions last season -- plus John Klingberg is coming over this season from Sweden.
"We think we've added some depth to our back end," said Nill. "I'm looking forward to the steps all these guys make.''
The Stars allowed 30.4 shots per game last season, a number that needs to go down; they were 17th in goals against per game at 2.72 -- OK, but not great -- and that's despite super-solid goaltending from
Kari Lehtonen
, who sported a .919 save percentage while facing the second-most shots (1,888, behind only
Semyon Varlamov
) of any goalie in the NHL.
Like Varlamov in Colorado, a goalie can help mask issues on defense by standing on his head. It's just that it's not a recipe for long-term sustainability. The Stars need better play from their back end this season.
If the kids on defense don't make the kind of step the Stars hope, one suspects that's where Nill will focus ahead of the trade deadline. But that's looking way down the road.
There's lots of hockey to be played, and while there's excitement for the Stars, leave it to Nill to also bring into perspective.
"People forget, we're all two or three wins from being a top team and we're all two or three losses from being out of the playoffs," Nill said. "Nashville only had two fewer wins than us last year, Winnipeg just three or four. There's not much difference from being in or out of the playoffs.''
No question the parity in this league makes many of us overestimate at times the reasons why some teams get in and some don't when the reality, as Nill suggests, is that a hair separates so many of the NHL clubs. Still, in trying to get that sliver of separation, acquiring two stud centers over 13 months is one heck of a way to go about it.
Not sure the Stars have what it takes on the blue line to truly contend for an NHL championship yet, but they will be must-watch TV all year long with that offense. You can bank on that.
July, 1, 2014
Jul 1
12:25
PM CT
Maybe you wondered if Jim Nill, who spent all of those years working behind the scenes with the
Detroit Red Wings
, would have the stuff to be a big-time NHL general manager on his own with the
Dallas Stars
.
Maybe you'll stop wondering now.
In one calendar year, Nill has stocked his team with two elite centers and has the Stars in a strong position to not just build on this season's surprise berth in the playoffs, but to make some noise next spring.
Nill followed his July 2013 acquisition of
Tyler Seguin
from the
Boston Bruins
in a blockbuster deal by acquiring disgruntled Ottawa center
Jason Spezza
on Tuesday, about an hour before the start of the free-agency period.
[+] Enlarge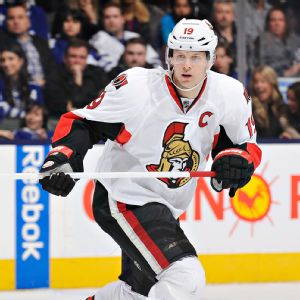 Graig Abel/Getty ImagesJason Spezza gives the Stars a potent 1-2 punch at center alongside Tyler Seguin.
The Stars sent
Alex Chiasson
, Alex Guptill, Nicholas Paul and a second-round 2015 draft pick to Ottawa, which continues to reshape its roster. The Senators have lost their past two captains in successive years, with
Daniel Alfredsson
signing as a free agent last summer with Detroit.
The Stars also got prospect Ludwig Karlsson in the deal.
Chiasson, a 6-foot-4 winger, looks to have the most upside of the group, enjoying a strong start in his rookie season with the Stars but cooling off in the second half, finishing with 13 goals and 35 points (including six power-play goals and four game-winners).
He'll presumably get a chance to play top-six minutes with a team that must redefine itself offensively. The Senators are coming off a disappointing season in which they missed the playoffs despite remaining relatively healthy. They made surprise postseason appearances in each of the previous two seasons.
The Stars, of course, get the best player in the deal in Spezza, the second overall pick in 2001 who had spent his entire career in Ottawa and had grown tired of playing there.
Still, the move doesn't come without question marks for Dallas. (Is there a deal of this magnitude that ever gets done without some questions about the players involved?)
Spezza has had injury issues, most notably back problems that limited him to just five regular-season games in the lockout-shortened 2012-13 season. He has played 80 or more games in a season just twice in his career.
Spezza remains a top talent, though, and has managed to collect 52 points in 56 postseason games. Those are numbers that will be important to the Stars, who pushed the
Anaheim Ducks
to six games in the first round of the playoffs this spring.
That series was instructive to Nill and Lindy Ruff, who was in his first year as the Stars' coach.
Teams in the Western Conference must have the goods down the middle if they're going to compete with the defending Stanley Cup champion
Los Angeles Kings
, and Anaheim struck pivot gold by acquiring
Ryan Kesler
from the
Vancouver Canucks
before the June 27 draft. Teams like the
Chicago Blackhawks
,
St. Louis Blues
and
Nashville Predators
have been scrambling to fill in down the middle as well.
The Stars began the draft period looking like it wouldn't be in the running for players such as Spezza, who identified 10 teams to which he wouldn't accept a trade.
And yet Nill and Ottawa GM Bryan Murray managed to get a deal done that gives the Stars a nice complement to Seguin, who blossomed with 37 goals (eight game-winners) last season after spending two tumultuous years in Boston, where the No. 2 overall pick in 2010 spent much of the time playing wing.
Now look around the Western Conference and contemplate these center combinations:
Anze Kopitar
and
Jeff Carter
in Los Angeles;
Ryan Getzlaf
and Kesler in Anaheim;
Logan Couture
and
Joe Thornton
(if he stays) in San Jose; and now Seguin and Spezza in Dallas.
In a matter of days, the balance of power has been dramatically altered in the West, home to a preponderance of the NHL's top teams.
Spezza has one year left on a deal that pays him just $4 million in real money but comes with a $7 million cap hit. Nill will presumably be looking to extend Spezza, but that's something to consider down the road. And if the Stars hit the skids, they could of course consider flipping Spezza at next season's trade deadline.
And let's be honest: Frankly, the Stars aren't quite there yet. But when you factor in Seguin, Spezza and
Cody Eakin
, who had 16 goals last season, the Stars' complement of centers is impressive. Throw in
Jamie Benn
(34 goals), emerging Russian talent
Valeri Nichushkin
and new signing
Ales Hemsky
(who played some with Spezza after going to Ottawa at the trade deadline last season) on the wings and the Stars will be able to go toe-to-toe offensively with most of the competition in the West.
Defensively, the team is still maturing and we must admit a certain ongoing skepticism about goalie
Kari Lehtonen
staying healthy enough to carry the Stars beyond the first round of the playoffs.
Still, as the free-agent market opens, there is little question the Stars are better than they were a few hours ago and are forcing teams to scramble for other options.
November, 22, 2011
11/22/11
7:00
PM CT
The NHL released All-Star voting totals for the first week, and Stars netminder
Kari Lehtonen
ranks 10th among NHL netminders with 42,527 votes. Boston's
Tim Thomas
is tops among goaltenders with 95,681 votes.
Stars defenseman
Sheldon Souray
is 16th among defensemen with 39,263 votes. The top two in defense category are Ottawa's
Erik Karlsson
(147,468) and Boston's
Zdeno Chara
(110,098).
Stars forwards
Jamie Benn
,
Loui Eriksson
and
Mike Ribeiro
, who all are on the ballot, were not among the top 28 forwards receiving votes. Ottawa's
Daniel Alfredsson
, Toronto's
Phil Kessel
and Ottawa's
Jason Spezza
are the top three among the forwards.
The Senators are getting out the vote, which is not a surprise since the All-Star Game is in Ottawa this season.
Vote totals are
here on NHL.com
.
Voting, which started last week, will conclude Jan. 4.
The top vote-getters by position -- three forwards, two defensemen and one goalie -- will take part in this season's All-Star Game, which will be in Ottawa on Jan. 29.
November, 24, 2010
11/24/10
11:32
PM CT
Some thoughts and observations after the Dallas Stars beat the Ottawa Senators 2-1 Wednesday to snap a four-game road losing streak.
That was a nice bounce back effort considering Monday's dud in Toronto. They played a solid 60 minute game, a really good road game. Nothing really fancy or pretty, but just a good, hardworking effort. They came out strong and finished strong in protecting that 2-1 lead.
It wasn't pretty, that's for sure. But sometimes that's how you need to win 'em on the road. They don't give out style points in the standings, but you get two points for a win and that's what the Stars needed.
The score isn't an indication of how much better the Stars were in this game. They created a lot of quality chances (and missed on a few glorious ones) and gave up few.
The Stars were 0-4 on power play and are now 1-31 on the power play on the road. Some of the road woes didn't get fixed Wednesday. The chances were there, but the finish wasn't.
The Stars are 11-8-1 as they hit basically the quarter mark in their season. That's not bad. It's a .575 points percentage (or a pace for 94 points), which currently puts them eighth in West based on points percentage.
Last year at the 20-game mark they were 9-5-6, which had them ranked sixth in the West with a .600 points percentage.
Daniel Alfredsson, Alex Kovalev and Jason Spezza had a combined two shots on goal in the game. That says a lot about the effort.
Andrew Raycroft wasn't really tested much, but he played a solid game in improving to 2-1-0 on the season. "We got another good performance from Andrew Raycroft," said Stars coach Marc Crawford. "That's always encouraging when your backup can go in and play that well."
Raycroft has stopped 100 of 106 shots in his four appearances and five of the shots he didn't stop came in that debacle in Colorado a couple weeks ago.
Really strong game from Brenden Morrow, who had the game-winning goal and led the Stars with five shots on goal. He's now got nine goals on the season, which ties him for second on the team with Loui Eriksson.