Dallas Stars:

Progress report
February, 23, 2010
2/23/10
8:00
AM CT
Our final progress report is the penalty kill. Check out the thoughts of Mark Stepneski of
Andrew's Stars Page
and Brandon Worley of
Defending Big D
below.
Trend:
Down
[+] Enlarge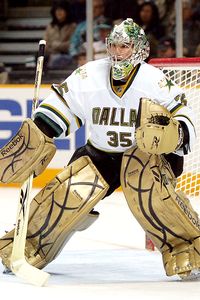 Ezra Shaw/Getty ImagesMarty Turco's improved play is a major reason why the Stars' penalty kill has improved as of late. Overall, however, the Stars rank 26th in the NHL in penalty-kill percentage.
One caveat: The penalty kill has been much better the last two weeks. It's not a coincidence that the numbers are better during the same time frame that the most important penalty killer – the goalie – has played well.
But these are ratings based on the entire season. And for most of this season, the penalty kill has not been good. The Stars are 26
th
in the NHL in penalty-kill percentage at 77.3. That number is improved thanks to what they've done the last six games. The Stars have allowed two goals in their last 22 penalty-kill chances. And against Columbus, they never took a penalty.
Maybe it's a sign that unit is getting better.
Andrew's Stars Page thoughts:
Statistically the penalty kill hasn't been good. It's been up and down and it's ranked towards the bottom of the league most of the year. The good news is that it the Stars don't take a lot of penalties, so that's limited the damage. The penalty kill has been trending up lately and a lot of that has to do with the improved goaltending. They're tied for fifth in shorthanded goals with six and that's a plus.
Trend:
Down
Defending Big D's thoughts:
It's been good lately, but mainly because the Stars haven't taken many penalties. It's been a sore spot on this team all season long.
Trend:
Down
Here are the other progress reports:
forwards
,
defensemen
and
goaltending
.
February, 22, 2010
2/22/10
8:00
AM CT
We continue our reports with the power play. As has been the case with this series, Mark Stepneski at
Andrew's Stars Page
and Brandon Worley at
Defending Big D
have added their thoughts.
[+] Enlarge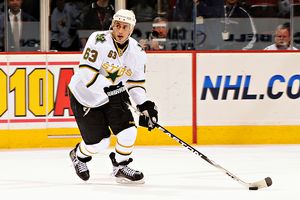 Norm Hall/Getty ImagesMike Ribeiro was missed on the power play when a throat injury sidelined him for 15 games.
Trend:
Average
The Stars are in the middle of the pack when it comes to power play percentage at 18.3, good enough for 14th in the league. But they are certainly trending upward if you look at the other stats. The Stars are sixth in the league in power play opportunities and ninth in power play goals.
What does that mean? Well, the Stars are in position to get even better on the power play. They are drawing penalties and scoring goals. Now they just need to take more advantage of those penalties.
Getting
Mike Ribeiro
back should help that unit.
Brad Richards
and
Stephane Robidas
each have seven power play goals and Ribeiro,
Brenden Morrow
and
Loui Eriksson
have six.
Mike Modano
is still a solid player on the half-wall and
Steve Ott
has shown an ability to wreak havoc in front of the net. Benn is also getting more power play time lately as he finds the net with more regularity.
Andrew's Stars Page thoughts:
The Stars are middle of the pack in power play percentage, but top ten in goals scored.
Brad Richards
, who has been excellent playing the point on it, is tied for fourth in power play points and
Stephane Robidas
is tied for first among NHL defenseman in power play goals. They missed
Mike Ribeiro
on the second unit when he was out or the team numbers would probably be better. The power play could be better, but it's been pretty good and won them some games.
Trend:
Up
Defending Big D's thoughts:
Better than last year, but still not as high as you'd think it would be with Brad Richards and Mike Ribeiro on the team. A lack of a true blueline presence (aside from Robidas) does not help much.
Trend:
Average
Here are the other progress reports:
forwards
,
defensemen
and
goaltending
.
February, 19, 2010
2/19/10
8:00
AM CT
Our progress shifts to the goalies. BTW, you can check out the forward progress report and the one for the defenseman as well.
Andrew's Stars Page
and
Defending Big D
also weigh in.
Trend:
Down
Again, this is based on what they've done all season to this point. The trend the last six games is certainly up.
[+] Enlarge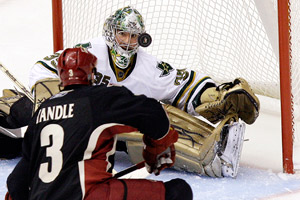 AP Photo/Ross D. FranklinThe recent subject of trade speculation, Marty Turco has suddenly re-emerged as a solid netminder.
The Stars are 23rd in the league in goals-against average and 20th in save percentage. That's the bottom third of the league in both categories despite a very good two-week stretch for goalie
Marty Turco
.
Until the last six games, the Stars have had inconsistent play in net all season. Turco, who worked hard over the summer in what is a contract year for him, had a difficult start. The Stars tried to stay patient, but by January, backup
Alex Auld
was sharing playing time with Turco in an effort to get a struggling team going.
In Crawford's system, the goalie must be solid and clean up mistakes. Those mistakes will likely more numerous than other teams because of the premium Crawford puts on controlling the puck and being aggressive in the offensive end. Frankly, the goalies haven't done a good job of cleaning up those messes and too often have allowed goals that should have been stopped.
Turco, however, seems to have found something the last six games, in which he's 4-1-1 with a 1.15 GAA and a .967 save percentage. Those are phenomenal numbers. His play has increased the team's confidence and has them in better position to make a playoff run.
Andrew's Stars Page:
This was expected to be a strength coming into the season and it's been a disappointment, except for the past couple weeks. Marty Turco's turned it around recently, but his early performance was erratic and was a key factor in the team's inconsistent play.
It's not all him though. Some of the play in front of him was spotty, but key saves were missing and there were too many deflating soft goals. Alex Auld has been OK and he's a solid NHL backup. Turco's recent play, though, has been nothing short of spectacular. It's a big reason the Stars are in the thick of the playoff race.
Trend:
Down
Defending Big D:
Tough to grade this one, because of how hot Marty Turco finished before the break. But absolutely atrocious goaltending, and the inability of Alex Auld to take advantage and secure more playing time, has the overall goaltending situation in complete flux. Enter
Kari Lehtonen
.
Trend:
Down
February, 18, 2010
2/18/10
8:00
AM CT
We continue our look at the Stars' positions with the defensemen. BTW,
click here
to see the progress report on the forwards. Once again,
Defending Big D
and
Andrew's Stars Page
have chimed in with their thoughts as well.
Trend:
Average
The Stars have taken their lumps at times on defense. It's not a high dollar unit. The Stars are paying $8.7 million for seven defensemen (when healthy). That's last in the NHL in terms of funds allocated for defense. Much of that is because it's young, but without a lot of experience, this unit makes mistakes. It's easy to say this group gets a down trending grade, but because they are young in spots and the team isn't spending a bunch of money, they get the average grade.
[+] Enlarge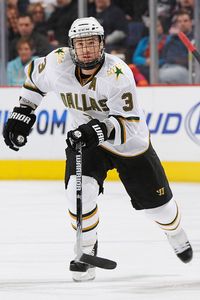 Jamie Sabau/Getty ImagesStephane Robidas' brash style seems to embody Marc Crawford's system.
Stephane Robidas
is the leader of that group. He's been thrust into the No. 1 defenseman role and has embraced it. He's not afraid to take on anyone, despite his 5-11, 190-pound frame. He is sixth on the team in points with 33, including 10 goals. His style seems quite suited to Crawford's system as Robidas picks and chooses the right times to join the rush and attack the net. He's been solid on the power play as well. Robidas' partner,
Nicklas Grossman
, has performed well too. The 25-year-old uses his big frame – he's 6-3, 214 pounds -- to make things tough on opposing lines.
Outside of that top pair, it's been an inconsistent defensive group all season.
Trevor Daley
, 26, has the skating ability to succeed in Crawford's system, but he must learn to make the right decisions and get comfortable. He's started to do some of that in recent weeks.
Karlis Skrastins
has become a big shot blocker for this team, but can get exposed at times if he plays too many minutes.
Matt Niskanen
has struggled with his confidence all season. It seems that a bad mistake lingers and he has difficultly moving forward from it. He has the skills and at times shows potential, but just hasn't put it all together yet.
Mark Fistric
is the only defenseman with regular playing time that has plus rating. He's plus-15 and leads the team by a bunch in that category. He's shown improvement and an ability to make smart plays.
Defending Big D's thoughts:
This was the weakness of the team headed into the season and it still is. Robidas, Grossman, and Fistric are the bright spots, but the continuing disappointment of Daley and Niskanen is troubling to watch game by game.
Trend:
Average
Andrew's Stars Page thoughts:
It is what it is. It's a low budget group that as a group is where you should expect it to be. Stephane Robidas has been excellent and that's why he was in the mix for Canada's Olympic team. Karlis Skrastins has met expectations a solid defender. You would have expected Trevor Daley to produce more offensively, but he's played well at times. There have been ups and downs with the others, but Nicklas Grossman and Mark Fistric have had more ups than downs. You can't always put the defensive lapses on the two guys manning the blue line. There are three other guys in front of the goalie with responsibilities too.
Trend:
Average
February, 17, 2010
2/17/10
8:00
AM CT
FRISCO – The Stars have played three-quarters of the NHL season and most of them get some time off while the league breaks for the Olympics.
When Dallas returns, the team has 21 games in 40 days to finish out the season. That includes playing every other day in March. It's a compact schedule that will test their endurance. They'll need to play well to climb into playoff position.
So while we have a moment to catch our hockey breath, let's take a look at the various positions on the ice and how they've done this season. Remember, we're basing our ratings – arrow up, arrow down, arrows to the side – on the entire season so far. It's not just about the last few weeks. I've also asked Brandon Worley of
DefendingBigD.com
and Mark Stepneski of
Andrew's Stars Page
to give their thoughts as well.
Today's position: Forwards
Trend: Up.
New coach Marc Crawford has installed his system, which includes a high-tempo, aggressive offensive approach. He wants the puck in the hands of his forwards as much as possible to increase scoring and put pressure on the opposing defense and goaltender. And the Stars are scoring goals. They are 10th in the NHL at 2.80 per game.
[+] Enlarge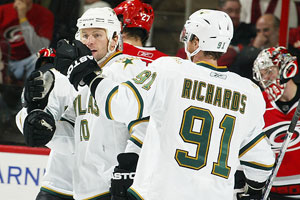 Gregg Forwerck/NHLI/Getty ImagesStars captain Brenden Morrow (10) and Brad Richards have combined for 99 points this season. The Stars are 10th in the NHL with an average of 2.80 goals per game.
But it should be noted that in this system, the forwards must skate back and help on defense or things can break down in a hurry. At times this season, that was a problem for the forward group, but they've been much more solid about it the last few weeks. The Stars are 23rd at 2.92 goals-against per game.
Center
Brad Richards
leads the team in points with 66 and has been steady and consistent all season. He's played most of this 2009-10 campaign on a line with
James Neal
and
Loui Eriksson
and that top line has been the club's most productive. Neal and Eriksson are second and third, respectively, on the team in scoring. Richards has a way of finding teammates in space and giving them opportunities to score. It's why he leads the Stars by a bunch with 49 assists. Richards is on pace for the second all-time highest scoring season by anyone in
Dallas Stars
uniform.
Mike Modano
had 93 points in 1993-94.
Interestingly, though, Richards is minus-19 on the road despite 15 even-strength points away from American Airlines Center.
Jamie Benn
has also become a bright spot. The rookie has 29 points, including 15 goals and has shown a maturity to his game.
Tom Wandell
was a nice pickup for the Stars and showing some skills before his season ended with a torn ACL.
Mike Ribeiro
's throat injury limited his season, forcing him to miss 15 games. It will be interesting to see how he responds down the stretch. He certainly added some scoring in his three-game return before the break.
Stars captain
Brenden Morrow
has had a disappointing season by his lofty standards. He has 33 points in 56 games and is on Team Canada, but it seemed that last season he had a gaggle of big goals and well-timed plays and that hasn't been the case as much this season. Morrow did, however, seem to have some more energy the last week and he's a player that understands what it takes late in the season.
DefendingBigD's thoughts:
The emergence of Jamie Benn, and the domination of the Richards line has the Stars as a much more well-rounded offensive attack than may have expected. The Stars are scoring at a better pace overall, despite some woeful performances on the road.
Trend: Up.
Andrew's Stars Page thoughts:
They've relied too much on James Neal, Brad Richards and Loui Eriksson for offense at times and the lack of balance has hurt them on the road, but they do have eight forwards with 10 goals or more and the team ranks top 10 in goal scoring. Rookie Jamie Benn is a bright spot. The forwards have to take part of the blame for some of the defensive issues that have plagued the team at times.
Trend: Average.