Dallas Stars:

Shawn Horcoff
April, 27, 2014
Apr 27
1:00
PM CT
By
Richard Durrett
| ESPNDallas.com
DALLAS -- It was special teams that decided Game 5. Anaheim was 4-for-6 on the power play, while the Stars were 0-for-7. The discrepancy was startling for the Stars, who had held the Ducks without a power play goal since early in Game 1 before the barrage on Friday. Anaheim skated out with a lopsided win and a chance to end the series on Sunday in Dallas.
"We're going to change that up," Stars coach Lindy Ruff said. "It's not working. The units are going to change. I think we're getting a little bit of net focus and there's not enough deception and I think that comes with frustration from not scoring. So that part is going to change."
What exactly that means remains to be seen. Ruff could perhaps move defenseman
Trevor Daley
to the top unit and see if that helps things work better. Or he could look at breaking up
Jamie Benn
and
Tyler Seguin
, splitting up the two top scorers to even out the first- and second-team units. Or maybe Ruff just wants an overall change of approach, rather than change of personnel.
We'll see. But it was clear the Stars' coach wasn't happy with how the power play unit performed in critical junctures during the first five games of the series. Dallas was 0-for-6 on the power play in Games 3 and 4 (both wins) and has just two goals in 24 opportunities in the series, the second-worst percentage (8.3) in the playoffs. That's nearly half of their regular-season percentage (15.9).
The changes could be just one more way that Ruff is looking ahead, rather than behind. He's never been one to dwell on past games -- good or bad -- choosing to quickly apply lessons and move on.
"This is a whole new experience for a lot of these guys," Ruff said about the playoffs. "I expected some of these bumps. [Friday] night hurt. But we have spent no time on the past and after I leave you guys, she's all over."
Sunday is the first elimination game for many of these Stars' players and they get a chance to see how they respond in that type of environment. It helps them that the game is at American Airlines Center, where they've won both of their games in this series.
"That's one thing with experience, you get it from playing and being in those situations," forward
Shawn Horcoff
said. "We have enough guys in the locker room that have been there before. Everyone that has been there knows that the fourth game is the hardest game to win in a series. The pressure is squarely on them now to come in and win a game in our building, where we have been good. We have to take confidence in the fact that we can play our type of game tomorrow and try to take it to a Game 7, where anything can happen."
April, 25, 2014
Apr 25
8:00
AM CT
By
Richard Durrett
| ESPNDallas.com
FRISCO, Texas -- How fast can you grow up in a week?
If you're a father, you know the answer is "way too fast," but what if you're a hockey coach, watching your "kids" perform under postseason pressure?
Dallas Stars
coach Lindy Ruff wasn't quite sure what to expect when the playoffs started last week. His team was a bunch of toddlers, learning how to crawl in the postseason. Meanwhile, the
Anaheim Ducks
were all grown up and ready to make a push toward the Stanley Cup. They looked like the experienced team in Games 1 and 2. They were at home in those games, doing the little things late and taking advantage of Stars mistakes to get a 2-0 series lead. Then, young goalie
Frederik Andersen
made enough big saves to help his team win.
[+] Enlarge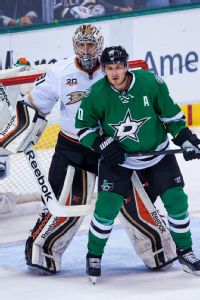 Jerome Miron/USA TODAY SportsShawn Horcoff and the Stars seemed to hit their stride in Dallas, while Anaheim goalie Frederik Andersen stumbled.
But Andersen looked nervous and a bit rattled in Dallas. So did some of his teammates. Four games in, and with Game 5 set for Friday night in Anaheim, California, the Stars are doing a lot more than crawling. They seem comfortable in these playoffs, unfazed by the physical play or the pace of the game. In fact, they seem content to push that pace, using their speed to create an advantage. Maybe they're using their inexperience to their advantage, too. The Stars spoke about having fun. They talked about enjoying the moment. But don't take that to mean they're content to simply be here.
There are enough big kids on this team to keep everyone in line, and 35-year-old
Shawn Horcoff
, fresh off his best game in the series, seemed to be sending a message to his teammates and the media at the Stars' optional practice Thursday.
"Our motto here isn't just to come into the playoffs and get our toes wet and save it for next year and years after," Horcoff said. "The older guys realize that it's not that easy. There's a lot of parity in the league, and it's tough to make the playoffs. You have to make the most of all your chances, and that's what we're trying to do now.
"We're a team that is gaining experience as we go, game by game. We are learning from our mistakes and figuring out what kind of game we need to play in the playoffs."
Horcoff knows these opportunities don't come around very often. And now that it's a best-of-three series, Horcoff and the Stars believe they can pull off the upset and extend their first playoff appearance in six seasons a little longer.
To do that, the Stars must prove that the type of performance they put forth in Games 3 and 4 at home can translate in Anaheim. The Ducks hope their experience and crowd are enough to seize momentum back from Dallas. But they're facing a different team now, one that isn't likely to be intimidated by the surroundings.
"I think now we're facing an opportunity where we can create some pressure in their building," Ruff said. "I think some of that apprehension that we had in that first game, a little bit to start the second game, I think that they know what to expect now."
And that's another huge, physical effort from a Ducks team that must figure out who is starting in net and whether captain
Ryan Getzlaf
can return to the lineup for Game 5. But no matter what the answers are to those questions, the Stars should expect a spirited Ducks effort from the opening faceoff -- and a crowd that will be fired up.
The difference: Dallas won't be surprised by either.
"We're playing loose here," Stars forward
Alex Chiasson
said. "There's a lot of guys here with no playoff experience and we don't think much. We just go out and play. Hopefully, we can keep that mentality and bring it out there."
It's a team that's growing up quickly.
April, 21, 2014
Apr 21
11:31
PM CT
By
Richard Durrett
| ESPNDallas.com
DALLAS -- The
Dallas Stars
earned their first playoff victory since 2008, beating the
Anaheim Ducks
, 3-0. It was the Stars' first home game of the series, played in front of a sellout crowd of 19,120.
Some quick thoughts:
How it happened:
The Stars got goals late in both the first and second periods.
Jamie Benn
, the Stars' second-leading goal scorer in the regular season, scored after
Shawn Horcoff
's shot from the left circle hit the pads of Ducks goalie
Frederik Andersen
and came right out to Benn on the right circle and he deposited it in the net. The goal was scored with 35 seconds left in the first period, allowing Dallas to take some momentum into the dressing room.
The teams were physical in the second period and both had some scoring chances. But it wasn't until the clock got under three minutes left that the Stars expanded their lead.
Tyler Seguin
's speed and puck-handling created the opportunity. He skated into the zone and left it for Valeri Nichuskin, who managed to get the puck through Andersen.
Dallas added another insurance goal midway through the third period.
What it means:
The Stars earned their first shutout since April 10, 2008, at Anaheim in Game 1 of the first-round and in the process are back in the series. It was an opportunity lost for the Ducks to take a stranglehold in the series. The result also guarantees that the series will go back to Anaheim for Game 5 on Friday.
Player of the game:
Kari Lehtonen
was terrific when it mattered most. He made several key saves on some point-blank chances, including
Saku Koivu
and
Nick Bonino
early in the second period. That kept it a 1-0 game and the Stars were able to add to it later in the period. Lehtonen was in a good rhythm and not afraid to come out and challenge shots. And he saw a lot of them. The Ducks vastly outshot the Stars, but just couldn't get anything past Lehtonen, even when they got some traffic in front of him. He made 37 saves, earned his first playoff victory and did so in a shutout.
Stat of the game:
The Stars' penalty kill was 5-for-5 and became a big momentum-booster for Stars goals late in the first and second periods. The Stars didn't allow rebound chances, blocked shots and Lehtonen was able to keep everything out. The Ducks haven't had a power-play goal since Game 1.
Injured defenseman:
Stephane Robidas
fractured his right leg early in the second period after getting tangled up with
Ryan Garbutt
in front of the Ducks' net. It's the same leg Robidas fractured in November when he was with Dallas, causing him to miss four months.
What's next:
Game 4 is Wednesday at 8 p.m. ET at American Airlines Center before the series shifts back to Anaheim for Game 5 on Friday.
October, 22, 2013
10/22/13
10:00
AM CT
By
Richard Durrett
| ESPNDallas.com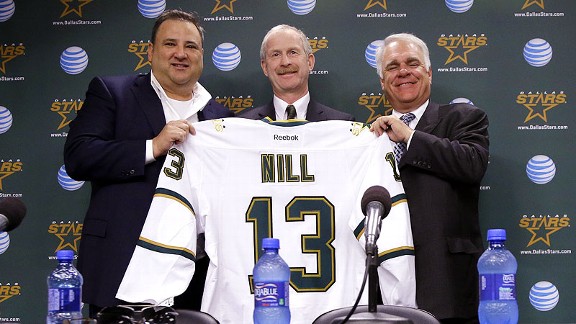 AP Photo/Tony GutierrezJim Nill says the Stars are probably about two years away from where they'd like to be.
FRISCO, Texas -- There isn't much hanging on the walls of Jim Nill's office, which sits just above the practice ice at Dr Pepper StarCenter in Frisco, home of the
Dallas Stars
.
There are nails, at least. But no pictures of Stars hockey players or even a few he helped bring to the
Detroit Red Wings
in his long tenure there.
"That's on the list," Nill said. "Be patient."
Patience is something Nill is working hard to preach -- and even harder to practice.
The 55-year-old Western Canada native admits that the competitor in him makes it difficult for him to accept that turning around a Stars franchise that last made the playoffs when George W. Bush was still in the White House (and not yet living in Dallas) isn't going to happen quickly.
"I've got to be honest: I think we're going to turn the corner, but we're probably two years away from what we should be," Nill said last week. "The core of the team is 20 to 26 years of age. That's young. You give those guys two years to mature and what we have coming up in the system and I think in two years we'll have a solid core. That's how Stanley Cup champions are built. We are in the early stage, but we have the talent."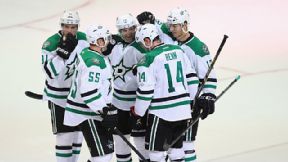 Ronald Martinez/Getty ImagesJim Nill wants to find a young core to build the club around and keep improving.
It's early in Nill's inaugural season, but already his patience is getting tested. Dallas is 3-5-0 and is struggling on defense. The club is near the bottom of the league in shots against and, as you can imagine, is taking too many penalties thanks to the puck spending an inordinate amount of time in the Stars' own end. It doesn't help that starting goalie
Kari Lehtonen
has missed most of those games after tweaking his groin earlier in the season. He's slated to return Thursday against Calgary.
"We just have to stay patient," Nill said.
There's that word again. What you won't see in Nill is any kind of panic. That's just not his style. Neither is skating into a new environment and showing off his guns despite his freshly-minted status as the Stars' sheriff. But he has a way -- perhaps it's his keen knowledge of the game and calm, yet assured demeanor -- of allowing his belief and confidence to seep into every aspect of the organization. He's in charge, there's no doubt about that. But he doesn't have to flaunt it or demand it.
"The guy has no ego," Stars owner Tom Gaglardi said. "He's knows what he's talking about. He's on his game. He's very competitive and hungry."
Part of that comes from the fact that he was Ken Holland's right-hand man in Detroit for so long, helping that organization draft, develop and hold onto key pieces that have made them the envy of most clubs in the NHL. And part of it is Nill has the ability to make those working for him feel immediately like they have a critical say in the direction of the franchise.
Maybe it's that whole patience thing again. After all, Nill had chances to leave Detroit and didn't. Part of it was his family. Part of it was his wife's health -- Bekki has incurable liver cancer. It was discovered two years ago and 12 years after her breast cancer went into remission.
But when the Stars called, the Nills decided it was time for a move. That was after 19 years in management with the Red Wings and another three before that as a player.
Nill said he was sold after meeting Gaglardi and becoming convinced that there was stability in ownership and a commitment to winning. And he knew there were key pieces on the ice to building a contender.
"Any successful team is built from goaltending to defense to center ice," Nill said. "You have to be good down the middle."
Nill called Lehtonen a "great goalie" and is convinced he's a player the team can build around.
"I don't think he realizes how good he can be," Nill said. "He's at that age where he can figure it out."
But the other two parts of Nill's equation are going to take some work. He knew that before he arrived.
"There's weakness on defense and we have to do something, but I know there are some prospects coming up," Nill said. "That takes time. Defense is a tough position to learn. You need experience. The other big spot is center ice. That was a major hole."
Nill went about plugging it. He moved
Jamie Benn
back to wing, his natural position, and named him team capatin. Nill made the biggest trade of his brief tenure, giving up a packaged centered by
Loui Eriksson
to get
Tyler Seguin
, a talented 21-year-old center. The deal didn't come without some risk. Seguin made waves even before he skated in Dallas, putting some things on Twitter he shouldn't have. But Nill managed to land one of the best centers available and did so by doing his homework. Boston needed to make a move with the salary cap dipping and the Stars had the ability to do it and improve their forward group. Nill made sure the Bruins had the Stars in mind when they were ready to make a move.
It was a deal in the mold of Nill's philosophy: Find a young core to build the club around and then keep improving. Nill believes in doing that through draft and development, key trades and quality signings. It's a blueprint that has made the Red Wings the envy of every organization in the NHL. You know the names --
Pavel Datsyuk
,
Henrik Zetterberg
,
Johan Franzen
,
Daniel Cleary
-- guys developed or obtained by the Wings that made up their core and shoved the winning window wide open.
Of course, sometime mistakes are made. You could argue, at least right now, that $10 million for two years of an aging
Sergei Gonchar
might not have been money well spent. But Nill will also argue that having Gonchar and even
Shawn Horcoff
teach the younger guys about life off the ice will help them two or three years down the road, when Gonchar and Horcoff aren't a part of this club anymore.
Nill believes strongly in what he's doing and he's not going to change course, even when the ice gets a bit choppy.
"You have to have stability," Nill said. "If you start making changes every two years on philosophy, you're going to chase your tail.
"We're going to draft and develop. That's the key in the world of the CBA (collective bargaining agreement, which includes a salary cap). You have to make smart signings. If you get committed to somebody long-term for big money and it's the wrong person, your hands are tied.
"We want to be a high-paced, hungry, competitive team. We'll play hard and move the puck. You can't play to not make a mistake. We want to make plays. But you have to be smart. That takes time to learn."
Nill also knows it takes a coach to help make that happen. He made the decision to fire Glen Gulutzan shortly after he took the job and began a search. Nill wanted someone with experience who could motivate and teach a young group. So he hired Lindy Ruff.
"The process of hiring a coach was probably the toughest thing I've had to do in my young career as a GM," Nill said. "You know people, but you don't know them. You interview and some people are naturally polished and some aren't. That may not mean anything.
"I don't want to say I got lucky, but I got the right guy. He's a great person. The one thing I didn't realize is he's such a detailed guy. His passion is unbelievable."
Nill didn't overhaul the existing management group. Instead, he came in and evaluated the people left after Joe Nieuwendyk's departure and decided to keep most of them. Les Jackson, the assistant GM, is respected in the game for his ability to evaluate talent as he runs the club's scouting department. Mark Janko and Scott White do a fair amount of negotiating contracts and keeping up-to-date on the CBA, which a quick glance makes it appear you need several advanced degrees to understand.
"He cares about every detail in the entire organization from players, player salaries and treating the players with respect as well as staff, training staff, scouts, everybody," Janko said. "He wants to know about everything that happens every day, but not in a controlling way. It's more in a leadership way."
The Stars clearly have their leader. And he's telling anyone who will listen that while he's frustrated with his team's start, he's staying patient.
"Patience is tough for everybody," Gaglardi said. "I expect to get better. I don't want to go backward. How far that takes us in terms of making the playoffs or how many rounds we win? I don't know. I think this is a core of guys that in the next couple of years are going to improve and then in year three or four or five, we've got a real shot to win. That's what we're building for. But it takes time."
In the meantime, Nill and his staff will continue to look for any way to improve the club while never wavering from their philosophy. Perhaps with some of that patience, Nill could hang a few photos on his office wall, though?
February, 15, 2011
2/15/11
8:45
PM CT
The Dallas Stars didn't get off to a stellar start on their road trip to Western Canada. The Stars lost 4-1 to the Edmonton Oilers. It was the sixth loss in the last seven games for the Stars (1-5-1) and their eighth in the last ten (2-7-1). It was also their fifth straight loss on the road. Loui Eriksson scored the lone goal for Dallas. Kari Lehtonen made 26 saves. Dallas played without five regular players, including leading scorer Brad Richards. The Oilers snapped a seven-game winless streak at home and scored two power play goals, ending a seven-game power play drought.

Quotable

"With the exception of our goalie tonight, there wasn't a whole lot of desperation. They were the hungrier team. They won more races to pucks. They created some power plays with their good speed." – Stars captain Brenden Morrow.

"It's very frustrating. I don't think we played at the level we can. It's easy to say we have lots of guys hurt, but we are a better team than we've shown the last couple weeks." – Stars goaltender Kari Lehtonen

Notes

*The Stars have been outscored 27-10 during their five-game road losing streak.

*The Stars scored one goal in a game for the fifth time in their last nine games overall.

*The Stars have not scored an even strength in the last two games.

*The Stars allowed two or more power play goals in a game for the fourth time in the last nine games.

*The Stars are 25-37 (67.6%) on the penalty kill over the last ten games.

*Kari Lehtonen picked up his fifth assist of the season, tying Ed Belfour and Marty Turco for the franchise record for most assists by a goaltender in a season.

First period

Jordan Eberle scored the lone goal of the period, tallying just after an Edmonton power play had expired. Sam Gagner made a slick move along the Dallas goal line and then backhanded the puck to Eberle, who put the puck past Stars goaltender Kari Lehtonen with 1:58 left in the period.

The Star had some good chances in the period but Oilers goaltender Nikolai Khabibulin was sharp, making excellent saves on Loui Eriksson, Brenden Morrow and Tomas Vincour.

Second period

The Oilers extended their lead to 2-0 with a power play goal at the 7:40 mark of the second period. Shawn Horcoff sent a cross-ice to pass to Taylor Chorney, who scored off a one-timer from the right circle.

The Stars cut the lead to 2-1 by cashing in on their first power play chance late in the period. Jason Williams, playing the point on the power play with Brad Richards out of the lineup, set up Loui Eriksson on a breakaway and Eriksson beat Nikolai Khabibulin with a backhand shot with 3:29 left in the period.

Just ten seconds later the Oilers went on a power play and they scored to get their two-goal lead back. Ales Hemsky set up a backdoor goal by Horcoff with just 1:50 left in the period to make it 3-1 Oilers heading into the second intermission.

Third period

The Oilers made a it a 4-1 game just 28 seconds into the third period. Horcoff sent a pass to Hemsky, who split the Dallas defense and then slipped the puck past Lehtonen with a backhand shot.

The Stars had two power play chances In the period, but couldn't cut into the Edmonton lead.

Stars lineup

Morrow-Ribeiro-Eriksson
Wandell-Ott-Vincour
Neal-Williams-Vincour
Sutherby-Gagnon-Petersen
Morrow-Ribeiro-Williams
Neal-Wandell-Eriksson
Vincour-Ott-Langenbrunner

Fistric-Robidas
Woywitka-Daley
Skrastins-Niskanen

Lehtonen
Raycroft (backup)

Scratches: Ludwig

Injured: Richards (upper body), Grossman (hip), Burish (orbital bone), Barch (orbital bone), Benn (shoulder), Sawada (shoulder)

Power play units

Morrow-Ribeiro-Eriksson-Williams-Robidas/Daley
Neal-Ott-Langenbrunner-Niskanen-Robidas/Woywitka

Penalty kill units

Ribeiro-Morrow-Skrastins-Robidas
Wandell-Eriksson-Fistric-Woywitka
Ott-Langenbrunner-Skrastins-Robidas
Petersen-Eriksson-Fistric-Daley
January, 26, 2011
1/26/11
7:15
PM CT
The Dallas Stars head into the All-Star break on a winning note. Brenden Morrow scored two goals and Kari Lehtonen stopped 34 shots as the Stars beat the Edmonton Oilers 3-1 Wednesday night at American Airlines Center. Adam Burish also had a goal and Jamie Langenbrunner and Mike Ribeiro each had two assists for the Stars, who snapped a two-game losing streak and head into the break with a 30-15-5 record.

Quotable

"It wasn't a masterpiece by us tonight. Our goalie was terrific. It was a real gutsy effort right through our lineup." – Stars coach Marc Crawford

"It was definitely what we wanted to do coming off two tough games – respond well, play physical. I think we definitely did a good job of that and were able to hang on for the win. Kari [Lehtonen] played phenomenal." – Stars forward Jamie Langenbrunner

"We were 48 hours late, but we got challenged a little bit in Vancouver and we pushed back tonight. It was good to see. The compete level was a lot higher tonight, that's for sure." – Stars captain Brenden Morrow

Notes

*The Stars are 22-8-5 in their last 35 games.

*The Stars were 8-2-1 in January, the second best January in team history.

*The Stars are 4-0-1 in their last five home games.

*The Stars are 23-2-1 when scoring first this season.

*Stars captain Brenden Morrow has 12 points (7 goals, 5 assists) in the last 13 games.

*Stars center Mike Ribeiro has 16 points (4 goals, 12 assists) in his last 13 games.

*Adam Burish scored his seventh goal of the season, establishing a new career-high.

*The Stars won 35 of 51 (69%) faceoffs in the game.

*The two teams combined for 100 penalty minutes. The Stars had 54 and the Oilers had 46. Krys Barch led Dallas with 22 penalty minutes (two fighting majors, a roughing minor and a 10 minute misconduct). James Neal was next with 19 penalty minutes (one fighting major, an unsportsmanlike conduct minor, an instigator minor and a ten minute misconduct).

First period

The Stars opened the scoring 10:38 into the game when Adam Burish scored off the rush, beating Oilers goalie Nikolai Khabibulin with a wrist shot from the right circle.

The Stars had only one more shot on goal after the Burish goal and ended up getting outshot in the period 11-5.

Krys Barch and Jim Vandermeer dropped the gloves with 6:31 left in the period and 14 second later Matt Niskanen fought with Colin Fraser and got a big round of applause from the crowd at American Airlines Center.

Jamie Benn, Tom Wandell, Toby Petersen and Jeff Woywitka were all out with injuries for the Stars.

Second period

The Stars went on their first power play of the game early in the second period and cashed in to take a 2-0 lead. Brenden Morrow scored his 20th goal of the season, knocking home the rebound of a Jamie Langenbrunner one-timer at the 2:32 mark.

The Stars extended the lead to 3-0 on Morrow's second goal of the night. Mike Ribeiro sent a pass from behind the net to Langenbrunner, whose cross-ice pass from the right corner was banged homed by Morrow at 8:22 of the period.

Fight three of the night featured Krys Barch and Edmonton's Zach Stortini.

Fight four pitted James Neal against Theo Peckham. Neal went after Peckham, who had just dumped Brad Richards in the neutral zone.

Neal picked up instigator and unsportsmanlike conduct minors, which resulted in the Oilers going on a power play and they cashed In to cut the Stars' lead to 3-1. Dustin Penner scored off the rebound of a Shawn Horcoff shot with 2:16 left in the period.

Third period

The Stars got a full 2:00 of five-on-three time midway through the third period, but couldn't take advantage.

The penalty minutes in the game climbed to 100 minutes as well, when Morrow took a slashing minor and Khabibulin picked up a roughing minor during the five-on-three.

The Oilers got some momentum off the five-on-three kill and Stars goalie Kari Lehtonen made some sharp saves to keep the Oilers from cutting into the Dallas lead.

Stars lineup

Neal-Richards-Eriksson
Morrow-Ribeiro-Langenbrunner
Ott-Morin-Burish
Sutherby-Gagnon-Barch

Grossman-Robidas
Skrastins-Daley
Fistric-Niskanen

Lehtonen
Raycroft (backup)

Scratches: None

Injured: Benn (undisclosed), Wandell (undisclosed), Woywitka (shoulder), Petersen (leg)

Power play units

Eriksson-Ribeiro-Morrow-Richards-Robidas
Langenbrunner-Ribeiro-Morrow-Richards-Robidas
Morrow-Ribeiro-Eriksson-Richards-Langenbrunner

Penalty kill units

Ott-Gagnon-Skrastins-Robidas
Burish-Sutherby-Grossman-Daley
Ott-Burish-Skrastins-Robidas
Gagnon-Langenbrunner-Grossman-Daley