Dallas Stars:

Tyler Seguin
July, 1, 2014
Jul 1
12:25
PM CT
Maybe you wondered if Jim Nill, who spent all of those years working behind the scenes with the
Detroit Red Wings
, would have the stuff to be a big-time NHL general manager on his own with the
Dallas Stars
.
Maybe you'll stop wondering now.
In one calendar year, Nill has stocked his team with two elite centers and has the Stars in a strong position to not just build on this season's surprise berth in the playoffs, but to make some noise next spring.
Nill followed his July 2013 acquisition of
Tyler Seguin
from the
Boston Bruins
in a blockbuster deal by acquiring disgruntled Ottawa center
Jason Spezza
on Tuesday, about an hour before the start of the free-agency period.
[+] Enlarge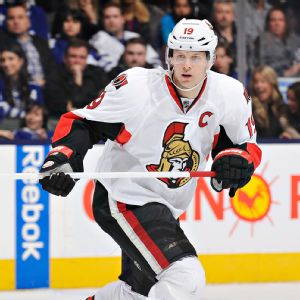 Graig Abel/Getty ImagesJason Spezza gives the Stars a potent 1-2 punch at center alongside Tyler Seguin.
The Stars sent
Alex Chiasson
, Alex Guptill, Nicholas Paul and a second-round 2015 draft pick to Ottawa, which continues to reshape its roster. The Senators have lost their past two captains in successive years, with
Daniel Alfredsson
signing as a free agent last summer with Detroit.
The Stars also got prospect Ludwig Karlsson in the deal.
Chiasson, a 6-foot-4 winger, looks to have the most upside of the group, enjoying a strong start in his rookie season with the Stars but cooling off in the second half, finishing with 13 goals and 35 points (including six power-play goals and four game-winners).
He'll presumably get a chance to play top-six minutes with a team that must redefine itself offensively. The Senators are coming off a disappointing season in which they missed the playoffs despite remaining relatively healthy. They made surprise postseason appearances in each of the previous two seasons.
The Stars, of course, get the best player in the deal in Spezza, the second overall pick in 2001 who had spent his entire career in Ottawa and had grown tired of playing there.
Still, the move doesn't come without question marks for Dallas. (Is there a deal of this magnitude that ever gets done without some questions about the players involved?)
Spezza has had injury issues, most notably back problems that limited him to just five regular-season games in the lockout-shortened 2012-13 season. He has played 80 or more games in a season just twice in his career.
Spezza remains a top talent, though, and has managed to collect 52 points in 56 postseason games. Those are numbers that will be important to the Stars, who pushed the
Anaheim Ducks
to six games in the first round of the playoffs this spring.
That series was instructive to Nill and Lindy Ruff, who was in his first year as the Stars' coach.
Teams in the Western Conference must have the goods down the middle if they're going to compete with the defending Stanley Cup champion
Los Angeles Kings
, and Anaheim struck pivot gold by acquiring
Ryan Kesler
from the
Vancouver Canucks
before the June 27 draft. Teams like the
Chicago Blackhawks
,
St. Louis Blues
and
Nashville Predators
have been scrambling to fill in down the middle as well.
The Stars began the draft period looking like it wouldn't be in the running for players such as Spezza, who identified 10 teams to which he wouldn't accept a trade.
And yet Nill and Ottawa GM Bryan Murray managed to get a deal done that gives the Stars a nice complement to Seguin, who blossomed with 37 goals (eight game-winners) last season after spending two tumultuous years in Boston, where the No. 2 overall pick in 2010 spent much of the time playing wing.
Now look around the Western Conference and contemplate these center combinations:
Anze Kopitar
and
Jeff Carter
in Los Angeles;
Ryan Getzlaf
and Kesler in Anaheim;
Logan Couture
and
Joe Thornton
(if he stays) in San Jose; and now Seguin and Spezza in Dallas.
In a matter of days, the balance of power has been dramatically altered in the West, home to a preponderance of the NHL's top teams.
Spezza has one year left on a deal that pays him just $4 million in real money but comes with a $7 million cap hit. Nill will presumably be looking to extend Spezza, but that's something to consider down the road. And if the Stars hit the skids, they could of course consider flipping Spezza at next season's trade deadline.
And let's be honest: Frankly, the Stars aren't quite there yet. But when you factor in Seguin, Spezza and
Cody Eakin
, who had 16 goals last season, the Stars' complement of centers is impressive. Throw in
Jamie Benn
(34 goals), emerging Russian talent
Valeri Nichushkin
and new signing
Ales Hemsky
(who played some with Spezza after going to Ottawa at the trade deadline last season) on the wings and the Stars will be able to go toe-to-toe offensively with most of the competition in the West.
Defensively, the team is still maturing and we must admit a certain ongoing skepticism about goalie
Kari Lehtonen
staying healthy enough to carry the Stars beyond the first round of the playoffs.
Still, as the free-agent market opens, there is little question the Stars are better than they were a few hours ago and are forcing teams to scramble for other options.
April, 21, 2014
Apr 21
11:31
PM CT
DALLAS -- The
Dallas Stars
earned their first playoff victory since 2008, beating the
Anaheim Ducks
, 3-0. It was the Stars' first home game of the series, played in front of a sellout crowd of 19,120.
Some quick thoughts:
How it happened:
The Stars got goals late in both the first and second periods.
Jamie Benn
, the Stars' second-leading goal scorer in the regular season, scored after
Shawn Horcoff
's shot from the left circle hit the pads of Ducks goalie
Frederik Andersen
and came right out to Benn on the right circle and he deposited it in the net. The goal was scored with 35 seconds left in the first period, allowing Dallas to take some momentum into the dressing room.
The teams were physical in the second period and both had some scoring chances. But it wasn't until the clock got under three minutes left that the Stars expanded their lead.
Tyler Seguin
's speed and puck-handling created the opportunity. He skated into the zone and left it for Valeri Nichuskin, who managed to get the puck through Andersen.
Dallas added another insurance goal midway through the third period.
What it means:
The Stars earned their first shutout since April 10, 2008, at Anaheim in Game 1 of the first-round and in the process are back in the series. It was an opportunity lost for the Ducks to take a stranglehold in the series. The result also guarantees that the series will go back to Anaheim for Game 5 on Friday.
Player of the game:
Kari Lehtonen
was terrific when it mattered most. He made several key saves on some point-blank chances, including
Saku Koivu
and
Nick Bonino
early in the second period. That kept it a 1-0 game and the Stars were able to add to it later in the period. Lehtonen was in a good rhythm and not afraid to come out and challenge shots. And he saw a lot of them. The Ducks vastly outshot the Stars, but just couldn't get anything past Lehtonen, even when they got some traffic in front of him. He made 37 saves, earned his first playoff victory and did so in a shutout.
Stat of the game:
The Stars' penalty kill was 5-for-5 and became a big momentum-booster for Stars goals late in the first and second periods. The Stars didn't allow rebound chances, blocked shots and Lehtonen was able to keep everything out. The Ducks haven't had a power-play goal since Game 1.
Injured defenseman:
Stephane Robidas
fractured his right leg early in the second period after getting tangled up with
Ryan Garbutt
in front of the Ducks' net. It's the same leg Robidas fractured in November when he was with Dallas, causing him to miss four months.
What's next:
Game 4 is Wednesday at 8 p.m. ET at American Airlines Center before the series shifts back to Anaheim for Game 5 on Friday.
April, 21, 2014
Apr 21
10:00
AM CT
DALLAS -- Through two games, it has been top line versus top line. That was how the
Anaheim Ducks
decided to counter the
Dallas Stars
' line featuring
Jamie Benn
and
Tyler Seguin
. It will be up to Stars coach Lindy Ruff, since he'll get last line change, as to how he approaches
Corey Perry
and
Ryan Getzlaf
. But it's very possible that we'll continue to see the top lines out on the ice against each other.
"We like it," Getzlaf said. "I've always loved that head-to-head matchup with anybody. It draws out the best in you and forces you to play both ends of the rink and play well. That's always a good challenge for us and so far we've been up to it."
Perry and Getzlaf both had goals in Anaheim's Game 2 win, and Getzlaf added an impressive assist on a short-handed goal.
"They are two good players," Benn said. "They're going to find ways to get their opportunities."
Perry's goal came when he took away a pass from Seguin intended for Benn and cashed in the chance. Getzlaf scored when he pressured
Erik Cole
into a mistake. Getzlaf impressed his coach with how he played Friday, after getting beat up in Game 1 and not getting much sleep after he and his wife welcomed a baby girl.
"He looked like crap in his face," Ducks coach Bruce Boudreau said. "He's obviously tired. He doesn't like wearing a shield and the first shift he's in, he runs somebody to show everybody, 'I am fine. I am good. Don't think you're going to take advantage of me tonight.' I thought that was such a telltale sign of a superstar."
The top lines on both teams know each other well. After all, Benn played with Perry and Getzlaf on Team Canada at the Olympics.
"They are great hockey players," Getzlaf said. "Benn we saw at the Olympics firsthand and [Seguin] has a great season coming here. He plays the game so fast and plays the game at such a high level that when you have Benn out there that can get him the puck, you have to pay attention to them."
Both lines have earned plenty of attention through two games. That's not likely to change in Game 3.
April, 21, 2014
Apr 21
8:00
AM CT
DALLAS -- The
Dallas Stars
are clearly comfortable at American Airlines Center. They finished the season with a 10-2-1 record in their final 13 games at home, helping them end a six-year postseason drought.
"We've played real good hockey, especially the last 15, 20 games here," Stars coach Lindy Ruff said. "In front of our crowd, I think that added energy will help our team."
But the playoffs are a different atmosphere completely. And Stars fans haven't had a chance to cheer their team in the playoffs since a loss to Detroit in Game 6 of the Western Conference Finals on May 19, 2008. The Stars expect the building to be fired up.
"I'm excited," said Stars center
Tyler Seguin
, who has 42 points at AAC this season, tied for seventh-most in the NHL. "[It will] be interesting to see the atmosphere, especially with these fans not seeing playoff hockey in a while. I think everyone's very excited."
Ruff also gets the benefit of last line change, providing him more of an opportunity to get the matchups on the ice that he wants. But more than anything strategic, it's the idea that practicing in Frisco, sleeping in their own beds and going out with a home crowd behind them will provide the Stars with an important boost.
"It's going to be a great atmosphere," said
Jamie Benn
, who is tied with Seguin at 42 points at home this season. "Obviously, our fans have backed us up all year, so it's going to be fun to go out there and play in front of them. It's our first playoff game here in a while, so we're looking forward to it."
Dallas was 23-11-7 at home during the regular season and seemed to play better in Dallas as the season progressed. They're hoping the comfort level they have in the building helps them get their first win in this series.
April, 15, 2014
Apr 15
6:05
PM CT
It's not very often that a No. 1 seed is beaten in the first round of the NHL playoffs, but it's not unprecedented, either. In fact, a No. 8 seed -- Los Angeles -- won the Stanley Cup a few years ago. So what do the
Dallas Stars
need to do to pull off the upset of the
Anaheim Ducks
? Here are five things they need to do:
1. Win the goaltending battle.
It's odd that the Ducks are the top seed and have major questions in goal.
Jonas Hiller
was disappointing in the final month of the season, forcing coach Bruce Boudreau to go with his younger netminders in
Frederik Andersen
and
John Gibson
, who won all three of his starts with a .954 save percentage. Stars coach Lindy Ruff is betting Boudreau goes with Andersen because of how much Hiller has struggled. But that gives the advantage in nets to the Dallas Stars and goalie
Kari Lehtonen
. He's played well this season and is seeking redemption for his quick and rough playoff experience with Atlanta.

2. Utilize their speed and puck possession skills.
The Stars annoy opponents because they are always on the go. If you're not ready to skate, the Stars will beat you. Dallas is the faster team and if the Stars can drive the tempo up and control the puck, something they are very good at doing, they can make things difficult on the Ducks. Ruff's style with this team is to grab the puck and create scoring chances. And with
Jamie Benn
and
Tyler Seguin
on the top line, they have the ability to do that.
3. Get scoring from more than Benn and Seguin.
Everyone in the NHL knows how good Benn and Seguin are, but the Stars also have a second line that can do some damage in
Antoine Roussel
,
Cody Eakin
and
Ryan Garbutt
. All three will be playing in the playoffs for the first time. How they respond will go a long way toward determining whether the Stars pull the upset. The trio has played well down the stretch in pressure games and they look ready.
4. Do the job on special teams.
The two squads are fairly even on the power play and penalty kill, but if you look inside the numbers you'll find that the Stars did a better job in both categories in the last few weeks. The Stars finished 23rd on the power play (Anaheim is 22nd) and 21st on the penalty kill (Anaheim is 13th, but not much higher than Dallas on percentage), but that was not indicative of how they played when the games mattered most as the season wound down. The Stars moved the puck well on the power play and found shooting lanes and they were smart, but aggressive on the penalty kill. They'll have to do both in this series.
As an added part to No. 4, the Stars' defense, inconsistent this season, must avoid too many costly turnovers. That's area that's been an issue for this team.
5. Don't squint under the playoff lights.
This is a new experience for 12 of the Stars' players. Lehtonen has just two playoff games to his name. How the club reacts to the pressure, especially early in the series, is critical. If Dallas can stay calm and competitive in the first 20 minutes on Wednesday, that could set an important tone for the rest of the series. Anaheim has been here before. The Stars haven't played a postseason game since 2008. They've got a new GM, coach, owner and a gaggle of new players since then. They can't let the newness of the experience overwhelm them.
March, 12, 2014
Mar 12
12:42
AM CT
By
Dave Luecking
| Special to ESPNDallas.com
St. Louis –
Dallas Stars
coach Lindy Ruff fired off a text to
Rich Peverley
right after the game Tuesday night at Scottrade Center to tell him the Stars had beaten the top team in the National Hockey League, the
St. Louis Blues
.
A text came right back onto Ruff's smartphone from Peverley, and read, simply:
"Keep rolling, and we'll see you tomorrow."
[+] Enlarge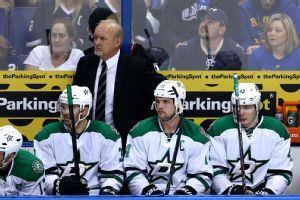 Billy Hurst/CSM/AP ImagesIt wasn't easy to put aside what happened on Monday, but hearing from Rich Peverley helped the Stars do what he asked: Keep rolling.
Yes indeed: Keep rolling.
The Stars put the scary events of Monday night aside -- Peverley collapsing on the Stars bench at American Airlines Center and needing life-saving medical treatment -- and beat the NHL's top team 3-2 in overtime.
Jamie Benn
scored the game winner with 1:18 left in overtime, sniping a shot over
Ryan Miller
's glove on assists from
Trevor Daley
and
Tyler Seguin
.
Benn and Seguin were on either side of linemate Peverley after they came off on a line change when Peverley collapsed Monday night.
"Last night was a scary situation; today's a new day," said Benn, the Stars' captain. "We were thinking about Rich back home, but I thought we did a great job getting mentally ready for this game. We're still in a playoff hunt, a good playoff push. We found a way to get to points."
The victory was the Stars' third in a row, and they are 8-2-1 in their last 11 games. They're 32-23-10 for 74 points, in eighth in the Western Conference and in the second and final wild-card playoff spot. The Blues dropped to 44-14-7 for 95 points, first by two points over Anaheim in the NHL standings.
Putting aside the traumatic events "wasn't easy," Benn said. One of their teammates,
Alex Chiasson
, was so emotionally distraught by the event that he was hospitalized Monday night rather than traveling to St. Louis. Still, the Stars were able to focus in on the game, well fought throughout.
"It hit our guys pretty good last night," Benn said. "I thought we did a job in coming in here and getting two points in a tough building."
In addition to scoring the winner, Benn sprung
Antoine Roussel
for his breakaway goal in the second period.
Colton Sceviour
, one of two players called up from the AHL's Texas Stars to fill out the roster Tuesday, scored the other goal.
Sceviour wasn't sure what was awaiting him when he joined the team. The incident hit him as well, and he was only watching the game on television.
"You never know what to expect in this situation," he said. "There's not a page in a book about how to handle a situation like this. The fact that he texted a lot of guys and told them he was doing well, the fact he was stable, helped guys put that aside for a couple hours and focus on hockey for a little bit. That was huge."
Goalie
Tim Thomas
finished with 28 saves for his second win in a Stars uniform. Thomas watched Benn's winner unfold from the other end of the ice.
"When I saw the puck come to Jamie there, I was like, 'Bury it,' and he put it top shelf," Thomas said. "Awesome job."
Thomas has only been with the Stars a week, arriving at the trade deadline from Florida. He played his first game Saturday when
Kari Lehtonen
suffered a concussion, and had the curtailed start Monday before finally playing a full game -- and then some -- Tuesday.
"It helps that Rich is doing really well," Thomas said. "I'm certainly not trying to underplay anything that happened to Rich, you know, but under the circumstances, I'm going to look at the positives that he's doing well, and I'm sure he was cheering us on. He'd want us to go out and win the game, and that's what we did."
Peverley's texts Monday from the hospital helped immensely, according to Thomas.
"That set a lot of guys at ease; it did me anyway," Thomas said.
Likewise, the text Tuesday to Ruff was the best news of the day.
November, 9, 2013
11/09/13
7:00
PM CT
By
Todd Wills
| ESPNDallas.com
DALLAS --
Tyler Seguin
had one of his biggest fans opposing him Saturday night when the
Dallas Stars
faced off against the
Chicago Blackhawks
.
Try the reigning Conn Smythe winner
Patrick Kane
, who led the Stanley Cup champion Blackhawks into American Airlines Center, where he was reunited with Seguin, who is emerging in his first season with the Stars.
Kane and Seguin were teammates during last season's NHL lockout, playing together in Switzerland for EHC Biel. Kane took great appreciation for Seguin's game, so he's not surprised that the 21-year-old -- acquired by Dallas in a blockbuster offseason trade -- has 15 points in 16 games to lead the Stars along with captain
Jamie Benn
.
"[Tyler's] a great player," Kane said after Saturday's morning skate at the AAC. "When you play with him, he has every tool in the book as far as skill-wise. When I played with him, I thought he was the best player I ever played with over in Switzerland. It shows what he can do. He has tremendous speed. He has a great shot. He can play the game very well offensively, and he's very smart too. I'm happy for him that he's gotten off to this start."
Seguin draws comparisons to Kane because both were high draft picks -- Kane first overall in 2007 and Seguin second overall by Boston in 2010 -- and because both have reputations for having a little too much fun at times.
October, 22, 2013
10/22/13
10:00
AM CT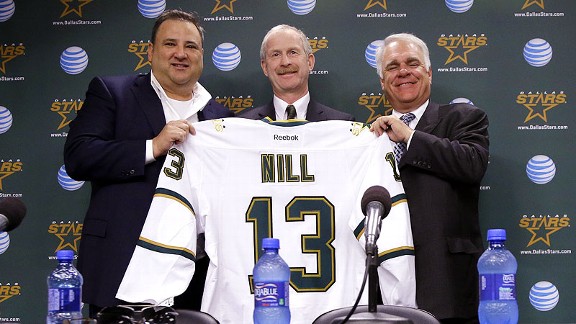 AP Photo/Tony GutierrezJim Nill says the Stars are probably about two years away from where they'd like to be.
FRISCO, Texas -- There isn't much hanging on the walls of Jim Nill's office, which sits just above the practice ice at Dr Pepper StarCenter in Frisco, home of the
Dallas Stars
.
There are nails, at least. But no pictures of Stars hockey players or even a few he helped bring to the
Detroit Red Wings
in his long tenure there.
"That's on the list," Nill said. "Be patient."
Patience is something Nill is working hard to preach -- and even harder to practice.
The 55-year-old Western Canada native admits that the competitor in him makes it difficult for him to accept that turning around a Stars franchise that last made the playoffs when George W. Bush was still in the White House (and not yet living in Dallas) isn't going to happen quickly.
"I've got to be honest: I think we're going to turn the corner, but we're probably two years away from what we should be," Nill said last week. "The core of the team is 20 to 26 years of age. That's young. You give those guys two years to mature and what we have coming up in the system and I think in two years we'll have a solid core. That's how Stanley Cup champions are built. We are in the early stage, but we have the talent."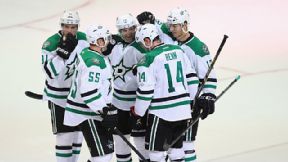 Ronald Martinez/Getty ImagesJim Nill wants to find a young core to build the club around and keep improving.
It's early in Nill's inaugural season, but already his patience is getting tested. Dallas is 3-5-0 and is struggling on defense. The club is near the bottom of the league in shots against and, as you can imagine, is taking too many penalties thanks to the puck spending an inordinate amount of time in the Stars' own end. It doesn't help that starting goalie
Kari Lehtonen
has missed most of those games after tweaking his groin earlier in the season. He's slated to return Thursday against Calgary.
"We just have to stay patient," Nill said.
There's that word again. What you won't see in Nill is any kind of panic. That's just not his style. Neither is skating into a new environment and showing off his guns despite his freshly-minted status as the Stars' sheriff. But he has a way -- perhaps it's his keen knowledge of the game and calm, yet assured demeanor -- of allowing his belief and confidence to seep into every aspect of the organization. He's in charge, there's no doubt about that. But he doesn't have to flaunt it or demand it.
"The guy has no ego," Stars owner Tom Gaglardi said. "He's knows what he's talking about. He's on his game. He's very competitive and hungry."
Part of that comes from the fact that he was Ken Holland's right-hand man in Detroit for so long, helping that organization draft, develop and hold onto key pieces that have made them the envy of most clubs in the NHL. And part of it is Nill has the ability to make those working for him feel immediately like they have a critical say in the direction of the franchise.
Maybe it's that whole patience thing again. After all, Nill had chances to leave Detroit and didn't. Part of it was his family. Part of it was his wife's health -- Bekki has incurable liver cancer. It was discovered two years ago and 12 years after her breast cancer went into remission.
But when the Stars called, the Nills decided it was time for a move. That was after 19 years in management with the Red Wings and another three before that as a player.
Nill said he was sold after meeting Gaglardi and becoming convinced that there was stability in ownership and a commitment to winning. And he knew there were key pieces on the ice to building a contender.
"Any successful team is built from goaltending to defense to center ice," Nill said. "You have to be good down the middle."
Nill called Lehtonen a "great goalie" and is convinced he's a player the team can build around.
"I don't think he realizes how good he can be," Nill said. "He's at that age where he can figure it out."
But the other two parts of Nill's equation are going to take some work. He knew that before he arrived.
"There's weakness on defense and we have to do something, but I know there are some prospects coming up," Nill said. "That takes time. Defense is a tough position to learn. You need experience. The other big spot is center ice. That was a major hole."
Nill went about plugging it. He moved
Jamie Benn
back to wing, his natural position, and named him team capatin. Nill made the biggest trade of his brief tenure, giving up a packaged centered by
Loui Eriksson
to get
Tyler Seguin
, a talented 21-year-old center. The deal didn't come without some risk. Seguin made waves even before he skated in Dallas, putting some things on Twitter he shouldn't have. But Nill managed to land one of the best centers available and did so by doing his homework. Boston needed to make a move with the salary cap dipping and the Stars had the ability to do it and improve their forward group. Nill made sure the Bruins had the Stars in mind when they were ready to make a move.
It was a deal in the mold of Nill's philosophy: Find a young core to build the club around and then keep improving. Nill believes in doing that through draft and development, key trades and quality signings. It's a blueprint that has made the Red Wings the envy of every organization in the NHL. You know the names --
Pavel Datsyuk
,
Henrik Zetterberg
,
Johan Franzen
,
Daniel Cleary
-- guys developed or obtained by the Wings that made up their core and shoved the winning window wide open.
Of course, sometime mistakes are made. You could argue, at least right now, that $10 million for two years of an aging
Sergei Gonchar
might not have been money well spent. But Nill will also argue that having Gonchar and even
Shawn Horcoff
teach the younger guys about life off the ice will help them two or three years down the road, when Gonchar and Horcoff aren't a part of this club anymore.
Nill believes strongly in what he's doing and he's not going to change course, even when the ice gets a bit choppy.
"You have to have stability," Nill said. "If you start making changes every two years on philosophy, you're going to chase your tail.
"We're going to draft and develop. That's the key in the world of the CBA (collective bargaining agreement, which includes a salary cap). You have to make smart signings. If you get committed to somebody long-term for big money and it's the wrong person, your hands are tied.
"We want to be a high-paced, hungry, competitive team. We'll play hard and move the puck. You can't play to not make a mistake. We want to make plays. But you have to be smart. That takes time to learn."
Nill also knows it takes a coach to help make that happen. He made the decision to fire Glen Gulutzan shortly after he took the job and began a search. Nill wanted someone with experience who could motivate and teach a young group. So he hired Lindy Ruff.
"The process of hiring a coach was probably the toughest thing I've had to do in my young career as a GM," Nill said. "You know people, but you don't know them. You interview and some people are naturally polished and some aren't. That may not mean anything.
"I don't want to say I got lucky, but I got the right guy. He's a great person. The one thing I didn't realize is he's such a detailed guy. His passion is unbelievable."
Nill didn't overhaul the existing management group. Instead, he came in and evaluated the people left after Joe Nieuwendyk's departure and decided to keep most of them. Les Jackson, the assistant GM, is respected in the game for his ability to evaluate talent as he runs the club's scouting department. Mark Janko and Scott White do a fair amount of negotiating contracts and keeping up-to-date on the CBA, which a quick glance makes it appear you need several advanced degrees to understand.
"He cares about every detail in the entire organization from players, player salaries and treating the players with respect as well as staff, training staff, scouts, everybody," Janko said. "He wants to know about everything that happens every day, but not in a controlling way. It's more in a leadership way."
The Stars clearly have their leader. And he's telling anyone who will listen that while he's frustrated with his team's start, he's staying patient.
"Patience is tough for everybody," Gaglardi said. "I expect to get better. I don't want to go backward. How far that takes us in terms of making the playoffs or how many rounds we win? I don't know. I think this is a core of guys that in the next couple of years are going to improve and then in year three or four or five, we've got a real shot to win. That's what we're building for. But it takes time."
In the meantime, Nill and his staff will continue to look for any way to improve the club while never wavering from their philosophy. Perhaps with some of that patience, Nill could hang a few photos on his office wall, though?
Your request cannot be processed at the current time. Please check back as we will work to correct the problem as quickly as possible.
Please feel free to send us any comments or feedback.
Your request cannot be processed at the current time. Please check back as we will work to correct the problem as quickly as possible.
Please feel free to send us any comments or feedback.