September, 17, 2014
Sep 17
12:14
AM CT
Associated Press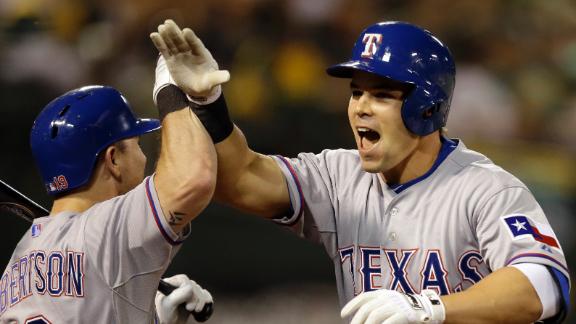 OAKLAND, Calif. -- Scott Kazmir allowed a two-run homer to Jake Smolinski, and shortstop Jed Lowrie made an error that led to a pair of unearned runs as the Oakland Athletics lost 6-3 to the last-place Texas Rangers on Tuesday night.
After strengthening their AL wild-card lead by beating Seattle in the final two games of a weekend series, the A's looked sloppy in the opener of a nine-game homestand and failed in their attempt to win three straight for the first time since Aug. 7-9.
Oakland made two errors, threw two wild pitches and got another rough outing from Kazmir (14-9) to lose for the 15th time in 22 games. The A's remained one game ahead of Kansas City for the top wild-card spot. Seattle entered the day two games behind the Royals for the second berth.
September, 16, 2014
Sep 16
5:14
PM CT
Texas Rangers left fielder Shin-Soo Choo will undergo surgery Wednesday on his left ankle for a cartilage tear.
Choo has said for the majority of the season he didn't need surgery, but after further evaluations it was determined he needed a procedure.
Choo underwent minor surgery on Aug. 29 to remove a bone spur in his left elbow, ending his season. Choo said he was dealing with the elbow problem since the start of the season. He injured his ankle during a game in April and said he should have gone on the disabled list then.
He tried to play through the elbow and ankle injuries and his play suffered.
Choo, in 123 games, had a slash line of .242/.340./.374. Choo's batting average, on base percentage and slugging percentage are below his career average. After his ankle surgery, Choo can begin running in six-to-eight weeks.
September, 16, 2014
Sep 16
1:15
PM CT
Third baseman
Adrian Beltre
is the
Texas Rangers
' nominee for the Roberto Clemente Award.
The award recognizes a player who represents the game through positive contributions on and off the field.
Wednesday is the 13th annual Roberto Clemente Day. Teams playing in their home parks will recognize their local nominees while the visiting teams will do so when they return home. In the Rangers' case, Beltre will be honored during the last homestand of the season, which starts Sept. 22.
As part of the celebration, a Roberto Clemente Day logo will be on the bases and the lineup cards in the dugout.
The Hall of Fame outfielder was a 15-time All-Star who died in a plane crash on New Year's Eve in 1972 while attempting to deliver supplies to earthquake victims in Nicaragua.
September, 16, 2014
Sep 16
12:25
PM CT
Thad Levine, the
Texas Rangers
' assistant general manager, has withdrawn his name for the vacant GM job with the
Arizona Diamondbacks
.
Levine, who has been the No. 2 man to Jon Daniels the last nine seasons, spoke with Arizona's chief baseball officer Tony La Russa about his desire to remain in Texas.
The Diamondbacks, who have a 66-88 mark entering Tuesday's play, are trying to replace Kevin Towers, who was fired Sept. 5.
According to CBS Sports'Jon Heyman, former big league pitcher and current agent, Dave Stewart will interview for the job soon. Stewart was also an assistant GM with the
Toronto Blue Jays
.
St. Louis Cardinals
executive Gary LaRocque,
Los Angeles Dodgers
assistant GM DeJon Watson,
Boston Red Sox
executive Allard Baird,
New York Yankees
assistant GM Billy Eppler among others are under consideration for the Arizona job.
September, 16, 2014
Sep 16
9:00
AM CT
The Rangers begin their final road trip of the season with a three-game set against the
Oakland Athletics
.
Here's a preview:
What's up with the A's?
Oakland is battling to stay alive in the AL wild-card race. The Athletics have gone 32-36 after going 51-30 to start the season. They begin a nine-game homestand this week and need almost every game to keep pace.
Josh Donaldson
is the team leader in home runs (27), RBIs (95) and hits (142).
Brandon Moss
is second in hits (113) and RBIs (79). Tuesday's starter
Scott Kazmir
has an 8.20 ERA in his last four starts. Oakland has won four of the last five meetings against the Rangers.
What's up with the Rangers?
They're hot. The Rangers have won three in a row for the first time since June.
Leonys Martin
has 37 multi-hit games, third on the team behind
Adrian Beltre
(49) and
Alex Rios
(38). Martin is hitting .337 in the leadoff spot and hit .385 on the just completed homestand. Beltre leads the Rangers in HRs (18) and RBIs (71).
Elvis Andrus
has 151 hits and a career-high 33 doubles this season.
Rangers' injury report:
OF
Michael Choice
had an MRI on his strained left hamstring and is doubtful for the road trip.
Jake Smolinski
(foot) should return after not playing since July 21. Jim Adduci (concussion) and
Scott Baker
(elbow) are questionable.
Robinson Chirinos
has played well in his return from a stiff neck. He's reached base in five of nine plate appearances.
Pitching matchups:
Tuesday: RHP
Nick Tepesch
(4-10, 4.47) vs. LHP Scott Kazmir (14-8, 3.32); Wednesday: LHP
Derek Holland
(1-0, 0.86) vs. RHP
Jeff Samardzija
(4-5, 3.41); Thursday: RHP
Nick Martinez
(3-11, 4.93) vs. RHP
Sonny Gray
(13-8, 3.18).
September, 15, 2014
Sep 15
9:11
PM CT
The
Texas Rangers
are set to embark on their final road trip of the season, a six-game California swing starting Tuesday night in Oakland and ending Sunday in Anaheim.
As part of an annual tradition on most baseball teams, the Rangers' rookies had to dress up in a variety of costumes.
Several, including
Tomas Telis
,
Spencer Patton
and
Rougned Odor
, were outfitted in what could be described as colorful clothing.
Here's a picture from
J.P. Arencibia
of the spectacle in the Rangers' clubhouse Monday afternoon.
The most amount ever on a rookie dress up trip! #WelcomeToTheShow pic.twitter.com/Ff4Vti62H6

— jp arencibia (@jparencibia9) September 15, 2014
September, 15, 2014
Sep 15
9:00
AM CT
By
Randy Jennings
| Special to ESPNDallas.com
ARLINGTON, Texas -- The
Texas Rangers
have scored 10 runs in a game 11 times this season.
Colby Lewis
has been the starter in five of the 11.
In the afterglow of his 10th victory Sunday, a 10-3 decision over the
Atlanta Braves
at Globe Life Park, the 35-year-old veteran hinted the good fortune of run support is just that, good fortune.
"I've had my share of not getting runs, too,'' said Lewis, thinking back to some past seasons. He owns a 10-13 record and a 5.12 earned run average.
The Bakersfield, California, native, who had full season of inactivity in 2013 due to surgeries on his elbow and hip, has proven he has not forgotten how to pitch.
On Sunday, Lewis sent out another reminder, blanking the playoff-contending but fading Braves for six innings.
He needed just 86 pitches to navigate through seven frames. Lewis limited the Braves to one run and five hits.
"Colby was outstanding,'' said Rangers interim manager Tim Bogar. "He wanted to keep going after the seventh. He's strong enough to do it. He's that kind of guy, and it shows how important he is for us.''
Sunday's performance is the continuation of a second-half trend. In nine previous starts since the All-Star break, Lewis' ERA was 3.74
"It was a good game for me,'' Lewis said. "Getting a sweep, it has been awhile. The guys are full of confidence.''
Even though the Rangers scored 10 for Lewis, he had to be sharp early. The lead was only 2-0 going into the bottom of the fifth, when Texas scored six.
After the last off day of the season Monday, the Rangers begin a three-game series at the
Oakland Athletics
on Tuesday.
"We're not in the race, so we want to be a spoiler,'' Lewis said. "They played us tough over the years, and we want to make it difficult for them.''
September, 14, 2014
Sep 14
7:09
PM CT
By
Randy Jennings
| Special to ESPNDallas.com
ARLINGTON, Texas -- When
Luis Sardinas
reflects on the biggest moments of his rookie season with the
Texas Rangers
, Sunday's 10-3 win over the
Atlanta Braves
is sure to be high on the list.
The 21-year-old infielder drove in four runs with three hits, two of them doubles, to lift Texas to its first three-game sweep since April.
"It was a very good day for me,'' the Venezuelan said through an interpreter. "It was fun to score that many runs and to have men on base and bring them in. It's nice to help the team win.''
[+] Enlarge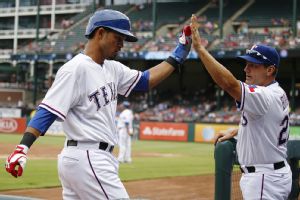 AP Photo/Jim CowsertRangers second baseman Luis Sardinas enjoyed a three-hit, four-RBI afternoon Sunday and earned congratulations from interim manager Tim Bogar.
Sardinas, a switch-hitter batting from the right side against Braves left-handed starter
Mike Minor
, scored the game's initial run from first on a
Michael Choice
double in the second inning. He doubled home
Adam Rosales
for a 2-0 Rangers lead in the fourth. After an RBI single in the Rangers' six-run fifth, Sardinas capped his day with a two-run double in the sixth.
"It's nice to see him swing the bat well,'' said Rangers interim manager Tim Bogar. "Right-handed, he seems stronger.''
Sardinas agreed because he is a natural righty and has more confidence from that side.
With a three-hit afternoon, Sardinas raised his batting average 18 points to .271. The start was his seventh in nine games since a Sept. 2 recall from Triple-A Round Rock. He's on his third stint with the big club.
In Saturday's 3-2 win over the Braves, Sardinas started a three-run outburst with a single, one of only three hits by Texas on the day.
At Round Rock and Double-A Frisco, Sardinas hit .281 with 37 RBIs and one home run in 81 games.
This season for Rangers, Sardinas has 15 starts at second, six at shortstop, three at third and one as designated hitter.
Key contributor:
Adrian Beltre
was hitless in three at-bats Sunday but made an impact by corralling two foul popups to help winning pitcher
Colby Lewis
.
Bogar talked about Beltre's effort for getting to the first popup in front of the Braves dugout and composure for reaching into the stands for the second on a ball that appeared to be tipped by a fan.
Lewis was aware of how important the plays were, coming when the game was close with runners on base.
"I was hoping the one in the stands wouldn't be overruled, because that was a big out at that time,'' Lewis said.
September, 14, 2014
Sep 14
5:37
PM CT
By
Randy Jennings
| Special to ESPNDallas.com
ARLINGTON, Texas -- Wily 35-year-old veteran
Colby Lewis
did not need many runs, but the Rangers provided them anyway in a 10-3 Texas victory that earned a three-game sweep of the
Atlanta Braves
Sunday afternoon before 25,449 at Globe Life Park.
Lewis continued to make a case for a spot in the 2015 rotation by limiting the playoff-contending Braves to five hits and one run over seven innings. The only damage was a solo home run by
Ryan Doumit
in the seventh. By that time, the Rangers had already piled up 10 runs.
The series sweep for the Rangers was only their second of the season. The first came in April at Oakland. The Rangers have won three straight for the first time since mid-June.
With two out and the bases empty in the fifth, the Rangers proceeded to put six runs on the board. Seven straight reached base on six hits and a walk. Texas finished with 18 hits.
A few observations:
RBI in low places:
Michael Choice
, batting ninth in the order, gave the Rangers a 1-0 lead in the second inning with an RBI triple and doubled in two more in the fifth when the lead went to 6-0.
Luis Sardinas
, in the eighth spot, doubled in a fourth-inning run for a 2-0 lead, then greeted reliever
David Hale
with the RBI single that made it 4-0 in the fifth and doubled in two more for a 10-0 lead in the sixth.
Sardinas finished with three hits and four RBIs. Choice had two hits and three RBIs before leaving the game in the fifth with a strained left hamstring injury suffered while legging out the double. He is scheduled for an MRI on Monday.
Rally starter:
Adam Rosales
reached base in the second and fourth to set up the first two Texas runs. Then he drew his second walk of the game in the middle of the fifth-inning uprising. He finished with two hits and reached base four times.
Give me a break:
A sign that the Rangers' luck might be turning: The barrel end of
Robinson Chirinos
' bat traveled all the way to shortstop, but he was still able to muscle an RBI single to begin the fifth-inning explosion.
Good idea:
Leonys Martin
caught the Braves unaware with a drag bunt for a hit with two out in the second inning and Choice at third. Only problem, Choice seemed to be caught unaware as well, holding the bag. The Rangers failed to add a second run when Martin was picked off first a moment later.

Challenging situation:
Tim Bogar dropped to 0-for-4 on manager's challenges since taking over in the interim role on Sept. 5. Bogar asked for a review of first base umpire Adrian Johnson's out call on a pickoff of Martin for the third out of the second inning. After a two-minute review, the call stood. Overall this season the Rangers have won 18 of 40 challenges.
Braves manager Fredi Gonzalez won a challenge in the fourth inning. Luis Sardinas was ruled out at third on a review after being called safe by third base umpire Bill Miller.

Defensive gems:
Adrian Beltre
made a basket catch of a Ryan Doumit foul ball in front of the Braves dugout for a key out in the second inning when the Braves had a runner at third with one out. Three innings later, Beltre made a better play, leaning into the stands to glove a foul fly off the bat of
Emilio Bonifacio
. The catch was made more difficult by the ball hitting the fingertips of a fan in a Braves shirt before settling into Beltre's glove.
Up next:
After the final off-day of the season on Monday, the Rangers begin their final road trip with the first stop at 9:05 Tuesday in Oakland.
Nick Tepesch
(4-10, 4.47 ERA) will be on the mound for Texas against a still undetermined starter for the A's on ESPN 103.3 FM and Fox Sports Southwest.
September, 14, 2014
Sep 14
5:19
PM CT
Associated Press
ARLINGTON, Texas -- Colby Lewis pitched seven innings for his 10th victory, Luis Sardinas doubled his career total with four RBIs and the Texas Rangers completed their first series sweep in nearly five months with a 10-3 win Sunday over the playoff-chasing Atlanta Braves.
After being swept in three games to complete a 2-7 trip, the Braves were four games behind Pittsburgh for the National League's second wild card with 13 games left in the regular season. The good news is they headed back to Atlanta for a 10-game homestand.
Michael Choice put the Rangers ahead to stay with an RBI triple in the second, and then added a two-run double in the fifth on a play when he got hurt running the bases and left the game.
September, 14, 2014
Sep 14
1:54
PM CT
By
Randy Jennings
| Special to ESPNDallas.com
ARLINGTON, Texas -- With a win in Sunday's series finale with the
Atlanta Braves
at Globe Life Park, the
Texas Rangers
would accomplish their first series sweep since the opening month of the season in Oakland.
It remains the Rangers' only 2014 series sweep.
For interim manager Tim Bogar, today's contest is not just another game.
"We haven't had a lot to hang our hats on,'' Bogar said in his pregame media conference. "I think it would give us confidence going into Oakland. For me, it is the first stepping stone, the first building block. It would say a lot if we could do it playing the Braves, a good team.''
Texas has not put three wins together since mid-June.
Beyond wins and losses, Bogar is focused on the quality of baseball the team plays -- doing things correctly.
Even though the Rangers were swept in three games by the Angels earlier in the week, Bogar was impressed with the approach of his players going against what he called the best team in baseball.
"The bullpen has been fantastic. The starting pitching has been really good. We've just got to put it all together.''
After today, the Rangers have 13 games remaining. They need seven more wins to avoid a 100-loss season.
Said Bogar: "I think we can finish strong.''
Worth a second look:
The performance of
Lisalverto Bonilla
on Saturday could earn the 24-year-old a second major league start. The Rangers have not penciled in a starter yet for the Friday series opener at the Angels.
Bonilla picked up the win by limiting the Braves to four hits and two runs in six innings.
"He faced a pretty good lineup with the Braves,'' Bogar said. "Against the Angels, it would be nice to see how he would do.''
Scott Baker
also figures into the mix. "The thing about Baker, I respect the way he has gone about his business this year, doing everything asked of him,'' Bogar said.
Baker, 32, was scratched for the start that ultimately went to Bonilla because of right triceps tendinitis.
"He's still sore and still dealing with it,'' said Bogar.
Notes:
Outfielder
Jake Smolinski
, sidelined since July 22 with a fracture in his left foot, was scheduled to run the bases on Sunday. Bogar said if Smolinski passes that test, he could be available for Tuesday's series opener at Oakland.
The Rangers have stacked their liineup with eight right-handed hitters against Braves lefty starter
Mike Minor
. Leadoff man
Leonys Martin
is the only Rangers starter who will hit from the left side.
September, 14, 2014
Sep 14
10:00
AM CT
By
Randy Jennings
| ESPNDallas.com
ARLINGTON, Texas -- Interim Rangers manager Tim Bogar is not shy about going to the bullpen in the eighth inning.
The Rangers are hoping to get a chance to use the formula again for Sunday afternoon's series finale against the
Atlanta Braves
set for 2:05 at Globe Life Park. The Rangers will be trying to win three in a row for the first time since mid-June.
In Friday's 2-1 win over the Braves and again in a 3-2 victory Saturday, Bogar used three relievers in the eighth inning.
Just because the Rangers are eliminated from playoff hopes, there remains a responsibility to the other contenders.
"We've got a job to do for the rest of the league," said Bogar. "We are playing teams down the stretch that have a postseason chance."
In Friday's game with the score tied 1-1,
Shawn Tolleson
entered to start the eighth and struck out
Phil Gosselin
. Left-hander
Michael Kirkman
was summoned and issued a walk. Then it was eventual winning pitcher
Phil Klein
coming on for a walk and two strikeouts.
On Saturday, with the Rangers up 3-2,
Roman Mendez
stayed on after a scoreless seventh to get the first out in the eighth. Kirkman got
Freddie Freeman
on a deep fly ball to right.
Spencer Patton
came on to strike out
Justin Upton
to end the inning.
For the ninth inning Friday, the Rangers turned to
Neftali Feliz
for his ninth save. On Saturday,
Neal Cotts
worked a scoreless ninth for his first save.
"We've got a lot of guys down there and we're going to use them," Bogar said.
September, 13, 2014
Sep 13
4:16
PM CT
By
Randy Jennings
| ESPNDallas.com
ARLINGTON, Texas -- Before the game, Tim Bogar said he would be thrilled to get five innings from first time major league starter
Lisalverto Bonilla
.
So when Bonilla went six strong innings, the Rangers interim manager had to revamp his choice of words.
"Amazed, I guess," said Bogar. "Really happy. We make a play and he doesn't give up a run."
There was really no way to see this kind of performance coming from the 24-year-old right-hander. Bonilla carried a 7.36 earned run average in two relief appearances for Texas.
Bonilla limited the playoff-contending Braves to four hits and two runs. Both runs came in the third, aided by Phil Gosselin's RBI bloop single to center that
Leonys Martin
seemed to initially misjudge. There were two outs when the ball fell.
Asked after five if he could go another, Bonilla conveyed through an interpreter, "I know that I can."
Said Bogar: "He located his fastball well. He was using off-speed to get outs."
All four of Bonilla's walks were issued to left-handed batters, a result of trying to be too fine, Bogar said.
The walks did not factor in any Atlanta runs. Twice the Braves hit into double plays after a leadoff walk.
Rangers bunch hits:
Texas put its three hits together in the sixth along with a costly Atlanta error. Rougned Odor's two-run double erased a 2-1 deficit.
"Obviously, Odor's hit was big," said Bogar of the two-run double that capped the inning. "But I thought Elvis' [Andrus] hit past first was big for our confidence. We were facing an excellent pitcher and we didn't have a lot of good swings."
Braves starter
Julio Teheran
did not allow a hit through five innings. In fact, the Rangers were hitless in seven of eight innings.
Odor struck out in the first and popped up to short in the fourth prior to delivering.
"He was pretty good," said Odor through an interpreter, "but we got him. It feels great to support the team."
September, 13, 2014
Sep 13
2:48
PM CT
By
Randy Jennings
| ESPNDallas.com
ARLINGTON, Texas -- The Rangers bunched all three of their hits in the sixth inning, rallying from a 2-0 deficit for a 3-2 victory before 31,595 Saturday afternoon at Globe Life Park.
Rougned Odor
gapped a two-run double off
Julio Teheran
with two out in the sixth to turn a 2-1 deficit into a 3-2 Rangers lead.
The Rangers (56-92) won back-to-back games for the first time since Aug. 24-25 and dealt the Braves' wild-card hopes another setback.
Teheran was untouchable for five no-hit innings, facing the minimum 16 batters until Rangers third baseman
Luis Sardinas
broke up the no-hitter in the sixth with a single. The inning should have ended on Leonys Martin's dying fly ball to left field, but
Justin Upton
dropped it for an error.
The Rangers leaped on the break.
Elvis Andrus
singled to right to cut the Braves' lead to 2-1. Odor followed with the big hit of the game.
Strong debut:
Lisalverto Bonilla
went six innings in his first major league start, limiting the Braves to four hits and two runs. None of the four walks issued by the 24-year-old right-hander caused any damage.
Bonilla became the 15th different starter used by the Rangers this season, tying Colorado for the most in the majors. The Rangers used 17 starters in 1973 and 2004, 16 in 2003 and 15 in 2007 and 2008.
Spoiler role:
Sardinas broke up Teheran's no-hitter with a looping single to left-center in the sixth inning. Earlier in the at-bat, Sardinas narrowly ducked out of the way of Teheran's high and tight fastball. He took a little extra time before stepping back into the box and two pitches later, he singled.
Defensive gems:
Adam Rosales
turned a bad-hop grounder off the bat of
Ramiro Pena
into an out with some fast reflexes that momentarily put him in the sitting position on the infield dirt. He regained his footing and flipped to Bonilla for an out.
Sardinas, making only his third start at third base, started a snappy around-the-horn double play in the fourth.
Not-so-great D:
Center fielder Leonys Martin seemed to get a bad jump on Phil Gosselin's two-out looper. Martin's late charge wasn't enough to prevent the ball from falling for an RBI single for the game's first run in the third inning.
Left fielder
Ryan Rua
took a rather casual approach to
Freddie Freeman
's fly that hit the foul line for an RBI double, also in the third.
Bullpen work:
The Rangers got solid relief work from
Roman Mendez
,
Michael Kirkman
,
Spencer Patton
and finally
Neal Cotts
for the save. But there were a couple of scares on fly balls by Freeman off Kirkman and
Chris Johnson
off Cotts.
Early bird:
This afternoon's 12:07 start was a minute shy of equaling the earliest start for a game since Globe Life Park opened in 1994. First pitch was delivered at 12:06 for a Sept. 14 game last season against Oakland.
Up next:
The Rangers and Braves conclude their three-game series at 2:05 p.m. Sunday with right-hander
Colby Lewis
(9-13, 5.29 ERA) facing off against Atlanta left-hander
Mike Minor
(6-10, 4.58) on ESPN Dallas 103.3 FM and Fox Sports Southwest.