March, 5, 2015
Mar 5
8:38
PM CT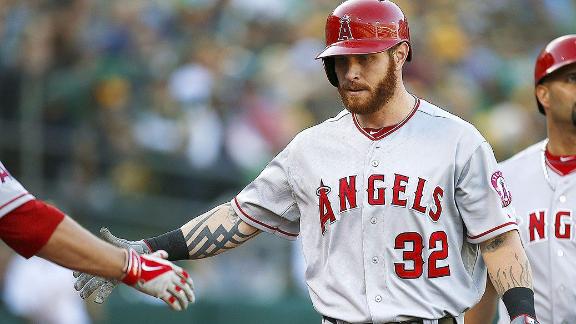 Josh Hamilton has earned $61 million in his eight-year career. He has made $34 million the past two years and is scheduled to earn more than $90 million over the next three seasons with the Los Angeles Angels of Anaheim.
But all the money in the world isn't going to matter if he can't maintain his sobriety. He'll tell you addiction nearly killed him once, and that will continue to be a major concern if he can't control himself.
That's Hamilton's reality.
Hamilton, who reportedly suffered a relapse involving the use of cocaine and alcohol in the offseason, met with MLB officials in New York last week to discuss the situation.
An arbitrator reportedly will decide this week whether Hamilton should enter rehabilitation after MLB and its players' association couldn't reach an agreement. If he's in rehab, he would be paid his full salary for 30 days and half his salary for the next 30 days. If he's suspended, he would not be paid.
On Thursday, the Major League Baseball Players Association came to Hamilton's defense, issuing a statement critical of news leaks that it calls "cowardly" and intended to hurt Hamilton "personally and professionally."
Hamilton has had multiple relapses over the years. There's reportedly a debate within MLB whether Hamilton should be classified as a fourth-time offender, a source told the Los Angeles Times, which could increase a suspension from 50 to 75 games up to at least one full season.