March, 30, 2015
Mar 30
9:00
AM CT
By
Ron Matejko
| ESPNDallas.com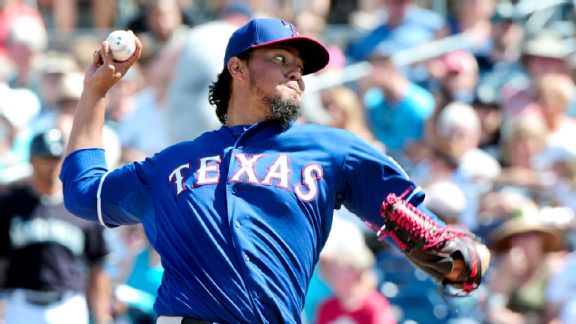 Matt Kartozian/USA TODAYYovani Gallardo has again assumed the mantle of staff ace -- this time for his new team.


SURPRISE, Ariz. -- One of the reasons the Texas Rangers acquired pitcher Yovani Gallardo from the Milwaukee Brewers during the offseason was to add depth to the rotation.
Sitting behind ace Yu Darvish and rising star Derek Holland, Gallardo was supposed to cruise into spring training without pressure and work to build off somewhat of a bounce-back season a year ago.
Fast forward a month and Gallardo finds himself in the same role. Darvish is done for the year following Tommy John surgery and Holland suffered setbacks in his preparation for the season. The end result is that Gallardo is again the top pitcher on his staff -- even if only until Holland gets going -- and that includes the assignment to pitch Opening Day in Oakland next week.
This will be Gallardo's sixth straight year pitching on Opening Day, so the adrenaline of leading Texas into a new season should carry him through the first game. Plus, he already experienced an unexpected Opening Day assignment in 2011 when he filled the role in place of Zack Greinke who was put on the DL.
"It's always exciting, no matter how many times it is," Gallardo said of taking the hill on to start the season. "It is a bit of bad news to lose a guy like Darvish. You never want to see one of the top pitchers in the league go down but injuries happen and we understand that in the rotation."
Gallardo is also returning home, which adds a new wrinkle for the right hander who grew up in Fort Worth, Texas. He would've pitched his first game during the opening series in Oakland anyway, so he views that as an advantage before all eyes are on him at Globe Life Park in Arlington.
"I think it definitely will help," Gallardo said of opening the season on the road. "The first start with a different team, I'm sure I'll be a little nervous and have a little extra adrenaline to want to go out there and perform for this ballclub. I'm excited to be home for a whole year to pitch in front of my friends and family."
Gallardo is a free agent at the end of the season when his current six-year, $43.5 million contract expires. The 29-year old is set up for another large contract and, if Texas resigns him, the opportunity to play in his own backyard for a long stretch of his career going forward.
"I approach every year the same way," Gallardo said. "Becoming a free agent, I have a lot of people thinking I'll feel more pressure but if I do what I've done, I'll be in a good spot."
Gallardo is seeking to improve on his last two seasons, which weren't as good as the previous four. His strikeout rate has dropped over the last two years and he has given up 20 or more home runs in four of the past six seasons -- which could prove an issue during the summer in Arlington.
The 29-year old has a track record that says he could be one of the better pitchers in baseball -- but his last two seasons could also be a warning sign that his best years could be behind him.