August, 20, 2014
Aug 20
2:45
PM CT
Associated Press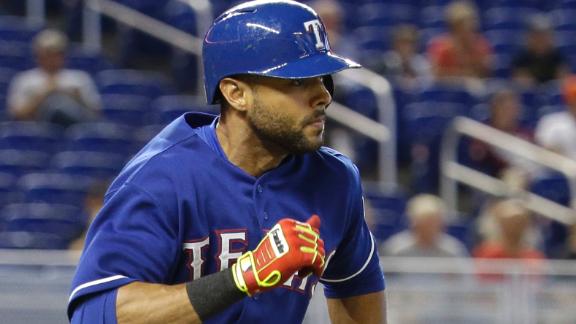 MIAMI -- Nick Martinez allowed two runs over six innings in his homecoming, Alex Rios drove in two runs and the Texas Rangers roughed up Miami starter Nathan Eovaldi early on the way to a 5-4 win over the Marlins on Wednesday afternoon.
Leonys Martin had three hits for Texas, which grabbed a 5-0 lead after two innings.
Martinez (3-9) allowed six hits and threw 62 of his 96 pitches for strikes. He was born in nearby Hialeah and pitched at Belen Jesuit Prep, about 12 miles from Marlins Park.
Miami rallied in the ninth with solo homers by Marcell Ozuna and pinch-hitter Jarrod Saltalamacchia, both off Neftali Feliz. And with the tying run on first, Feliz closed out his fifth save in six chances by striking out Donovan Solano to end the game.
Eovaldi (6-8) gave up nine hits and five runs, four earned, in five innings.
August, 19, 2014
Aug 19
10:26
PM CT
Associated Press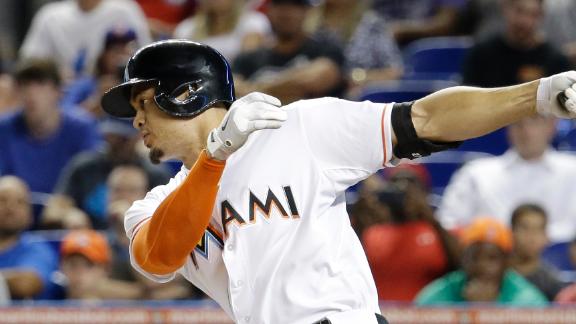 MIAMI -- Giancarlo Stanton hit an RBI single with two outs in the 10th inning and the Miami Marlins beat the Texas Rangers 4-3 Tuesday night for their third straight win.
Miami (63-62) surpassed last year's total of 62. The Marlins moved over .500 for the first time since June 20.
Jeff Baker reached with one out in the 10th on first baseman Mike Carp's error. Donovan Solano's infield single with two outs moved Baker to second.
Neftali Feliz relieved Neal Cotts (2-7) to face Stanton, who singled to right field.
Sam Dyson (2-0) struck out the side in the 10th.
August, 19, 2014
Aug 19
12:00
PM CT
This is a critical week for the Rangers in terms of where they stand with ace
Yu Darvish
. At some point he should throw a bullpen session.
It doesn't have to occur today or tomorrow, but he needs to throw sometime. Darvish wasn't expected to make the two-game road trip to Miami, where the
Texas Rangers
face the
Miami Marlins
. If anything, Darvish isn't needed now.

He's needed next week and there's an expectation Darvish will pitch at Seattle on Aug. 25, the day he comes off the 15-day disabled list due to inflammation with his right elbow.
This is mild inflammation and the Rangers don't want to push Darvish into something that would hurt him in the long term. Darvish needs to show the club he can pitch through some discomfort, especially if games are meaningful.
Now you could say the Rangers aren't involved in meaningful games. But people inside the organization would disagree, because there is
Adrian Beltre
playing hard every day minus a day off in a lost season.
You see
Elvis Andrus
walking around the clubhouse with ice on his back.
Alex Rios
and
Shin-Soo Choo
are playing through ankle sprains when it's clear they need rest. Rios is even getting treatment for a minor hand injury, too.
"We're in a race to win ballgames," Rangers manager Ron Washington said last week. "I expect Darvish to pitch on the 25th. Why wouldn't he? So he's got inflammation. I've got inflammation."
August, 19, 2014
Aug 19
9:00
AM CT
The
Texas Rangers
have a brief stay in South Beach and face the
Miami Marlins
in a two-game series starting Tuesday night.
Here's a preview:
What's up with the Marlins?
The Marlins (62-62) have won their last two games and seven of 10. They have beaten the Rangers just twice in the last nine meetings in Miami. The Marlins are a solid team in one-run games with a 31-18 mark, best in the big leagues and 10-2 in such contests since the All-Star break. Former Ranger
Jarrod Saltalamacchia
has reached base in 20 of the last 23 games.
Giancarlo Stanton
has 14 homers that have tied or given the Marlins the lead this season.
Casey McGehee
has 60 RBIs and 45 runs scored and
Marcell Ozuna
produced 16 home runs and 62 RBIs.
What's up with the Rangers?
They finished their homestand 2-5 with both victories coming by walk-offs courtesy of
Adam Rosales
. The Rangers are 6-9 against the NL this season.
Alex Rios
is hitting .284 on the season but still has just four home runs.
Elvis Andrus
is hitting .272 on the season but his OBP is just .322, the lowest in a career averaging .337.
Adrian Beltre
is 4-for-6 with two home runs against Tuesday's starter
Jarred Cosart
.
Shin-Soo Choo
is 1-for-6 with five strikeouts against him.
Martin is on a tear:
Center fielder
Leonys Martin
is 10-for-21 in the last six games and hit .417 in the just completed homestand. The Rangers wanted him to be selective early in the count and he's done that. Now he just has to convince manager Ron Washington to let him start against left-handed pitchers. Martin is hitting just .198 against them. He won't face one in South Beach.
The matchups:
Tuesday: RHP
Miles Mikolas
(1-5, 7.71 ERA) vs. RHP Jarred Cosart (1-1, 2.92 with Miami, 10-8, 4.27 overall). Wednesday: RHP
Nick Martinez
(2-9, 5.27) vs. RHP
Nathan Eovaldi
(6-7, 3.96). Mikolas and Martinez have South Florida ties each being from the area.
August, 18, 2014
Aug 18
11:27
PM CT
[+] Enlarge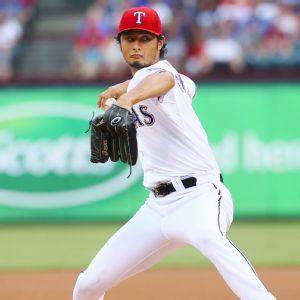 Ronald Martinez/Getty ImagesYu Darvish, who is on the DL with right elbow inflammation, is 10-7 with a 3.06 ERA this season for the Rangers.
Staff ace Yu Darvish, Adrian Beltre, Shin-Soo Choo and Elvis Andrus of the Texas Rangers cleared waivers on Monday, according to a source.
The Rangers can now trade any of these players and considering their huge contracts an opposing team would have to take a substantial amount of the remaining years of the contract to make a deal happen.
The Rangers are 48-76 this season.
Team officials don't comment on players clearing waivers, however, the moves are interesting with the Rangers looking for high-quality prospects.
Two weeks ago, the team was able to get starting right fielder Alex Rios through waivers, but he has yet to be traded.
Reliever Neal Cotts, another player who could be sent through waivers, has interest from several teams.
August, 18, 2014
Aug 18
2:36
PM CT
The Rangers released first baseman
Carlos Pena
from Triple-A Round Rock on Monday.
Pena was originally signed to a minor-league deal this summer before he was called up to the Rangers.
In 18 games, Pena hit .136 in 63 plate appearances for the Rangers before he was designated for assignment.
At Round Rock, Pena hit .297 with four homers in 20 games.
August, 18, 2014
Aug 18
1:00
PM CT
The Rangers had an eventful week with two walk-off victories and they avoided getting swept by the
Los Angeles Angels
.
STOCK UP
Bullpen:
Relievers
Shawn Tolleson
,
Neal Cotts
and
Neftali Feliz
worked two scoreless innings in Sunday's victory over the Angels. In the three game series against the Angles, the Rangers bullpen gave up just one run over eight innings and has a 0.40 ERA over the last six games.
Leonys Martin:
The starting center fielder is surging. After an 0-for-12 stretch, Martin went 10-for-21 the last six games. In the just completed seven-game homestand, Martin hit .417 and picked up his first career four-hit game Tuesday against Tampa Bay. While he's not hitting against left-handed starters, Martin is improving.
Adam Rosales:
A nice week for the backup first baseman as he helped the Rangers to two walk-off wins. He drew a bases-loaded walk in the bottom of the 14th inning in a win over Tampa Bay on Tuesday and he got a single in the bottom of the ninth to defeat the Angels on Sunday. Rosales reached base three times Sunday.
STOCK DOWN
Yu Darvish:
The ace went on the disabled list with mild inflammation in his right elbow Wednesday. Darvish could have pitched through the discomfort but doesn't want to risk his future. The Rangers don't have plans to shut down his season but are monitoring his progress. He is expected to return Aug. 25 at Seattle.
Alex Rios:
He's playing through a sprained ankle and you wonder if that's bothering him at home plate. He's in a 1-for-21 spell with just two RBIs. He ended an 0-for-16 drought with a single Saturday night and his slash line, .285/.314/.401, should be much better considering what he's done in the past.
J.P. Arencibia:
A tough stretch for the starting first baseman. He finished the homestand 1-for-13 and snapped an 0-for-19 stretch with an RBI single Saturday. He did the team a solid by pitching a scoreless ninth in relief Wednesday night. But his once-hot bat is now cold.
August, 18, 2014
Aug 18
11:00
AM CT
Joey Gallo
, one of the top prospects in the Rangers organization, maybe the No. 1 player depending on whom you speak with, hit his 40th home run Sunday night for Double-A Frisco.
Gallo's 40 homers in the minors this season tie him with
Kris Bryant
of Triple-A Iowa for the lead.
Gallo is the first minor leaguer with 40 home runs in consecutive seasons since Ron Kittle did it in 1981-1982.
Last season, Gallo hit 40 home runs with 88 RBIs for Class-A Hickory and in the Arizona rookie league.
In 115 minor league games this season, between Myrtle Beach (Class A) and Frisco, Gallo has 40 home runs and 98 RBIs.
It's doubtful that Gallo will be promoted to the big leagues anytime soon. Expect Rangers officials not to rush the talented left-handed hitting slugger and see what he can do in spring training in 2015.
August, 17, 2014
Aug 17
7:15
PM CT
ARLINGTON, Texas -- Considering where
Texas Rangers
right-hander
Nick Tepesch
is in his young career, Sunday afternoon's outing against the
Los Angeles Angels
was a positive step in his development.
Tepesch didn't get the win, but he pitched until the eighth inning, allowing just two runs on six hits in 91 pitches. He left down 2-0 and frustrated that he started the eighth by walking
Mike Trout
.
The fact Tepesch is more relaxed now, something manager Ron Washington said is good in his development, gives the Rangers more confidence that they can depend on him the next two months of the season.
"I've got a better plan in what I want to do even before when I step up on the mound versus waiting to see the suggestions from the catcher," said Tepesch, who has allowed fewer than three runs in his past four outings. "Most of the time, we're right on the same page anyways, so it's not even thinking about."
Tepesch battled through major trouble in the second and fourth innings.
In the second, he allowed four consecutive hits, along with a groundout, to give up two runs. With runners at second and third and two outs, Tepesch retired Trout on a bouncer to third to end the inning.
August, 17, 2014
Aug 17
5:29
PM CT
Associated Press
ARLINGTON, Texas -- Adam Rosales and Mike Carp hit RBI singles in the ninth inning off Angels closer Huston Street, rallying the Texas Rangers over Los Angeles 3-2 Sunday.
Texas had lost four in a row overall, and nine straight to the Angels. Los Angeles had won its last four games.
Rosales drove in the winning run for the second time in six days. His fly ball over the head of drawn-in left fielder Collin Cowgill was the Rangers' fourth straight hit off Street to begin the ninth.
Street (1-1) had saved the first two games of the three-game series. The blown save was his second in 35 opportunities with the Angels and Padres.
Street had not given up a run since being acquired from San Diego on July 18 until Carp's tying single.
Neftali Feliz (1-1) pitched a scoreless ninth inning.
August, 17, 2014
Aug 17
5:17
PM CT
ARLINGTON, Texas -- The
Texas Rangers
avoided a sweep by displaying some rare magic in the ninth inning.
Adam Rosales
' RBI single drove in
Adrian Beltre
with the game-winning run in a 3-2 victory over the Angels on Sunday afternoon.
The Rangers win prevented a three-game sweep by the Angels and gave them their sixth walk-off win and second during this seven-game homestand.
Rosales has produced both walk-offs, he got the first one earlier this week when he drew a bases-loaded walk against Tampa Bay.
How it happened:
The ninth-inning magic started when
Alex Rios
singled to left and continued when Adrian Beltre picked up a hit through the hole at short.
Mike Carp
's RBI single to center tied the game and gave
Huston Street
a blown save and ended his scoreless appearance streak at 12 since he was traded from San Diego.
With the infield in, Adam Rosales stroked a ball over the shallow outfield to win it.
While Rangers starter
Nick Tepesch
was getting his act together in the early innings, the Angels took advantage.
Erick Aybar
and
David Freese
reached on base hits and
Efren Navarro
drove in the first run with a single to right.
Collin Cowgill
bounced a shot up the middle and Tepesch knocked it down. Maybe he should have let the ball go through and allowed shortstop
Elvis Andrus
make a play on the ball. It kept things going and one out later,
Kole Calhoun
brought in the second run with a ground out to second.
The Rangers cut the deficit to 2-1 on
Rougned Odor
's RBI single to right, but Odor was thrown out trying to stretch it into a double. The next best opportunity came in the seventh with a man on and two outs.
Geovany Soto
struck out looking on a fastball that nicked the corner from reliever
Kevin Jepsen
.
Bullpen work:
One of the bright spots of late is the Rangers bullpen. In a critical eighth inning, Washington used it to keep the deficit at one. Following
Mike Trout
's leadoff walk that chased Tepesch, Washington inserted
Shawn Tolleson
. He allowed a double to
Albert Pujols
and intentionally walked
Howie Kendrick
to load the bases. With the infield in, Tolleson struck out Aybar and then David Freese. Washington called on lefty
Neal Cotts
to face Navarro, another left hander. He struck out Navarro on a slider in the dirt to end the inning. Coming into the game, the Rangers bullpen was 0.94 in the last seven games and hitters were batting just .213 in August, fifth lowest in the AL.
Odor's chats:
Odor has a promising career and will create a position battle with Jurickson Profar at second base in spring training next year. Until then, the Rangers will undergo some growing pains with the rookie. In the fifth inning, Odor's RBI single cut the Angels deficit to 2-1. Odor was thrown out at second trying to stretch things to a double. It was a close play, one that prompted manager Ron Washington to challenge the play. The problem with Odor's move was he should have stayed at first and he became the second out. The throw home was cut off by Pujols at first, who had the presence of mind to spin around and throw Odor out at second. When the inning was over, first base coach Bengie Molina met Odor at the top steps and had about a two-minute talk with him. Washington was next, who talked with Odor at the other end of the dugout.
What's next?:
Nothing. Well, the Rangers have an off day and will travel to Miami on Monday.
August, 17, 2014
Aug 17
3:30
PM CT
Here's our weekly Sunday report on the Texas Rangers' minor league teams.

ROUND ROCK -- Right-hander Luke Jackson gained success at Double-A Frisco but now he's endured some difficult outings at Triple-A.

Jackson took the loss against Tacoma on Saturday night as he lasted just 3 2/3 innings. He gave up four runs on five hits with two walks in the 8-7 loss. Jackson struck out six while throwing 73 pitches. In his last outing, the highly touted prospect pitched just one inning against Nashville on Aug. 10. He threw 48 pitches and was taken out after pitching to six hitters in the second inning.

In Double-A Jackson went 8-2 with a 3.02 ERA in 15 games, 14 starts. In three starts at this level, Jackson has a 9.00 ERA with a 10-2 mark and a 2.02 WHIP.


CF Jared Hoying hit his career-high 22nd home run on Saturday night, placing him seventh in the Pacific Coast League.

LHP Michael Kirkman has pitched well in his last four appearances. He's allowed no runs over 8 2/3 innings with 10 strikeouts.

SS Luis Sardinas has a four-game hit streak where he's got six total hits and three runs scored.

Double-A: Left fielder Nick Williams made his debut for Frisco on Saturday night and produced a double and two runs scored. Williams, the third-best prospect in the Rangers organization by Baseball America, was promoted from Myrtle Beach (Advanced-A) to Frisco this week. A 2012 second-round pick, Williams hit .292 with 28 doubles, 13 home runs and 61 runs scored in Myrtle Beach.


1B Joey Gallo had a five strikeout night on Aug. 13 against Springfield where he left five runners on base. But Gallo seemed to rebound well as he hit his 39th homer this season on Saturday night. Gallo is one behind Iowa's Kris Bryant (40). Bryant left Saturday's game to get X-rays on a foot that he fouled a pitch off a few days ago.


C J.T. Wise had a stretch where he was hitting .647 in the last five games.

RHP Chi Chi Gonzalez is 4-0 with a 0.75 ERA the last four starts.

Single-A


RF Ryan Cordell went 4-for-5 with four RBIs in his debut for Myrtle Beach on Saturday. Cordell hit .333 with nine home runs in 74 games between Hickory and Myrtle Beach.


RHP Tyler Smith pitched a season-high seven innings for Hickory in a Saturday night victory over Demarva. Smith allowed no runs in his outing as he struck out five.


RHP Dario Beltre (Rookie ball) was able to get out of bases-loaded jam with two strikeouts in a loss to Arizona on Aug. 11.

August, 17, 2014
Aug 17
1:50
PM CT
ARLINGTON, Texas --
Texas Rangers
center fielder
Leonys Martin
is hitting .435 on this seven-game homestand and has 10 hits in the last five games after an 0-for-12 stretch.
So why did Martin sit for Sunday's series finale against the
Los Angeles Angels
on Sunday?
Hector Santiago
.
The Angels left-hander is just 3-7 on the season, yet Martin struggles against left-handers, where he's hitting just .198 on the year. Manager Ron Washington wants to play Martin everyday but still doesn't trust him against lefties.
Washington is confident enough in Martin that he will move him up in the order. After hitting in the lower portions of the batting lineup for most of the season, Martin batted fifth on Saturday night, the 10th time that's occurred.
"I want to play every day, no matter if it's a left-hander or a right-hander," Martin said. "When the situation comes, I do my best for my team."
Daniel Robertson
replaced Martin in center on Sunday.
Rehab setback for Beltre:
Right fielder Engel Beltre, on the 60-day disabled list recovering from a fractured right tibia, left a rehab start in the third inning of a game on Saturday night in Arizona. Beltre has missed the entire season recovering from the leg injury and there is no timetable regarding when he'll return.
Rotation set for South Beach:
The Rangers have Monday off and will then have a brief two-game series at Miami.
Miles Mikolas
91-5, 7.71) and
Nick Martinez
(2-9, 5.27) will pitch in the series. Both pitchers have ties to South Florida. Mikolas is from Jupiter, Fla., and Martinez is from Miami. "It's going to be fun to have family and friends down there to watch," Mikolas said."Nick and I will have a lot of people down there rooting for us."