September, 2, 2014
Sep 2
12:00
PM CT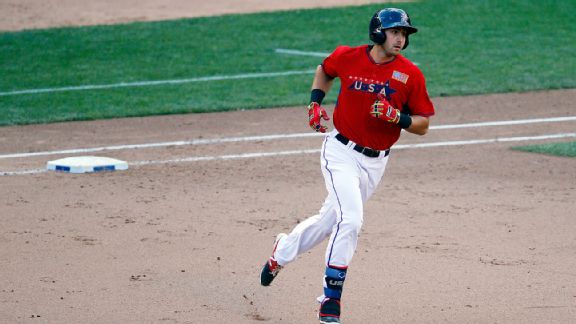 AP Photo/Paul SancyaRangers prospect Joey Gallo hit 42 home runs in the minor leagues this season.
The minor league home run crown will go to
Chicago Cubs
prospect
Kris Bryant
, who hit his 43rd of the season Monday night for Triple-A Iowa.
What about Frisco's
Joey Gallo
?
Well, the 20-year-old who won the minor league home run title last season with 40, finished the regular season with 42 for Double-A Frisco.
It's been a remarkable rise to stardom for Gallo, a 2012 supplemental first-round pick by the
Texas Rangers
. Last week, he was named the Carolina League MVP for his time at Myrtle Beach (Class A), and after being moved to Double-A, he was selected to the Texas League postseason All-Star team.
"It's been a good year so far," Gallo told ESPN Dallas last week. "Obviously it's been a great learning experience for me. Moving from Double-A was tough, but it's been good. I didn't know I won so many awards or whatever, not that it's a huge deal anyways, but it's kinda cool getting an award at the end of the year. It's always a great feeling."
Gallo is one of the top prospects in the Rangers' minor league system but you won't see him among the September call-ups this season.
He's competing with the RoughRiders in the Texas League South Division championship series which starts Wednesday.
The Rangers need to see him develop more into a true power hitter, who does more than hit home runs.
September, 2, 2014
Sep 2
10:00
AM CT
The Rangers will call up five players from the minor leagues Tuesday.
LHP
Michael Kirkman
, RHP
Spencer Patton
, RHP
Nick Tepesch
, RHP
Lisalverto Bonilla
and shortstop
Luis Sardinas
will join the club this week.
Patton, who was acquired in a trade with Kansas City in July, won't participate with the Rangers until Thursday. In 15 games, the reliever has a WHIP of 1.19.
Tepesch, technically isn't a call-up. He was optioned to Triple-A Round Rock last weekend in a procedural move and will start Wednesday at Kansas City.
Kirkman and Sardinas have spent time with the Rangers this season. After he was sent down, Sardinas hit .281 in 349 at-bats for Round Rock this summer.
Bonilla was 4-2 with a 4.10 ERA in 39 games for Round Rock this season and his final two appearances were as a starter. He allowed one run on six hits in seven innings of work in a 93 pitch effort Aug. 31 against Nashville.
September, 1, 2014
Sep 1
9:57
PM CT
Associated Press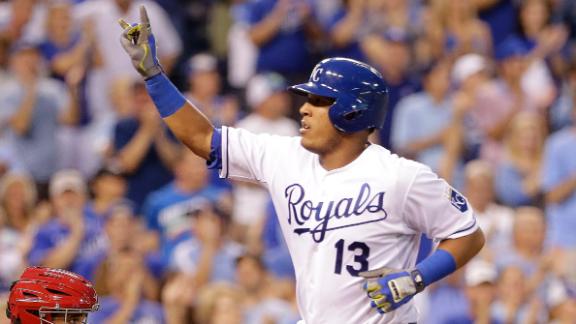 KANSAS CITY, Mo. -- Salvador Perez homered and drove in three runs, and the Kansas City Royals beat the Texas Rangers 4-3 on Monday night to snap a three-game losing streak.
Perez, who had three hits, went deep in the third with Alex Gordon aboard. His two-out double in the first scored Gordon, who had singled and swiped second.
Yordano Ventura allowed three runs, two earned, and five hits in 6 1/3 innings for Kansas City. The right-hander, who was skipped on his previous turn in the rotation due to a sore back, struck out seven and walked four.
Greg Holland pitched the ninth for his 41st save in 43 chances.
September, 1, 2014
Sep 1
2:12
PM CT
As of Sunday night, FanGraphs had 10 teams pegged as having 0.0 percent odds of reaching the 2014 postseason. These teams, which will of course be joined shortly by others, are merely playing out the string. But while these teams have nothing to play for this season, they will get a fresh start next season. Let's look ahead at what the near future holds for these 10 teams:
Houston Astros: The "new wave" gets a full season

The Astros have "graduated" a number of their top prospects this season, including George Springer, Jon Singleton, Mike Foltynewicz and Domingo Santana from their own system, and Jake Marisnick from the Miami Marlins. These players have had rough patches to be sure, but they all have flashed their potential.
September, 1, 2014
Sep 1
10:00
AM CT
The
Texas Rangers
and the
Kansas City Royals
play a three-game set to start September. The Royals are in the pennant chase, while the Rangers have a chance to play spoiler.
Here's a preview:

What's up with the Royals?
Kansas City leads the AL Central by half-a-game over Detroit and has lost its last three completed games. Sunday's contest with Cleveland was suspended because of rain in the 10th inning with the Royals trailing 4-2. Despite the current losing streak, the Royals have won 14 of their last 21 games at Kauffman Stadium. The first-place Royals are last in baseball in home runs (86) and walks (316) but lead the majors with 124 stolen bases. LF
Alex Gordon
(team-leading .280 BA) has eight home runs and 17 RBIs since the All-Star break. SS
Alcides Escobar
has a six-game hitting streak going and DH
Billy Butler
leads the team with 135 hits.
What's up with the Rangers?
The Rangers are 3-4 on this 10-game road trip which ends with three games in K.C. Six of RF Alex Rios' last seven hits have been doubles and he reached base three times in Sunday's loss, the first time he's done that since July 29. 1B Ryan Rua has a hit in his first three major league games. CF
Daniel Robertson
has a career-high seven-game hitting streak where he's hitting .421. 3B
Adrian Beltre
has reached base in his last 16 games. He walked twice Sunday.
The return of Derek Holland:
The left-hander is scheduled to make his season debut Tuesday night. Holland has missed the entire season recovering from left knee surgery. Holland is 2-1 in seven games lifetime against the Royals with a 4.67 ERA. Holland participated in pitching drills and threw a bullpen session Saturday in Houston. Holland said he feels strong mentally and physically.
The pitching matchups:
Monday: RHP
Colby Lewis
(9-11, 5.44) vs. RHP
Yordano Ventura
(10-9, 3.40). Tuesday: LHP Holland (season debut) vs. RHP
Jeremy Guthrie
(10-10, 4.43). Wednesday: RHP
Nick Tepesch
(4-8, 4.44) vs. LHP
Jason Vargas
(10-7, 3.27)
August, 31, 2014
Aug 31
6:30
PM CT
HOUSTON -- In the search to find a closer for 2015,
Neftali Feliz
continues to have more questions about his abilities for the
Texas Rangers
.
Sunday afternoon, manager Ron Washington asked Feliz to escape a jam that was created by setup man
Neal Cotts
.
Cotts lost a 2-1 lead, so with the game tied, Washington needed Feliz to get one out.
Feliz, coming back from Tommy John surgery, didn't have much velocity while facing three hitters. He allowed a go-ahead, eighth-inning RBI single to
Jose Altuve
, a man who had four hits on Sunday and has a major league-leading 189 on the season.
The Rangers lost to the
Houston Astros
3-2 at Minute Maid Park not so much because the hitters didn't do enough -- though you have to give credit to Houston starter
Dallas Keuchel
for his efforts -- but the bullpen struggled.
When Washington lifted starter
Nick Martinez
after 5⅓ innings on Sunday, he told him he did his job.
Feliz?
Not so much.
"It wasn't as crisp," Washington said.
Feliz's velocity is up and down since his return from surgery.
"I feel good [physically]," Feliz said of his outing. "When I take too many days off, my arm doesn't feel too good."
Feliz last pitched Monday in Seattle.
He entered the game in the eighth inning against the Astros and walked the first man he faced in
Robbie Grossman
. Feliz's 3-1 pitch, a fastball, fell into the dirt.
"I tried to throw my pitch down, and I missed my spot," Feliz said of ball four to Grossman.
Washington said the game was lost right there.
Altuve was next, and he hit a 91=mph fastball to center, breaking the tie.
"We shouldn't have been there," Washington said of the drama. "We should have got Grossman. You don't get beat right there. Grossman has to beat you, not Altuve."
Feliz reiterated his shoulder is strong but he needs to pitch to continue building it up. At times, Feliz is dominant, throwing in the mid- to high-90s, and reminds you of what he once was before the surgery and the switch from bullpen to starting rotation.
General manager Jon Daniels needs answers for 2015, and he watches this team closely every day.
He doesn't want to worry about the closer, who regained the gig when
Joakim Soria
was traded to the
Detroit Tigers
. It's a difficult situation to be in for Daniels. Monday in Seattle, Feliz gave up a one-out single in the ninth before retiring the next two hitters on fly outs, including
Robinson Cano
to end the game. Feliz pitched four days before that, Aug. 20, and allowed two home runs in the ninth inning of a save situation in Miami. Feliz, however, was able to get the save in a 5-4 victory.
So, do Daniels and Washington still want to deal with Feliz and his inconsistency with velocity?
"Still trying to figure it out," Washington said.
August, 31, 2014
Aug 31
4:55
PM CT
Associated Press
HOUSTON -- Matt Dominguez hit a tying homer and Jose Altuve's fourth hit drove in the go-ahead run as the Houston Astros rallied in the eighth inning to beat the Texas Rangers 3-2 on Sunday.
Dominguez connected off reliever Neal Cotts (2-8) with one out in the eighth to make it 2-all.
One out, one pitching change and three batters later, Altuve singled home Jake Marisnick.
Altuve also doubled twice in matching his career high for hits. Dominguez had an RBI single earlier in the game.
The Astros won a series for the first time since Aug. 19-21 at Yankee Stadium.
Jose Veras (3-1) got the win and Chad Qualls posted his 16th save.
August, 31, 2014
Aug 31
4:44
PM CT
HOUSTON -- The best of the
Texas Rangers
bullpen couldn't maintain a one-run lead on Sunday afternoon.
Setup man
Neal Cotts
allowed a game-tying homer, and closer
Neftali Feliz
gave up the go-ahead single.
The Rangers didn't produce enough runs for starter
Nick Martinez
and it cost them late in a 3-2 loss to the
Houston Astros
.
Instead of gaining split of this four-game series, the Rangers lost three of four games and fell to 3-4 on this 10-game road trip.
How it happened?:
The action was light but enough.
In the eighth inning, Cotts gave up a game-tying homer to
Matt Dominguez
(15th homer) and just didn't stop the damage. He hit
Jake Marisnick
with a pitch, who promptly stole second. He advanced to third on broken-bat grounder to third. Cotts was taken out for Feliz, who walked
Robbie Grossman
.
Jose Altuve
, the majors hit leader, singled to center to break the tie.
The Rangers took a 2-1 lead in the sixth inning.
Daniel Robertson
hustled for a leadoff double to start the inning. He moved to third on a wild pitch and with one out,
Alex Rios
singled through the drawn-in infield for a RBI single. It was Rios' first RBI in the last six games. The Rangers took a 1-0 lead in the first when rookie Ryan Rua picked up his first major league RBI with a single to center to drive in Rios, who kept the inning alive with a two-out double. Martinez couldn't maintain the lead as Matt Dominguez drove in
Jason Castro
with a single to right in the second inning. The game remained that way until the sixth. After the Rangers took the lead, Martinez was taken out with one out and two on for rookie reliever
Roman Mendez
. He pitched out of a jam, retiring Dominguez (pop out to second) and Jake Marisnick (strikeout) with a pair of runners on to end the threat.
The Silver Boot goes to:
Houston clinched the coveted Silver Boot with Saturday's victory. Houston has won 11 of 16 meetings this season with three remaining. It's the Astros' first Silver Boot title since 2006. The Rangers are now 3-7 at Minute Maid Park this season.
Mendez gets another chance:
Mendez was asked to get out of a jam, part of the process to see if he's worthy of being a serious contender for 2015. Thursday night he gave up a grand slam to Castro that cost his team the game. Sunday afternoon he got out of jam in the sixth inning but manager Ron Washington took him out after he loaded the bases in the seventh so Neal Cotts could face Castro for a lefty vs. lefty matchup. Cotts retired Castro on a fly out to left. Mendez might have survived things but a 3-1 pitch to
Dexter Fowler
was called a ball despite nipping the corner of the plate. That walk loaded the bases and prompted Washington to make a move.
Texans playing vs. Canada:
After the game, Team USA faced Team Canada in an 18-and-under exhibition in preparation for the Pan American championships. Daz Cameron, son of former major leaguer Mike Cameron, and possible No. 1 pick in next year's MLB First-Year Player Draft, is on the Team USA roster along with some Texans. OF Mitchell Hansen (Plano Senior High School), OF Trenton Clark (North Richland Hills) Ke'Bryan Hayes (Tomball, Texas) and Luken Baker (Spring, Texas) join Cameron.
What's next?:
This 10-game road trip continues with a trip to Kansas City. Here's the matchups: Monday, RHP
Colby Lewis
(9-11, 5.44) vs. RHP
Yordano Ventura
(10-9, 3.40). Tuesday: LHP Derek Holland (season debut) vs. RHP
Jeremy Guthrie
(10-1-, 4.43). Wednesday: RHP
Nick Tepesch
(4-8, 4.44) vs. LHP
Jason Vargas
(10-7, 3.27).
August, 31, 2014
Aug 31
1:05
PM CT
HOUSTON -- J.P. Arencibia finds himself in an interesting situation as the Rangers enter the final month of the season: After once playing every day, he now gets reduced playing time.
Arencibia doesn't have the numbers .170/.230/.351 that would merit significant playing time, yet at one point, he led the AL in home runs and RBIs in the second half of the season. As it stands now, Arencibia is tied for ninth in home runs (7) and tied for seventh in RBIs (25).
The Rangers have a logjam of players participating at some of the key positions Arencibia plays: First base and catcher.
His entire season can be described as inconsistent. He started the first 20 games hitting just .133 and he was optioned to Triple-A Round Rock May 20. In the minors, Arencibia hit 14 home runs with 41 RBIs in 48 games.
The Rangers moved him back to the big league club and while his average remains low he's produced the only four-RBI game of the season for the Rangers.
"When I came back and was playing every day the numbers were there," said Arencibia, who was batting sixth on Sunday in the series finale against the Astros. "I stopped playing and have to figure out a way to still produce when my number is called."
Ron Washington is trying to juggle
Adam Rosales
and Ryan Rua at first base along with Arencibia. At the plate, Arencibia is the emergency catcher because
Robinson Chirinos
and
Tomas Telis
are splitting the everyday catching duties.
"I think I come in everyday and take it day by day," he said. "It's out of my hands. I can't dictate what they do with me. That's their decision."
Base Hits:
Washington wouldn't say how many players will get called up from the minors when the rosters are eligible for expansion on Monday. Washington noted a catcher won't be among the players and the Rangers will expand their roster on Tuesday. Triple-A Round Rock's regular season ends Monday and the Rangers don't want to disrupt that. ... OF
Jim Adduci
is still dealing with concussion issues and also said his back is sore. ... OF
Jake Smolinski
(fractured left foot) continues to do baseball activities. ... In another sign he won't return this season, RHP
Yu Darvish
(right elbow inflammation) will not make the trip to Kansas City, as expected.
August, 30, 2014
Aug 30
10:45
PM CT
HOUSTON -- The journey for a no-hitter took a strange turn for
Texas Rangers
left-hander
Robbie Ross
on Saturday night.
He arrived in Dallas from Austin at 3 a.m. Saturday to catch a 9 a.m. flight. He landed in plenty of time for his spot start against the
Houston Astros
.
He encountered one problem: There was no room for him at the team hotel.
So Ross sat in the hotel lobby from noon to about 2 p.m.
[+] Enlarge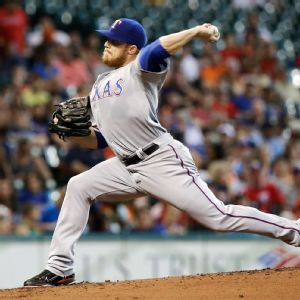 AP Photo/Pat SullivanRobbie Ross got the hook after no-hitting the Astros through five innings as a precautionary measure.
When the Rangers arrived Thursday from Seattle, the two extra rooms were given to Derek Holland and Ryan Rua. LSU played Wisconsin on Saturday at Reliant Stadium, so hotel rooms in this city were scarce.
After Ross finally got to his room, he tried to take a nap. But he tossed and turned, afraid he would oversleep. Trouble looms when that happens.
So Ross arrived at Minute Maid Park on time and pitched wonderfully. He allowed no hits or runs in five innings. He was pulled by Rangers manager Ron Washington after 70 pitches.
Yeah, the Rangers lost the game 2-0 to the Astros, but Ross was clearly the story, from the visiting teams' perspective.
Ross had relieved Holland at Triple-A Round Rock on Thursday and threw 42 pitches. The Rangers needed a starter for Saturday when
Miles Mikolas
was scratched with shoulder fatigue.
Ross became the starter despite the number of pitches he threw, and the objective was for him to throw no more than 60.
When the fifth inning was over Saturday night, Washington gave Ross a hug in the dugout.
"I know he was mad at that," Rangers shortstop
Elvis Andrus
said of Ross getting relieved by
Phil Klein
.
It happens.
"He said that he had 100 pitches in him," Washington said of taking Ross out. "Yeah, he was serious."
Saturday night was another chance for Ross to prove he belongs here. He started the season in the Rangers' rotation, moved to the bullpen and was demoted to Round Rock on June 17. Ross received another chance Aug. 14 against the
Tampa Bay Rays
and struggled in his start, in which he allowed six runs, all earned over 4 1/3 innings of work. He left with his team trailing 6-2.
Coming into his evening, Ross' ERA was 6.06. As a starter, Ross was 1-5 with a 5.40 ERA.
"The big thing for me is I want to start, and I felt like I battled my tail off in Triple-A for it," Ross said. "I felt like this opportunity right here might not come back around, and I wanted to show I'm ready to go and that I feel like I can do it. I didn't want to spoil it in the sense of I did what I did when I pitched against Tampa Bay."
Ross didn't make anybody forget his season to this point, but he did well enough to give the front office hope he's somebody to rely on for next season.
"It was about Robbie Ross and protecting him," Washington said. "We certainly had some fresh arms down in that bullpen, and I thought Klein threw the ball well. It was just who is going to make the first mistake, and we did."
Ross pitched a no-hitter through five innings on four hours of sleep, two wasted hours sitting in the hotel lobby and a left arm that will ache Sunday morning.
"I was feeling good, felt strong. I was out there trying to battle for us," Ross said. "Obviously they said, 'Hey, we want you to stay healthy. It's not about just right now -- it's about the future.' So I battled them to try and get back out there and do what I had to do, but that's the way it goes."
August, 30, 2014
Aug 30
9:09
PM CT
Associated Press
HOUSTON -- Scott Feldman pitched a three-hitter and the Houston Astros beat the Texas Rangers 2-0 Saturday night.
Feldman (8-10) struck out five and walked one in his second complete game this month. He also had one Aug. 3 against Toronto, yielding one run and eight hits in that game.
The three hits allowed matched a career best for Feldman, who also threw a three-hitter against San Diego on May 1, 2013. His previous shutout was Sept. 6, 2013, against the Chicago White Sox.
Held hitless for the first five innings by Robbie Ross Jr., the Astros scored twice in the seventh off reliever Phil Klein (0-2).
Carlos Corporan doubled to put runners at second and third, and Jake Marisnick had an RBI infield single. Corporan scored on Klein's throwing error to first.
August, 30, 2014
Aug 30
9:03
PM CT
HOUSTON -- It hasn't been determined whether left-handed starter
Robbie Ross
Jr. will cherish this Saturday night. The hug he received from
Texas Rangers
manager Ron Washington in the dugout was probably a sign it meant something to Ross.
Ross left after five no-hit innings, limited by pitch count because he threw 42 pitches on Thursday in Triple-A Round Rock and came up as an emergency starter to face the
Houston Astros
on Saturday night. Ross was supposed to throw no more than 60 pitches but threw 70 and was lifted accordingly.
But the Rangers bats couldn't do anything against former teammate
Scott Feldman
and a pair of rookies made some interesting plays in the field leading to the only runs that were needed for a decision.
Indeed, the Astros beat the Rangers 2-0 at Minute Maid Park on a quirky play we'll explain below.
How it happened?
In a scoreless game, Rangers rookie reliever
Phil Klein
was left to keep it that way in the seventh inning. He allowed a leadoff walk to
Jesus Guzman
, and
Carlos Corporan
reached on an opposite-field ground-rule double to put runners at second and third with no outs. With the infield in, Klein was able to get
Jake Marisnick
to bounce between the mound and second. Klein fielded the ball and hesitated slightly. He threw to first, where rookie first baseman
Ryan Rua
was playing in just his second game of his big league career that started Friday night. Rua also went for the ball but had to retreat to the bag when Klein snagged the ball. Klein's throw sailed past him and both runners scored.
If you review a few things or second-guess the play, maybe Klein should have let
Rougned Odor
make a play on the ball, since Odor was charging in. Either way, if Rua remained at first, it might have been possible for him to catch Klein's throw. It's hard to determine who was wrong on the play, yet there was nothing right about what occurred.
The last time:
Well, the Rangers didn't get the no-hitter. It was fitting considering the season they have experienced. To put Ross' effort into perspective, on Aug. 23, 2010, Rich Harden shut out the
Minnesota Twins
over 6 2/3 innings while throwing 111 pitches. He's the last Rangers pitcher to leave a game without allowing a hit while going at least five innings.
What happened to the Rangers' bats?
It happens. After scoring 13 runs Friday night, the Rangers were shut out for the ninth time this season and second time on this 10-game road trip. Feldman no-hit the Rangers for 4 1/3 innings until Rua's single to center. Rua moved to second when Guzman failed to catch Feldman's pickoff attempt.
Adam Rosales
and
Tomas Telis
were retired to end the threat. In the sixth, Odor reached on a single and was thrown out trying to steal second.
Adrian Beltre
drew a two-out walk in the seventh, but Rua bounced out to end any potential drama.
What's next?
RHP
Nick Martinez
(3-10, 5.31) will face LHP
Dallas Keuchel
(10-9, 3.05) at 1:10 p.m. CT Sunday to conclude the four-game series.
August, 30, 2014
Aug 30
4:55
PM CT
HOUSTON -- With Shin-Soo Choo out for the season recovering from surgery to remove a bone chip, the Rangers will employ
Leonys Martin
and
Daniel Robertson
in the leadoff spot.
In the last seven games, the Rangers' leadoff hitters are hitting .440 with five runs scored and six walks.
Martin, who gets his 12th start as the leadoff man Saturday night against the Astros, has a slash line of .340/.421/.480 at the top of the lineup. Robertson, who reached based three times as the leadoff man Friday night, will start against left-handed pitchers.
Houston is starting
Scott Feldman
, a right-hander Saturday night.
"Robertson will play when it's time for him to play," manager Ron Washington said. "If for some reasons, something goes down and I have to play him against a righty, I won't hesitate to do that either. But right now, that's his role."
Holland works on fielding:
Derek Holland did some fielding drills and threw a bullpen session prior to Saturday's game.
The Rangers didn't request Holland take fielding drills, it was done on his own.
"I got to work on it," Holland said in regards to his fielding. "Just because I'm (with the big club) doesn't mean I can't stop doing anything. Once the season ends, it's back to square one. Yeah, I feel great, no issues at all."
Mikolas to get more rest:
Miles Mikolas was scratched Friday night from his scheduled start Saturday with shoulder issues. Mikolas (2-5, 6.44 ERA) doesn't expect to miss another start, which is supposed to be next weekend. Yet, the Rangers are being cautious with a pitcher who hasn't been a starter on a regular basis in such a long time.
"First time starting in five years," Mikolas said. "My body is kinda adjusting and I need it to catch up."
The club has no plans to give Mikolas an MRI exam and will continue to monitor his progress.
Base Hits:
Washington said he likes how rookie catcher
Tomas Telis
calls a game and says listening to pitching coach Mike Maddux and first base coach/former big league catcher Bengie Molina between innings only helps him get better. ... The Rangers lead the majors with 20 rookies used this season. 1B Ryan Rua started Friday night against Houston. The club also leads the majors with pitchers used at 36 and will surpass the league record when Holland pitches Tuesday.
August, 30, 2014
Aug 30
4:40
PM CT
HOUSTON -- The Texas Rangers activated left-handed starter Derek Holland from the 60-day disabled list on Saturday. Holland has missed all of the season recovering from left knee surgery.
He will make his season debut Tuesday in Kansas City.
Holland did some fielding drills and threw a bullpen session prior to Saturday's game.
"I got to work on it," Holland said in regards to his fielding. "Just because I'm [with the big club] doesn't mean I can't stop doing anything. Once the season ends, it's back to square one. Yeah, I feel great, no issues at all."
To make room on the 40-man roster for Holland, the Rangers designated 1B/outfielder Mike Carp for assignment.
Saturday's starter, Robbie Ross Jr., was called up from Triple-A Round Rock to replace Miles Mikolas (shoulder fatigue). To clear space for Ross on the roster, the team optioned right-handed starter Nick Tepesch to Round Rock.
Tepesch may return to the Rangers next week and still take his regularly scheduled start Wednesday when the rosters expand.