July, 22, 2014
Jul 22
11:16
AM CT
NEW YORK -- At the All-Star Game last week,
Texas Rangers
ace
Yu Darvish
talked about having six-man pitching rotations as a means to stem the wave of recent arm injuries in baseball.
Discussions about six-man rotations have occurred more frequently this season in the wake of a multitude of players getting hurt and needing reconstructive elbow surgery. Yankees ace
Masahiro Tanaka
, like Darvish a superstar in Japan before coming to Major League Baseball, was put on the disabled list July 9 with a partially torn ligament in his right elbow. If it doesn't heal with rest and rehab, there's the potential that Tanaka, a contender for AL Rookie of the Year, might need Tommy John surgery.
A surgery of that magnititude could wipe out Tanaka's 2015 season.
Darvish pitched once a week when he was in Japan and outside of a few nagging injuries to his neck and back, Darvish's arm has remained intact going every five days in three big leagues.
"I know if you have six starters, there will be other problems that it entails," Darvish said Monday before the Rangers took on the Yankees to begin a four-game series. "Since I've already said it, I'm not going to say it again."
Darvish wasn't expansive outside of that comment but at the All-Star Game he told reporters: "If you really want to protect players, we should add one more spot to the starting rotation."
To make that happen, rosters have to expand to add an extra starter and the players association in conjunction with the owners would have to agree to that.
On the season, Darvish is 9-5 with a 2.88 ERA. He's had one start on nine days rest, two starts on six days rest, five on five days rest and another on eight days rest. He will make his 19th start of the season on four days rest, the ninth time that's occurred this year.
July, 22, 2014
Jul 22
9:00
AM CT
NEW YORK -- At the start of Monday's game,
Shin-Soo Choo
was dealing with a 0-for-21 slump, a position move to right field for the first time since 2012 and his own regret.
Choo said he should have rested a sore left ankle, nicked back in April. It's clear that Choo is not himself at the plate, but Monday night against the
New York Yankees
, he had two hits, including a RBI single in a three-run sixth inning that pushed the
Texas Rangers
to a 4-2 victory.
For the record, Choo's slump saw his slump extend to 22 at-bats when he flew out in the first inning. But he blooped a double to center in the third, then lined a single to center to plate a big run.
Yet Choo's season has just been terrible.
It all started with that ankle injury.
"I made a bad decision [by playing]," Choo said before Monday's game. "I should have had more rest instead of trying to come back as soon as possible."
Manager Ron Washington commended Choo for playing through his health issues and said the outfielder isn't using the injury as an excuse for his slash line: .239/.355/.370.
This latest slump for Choo was just the latest example of how bad things have been. During the 0-fer spell, Choo struck out 11 times and, over a 16-game stretch, hit just .116 with 16 strikeouts.
Over the long haul of a baseball season, however, professional hitters are asked to forget about certain things.
"It's easy to say that," Choo said. "But I just tell myself every day is a new game and every pitch is new pitches and every at-bat is new at-bats, that's what I tried to do. Then I just did it between pitches and I just stepped up in the batter's box and say the next pitch is new."
Rios getting close:
Rangers right fielder
Alex Rios
(sprained right ankle) said he took some swings prior to Monday's game and felt good. It appears he'll return to the lineup Wednesday if there are no complications. Rios sprained the ankle swinging the bat in Toronto on Saturday. Rios is hitting .302/.330/.435 and has been the subject of trade talk. The Rangers have a 2015 club option for Rios with a $1 million buyout.
Smolinski, Soto hurt:
Designated hitter
Jake Smolinski
fouled a pitch off the inside of his left foot in Monday's sixth inning. He continued the at-bat but was lifted for a pinch hitter in the ninth inning. Smolinski said X-rays of the foot were negative and he's day-to-day. Catcher
Geovany Soto
, who just returned to the team last weekend in Toronto following right-knee surgery, strained his right groin running the bases in the sixth. Soto said he feels fine but his status for the rest of the Yankees series, which continues through Thursday, is uncertain.
July, 21, 2014
Jul 21
11:30
PM CT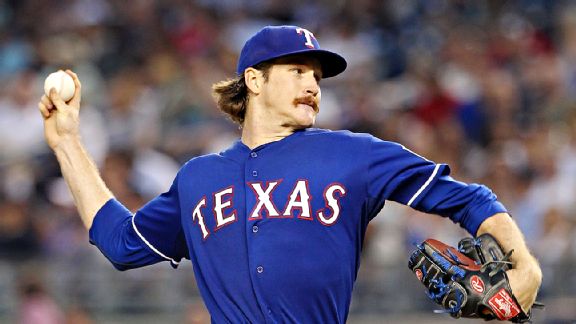 Adam Hunger/USA TODAY SportsInducing Derek Jeter into an inning-ending double play was the key to Miles Mikolas' win Monday.
NEW YORK --
Miles Mikolas
is a 25-year-old kid from Jupiter, Florida.
Derek Jeter
is a 40-year-old shortstop headed to the Hall of Fame.
In a game that humbles everyone at some point, it was Mikolas, the
Texas Rangers
right-hander, handling Jeter, the
New York Yankees
captain playing in the final three months of his big league career.
The Rangers' 4-2 victory over the Yankees on Monday night turned in the fifth inning.
The Yankees held a 2-1 lead and loaded the bases with one out when Jeter faced Mikolas.
Jeter gets loud ovations on every at-bat at home, and it didn't go unnoticed by Mikolas.
"Yeah, he's got some great fans here," Mikolas said, smiling.
Well, Jeter bounced into a 4-6-3 double play as he smacked a sinker into the ground, silencing the crowd of 45,278.
"Bases loaded, one out, that's a big situation, big jam to get out of," Mikolas said. "They're up on their feet and they're rooting for him real hard -- it makes me as a pitcher want to compete a little harder and let the fans down."
After the double play was turned, Rangers infielders
Elvis Andrus
and
Rougned Odor
high-fived at second base. Mikolas yelled from the mound -- and so did his cheering section, sitting in the upper deck somewhere at Yankee Stadium.
Mikolas had his mom, fiancée, step-dad, future sister-in-law and a few other future or current family members in attendance.
Mikolas might not have heard the yelling, but he could feel the presence.
"That double play was more about that time of the game, baby, we needed a double play," Texas manager Ron Washington said. "I didn't care who was up there, Babe [Ruth] could have been up there, I wanted a double play."
Mikolas earned his first career victory as a starter Monday.
He went 7⅓ innings, allowed two runs on four hits and struck out three on 105 pitches. Washington took Mikolas out so he could get
Neal Cotts
in to face some left-handers.
Cotts had some minor trouble, but everything worked out fine for a change.
The Rangers have been slumping, if you hadn't noticed, and they need arms like Mikolas to go deep into games and preserve the bullpen.
Mikolas understands the situation and wants to contribute, but hadn't pitched past the sixth inning in his previous three starts.
His family members saw the schedule and flew from Florida hoping to take advantage of the good weather up north and maybe see Mikolas get his first win of the season.
After that fifth-inning double play, the Rangers responded with three runs in the sixth to take a 4-2 lead, and Mikolas rewarded the hitters with a dominant half of the inning.
Throwing mainly fastballs, Mikolas retired the heart of the Yankees order on ground-ball outs and picked up eight consecutive outs until Washington had seen enough in the eighth inning.
And while the fans left the Bronx with a Jeter figurine, Mikolas and his family headed to the hotel with a victory.
"Everyone says this can be a tough place to pitch and the fans really get behind their team and they're a little hostile as I'm warming up in the bullpen," Mikolas said. "I'm a competitive guy and people start rooting against me, it lights a fire and I got to keep that going every start."
July, 21, 2014
Jul 21
9:57
PM CT
Associated Press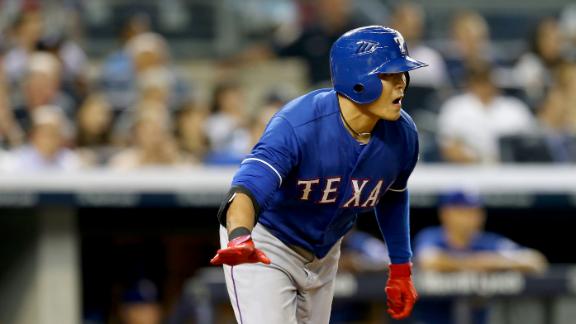 NEW YORK -- Miles Mikolas earned his first win as a starter, pitching into the eighth inning Monday night and leading the Texas Rangers to a 4-2 victory over the sloppy New York Yankees.
Trailing by a run with none on and two outs in the sixth, Texas got run-scoring singles from Geovany Soto, Rougned Odor and Shin-Soo Choo to go ahead in only its third win in 17 July games.
Adrian Beltre drove in the Rangers' first run with a fielder's choice in the third inning on one of New York's five errors -- three by starting pitcher Shane Greene (2-1).
Second baseman Brian Roberts and shortstop Derek Jeter made the other errors for the Yankees, who had not committed five in a nine-inning game since Aug. 20, 1998, against Minnesota.
July, 21, 2014
Jul 21
9:54
PM CT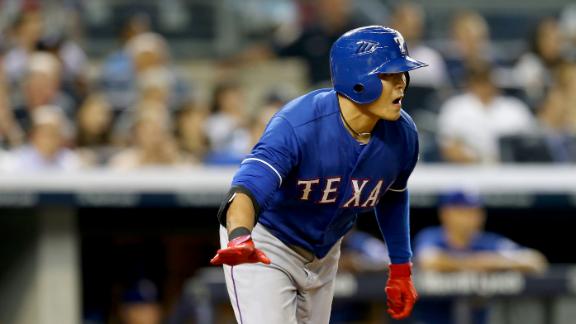 NEW YORK -- All Ron Washington is asking from this young
Texas Rangers
club is to compete.
Monday night in the Bronx, Washington's kids did compete and earned a 4-2 victory over the
New York Yankees
at Yankee Stadium.
This victory pushed the
Texas Rangers
(40-59) to just 3-14 in July and prevented the club from slipping to 21 games under .500.


Right-handed starter
Miles Mikolas
(1-2) earned his first big league victory as a starter and did something so few in this rotation have done, going past the sixth inning. A Rangers starter has gone more than six innings just twice in the past 18 games, first
Yu Darvish
and now Mikolas. In the past 11 games, Rangers starters have gone into the sixth inning five times.
Mikolas went 7⅓ innings, allowing two runs on just four hits.
What happened?
The Yankees clung to a 2-1 lead until the Rangers scored three runs in the top of the sixth inning, all with two out.
Geovany Soto
tied the game with a single over third baseman
Zelous Wheeler
's head, which was followed up by
Rougned Odor
's RBI single past a diving
Derek Jeter
at short for a 3-2 edge.
Shin-Soo Choo
, who was in a 0-for-21 slide coming into the game, picked up his first RBI since July 12 with a single to center for the 4-2 lead.
What was so impressive about the rally was that it came with two outs and that the lower part of the order, hitters Nos. 6-7-8-9, got it going.
Choo ends the slump:
Choo started in right field for the first time this season and first time since 2012, when he played for Cleveland. Choo said he wasn't comfortable in right due to a sore left ankle. Choo saw his rough patch extend to 0-for-22 when he flied out to center in the first. He ended the slump with a third-inning double and scored on an
Adrian Beltre
fielder's choice. Choo's biggest hit was the insurance the Rangers needed with a RBI single to center in the sixth.
Mikolas' night:
The 25-year-old righty pitched himself out of trouble in several innings, including limiting the damage in the first. AfterJeter advanced to second on a one-out balk, Mikolas gave up an infield hit to
Jacoby Ellsbury
.
Carlos Beltran
's fly scored Jeter, but Mikolas retired
Kelly Johnson
on a fly to right. At one point, Mikolas retired eight in a row until Ellsbury's homer gave the Yanks a 2-1 lead in the fourth. Mikolas didn't let that bother him and retired the next four batters before giving up consecutive hits in the fifth. Mikolas walked
Brett Gardner
with one out and two on before facing Jeter. Mikolas got Jeter to bounce into a 4-6-3 double play to end the inning. Mikolas let out a scream on the mound after the play and
Elvis Andrus
and
Rougned Odor
high-fived each other.
Errors, errors, errors:
The Yankees committed five errors, three by pitcher
Shane Greene
-- two on throws and another when he dropped the ball from the first baseman.
Brian Roberts
and Jeter also committed throwing errors.
Health issues:
Designated hitter
Jake Smolinski
left the game for a pinch hitter in the ninth with a bruised left foot. Smolinski fouled a ball off his foot in a previous at bat.
Soto's status for Tuesday night is uncertain, meanwhile, after he left Monday's game after suffering tightness in his right groin suffered when crossing the plate in the sixth.
What's next?
Nick Martinez
(1-6, 5.10) is scheduled to face fellow right-hander
Chase Whitley
(4-3, 5.10) in Game 2 of this series Tuesday. The Rangers will take Martinez off the disabled list and make a corresponding roster move.
July, 21, 2014
Jul 21
6:12
PM CT
NEW YORK --
Shin-Soo Choo
will make his first start in right field for the
Texas Rangers
this season in Monday's game against the
New York Yankees
.
It's Choo's first appearance in right since 2012 when he played for Cleveland.
The Rangers are forced to make this move with regular right fielder
Alex Rios
out with a sprained right ankle.
Choo, hitting .236 with nine homers and 33 RBIs, has played with a sore left ankle since April that's attributed to his poor season.
"I'm not thinking about it that it's been bothering me," said Choo, who noted he's not comfortable playing right field. "I made a bad decision (by not going on the DL) and that's what happened I tried to come back as soon as possible and that's what happened."
Choo has either played left field or DH for the Rangers this season and was signed to boost the power of this lineup.
Yet, Choo has struggled and is currently on a 21 at-bat hitless slide and hitting just .116 with 16 strikeouts the last 11 games. His average has dropped
from .254 to .236.
In the last 40 games, Choo is hitting just .173.
"The ankle is not going to get well until he gets off it," Ron Washington said. "It can get better, but it's not going to get well until he gets off it. We are fortunate in a sense that he's fighting through it and he's not using it as an excuse, but at certain times it's affected him. When you decide to play the excuse for your ankle is gone."
Rios does some running:
Rios, who sprained his ankle swinging the bat in Toronto on Saturday, ran on the treadmill at a 10-minute pace on Monday. Rios said he expects to swing the bat in the cage on Monday and will make himself available to pinch hit.
Washington normally gives injured players an extra day of rest before re-inserting them into the lineup. So, Rios, if cleared, most likely will return on Wednesday.
"It hurt a little bit," Rios said.
Rios' name has surfaced in trade talks with several teams and general manager Jon Daniels has said he's willing to speak with teams regarding players who entering their free agency year. The Rangers have a $13.5 million club option with a $1 million buyout on Rios.
Rios said he won't talk about trade talks.
Adduci gets another chance:
The Rangers activated 1B/OF
Jim Adduci
and optioned right-hander
Matt West
to Triple-A Round Rock Monday afternoon. Adduci had two hits and a RBI Sunday at Triple-A Round Rock. In four games, during his rehab assignments, Adduci went 5-for-15 with three RBIs. Adduci hasn't' played in the big leagues since he fractured his left pinkie finger April 17.
Base Hits:
Rangers ace
Yu Darvish
said he met Yankees ace
Masahiro Tanaka
on Monday. ... RHP
Nick Martinez
is scheduled to start on Tuesday. The Rangers have to make a roster move to clear room for Martinez, who spent time on the disabled list since July 2. ... The Rangers will honor retiring Yankee shortstop
Derek Jeter
on July 30th -- the finale of a three-game set between the clubs.
July, 21, 2014
Jul 21
12:32
PM CT
By
John Fisher, ESPN Stats & Information
Adam Hunger/USA TODAY Sports
Jacoby Ellsbury and the New York Yankees face the Texas Rangers on "Monday Night Baseball."
The
Texas Rangers
(39-59, last in AL West) and
New York Yankees
(50-47, second in AL East) face off on ESPN's "Monday Night Baseball" at 7 p.m. ET.
Here are the top stats to know about tonight's young starters, the Rangers' injury woes, and contributions from a speedy Yankees outfield and a dominant setup man.
Probable Pitchers
Miles Mikolas
will make the fourth start of his career Monday night.
The 25-year-old Rangers righty is off to a rough start this season with a record of 0-2 and a 10.05 ERA. Mikolas is the first Rangers pitcher to allow at least 17 runs in his first three career starts since
Tommy Hunter
in 2008. He is also one of four Rangers pitchers to allow at least nine runs in a game this season. No other team has had more than two pitchers do that.
Shane Greene
, another 25-year-old righty, is off to a much better start for the Yankees. Greene enters his third career start with a 2-0 record and 1.32 ERA.
Greene has been dominant against right-handed batters in limited action this season. Righties have a .105 batting average (2-for-19) and a strikeout percentage of 36.4 percent against Greene. Lefties are hitting .207 and are striking out far less frequently (12.5 percent).
Rangers Injuries
The Rangers are 11-33 in their last 44 games, going from four games behind the
Oakland Athletics
to 22 games back and in last place in the AL West.
Injuries have played a major role.
The Rangers have used 51 players so far this season, most in the majors and the most they have used since 2008 (55 players). They have already tied the most pitchers they have ever used in a single season with 30.
Speedy Outfielders Lead Yankees
Jacoby Ellsbury
is off to a strong start with the Yankees after signing a seven-year, $153 million deal in the offseason. Ellsbury leads the Yankees in hits (106), doubles (21), steals (27) and on-base percentage (.352) while batting primarily third in the order.
Ellsbury has become more of a line-drive hitter with the Yankees. After hitting line drives on 20 percent of balls in play during his last four seasons with the
Boston Red Sox
, Ellsbury has hit line drives more than 29 percent of the time in 2014 (first in AL).
Meanwhile,
Brett Gardner
continues to be one of the most valuable Yankees players while batting primarily leadoff. Gardner has the second-highest WAR (wins above replacement) among Yankees position players over the last five seasons at 18.7. Only
Robinson Cano
's 29.8 wins above replacement ranks better since the start of 2010.
Dominant Setup Man
Yankees reliever
Dellin Betances
has been one of the best pitchers in baseball this season and already has 88 strikeouts, 23 more than any other relief pitcher.
Among pitchers with at least 50 innings pitched in 2014, Betances ranks first in ERA (1.46), WHIP (0.71), opponent batting average (.124), opponent OPS (.410), strikeouts per 9 (13.7) and strikeout percentage (41 percent).
July, 20, 2014
Jul 20
3:30
PM CT
Associated Press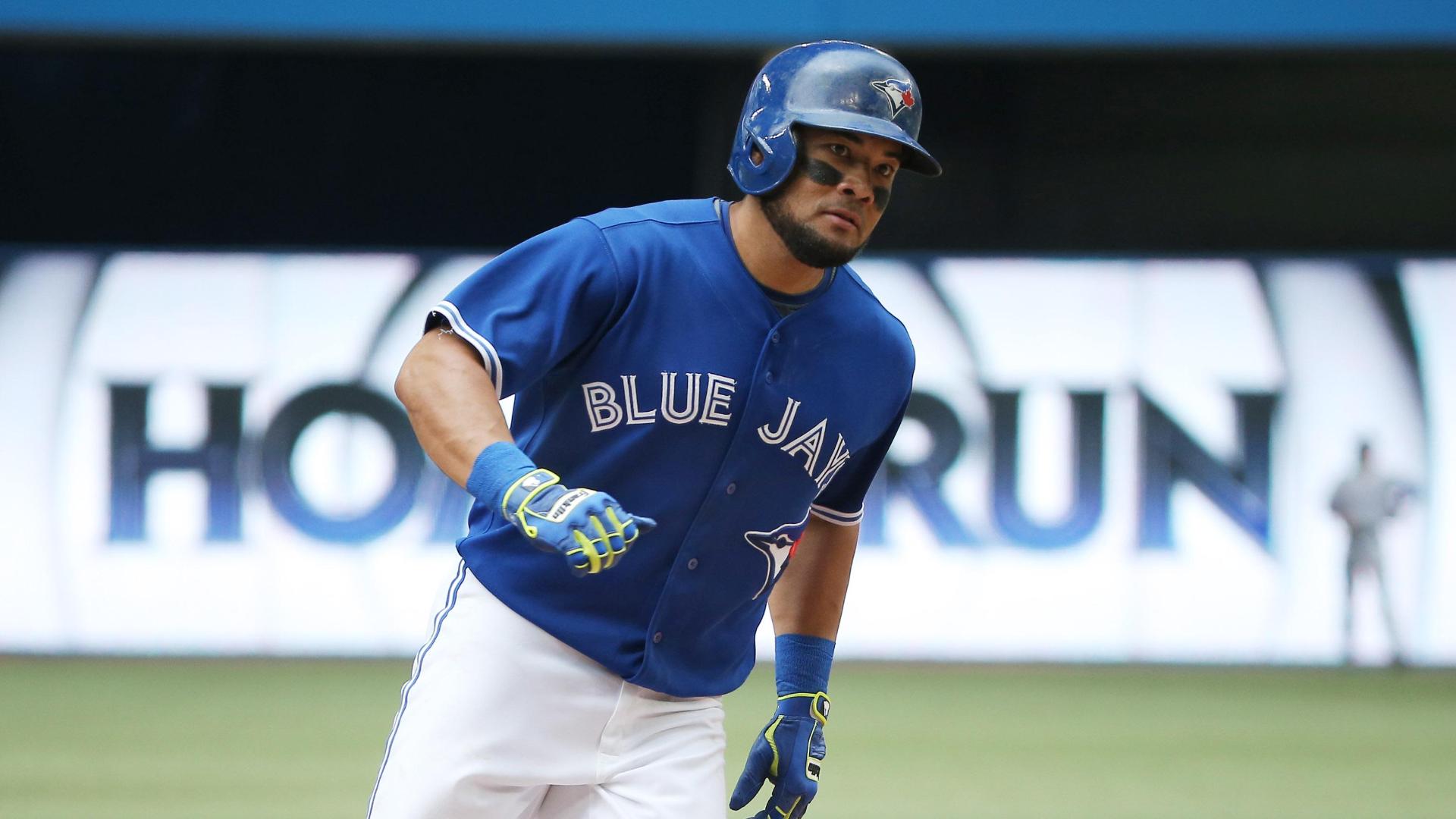 TORONTO -- Melky Cabrera hit a tiebreaking homer in the seventh inning, and the Toronto Blue Jays beat the Texas Rangers 9-6 on Sunday.
Cabrera drove in three runs and finished 3 for 5, his 13th multi-hit effort in the past 28 games, as the Blue Jays won their first series since sweeping a two-game set against Milwaukee on July 1-2. He also made a great catch on a sinking liner by Adam Rosales in the sixth, keeping runners at first and second.
Cabrera's homer came on the third pitch he saw from right-hander Neftali Feliz (0-1), handing slumping Texas its 13th loss in 15 road games. The Rangers have won just four of their past 28 overall and are a major league-worst 39-59. It is the first time Texas is 20 games under .500 since finishing the 2003 season 71-91.
July, 20, 2014
Jul 20
1:12
PM CT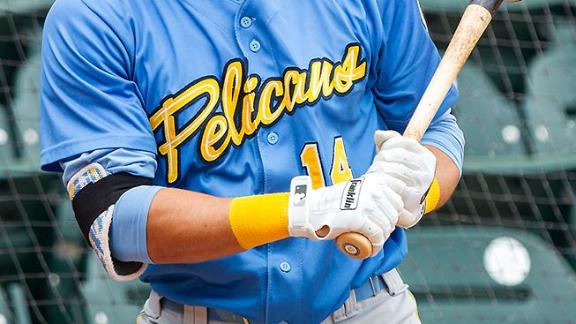 Andy Milovich has offered to go this week where no man has gone before: A prostate exam in front of a full stadium of fans.
Milovich, the general manager of the Myrtle Beach Pelicans, the Single-A affiliate of the Texas Rangers, offered to have the exam while singing "Take Me Out To The Ball Game" during the seventh-inning stretch if local 10-year-old Fallon Emery, who has brain cancer, gets 10,000 likes on her Facebook page before the game.
"It's not like I would be getting it at home plate," Milovich said. "I'll likely do it from our radio booth and the fans will see me from the shoulder up."
Last week, Milovich was promoting Thursday night's game, which has a prostate cancer awareness focus, when a reporter for a morning talk show asked him if he was willing to get a prostate exam at the game.
In typical minor league fashion, Milovich's team went to work and decided to tie it to supporting the Facebook page of Emery, who has been battling brain cancer for the last seven months.
The team had already planned to give out 1,000 foam fingers with blue ribbons on them to the first 1,000 men age 18 and older. But if Emery's page gets 10,000 likes by noon ET on Thursday -- it was at 6,800 on Sunday at 2 p.m. ET -- Milovich will make good on his promise.
"If what we do saves a kid from having to lose his or her father because they get checked out, this will be worth it," Milovich said.
The team is raising money for Emery on Aug. 2, auctioning off items signed by sports luminaries, including South Carolina football coach Steve Spurrier and Clemson football coach Dabo Swinney.
July, 19, 2014
Jul 19
7:39
PM CT
ESPN.com news services
[+] Enlarge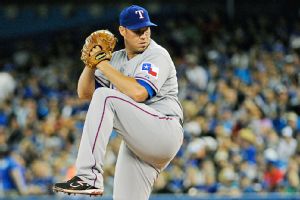 Peter Llewellyn/USA TODAY SportsColby Lewis took exception to a fifth-inning bunt by Colby Rasmus during the Rangers-Blue Jays game on Saturday. Lewis felt the bunt single went against baseball etiquette.
In the eyes of Colby Lewis, Blue Jays outfielder Colby Rasmus sure could use a lesson in baseball etiquette.
The Rangers starting pitcher exchanged words with Rasmus during the fifth inning of Texas' 4-1 loss Saturday. Lewis was irked when Rasmus laid down a two-out bunt single with the Blue Jays up 2-0 and the Rangers playing the shift.
"I told [Rasmus] I didn't appreciate it," Lewis said, according to MLB.com. "You're up by two runs with two outs and you lay down a bunt. I don't think that's the way the game should be played."
Lewis, who fell to 6-7 with the loss, felt Rasmus' bunt was a selfish act.
"I felt like you have a situation where there is two outs, you're up two runs, you have gotten a hit earlier in the game off me, we are playing the shift, and he laid down a bunt basically simply for average," Lewis said.
July, 19, 2014
Jul 19
3:28
PM CT
Associated Press
TORONTO -- Marcus Stroman pitched seven shutout innings to snap a three-start winless streak, Dan Johnson had two RBIs and the Toronto Blue Jays beat the Texas Rangers 4-1 on Saturday.
Melky Cabrera had three hits as the Blue Jays won for the first time in four games.Toronto had lost nine of 11 coming in.
Stroman (5-2) allowed four hits, all singles, walked none and struck out five, improving to 4-1 with a 1.73 ERA in six home starts.
Texas, which stopped an eight-game losing streak with Friday's 5-1 victory, has not strung together consecutive wins since beating Minnesota on June 27 and 28 and has the worst record in the major leagues at at 39-58.
July, 19, 2014
Jul 19
12:55
PM CT
ESPN.com news services
TORONTO -- Texas Rangers outfielder Alex Rios has left their game against the Blue Jays in the first inning after spraining his right ankle on a swing.
Rios was left hopping in pain on his left foot after fouling off the first pitch he saw from Blue Jays rookie right-hander Marcus Stroman on Saturday. After a brief conversation with manager Ron Washington and the trainer, Rios limped back to the dugout and headed for the clubhouse. X-rays were negative.
Daniel Robertson replaced Rios, who is batting .302 with four homers and 42 RBIs.
Rios was not in the lineup for Sunday's series finale.
The injury-riddled Rangers currently have six players on the 15-day disabled list and eight more on the 60-day DL.
The Associated Press contributed to this report.