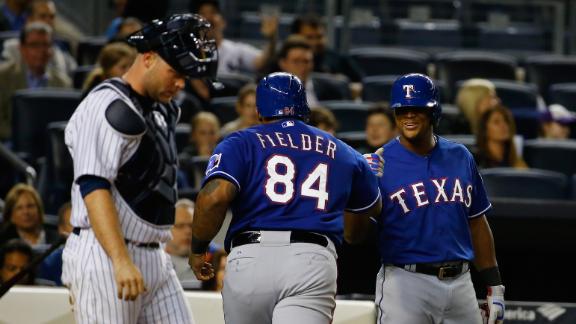 It was another loss for the Yankees, their fourth straight and eighth in their last nine games as they fell, 10-9, to the Rangers.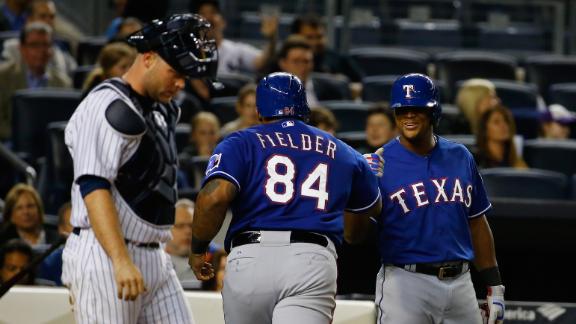 Fielder hit 2 homers, Rangers top Yankees for 3rd win in row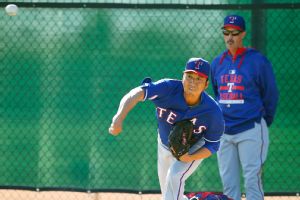 Japanese reliever Kyuji Fujikawa was placed on waivers by the Texas Rangers on Friday, which gave him his unconditional release.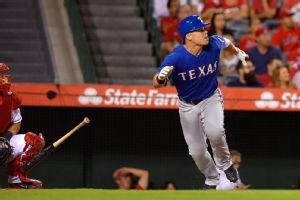 The Texas Rangers have put first baseman/outfielder Kyle Blanks on the 15-day disabled list and recalled outfielder Jake Smolinski from Triple-A Round Rock.
5h
ESPN Stats & Information
Colby Lewis (3-2, 3.06 ERA) will start for the Texas Rangers against Michael Pineda (5-1, 3.31 ERA) and the New York Yankees on Friday. Lewis is 1-3 with a 5.
For the May 22 edition of the ICYMI post on the ESPN SweetSpot Network, thereâ
9h
ESPN Stats & Information
The Texas Rangers defeated the Boston Red Sox 3-1 at Fenway Park on Thursday. The Rangers have won eight of their last 11 games on the road.Mitch Moreland went 3-for-4, tying his season-high in hits, with two RBI and a solo home run in the fourth inning.
Jim Bowden lays out the 20 players most likely to be dealt by July 31, including a trade likeliness rating, interested teams and best fit for each guy.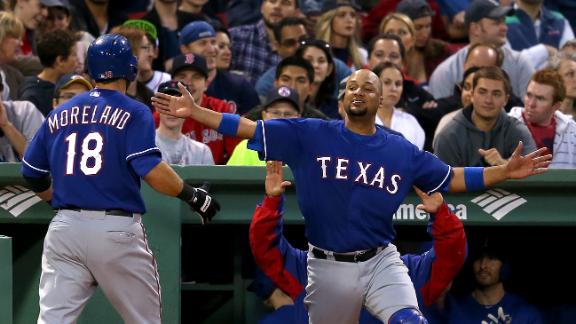 Rapid Reaction from the Texas Rangers' 3-1 victory over the Boston Red Sox on Thursday, another anemic performance from the Boston lineup.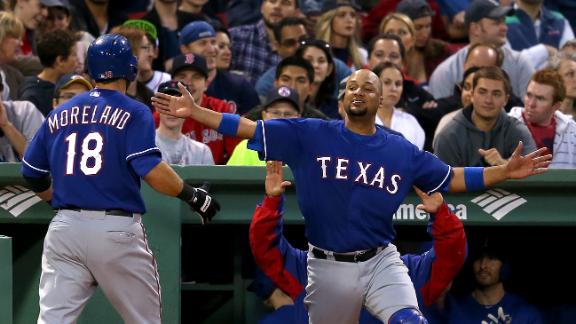 Rangers' Rodriguez keeps Red Sox bats quiet in 3-1 win
1d
ESPN Stats & Information
Wandy Rodriguez (1-2, 3.86 ERA) will start against Clay Buchholz (2-4, 4.93 ERA) as the Texas Rangers and Boston Red Sox wrap up a three-game series on Thursday.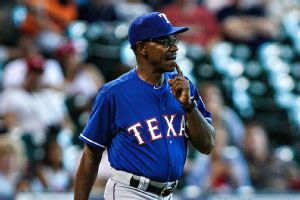 Ron Washington is getting back into the big leagues, rejoining the Oakland Athletics as an instructor after working nearly eight years as manager of the Texas Rangers.
The Boston Red Sox wasted a quality outing by Joe Kelly Wednesday night, losing to the Texas Rangers 2-1.
May 23, 2015

,

12:24 AM ET
Rangers hold on to beat Yankees 10-9