August, 27, 2014
Aug 27
12:11
AM CT
Associated Press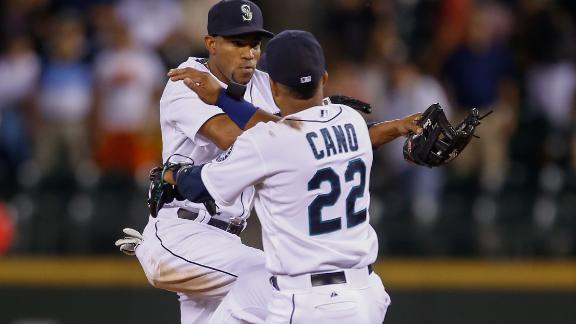 SEATTLE -- James Paxton pitched into the seventh in a bounce-back start, Robinson Cano hit his 12th home run of the season, and the Seattle Mariners beat the Texas Rangers 5-0 on Tuesday night.
Paxton threw a career-high 118 pitches and came an out away from tying his career high with seven innings pitched. The rookie lowered his ERA to 1.71, the best mark for a pitcher in his first 11 major league starts since 1990.
Cano's towering two-out home run in the first opened the scoring and was his 71st RBI of the year.
Seattle broke open a two-run game in the fifth, with the big blow coming on a double by Endy Chavez, which drove in a pair. Dustin Ackley scored Austin Jackson later in the inning with a single.
Texas starter Nick Martinez struggled through five innings, allowing five runs on six hits and four walks.
August, 26, 2014
Aug 26
11:00
AM CT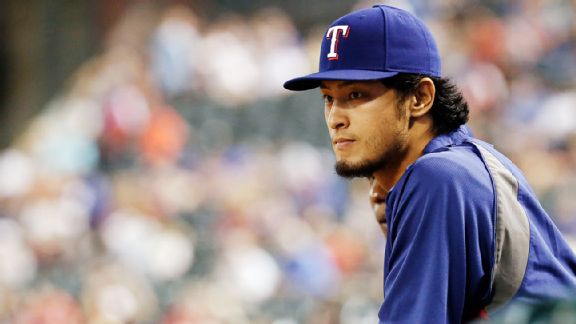 AP Photo/Brandon WadePerceptions of Yu Darvish's situation might be different had he not gone directly to the DL.
Yu Darvish
has described the inflammation in his right elbow as mild, and it is unclear if the right-hander could pitch through it if the
Texas Rangers
were involved in a pennant chase.
While a pitcher's arm is a precious commodity, position players deal with issues as well.
Shin-Soo Choo
and
Alex Rios
have played through sprained ankles of late. Choo has dealt with that ailment since April. Choo also played through a bone spur in his left elbow; the pain finally became too great, so he's set to undergo season-ending surgery.
You should have seen
Elvis Andrus
on Sunday before the Rangers headed for Seattle. The Rangers' starting shortstop had both wrists wrapped in ice. Pitchers regularly walk around the clubhouse with ice packs strapped to their arms -- it's all a part of baseball.
Darvish could have handled things differently regarding his stint on the disabled list.
Instead of electing to go on the DL, he probably should have asked for some rest -- because the Rangers would have given it to him. General manager Jon Daniels made the correct call in sitting Darvish, but perhaps the ace should have delayed the DL process a little bit.
Darvish most likely would miss two to three starts before being asked to do anything. If he was still having issues, then he would have been placed on the DL.
Darvish going on the shelf without waiting to see how he felt after a little time off raises some questions and some perception issues.
I look at left-hander
Derek Holland
's situation and his comments.
Holland could have taken the year off as he recovers from left knee surgery. But Holland has been consistent in his statements that he wants to pitch for his teammates, regardless of how the Rangers' season is going.
"I want to be out there for them," Holland said.
Pitching injured and pitching through discomfort are two different things. Darvish is not injured. He's got discomfort, and the Rangers are being cautious with the 28-year-old.
No problem with that.
I just wish Darvish had waited a little while before going on the DL, because you don't want to come across as quitting on your team.
You could say the season doesn't mean anything, so what's the big deal?
You would be correct.
Manager Ron Washington disagrees with you, because the games will go on. Yes, you want to get a handle on younger players such as
Tomas Telis
, the rookie catcher who picked up his first big league hit Monday night in Seattle, but you also want to make sure the core of your team is committed long term.
Washington himself created a stir about Darvish when he said that everybody encounters inflammation, and that he expected the ace to return. Washington has backed tracked on these statements in recent days and Daniels says everybody is on the same page. Daniels said Monday if anybody had a problem with Darvish wanted to move to the DL they should have spoken up, then, not now.
Darvish is the best pitcher on this team and among the best in baseball. You don't want to place him at risk for further injury.
Darvish, I believe, is committed to the Rangers. I just wish his approach had been a little different.
August, 26, 2014
Aug 26
8:00
AM CT
Texas Rangers
general manager Jon Daniels stressed Monday that staff ace
Yu Darvish
might not return in 2014 from the 15-day disabled list, where he sits with elbow inflammation.
Speaking to ESPN Dallas 103.3 FM, Daniels said it doesn't make sense to bring the right-hander back given the Rangers' place in the standings and the amount of time it would take for him to get back up to speed.
[+] Enlarge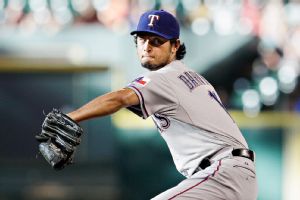 Bob Levey/Getty ImagesYu Darvish's Aug. 9 start in Houston could turn out to have been the right-hander's last of the season.
"I think it's the function of the calendar," Daniels said. "At this point, he has shown a lot of improvement. We'll probably get another [MRI] to see where it's at soon. But if we get to a point where he's been down for too long -- and that's probably coming up here in the beginning of September -- I'm not sure if it makes sense to ramp him back up for a couple of starts at the end of the month."
Darvish hasn't pitched since Aug. 9 in Houston, where he lasted just four innings, allowing five earned runs on nine hits.
A few days later, Darvish complained of discomfort in his throwing elbow and a MRI exam revealed inflammation. The Rangers placed Darvish on the DL on Aug. 13, retroactive to Aug. 10. He was eligible to return Monday at Seattle, but didn't make the trip.
Darvish's status for this current 10-day road trip is uncertain, and it's doubtful he'll see a game the rest of the season.
The only thing keeping it from being official is an announcement from the Rangers.
"That's how we're looking at it," Daniels said. "Admittedly, it's playing it on the cautious side, but I think with the season we've had with the injuries, as important as he and other guys are to us, I just don't see pushing a pitcher out there when you've got a known injury in the elbow -- and he's obviously an important piece to us going forward."
There is some concern that Darvish, 28, has upset some in the clubhouse or in the front office with the stint on the disabled list.
Daniels disputed that, saying it was his call to place the pitcher on the DL and that his manager, Ron Washington -- who expressed a desire for Darvish's return this week -- was of like mind.
"We're all on the same page," Daniels said. "Everyone in the same room. If there had been a desire to challenge Darvish or question his intent, it would have been right there, and Wash was 100 percent on his side and in his corner and wanted to protect him."
August, 26, 2014
Aug 26
12:11
AM CT
Associated Press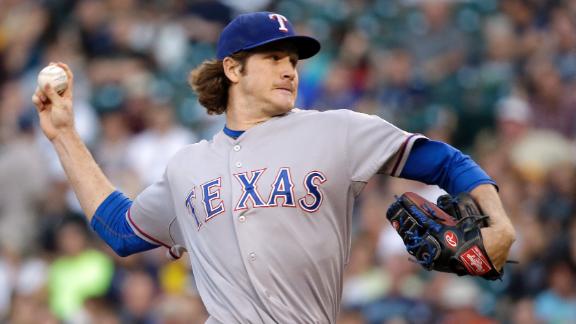 SEATTLE -- Miles Mikolas allowed three hits in eight scoreless innings, J.P. Arencibia singled home the go-ahead run in the fourth and the Texas Rangers opened a three-game set against the Seattle Mariners with a 2-0 win on Monday night.
Mikolas faced two batters over the minimum, erasing two of the three hits he allowed with double plays. The right-hander struck out five and walked one. It is the first time Mikolas has not allowed a run in 10 career starts.
Neftali Feliz pitched the ninth for his seventh save in eight attempts.
Seattle starter Roenis Elias struggled with command, walking four, but was able to limit the Rangers to one run in five innings. The rookie stranded runners in scoring position in three innings before giving way to the bullpen after tossing 101 pitches.
August, 25, 2014
Aug 25
7:35
PM CT
Texas Rangers left fielder Shin-Soo Choo will miss the remainder of the 2014 season after being placed on the 15-day disabled list with a bone spur in his left elbow Monday.
The move is retroactive to Sunday.
Choo, who didn't make the trip to Seattle for the team's series with the Mariners, will undergo surgery in the next two weeks. The operation is set for Sept. 15 but could be moved up to Friday if Choo's illness subsides. He missed Sunday's game against Kansas City with the flu.
"By the end of October, he would be 100 percent and have a completely normal ... offseason," general manager Jon Daniels said, explaining why the last-place Rangers didn't want to wait until after the season. "We want everything, from a health standpoint, we want 100 percent for 2015."
Choo, 32, struggled in his first season with Texas after signing a $130 million, seven-year contract when he was a free agent last winter. He hit .242 with 13 homers and 40 RBIs in 123 games.
He also played through an ankle injury as well as the elbow issue, which hurt him on long throws from the outfield, Daniels said. Choo appeared in only 75 games in the outfield and made 44 starts at designated hitter.
The arthroscopic procedure will be performed by Dr. Keith Meister, the Rangers' team physician.
Outfielder Michael Choice was recalled from Triple-A Round Rock to replace Choo.
Choice is batting .267 with seven home runs and 31 RBIs in 43 games for Round Rock. He started the season with the Rangers and hit .177 with eight homers and 28 RBIs in 69 games before getting demoted.
Information from The Associated Press was used in this report.
August, 25, 2014
Aug 25
10:00
AM CT
The Rangers begin a 10-game road trip Monday night in Seattle.
Here's a preview:

What's up with the Mariners?
A three-game sweep of the
Boston Red Sox
over the weekend pushed the Mariners to a one-game lead over Detroit for the second AL wild-card spot. Seattle is 15-5 in its last 20 games and 65-18 when the Mariners score three or more runs. 2B
Robinson Cano
(.326/.394/.465) left Sunday's game with dizziness related to the flu. He's questionable for the Rangers series. 3B
Kyle Seager
leads the Mariners with 19 HRs and 80 RBIs. 1B
Logan Morrison
has an eight-game hit streak and has 21 hits in the last 22 games.
What's up with the Rangers?
The Rangers are 27 games behind first place in the AL West and have been outscored by a major-league high 139 runs. The Rangers lead the season-series against the Mariners, 7-5, and the teams play seven more times this season. Against the AL West, the Rangers are just 19-30. 3B
Adrian Beltre
is hitting .500 the last eight games and has had multiple hits in five consecutive games. CF
Leonys Martin
is tied for the AL lead with the
Los Angeles Angels
Erick Aybar
with nine bunt hits. LF/DH Shin-Soo Choo missed Sunday's game with the flu and will make the trip to Seattle.
Against the King:
Felix Hernandez
will face the Rangers on Wednesday afternoon. In three 2014 starts, Hernandez is 0-1 with two no-decisions. Hernandez, while considered one of the more dominant pitchers of his generation, is 12-21 in 42 career starts against the Rangers with 239 strikeouts in 269 innings. The Rangers, meanwhile, are hitting just .178 against him.
Elvis Andrus
has 12 RBIs and a .307 career average against him and Beltre is hitting .294.
Alex Rios
is batting just .244.
The matchups:
Monday: RHP
Miles Mikolas
(1-5, 7.48) vs. LHP
Roenis Elias
(9-10, 4.09), Tuesday: RHP
Nick Martinez
(3-9, 5.13) vs. LHP
James Paxton
(3-1, 2.20), Wednesday: RHP
Colby Lewis
(8-11, 5.54) vs. RHP Felix Hernandez (13-4, 2.07).
August, 24, 2014
Aug 24
8:12
PM CT
ARLINGTON, Texas -- While not ruling the staff ace out for the season,
Texas Rangers
general manager Jon Daniels said Sunday that
Yu Darvish
won't return to the rotation until he's free of symptoms of inflammation in his right elbow.
The right-hander has missed three starts during his ongoing stint on the 15-day disabled list and will not make the first leg of a 10-day road trip the Rangers begin Monday in Seattle. Darvish's status for next weekend's visit to Houston is uncertain.
"He's really in the same spot, again," Daniels said. "No. 1 factor here is get the medical staff and have Yu completely symptom-free, completely clear MRI. I just think it doesn't make a lot of sense of letting him get back out there if there is any added risk. That's the position we're taking, and we'd all love to see him back out there for a variety of different reasons. We're not going to take any chances, that's my call, the organization's call. There is too much to lose for 2015 to risk an injury."
Darvish reported some arm discomfort following an Aug. 9 start in Houston, where he gave up six runs, five earned, in four innings of work. He threw 113 pitches. Darvish told team officials he wasn't hurt during that outing, but afterward the story was different.
He experienced severe pain while pitching in Japan in 2011, which cost him a start in spring training. Darvish didn't miss any more time after that. The 28-year-old described the current inflammation in his right elbow as mild.
With the Rangers out of the pennant chase, the situation led to questions about Darvish's commitment to the team. Manager Ron Washington noted that every player has inflammation during a season, and that missing games wasn't acceptable, adding that he wanted Darvish to return.
Washington later clarified his comments, saying he wasn't mocking his staff ace and that he didn't want Darvish to pitch if it meant he would hurt himself further.
The Rangers are shorthanded in the rotation with Darvish out.
Scott Baker
pitched five innings Sunday in a 3-1 victory over the
Kansas City Royals
, and the squad has an open spot at Houston on Friday. Baker could get the call again.
Derek Holland is scheduled to make his final rehab outing on Thursday, so he has been ruled out for a potential start with the big club this week. Holland will become a September call-up along with several other pitchers, possibly including
Robbie Ross
.
So for now, the Rangers wait to see if Darvish can recover from his arm issues and, if not, will continue with their current rotation of three pitchers in their mid 20s and one in their mid 30s:
Miles Mikolas
(26),
Nick Tepesch
(25),
Nick Martinez
(24) and veteran
Colby Lewis
(35).
August, 24, 2014
Aug 24
7:30
PM CT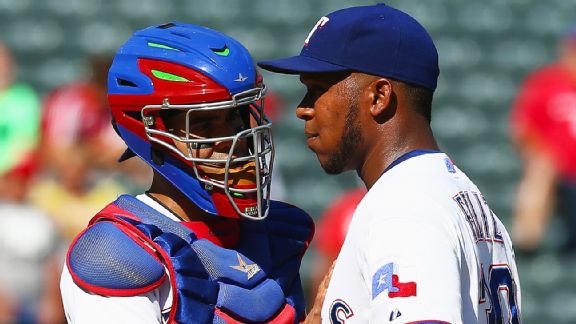 Ronald Martinez/Getty ImagesRobinson Chirinos has emerged as a solid defensive catcher for the Rangers this season.
ARLINGTON, Texas -- Officially, the
Texas Rangers
picked up $100,000 from the
Oakland Athletics
in exchange for catcher
Geovany Soto
on Sunday.
In reality, the Rangers obtained more. The move has given the team an opportunity to see who starts the 2015 season at catcher.
Soto was the projected 2014 starter, but injuries derailed those plans. The Rangers have used four different players at catcher, with
Robinson Chirinos
emerging as the most dependable with 74 starts, including Sunday's 3-1 victory over the
Kansas City Royals
.
Before Monday night's game in Seattle, the Rangers will call up switch-hitting
Tomas Telis
from Triple-A Round Rock to back up Chirinos.
In 106 minor league games this season, Telis had a slash line of .318/.352/.431. Reports on the 23-year-old have been encouraging -- that's why he's headed to the bigs -- and though he won't be the everyday man, he's auditioning for 2015.
"He's really taken a step forward with his game," general manager Jon Daniels said. "[Minor league catching coordinator) Hector Ortiz and [assistant catching coordinator] Ryley Westman and all the staff did a great job with him getting him to this point. I want to take a look at both those guys, plus it gives Geo an opportunity to go out and win, and hopefully this situation benefits everybody."
[+] Enlarge
Mo Khursheed/TFV Media via AP ImagesThe Rangers plan to call up switch-hitting catching Tomas Telis before Monday's game at Seattle.
Meanwhile, you'll be able to see 21-year-old
Jorge Alfaro
, the Rangers' No. 1 catching prospect, at Double-A Frisco for a few more weeks.
He's the future, as long as he progresses, but it's just too soon for him.
At this stage of the season, Chirinos will be the first man Rangers manager Ron Washington writes down as his starter. If he does well, he can answer a few questions that Daniels and Washington have about the club.
"First of all, [Chirinos] wants to play and he wants to show you he can do it," said first base coach Bengie Molina, who had 1,234 starts at catcher in a 13-year career. "He ain't afraid, he doesn't get rattled or anything. His skills, he can throw the ball, he's got great hands, he blocks everything. Throws great, handles the pitching well. I don't know, man, he surprised a lot of people."
Chirinos, 30, is an infielder by trade and it's those skills -- good lateral movement, quick hands -- that allowed him to become a strong catcher.
J.P. Arencibia
and Soto were the projected catchers going into spring training this year. Soto's injury and Arencibia's struggles at the plate gave Chirinos a chance on the big stage.
This season he's hitting just .232, but he's thrown out 40 percent of would-be base stealers, well above the league average.
"Every time I come to spring training, when I was playing minor leagues, I was getting myself the best chance to make the team," said Chirinos, who made his major league debut in 2011 for Tampa Bay. "I was getting ready and with everything that happened this year, I have a chance to be the second guy in the beginning. I thank God I've been playing lot this year."
Is he ready now?
Well, Sunday he looked like it, going 2-for-3 with a walk and an RBI. Telis will receive his opportunities, too, and as the Rangers try to erase this dismal 2014 season from their memory, there's hope that its final five weeks will give them hope for 2015.
August, 24, 2014
Aug 24
7:10
PM CT
ARLINGTON, Texas --
Texas Rangers
general manager Jon Daniels said left-handed starter Derek Holland (knee) will throw his last rehab start Thursday for Triple-A Round Rock. Holland is scheduled for two throwing sessions, on Monday and Tuesday, and if there are no physical problems, his scheduled start at Round Rock will go as planned.
Holland saw his scheduled rehab start Sunday in Las Vegas scratched due to back spasms and didn't make the trip.
"I'll take whatever they give me," Holland said. "If it's taking one more rehab, I'm here for whatever they need."
There's an open spot in the Rangers' rotation Friday in Houston, and manager Ron Washington hasn't settled on a starter yet with pitching coach Mike Maddux. Instead of moving Holland into that slot, the Rangers will let him make one more rehab outing, then bring him to the big club when rosters expand in September.
Washington said he definitely would look at
Scott Baker
, Sunday's starter against the
Kansas City Royals
, for that Houston game. Baker earned his second win of the season -- and first as a starter since 2011 -- with five innings of work in a 3-1 victory.
Baker became a spot starter with the club in the absence of
Yu Darvish
, on the 15-day disabled list with elbow trouble. Baker allowed one run on five hits while throwing 71 pitches.
"Whether I'm a starter or reliever, it's about executing pitches," Baker said.
August, 24, 2014
Aug 24
5:10
PM CT
ARLINGTON --
Scott Baker
was asked to do just enough.
The requirements of Baker weren't to throw a complete game or get to the late innings. Pitch for as long as you can within the confines of 70 pitches.
Baker, the emergency starter, accomplished it in leading the
Texas Rangers
past the
Kansas City Royals
, 3-1, on Sunday afternoon.


There is some uncertainty in the rotation with
Yu Darvish
nursing a balky right elbow and Derek Holland nearing a return after five rehab starts. The Rangers have three young kids and
Colby Lewis
pitching and Baker fills in when he can.
He held the Royals to just one run, a
Billy Butler
homer in the fourth, on five hits to earn his second win of the season and first as a starter.
Baker had this funny stat, well depending on your point of view, associated with his name. Earlier this month the Rangers had been 0-20 in games he pitched. Now when you're the long reliever entering games in which your team trails and an emergency starter, with this offense you won't get many chances for come-from-behind victories.
Baker won a game in relief Aug. 12 vs. Tampa Bay to end the spell. He's on a two-game win streak now thanks to a gritty effort that ended a two-game losing streak.
How it happened:
It started early as
Adrian Beltre
doubled home
Daniel Robertson
with the first run. In the second inning,
Adam Rosales
doubled home
Leonys Martin
and
Robinson Chirinos
singled in
Alex Rios
for a 3-0 lead after three innings of work.
The Rangers' subs, Rosales for Beltre at third and Chirinos for
Geovany Soto
(who was traded before the game) at catcher were the stars of the game from the plate.
Of course, Baker did his part to make everything hold before the bullpen secured the victory with four innings of work.
The homestand:
This was a brief homestand, three games, and the Rangers salvaged something of it by winning on Sunday. The Rangers are now 12-26-4 in 42 total series and are 0-4-1 in the last five. Winning at home seems like a burden for the Rangers, who are 24-40 at Globe Life Park and just 2-12-3 in the last 17 home series.
Chirinos takes over:
When Soto was traded to Oakland for cash considerations, it meant Chirinos would take over. In four at-bats, Chirinos reached base three times, twice on singles, and he drove in the third run of the game. He was in quite a slump of late with just three hits in his last 27 at-bats. But now with Soto gone, Chirinos becomes the full-time catcher again.
Martin starts vs. LHP:
Manager Ron Washington wants Martin to earn the right to start against left-handed starters. On the season, Martin has a slash line of .202/.233/.232 against lefties. Sunday he started and reached on a bunt single and flew out to left in three at-bats against
Jason Vargas
.
What's next?:
The Rangers open a three-game series Monday night at Seattle. RHP
Miles Mikolas
(1-5, 7.48) and LHP
Roenis Elias
(9-10, 4.09) get it going.
August, 24, 2014
Aug 24
5:03
PM CT
Associated Press
ARLINGTON, Texas -- Scott Baker won as a starter for the first time in more than three years and the Texas Rangers beat the AL Central-leading Kansas City Royals 3-1 on Sunday to avoid a series sweep.
Adrian Beltre put Texas ahead to stay with an RBI double in the first. Beltre had his fifth straight mulithit game, including all three games against Kansas City to extend his hitting streak against the Royals to 17 games.
Baker (2-3) went five innings in a spot start, 12 days after winning with two relief innings against Tampa Bay on Aug. 12. That was his first victory since a start for Minnesota against Detroit on July 23, 2011.
August, 24, 2014
Aug 24
2:52
PM CT
[+] Enlarge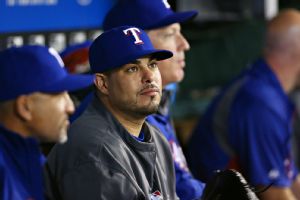 Rick Yeatts/Getty ImagesGeovany Soto has been acquired by the A's.
ARLINGTON, Texas -- The Rangers traded catcher Geovany Soto to the Oakland Athletics on Sunday.
The Rangers received cash, and no player, in exchange for Soto. Texas scratched Soto from the lineup before Sunday's game with the Kansas City Royals.
Soto started the season on the disabled list as he underwent surgeries to repair an ankle and a knee. When he finally returned, he suffered a right groin strain running the bases in New York and was placed on the 15-day disabled list.
In 10 games, Soto hit .237 with one home run and three RBIs.
With Soto gone, the Rangers used Robinson Chirinos to catch starter Scott Baker on Sunday.
J.P. Arencibia is the emergency catcher for Sunday's game.
The team most likely will add another catcher, and could call up Triple-A Round Rock's Tomas Telis, 23, who is hitting .318 in 106 minor league games this year.
August, 24, 2014
Aug 24
2:30
PM CT
A few days ago, Grantland's Ben Lindberg
wrote
a progress report on some of the top prospects in the minor league system.
He mentioned the Rangers'
Michael Choice
, a candidate for a September call-up, as someone who needs to improve while playing for Triple-A Round Rock.
On Saturday night, Choice did go 2-for-6 with 3 RBIs as Round Rock split a doubleheader, which extended his hit streak to four games.
Lindberg writes Choice is not improving, and this isn't strictly his opinion.
Another evaluator was more blunt: "He is almost 25, has been poor in the PCL, hasn't done a thing in the big leagues," he said. "Can't hit, can't field. Is he anything more than a platoon up-and-down guy going forward?"

In 42 games, Choice is hitting .265, you expect better from a man who was on the Rangers' opening day roster but just struggled to remain with the big club, having hit .177 in 69 games.
Choice had one of his better games on Thursday with three hits including a 11th-inning homer in a victory at Salt Lake.
LHP Michael Kirkman had his 9 2/3 scoreless inning streak snapped on Monday. He returned to pitch two scoreless innings on Thursday.


C Tomas Telis has eight hits the last seven games and produced a .366 average the last 10 games.

Double-A Frisco: RHP Alex Gonzalez is a productive pitcher for the RoughRiders this season. Friday night, however, Gonzalez suffered his first loss since June 26 against San Antonio. Gonzalez lasted six innings, which was good, but allowed seven runs, five earned on nine hits with one walk.

He struck out seven.

Gonzalez had won his last four outings, allowing just two earned runs in 24 innings.


RHP Alex Asher picked up a no-decision against Midland on Saturday night. Asher struck out five over six innings, allowing three earned runs. Asher has 15 strikeouts in his last three starts.


RHP Josh McElwee has a 0.36 ERA since July 13 between Triple-A and Double A.

Single-A: CF Lewis Brinson (Myrtle Beach) has the longest road-game hit streak in the Carolina League at 13 games.


DH Seth Spivey (Spokane) took over the hitting lead in the Northwest League at .336 with three hits on Friday night.


1B Zach Stephens (Arizona) hit a grand slam on Saturday night in a win over the Arizona League Dodgers.