Texas Rangers:

2012 Memorable Moments
November, 8, 2012
11/08/12
11:00
PM CT
Editor's note: We've reached our final memorable moment of the 2012 season. These were 10 moments -- they could be good or bad from a Ranger perspective, but they had to be memorable -- that helped define the season.
Memorable Moment No. 1:
Rangers fall, 5-1, to the
Baltimore Orioles
in the AL wild-card game.
The fact that the Rangers were even in the AL wild-card game had most people stunned, including the club itself. But despite losing a five-game lead with nine games to play (and a four-game lead with six left), the Rangers were still favored against the Orioles. After all, they had dominated the Orioles during the regular season, were playing the AL wild-card game at home and had No. 1 pitcher
Yu Darvish
on the mound. The offense had performed well against Baltimore, including the memorable four-homer game by
Josh Hamilton
(which made our list of top-10 moments).
[+] Enlarge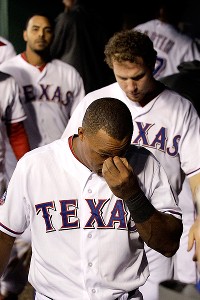 AP Photo/Tony GutierrezThe Rangers' season ended earlier than expected with a loss to the Orioles in the AL wild-card game.
It was tough, though, to gauge what momentum might do. The Rangers didn't have any going into that Friday night game, losing three consecutive games in Oakland to watch the AL West-lead they held for nearly the entire season disappear. Davish did his best to change that momentum.
The 26-year-old pitcher gave up three runs (two earned) on five hits in 6 2/3 innings with seven strikeouts and no walks. And it wasn't enough. The Rangers' bats, basically silent the final 10 games, scored just one run. That one came on a double play ball hit by
Josh Hamilton
in the first inning. Texas was just 1-for-7 with runners in scoring position.
Baltimore starter
Joe Saunders
got through 5 2/3 innings, allowing just one run. The Orioles' bullpen finished the game off as the offense got some insurance runs, scoring off
Derek Holland
after he entered the game with a runner on in the sixth. Even closer
Joe Nathan
struggled, allowing two runs in the top of the ninth. The Rangers threatened in the bottom half of the inning, loading the bases with two outs.
David Murphy
flied out to left to end the game.
The scene after the game was part shock and part disappointment. The players talked about how they didn't meet expectations. Murphy mentioned the club ran out of gas. But a season that looked to have so much promise as the club tried to defend its AL championship ended a lot sooner than anyone expected.
Was the AL wild-card game the most memorable moment for you? If not, what was?
November, 7, 2012
11/07/12
11:00
PM CT
Editor's Note: We've now reached the final two moments in our look back at the 2012 season. And by memorable, we mean both good and bad moments.
Moment No. 2:
Josh Hamilton's error in the final regular-season game of 2012
It's not fair to place all of the blame for the
Texas Rangers
' loss to the Oakland A's in Game No. 162 on
Josh Hamilton
. After all,
Ryan Dempster
had a 5-1 lead going into the bottom of the fourth and couldn't hold it.
Derek Holland
wasn't able to limit the damage, either, as the A's got a bunch of runs late to win, 12-5.
But the turning point in the game was that fourth-inning error by Hamilton. The A's had already roared back from the four-run deficit to tie the score and get their crowd into the game. With two outs and two on,
Yoenis Cespedes
hit what appeared to be a routine fly ball to end the inning. Hamilton came into shallow center field, put his glove up and overran it. The ball nicked off the top of his glove and went behind him. As he chased after it, two runs scored to put the A's ahead, 7-5. They were never threatened after that, winning the game and the AL West. It dropped the Rangers into the wild-card game.
[+] Enlarge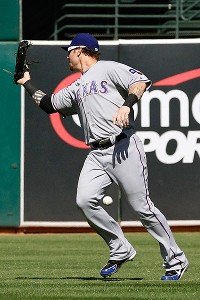 AP Photo/ Bill NicholsJosh Hamilton couldn't catch what appeared to be a routine fly ball that would have ended the inning.
"I just missed it, man," Hamilton said after the game. "I didn't break down on it like I needed to. When you run a long way in like that, you're supposed to break down on your toes so you can get there and if it moves on you, you can make the adjustment. I didn't. I kept going and it came down and I didn't catch it. It sucks."
After the inning ended, television cameras caught manager Ron Washington talking to Hamilton about the play. The skipper's body language indicated he wasn't too pleased. But he didn't get into specifics after the game, saying only that he asked Hamilton what happened. Hamilton said it wasn't any kind of heated exchange.
"He's always animated," Hamilton said. "He asked me what happened and I told him. That's Wash. Wash is animated. Even when he's out there talking to an umpire, you think he's cussing him out but he's just having a conversation with him. That's just Wash."
The play was the end of a rough final 10 days for Hamilton, who struggled at the plate, dealt with an eye issue and had fielding problems in the AL West-deciding game.
It was a difficult moment for Ranger fans, but a memorable one, too.
November, 6, 2012
11/06/12
11:00
PM CT
Editor's Note: Before we shift our complete focus to the 2013 season, let's take a quick look back at 10 memorable moments -- games, signings, events -- from the 2012 campaign. By memorable, we mean both good and bad moments. And we've now reached our top 3.
Moment No. 3:
Texas makes a remarkable comeback on Aug. 1 vs. Angels
In the middle of the third game of a four-game series with the Angels, it appeared momentum had completely shifted. The Angels, trying to climb out of an early hole in the AL West, had taken the first two games of the series and led by six over a Rangers team that had been inconsistent the previous two months.
A loss would have put the Angels just two games back of the Rangers with two months to play. And it might have altered the look of the division down the stretch, too. But Texas' offense clawed falling behind behind 6-0 after the top of the third. It was a slow crescendo as the bats started swinging and slowly began to gain ground.
[+] Enlarge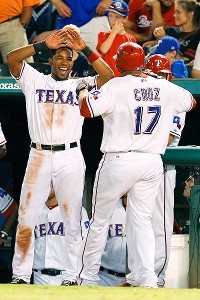 Jim Cowsert/US PresswireNelson Cruz got the Rangers' rally started in the bottom of the 10th inning with a leadoff home run.
It was a mixture of power and patience that made the difference.
Nelson Cruz
had a homer to get things going in the bottom of the 10th inning, but the Rangers took advantage of an error and got some critical walks -- like an 11-pitch version from
David Murphy
after he fell behind 0-2. They had productive outs and just kept coming. The crowd at Rangers Ballpark in Arlington could sense it, too, getting louder as the game went along. Texas finally got the win in the 10th, as
Elvis Andrus
hit a double to score the winning runs.
What happened after that game, at least in the month or so following it, was interesting, too. The Angels lost 12 of the next 17, effectively putting them out of the hunt. They made another run late with a good September, but a rough August combined with a tough September essentially ended their hopes. Texas went back in front in the AL West by as many as 6 1/2 games in August before eventually blowing a five-game lead with nine to play.
But in terms of dramatic games played at Rangers Ballpark in Arlington in 2012, that's got to be the top victory for Texas. The players mobbed Andrus after the double and the club won 17 of the next 26. It was a momentum-swinging moment. No question about that.
You can read more about that game here.
November, 5, 2012
11/05/12
11:00
PM CT
Editor's Note: Before we shift our complete focus to the 2013 season, let's take a quick look back at 10 memorable moments -- games, signings, events -- from the 2012 campaign. By memorable, we mean both good and bad moments. And we've now reached our top 5.
Moment No. 4:
Texas signs Japanese pitcher
Yu Darvish
just prior to the deadline on Jan. 18.
Before we get to Jan. 18, we have to back up a bit. While the Winter Meetings were wrapping up -- those meetings in Dallas included one of the Rangers' biggest rivals, the Angels, signing
Albert Pujols
and
C.J. Wilson
-- general manager Jon Daniels and his staff were busy putting the finishing touches on two separate presentations to club owners Ray Davis and Bob Simpson, co-chairman of the board. The baseball staff wanted to go after Darvish and that required a major financial commitment.
[+] Enlarge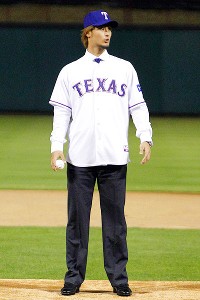 AP Photo/LM OteroYu Darvish donned his new jersey and threw a pitch from the mound at Rangers Ballpark after his introductory press conference in January.
The staff had convinced Nolan Ryan to back them and the CEO decided that a presentation from the baseball front office rather than Ryan himself might better sell the proposal. Davis and Simpson agreed to what ended up becoming a $51.7 million posting bid. And they weren't sure if that would be enough to land Darvish. The bid went in that December and on Dec. 18, the Rangers were notified that they had won the bidding and would begin negotiations with Darvish and his representatives. They had a month to get a deal done or Darvish would pitch in Japan in 2012.
The Rangers didn't take anything for granted. The scouts and personnel that had followed Darvish established contact with the family. Josh Boyd went to Japan to help iron things out. And Daniels, assistant GM Thad Levine and others worked with Darvish's representatives (Don Nomura and Arn Tellem) to get a six-year, $56 million deal completed (Darvish gets $4 million more if he stays healthy in those final few years of the deal).
A few weeks prior to the deadline, the Rangers entertained Darvish and his father. The club treated it like a recruiting trip, showing a video on the big screen, touring the ballpark and potential places to live and giving Darvish a taste of life in Texas.
The day the deal came together -- Jan. 18 -- was an interesting one in Arlington. Japanese media had stayed through the night just in case a deal got done hours before the deadline, but things didn't come together until that afternoon. Darvish was still in Japan, but made his way to Texas two days later for the official news conference.
But the posting and the signing represented yet another major step for the club. It showed it has an ownership group willing to spend money and one that put its trust in the front office.
November, 5, 2012
11/05/12
8:00
AM CT
Editor's Note: Before we shift our complete focus to the 2013 season, let's take a quick look back at 10 memorable moments -- games, signings, events -- from the 2012 campaign. By memorable, we mean both good and bad moments. And we've now reached our top-5.
Memorable Moment No. 5:
Josh Hamilton
belts four home runs in Baltimore on May 8.
Before the game ever started, Josh Hamilton was in the middle of one of the best streaks of his career. He had just been named AL player of the month for April after hitting .395 with nine homers and 25 RBIs. He was hittng the ball all over the place and making opposing pitchers cringe.
[+] Enlarge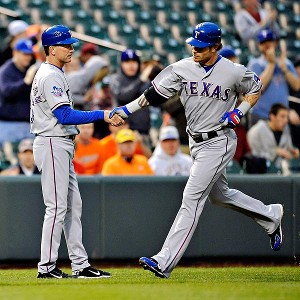 Joy R. Absalon/US PresswireJosh Hamilton was already on a hot streak before he belted four two-run home runs against Batlimore.
That was the Hamilton that stepped to the plate in the first inning on May 8 and began a historic evening. He hit four home runs -- all of them two-run shots with
Elvis Andrus
on base in front of him. The first two came off TCU product
Jake Arrieta
, who gave up homers in the first and third innings. In the seventh, Hamilton went deep off
Zach Phillips
, and in the ninth former Ranger
Darren O'Day
served up the final home run. The performance earned Hamilton a standing ovation from the Orioles crowd.
It was the 16th four-homer game in major league history and the sixth in the AL (first since
Carlos Delgado
did it for Toronto against Tampa Bay on Sept. 23, 2003). He was just the third player to hit four homers all with at least one man on base.
"Obviously it's, other than being in the World Series, the highlight of my big league career," Hamilton said after the game.
Hamilton added a double to go 5-for-5, becoming the third player in big league history with at least 18 total bases in one game. That's the most in the AL and second-most in MLB history to
Shawn Green
's 19 for the Dodgers in 2002. Hamilton's performance set club records for homers, total bases and extra-base hits in a game. He was the fifth Ranger with as many as eight RBIs in a game, one shy of the record set by Pudge Rodriguez on April 13, 1999 at Seattle.
Since he homered in his final at-bat the night before, Hamilton had six extra-base hits in six plate appearances, the first player to do that since Seattle's Ken Griffey Jr. on July 1-2, 1998.
As an aside, May 8 was a fun night to witness in person. After Hamilton hit the third home run, you just had a feeling he could get the fourth. The dugout went absolutely crazy when he did it and Hamilton didn't even realize afterward what a big deal it really was to do that. It's essentially the equivalent of perfect game thrown by a pitcher, if you note how rare it is to hit a four-homer game. For a hitter, that's a ridiculous effort.
So it's not a surprise that it makes our top-5 memorable moments for the season.
November, 1, 2012
11/01/12
11:00
PM CT
Editor's Note: Before we shift our complete focus to the 2013 season, let's take a quick look back at 10 memorable moments -- games, signings, events -- from the 2012 campaign. By memorable, we mean both good and bad moments.
Memorable Moment No. 6:
Yu Darvish
wins big league debut.
The 25-year-old Japanese star made his long-awaited major league debut at Rangers Ballpark in Arlington against
Ichiro Suzuki
and the
Seattle Mariners
in the fourth game of the 2012 season. The Rangers didn't want to put too much pressure on Darvish by putting him higher in the rotation order, and the Monday night debut against Suzuki made for tremendous stories here and in Japan.
Darvish, signed in early January to a six-year, $56 million contract, looked a little nervous in the first inning. He gave up four runs on four hits and three walks. Darvish didn't have solid command and looked uncomfortable, needing 42 pitches to get through an inning that took more than 20 minutes. He only threw four first-pitch strikes in that first inning and had three three-ball counts. Pitching coach Mike Maddux even came out to check on him and try to calm him down.
"When I stepped on the mound for the first time, I felt calm and my mind felt calm," Darvish said through interpreter Joe Furukawa after the game. "But my body felt like it wanted to go, go, go. My mind and my body were not on the same page."
But thanks to the Ranger bats, Darvish's first inning didn't cost him. Darvish settled down and the Rangers ended up winning 11-5. He gave up another run in the second, but then found his rhythm. He lasted 5 2/3 innings, and when it was over, Darvish was a winner.
"He was just overamped," Rangers manager Ron Washington said at the time. "He wanted to battle and he wanted to be a warrior. He wanted to give us those zeroes after the second inning because it gave us a chance to get back into the game."
It was a huge crowd, as you'd expect, and a large contingent of media was on hand to witness it. The game was carried live in Japan and members of Darvish's family were in attendance. After the game, Darvish admitted he was fired up for the start and vowed he'd get better. Of course, he did. Even though he gave up five runs, Darvish got a standing ovation from the home crowd, which understood he was battling nerves and dealing with a host of adjustments as he ventured into the big leagues.
You only get one major league debut. And Darvish's was certainly memorable.
Were you there? What do you remember most about Darvish's first MLB start?
October, 31, 2012
10/31/12
11:00
PM CT
Editor's Note: Before we shift our complete focus to the 2013 season, let's take a quick look back at 10 memorable moments -- games, signings, events -- from the 2012 campaign. By memorable, we mean both good and bad moments.
Memorable Moment No. 7:
Adrian Beltre
wins two late-September games despite injuries.
The Rangers' third baseman certainly showed his toughness and grit as the season was winding down. Despite abdominal pain, Beltre talked himself into the lineup on Sept. 20 in Anaheim and ended up hitting a two-run homer in the ninth inning to break a 1-1 tie and give the Rangers a series win. It was an important victory at the time, keeping the Rangers ahead in the AL West as the Oakland A's began to charge.
[+] Enlarge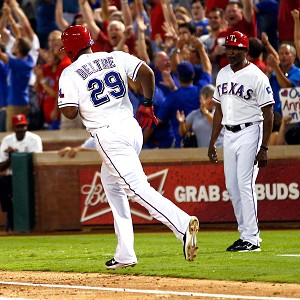 Jim Cowsert/US PresswireAdrian Beltre's memorable September included a game-tying home run and walk-off single against the A's.
But Beltre wasn't done.
Four days later, the Rangers welcomed the A's to town for a big four-games series in the hotly-contested AL West The Rangers fell behind in the first game after
Derek Holland
struggled, but they mounted a comeback. Down 4-2 in the seventh,
Josh Hamilton
drew a two-out walk to bring Beltre to the plate. The veteran hit a two-run, opposite-field homer off reliever
Pat Neshek
to tie the score. The sellout crowd at Rangers Ballpark in Arlington, noting what Beltre did four days earlier in Anaheim, chanted "MVP" in tribute. Beltre said after the game that he didn't hear them.
But he came up again in the ninth with the game on the line. With two runners on base and no outs, the A's decided to intentionally walk Hamilton and take their chances again with Beltre. He made them pay, hitting a walk-off single to give the Rangers a 5-4 win. The players mobbed Beltre and, of course, rubbed his head. It put the Rangers five games up in the AL West with nine games to play, a lead they would not end up holding as they fell to the A's on the final day of the regular season.
The two games showed how tough Beltre is and that even with injuries, he can play at a high level. He was so good in September that he earned AL player of the month honors.
October, 30, 2012
10/30/12
11:00
PM CT
Editor's Note: Before we shift our complete focus to the 2013 season, let's take a quick look back at 10 memorable moments -- games, signings, events -- from the 2012 campaign. By memorable, we mean both good and bad moments.
Memorable Moment No. 8:
Jurickson Profar
's rookie debut.
Even before 2012, Jurickson Profar had created buzz as a tremendous prospect working his way through the minor league system. That buzz reached a crescendo in 2012 as he put together solid numbers at Double-A Frisco and was considered one of the top prospects in the league. It didn't hurt that he hit a home run and played well in the Futures Game a few days before the All-Star Game in Kansas City. There were plenty of scouts and national baseball writers in attendance and that put Profar in the front of everyone's minds a few weeks before the trade deadline.
[+] Enlarge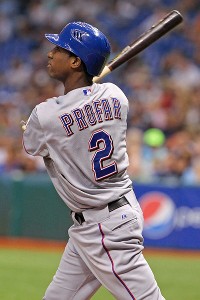 Kim Klement/US PRESSWIREJurickson Profar started his major league career off with a bang, homering in his first at-bat.
The Rangers front office listens to anything and everything, but they certainly weren't ready to deal Profar unless an unbelievable offer came. And when September rolled around, there was little doubt that it was time to see what Profar could do in the big leagues and at least give him a taste of life at the highest level.
The 19-year-old joined the Rangers in Cleveland on Sept. 1 and debuted the next day when
Ian Kinsler
was scratched with lower back stiffness. Profar became the first player born in 1993 to appear in the majors (19 years, 195 days old) and the first teenager to play in a game since Pudge Rodriguez in 1991.
In his first at-bat, Profar belted a home run (on the fourth pitch) off Cleveland starter
Zach McAllister
. That made Profar just the third teenager in big league history (since 1896) to homer in his first career at-bat and the second-youngest to do it. Profar was the first Rangers player to homer in his first career at-bat in Washington/Texas franchise history and the first since Brant Alyea in 1965.
Profar wasn't done, though. He also had a double in his next at-bat, becoming the first teenager with two extra-base hits in his first MLB game since Johnny Callison did it for the
Chicago White Sox
in 1958.
Profar, of course, got a shaving cream pie to the face after the game. He added a go-ahead RBI double in his second career start on Sept. 8 at Tampa Bay and, according to baseball-reference.com, was the only teenager since at least 1918 to have multiple games with an extra-base hit and an RBI within his first three career games.
Profar finished his brief big-league stint with a .176 average (3-for-17) with two RBIs and four strikeouts. He batted .281 with 14 homers and 62 RBIs to go along with 16 stolen bases in 126 games for Double-A Frisco in 2012.
October, 29, 2012
10/29/12
11:00
PM CT
Editor's Note: Before we shift our complete focus to the 2013 season, let's take a quick look back at 10 memorable moments -- games, signings, events -- from the 2012 campaign. By memorable, we mean both good and bad moments.
Memorable Moment No. 9:
Colby Lewis
is lost for the season with an elbow injury.
No one can question Lewis' toughness, that's for sure. The veteran pitcher knew he had a torn flexor tendon in his right elbow, but wanted to pitch. He came off the disbled list (he was on there starting June 26 with right forearm tendinitis) to make one start July 18 at Oakland and was able to grind it out, but he knew it couldn't last. So he had surgery to repair the torn flexor tendon July 27.
[+] Enlarge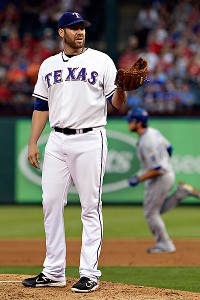 AP Photo/LM OteroLosing a steady force in the rotation like Colby Lewis was a big blow to the Rangers.
It was a big blow to the Rangers' hopes for a deep postseason run.
Cliff Lee
was the big name in 2010, but it was Lewis who had the overall better postseason numbers.
C.J. Wilson
fronted the rotation in 2011, but Lewis was once again the steady force in the group. Losing someone who was 4-1 with a 2.34 ERA in eight playoff starts in 2010 and 2011 certainly hurt the club.
It was also a bad break for Lewis, who has put up with a hip condition and is a grinder, getting the ball every fifth day. He went to Japan for two years and found his command, returned to the big leagues with Texas in 2010 and pitched more than 200 innings for the first time in his big league career. He did it again in 2011 and at the end of both years was a stalwart in the playoffs.
The loss of Lewis thinned the pitching staff further.
Neftali Feliz
was also injured and ended up out for the year after Tommy John surgery on Aug. 1. Texas appeared to have plenty of depth in the starting rotation in spring training, but that quickly dissipated. Lewis' injury (and Feliz's, too) started a ripple effect that ended up putting
Justin Grimm
in the big leagues to make his debut and led to
Martin Perez
coming up. It also forced the front office to do something at the trade deadline to try to bolster the rotation, which is how
Ryan Dempster
ended up in Texas.
Lewis, who was 6-6 with a 3.43 ERA in 16 starts before his season ended, had successful surgery and has begun rehab. The club hopes he can be a huge midseason addition in 2013 and once again be that rock in the rotation. But losing him in the middle of the summer was a tough blow.
October, 28, 2012
10/28/12
11:00
PM CT
Editor's Note: Before we shift our complete focus to the 2013 season, let's take a quick look back at 10 memorable moments -- games, signings, events -- from the 2012 campaign. By memorable, we mean both good and bad moments.
Memorable Moment No. 10:
The Rangers get a new closer.
[+] Enlarge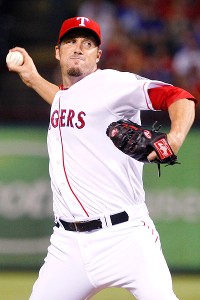 AP Photo/LM OteroJoe Nathan converted 37 of 40 save opportunities -- including a club record 31 in a row at one point -- in his first season with the Rangers.
It was not the biggest off-season signing (that belonged to
Yu Darvish
) and it wasn't a long-term extension for a current Ranger (like deals signed with
Derek Holland
and
Ian Kinsler
), but the decision to lock up
Joe Nathan
to a two-year deal and name him the closer was a big one made months before spring training ever began.
The Rangers did not wait around for the relief pitching market to crystallize. They scouted Nathan as he returned from Tommy John surgery in 2011 and believed that his work after returning from a DL stint with a right flexor muscle strain was enough to warrant the two-year deal, and they had faith that he could return to the form that made him one of the top closers in the game with Minnesota.
Texas made a sizeable investment, signing Nathan to a two-year, $14.5 million contract with a club option for 2014 at $9 million. They made the deal in November and immediately told
Neftali Feliz
that he was moving into the rotation so he could get mentally prepared and be stretched out for spring training.
Admit it: After the first week of the 2012 season you were worried about Nathan, weren't you? I know I got a bunch of emails and there was a lot of conversation in our ESPN Dallas in-game chats about Nathan and whether he appeared fully healthy and ready. But after some struggles that first week Nathan became nearly automatic. He converted 37 of his 40 save opportunities, a 92.5 percent success rate that ranked third in the American League behind Tampa Bay's
Fernando Rodney
and Baltimore's
Jim Johnson
. At one point Nathan converted 31 consecutive saves, from April 15 to Sept. 12, setting a club record.
Nathan showed he was healthy and had his velocity back. He had hitters baffled by a nasty slider, too. Nathan experienced some fatigue late in the season and wondered if he had a bit of "dead arm" down the stretch. His blown save against the Angels on the final homestand was memorable, though it didn't make our top-10 list.
But without question, Nathan proved in 2012 that he's one of the top closers in the league and the position isn't one the Rangers will have to worry about filling this off-season. Nathan turns 38 on Nov. 22, but feels good and believes he could even pitch into his 40s as long as he's hungry and healthy.
Was there one particular save from Nathan that was memorable to you? How important a signing do you think he was -- and could be -- in the future?